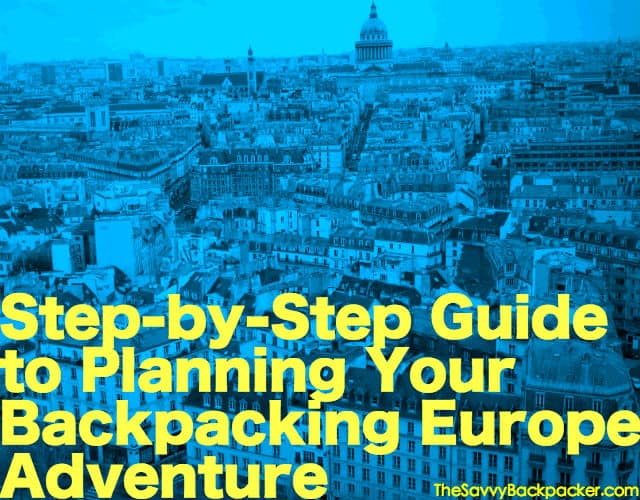 Backpacking through Europe doesn't have to be daunting — that's why we created this simple backpacking Europe guide to help make the planning process easy.
This guide is broken down into different phases of the planning process — Initial Trip Planning, Packing Guides for clothes and gear, Finding Accommodation, Choosing Transportation, Travel Gear Reviews, and other helpful travel tips.
Under each phase, you will find links to individual articles and we suggest reading through each one. If you follow these steps you'll be prepared to have an amazing trip to Europe.
Note: We've recently redesigned the website so you can find even more information in the top menu. 
PHASE ONE: Initial Trip Planning
These are the first steps to take when planning your trip to backpack Europe. During this phase you'll start planning what cities and countries to visit, create a travel itinerary, estimate your travel costs, book your flight, and a range of other things. You'll probably spend a large amount of time on this phase  — especially the itinerary planning.
Section One
Itinerary Planning and Travel Logistics 
Tips on how to create an itinerary that fits your travel style, travel goals, and budget.
Section Two
We'll help take the mystery out of how much it will cost to travel around Europe. We break down the average cost of food, alcohol, accommodation, sightseeing, transportation, and other common expenses. Update: More In-Depth Estimating and Individual City Price Guides
Section Three
Finding The Best Price on Airfare to Europe
Your plane ticket to Europe is one of your greatest expenses. This guide has strategies to help you find the best price possible.
Section Four
The Best Travel Guide Books and Online Travel Guides
From Lonely Planet to Rick Steves and WikiTravel to TripAdvisor, there is a wealth of information to help you choose what to do and see. We review our top picks.
Section Five
Confused about exchange rates, using foreign ATMs, and whether to use cash, credit, or debit when making purchases? We've got it covered.
Section Six
Choosing What Time of the Year to Travel
The summer might be the busiest travel season, but Europe is a great place to visit year-round. We've listed the pros and cons of each season.
Section Seven
General Preplanning Travel Advice
This is a collection of general travel tips that are easy to overlook but will make your trip much more successful.
PHASE TWO: Packing
Packing for travel in Europe can be confusing and frustrating — especially if you're backpacking across Europe. These guides will help you choose what clothes and travel accessories to pack and has advice on packing light.
Section One
Backpacking Packing List for Men and Backpacking Packing List for Women
These two packing lists are our most popular articles. We discuss functional and fashionable clothes for traveling Europe, helpful travel accessories, toiletries, electronics, and what items you should leave behind. We also have a more general packing list for Europe for all travelers.
Section Two
How to Choose The Perfect Backpack for Traveling
We discuss the different types of backpacks available, what features you should pay attention to when picking a bag, and how to find a bag that properly fits your body.
Section Three
How to Properly Pack Your Backpack
Living out of a backpack can be difficult but these tips will help make your life a lot easier.
Sections Four
Hardcore travelers know the importance to traveling light — and now you can, too.
Section Five
How to Dress For Winter Travel
Traveling during the winter is great but you need to know how to dress properly. We discuss how to dress in layers so you can stay warm without wearing a lot of bulky clothes.
Section Six
We've reviewed the best travel backpacks on the market and we've found our top picks.
PHASE THREE: Finding Accommodation
After transportation, accommodation will probably be your biggest expense. In this section we primarily focus on hostels, rental apartments, and couchsurfing.
Section One
You're probably going to stay in a hostel while traveling in Europe. This extensive guide will tell you what to look for when booking a hostel to ensure you find the perfect place.
Related Article: Hostel Etiquette — How to make friends and not be an ass while staying in hostels. 
Section Two
Guide to Couchsurfing in Europe
Low on cash? No problem! Couchsurfing is a great way find free accommodation and meet a lot of great locals.
Section Three
Guide to Short-Term Vacation Apartment Rentals
Renting a vacation apartment is a great alternative to staying in a hostel or hotel — and it can often be very affordable. It is my preferred accommodation method when I travel because it gives me the chance to truly live like a local.
Related Article: My Review of Airbnb and Why  They're My Top Choice for Rental Apartments
PHASE FOUR: Choosing Transportation
Planes, Trains, and Automobiles! Europe has a great transportation network which makes it pretty simple to travel. The hardest part is choosing which method is right for your style of travel and budget. We outline the pros and cons of each system and help you get the best deals.
Section One
Complete Guide to Train Travel in Europe
If you plan on taking the train I suggest reading this guide as it will help you learn the ins and outs of European rail travel.
Section Two
Many travelers choose to purchase a rail pass for exploring Europe. With so many different passes available it can be tough to decide which, if any, rail pass is worth the price, so this guide will help you navigate the choices.
Section Three
Europe is home to multiple budget airlines so air travel is often very reasonably priced. This guide will cover how to find the cheapest tickets and help you decide if air travel is right for your trip.
Section Four
Ryanair is the king of cheap airfare in Europe — sometimes as low as 1€. But this small price comes with a lot of stipulations so you need to know all the details to get the best deal. This Ryanair survival guide will help ensure you get the best deal possible.
Section Five
Exploring Europe by car is a great way to discover smaller towns and villages, but it is a nightmare if you plan on only visiting large cities. This guide will go over what to look for when renting a car.
Section Six
Rental Cars vs. Trains vs. Planes — What is the Cheapest Way to Travel Europe
We take a look at a sample European travel itinerary and compare the cost of traveling by car, train, and plane.
Section Seven
Guide to Bus/Coach Travel in Europe
One of the cheapest methods of travel is via the bus, so this can be a good choice for cash-strapped travelers.
PHASE FIVE: General Travel and Budgeting Advice
This section features general travel tips for everything from spotting tourist scams and fashion advice to solo travel pointers and group travel tips.
Male Fashion Advice and Female European Fashion Tips
Follow these fashion tips if you don't want to look like a tourist. We've created a separate guide for men and women.
Guide to Fashionable Travel Clothing
We've found high-tech travel clothing that actually looks damn fashionable.
Easy Money Saving Tips While Traveling in Europe
There are a lot of small things you can do while traveling to save a little money — and all those savings do add up.
How To Avoid Tourist Scams in Europe
Europe may be beautiful but there is an ugly side too. Don't get fooled by these common scams.
Random Tips to Make Your Trip Go More Smoothly
This is a collection of random tips and tricks that my readers and myself have come up with over years of traveling.
Advice for Traveling Solo in Europe
Traveling alone doesn't have to be scary. In fact, it is one of my favorite ways to travel. This guide will help you embrace traveling solo.
Advice for Traveling Europe with Friends
Traveling with friends or loved ones can be great, but the stress of travel often puts a big strain on relationships. Read this guide before traveling with friends to ensure you stay friends after the trip.
Tips for Using Cell Phones Abroad
Don't get stuck with a crazy expensive phone bill when traveling abroad.
Tips for Using Data Plans and Smartphones in Europe
How to use your data plan overseas without spending a fortune and tips for finding cheap data plans abroad.
Most electronic gadgets will work fine abroad, but not all. Read this guide to make sure all of your expensive gadgets stay safe.
How to Make Your Own Moleskine Travel Guide and Planner
We teach you how to make a great little travel organizer and planner out of a Moleskine notebook. It also serves as a great souvenir after your trip is finished.
PHASE SIX: Travel Gear and Travel Service Reviews
There are many amazing travel products that will make traveling more enjoyable and stress-free — but the choices can be overwhelming. We've reviewed everything from our favorite socks and underwear to backpacks and cameras. We've also reviewed many popular tours and travel booking sites.
Best Digital Cameras For Travel
Not only do we recommend our favorite cameras for capturing those amazing memories, but we also help you pick out the perfect camera for your travel style.
Best Backpacks for Traveling Europe
The backpack you choose will greatly affect how you travel. We share our favorite backpacks and bags for multiple travel styles.
Best Travel Shoes for Men and Women
Picking the perfect travel shoes is important since you'll spend nearly all of your trip on your feet.
Most people overlook packing suitable underwear, but this guide will show you the importance of choosing the right underwear.
If your feet are happy, then you're happy and that is why choosing the right socks will make all the difference.
Choosing The Right Laptop For Travel
Do you want to blog, edit photos, or simply stay connected with the world while you travel? Well, you'll need a laptop or tablet. We tell you about what to look for and show you our top picks.
Picking the Best Travel Headphones
From $300-$15, we've selected the top rated headphones perfect for travel.
Airbnb.com Apartment Rental Review
Want to live like a local? Try Airbnb. See why Airbnb is my top choice for finding great places to stay.
Contiki tours are a very popular travel option that thousands of people take each year. Learn about the good and bad of Contiki tours to see if it is a good option for you.
See why Hostelworld is my top choice for finding and booking hostels in Europe.
EXTRA INFORMATION  
The Savvy Backpacker Travel Blog — Follow us as we blog about the places we visit (currently in development).
Country Guides — Discover practical information about each country in Europe (currently in development).