I used to to hate travel clothes — that's because almost everything available was 1) ugly, 2) ugly, or 3) ugly. That's probably because travel clothing was designed for older folk (they do have most of the money, after all) and backcountry hikers, campers, mountain bikers, etc. This led to clothes with huge awkward pockets, weird zippers, and unflattering cuts.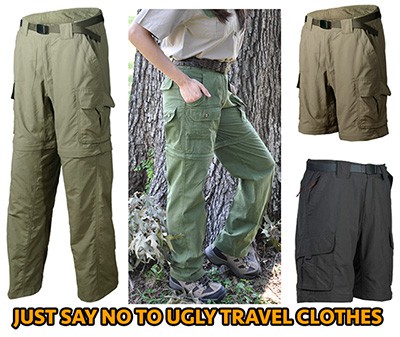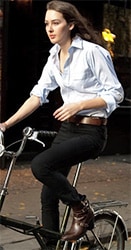 This left a huge void for fashion-conscious travelers who still wanted to take advantage of special high-tech, travel friendly fabrics. Well, companies are finally starting to catch on to the fact that we want normal-looking clothes that use high tech fabrics. This trend started gaining momentum when more people started riding bikes to work. Naturally, you work up a bit of a sweat if you ride your bike, but it's annoying having to change your clothes once you get to work. However, people realized that these new quick-dry, breathable, durable, and odor-eliminating fabrics were perfect — except for the ugliness. That's when some smart folks took those fabrics and started creating "office appropriate" clothes.
This new "techwear" trend started off small with only few independent companies, but now even industry giants like Levis are answering the call. Hell, even a few high-end fashion brands are producing techwear — so it's safe to say that this is something the people want.
This guide will cover everything you need to know about travel clothes and high-performance techwear. Additionally, I will try my best to focus on options that both perform well and look nice — because, as stated before, looking presentable is still important.
What Is Techwear and What Makes It Well-Suited For Travel Clothing
In a nutshell, techwear (aka technical clothing) is clothing that looks "normal" but is constructed with special, technically advanced fabric. The best natural fabric is merino wool, and there are multiple types of synthetic fiber options (which you'll learn more about later in the article).
Most of these high-tech fabrics have characteristics that make them ideal for travel — they're durable, have stretch which gives you a greater range of motion, resist odors, dry quickly, resist wrinkles, and some even repel stains and liquids. For the purpose of this guide, the clothing must also have some element of style and fashion.
Techwear is great for the minimalist traveler
I would strongly consider bringing techwear if you want to be an ultralight, minimalist traveler because high-tech fabrics are normally lightweight — for example, travel pants weigh less than half as much as a pair of jeans. Many of the fabrics resist odor and stains, so you can wear them multiple times without washing — this also means that you can pack a lot less because you will wear each item multiple items before needing to wash it.
What Sucks About Techwear
The worst thing about most techwear is the price. The fabrics used are expensive and it doesn't help that it's mostly small specialty companies that produce a bulk of the garments, so they can't mass produce products like a huge company can. However, big name companies like Uniqlo and Levis are starting to release more budget-friendly options. I imagine that prices will also start to drop once there is more competition, but for now don't be surprised to spend $80-$300 for a nice pair of pants.
This brings me to my next point… you don't need travel clothes/techwear to travel. Hell, most people wear normal everyday clothes when they travel, so don't feel like your trip will be ruined if you don't have the latest and greatest tech clothes. Techwear simply adds to your overall comfort, makes some aspects of travel easier, and helps cut down on bulk. If you can afford it, great. Pick up a few pieces. If you're on a budget, consider sticking to one or two pieces or seeking out some budget options. If you're truly on a shoestring budget, then maybe just pick up some nice socks and underwear.
Enough of This Drivel… Let's Get On To The Travel Clothes
Okay, okay… calm down. I've broken down each type of garment (socks, underwear, pants, shirts, etc.) into its own section. I try to give specific recommendations when possible (and I'll try my best to keep the recommendations up-to-date), but sometimes I can only point you towards companies that make techwear travel clothes. I will also do my best to recommend options for all budgets.
Underwear and Socks
The most basic techgear I believe all travelers need (regardless of their budget) are nice socks and underwear. This is the one area that will probably make the greatest positive impact on your comfort.
Underwear
Ahh, yes. Travel underwear… my old friend. I've already written at length about the many benefits of travel underwear, but I'll briefly (pun intended) go over it again. Basically, the high tech fabrics in travel underwear are:
Quick Drying — wash them in the sink and they'll be dry by morning.
Moisture Wicking — helps keep your skin dry.
Breathable — helps stop you from getting all sweaty down there.
Odor Blocking — helps prevent getting all stinky.
Lightweight — less weight in your bag is a good thing.
Comfortable — ideally, you shouldn't even know you're wearing underwear.
You basically have two options when it comes to underwear — merino wool and synthetic (or a blend of the two). Notice how I didn't mention cotton… that's because cotton traps moisture and takes forever to dry (two things you want to avoid when traveling).
Synthetic Underwear

Most travel underwear is made from synthetic fabric — it's soft, lightweight, and breathes well. It isn't the best at controlling odor since some synthetic material holds on to odor. However, many brands have various manufacturing processes that help combat odor. The most popular travel underwear are made by ExOfficio (you can read my review here). I tend to find the best prices on Amazon.
Another very popular option is Under Armour underwear. They get a ton of great reviews on Amazon, many people swear by them, and they're sometimes cheaper than ExOfficio.
Another brand I like is Uniqlo. Their Airism line of underwear is really nice and fairly affordable.
If you're on a tight budget, you should check out Target and discount stores like T.J. Maxx or Marshalls because you can find "athletic" underwear for decent prices.
 Merino Wool Underwear

Merino wool is actually a great choice for underwear — even in the summer. It's soft, it's lightweight, it breathes very well, and it's the best option for resisting odor. The main downside is the durability because it is more delicate than synthetic fabric. There are a few different brands that sell quality Merino wool underwear. Icebreaker makes a wide range of cuts/styles for both men and women. Minus33 is another popular brand that gets great reviews and they have male and female versions. Patagonia also makes a few styles of underwear.
Socks
You want to keep your feet happy, and quality socks are the best way to prevent blisters and stinky feet. Honestly, the best fabric is merino wool — yes, even during the summer (obviously you'll wear lightweight wool in the summer). Merino wool simply performs the best because it wicks away moisture and it doesn't smell. However, synthetic socks also work well, and they're more affordable than wool — but they don't as good a job at odor protection. Another great option are Merino wool and synthetic blends; this combines the benefits of wool with the durability of synthetic.
You'll want to match your sock choice to the season. Lightweight for the summer and heavier for the colder months — it's pretty much common sense. However, some people prefer to wear two pairs of lighter socks for winter or the colder spring/fall days.
I've written up an extensive guide of our favorite travel socks, so be sure to check it out.

My favorite brands are:
Base Layers/First Layers
A base layer is technically anything that is worn directly on your skin. Socks and underwear fall into this category, but it also includes items like shirts, undershirts, and long underwear.
In the winter, a base layer provides extra warmth without adding bulk. It also wicks sweat away from your skin, so it keeps you dry (being cold and sweaty is no fun — especially when you're outside all day). The base layer should be worn tight against the skin for the best results.
In the summer, a base layer can be as simple as a t-shirt made from a technical fabric. It will also wick away sweat, and the breathability of the material will help keep you cool. In the summer, a base layer can be worn alone and it can be a little loser fitting to allow for a little extra airflow.
I know you're sick of hearing this, but Merino wool is a top choice when it comes to choosing a fabric — you already know the benefits (anti-odor properties, softness, moisture wicking, heat regulation, etc.). Merino wool also looks nice when worn as an outer layer. However, Merino wool is a bit more fragile than synthetic material so it might start to develop holes after a few months of heavy use. Synthetic materials also have many of the exact same benefits as Merino wool and are often much cheaper. You should expect to wash synthetic materials much more often because they can start smelling pretty rank. Another drawback of synthetic is the look… because it has that synthetic "sheen" that makes it look like an athletic shirt you'd workout in. And of course there are wool/synthetic blends that sacrifice a little of the anti-odor benefits for added durability.
First Layer Shirts
T-Shirts For Warm Weather
Light and airy is the name of the game when it comes to t-shirts for warm weather.
Icebreaker is probably the favorite brand of travelers and techwear enthusiasts. All their shirts are 100% Merino wool, and they have multiple cuts, colors, and styles for both men and women. Check out their page on Amazon to see all their options.
Smartwool also makes some nice Merino wool shirts that are favorites among travelers. You can find a few items on Amazon, but you might also check REI for more women's and men's options.
I have two Outlier Ultrafine Merino t-shirts, and they're really nice. Another nice brand for Merino wool shirts is Ibex. Patagonia also has some nice Merino options for men and women.
Uniqlo's Airism line of synthetic shirts is a good budget-friendly option. For more options, check out athletic brands like Under Armour, Nike, Adidas, etc. for some decent synthetic techwear options (but these are usually covered with logos). American Apparel's Tri-blend t-shirt is another decent choice since it's 75% synthetic and 25% cotton — it won't dry as quickly as some of the other options, but it looks like a normal t-shirt.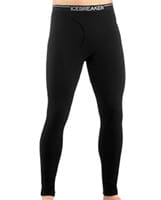 Long Underwear For Cold Weather
You can use any of the t-shirts listed above as a base layer for cold weather, but you'll probably want a long sleeve shirt if it is actually cold. Basically, the same rules apply to long underwear in terms of fabrics (i.e., Merino wool and synthetics are the best). However, most long underwear comes in multiple thicknesses, so you may want to bring a heavier weight pair if you're going to visit really cold areas.
For the best selection, I recommend checking out REI as they carry all the major long underwear brands. If you're trying to save a little money, check out Uniqlo's HeatTech line of long underwear.
Shirts and Tops
When it comes to button up shirts and tops, the ideal fabric choices change a bit. It's slightly more rare to find 100% Merino wool button up shirts because wool doesn't naturally have much structure.
Similarly, 100% synthetic shirts also suffer from lack of structure — however, you will see a decent amount of synthetic shirts. They'll look a little sloppy, but they're not terrible. The only real way to have a shirt with structure is to add cotton.
I know I've harped on cotton, but in this case a Merino wool/cotton blend or a cotton/synthetic blend is fine… and it's pretty much your only option if you want a nice, crisp looking shirt.
Also, there is a new trend of treating fabrics with special chemicals that resist liquids (water, beer, wine, etc.), sweat, and dirt/stains. In some cases, the fabric is almost 100% waterproof — it's pretty wild. Not all companies use these methods, but it can be a really nice feature to have.
Men's
If you want really high quality, then look no further than Outlier. While pricey, their Merino/Co Pivot (ultra fine Merino wool and cotton blend) shirt is a great travel shirt because it's made super well, has great fabric, and it looks like a designer shirt. Outlier also makes a few other shirts, but the Merino/Co Pivot is the best of the bunch.
Icebreaker makes a short-sleeve and a long-sleeve Merino wool button up shirt. Patagonia has a few poly/cotton blends that look fairly nice. REI carries a fairly large range of techwear shirts, and there are some fashionable options — but some do have ugly logos and weird pockets.
Outerboro makes nice tailored shirts that feature a special waterproof coating. For more techwear companies, check out ProofNY, Black Diamond, Finisterre, and Rapha.
Women's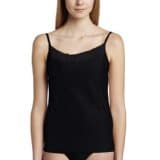 Women have it a little tougher in this department because not many manufactures make attractive techwear shirts and tops for women. REI does have some, but you'll have to sift through a lot of ugly stuff first. If you can't find anything you like, consider getting an ExOfficio cami to wear under your regular clothing to help extend the freshness of your regular clothes.
Anatomie is one company that makes a good amount of fashionable travel clothing — including shirts, skirts, and dresses.
Pants, Shorts, Etc.
Quite a few companies make travel-friendly pants, so there are actually a decent amount of fashionable options available. Synthetic material is the name of the game when it comes to techwear pants. Most pants on the market will have some degree of stretch, and most have some sort of treatment that repels liquids — a few are nearly 100% waterproof (it's kind of crazy). Another common feature is an anti-microbial treatment that helps resist odors. Since the fabrics are synthetic, these pants will dry fairly quickly after a wash.
When it comes to water-resistance, there are a few important things you need to know. At the very basic level are the pants that have a water-resistant chemical coating. This will resist light/medium rain, but will become wet from heavy exposure. This isn't necessarily a bad thing because most people don't need totally waterproof pants if they're traveling around Europe. Plus, the more waterproof the fabric is, the less it breathes, so that is something to take into consideration.
As you move up in quality, you start seeing fabrics with special weaves that naturally repel liquid and that are usually combined with a water-resistant coating for extra performance. However, you can actually wear your pants multiple times before they need to be washed, so this isn't a huge issue.
(It is also important to remember that no waterproof/water-resistant coating is permanent. The more you wash, the less effective the coating will be.)
Best of all, these pants actually look like normal, everyday pants. There are no weird zippers, funny pockets, or awkward cuts that most "outdoor" pants have.
For Men
My favorite all-around pants are the Outlier Slim Dungarees (check out my detailed review). At $200, they are kind of pricey, but they're really quite nice and you could probably get away with just a single pair. I love how they're comfortable, durable yet lightweight, and they look great. Outlier does make a few other models that are less expensive.
Priced similarly to Outlier, Proof NY is another manufacturer popular with travelers and they have a few different high-end, water-resistant travel pants available at $190-$220. For more pricey options, check out Mission Workshop.
Another company to check out is Outerboro. Their Motile pants are super stretchy and very water-resistant (see my review here). Outerboro pants range from $148-$179.
Swrve is yet another option (although I don't know much about them), and their pants are priced from $125-$150.
But that's not all folks! Bluff Works is another small company that makes a fine pair of travel pants. They're not water resistant, but they are lightweight, wrinkle-resistant, durable, and quick-drying. They're also reasonably priced around $90. You can check out my review here.
If you're looking for a budget option, check out Uniqlo. Their Dry Stretch pants are lightweight and quick-drying. They have a nice, slim cut, and best of all they only cost $40.
Levi's also makes a Commuter Line of clothing for bike riders. The line includes jeans and chinos that have a water resistant coating. They're not lightweight like the previous pants, but they're not a bad option if you want jeans. The pants are priced around $88, but you can sometimes find them closer to $40-$50.
For Women
Unfortunately, there aren't nearly as many options for women as there are for men. Outlier has their Women's Daily Riding Pant and Lady's Slimmer Dungarees — both come in multiple colors and cost $198.
Another option for women's techwear comes from ProofNY. Their LBPs (little black pants) feature a great classic cut and cost $210. The Visser Pant is another nice option priced at $180.
While we haven't tried them personally, Anatomie is a new company that make travel-friendly clothes for women, and they have a few nice-looking options.
Other than that, I haven't found too many options. I'll continue to update this list as I find new travel pants.
Mid Layers
A mid layer is anything that is worn between your base layer and your outer layer. Its main purpose is insulation and it can be a sweater, vest, down jacket, hoodie, or just about anything. Sometimes the mid layer can act as an outer layer if it isn't that cold, and in the summer you probably won't need a mid layer since keeping warm isn't generally an issue.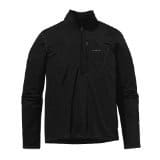 When it comes to techwear, the main pieces are Merino wool sweater/jackets, fleece jackets, and down (or a synthetic variation) jackets. The piece just needs to allow internal moisture (sweat) to evaporate through the fabric. It's also nice if the piece is lightweight and durable.
Fleece is always a popular choice because it provides a good amount of warmth, durability, and breathability without being too bulky. There is also a variation of fleece called hardfleece — which is basically a fleece with a smoother and more durable exterior. Most hardfleece garments are also more water resistant then normal fleece. There are hundreds of fleece jackets available on the market at all price points, so I'd check out the selection at REI and buy whatever fits your budget.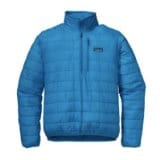 Another popular choice are down jackets — although a lot of companies now use synthetic down (Primaloft, Coreloft, etc.) and most people prefer the synthetic material to the natural down. Synthetic down is incredibly lightweight, compressible, breathable, and it retains warmth even when wet. It is pretty crazy how compressible these jackets are — some can compress to the size of a shoe. When compared to a fleece jacket, a synthetic down jacket is more water resistant, more wind resistant, more packable, and lighter. 
Nearly every outdoor brand makes lightweight down/synthetic down jackets. One of the most popular and fashionable brands is Patagonia — check out both Amazon and REI for the best selection. The Patagonia Nano Puff jacket is probably the most popular lightweight puff jacket on the market, so it's no wonder it's a favorite among experienced travelers.
Outerwear
Outerwear is generally the final layer and what protects you from the elements (wind, rain, snow, etc.). The problem with outerwear is that it encompasses a huge range of garments that perform a huge range of functions. It can be anything from a simple waterproof jacket for summer showers, to large winter coats capable of withstanding a harsh Scandinavian winter.
I'll start off by diving into waterproof jackets since that is probably what most people are interested in learning about. Most traditional waterproof jackets are called hardshells. These are 100% waterproof and they have that plastic-y feel and sound. If you want the ultimate protection from the elements, this is your choice. However, being impermeable to the elements means that the material doesn't breath — this is less than ideal because it doesn't allow your body's sweat to evaporate. Basically, it traps in moisture and makes you feel all clammy.
Some high-end hardshell jackets have breathable fabric, but even those aren't as breathable as softshells (which we'll talk about later).
Unsurprisingly, most waterproof jackets are made by outdoors companies, so trying to find a stylish one isn't super easy. However, there are plenty of decent-looking options by Marmot, Patagonia, and The North Face. The most annoying part is that most companies plaster big logos on their jackets — which I'm not a huge fan of.
There are a few companies that make super stylish waterproof jackets; my favorite is Aether. All their garments look amazing, but they're pretty pricey.
However, in the summer I generally recommend that a traditional rain jacket is unnecessary — mainly because it doesn't rain a lot and most jackets are too heavy for summer travel. However, Ultralight Rain Jackets are super lightweight (they only weigh a few ounces) and they can be packed into a pocket, so they're easy to carry around in a daypack. Ultralight rain jackets won't have very good breathability, but you'll only be wearing them in the rain, so it isn't a huge issue.
The best ultralight rain jackets are the Outdoor Research Helium II, Marmot Super Mica, and the Montane Minimus (they all weigh under 10 oz).
When it comes to breathability, it doesn't get any better than a softshell jacket. Softshell jackets aren't technically 100% waterproof, but they're essentially waterproof. They're well-suited for urban travel because they're more comfortable than a hardshell and they're more stylish. Again, there are hundreds of softshell jackets, so I recommend visiting REI (click here for Men's and Women's) to see which ones fit your budget and style preference. For some more stylish options, check out Triple Aught Design, Black Diamond, Swrve, and Mission Workshop.
Heavy Coats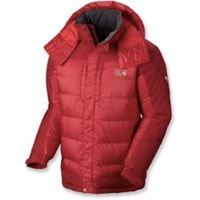 If you're traveling during the winter, you may consider bringing a heavy winter coat. In some instances, you may be completely comfortable by layering a base layer, a few mid layers, and an outer layer. But, sometimes, you need a heavy coat — especially if you're traveling to Northern or Eastern Europe in the dead of winter.
Puffy down coats provide an amazing warmth-to-weight ratio — which is always something to consider when traveling. Combine that down coat with a base layer and a warm mid layer, and you'll be staying toasty. Natural down is the warmest, but it becomes ineffective if it gets wet. On the other hand, synthetic down isn't quite as warm, but it still works if it gets wet and it dries quicker. Different coats have different amounts of water repellant, so this is something to take into consideration. For the
best selection of insulated coats, I recommend checking out REI simply because they have the best selection. Look for one that fits your personal style.
If you're looking for the ultimate protection from the elements, you'll want a standard waterproof, winter coat. A lot of coats have a 3-in-1 system that contains a waterproof outer-shell and an interior insulated lining. Again, REI is a good place to start your search because they have the best selection.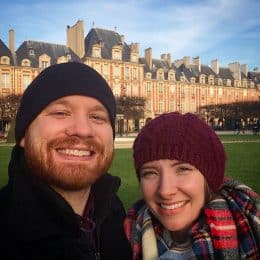 No Funny Business
The Savvy Backpacker is reader-supported. That means when you buy through links on our site, we may earn an affiliate commission — it doesn't cost you anything extra and it helps support the site.
Thanks For Reading! — Susan and James
Questions? Learn more about our Strict Advertising Policy and How To Support Us.