The Complete Guide to Backpacking Europe
Thank you for visiting The Savvy Backpacker. This page provides a comprehensive overview for planning your backpacking Europe trip. It is intended to be a place where you can discover all the backpacking Europe articles on The Savvy Backpacker.
The articles on this site are divided into categories — you'll find each category in the side menu of this site, but they're also listed below:
Itinerary planning tips, finding cheap airfare to Europe, guide book reviews, financial planning, deciding what time of year to travel, and other planning advice. »See Articles
Packing lists for men and women, how to choose a travel backpack, how to efficiently pack your backpack, ultra-light travel advice, how to dress during the winter, and more. »See Articles
Guide to train travel in Europe, finding cheap airfare in Europe, using rail passes, surviving Ryanair, traveling by bus, car rentals, and more. »See Articles
Guide to staying in hostels, Couchsurfing tips, short-term vacation apartment rentals, budget meal advice, and more. »See Articles
Using ATMs, exchange rates, estimating travel costs, and more. »See Articles
Smartphones, data plans, laptops, digital cameras, and more. »See Articles
Tips for getting the most out of your travel. »See Articles
Tips for staying safe and avoiding scams while you travel. »See Articles
Find out how much it will cost to visit Europe's most popular cities. »See Articles
Destination-specific information (this is a work in progress). »See Articles
Outline of This Guide
Each section within this article will link to more in-depth articles on the subject, so be sure to click around and discover!
Pre-departure Paperwork Issues for Backpacking Europe
Passport and Visa
It's a bit of a no-brainer, but you need a passport to travel in Europe. Make sure that you don't put it off until the last minute because it can sometimes take 4+ weeks to get a passport. As of 2013, a U.S. passport costs $135, but if you need one quickly, it will cost an extra $73 for expedited service and overnight delivery.
American, Canadian, Australian, and New Zealander citizens don't need a visa to visit any European country, but the amount of time you can spend in a country will depend on local law. It isn't too complicated for most travelers. Basically, any American, Canadian, Australian, or New Zealander visitor can stay in a Schengen zone country for a total of 90 days without a visa (New Zealand residents can actually stay longer, so see the laws if you're a Kiwi). The Schengen zone countries are listed below:
Austria, Belgium, Czech Republic, Denmark, Estonia, Finland, France, Germany, Greece, Hungary, Iceland, Italy, Latvia, Lithuania, Luxembourg, Malta, Netherlands, Norway, Poland, Portugal, Slovakia, Slovenia, Spain, Sweden, and Switzerland.
But be aware that once you enter the Schengen zone, you're only allowed to visit for the next 90 days and the time does not reset if you visit a non-Schengen zone country. For example, if you spend 60 days in France, you can only stay in Belgium for another 30 days before needing to leave the Schengen zone. Or if you spend 60 days in France and then you visit the U.K. (which isn't part of the Schengen zone) for 60 days, you will not be able to legally return to any Schengen zone country because you would have first entered a Schengen zone country more than 90 days prior.
You have to wait a full 90 days after the end of your initial 90 day visit before you can enter any Schengen zone country.
The United Kingdom (England, Wales, Scotland, and N. Ireland) and Ireland are not part of the Schengen zone, so they have their own rules. Visitors can stay in the UK for 180 days without a visa and in Ireland for 90 days.
If you are planning on visiting for an extended period of time, you need to carefully plan your journey or look into getting a long-stay tourist visa, which can be difficult. For example, if you plan on visiting the U.K. or Ireland, put it at the very start or end of your trip since they are not part of the zone.
Another note: passport checks are not very common when when crossing boarders of Schengen zone countries, and when they do check, they usually don't check stamps to see when you arrived. Therefore, there is a chance you can overstay your 90 days without anyone knowing. The only country that ever checked my arrival stamp and asked why I was in Europe for over 90 days was Iceland (I had to show my French work visa to prove that I could be there). Other than that, I've only had people look at my passport photo. But this option is a bit risky, so if you get caught, you might get a big fine and you could get expelled from the E.U. for 5 years.
Money Matters for Backpacking Europe
Read our comprehensive guide to using money while traveling in Europe.
I recommend bringing about 50€ (or whatever the local currency is) as it is nice to have a little cash when you arrive. Don't bring much more than 50€ because you'll be charged a terrible exchange rate from your local bank to get foreign currency. Also bring a $100 bill (0r whatever your currency is) in case you need emergency cash.
The best way to get money while traveling abroad is through an ATM (cashpoint/cash machine). ATMs will give you a much better exchange rate than what you'll find at a money exchange place or from your local bank back home. The good thing about ATMs in Europe is that they don't charge you a fee to use their ATM (no matter what bank you use). However, your local bank might charge you a fee to use your card in a foreign ATM, so be sure to read up your bank's policies about using your card abroad. It is best to withdraw bigger chunks of cash than making a lot of smaller withdrawals since your bank will probably charge you a fee each time you use the ATM.
You can avoid fees in many cases if you're a member of a bank that belongs to the Global ATM Alliance and you use a foreign ATM that is also a member of the alliance.
It is best to only use your credit card/debit card when making large purchases since you'll get charged a fee each time you it. That's why I like to use cash for small things and then my card if I need to buy something bigger.
Pick Your Travel Season for Backpacking Europe
Read our full guide to choosing which season to travel in Europe for more great travel advice.
Most people backpack through Europe during the summer, but this is also the high season in Europe. It is understandable that most people want to travel during the summer since the weather is the best, but it will be busy and crowded. Another great option is traveling during the shoulder seasons (spring and fall). The crowds decrease dramatically during the spring and fall, and the weather can still be really nice. If you want to skip the crowds, travel in the winter. Keep in mind that the weather during the winter can range from mild to very cold (depending on where you travel). If you do want to backpack Europe in the winter, I invite you to read our guide to staying warm while traveling in the winter.
European Travel Itinerary Planning
Read our comprehensive 10-step guide to choosing a successful travel itinerary for Europe for even more tips for planning your journey.
Choosing a well researched travel itinerary is essential if you want to get the most out of your journey. You don't have to plan every second of each day, but I believe you should have a good idea of what you want to do/see before you leave.
Personally, I like to first take out a map of Europe to get an overview of all the places I can visit. Then I make a note of all the places that seem interesting. Once I have an idea of where I want to visit, I make a rough itinerary and I make sure the order in which I'm traveling makes sense — don't waste a lot of time and money by traveling in a haphazard manner. I tend to grab a few travel guides to get an idea of what each city has to offer — read about my favorite guide books and online travel guides here.
One of the biggest mistakes travelers can make is trying to visit too many places. While possible, trying to visit five destinations in two weeks will totally wear you out and everything will blend together. Trust me. I recommend spending more time in fewer places because it will give you more time to enjoy each place. Additionally, traveling to each new destination takes a lot of time, so you'll spend a large chunk of your time on a train, plane, or bus if you change destinations every two or three days — plus, traveling isn't cheap, so you'll save money by traveling less.
Budgeting Advice and Estimating Your Travel Costs
Backpacking in Europe doesn't have to be extremely expensive, but it can be pretty costly if you don't pay attention. Your budget will also depend on your personal travel style and budget constraints, but I assume most people reading this guide are budget-conscious travelers.
There are five general areas where you'll spend money:
Accommodation
Food and Alcohol
Sightseeing/Attractions
Public Transportation
Travel
Nonessential Extras
Accommodation
Most budget travelers and backpackers stay in hostels because hostels are usually the cheapest accommodation option. In Western Europe, a night in a hostel will cost about 20€-30€ for the cheapest option, but prices drop dramatically in Eastern Europe. If you want a room with fewer people (or a private room), the price will be higher. The best place to find a good hostel is through Hostelworld (that's the site I always use). Want to know more about hostels and what to look for in a perfect hostel? View our guide to hostels in Europe.
If you want to treat yourself, or if you want some privacy, I recommend renting an apartment through AirBnB. I've used AirBnB a lot, and I've really liked it. If you're traveling with another person, the price per person can be comparable to a hostel. Additionally, I feel much more like a local when I stay in an apartment.
If you want to really save some cash, there is always the option of Couchsurfing. The downside to Couchsurfing is that it can be difficult to secure housing (especially in large cities where hosts are overrun with requests) and you can't just 'check-in' whenever you like since you're dealing with an individual, not a company. But it can be a great way to discover a city and save money. I've written a guide to Couchsurfing, and I invite you to read it if you're interesting in learning more about this option.
Food and Alcohol
Food costs can be a little tricky to estimate because the prices can change a lot depending on where you go. The cheapest option is buying food at a grocery store and making a meal for yourself. It is pretty easy to eat for 10€-15€/day if you choose this option. That said, it isn't always easy or possible to make all your meals. However, many grocery stores have prepared sandwiches and salads which can be a good budget option. In Paris, I could get a decent sized chicken salad, a bag of chips, and a drink for about 8.50€ from a grocery store (there were cheaper options, too).
Eating at restaurants can become costly, but it is nice to sample the local cuisine — and you'll get tired of eating ham sandwiches and pasta. You can find cheap pizza and kebabs in pretty much any European city, and a full meal from a restaurant will start around 15€. A good way to save some money is to eat at a restaurant during lunch because there are often lunch specials.
Alcohol can bust your budget if you're not careful. Luckily, good beer and wine is pretty cheap if you buy it from a grocery store. In France (and other wine producing countries), a good bottle of wine starts at around 7€ and a 6-pack of Leffe Belgian beer is about 6€ at the store. You can get a few really good specialty Belgian beers for about 1.50€-3€/bottle. In Paris, I paid anywhere from 4€-9€ for a beer at a restaurant/bar. Be sure to look for happy hours to save some money.
Attractions and Sightseeing
Don't forget to budget for visiting attractions like museums and monuments. Some cities, like London, have a lot of free museums, but most places charge. Museums generally run about 5€-12€ for the normal collections (I suggest looking up the prices for where you're visiting). If you're under 26, you might be able to visit for free or at a discounted student rate, so be sure to check.
Public Transportation
Public transportation in pretty much all of Europe is very good — especially in cities. The price for using public transportation can range from really cheap to a bit expensive. Just be sure to do a little research before arriving so you know your best option.
Travel
One of your biggest expenses will be traveling between destinations. There are a lot of budget airlines which make long distance travel fairly affordable if you buy early. You can read our guide to cheap air travel in Europe for more information about flying in Europe. I love train travel, but it can be pretty expensive. I've written a guide about rail travel in Europe that has some tips about finding the best ticket prices and general train travel advice. Additionally, another popular option for traveling by rail is using a rail pass.
A cheap option for backpacking is traveling through Europe by coach. While slow, coach travel is generally the cheapest travel option.
Another backpacking Europe option is traveling by car. If you're going to just travel between large cities, I would forget about driving. Driving in any large European city is a nightmare. But driving to a tiny little town can be a ton of fun. I rented a car when I explored the Normandy region of France, and it was fine (until I had to drive in Paris). Be sure to brush up on your manual transmission skills because automatic cars are much more rare and cost 2x-3x as much to rent. You can read more about renting a car in Europe in our car rental guide.
Nonessential Extras
Don't forget to budget for those extra things that you can't anticipate — whether good or bad.
Backpacks and Packing Advice
Travel Backpacks 
We created an extensive guide to finding the perfect backpack for traveling Europe that will tell you everything you need to know about choosing a well fitting backpack. 
Finding the right backpack is important, and there are many options available. In general, I recommend buying a backpack that is between 35-65 liters. This size range is good because it isn't too small, but it isn't too big. Also, I personally think a panel-loading (front-loading) is preferable to a top-loading backpack since it's easier to pack and unpack. I think the best all-around backpacks are the Osprey Porter or the Osprey Farpoint, but you can read about our top-rated travel backpacks for Europe.
Packing Your Backpack  
I've compiled a complete backpacking Europe packing list that contains everything you'll need to bring on your adventure — from clothing to travel accessories. 
Remember to pack light. This can be tough — even for experienced travelers. Traveling is already stressful, and it is much more difficult when you're hauling around a ton of stuff. Remember that no matter how long you travel, the amount of clothes you bring should be about the same since you'll wash your clothes as you travel. In fact, your clothes comprise the bulk of your backpack's weight, so bringing less clothing will cut your weight by the greatest amount.
The big thing to remember is to bring clothes that you can mix and match. This way you can combine different articles of clothing to build multiple outfits. I think it is best to bring clothes that are black, dark blue, dark green, brown, and other similar colors that hide stains.
How to Pack Your Bag
Living out of a backpack has its challenges, so you'll want to be organized as possible. If you just throw your clothes in the bag, you'll not only have trouble finding your stuff, but all your clothes will be constantly wrinkled. I like to use packing cubes and packing folders to keep everything organized. The cubes and folders also help prevent wrinkles. For a better explanation on how to properly pack a backpack, I invite you to read our guide on how to pack a backpack for traveling in Europe.
Using Electronics in Europe
Backpackers are bringing more and more electronics as they're backpacking Europe. The main thing you'll need is an electronic plug adapter. This adapter will convert the plug on your electronic device to the European outlet. This won't change the voltage that enters the device (Europe uses 220v and N. America uses 120v). I've written a guide that explains everything you need to know about using electronics in Europe — from voltage issues and plug adapters to wifi and laptops.
Digital Cameras for Travel
Read our guide to choosing the perfect digital camera for backpacking Europe.
A camera, in my opinion, is the most important item you can bring to Europe — but I love photography. It's important to remember that the best camera is the one you have with you. That's why I prefer to bring as small a camera as possible that also takes quality photos. Clunky DSLRs may take amazing photographs, but most people end up leaving them at the hostel because they're too heavy to lug around. If the camera can fit in your pocket, I guarantee you'll use it more often. Plus, when you're backpacking through Europe you already have a limited amount of space, and a big camera will just become something else you have to pack.
One thing I always recommend when looking for a camera is its low-light performance. Most people look for high megapixels, but low-light performance is much more important and it will make your photos so much better. Also, make sure you bring plenty of memory cards so you don't have to worry about running out of space.
Traveling Solo in Europe
Traveling solo isn't scary — in fact, I love traveling alone. Read our guide to traveling solo in Europe. 
My first trip backpacking Europe was completely solo. I loved it. I was worried that I would be an outcast and I would be lonely, but I ended up meeting new people every day. Traveling alone gives you the freedom to do whatever you want, whenever you want. I was able to change my plans quickly, and I didn't have to argue with a travel partner about anything.
I stayed in hostels and I was able to meet other travelers — both those traveling solo and with other people. The worst thing was having to eat alone, but this was just a minor thing. After a while, I started to enjoy it.
Traveling in Europe with Friends
Traveling can be stressful, and we often take our frustration out on the people we travel with. Here are some tips for traveling without killing your travel partners. 
While I do love traveling alone, I also love backpacking Europe with friends. I've done a lot of travel in Europe with my wife, but things can get a bit tense when the stress of travel kicks in. The main tip for success is communication. Make sure everyone in your group voices their opinions before you leave so everyone has an idea of what they want out of traveling.
And don't be afraid of splitting up. It is nice to have some alone time — even if it's just for an hour. Then everyone can come back together and continue the journey.
More Great Travel Advice from The Savvy Backpacker
How To Avoid Stupid Travel Mistakes & Other Good Info
Fashion Advice: How to Avoid Looking Like An American Tourist In Europe
Money Savings Tips for Budget Travel and Backpacking in Europe
How to Avoid Scams In Europe and Tourist Safety Advice
Tips for Finding Cheap Flights to Europe
Important Planning Activities That Are Easy To Overlook
Guide to Ultralight Backpacking and Travel in Europe
Hostel Etiquette: How To Make Friends While Backpacking Europe And How To Not Be An Ass
Ryanair Survival Guide: Everything You Need To Know About Flying Europe's Cheapest Airline
Do you have any tips or advice from your time backpacking Europe? Do you have questions? I'd love to hear from you! Leave a comment and I'll get back to you.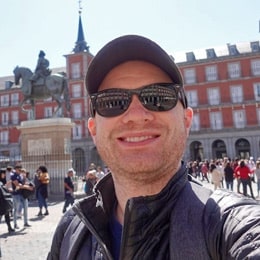 No Funny Business
The Savvy Backpacker is reader-supported. That means when you buy product/services through links on the site, I may earn an affiliate commission — it doesn't cost you anything extra and it helps support the site.
Thanks For Reading! — James
Questions? Learn more about our Strict Advertising Policy and How To Support Us.