Every European adventure is different. Some people travel for 12 days and some travel for over 12 months. There are rail passes to meet most people's needs. But with so many options, choosing the perfect rail pass for Europe can often become overwhelming. My best advice is to read about each pass and then start planning your trip. This guide will cover everything you need to know for making your pass work for you.
If you're European, click here for Interrail Passes.
Rail Pass Basics :: Things to Think About When Considering to Purchase a Eurail Pass :: Where to Buy a Eurail Pass :: Tips for Using Your Eurail Pass
Rail Pass for Europe Basic Information
What is a Eurail Pass?
A rail pass is a single ticket that allows unlimited train travel on almost any train in Europe. There are a few types of passes:
Global Pass

Continuous: You get unlimited travel to any Eurail participant country for between 15 days to 3 months.
Flexi: Get 10 or 15 days of travel to any Eurail participant country within a 2-month period.

Select Pass:

Between 5 and 15 travel days in a two-month period, but you're limited to traveling to 3, 4, or 5 bordering countries (depending on what pass you choose). These passes are good if you have a group of countries you're interested in visiting.
For example, one pass could be 8 days of train travel between France, Germany, and the Czech Republic. You have a two-month window to use of your 8 travel days. Each day you travel by train counts as one travel day.

BritRail

Not technically part of Eurail (the UK isn't a Eurail participant country), but this pass covers England, Scotland, and Wales. This pass offers many travel options.

SwissRail

Not technically part of Eurail, but this pass is a great deal if you spend a few days in Switzerland. Trains are very expensive, and even short journeys will cost a lot. Swiss trains don't require any type of reservation or extra fees.
Review All of the Rail Passes: RailEurope does a really great job of helping you decide what rail pass will work best for your trip. Go to their site and review all the available information.
In what countries do rail passes work?:
Austria (including Liechtenstein)
Belgium
Croatia
Czech Republic
Denmark
Finland
France (including Monaco)

Germany
Greece
Hungary
Ireland
Italy
Luxembourg
The Netherlands

Norway
Portugal
Romania
Slovenia
Spain
Sweden
Switzerland
Things to Think About When Considering a Eurail Pass
Travel in Italy, Spain, and Eastern Europe: Train tickets in these countries are usually cheap (even if bought at the station), so you'll save money by simply buying point-to-point tickets. Conversely, train travel is very expensive in Switzerland, so a rail pass is often a great deal if you plan on traveling there.
Preplanned Journeys Will Save You Money: It is much cheaper if you can plan your entire trip before arriving in Europe and buy your tickets online a month or two ahead of time. Be aware that most of these cheap tickets are non-refundable, so pre-purchasing severely limits most, possibly all, of your flexibility. Click here for more in-depth information about purchasing train tickets.
Reservation Fees: A lot of high-speed and overnight trains require reservations — even if you have a rail pass (look for an "R" on the train schedule). There is a small fee for reservations. Note: Most non-regional trains (the trains that don't stop at every tiny town) to/from/within France, Italy, Spain, Sweden, and Portugal require reservation fees. The fees can range from about $5-$40 (depending on the length of travel).
Tip: Make reservations at the train station. Tell them you have a rail pass and they'll make the reservation for you.
Your Pass Doesn't Cover Subways/Suburban Metro/Trams: Some people assume that the pass will work on the subway or other intra-city public transportation, but it doesn't. However, you can get a free ticket from Paris' Charles De Gaulle airport to Paris Gare du Nord railway station (in this direction only). You have to ask at the RER station desk and show them your pass. (I don't know if your pass has to be validated though. If it does, it wouldn't be worth using a day of travel for an 8.50€ ticket.)
Adult/Youth Pass Price Difference: Youth passes (anyone under 26) get a sizable discount. If you're over 25, you can only buy a first-class rail pass. I never understood why there isn't a second-class adult rail pass. I guess they don't want us corrupting the youth.
Travel With a Group and Save: Eurail offers "saver" rail passes for groups of 2-5 who are traveling together. There is only one ticket with everyone's name is on it, so all riders must ride on the same train.
Rail Passes Are Great For Flexibility: Being able to choose where you travel is a great thing about having a rail pass. You can show up at the train station, choose where you want to go, and simply hop on. If you wanted to do this without a rail pass, it could cost a fortune to buy a point-to-point ticket the same day you want to travel. I loved being able to choose where I wanted to travel on a whim.
Rail Passes Are Great For Multiple Long Distance Trips: Long distance trips can get really expensive. You can save a lot if you plan on taking a few of them.
Rail Passes Are Just Easy: On most trains, all you have to do is walk on the train and find an open seat. It is as easy as that.
Bottom Line
A rail pass is great if you want a lot of flexibility, or you don't want to bother with the hassle and frustration of planning out your entire trip ahead of time (and believe me… you can spend hours and hours planning).
Buying point-to-point tickets make more sense if you can plan your adventure well in advance and buy your tickets a month or two ahead of time. Click here for my guide on buying point-to-point train tickets.
I've done European trips with and without a Eurail pass. I really loved being able to hop on the train whenever I pleased. I didn't have to worry about planning anything, and I decided where I next wanted to visit on a whim. On the trip where I purchased point-to-point tickets, I had to do a lot more planning (which can be stressful). I bought most of my tickets about 2-3 weeks prior to my trip. Afterward, I added up everything and compared it to the cost of a rail pass, and I saved about $80-$100 by buying tickets separately. I also spent many hours planning everything so the trip would fit together perfectly. The money I saved probably wasn't worth all the extra time I spent planning.
Where to Buy A Eurail Pass
There are a few different online companies who sell Eurail passes. There is no virtually no difference in price between companies. I used RailEurope.com and they sent a few extra things with it (map, train schedule, helpful information about how to use the pass, etc.). Keep the following things in mind:
Only non-Europeans can order Eurail passes, and they won't mail passes to any European address. Europeans need to buy an Interail pass.
Your pass has to be validated within 6 months of the purchase date or it becomes void.
Insurance: Most companies offer rail pass insurance. If your pass gets lost or stolen, they'll refund some of your money (check each site's policies). If you lose your pass and don't have insurance, you're out of luck. Make sure you keep track of your rail pass even if you do have insurance because you're still going to end up losing money.
Tips for Using Your Eurail Pass 
Don't validate your ticket until your first day of rail travel.
Purchase a second-class rail pass if you're under 26. The people in first class are older folk and business people. You have a lot better chance of meeting other young travelers in second class. And more importantly, it is a lot cheaper.
When using the continuous pass, be sure to plan your trip so you can get the most out of your pass. Start your trip in a city where your pass doesn't work — London for example. You can spend a few days in London and then take a cheap flight to Amsterdam. Spend a few days in Amsterdam and then validate your pass once you leave Amsterdam.
When using a flexi pass, don't waste a day of your pass for a short cheap trip. Combine the flexi pass with point-to-point tickets to get the most out of your trip. To see if using a day of your flexi pass is worth it, divide the cost of your ticket by the number of travel days. If your cost per day is $50 and you want to take a small side trip that costs $18, it is smarter to just pay for the point-to-point ticket. Save your travel days for more expensive trips.
Plan your trip and compare different rail pass plans. You don't want to purchase a pass that doesn't give you enough travel days, but you also don't want to waste left-over days from a pass that was too large.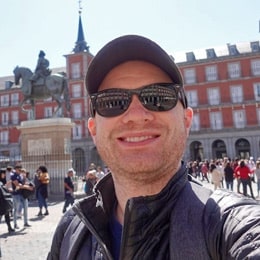 No Funny Business
The Savvy Backpacker is reader-supported. That means when you buy product/services through links on the site, I may earn an affiliate commission — it doesn't cost you anything extra and it helps support the site.
Thanks For Reading! — James
Questions? Learn more about our Strict Advertising Policy and How To Support Us.