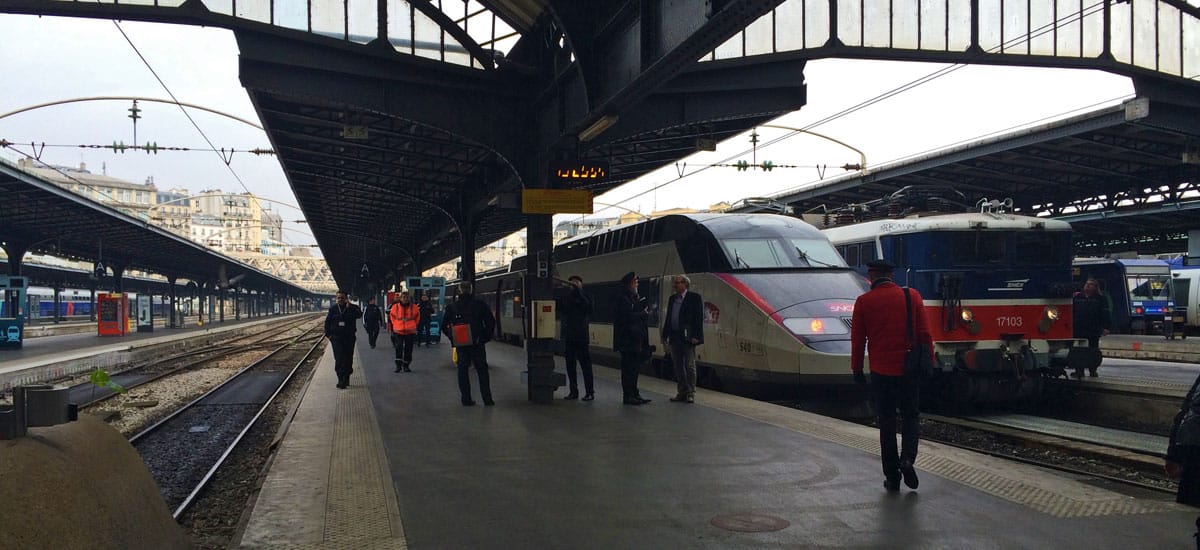 Traveling by train is the quintessential method for touring Europe and rightfully so. It's romantic. It's inspiring. Some might say it's almost magical. And to those of you who don't live in a country where train travel is prominent, it's a little mysterious. The rail network is extremely developed and train service is very reliable (unless there are strikes). Trains in Europe are not perfect, but many people consider them the best way to travel. This Train Travel 101 guide will explain everything you'll need to know about train travel.
Sections Of This Guide
Eurail Passes are a whole different story — Click here to visit the Eurail Pass information page.
Advantages To Rail Travel In Europe
Arrive Right in the Center of Town:
Unlike airports, European train stations are located right in the middle of town. You don't have to spend time and money traveling into the city because you're already there. Traveling from the airport into the city will usually take anywhere between 20-60 minutes and cost $10-$40.
No Long Check-In and Security Lines:
There are no lengthy check-in procedures for train travel, and there is no need to go through any security screening. You can simply show up a few minutes before the train leaves, buy a ticket if you don't have one (often from a ticket machine with English instructions), and hop on the train.
No Luggage Limits/Fees:
There are no luggage weight limits or extra fees for multiple pieces of luggage. Just make sure that you're able to lift your bag onto the train.
Bring Some Wine (Don't Forget the Corkscrew):
You can pretty much bring whatever you want on a train, including alcohol. Bring a bottle of wine or a case of beer if you want. You're sure to make a few friends if you give a few away to your fellow travelers. Stop by the local grocery store and pick up some cheap food for the journey.
A Vast Rail Network and Multiple Trains:
Europe's rail network is extremely vast, and it is possible to travel to even the smallest of towns by train. Most destinations offer multiple trains a day. The most popular routes usually have a train each hour, which really increases your travel options.
Sleep On the Train and Extend Your Travel Time:
If you're traveling a long distance, consider taking an overnight train. These trains have special sleeper cars with bunks (usually six-bunk rooms or two-bunk rooms). A bunk in a sleeper car will cost about $25-$55 extra (about the same as a night in a hostel), but you won't lose out on a whole day of travel. Overnight trains also have normal seats if you don't want to fork over the extra cash for a bunk.
Be Spontaneous:
Most trains don't require a reservation, so there isn't a need to book ahead. Simply show up at the train station before the train leaves and climb aboard.
Beautiful Views:
Europe has a lot of amazing countryside, and traveling by train is a great way to see some fantastic views.
Peace and Quiet:
The train is the perfect place to sit back and relax. There is something very peaceful about staring out the window as you ride silently at 150MPH through the European countryside (that cold beer doesn't hurt either). The train is also a good time to write a postcard to your friends and family, read a book, write in your journal (you'll be glad you did), or continue planning your future travels.
Comfort:
Train seats are usually a little larger than planes seats (especially when compared to many discount airlines). You're also free to move about the train whenever you feel like it. Many trains also have seats that face each other and have a table between the seats. These are perfect for groups or if you just like table space. Unless it is a holiday or you're on a very popular route, the train is often uncrowded, so there is a good chance you'll be able to get two seats to yourself.
Reliable and On Schedule:
European trains run on schedule well over 90% of the time, but flights are only on schedule around 65%. This is partially because the weather (snow, rain, fog, etc…) generally has no impact on train service.
Beautiful Train Stations:
Historically, the train station was the central hub for commerce and transportation. Many European cities showed off their wealth and status by building grandiose train stations. While it isn't a huge deal, it is one of those nice little perks.
The Train is Fun:
I always found riding the train to be fun. Maybe it is because there are no trains where I live, or maybe it conjures up nostalgic images of riding the train through the wild west. Whatever the reason, I always found train travel special.
Disadvantages of Rail Travel in Europe

The Cost:
Train travel can be expensive, although there are often discounts for people under 26 or if you purchase your tickets far in advance.
Slow for Long Distance Travel:
If you're traveling long distances, it might be smarter to fly. For example, taking the train from Paris straight to Budapest would take around 18 hours by train, so – unless you stop and spend a few days in cities on the way – it would make more sense to fly.
Confusion:
The train schedules can be a little confusing, especially for beginners, but it is easy to learn. Also, a lot of large cities, and a few small towns, have more than one train station (Paris has six!). It's not uncommon to arrive in one station and leave from another. I've shown up at the wrong station a number of times, so be sure you read your tickets carefully.
It is also possible to change stations during a single journey, for example, when traveling from London to Lyon, France via the Eurostar. The Eurostar stops at the Paris North station, but then you have to travel to the Paris East station to catch the train from Paris to Lyon because there are no direct trains from London to Lyon. This transfer would require a cheap Métro (subway) ride.
Rail Strikes:
Striking is a national pastime in Europe.  It happens a few times a year (or more if the people aren't happy), and you'll usually know about them a few days in advance. You'll just have to deal with them if they happen.
How To Buy Train Tickets & Get The Best Price
Buying train tickets can be a little complicated. Finding the best price is even more complicated. Unfortunately, there is no single website that can find the best ticket prices for all of Europe. It does take a little work and planning, but this guide will walk you through the process for getting the best deal possible. If you're interested in information about Eurail passes – click here.
Buy Your Tickets Online:
You'll get the best deals on tickets if you buy online. BUT, you need to buy them directly from each country's site. For example, if you're traveling in France, you should buy the tickets from the French rail website www.voyages-sncf.com. This way you won't have to pay all the extra fees that you would if you booked through a travel agent. Generally, these tickets can't be mailed outside of Europe, so they have to be picked up at a train station.
You can also buy tickets from the North American distributor, Rail Europe. Rail Europe is a joint venture between the French National Railways and the Swiss Federal Railways, and it was created to sell rail tickets to non-Europeans.
Unlike most European rail systems, Rail Europe will mail tickets outside Europe. Unfortunately, there is a good chance you'll have to pay a bit more for a ticket. These sites don't always display current specials and sometimes they only show the more expensive tickets. Although, sometimes the ticket prices are nearly identical to European prices, so it might be easier to buy them through Rail Europe in these cases. Therefore, make sure to check both Rail Europe and the country's website to compare prices.
Note: The above information is the same for Canada, Australia, and New Zealand; www.raileurope.ca, www.raileurope.com.au or www.raileurope.co.nz.
Individual Country's National Rail Websites:
Austrian Railways¹ – Belgian Railways¹ – Danish Railways – Finnish Railways – French Railways – German Railways – Irish Railways – Italian Railways – Spanish Railways – Netherlands Railways¹ – Norwegian Railways – Polish Railways – Swedish Railways – Swiss Railways¹ – United Kingdom Railways
¹ Domestic tickets (i.e. trips that are wholly within the country) are always the same price, regardless of when they're purchased, and they never require a reservation. Therefore, it is easiest to buy them at the station. However, these countries often have a separate international high-speed train system (e.g., Belgium has slower regional trains and high-speed Thalys trains that link major Belgian cities to other international cities).
Important Notes:
Booking tickets online in Eastern Europe is tougher/not possible. It is usually best to purchase them at the station or through a local travel agent. Ask your hostel or hotel, and they'll tell you where to locate an agent.
Double check the rules about how you can retrieve your tickets. If the rail company won't mail you the tickets, then you'll have to pick them up at a station in that country. This presents a problem if you bought your Paris to Barcelona ticket from the Spanish rail site because you can only pick the ticket up in Spain. Some countries are starting to allow you to print your own tickets, but many don't.
When you pick up your tickets at the station, you usually need to use the same credit card you used to book/purchase online. There are many automated ticket machines in train stations and it is possible to get your pre-purchased tickets there. Although, some only take the "chip-and-pin" cards (not used in the US) so "swipe" cards might not work. You can always give it a try first, but you might have to go up to the window to get your ticket.
Plan Your Rail Journey:
The Germans are known for being extremely precise and orderly, so it is no surprise that they produce the most in-depth train schedule for all of Europe. Visit www.bahn.de and input your desired journey. You won't be able to buy tickets (unless you're buying tickets for German train travel) but you'll be able to see the schedule of just about every train in Europe. This is great for complex journeys that other websites can't process. Once you know all the train schedules, you can break the trip down by country. If you're traveling from Paris to Budapest for example, book a train from Paris to Munich using the French rail site. Then use the German site to book a train from Munich to Budapest (this is a simple hypothetical situation – it maybe be possible to book this journey from the French rail site).
bahn.de is also great because it gives you all the extra, and often very important, information about each train (if a reservation is required, if there are sleeping/food/bar cars, etc…).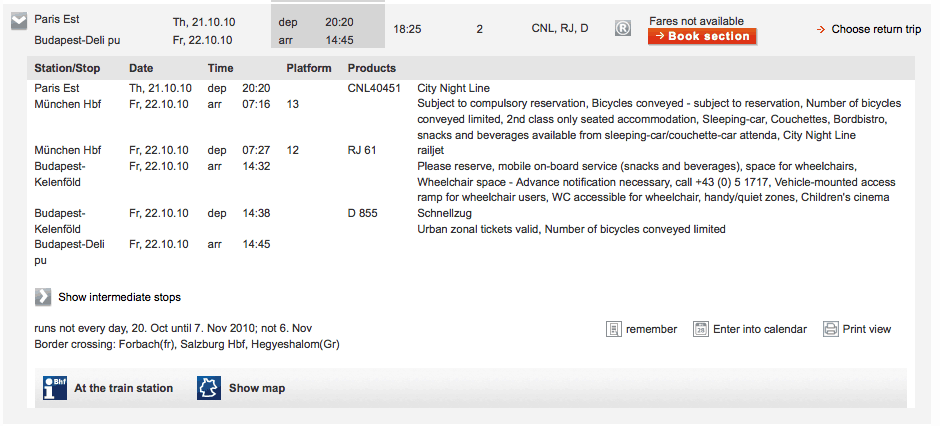 Book Tickets in Advance:
Tickets are able to be purchased 90 days (sometimes 60) before departure, although Eurostar tickets are available 120 days in advance. There is a limited amount of cheap tickets and they obviously sell out the quickest.
There will usually be a huge price difference when you buy in advance. The Eurostar offers a one-way ticket from London to Paris for about $60 if you book well in advance. That same ticket will cost $140 if booked only a few days in advance and $225 if booked the day before/day of.
However, it is important to remember that most regional trains (non-high speed trains) don't change in price based on when you purchase them (i.e., they are the same price no-matter when you purchase them). Just purchase a ticket at the ticket window or ticket machine.
Youth Discount (under 26):
All you young whippersnappers under 26 will probably get a discount on most train travel, although the discount you receive by booking well in advance is usually cheaper than the youth discount. It does come in handy when you're traveling spur-of-the-moment.
Night Trains:
If you're traveling a long distance, it could be wise to take a night train. Almost every major city has daily connections to other major cities. Night trains require a reservation. You also have the option to reserve a small bed in a sleeping car. The most common configurations are six bunk rooms and two bunk rooms. The rooms are 'cozy' (small), and you'll most likely be sharing the room with strangers. A bed will cost about the same as a hostel bed and should be reserved ahead of time. You can save a day for sightseeing by taking the night train, and you'll arrive at your destination rested and ready for a new city.
Final Words About Point-to-Point Tickets:
As stated above, buying tickets in advance is the best way to save, but this also limits your ability to be flexible/spontaneous. This is especially true since many of the truly cheap train tickets are non-refundable.  For optimum flexibility, it might be best to buy a rail pass. For example, when I was in Krakow, a lot of the hostelers were talking about Budapest and it sounded really interesting. It wasn't part of my "schedule," but luckily I had the flexibility to change my plans – Budapest turned out to be one of my favorite cities.
Each person's travel plans are different. Someone traveling for nine months is going to have a totally different strategy than someone who is on a strict two-week time limit. This is where solid planning comes into play.
How To Use Train Tickets
Validate Ticket:
Many train tickets need to be validated (stamped with time/date) before entering the train. There are machines at the station; you simply stick your ticket in and the machine stamps it. You can receive a large fine if the ticket checker sees that your ticket isn't validated (they'll assume you were trying to ride for free). If you forgot, quickly seek out the checker, explain that you forgot to validate and everything should be fine. Or you can just play the "I'm a dumb tourist and these scary trains confuse me" card and hope they let it slide.
Note: You can sometimes buy your ticket on the train (although you'll pay extra), but you must seek out an employee quickly. You'll receive a large fine if they come around checking tickets and find that you don't have one.
Locate Your Train Car and Seat:
Some tickets will have assigned seats. First, locate the train car you're assigned to, then find your seat. The car numbers are posted near the doors. If there are no assigned seats, you simply need to find a car with the correct class (first or second – marked with a 1 or 2 on the car) and find any seat.
Ticket Checker Checks Your Ticket:
After the train starts, the ticket checker will come by and stamp/punch your ticket. While not extremely common in Western Europe, border patrol might board the train to check passports. They might ask you some questions. I usually only ran into this in Eastern Europe.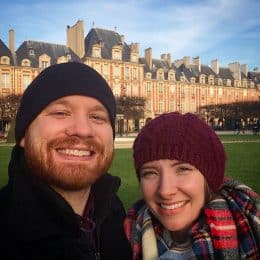 No Funny Business
We want to be fully transparent that this post may contain affiliate links. That means we receive a small commission if you make a purchase after clicking the link — it doesn't cost you anything extra and it helps support the site.
Thanks For The Support! — Susan and James
Questions? Learn more about our Strict Advertising Policy and How To Support Us.