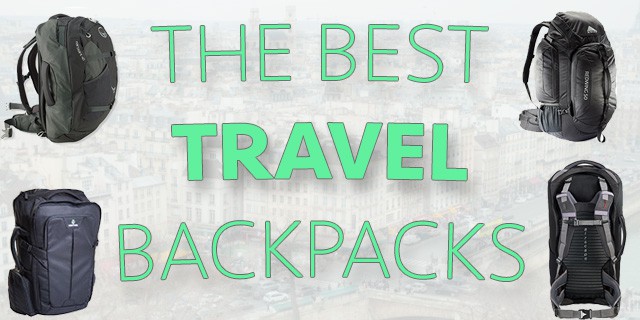 UPDATED: January 28th, 2018. Originally Posted: June 2014.
Ahh, yes… Travel backpacks. Companies are finally starting to design backpacks specifically for travel! In the past, people traveling to Europe, Southeast Asia, South America, and everywhere else were forced to use normal hiking backpacks that were designed for all-day hikes in the wilderness. However, for city-hopping via train, plane, and bus, these backpacks fell short in the urban environment.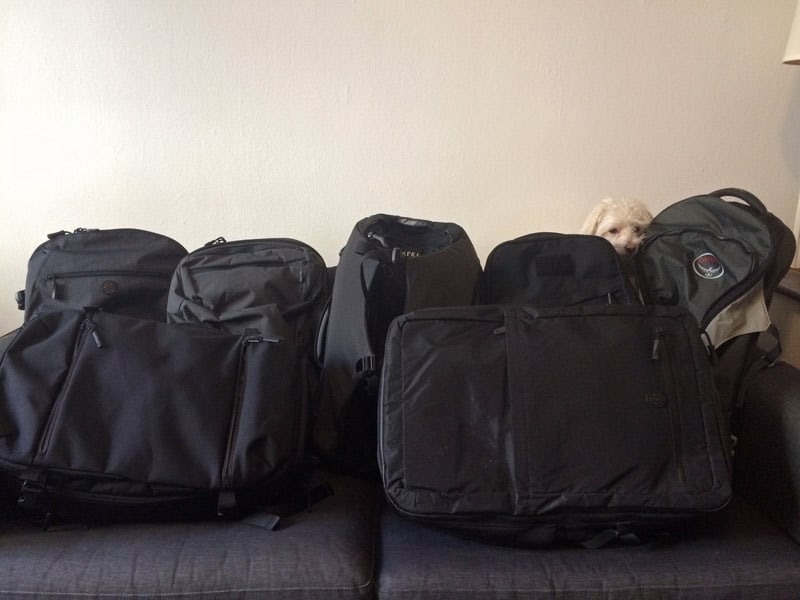 NOTE: We first posted this guide in 2014 and we continue to update the list as we test new backpacks. In this update, we added new bags from Osprey and AER, and we removed a few bags that were discontinued.  
Reasons Why Traditional Hiking Backpacks Aren't Ideal for Travel
On my first trip to Europe, I did a ton of research before I bought my backpack. I went to five outdoor stores and visited dozens of websites before I finally decided on the Osprey Atmos 50. It was a great backpack. It was lightweight, comfortable, and it would have been amazing for taking long hikes in the backcountry.
However, I wasn't going to scale any mountains — I was going to Paris, London, Budapest, and Amsterdam. The bag worked fine for my trip, but after a few weeks of traveling with the bag, I became well aware of its shortcomings.
Getting to your stuff is a bit difficult with a top-loading backpack!

The main problem was gaining access to all my clothes and other stuff in the bag. That's because hiking backpacks generally only open from the top, so trying to get to anything inside the bag requires you to unpack a lot of stuff first. It was a huge pain in the ass. When you're hiking, a top-loading bag is perfect because you haul all your gear to a campsite and then unload it as you set up camp. But when you're traveling, you don't want to unload your entire bag every time you change locations. You want to open your bag, get whatever you need, and then be on your way.

Hiking backpacks are covered in all sorts of straps. These straps adjust the fit of the shoulder harness and hip belts, compress the bag's load, hold ice picks, and hold a sleeping bag/sleeping pad. All these straps can get caught on things if you're not careful. The biggest concern is if you check your bag at the airport because the straps can easily get caught on the luggage conveyor belt. If you're lucky, it will only cause minor damage, but there is the possibility of the strap being ripped completely off the bag — which isn't good.
Many hiking backpacks are long and narrow, which is good for keeping the stuff in the bag centered on your back, but it makes it difficult to pack. This is a feature you want when hiking for miles at a time, but it is a bit of a nuisance when traveling.
Finally, top-loading backpacks are closed with a drawstring, so they're not exactly secure from nefarious hostel mates.
So What's The Deal With Travel Backpacks?
The idea behind a travel backpack is simple: the backpack zips open like a normal suitcase — none of that top loading nonsense. This way you can easily access whatever you need without much hassle. Additionally, most travel backpacks don't have all those extra straps and the suspension system (i.e. the shoulder straps and hip belt) can be stored away behind a zippered panel so it's safe for transport in buses, planes, etc.
So you're probably thinking that this all sounds great… so what's the catch. Well, travel backpacks are still relatively new, so they're not as advanced as traditional hiking backpacks. Therefore, there are still a few drawbacks:
The suspension system: The shoulder straps on a travel backpack are not always as advanced as on a traditional hiking backpack – although it does depend on the backpack. Travel backpacks are designed to be worn for maybe an hour — assuming you don't overload it. This should be plenty of time for most city-hopping trips where you'll be using public transportation. However, you should think twice about buying a travel backpack if you plan on doing any long-distance hiking on your trip.
Hip belt: A lot of travel backpacks skimp on the hip belt — some don't even have one. The problem here is that most of the weight of your backpack should actually fall on your hips — not your shoulders. Very few travel backpacks include a fully functional hip belt, so this is another reason you don't want to wear this style of backpack for long amounts of time. Again, it shouldn't pose too much of an issue since you won't be wearing the bag for an extended amount of time.
Zippers are the weak spot: The zipper will always be the weakest point in any bag — there is no getting around that. Generally, most major manufacturers use heavy-duty zippers so you don't have to worry too much about breaking one, but it is possible. Another concern is that traditional zippers aren't waterproof. Nicer bags now come with waterproof zippers, but yours doesn't have one, you may consider purchasing a rain cover for your bag.
Boxiness: Travel backpacks are a little boxier than the average hiking backpack because they're designed to be more like a suitcase. This is a minor complaint, but if you're used to using a hiking pack, you might notice the difference.
Our Favorite Travel Backpacks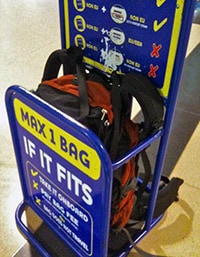 Each backpack listed below is designed for travel.
A quick note about carry-on sizes: Each airline has their own rules about carry-on size limits, and they usually specify their maximum length x width x depth. It gets a little confusing because a backpack might be under on the width and depth but slightly over on the length. Most of these bags aren't super rigid, so the sides will compress if you need to force your bag into one of those size templates that airlines use. The airlines are usually much more strict about the weight of the bag. As a general rule, a 45L bag is about the max size for carry-on luggage, so I wouldn't go over that size.
Osprey Farpoint & Fairview
The Osprey Farpoint is a great travel backpack, so it's no surprise that it's one of the most popular packs — Click here to read our in-depth review of the Osprey Farpoint. The Farpoint is available in three different sizes — 40L, 55L, and 70L.
UPDATE: Osprey has recently released a female-specific version of the Farpoint called the Osprey Fairview — it's basically the same bag but with a few design tweaks to better fit females (the Farpoint will still fit). Check Amazon for the latest prices. 
The Farpoint is one of the most fully-featured travel backpacks on the market because it incorporates many features that you'd find in a traditional hiking pack. Furthermore, it is priced fairly competitively, so it's a pretty good deal. The 40L and the 55L are essentially the same backpacks — the main difference is that the 55L has a detachable daypack.
The 55L is actually a 42L backpack with a detachable 13L daypack. The 40L is a 40L backpack with no daypack. The 70L is a 55L backpack with a 15L daypack. It's little confusing at first glance.
What We Like About The Osprey Farpoint/Fairview
Real Suspension System: The Farpoint actually has a suspension system that you'd find in a hiking backpack, so this bag is a great option if you value comfort.
Comfortable Padded Hip Belt: The hip belt on the Farpoint is a legitimate hip belt that is fully padded and adjustable.
Different Sizes: Each model (40L, 55L, and 70L) comes in a Small/Medium or a Medium/Large size. This is great because someone who is 5'3″ will want a different backpack than someone who is 6'1″. Most travel backpacks don't offer this feature.
Carry-on Size: Both the 40L and the 55L models are carry-on size (although, with the 55L, you might have to pack the detachable daypack into the bag because it could put you over the limit. It depends on the airline). The 70L is probably too big to be a carry-on but you may be able to sneak it by. NOTE: Be sure to check the airline's rules as they're always changing. 
Carry Handles: The Farpoint has two carry handles — one on the side and one on the top. It probably doesn't seem like a huge deal now, but these come in super handy when you're moving your bag around.
Fairly Lightweight: The 40L model weighs just under 3lbs, and the 55L weighs about 1lb more. These aren't the lightest weight backpacks, but they're far from the heaviest.
Zip Away Shoulder Straps and Hip Belt: All the shoulder straps and hip belts fold and can be zipped away for safe transportation.
The Farpoint 40L retails for $160 but is sometimes cheaper (check Amazon for the latest price).
The Farpoint 55L retails for $180 but it sometimes cheaper (check Amazon for the latest price).
The Farpoint 70L retails for around $200 (check Amazon for the latest price)
Osprey Porter
We like to think of the Osprey Porter as the Farpoint's little brother. It has a more basic suspension system so it's only really suitable for basic point A to point B travel. That said, it's still a comfortable and well-made backpack that won't break the bank. It was also redesigned in 2018 so it's better than ever.
The Porter comes in three sizes — 30L, 46L, and 65L. The Porter is streamlined, so there aren't a bunch of extra straps hanging off the bag. The shoulder straps are pretty basic, and the hip belt is minimal. The straps and hip belt do zip away if you need to check it or just want to carry it like a suitcase. The bag does come with a carry handle on the top and side. We also like how the Porter is fairly lightweight at 3.4lbs (46L version).
The Porter 30L retails for $120 (check Amazon for latest price)
The Porter 46L retails for $140 (check Amazon for latest price)
Tortuga Outbreaker Travel Backpack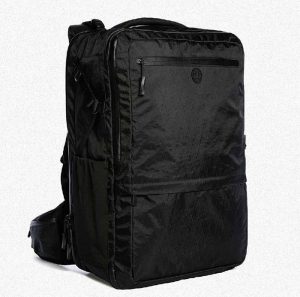 Up until this point, all the bags on this list have been manufactured by big companies. The Tortuga is different.
It was started by a few friends who became frustrated with their backpacks when they traveled through Europe. That's how the Tortuga was born. Their latest backpack, the Tortuga Outbreaker, is designed with urban travel in mind, and it does a really solid job. Want to know more? We did a more in-depth review of the Outbreaker here.
This panel-loading backpack comes in two sizes — 35L and 45L. The bag's material is sturdy, and the hip belt is substantially padded. The suspension system is pretty good and the shoulder straps have a lot of padding. The bag is a little bulky/heavy it's honestly not that bad. The straps and hip belt do not stow away but the 35L is small enough to carry on any airline. The 45L can probably be carried on as well but it might "officially" be too large for some airlines.
The Outbreaker costs $269 (35L) or $299 (45L) and is available via the Tortuga Website.
Tortuga also has two other great backpacks — the Setout ($199) and the Homebase ($245). We're currently testing both bags (we like to spend a lot of time with each bag before we write our reviews) but they both seem really nice so far.
AER Travel Pack
The AER is another small independent backpack company that has hit the scene a few years ago. We're really digging their Travel Pack. This pack is designed specifically for urban travel — it's pretty sleek (it's a tad boxy but not too bad), durable, has a ton of useful pockets, and fits well. It's 33L so it's specifically designed to be carry-on compliant. There isn't a ton of padding on the shoulder straps but it's pretty standard when compared to other minimalist/urban travel bags.
The AER Travel Pack also looks really nice (in our opinion) so you don't have to worry about looking like you're headed to the wilderness. It weighs a 3.7LBS so it's fairly lightweight.
The Aer Travel Pack costs $220 directly from the Aer Website
Want more information on this bag? Read our in-depth review of the AER Travel Pack. 
Kelty Redwing and Kelty Flyway
The Kelty Redwing is one of the best-selling backpacks for a reason — it's super comfortable, it has many advanced features, and it is affordable. The Kelty Flyway is very similar, but it has a few changes to make it more "travel-friendly." Essentially, they are the same bag with a few small differences. Both bags have a great suspension system with well-padded shoulder straps and nice hip-belts. Additionally, they both have vented backs to help ward off a sweaty back. Both bags are panel-loading and they have a few exterior pockets.
The main difference is that the Flyway comes with a cover to protect the shoulder straps and hip belt during transport, but the Redwing does not. The Flyway only comes in a 43L version, but the Redwing comes in a 44L and 50L version. It also comes in a female-specific 40L version. Both the Redwing and Flyway weigh a little over 3lbs, so they're lightweight.
Another great thing about these bags is the price. The Redwing is officially listed for about $115-$125, and the Flyway is about $135. However, on Amazon, you can usually find both bags for $90-$100 — which makes them an excellent value. Redwing available at Amazon and Flyway available at Amazon.
Minaal 2.0 Carry-on Backpack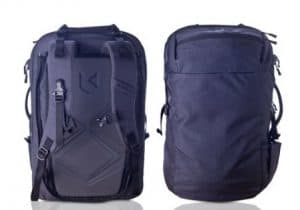 The Minaal created quite a splash with its super successful Kickstarter campaign, so obviously, people are interested in sleek and stylish carry-on backpacks. I haven't gotten a chance to test it in person, but it looks to be a solid backpack, and it gets good reviews. It has a lot of the features you'd expect to see on a travel backpack — it's streamlined, the straps can be stashed away, it has a rain cover, and it has solid carry handles on the side and top.
It's quite stylish and it won't draw a lot of attention to itself, which is a good thing. The bag weighs just a little over 3lbs and is listed at 35L, so it's a little smaller than other bags, but it utilizes its space well — it's probably best for travelers who know how to pack light. The Minaal has a basic hip belt, but it doesn't have any padding, so it isn't designed to support the weight of the bag.
The Minaal looks like a really nice bag, but priced at $300, it is one of the most expensive travel backpacks on the market. It is available at Minaal.com.
Patagonia Blackhole MLC (Maximum Legal Carry-on) 
Anyone who's even remotely familiar with outdoor gear knows about Patagonia because they make great quality products. So it's no surprise that their Blackhole MLC (maximum legal carry-on) bag has gained a bit of a cult following. It's basically a soft-sided suitcase with a shoulder strap. It also has basic backpack straps (which can be hidden away). Of course it has side and top carry handles, too.
The 45L Blackhole MLC is a sleek and minimalist travel backpack with no dangly exterior straps. It has urban styling so you won't look out of place when you wear it in big cities. It doesn't have a hip belt and the backpack straps are fairly basic, so it's probably best for people who can pack light or who want to mainly use the shoulder straps.
The Transport MLC is available at REI for $199.
Packing Cubes and Accessories
If you want to take your organization to the next level, you should pick up a few packing cubes and packing folders. Packing cubes allow you to easily compartmentalize your clothes into different cubes so you can keep everything easily accessible. For long sleeve shirts and pants packing, folders work the best. There are multiple brands and sizes available, and I've always found the best price on Amazon.
Full Packing Lists
Don't forget to check out our in-depth packing lists for traveling in Europe — we have a specific Packing List for Women and a Packing List for Men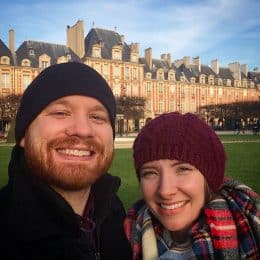 No Funny Business
We want to be fully transparent that this post may contain affiliate links. That means we receive a small commission if you make a purchase after clicking the link — it doesn't cost you anything extra and it helps support the site.
Thanks For The Support! — Susan and James
Questions? Learn more about our Strict Advertising Policy and How To Support Us.