All right, all you savvy travelers… today I'm talking about the best carry-on backpacks.
As you might know, I'm a huge travel backpack nerds (we've owned well over 10 travel backpacks) but we really nerd out on carry-on-sized backpacks — because one-bag travel is the main way I travel these days. And when you're living out of one backpack, you want to make sure your bag is comfortable, functional, and fits your travel style.
That's why I've put together a list of our favorite carry-on backpacks and some general advice on what to look for when you're choosing your backpack.
Carry-On Size Backpacks 101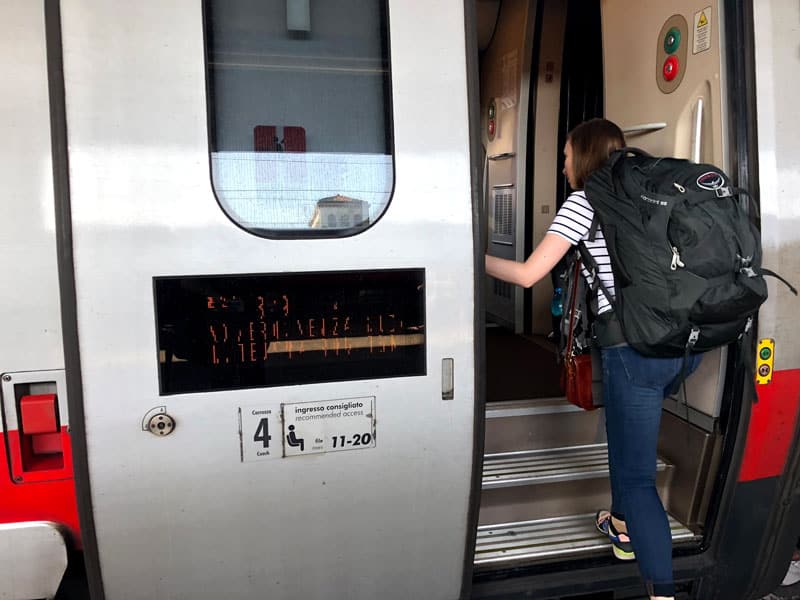 Let's dive into why we love one-bag travel and what you should look for in a carry-on-sized backpack.
Why Carry-On?
There are multiple reasons why we recommend carry-on travel:
Saves Money: Many budget airlines charge anywhere from $20-$40 for a checked bag — which can really add up if you're taking a lot of flights. Furthermore, you may find yourself being forced into taking expensive taxis if you travel with a lot of heavy luggage.
Saves Time and Frustration: You never had to worry about losing your bag when you carry-on your backpack. You also don't have to wait for your bag at baggage claim so you can get on with your travels.
Ease of Travel: Living out of a carry-on backpack means you're forced to travel light. Sure, you'll have to give up some modern conveniences (like lots of shoes and clothes) but it's actually very freeing once you get used to it. So trust us, being able to easily navigate busy streets, stairs, narrow alleyways, train stations, airports, and everything else you'll encounter while traveling is amazing when you travel light.
Comfortable Travel: Lugging around a super heavy suitcase or backpack is physically demanding and can be painful (or at least uncomfortable).
We wrote a 7,000-word mega-post about ultralight travel that features everything from packing strategies to our favorite ultralight gear. Check it out here!
What Is Carry-On Size?
Unfortunately, there is no standardized carry-on size because each airline has its own luggage size rules. However, the stingiest airlines are the ultra-low-budget airlines like Ryanair, Easy Jet, and even some domestic American carriers are really cracking down on in-cabin baggage (because they make a lot of money on checked-bag fees).
Most airlines use a luggage template at the gate that measures bags using height X width X depth. If you're a little over on one of the measurements it's usually not a big deal because backpacks are "squishy" so they can be shoved into the template (we've done it multiple times). In fact, we've found that most employees care more about the bag's weight than the size (assuming your bag isn't too far over the size limit).
As a general rule of thumb, the upper limit for carry-on backpacks is 45 liters — however, each backpack manufacturer seems to measure their bags differently so going strictly by liters can be a bit misleading. It's best to go by actual dimension measurements.
Liter Sizes Comparision
Many backpack manufacturers measure their bags in liters — i.e. the volume of the bag's interior.
20L-30L: Anything under 30L is a fairly small backpack. For reference, a normal-sized Jansport school backpack is about 28L-30L. Sure, there are ultralight travelers who use these sized bags but you really have to be committed to traveling light.
30L-35L: Backpacks in the 30L-35L rage are good for long weekends. They can also be good for minimalist travelers who are used to packing light.
35L-40L: At 35L-40L you'll still have to pack light and be selective about what you bring but it's certainly possible to travel for longer periods of time with a backpack in this range.
40L-45L: Most people will be most comfortable with a backpack in the 40L-45L range — which also happens to be about the limit for a bag to be considered "carry-on" sized. You'll still need to pack light but you can carry plenty. By the way, this is that size backpack we usually carry when we travel for more than two or three days.
Over 45L: There are a few bags around 46L-48L that should be ok to carry-on but you start running the risk of being too large. There are also huge bags that hit the 55L-80L range that will be way too big.
Features of a Good Carry-On Backpack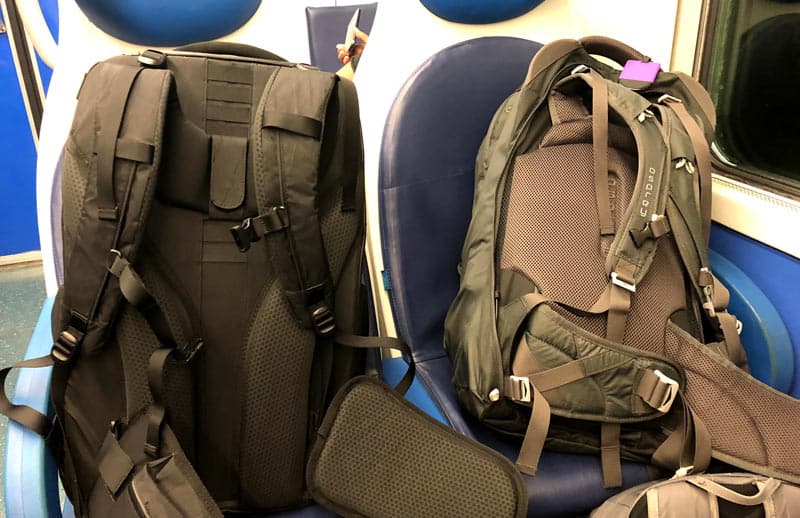 Here is a list of features that we seek out when picking a carry-on backpack. That said, it's rare for a backpack to fulfill everything on this list so you'll have to pick which features are most important to your travel style and needs.
Front Opening: We recommend travel backpacks that open like a suitcase — as opposed to only opening at the top like a traditional hiking backpack. This makes packing/unpacking much easier.
Style: Every backpack has its own style. Some tend to be more "urban" (i.e. sleek and modern) but others have more of a hiking/camping vibe — but these days a lot of bags straddle both "styles". Urban-styled bags tend to look better but the hiking-styled bags tend to be more comfortable.
Size: We covered sizes previously in this article but we recommend bags in the 35L-45L range. Minimalist travels or shorter trips can use a smaller bag.
Organization: Some backpacks literally have one giant compartment but others have a bunch of smaller internal and external pockets for organizing your stuff. We like having a few small external pockets to help store things like phones, tickets, small books, etc.
Laptop Compartment: Many people travel with a laptop so a dedicated laptop compartment comes in handy. However, we travel with an iPad since it's so much easier and lighter to carry.
Weight: Travel backpacks range from a little over 2lbs to well over 6lbs — that's a big difference. We prefer wearing as light a bag as possible the bigger bags (and bags with more robust shoulder harness/hip belts) will weight more.
Zippers: Quality zippers are a must since it's the weakest part of the backpack. YKK-brand zippers are the gold standard. Bonus points for waterproof zippers.
Price: Good quality travel backpack starts around $120 and can be as expensive as $300+. That said, more expensive doesn't always mean the bag is better.
Comfort: An uncomfortable bag is a real killer on your back — especially if you're wearing it for long periods of time. The comfort usually comes down to two factors — the harness system (shoulder straps and hip belt) and the weight of the stuff in your bag. If you pack light, then you can get away with a less advanced harness system but heavy packers will want a high-quality harness.
Fit and Gender Specific: Most backpacks are unisex and only come in one size. However, there are a few bags that come in sizes (i.e. small, large, etc.) to fit different body sizes. There are some that come in women-specific models. We don't think these are deal-breakers but it's a nice bonus.
Extra Features: You'll see that different bags have features that you might find useful — like water bottle pocket, waterproof zippers, super durable fabric, rain resistance/waterproof cover, etc.
---
The Best Carry-On Backpacks
After researching and testing more than a dozen backpacks we're compiled that we think are the best carry-on backpacks.
Osprey Farpoint 40 & Fairview 40

The Osprey Farpoint 40 and Fairview 40 are both excellent backpacks that will work for just about any traveler. In fact, it's probably our favorite all-around carry-on-sized backpack because it's specifically designed for urban travel while it's as comfortable as a hiking backpack.
NOTE: The Farpoint and Fairview are the same backpacks but the Fairview is designed specifically for women.
What We're Digging
Excellent Shoulder Harness and Hipbelt: The shoulder straps and hipbelt are comfortable and fully padded — they're essentially what you'd find on more advanced hiking backpacks. You can wear this bag for long periods of time without it killing your back.
Stowable Harness: You can zip the shoulder straps and hipbelt away if you do want to check your bag or if you want to carry it like a duffle bag (you can attach a duffel bag-style shoulder strap).
Sizes: The Fairview comes in XS/S & S/M and the Farpoint comes in S/M & M/L. That's a nice touch to help ensure a proper fit.
Weight: The bag only weighs a little over 3lbs.
Price: These bags retail for around $160 but you can sometimes find them cheaper online.
Material:
Looks: These aren't the most fashionable backpacks but it still manages to look fairly skeel and modern.
What We're Not Digging:
Laptop Sleeve: The Laptop sleeve is located on the front of the backpack so your laptop doesn't feel as protected compared to if it was on located against your back. Also, heavy laptops will feel heavier since it's located away from you back. This isn't a huge deal if you have a light laptop or iPad but it's something to consider.
Minimal External Pockets: Minor gripe but there aren't a ton of external pockets for stuff you need to access often (phone, sunglasses, small notebook, pens, etc.). However, there is one external pocket — which is enough for our needs.
Osprey also has the Farpoint/Fairview 55 (it's a 42L backpack with a detachable 13L daypack). These bags are "technically" about three inches too tall to be considered a true carry-on but we've used ours as a carry-on bag multiple times.
Where To Buy
The Osprey Farpoint 40 and Osprey Fairview 40 both retail for $160. You can sometimes find them a little cheaper online. We've provided a few retailers below.
See the Farpoint 40 On Amazon, eBags, REI, and Zappos
See the Fairview 40 On Amazon, eBags, REI, and Zappos
Osprey Porter 46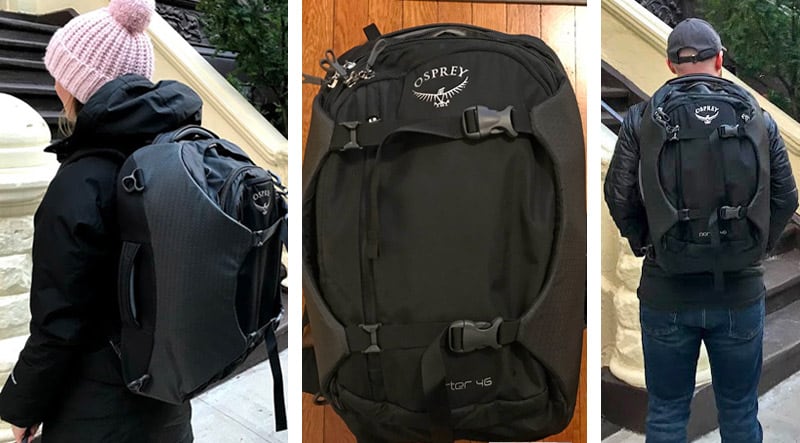 Need a little more space? The Osprey Porter 46 is another excellent backpack from Osprey that can carry a ton of stuff while remaining carry-on compliant. This bag is designed for city hopping and urban travel. That said, its shoulder straps and hipbelt aren't as comfortable or as padded as the Farpoint so it's better suited for traveling from point A to point B (train station to the hotel, etc) so you won't want to wear this for extended periods of time.
Read our in-depth Osprey Porter 46 review for more information
What We're Digging
Size: The Porter 46 is basically a duffle bag with shoulder straps so it can hold a lot of stuff.
Padded Sides: The bag has two padded wings on the outside of the bag that help protect your stuff while also cinching down your load.
Stowable Harness: Both the shoulder straps and the hip belt can be easily zipped away if you need to check the bag or if you want to carry it like a duffel bag.
Lots Of Organization: This backpack has plenty of little pockets and compartments to help you organize all your stuff.
Laptop Compartment: There is a handy laptop sleeve on the back of the backpack that can be accessed without needing to open the backpack's main compartment. We also like how the laptop is against your back so it feels more secure.
Weight: The Porter 46 only weights 3lbs 5oz so it's still one of the lighter bags for its size.
Lifetime Warranty: This bag is built to last.
Price: The Porter 46 retails for around $140 so it's one of the most affordable backpacks.
What We're Not Digging:
Average Harness: The harness isn't bad but they can be a little uncomfortable when your backpack is really loaded down. It's fine for point to point travel but it will probably get a little uncomfortable after wearing it for an hour (it's rare to wear a backpack for more than an hour).
Bulbous: This is a minor gripe but this bag is fairly deep so it sticks out from your back quite a bit — it kind of looks like a turtle shell. But you can carry a lot of stuff so that's the trade-off. Certainly not a deal breaker.
Where To Buy
The Osprey Porter 46 retails for $140. You can sometimes find them a little cheaper online. We've provided a few retailers below.
See the Osprey Porter on Amazon, eBags, REI, and Zappos
Tortuga Travel Backpack (Formerly the Tortuga Outbreaker)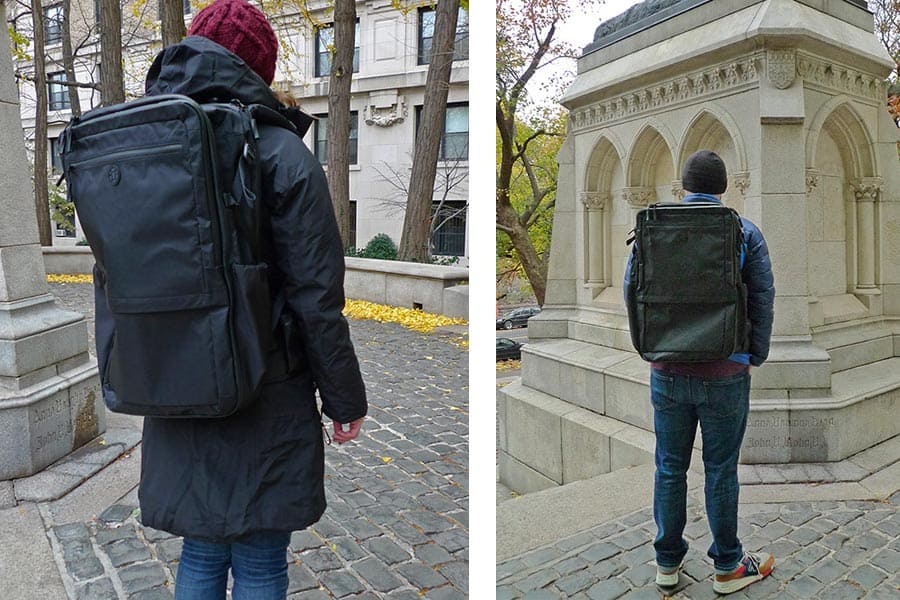 UPDATE: Tortuga recently retired their Outbreaker backpack and replaced it with their new Tortuga Travel Backpack. It's very similar to the Outbreaker but they've improved it in many ways.
The Tortuga Outbreaker is a beast of a bag that was built specifically for carry-on travel. It's designed to be a maximum legal carry-on size backpack so it squeezes every inch of usable space. It is boxy but you can fit a ton of stuff inside. Luckily, it has a very robust shoulder harness and hipbelt to ensure that you can comfortably carry everything you shove inside. The main downsides are the weight (35L weighs 4.6lbs and 45L weighs 5.1lbs) and the price $269 (35L) & $299 (45L).
Read our in-depth Tortuga Outbreaker review for more information
What We're Digging
Sizes: Overpackers rejoice because these bags can hold a ton of stuff — especially the 45L. We also like how they offer a 35L version for lighter packers.
Shoulder Harness and Hipbelt: The shoulder harness and hipbelt are seriously beefy. It's probably the most amount of padding we've seen on a backpack. The back of the backpack also has a ton of padding as well. However, the harness can't be stored away (which isn't a big deal since its carry-on compliant).
Adjustable Torso: The torso length can be adjusted on this backpack so it should fit a wide range of heights.
Durable Materials: The material of this bag is the same stuff used to make boat sails so it's super tough. It's also designed to very weather resistant (essentially waterproof) so getting caught in the rain isn't a big deal.
Laptop Compartment: There is a handy laptop sleeve on the back of the backpack that can be accessed without needing to open the backpack's main compartment. It also sets against the back for added protection.
Lots Of Organization: This bag of a bunch of pockets and organizational elements to help keep your stuff organized.
What We're Not Digging:
Price: This backpack is expensive, no getting around that.
Bulky: As we said before, this backpack is a beast. It's big and bulky and can be a bit unwieldy. That said, it also lets you carry a lot of gear and it lets you do it comfortably. We don't mind the trade-off but minimalist travelers will probably be happier with a more streamlined backpack.
Where To Buy
The Tortuga Outbreaker 45L retails for $299 and the Outbreaker 35L retails for $269 — both are available via the Tortuga Website.
Aer Travel Pack 3


UPDATE: Aer recently released their Aer Travel Pack 3—which improves upon their popular Travel Pack 2. I've already used the Travel Pack 3 on a few trips and I'm a big fan (review coming soon).
The Aer Travel Pack 2 is a nice option for fast-moving and minimalist-minded travelers who also want a backpack that has urban styling — i.e. you don't want to look like a tourist. The Aer Travel Pack 2 is 35L so it's better suited for light packers or shorter trips — the shoulder harness is pretty average so it's not the best for heavy loads. The bag is $230 so it's a bit more expensive than other bags on this list but it is slick looking.
Read our in-depth Aer Travel Pack review for more information
What We're Digging
Looks: We love the look of this bag. Its urban styling won't stand out as you traverse cities.
Compact Size: The Aer Travel Pack 2 is 35L so it's more compact than other bags on this list but it uses its space well.
Weight: At 3.7 lbs it's not the lightest bag but we'd still consider this a light backpack.
Materials: The 1680D Cordura ballistic nylon is tough and will withstand abuse.
Organization: There is plenty of organization to keep all your stuff in place and easy to find. Plus there are a number of handy external pockets for things you need easy access to.
Laptop Compartment w/ Waterproof Zipper: The bag has a separate laptop compartment that can be accessed from out exterior of the backpack. It also has a waterproof zipper to ensure your laptop is safe.
What We're Not Digging:
Average Harness: The harness isn't bad but it can become a little uncomfortable if your bag is really packed out. This is a better back for a more minimalist traveler. One other thing, the original Travel Pack had load lifter straps but they removed them on the Travel Pack 2. It's not a deal breaker but we do find that the load lifter straps are a nice addition.
Not For Everyone: As said before, over-packers might struggle with this backpack.
Where To Buy
The Aer Travel Pack 2 retails for $230 — available via the Aer Website.
More Carry-On Backpacks & Bags
We can't personally review every backpack that we come across (but we're trying!). So here are a few carry-on backpacks that look promising but we haven't had a chance to test them out.
Eagle Creek Global Companion 40L: The Global Companion is a newly-released 40L backpack from Eagle Creek and it looks like a solid backpack. It comes in both a unisex and a female version. It retails for $160 – available via eBags and Amazon.
Patagonia Black Hole MLC (Maximum Legal Carry-On): Looking for something a little more stylish and not into the whole "backpacker" look? Check out the Patagonia Black Hole MLC. This duffle bag has backpack straps so it's technically a "convertible briefcase." It really lives up to its "black hole" name — this 45L bag can fit a ton of stuff. It's meant to be used mostly as a duffle bag but the backpack straps let you carry it that way if you want. It retails for $199 — available via REI
---
How To Maximize One-Bag Travel

Traveling with just a carry-on backpack does pose a few challenges but we've put together a few strategies to help take the pain out of one-bag travel.
Packing Cubes: Our number one tip is using packing cubes. We resisted packing cubes for a long time but we can't travel without them anymore. Seriously. Check out our Guide to Packing Cubes — it covers everything from how to effectively use packing cubes and our recommended packing cubes.
Packing Light: Choosing what to pack (and what to leave behind) is 80% of the battle. Check a few of our packing lists:
Daypacks: You'll want to leave your main carry-on backpack in the hotel/hostel/apartment while you're out exploring each destination. That's why you'll want to bring along a small, packable backpack. We've put together a list of some great daypacks.
Winter Travel: Traveling in the winter makes traveling with a carry-on a bit tougher. Here is our winter travel packing guide to help you stay warm while still traveling light.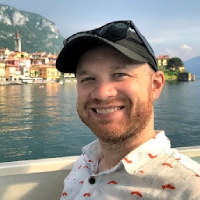 Latest posts by James Feess
(see all)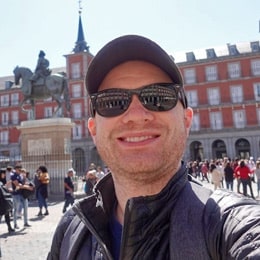 No Funny Business
The Savvy Backpacker is reader-supported. That means when you buy products/services through links on the site, I may earn an affiliate commission—it doesn't cost you anything extra and it helps support the site.
Thanks For Reading! — James
Questions? Learn more about our Strict Advertising Policy and How To Support Us.