Updated: November 10, 2017. Originally Posted: May 27, 2015.
I'm always on a mission to find the best travel backpacks, and Osprey packs are consistently some of my favorites. That's why I wanted to share my thoughts on the excellent Osprey Farpoint 55 travel backpack.
UPDATE (November 2017)
I've been using the Fairpoint 55 since May 2015 and it's come with me to South Africa, Paris, Barcelona, Rome, Florence, Lisbon, New York City, and I even let a friend borrow it for his 3-week trip around Europe — and it's still holding up super well. No rips, no tears, and no broken zippers.
Needless to say, I've been super happy with this bag.
Quicks Thoughts About The Osprey Farpoint 55
The Farpoint is one of the best travel backpacks I have used — it might even be my favorite. That's because it has so many great features. Most importantly, this bag has two important features that you don't find in most travel backpacks: it opens like a suitcase, and it has a suspension system (internal frame, adjustable shoulder straps, padded hip-belt, etc.) that is usually only found on trekking backpacks. That means you get both comfort and convenience. Yeah!
There are also a bunch of other features like a removable daypack, lockable zippers, and a bunch more, but I'll get to all that good stuff later in the review.
The Osprey Farpoint sells for about $180 just about anywhere online, but I got mine from Zappos.com because they offer free overnight shipping — which is crazy awesome! There is also the Farpoint 40 ($150 from Zappos.com) and the Farpoint 70 ($200 via Zappos.com).
In-Depth Osprey Farpoint 55 Review
All right, let's not waste any more time. Below is my full review — both good and bad — of the Osprey Farpoint.
Size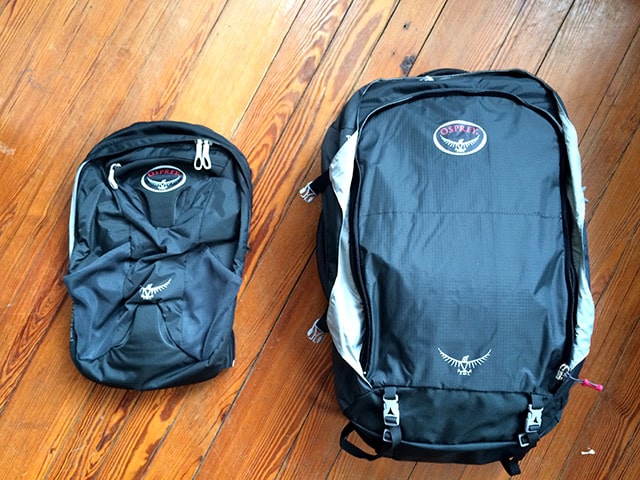 The Farpoint 55 is actually a 40L backpack + 15L detachable daypack. If you don't care about having a detachable daypack, you can save $30 by getting the Farpoint 40, which is just the main travel pack (everything else is essentially the same as the Farpoint 55). Conversely, if you need a bigger bag, and you don't care about staying under the carry-on size limit, the Farpoint 70 (55L backpack + 15L detachable daypack) is a great choice.
The Farpoint 55 comes in a small/medium and a medium/large, which is nice since many travel backpacks only come in one size. I'm 5'6″ and the s/m fit me well.
| | | | | |
| --- | --- | --- | --- | --- |
| Size | cu. in. | liter | lbs/oz | kg. |
| S/M | 3173 | 52 | 3/12 | 1.70 |
| M/L | 3356 | 55 | 3/15 | 1.78 |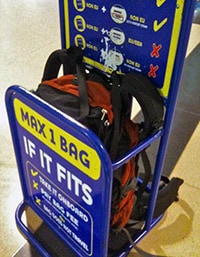 The dimensions of the M/L are:
In: 25 x 13 x 12 (height x width x depth)
Cm: 64 x 34 x 30
Technically, this bag is a little too big to be carried on, but you'll probably be able to get away with it — assuming you don't have it stuffed to the gills. Backpacks aren't rigid structures like suitcases, so there is a lot of give, and most of the time you can shove them into those size templates at the airport. Most airlines are more concerned with the weight.
Suspension System and Comfort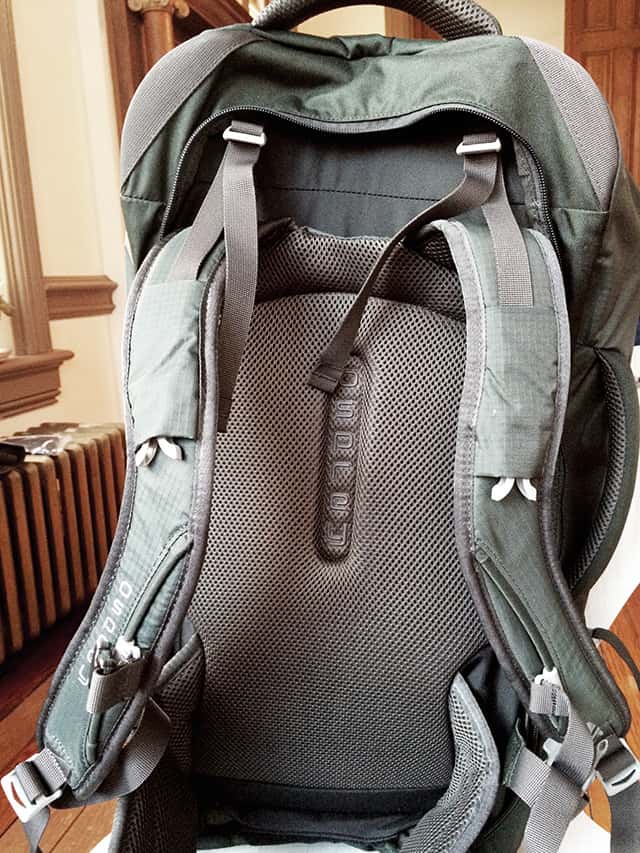 The Osprey Farpoint has a legit suspension system, so the backpack is comfortable to wear — which is great for those long walks to hostels. The shoulder straps have good padding and can be adjusted easily. The back is also padded for extra comfort and lumbar support.
Additionally, the Farpoint has a padded hip belt, which is rare for travel backpacks. A padded hip belt is nice because it takes the load off your shoulders and transfers it to your hips.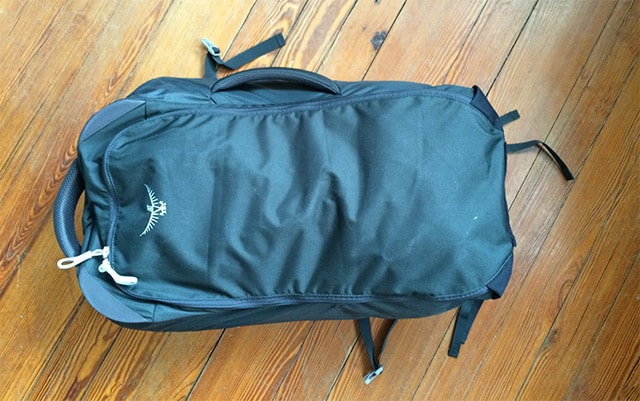 As an added benefit, the shoulder straps and hip belt can be zipped away behind a flap so you can easily and safely check it on a plane or carry it without fear of getting a strap caught.
Padded Carry Handles
The Farpoint has two padded carry handles — one on the side and one on the top.
I know it doesn't seem like a huge deal, but having padded carry handles is great when you're loading/unloading your bag. They're also nice when you want to carry your bag around without putting it on your back.
Suitcase Opening
The Osprey Farpoint is a front-loading backpack, so it opens up just like a suitcase. This is ideal because you can quickly get to whatever you need without digging through your bag. Trust me, this is a huge deal. I highly recommend picking up a few packing cubes to help keep everything organized.
As you can see, this backpack can fit a good deal of stuff. But it isn't a huge bag, so you'll need to pack smart. Check out our Backpacking Europe Packing List for packing advice. If you don't feel like packing light, I'd upgrade to the Farpoint 70 ($200 via Zappos.com). Alternatively, the Osprey Waypoint 80 (men's) and the Osprey Wayfarer 70 (women's) are both larger but more expensive.
Lockable Zippers and Durable Fabric
The heavy duty zippers on the main bag can be locked to help keep the bad guys out of yo stuff.
The fabric is made of heavy duty 420D nylon so it can withstand a good amount of abuse.
Detachable Daypack
The daypack can be zipped onto the back of the main backpack.
The daypack is comfortable, so it's not just an afterthought like you find on other bags. The daypack can also be clipped to the front of the main bag so you can keep track of important papers/other valuables  — although it does look a little funny.
Looks
I think the Farpoint is a pretty good looking backpack. It's not going to win any awards for being most fashionable or chic pack but I've seen a lot uglier bags. Stick with the dark colors and you'll be fine.
Negatives
There aren't many things wrong with this backpack. The biggest complaint I have is the lack of external pockets on the main backpack. You can keep things in the daypack, but when it's attached to the main bag, you have to unbuckle a few straps to access the daypack. It isn't a huge deal, but it can be a slight inconvenience.
Another negative is the small water bottle pouch. I've never felt the need to use a water bottle while wearing the backpack but some people might.
Overall Verdict — Love It
Yeah, the Osprey Farpoint is a great backpack. It's comfortable, it's durable, it's functional, it's affordable… it's just an excellent travel backpack.
The Osprey Farpoint sells for about $180 just about anywhere online, but I got mine from Zappos.com because they offer free overnight shipping and free returns. There is also the Farpoint 40 ($150 from Zappos.com) and the Farpoint 70 ($200 via Zappos.com).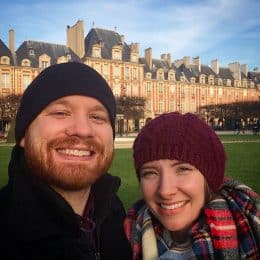 No Funny Business
We want to be fully transparent that this post may contain affiliate links. That means we receive a small commission if you make a purchase after clicking the link — it doesn't cost you anything extra and it helps support the site.
Thanks For The Support! — Susan and James
Questions? Learn more about our Strict Advertising Policy and How To Support Us.