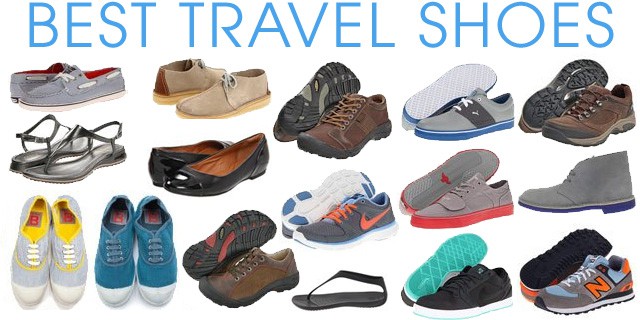 Picking the correct travel shoes is one of the most important — and most difficult — parts of preparing for your travels to Europe. This guide will help you choose the perfect shoes for traveling. We'll recommend some of our favorite men's and women's travel shoes.
Comfort Is More Important than Fashion
European cities are designed to be navigated by foot and public transportation, and it is guaranteed that you're going to walk a ton each day. You can easily walk 7-10 miles a day, so you want to treat your feet well. Even standing for long periods of time in museums can be killer on your feet. Those fashionable, yet uncomfortable, shoes will make your entire trip terrible — I can't stress this enough. But that doesn't mean you have to wear ugly grandma shoes. It takes a little searching, but it is possible to find comfortable shoes that also look fairly fashionable. If you must bring a pair of "impractical" shoes, I highly recommend that you wear them only on special occasions.
Tips for Comfort
Quality Socks – A lot of people spend a lot of money on shoes then throw on a pair of cheap socks, but quality socks are just as important as the shoes. A good pair of socks will help prevent blisters, stop odor, and keep your feet comfortable. For more information about socks, be sure to read about our favorite socks for travel.
Support & Insoles – Make sure your shoes have the proper support for your feet. A quality pair of insoles can make shoes and boots much more comfortable, and they add extra support to flats.
Match Shoes To Destination – This seems like a no-brainer, but you need to match your shoes to when and where you'll be traveling. A pair of flats isn't appropriate for trekking through Iceland, and pair of heavy-duty mountaineering boots probably is overkill for walking the streets of Paris.
Break In Your Shoes – BREAK IN YOUR SHOES! Okay, I said it. Purchase your shoes a month or two before your trip and make sure you wear them a lot before you leave.
Tips for Buying Shoes Online
Buying shoes online can be a bit tricky since all brands seem to fit a little differently. That is why I order my shoes from Zappos. At Zappos, you get free delivery and free returns. If you're not sure which size to buy, I suggest buying two sizes and then returning the pair that doesn't fit. Zappos gives you a pre-paid return label and will refund your money within about 7 days — they make the process super easy.
The List of the Best Men's and Women's Travel Shoes
Below you'll find some great travel shoe options for women and men. We've tried to assemble a list of shoes, boots, and sandals that are both comfortable and fashionable. All the recommended shoes are available via Zappos.com. 
Trekking/Hiking Shoes For Travel
Trekking/hiking shoes look a bit like beefed-up athletic running shoes, and they're designed for long hikes. This style of hiking shoe is a popular choice for many travelers because they offer a lot of support, they are generally lightweight, and most are waterproof — which is a huge plus. Unfortunately, it is pretty tough to find a "fashionable" pair, but these are probably your best all-around option if you travel during the snowy/rainy months or if you plan on spending a lot of time in the countryside.
Women's Hiking Shoes
Patagonia is one of the top outdoor apparel companies and this Patagonia Drifter A/C is a great hiking shoe. It is also the winner of the Outside Magazine Gear of the Year Award 2010.
Keen is another brand known for being comfortable. These Keen Presidio shoes get rave reviews for their mix of hiking shoe durability and sneaker looks. Plus, they are waterproof, so this is a good option if you want a rugged shoe that is suitable for city travel. I also like the Keen Utility Detroit and Keen Arroyo II because they get excellent reviews for comfort, but they do have a more utilitarian look.
This Merrell Moab Ventilator is a great choice for summer travel because it features a lot of ventilation. It also receives great reviews for comfort. Merrell also offers the Moab Waterproof version.

Men's Hiking Shoes
Merrell makes a wide range of comfortable hiking shoes, and many of them are waterproof, which is nice if you travel to rainy climates. The Merrell Moab Waterproof and the Moab Ventilator (a great summer option) get top marks for comfort and support. The Merrell Chameleon 4 is a low-profile option that is comfortable and sturdy but still looks decent in an urban environment.
Keen makes some of the most comfortable and durable hiking shoes. The Keen Austin is waterproof, supportive and it has good looks. The Keen Arroyo II, Targhee II, and the Keen Voyageur are three other comfortable options that are a bit more utilitarian.
The MW956 from New Balance is a great all-around choice for traveling. In addition to being comfortable and waterproof, the MW956 is actually decent looking — which is rare in a hiking shoe.
Keen makes some of the most comfortable and durable hiking shoes. The Keen Austin is waterproof, supportive and it has good looks. The Keen Arroyo II, Targhee II, and the Keen Voyageur are three other comfortable options that are a bit more utilitarian.
Hiking Boots For Travel
Hiking boots will offer good support and will keep your feet comfortable on long walks, but they might be overkill for most travel since they are heavy and bulky. Most travelers would be better off using lightweight hiking shoes.
Women's Hiking Boots
The New Balance WW978 is a fairly low-profile yet sturdy and waterproof hiking boot.
The Vasque Sundowner GTX combines old-school style and comfort.

Men's Hiking Boots
Timberland White Ledge Mid Waterproof is a nice looking boot that will serve you well in the winter.
The Merrell Moab Mid GORE-TEX® XCR is a little more "outdoorsy" but it gets good reviews for comfort.

Casual Boots For Travel

Women's Casual Boots
Casual boots are nice because they are more fashionable than sneakers or athletic shoes, but they are often still comfortable. I prefer a dark leather (since it will hide dirt stains well — especially in the winter), but suede can be perfectly fine in the summer. Do make sure you break in boots for 2-3 weeks before your trip.
The Clarks Desert Boot are a nice lightweight and fashionable option that work well for the summer and look great with skinny jeans. These are best suited for the summer since they're not waterproof. I'd also recommend using an insole.
Chelsea boots are another great style of boot for travel because they are super easy to take off — which is great at airports. And they look cool, too. I think these Frye Carson Chelsea boots look great and they get good reviews, but there are plenty of other styles/brands available.
Men's Casual Boots
Clarks Desert Boots have been a classic boot for over 40 years and they're still just as cool as ever. They look great with jeans and will be suitable for going out (you might want to add an insole for added comfort). They also come in multiple colors. There are many brands that make desert boots (sometimes called chukka boots), so check around to see what fits your style. I like these Cole Haan Air Charles Chukka because they are fashionable and comfortable.
If you're looking for a pair of boots that will last for 20 years, check out these Red Wing Heritage Beckmen boots. They are made in the USA and they're constructed out of incredibly high-quality leather. Priced at $300+, they are expensive, but you'll love them, and they'll last 10x as long as other boots.
If you're in the market for a nice pair of boots, check out the entire collection of Red Wing Heritage boots.
Another nice travel boot is the Blundstone BL550. These leather boots are comfortable, stylish, and rugged. The BL550 doesn't have laces, so they are super easy to put on/remove, which is incredibly nice if you're going to be flying a lot. Blundstone makes a lot of different models, so I suggest searching for other styles.
Sporty Casual Sneakers For Travel
Casual sneakers are a great choice because they offer support similar to athletic shoes, but they are more fashionable than running shoes. These will also benefit greatly from insoles. There are plenty of fashionable options available.
Women's Casual Sneakers
BENSIMON sneakers are some of the most popular and fashionable casual sneakers in Europe. You'll see tons of trendy Parisians wearing them during the summer. They are available in dozens of colors and styles, but it can be a little difficult finding the full range of styles and colors in the US. I don't think you can have them shipped outside France from their website, but there are a few retailers who carry them in the US.
However, Superga makes shoes in a very similar style, so they're a great alternative.
Everyone knows about TOMS shoes, and they are a great shoe for travel because they are comfortable, lightweight, and cute. These are a great option for urban travel during the spring and summer.
Sperry Top-Siders look great with shorts, capris, skirts, and jeans, making them super versatile. They are a good option for the spring or summer.
These lightweight ECCO Sport Biom Lite 1.2 MJ shoes are a nice option for travel. These ECCO's are on the sporty side, so their style might not be for everyone, but they make a nice summer shoe.
Puma produces a number of sporty, yet fashionable, sneakers that are great for travel. Their styles are always changing, so you'll want to check out all the different styles they have.
Converse Chuck Taylors are trendy in Europe. They make a cheap and shabby chic option. Chucks don't have great arch support, so you'll benefit from an insole. If you don't like Chuck Taylors, there are many other similar style shoes available — for example, Onitsuka Tiger by Asics and Vans.

Nike shoes are popular all over the world, and they make a wide range of casual sneakers that are great for travel. Some of my favorite choices are the Action Satire, Toki Textile, and Nike Action Mogan 3.
Men's Casual Sneakers
Creative Recreation makes a range of fashionable sneakers that look great on the streets. I really like the Creative Recreation Cesario Lo XVI because they are leather, so they look a little "nicer," and they will look good during the day and at night.
PUMA continues to be a popular brand throughout Europe. They're known as one of the more fashionable athletic brands, and they make a lot of really cool sneakers. I recommend checking out the PUMA Suede Classic + Mod Heritage, Basket Citi Series, and El Ace.
Athletic Shoes For Travel
Athletic shoes will likely be the most comfortable option for exploring the streets of Europe, but they are not the most fashionable option — but comfort is always more important when you're traveling. Just be sure to pick a color other than white if you don't want to be pegged as an American tourist.
Women's Athletic Shoes

One of the best-rated running shoes are the Brooks Ghost 5. These will not win any points for fashion, but they will keep your feet happy.
If you're looking for a comfortable athletic shoe that has a bit of a lower profile, check out the Nike Flex Experience, Nike Free 5.0, New Balance WW695v2 and the Sketchers GO Walk 2.
Men's Athletic Shoes
When it comes to nice-looking athletic shoes, Nike is hard to beat. We recommend the Nike Air Pegasus+ 29, Nike Flex Run, and the Nike Free 5.0
These New Balance Classics have great retro style, but still offer the comfort of a running shoe. I remember seeing similar shoes in many stores and boutiques in Paris. They have many colors available.

Flats For Travel 
Flats are a great option for city travel because they are lightweight, comfortable, and can be casual or dressy. Black or brown is the most practical color choice. Many flats don't provide a lot of support, so it is advisable to add an insole to help improve comfort.
Clarks are known for being well-made, comfortable, and cute. They also have many other styles and colors of flats that I haven't listed here. The Candra Glow is a classic model that looks super fashionable but remains comfortable. The Haley is a more sporty model.

Born makes a lot of cute and conformable flats. The Born Julianne is one of their most popular models because they look great, provide decent arch support, and come in multiple colors. Born also has many other styles of flats that come in cool metallic or snakeskin finishes.
If fashion is a top priority, these Cole Haan Air Bacara might be the perfect flat since they feature Cole Haan's famous Nike Air technology, which provides a lot of extra cushion. They have multiple colors available, but I would stick with the patent leather options.
Also check Amazon if they're not available on Zappos.
Merrell is known for making great hiking shoes, but they do make a few more stylish shoes. These Merrell Avesso flats are feminine but still keep a bit of the outdoorsy look that Merrell is known for.
Women's Travel Sandals
Sandals are great in warm weather, and there are multiple styles available — from dressy to sporty. Unsurprisingly, the "fancier" sandals tend to have less support than the sporty versions — so keep that in mind.Sandals For Travel
Chaco is known for making some of the best hiking sandals. You won't find these on the runway, but if you want excellent support, these might be your best bet — whether you're doing off-road hiking or exploring Europe's cobblestone streets. Their two most popular models are the ZX/2® Vibram® Yampa and the ZX/2® Unaweep.
It might sound strange, but Crocs actually makes a pair of nice looking sandals. The Crocs Sexi Flip is chic, minimalist, and comfortable. Plus, they weigh just a few ounces so they will hardly add any weight to your bag.
If you're looking for fashion and comfort, you should check out these Cole Haan Air Bria Thong Sandals. They incorporate Nike's Air cushioning system, so they provide much more comfort and support than a typical fashionable sandal.
Insoles for Travel
Insoles are a great way to make your shoes much more comfortable. Some of the best are from Superfeet, Sorbothane, Spenco, and Sole, but there are plenty of other brands.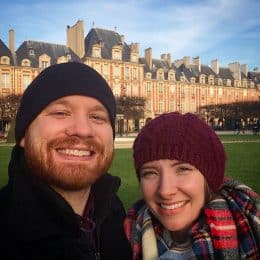 No Funny Business
We want to be fully transparent that this post may contain affiliate links. That means we receive a small commission if you make a purchase after clicking the link — it doesn't cost you anything extra and it helps support the site.
Thanks! — Susan and James
Questions? Learn more about our Strict Advertising Policy and How To Support Us.