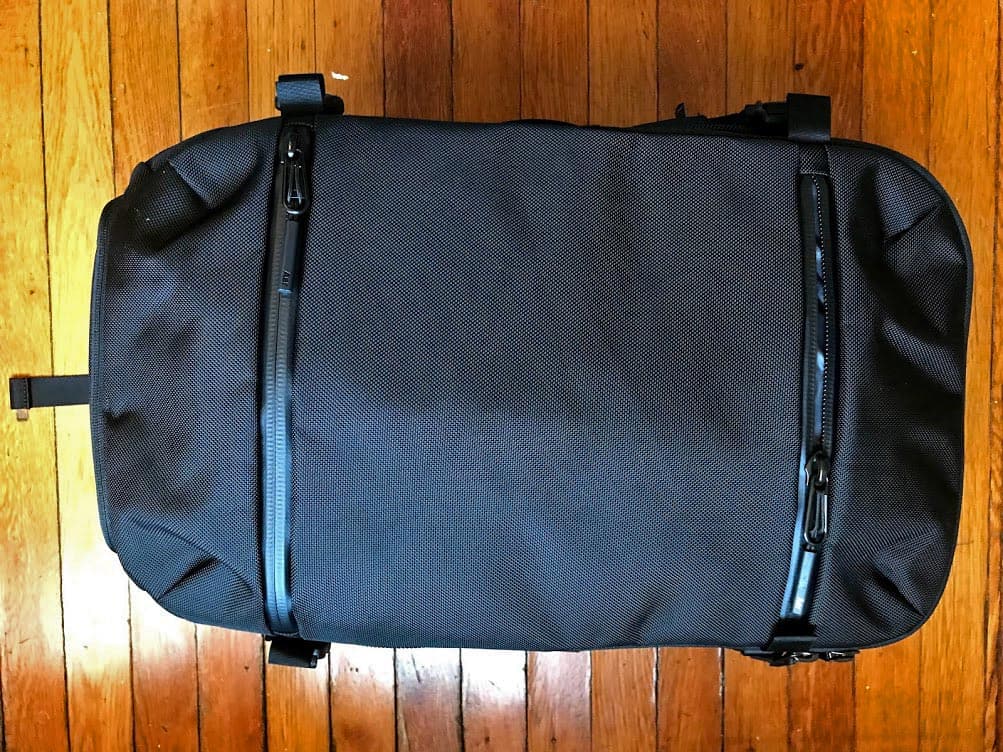 We've been hearing a lot of good things about the new Aer Tavel Pack backpack so we wanted to do our own hands-on review of the Aer to see if it's a good travel backpack.
NOTE: Aer has made some solid upgrades to their Travel Pack and replaced it with their new Travel Pack 2 — Read our Aer Travel Pack 2 Review for more details.
Aer Travel Pack: Quick Overview
The Aer is designed to be a "one bag" travel backpack — which basically means it's meant for people who want to only travel with a single carry-on sized backpack (It's small enough to fit the carry-on size requirements of all the budget airline). That means not having to pay checked bag fees, not worrying about lost luggage, and being able to zip through city streets with ease.
The Aer Travel Pack is 33L. It isn't huge but it does hold a surprising amount of stuff (we'll get to that later in the review). Basically, if you can pack light then this bag will work for you.
That said, if you're a heavy packer then you might need a little more space (or strongly consider packing a lot less).
One thing we love about this bag is its looks. It's sleek, streamlined, and it won't stick out in an urban environment (we hate the look of crazy colored "hiking" bags). It does have a few straps that hang off the bag but they're pretty minimal. And it's actually rugged thanks to its heavy duty 1680D Cordura ballistic nylon exterior.
Dimensions

Length: 21.5″ (55 cm)
Width: 13.5″ (34 cm)
Depth: 8.5″ (22 cm)

Volume
Weight
The Aer Travel Pack costs $220 directly from the Aer Website.
Aer Travel Pack Review: Deep Dive
Alright, let's get down & dirty with the Aer Travel Pack.
Size (How Much Stuff Can it Hold?)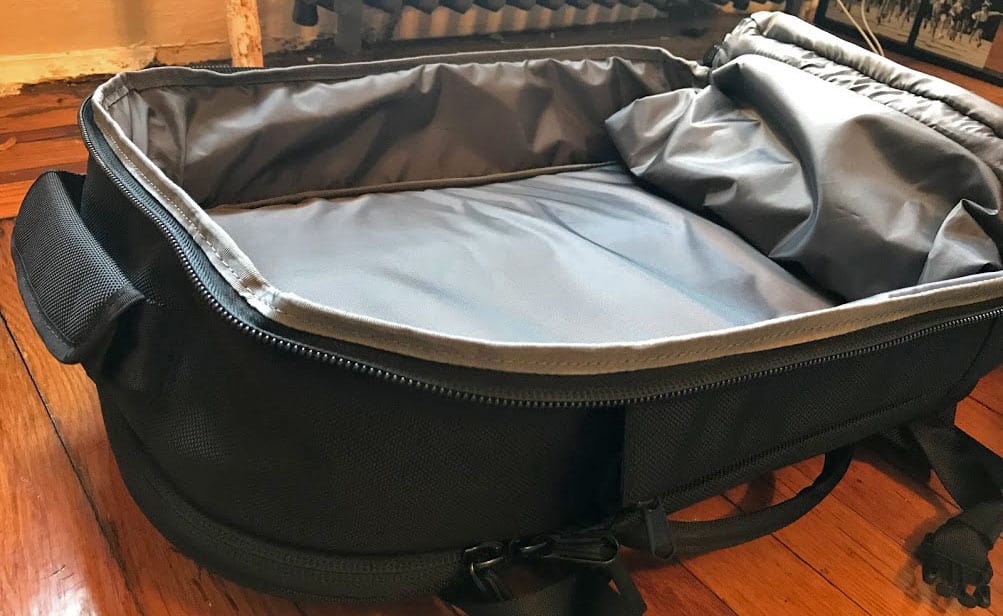 The Aer is designed to fit the "one bag" travel style. It's for people who don't want to pay all those checked bags fees or be weighed down with a lot of stuff.
First, as you can see, this bag opens like a suitcase — which is ideal for travel.
The Aer is a 33L bag and it's dimensions are Length: 21.5″ (55 cm), Width: 13.5″ (34 cm), Depth: 8.5″ (22 cm). It's technically 2cm over the limit for the some of the more stingy budget European airlines… but don't worry about that since they don't actually measure bags that closely. Plus, the backpack doesn't have a rigid structure so it can easily squish to fit whatever size required.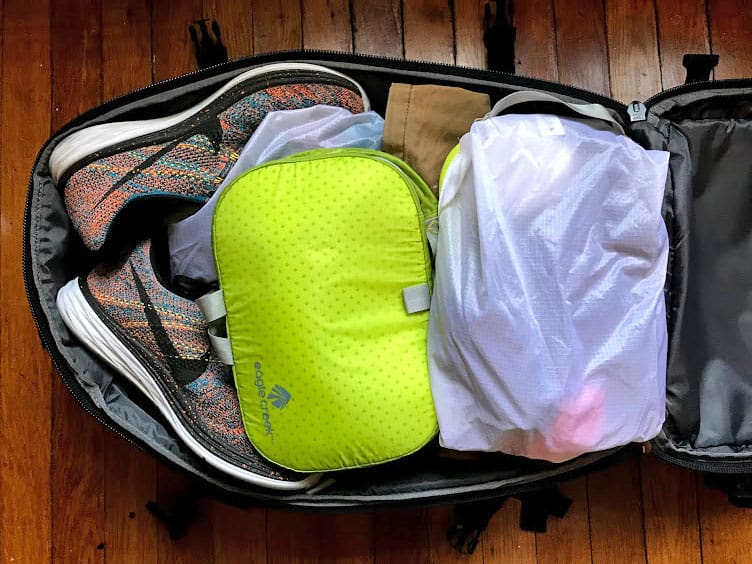 This bag can fit a good deal of stuff — especially if you pack smartly. We recommend using packing cubes as it helps you pack more and keep everything organized. Here are some more tips for packing a backpack.
That said, this is a bag designed to be carry-on compatible so you need to be smart about what you bring. It's best if you can get by with a single pair of shoes (if you do need two pairs of shoes, the second pair should be small like the Nike's in the photo).
If you're traveling in the winter then you might have a little tougher of a time since you'll have bulkier clothes but you should be alright.
NOTE: Not sure what to pack? Check out our packing lists!
Organization
The Aer has plenty of pockets and places to stash all your travel gear. We really like how there are a few well-placed exterior pockets — which is surprisingly rare in a lot of travel backpacks.
Main Compartment

As you can see, the main compartment is a big open space — which offers plenty of room to cram all your stuff. On the flap, there is a small zippered pocket for odds-and-ends. There is a bit of padding that goes all along the edge of the backpack for extra protection.
Organization Pockets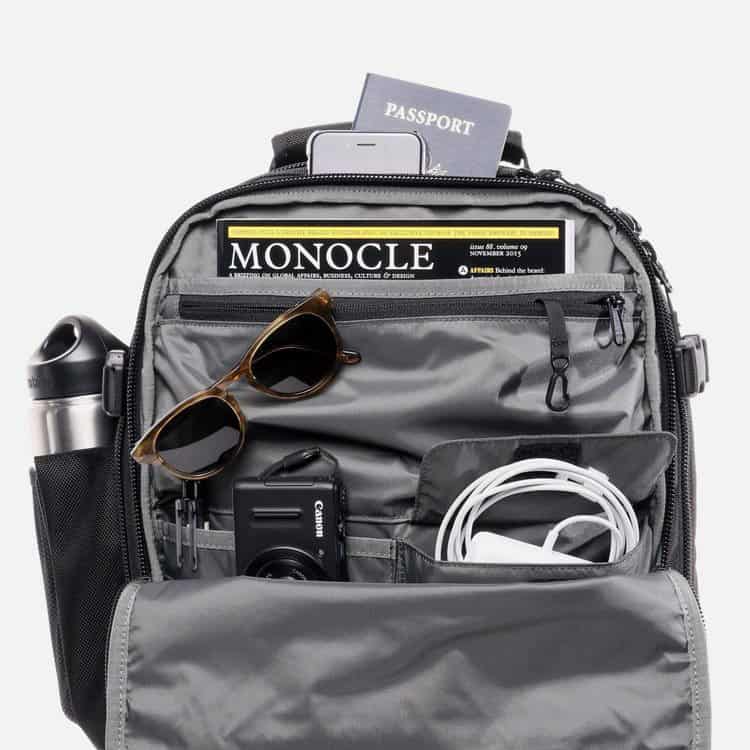 The front flap zips down to reveal a bunch of nice and handy pockets. There is a big zippered pouch, an area for documents, a velcro pocket, and a few other random spaces to keep your stuff organized. All these little compartments have a bit of padding sewed in — it adds a bit of bulk but not too bad.
Also, notice the water bottle pocket. It's not huge but it will hold a skinnier bottle. This pocket does zip closed when not in use so that is a nice touch.
External Pockets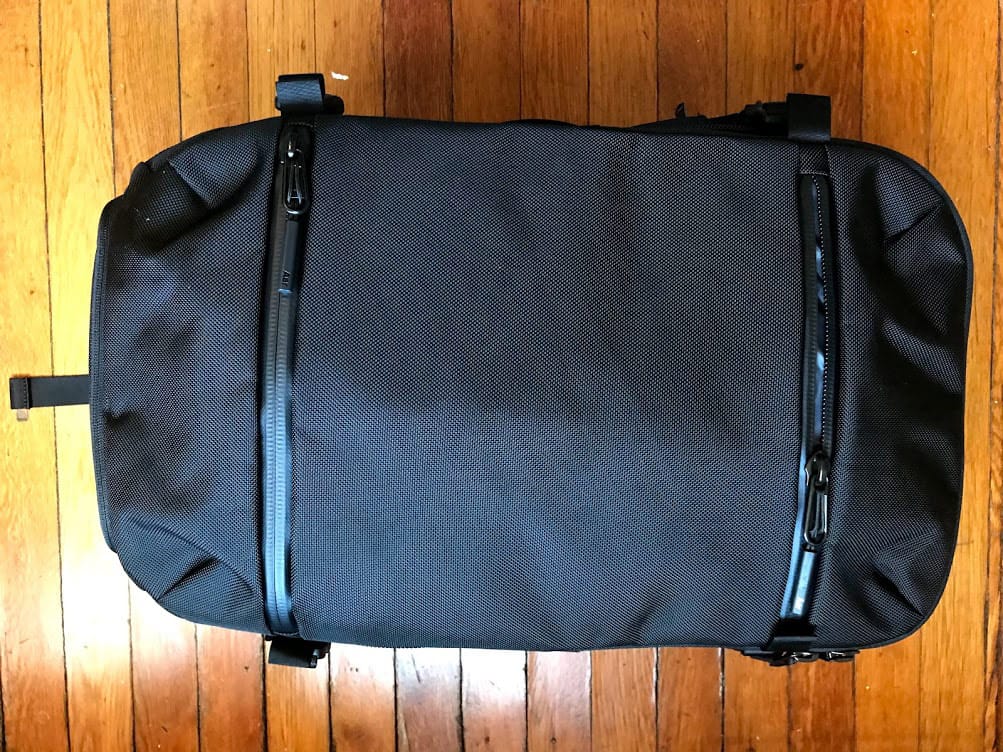 The front of the bag has two handy zippered pockets. The top can fit a small book, boarding passes, and other random things you might access while on the go. The bottom pocket is smaller and we'd use it to store your power brick or something like socks.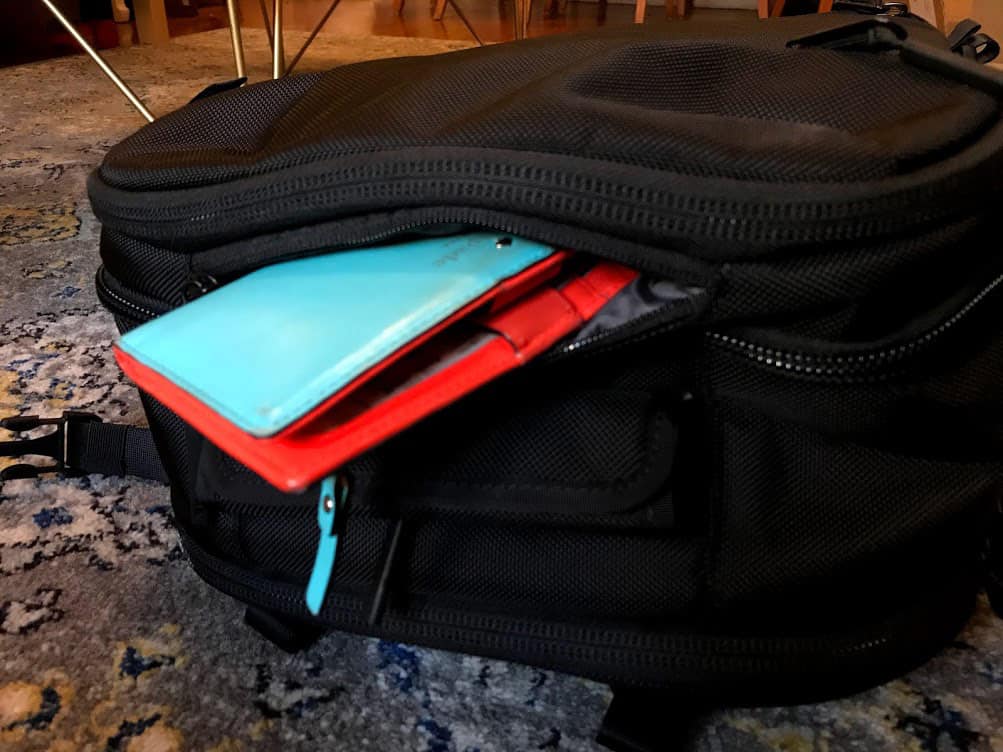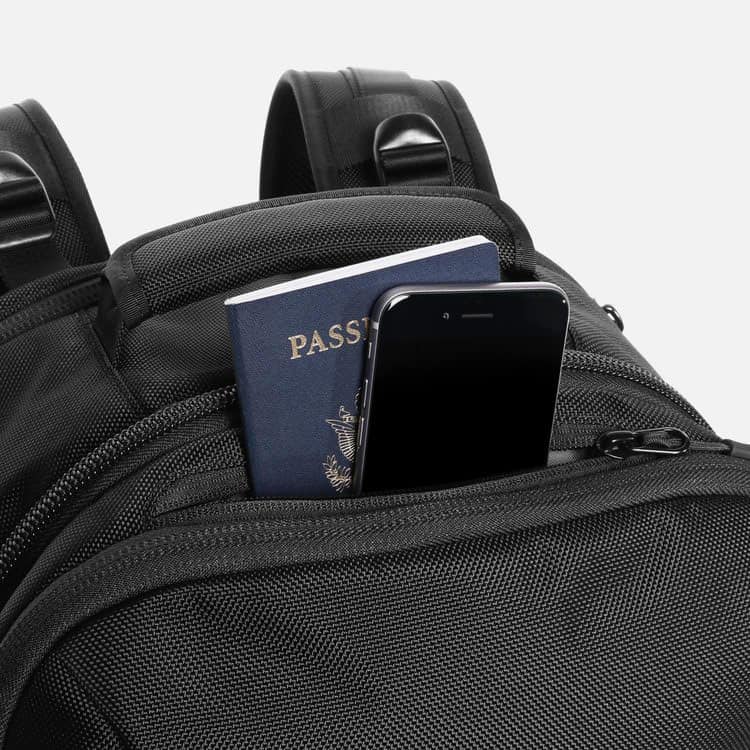 At the very top of the bag, there is another super handy pocket. This is great for phones, sunglasses, wallets and other things you need to access but it has the added benefit of keeping your stuff protected.
Laptop Compartment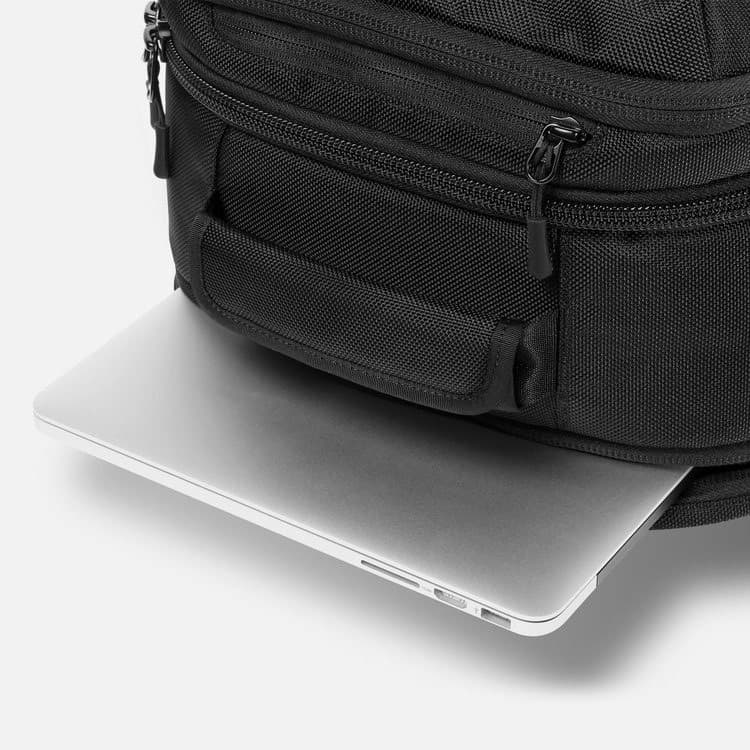 The Aer can fit up to a 15″ laptop. We love that is has a suspended laptop pocket — which keeps your laptop a few inches from the bottom of the bag so it doesn't smash into the ground when you set it down. That said, you might want to still put your laptop in a protective sleeve.
The laptop pocket is pretty easy to access so you shouldn't have any trouble getting your computer out during airport security.
Shoe Compartment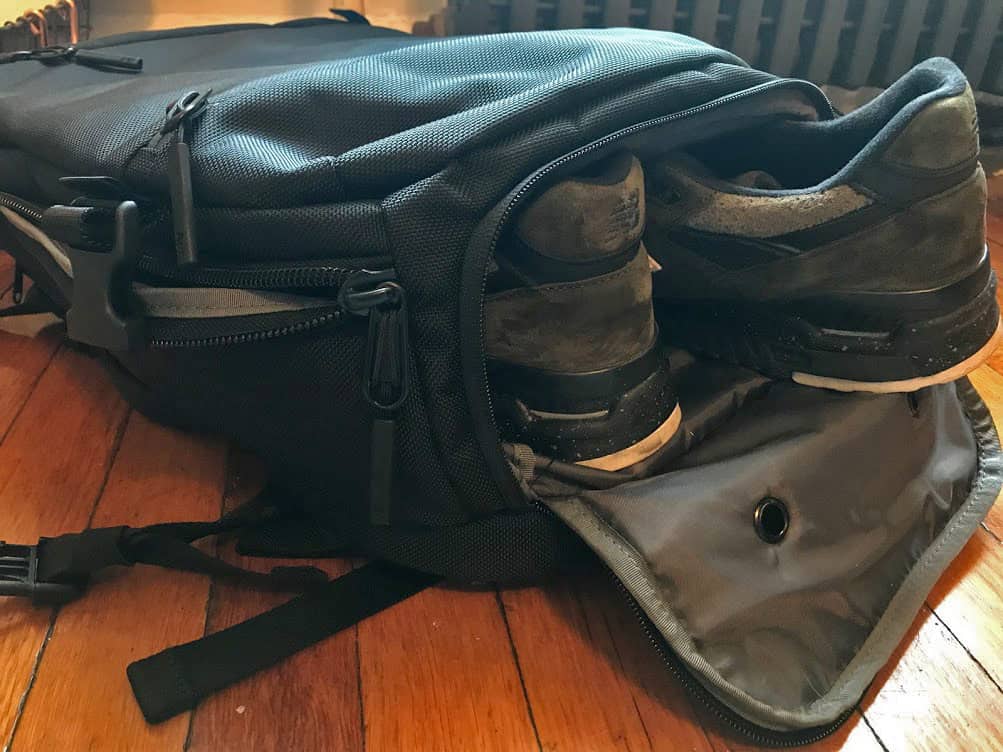 At the bottom of the bag, there is a shoe compartment but the compartment/sleeve goes into the main part of the bag… so it takes up a ton of room when there are shoes in there. This seems like an odd design choice and we don't see ourselves using it — especially on an extended trip. It could possibly fit sandals or maybe you could store some dirty clothes in there.
Comfort / Wearability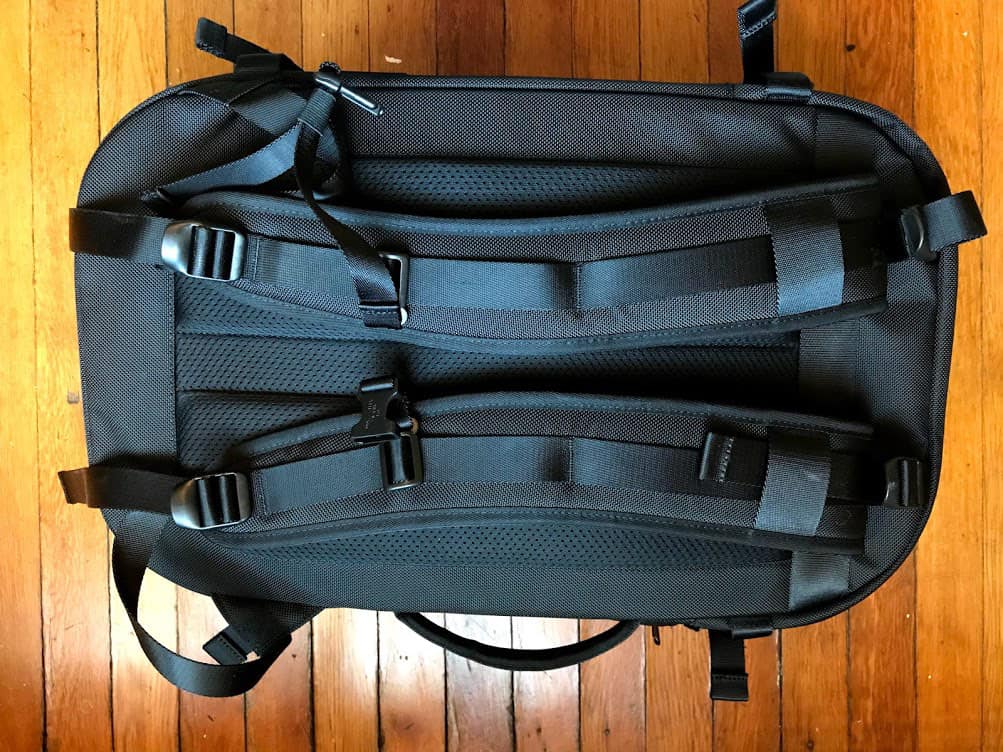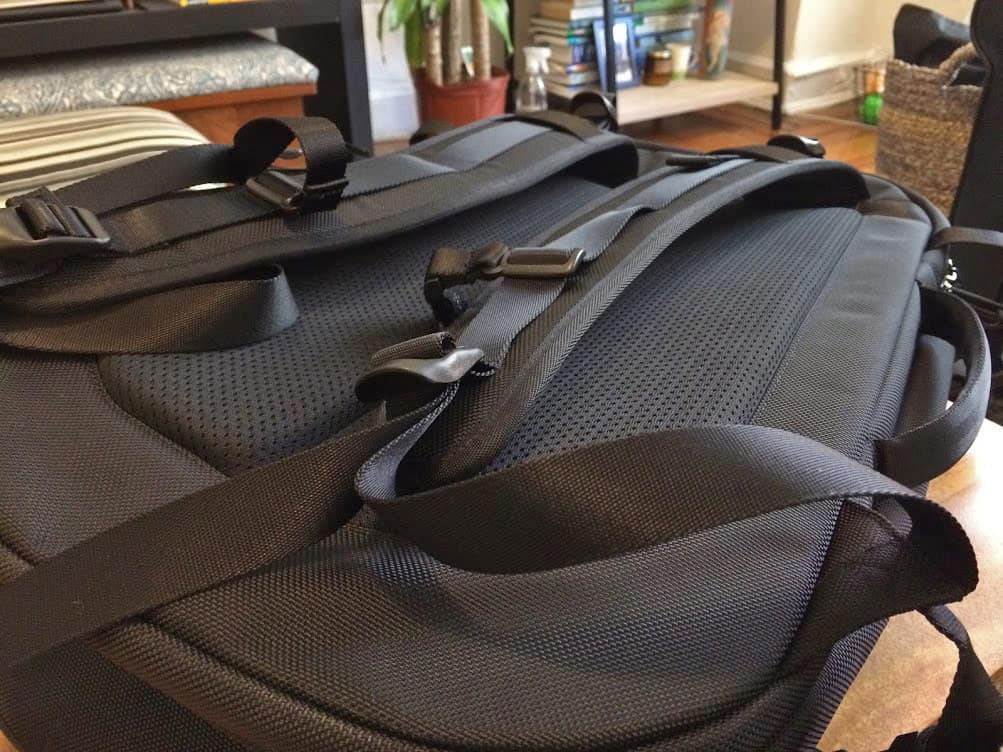 The Aer Travel Pack has a pretty good (but not amazing) suspension system so the shoulder straps/harness should keep you comfortable if you're not wearing for long amounts of time. That said, this bag isn't designed to hold a ton of weight so overloading this bag will result in shoulder strain/pain (another reason to pack light).
The actual straps have a decent amount of padding — it's not the most we've seen but it gets the job done.
The shoulder straps do have load lifters on top of the straps so that's a really nice feature. These allow the shoulder straps to better fit the curve of your shoulders and it keeps the backpack close to your back.
The back of the backpack does have some mesh padding and there is a vent in the middle to give a little airflow — both are nice features that add a little extra comfort. Again, it's not a ton of padding but enough to get the job done.
You'll notice that this bag does have a sternum strap but it does not have a hip belt. Personally, we don't like hip belts Europe travel but some people do.
Build Quality

The overall build quality of the Aer is super solid. The 1680D Cordura ballistic nylon material is thick and really tough. All the seams look solid and the stitching looks really good as well (the stitching is often really bad on cheap bags) The shoulder straps are reinforced. The zippers are all YKK (the gold standard of zippers) and the main zipper is super chunky (that's a good thing). The zippers also have long pulls to make opening them up easy.
The bag also has nice compression straps to help you cinch down the bag so all your stuff doesn't move around. All these extra straps and buckles make it a little less streamlined but it does add functionality.
Bottom line, you can throw this bag around and it will easily take the punishment.
But the super sturdiness of the bag means it's a tad on the heavy side — it weighs in at 3.6lbs. For comparison, the Osprey Porter 46 (which is 10L bigger) is 3.4 LBS. However, the comparable Tortuga Outbreaker 35L weighs 4.7lbs.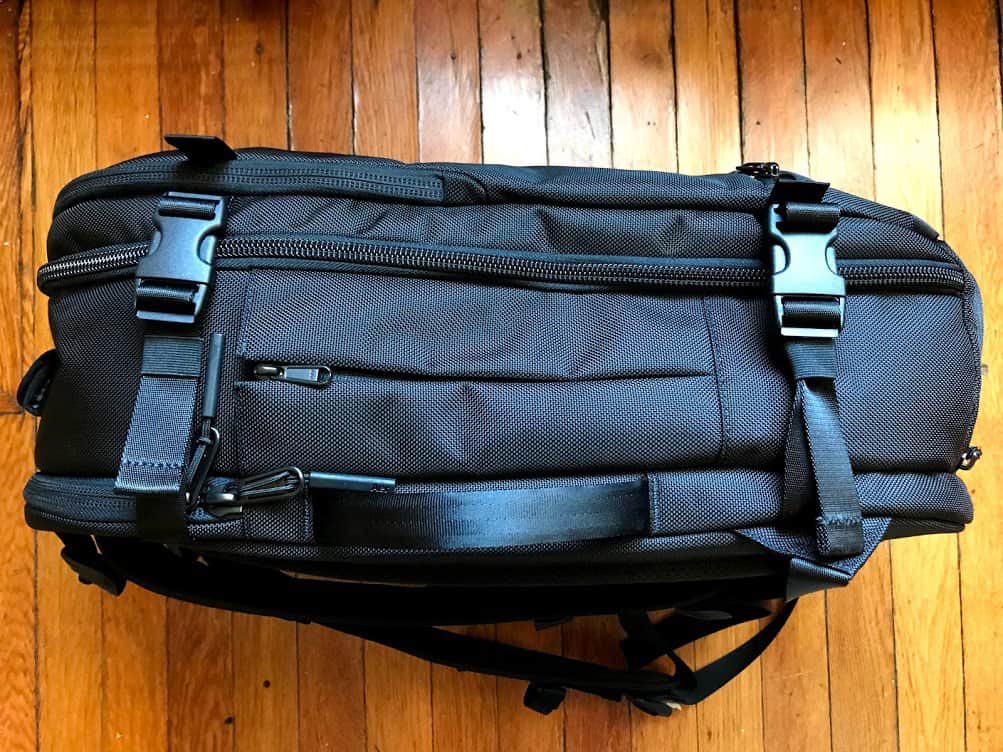 We love that the Aer has side and top handles. These come in super handy when you take your bag out of overhead bins, if you need to carry your bag through narrow aisles, or if you're throwing your bag around.
This bag doesn't claim to be water-resistant but should do a decent job during light rain. The main zipper isn't water resistant — so that's kind of a bummer (the two front pocket zippers are water resistant). This isn't a deal breaker but it would have been a nice touch.
Looks
Personally, we really like the look of the Aer. It looks rugged/utilitarian while also being fairly sleek and streamlined. It's a bit boxy but it definitely feels like it belongs in an urban setting and not out in in the wilderness. By the way, the bag comes in black or grey — both look great.
We also love how there is essentially no branding on the bag other than a tiny little tag on the side. We hate huge logos on our bags so Aer really nailed it here.
Overall Thoughts
We're really digging the Aer Travel Pack. It's smartly-designed, well-constructed, minimalist, and stylish bag that's designed specifically for urban travel. It's an excellent choice for someone who subscribes to the one-bag travel philosophy. It is a little on the heavy side but that's because it's made from super sturdy materials.
The Aer is one of the more expensive backpacks on the market but it's certainly not the most expensive. It costs $220 at the Aer Website so that might be a concern if you're on a tight budget.
Not Sure What To Pack? See Our Packing Lists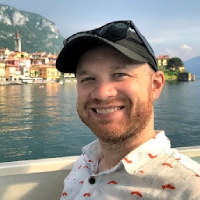 Latest posts by James Feess
(see all)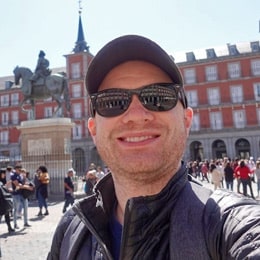 No Funny Business
The Savvy Backpacker is reader-supported. That means when you buy product/services through links on the site, I may earn an affiliate commission — it doesn't cost you anything extra and it helps support the site.
Thanks For Reading! — James
Questions? Learn more about our Strict Advertising Policy and How To Support Us.