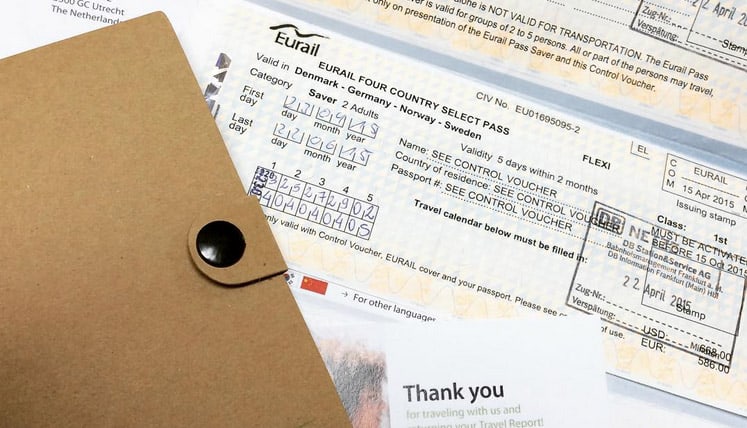 Ahh, the Eurail pass. Broke travelers have been slumming around Europe with rail passes in hand for decades.
But is the Eurail pass actually a good value? In this review, we'll outline when you should and shouldn't consider purchasing a rail pass.
What Is A Eurail Pass?
Rail passes were first designed so you wouldn't have to deal with purchasing individual train tickets — simply buy a single pass, hop on any train, show your pass to the conductor, and be on your way. Easy.
Although it's not quite that simple these days, the general idea remains the same. However, rail passes have started losing their luster because they've gotten a little more complicated and pass holders are often charged extra fees (which we'll address later).
Single Tickets vs Rail Pass
A single ticket is simply a ticket from point A to point B. Traditionally, the price of a ticket has been based on distance traveled. However, some rail services now charge more during peak travel times, and sometimes buying in advance will lower the price.
These factors make estimating ticket prices a little difficult.
With a rail pass, you pay a single price (except when you have to pay extra for reservations), so it's easier to know how much you'll be spending.
Estimating The Value of a Rail Pass
The simplest way to estimate the value of a rail pass is to divide the cost of the rail pass by the number of days/rides the pass offers.
For example, a Youth Global Pass that offers 15 travel days within a 2-month period costs $665.
That means that every travel day costs about $45. Therefore, if you were to buy single tickets, you'd want them to all cost, on average, over $45 each.
As we said before, estimating the price of single tickets can be a little tricky. I recommend starting at RailEurope.com or Rome2Rio.com and plugging in your estimated travel dates. I also plug in dates one week away from the current date to get an idea of how much it will cost to buy a ticket at the last minute.
This way, you'll get an idea of how much it will cost to buy individual tickets. Then, from there you just do some simple math.
Note: This isn't a perfect system. Sometimes RailEurope's prices are high, buying last minute can result in higher prices, etc., but at least you'll get a ballpark figure. You can look on each country's rail service page to get a better price estimate.   
So Is a Eurail Pass a Good Deal?
It depends.
Read on.
Are You Under 26?
Travelers 12-25 qualify for a discounted Youth pass, which can save you a bit of money.
Travelers age 26+ pay full price, which means you're forced to purchase a first-class ticket. True, you'll get to ride in comfort away from those young whippersnappers in second class, but you'll also be paying 50% more for a first-class pass. So, if you're over 25, a rail pass might not be the most affordable option (unless you were already planning on riding in first class).
Do You Want The Absolute Cheapest Option?
Is a rail pass the absolute cheapest option? Probably not. 
Buying individual train tickets months in advance is the cheapest way to buy train tickets. However, these cheap tickets are normally nonrefundable and can't be changed — this means you also lose out on spontaneity since your travel plans are locked in.
And there are tons of super cheap flights that can be cheaper and faster than rail travel. Personally, I'd rather take the train, but it's an option to consider.
Do You Value Flexibility?
Flexibility is where a Eurail pass shines. It's the main reason people buy one.
Simply hop on the train and away you go. Say, for example, that you planned on staying in Paris for three nights, but you fell in love with the city and want to stay longer. That's no problem with a rail pass.
Furthermore, prices for individual tickets are expensive if you buy them last minute, so being spontaneous with normal tickets can be very pricey.
Traveling in Eastern Europe?
Trains in much of Eastern Europe are already fairly cheap, so the Eurail pass doesn't make much financial sense if you're spending much time in those countries. Furthermore, train service in much of the southern part of Eastern Europe is slow, infrequent, and not very widespread. Driving or taking a long distance coach are both much better options.
Traveling In a Group?
The Saver Pass was created for groups of 2-5 people. Basically, you save 15% per person off individual passes. However, it's only valid on first-class passes, so people under 26 won't save anything — but it's good for adult passes. Additionally, all travelers must travel on the same ticket, so your party can't split up. This deal isn't valid for every pass type, so check RailEurope.com or Eurail.com for all the details.
Taking Long Trips?
Most long journeys between major cities use express/high-speed trains. These are the most expensive tickets, so this is where you'll save the most with a rail pass. Most high-speed trains also use the airline pricing model where tickets are cheaper a few months before departure and get more expensive as time goes on.
Short little trips between small towns will probably use local trains — which are normally fairly inexpensive and therefore might not be a good use of your pass.
Taking A Whirlwind Journey?
Trying to see everything in Europe? First of all, it's impossible. But if you're tying to see as much as possible, a rail pass could be a good value. But if you're just taking a few trips, you're better off buying individual tickets.
More Things To Consider
Seat Reservations
First, the good news… most trains in Europe don't require a reservation. Knowing when a reservation is required and how much it costs can be a little confusing — but don't worry 'cause we got you covered.
How Do You Know If You Need a Reservation? It's easy. Simply go to Bahn.com, enter your travel date/time, and find your desired journey. To the right, you'll see an "R" symbol if that train requires a reservation (see image below).
All Thalys high-speed trains (which notably go between Amsterdam and Paris) require a reservation, and all high-speed trains in France, Italy, Spain, and Sweden require reservations.

How Much Do Seat Reservations Cost?
Most reservations cost around 5€-10€ but on some lines can cost as much as 30€.
How Do You Make A Seat Reservation?
You can make reservations at just about any train station. Just go to the ticket window and tell them when what train you want (they'll need the time and date). You can also make a reservation online via RailEurope.com, but I find that making it at the station is just as easy.
Reservations can be made months in advance or up to 30 minutes before the train departs — I try to do it a few days in advance so I don't have to deal with it at the last minute (you never know how long the ticket line at the service window might be).
Note: Some trains (notably in France) have a limited number of reservations available for riders using rail passes. It is smart to make your reservations in advance to ensure you get your desired journey.
Overnight Trains
Eurail pass holders are still required to purchase seat reservations on overnight trains, and they still have to pay extra if they want a reserve a bed. Read more about taking night trains in Europe.
Eurostar
The Eurostar is the high-speed train between London and Paris/Brussels. This route is not covered by the Eurail pass. There are special fares for pass holders, but this is often more expensive than a regular ticket.
Buy Eurostar tickets as early as possible. A one-way Eurostar ticket starts out around $60 if you buy it months in advance — but wait until the last minute and it will cost you well over $250.
Short Trips and Extra Long Trips May Not Be A Good Value
Short train rides are usually fairly cheap, so using the rail pass doesn't make financial sense.
Extra long trips eat up a lot of travel time. I usually limit my train trips to 8 hours before I start looking at flights. For example, a train from Paris to Copenhagen takes over 13 hours, but a flight takes less than two hours and costs around $100. Personally, I'd rather save the time.
For most people, their train rides will be anywhere from 2-6 hours, which is the sweet spot for train travel.
Southern & Eastern Europe
Trains in southern Europe are kept affordable by their governments, so rail passes are rarely a good value. There are still regional passes you can check out, but we suggest buying tickets as you go (maybe book a few days ahead on longer-distance routes). Additionally, as mentioned previously, train service in Eastern Europe is affordable, but in some countries the train service is very limited — so a rail pass may not be a good value.
Conclusion — Is a Eurail Pass a Good Deal?
After traveling throughout Europe with and without a Eurail pass I've found the following:
Cheap But Inflexible — Buy Individual Tickets In Advance
These days, most European countries offer cheap tickets to those who book in advance and then continue to raise prices as the departure date approaches.
So if you can buy your tickets a weeks or months in advance, it's going to be hard to find a better deal.
Of course, this means you'll have to stick with this itinerary because most cheap tickets are non-refundable and non-changeable.
Flexible But Expensive — Buy Tickets Last Minute
Try to book your ticket at least a week in advance because last minute tickets are pricey.
Flexible But More Expensive — Buy a Rail Pass
If you don't want to plan and you're going to be traveling by trains multiple times, a rail pass is a great deal. You will pay a little more, but you'll also save hours of planning and gain a ton of flexibility.
See All Eurail Pass Options
If you're considering purchasing a rail pass, I highly suggest poking around RailEurope's Rail Passes to see which ones best fits your travel needs.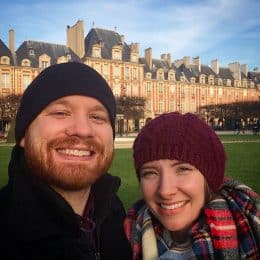 No Funny Business
We want to be fully transparent that this post may contain affiliate links. That means we receive a small commission if you make a purchase after clicking the link — it doesn't cost you anything extra and it helps support the site.
Thanks For The Support! — Susan and James
Questions? Learn more about our Strict Advertising Policy and How To Support Us.