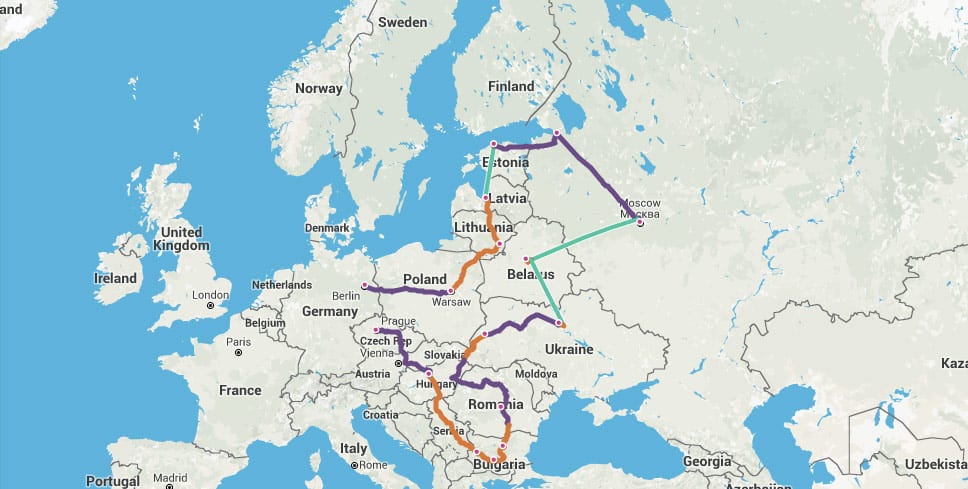 Eastern Europe still remains an intriguing mystery to most of us. It offers many treasures, but those treasures take a bit of work to uncover. This itinerary starts in Berlin and circles through the Baltics and deep into the former Soviet-controlled countries. You'll see a healthy dose of gritty Soviet-era architecture mixed in with fairytale medieval old towns.    
Most of the transportation for this journey will be via bus because train routes are much more sparse than in Western Europe — especially the further east you go. Additionally, distances between cities can be very large, so there will be a few long journeys. Because of this, you may want to use this guide but stick to a smaller region.
Many of the countries in this list are Russian-speaking, so spending a few hours trying to learn the Cyrillic alphabet will go a long way when trying to ask for things (remember, English won't be spoken by very many people). On another note; Russia and Belarus require a visa that you'll need to apply for in advance.
However, as a bonus, prices throughout Eastern Europe are cheap so you can eat, sleep, drink, and party for a fraction of what you'd spend in Western Europe.
Eastern Europe Mega-Trip
Note: If you want a taste of Eastern Europe without diving deep behind the former Iron Curtain, we recommend checking out our Gateway To Eastern Europe Itinerary.
Berlin
Approx. 4+ days
If you haven't already been, I suggest starting in Berlin. It's a great segue from Western Europe to Eastern Europe thanks to its strong communist-era influence. Berlin is a physically large city with multiple neighborhoods, so you'll want to give yourself multiple days to explore everything.
Warsaw
Approx. 2-3 days
From Berlin, it's a little over a 5-hour train ride.
Warsaw, Poland's capital city, was almost completely destroyed during WWI but has been impressively restored. It now features Gothic churches, Soviet-era blocks, skyscrapers, and neoclassical palaces, and the old town has been accurately restored to look as it did before the war. You'll also find a bustling nightlife and art scene.
Vilnius
Approx. 1-3 days
A bus ride from Warsaw to Vilnius is about 6 hours. They are currently building a rail line between the two cities, but construction isn't set to start until mid-2016.
Vilnius is known as the baroque beauty of the Baltic, and it's easy to see why once you walk through its old town. Even though Vilnius is Lithuania's capital, it feels almost like a village and has a somewhat rural atmosphere.
Rīga
Approx. 2-3 days
The best and fastest way to travel from Vilnius and Riga is a 4-hour bus ride.
Riga, aka the Pearl of the Baltics, is Latvia's capital and cultural center. The city is famous for its wooden buildings, medieval Old Town, and art nouveau architecture. The city is situated on the Baltic Sea and the River Daugava, so many activities revolve around the water. Plus, you'll find a good number of hip bars and interesting restaurants, and a solid modern art scene.
Tallinn
Approx. 2-3 days
The bus from Riga to Tallinn will take about 4 hours. You can also fly in about half the time.
Also located on the Baltic Sea, the Estonian capital of Tallinn has a lot of excitement and fairytale charm. The city's main draw is its walled Old Town, ancient church spires, and 15th-century defensive tower.
If you want, you can take a day trip from Tallinn up to Helsinki.
NOTE: This is a good opportunity to visit St. Petersburg and/or Moscow if you have the time. This will add an extra week to your journey.
Minsk
Approx. 3-4 days
We recommend flying from Tallinn to Minsk. It's about a 3-hour flight, so about 6 hours total travel time.
Out with the old and in with the new… Minsk was completely destroyed during WWII and was rebuilt under Stalin's orders… think of it as a monument to the ambitious aspirations of Soviet architecture and urban planning. You'll find great cafés, hip restaurants, world-class nightclubs, art galleries, and museums to rival many other more well-known cities. Be warned, you'll need a visa to visit Belarus.
Kiev
Approx. 4-5 days
The train from Minsk to Kiev is a long 12 hours, but it's pretty cheap. Flying is a lot faster but costs a lot more.
Kiev is one of the most beautiful cities in the world, and it's proud of its eclectic architecture and its copious green space. It's also one of the oldest cities in Eastern Europe — dating back to the 5th century.
Lviv
Approx. 3-4 days
The 5-hour train ride is the fastest and cheapest option to get between Kiev and Lviv.
Lviv is Ukraine's least Soviet-feeling city — it actually has a charm similar to Prague and Kraków… except with a fraction of the tourists. The city is a UNESCO World Heritage Site and boasts the impressive High Castle Park — the mountaintop ruins of a 14th-century castle that provides amazing views of the city and countryside.
Transylvania
Approx. 2 days (if you just want to see one town. You'll spend a few more days if you want to visit multiple old towns in the region.)
From Lviv to the town of Bran in Transylvania, it's a pretty long commute with no real rail connection. The fastest method is flying to Bucharest and then taking a bus. That will take about 8 hours of total travel time. You can always spend a day or so in Bucharest if you want to break it up. If you choose to take a bus the entire way it will take about 22+ hours.
Nestled along the beautiful Carpathian Mountains, Transylvania (aka 'the land beyond the forest') feels like it has been lost in time and still feels slightly medieval (and the infrastructure can seem equally as old). Don't be surprised to see farmers driving horse-drawn carts through town. It's also home to a handful of castles — most notable Bran Castle (of Dracula fame).
Veliko Târnovo
Approx. 2-3 days
It's another long commute between Transylvania and Veliko — about 10 hours via bus or train.
This small Bulgarian town is built on a large hillside and the city is postcard pretty. It features the medieval Tsarevets fortress and a number of cafes and restaurants. Thanks to its sizable student population, there is plenty of nightlife.
Plovdiv
Approx. 2 days
The bus from Veliko to Plovdiv is about 4.5 hours.
Plovdiv is Bulgaria's second-largest city and has plenty of laid-back charm, a lovely Old Town, a strong art scene, cafés, and winding cobbled streets. It features Thracian, Roman, Byzantine, and Bulgarian antiquities as well as an amazingly preserved (and still functioning) Roman amphitheater. The city also has some great nightlife thanks to its large student population.
Sofia
Approx. 3-4 days
Plovdiv to Sofia is about 1.5 hours by bus or 2.5 hours by train.
Sofia is the capital of Bulgaria and its history goes back 2000 years (it's been ruled by the Greeks, Romans, Ottomans, and Soviets). It's also the cheapest capital city in Europe and it has a healthy nightlife scene.
Budapest
Approx. 3-5 days
From Sofia to Budapest, it's best to fly — it's about a 4.5-hour flight.
Budapest is called the "Paris of the East," and it's one of my favorite cities in Europe. It has everything you'd want in a city (architecture, great nightlife, shopping, restaurants, etc.) and it's affordable. Budapest is also known for its natural thermal baths — which are popular with locals and visitors.
Prague
Approx. 3-5 days
Fly or take an overnight train from Budapest to Prague.
Prague is often said to be the most beautiful city in Europe so it's no wonder it's a popular destination. It also has a solid nightlife scene thanks to its reasonably affordable prices (although they're higher than most other eastern European cities). It's a fairly compact city so you can see the highlights in a few days.
---
Total Trip Length 45 Days – 70 Days
This entire trip (add at least an extra 7-10 days for St. Petersburg and Moscow) will take about 45 days if you move quickly and a little over 65 days if you take it a little slower — this includes travel time between locations. And, of course, you can always tweak this itinerary to add/subtract destinations from your trip.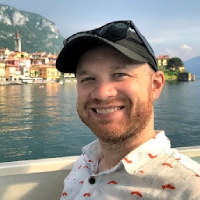 Latest posts by James Feess
(see all)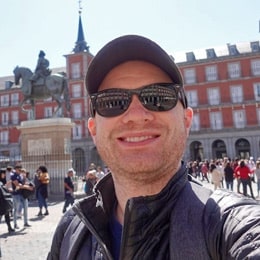 No Funny Business
The Savvy Backpacker is reader-supported. That means when you buy products/services through links on the site, I may earn an affiliate commission—it doesn't cost you anything extra and it helps support the site.
Thanks For Reading! — James
Questions? Learn more about our Strict Advertising Policy and How To Support Us.