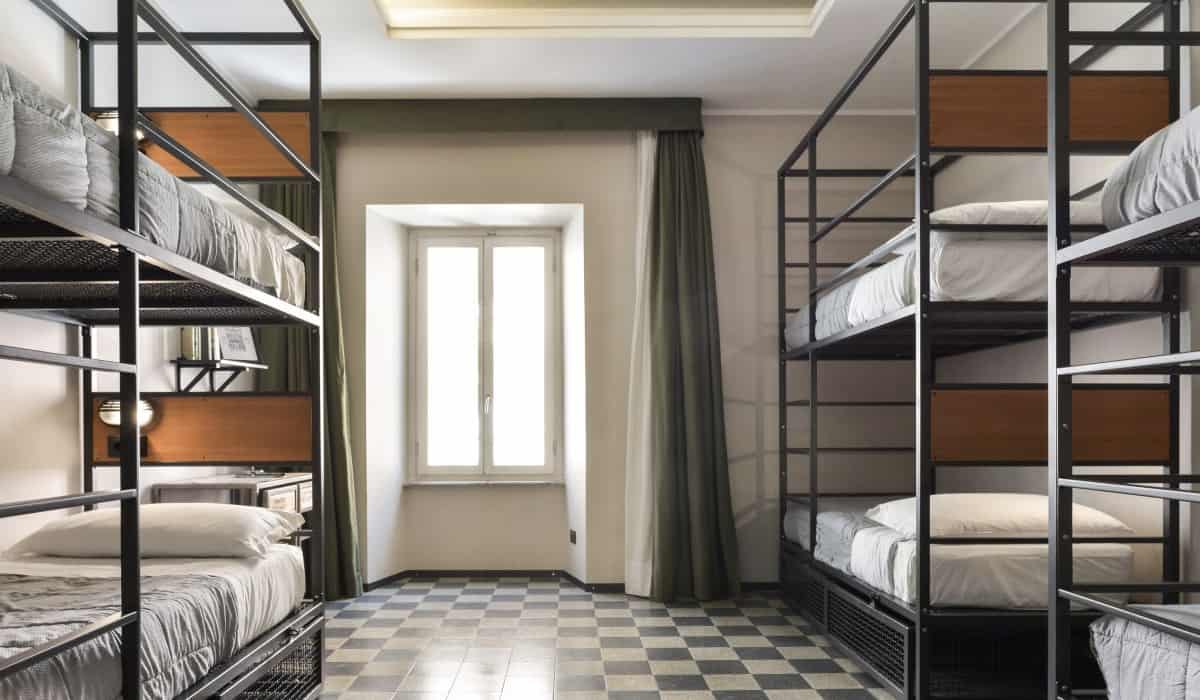 Unlike other major destinations, Rome doesn't have a huge inventory of hostels. In fact, there are less than 40 listed on Hostelworld. So to help you find the perfect place to stay we've analyzed each hostel to bring you a list of the best hostels in Rome.
Typical Rome Hostel Prices
Hostels in Rome are generally reasonably priced.
Most hostels, regardless of quality, will start around €25-€32/night in the summer. You might be able to find some around €20/night but those are tough to snag. The cheapest hostels will cost around €18/night — but don't expect very good quality.
Check Hostelworld to get exact prices for your dates as prices are always fluctuating.
Quick Facts About Rome Hostels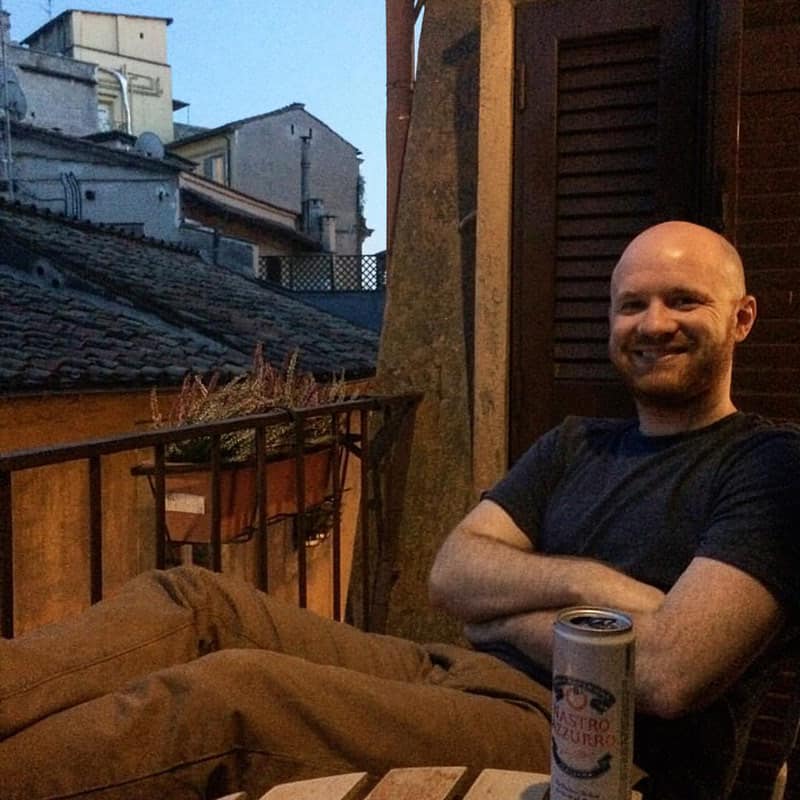 Cheap Beds & Good Hostels Go Early: Hostel prices are fairly standardized but the quality does vary. The best options get booked up quickly (especially in the summer).
Tourism Tax: Rome requires all hotels, hostels and apartment rentals to collect a tourist tax for all guests. It's usually around €3.50/night/person so don't be surprised by this extra fee.
Areas & Neighborhoods: Most of Rome's hostels are located near Rome's Termini train station. It's not the best part of town but it's not that bad (just be a little extra vigilant at night).
Check The Hostel Vibe: Every hostel has its own personality so we suggest picking a hostel that matches up to your travel style. For example, some hostels are "party" hostels so these are great for having a fun time but not great for sleeping.
Check-In Times and Cleaning Times: A lot of hostels have late check-in times (around 2 pm-4 pm) but nearly all will let you store your bags if you arrive before check-in.
New To Hostels? Check out our Hostels 101 Guide to learn everything you need to know about finding the perfect hostel.
The Best Hostels in Rome: Our Top Picks
HOW WE RANK THE HOSTELS
Overall Quality: We take a holistic look at the hostel to see the positives and negatives. Our goal is to find amazing hostels that are still affordable.
Location: Most hostels we list will be centrally located.
Price: We try to filter out the super expensive hostels to help find the best price to quality ratio.
Vibe/Atmosphere: Every hostel has a personality. Some are party hostels and some are quiet. We try to note the atmosphere so you can find a place to stay that matches your travel style.
Past Guest Reviews: Every guest has a different experience so we look at the good and the bad. We suggest you take a few minutes to read prior reviews.
We also encourage you to check out Hostelworld to do a bit of searching for yourself.
NOTE: All prices listed below are the cheapest option available during the busy (i.e. expensive) season. Prices will often be 20%+ cheaper during the slower seasons.
The Yellow Hostel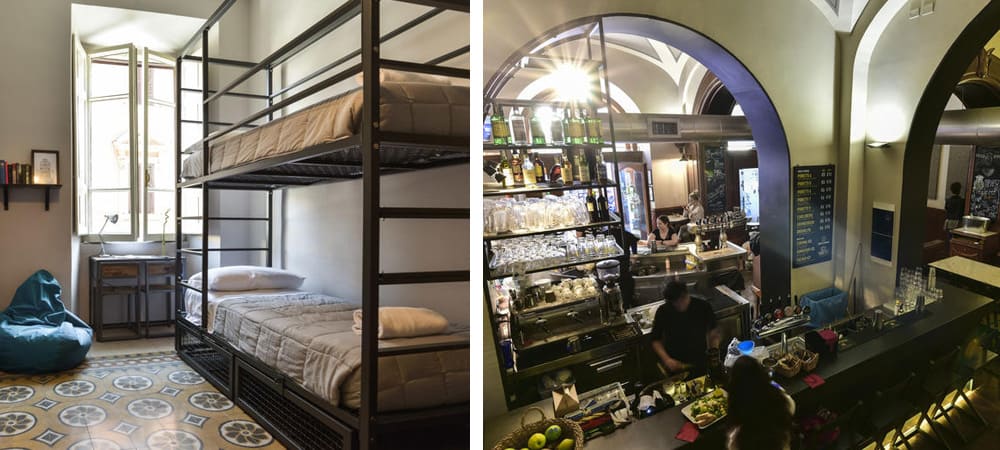 The Yellow has been the most popular hostel in Rome for multiple years in a row — it receives high ratings in just about every category. They have a self-catering kitchen, comfortable beds, nice showers, an on-site restaurant, a rooftop terrace, modern amenities, and a great location.
This is a very social hostel. In addition to all the lounge space, they have a bar and nightclub on the ground floor so you'll never be far from a party. That said if you're looking for peace and quiet this might not be the place for you.
Beds Start Around €32-€38/night
Read More Reviews at Hostelworld
---
Papa Germano Hostel
Papa Germano gets glowing remarks about their amazing staff and hospitality. They go out of their way to welcome you and keep the hostel clean and comfortable.
Papa Germano feels a little more like a hotel because most rooms are private so they're intended for two people but they do have a few four-person dorms. Because of this, it doesn't have the best "hostel" vibe but it's not a bad option if you just want somewhere clean, comfortable, and affordable.
Beds Start Around €24-€29/night
Read More Reviews at Hostelworld
---
Funny Palace Rome Hostel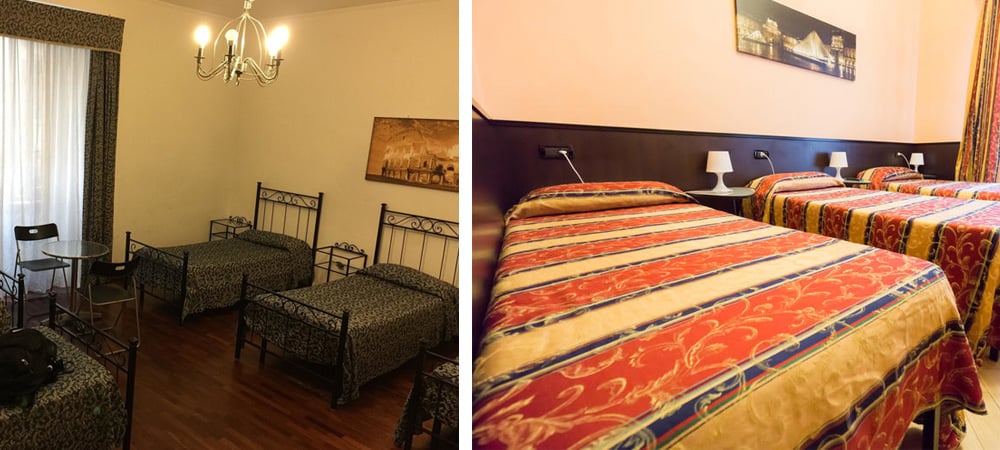 Funny Palace Rome feels a bit like a hotel so don't expect much atmosphere — i.e. it's not great for solo travelers or people looking to meet other folks. That said, Funny Palace Rome is well-located, offers free breakfast, is clean, comfortable, quiet, and affordable.
Beds Start Around €25-€30/night
Read More Reviews at Hostelworld
---
Hostel Des Artistes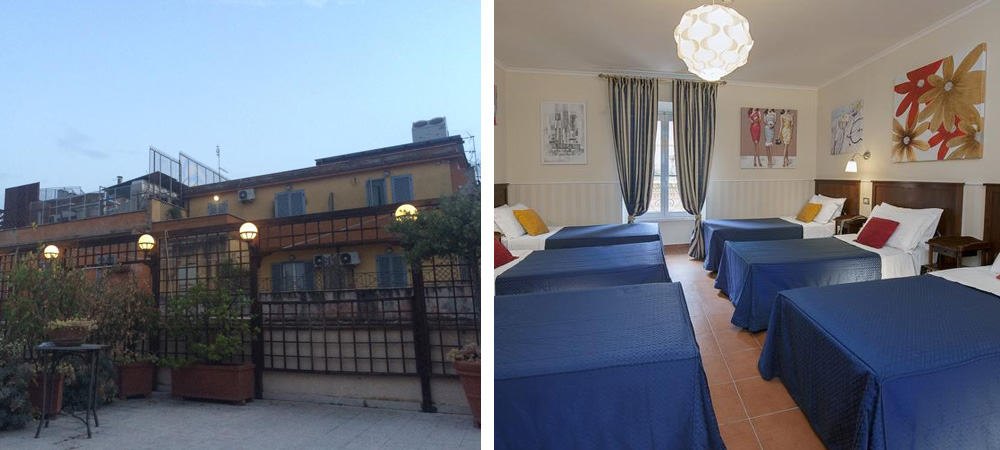 Hostel Des Artistes is a modern and low-key hostel that's clean and one of the most affordable hostel options — just don't expect to meet many fellow travelers as there isn't much common space. It has a dining area but not much of a self-catering kitchen. On another note, this hostel only accepts people between the ages of 18 and 30 in the dorms and people over 30 must book a private room.
Beds Start Around €20-€28/night
Read More Reviews at Hostelworld
---
Hostel Alessandro Palace & Bar
Hostel Alessandro Palace & Bar is one of the most popular hostels in Rome. It has a bar with reasonably-priced drinks, a restaurant, lounges, and a roof garden.
This is certainly a lively hostel so it's easy to meet people — and they organize lots of fun social events every night of the week. So, if you're a solo traveler, this is a solid option.
There isn't a free breakfast but there is a basic kitchen for cooking your own meals. Like most hostels in Rome, this hostel is located near Termini Station.
Beds Start Around €21-€26/night
Read More Reviews at Hostelworld
---
Hostel Alessandro Downtown
Hostel Alessandro Downtown is located right next to the train station so you won't have to drag your luggage very far. It does have a self-catering kitchen but no free breakfast. The atmosphere is fairly social as they do host a happy hour, cocktail parties, pizza parties, karaoke, beer pong, etc.
The amenities are basic but it's clean, comfortable, and affordable.
Beds Start Around €26-€30/night
Read More Reviews at Hostelworld
---
Freedom Traveller Hostel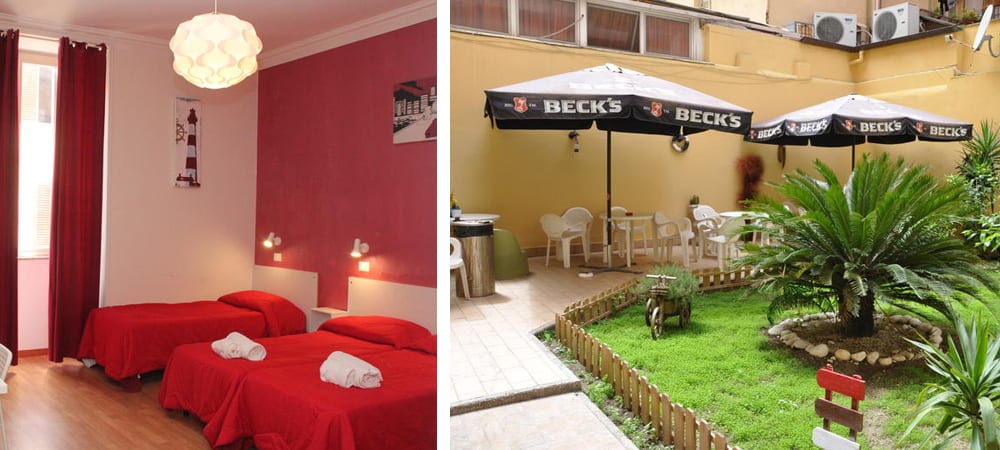 Freedom Traveller offers nightly happy hours with free wine and snacks. They also have cool outdoor space and other lounge areas — so that always helps boost the vibe. That said, it's not a party hostel so you can still get some quality sleep at night.
Beds Start Around €24-€28/night
Read More Reviews at Hostelworld
---
Mosaic Hostel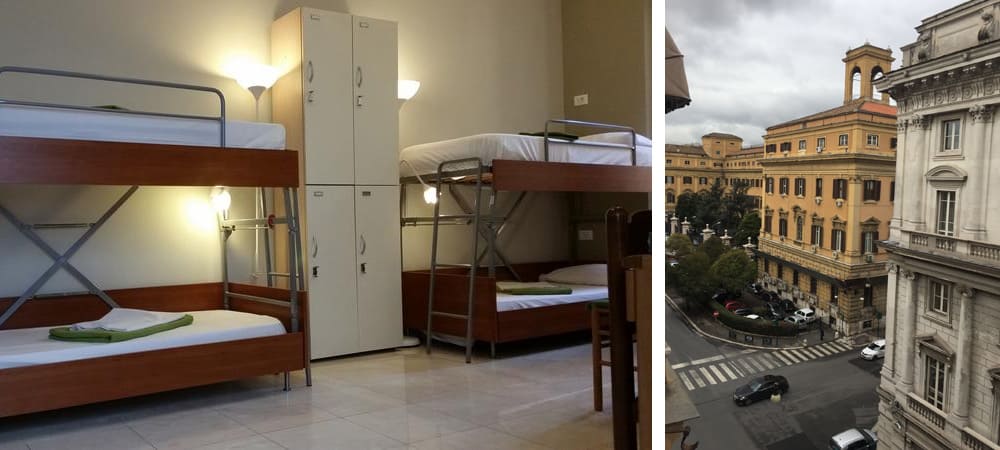 Mosaic Hostel is located in Rome but it's about a 30-minute walk to the "center" of the city — which isn't too bad. They do have a free breakfast but there is no kitchen to make your own meals.
Overall, this is a clean, comfortable, and quiet hostel, so don't expect much excitement but you'll get a good sleep.
Beds Start Around €22-€28/night
Read More Reviews at Hostelworld
---
Palladini Hostel Rome
Palladini Hostel Rome is located very close to the Termini Station so you're a short walk to many of Rome's sights. There is a basic self-catering kitchen but no free breakfast. They do have laundry facilities (which is a nice bonus).
Overall, this hostel receives fairly good reviews so it's a fine hostel for a couple of nights.
Beds Start Around €26-€32/night
Read More Reviews at Hostelworld
---
Dreaming Rome Hostel
Dreaming Rome Hostel is known for its great atmosphere because the owners really make you feel welcome (which is pretty rare in hostels) — you might get treated to a pasta or pizza dinner.
This isn't a party hostel but it's lively, fun and recently completely remodeled. There is a kitchen, free breakfast, and laundry facilities.
It's fairly close to the city's main sights and it's located near the subway. Overall this is a great choice but the prices are on the high end.
Beds Start Around €33-€37/night
Read More Reviews at Hostelworld
---
Wiki Hostel & Green Village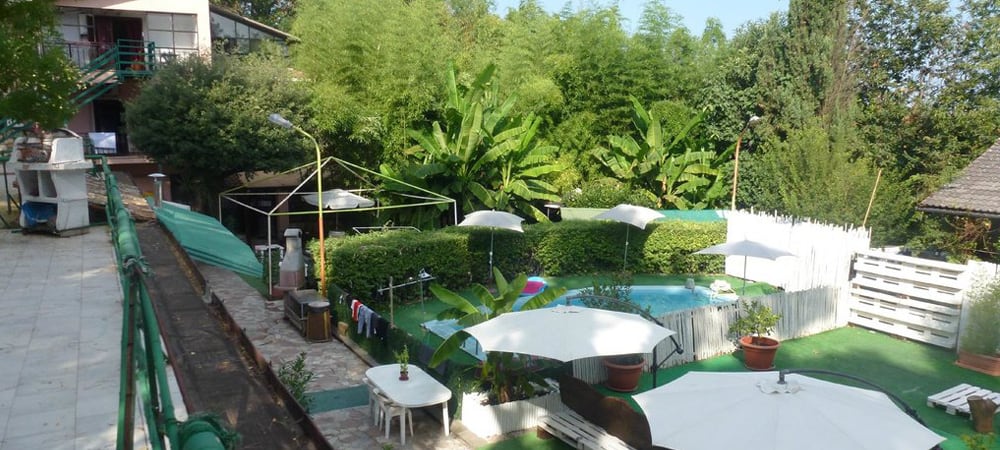 Wiki Hostel & Green Village is actually located about a 30-minute train ride outside Rome so this isn't a place to stay if you want to be able to stumble back to your hostel. However, everything else about this hostel is top-notch — super clean rooms, a pool, sauna, kitchen, bar, laundry, pizza & pasta nights, and a lot more. If you're looking for a relaxing Roman holiday then this is your spot.
Beds Start Around €36-€40/night
Read More Reviews at Hostelworld
---
Orsa Maggiore for Women Only Hostel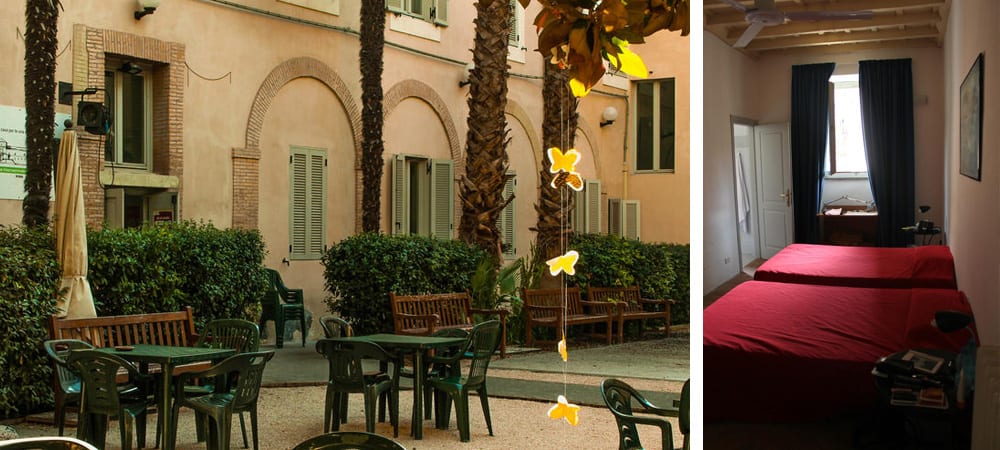 Orsa Maggiore for Women Only is a great place for solo female travelers or women who feel more comfortable in a female-only hostel. This hostel, which is actually located in a 16th-century ex-convent, is in the very cool Trastevere neighborhood — which has lots of great bars and restaurants. It's a quiet hostel so it's a peaceful place to rest after a long day.
Beds Start Around €28-€32/night
Read More Reviews at Hostelworld
---
Packing Advice For Hostel Travel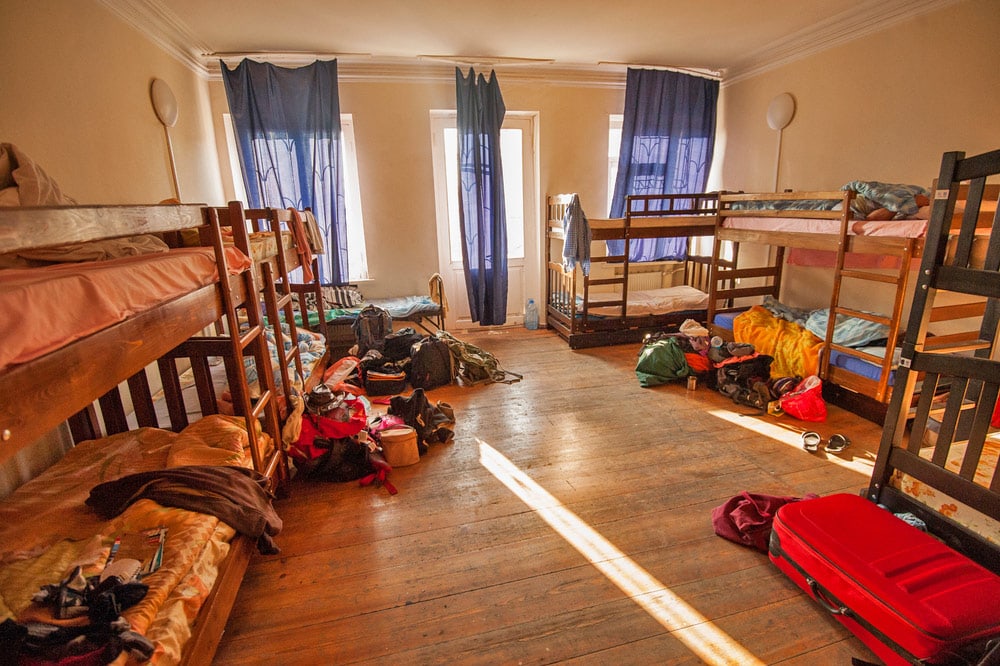 Staying in hostels poses a few unique packing challenges so I'm here to help by recommending a few of my must-have items. Check out my Hostel Packing List for the full list but below are the absolute necessities:
---
More Helpful Budget-Travel Advice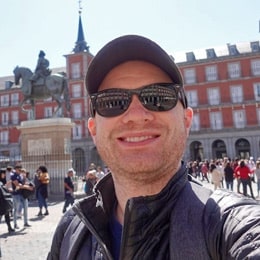 No Funny Business
The Savvy Backpacker is reader-supported. That means when you buy product/services through links on the site, I may earn an affiliate commission — it doesn't cost you anything extra and it helps support the site.
Thanks For Reading! — James
Questions? Learn more about our Strict Advertising Policy and How To Support Us.