Edinburgh is a fun and vibrant city that doesn't get enough love but it's certainly worth a visit. Like much of the UK, Edinburgh can be a bit expensive but there are actually a few fairly affordable hostel options and there are actually a number of quality hostels. All-in-all, the city has about 45 hostels — but here we've listed what we consider to be the best hostels in Edinburgh.
QUICK INFO ABOUT EDINBURGH HOSTELS
Average Price For A Bed
A bed in a highly-rated hotel will cost anywhere from about £15-£25/night with an average around £18/night. The cheapest hostel you'll find will cost around £13/night but the quality most-likely won't be great. NOTE: These are "high-season" prices — off-season prices will be 20%-30% cheaper. Also, prices are often a little more expensive on Friday and Saturday nights than on weeknights.
Check HostelWorld to get exact prices for your dates.
More Edinburgh Hostel Tips
Cheap Beds & Good Hostels Go Early: Hostel prices are fairly standardized (there are a few outliers) but the quality does vary quite a bit. The best options do get booked up quickly — especially in the summer.
Check Location: Most hostels in Edinburgh are centrally located (the city is very compact) but there are a few located outside the city.
Private Rooms: Private rooms in hostels can be expensive. In fact, they're sometimes as expensive as a hotel room.
Weekend Rates: Expect to pay an extra on Friday and Saturday nights.
Festival Rates: Edinburgh hosts the multi-week Fringe festival every August and hostel prices shoot up. Expect to pay £25-£45/night for a hostel bed. Additionally, there are a few other festivals and big events which will also result in elevated prices.
Check-In Times and Cleaning Times: Many hostels have late check-in times (around 2 pm-4 pm) but nearly all will let you store your bags if you arrive before check-in.
New To Hostels? Check out our Hostels 101 Guide to learn everything you need to know about finding the perfect hostel.
EDINBURGH'S BEST HOSTELS 
Hostel Ranking Criteria
Overall Quality: We take a holistic look at the hostel to see the positives and negatives. Our goal is to find amazing hostels that are still affordable.
Location: Most hostels we list will be centrally located.
Price: We try to filter out the super expensive hostels to help find the best price to quality ratio.
Vibe/Atmosphere: Every hostel has a personality.
Past Guest Reviews: Every guest has a different experience so we look at the good and the bad.
We do encourage you to check out HostelWorld to do a bit of searching yourself.
NOTE: All prices listed below are the cheapest option available during the busy (i.e. expensive) season. Prices will often be 20%+ cheaper during the slower seasons.
Castle Rock Hostel
Castle Rock Hostel does everything right so it's no surprise that it's not only the best hostel in Scotland, it's one of the best hostels in Europe. We're talking amazing location in the center of town, friendly staff, plenty of lounge/common space, funky decorations, comfortable beds, a large kitchen, pub crawls, the overall vibe is friendly… and it's all located in a cool building built in the mid-1800's. Furthermore, it's competitively priced so yeah… gotta love Castle Rock Hostel.
---
Royal Mile Backpackers
Royal Mile Backpackers Hostel is yet another excellent hostel in Edinburgh. It's a cozy/small hostel but you feel like you're family thanks to the friendly staff and warm atmosphere. There isn't a lot of common space so it's not the most "lively" hostel but it's homey. The location is great if you want to be in the heart of everything because the hostel is on the Royal Mile (Edinburgh's most famous street). That said, you might experience some street noise from the bars and general foot traffic. There is a small kitchen and you're allowed to visit their bigger sister hostel across the street if you want a more proper kitchen or hang out in their common rooms.
---
High Street Hostel
High Street Hostel is a lively hostel that gets great reviews for their great location, friendly staff, comfy beds, and cleanliness. There is a large kitchen and plenty of common space (including a pool table) so it's a good place to meet fellow travelers. The hostel is located inside a nearly 500-year-old building so that's pretty cool. We also like how they don't allow big groups, bachelor/bachelorette parties, or people under 18. They'll also do your laundry for £4 — which is a nice bonus.
---
Kick Ass Hostel
The aptly named Kick Ass Hostel gets tons of praise for their kick-ass-ness — specifically their super comfy beds, central location, their brand new 'pod' bunk beds, fun staff, and the overall cleanliness. It's also a social hostel thanks to its cheap and lively bar, common area (complete with an amazing view of Edinburgh Castle), large kitchen, free daily walking tour, and free bar events. We also like how they don't allow big groups, bachelor/bachelorette parties, or people under 18.
---
Budget Backpackers
Budget Backpackers is the sister hostel of Kick Ass Hostels so they offer a lot of the same great amenities. It's located in the center of the city so all the bars and nightlife are just down the street. It's a lively hostel thanks to its bar, free city tour, free daily bar events, large self-catering kitchen, and plenty of chill-out space. They also partner up with Kiss Ass Hostel to offer social events.
---
Honorable Mentions
Both Edinburgh Backpackers and St Christopher's Edinburgh received good, but not great, reviews. That said, they both start around £13/night so they're not a bad choice if you're on a budget and the other hostels on this list aren't available.
---
MORE HELPFUL TRAVEL ADVICE 
Here are some helpful links to articles that we think you'll find interesting if you're staying in hostels and traveling around Europe on a budget.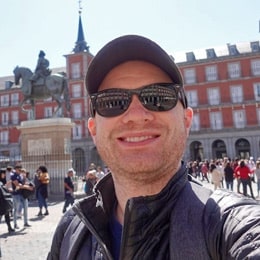 No Funny Business
The Savvy Backpacker is reader-supported. That means when you buy product/services through links on the site, I may earn an affiliate commission — it doesn't cost you anything extra and it helps support the site.
Thanks For Reading! — James
Questions? Learn more about our Strict Advertising Policy and How To Support Us.