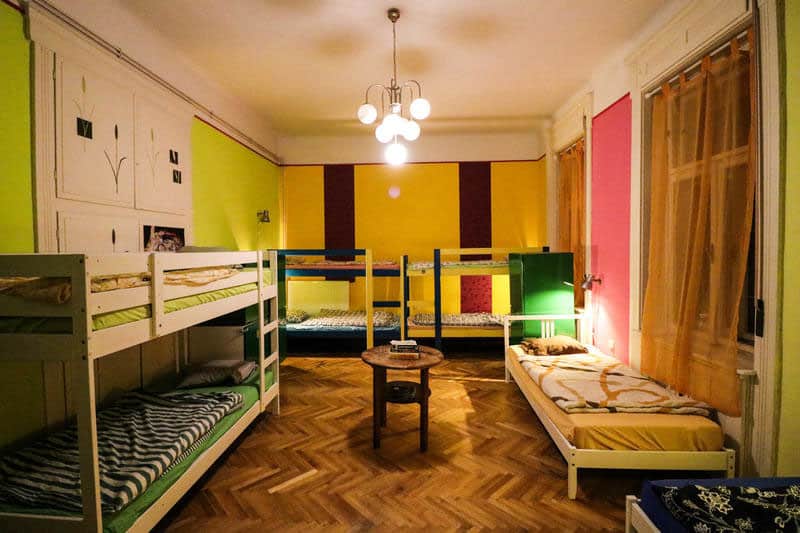 Budapest is a vibrant city that's cheap, has legendary nightlife, and has a surprisingly high number of amazing hostels. In fact, it probably has some of the best hostels in Europe and they're affordable. All-in-all, the city has about 70 hostels — but here we've listed what we consider to be the best hostels in Budapest.
QUICK INFO ABOUT BUDAPEST HOSTELS
Average Price For A Bed: A bed in a highly-rated hotel will cost anywhere from about €14-€25/night with an average around €19/night. The cheapest hostel you'll find will cost around €8/night but the quality won't be great. NOTE: These are "high-season" prices — off-season prices will be 20%-30% cheaper. Also, prices are often a little more expensive on Friday and Saturday nights than on weeknights.
Check HostelWorld to get exact prices for your dates.
Cheap Beds & Good Hostels Go Early: Hostel prices are fairly standardized (there are a few outliers) but the quality does vary quite a bit. The best options do get booked up quickly — especially in the summer).
Check Location: Most hostels in Budapest are centrally located but there are a few located outside the city.
Party City: Budapest has some of the best nightlife in Europe so many of the hostels cater exclusively to the party crowd. Be sure to read reviews if this is something you're looking to avoid.
Check-In Times and Cleaning Times: Many hostels have late check-in times (around 2 pm-4 pm) but nearly all will let you store your bags if you arrive before check-in.
New To Hostels? Check out our Hostels 101 Guide to learn everything you need to know about finding the perfect hostel.
BUDAPEST'S BEST HOSTELS 
This list of Budapest's best hostels is based on overall quality, location, price, and guest reviews. We do encourage you to check out HostelWorld to do a bit of searching yourself.
NOTE: All prices listed below are the cheapest option available during the busy (i.e. expensive) season. Prices will often be 20%+ cheaper during the slower seasons.
Hostel One Budapest
Hostel One Budapest is a party hostel. And they're very upfront about this. It's also one of the best-rated hostels in Budapest. So yeah, this is the place to stay if you want to have a great time, meet lots of people (and maybe not get much sleep). They have a bar (complete with drinking games), they cook free dinners every night, they organize bar crawls, and they have a chill-out lounge. We also love that this hostel doesn't allow groups larger than four people — so you don't have to worry about annoying school groups or big drunken bachelor party groups. It really is a great place for solo travelers. Ohh, the staff is great, the location is ideal, the hostel is clean, and the amenities are great.
---
Hostel One Basilica

Hostel One Basilica is also part of the Hostel One chain of hostels so it's very similar to Hostel One Budapest (mentioned above). This is also a party hostel so it's great for meeting people. Each night they provide a free family-style dinner, play drinking games, and then they take guests to ruin bars. Everything else about the hostel is great — the location is excellent, the staff is friendly and helpful, the rooms are spacious, the beds are comfortable, the hostel is clean… yeah, it's hard to find something wrong.
---
Avenue Hostel

Avenue Hostel is an excellent hostel that's only a 10-minute walk from the train station and it's super close to lots of ruin bars and other nightlife. The overall atmosphere is fun and friendly. They offer free breakfast, free dinner twice a week, they organize multiple events every week, and there is a nice common room to meet people. We also like how they impose a quiet time after 10 pm so this should be a good place to get a nice rest.
---
Wombats City Hostel Budapest
Wombats hostels are famous throughout Europe and their Wombats City Hostel Budapest lives up to its excellent reputation — there's a reason this is the most-booked hostel in Budapest. The staff is super helpful (plus they offer a free drink at check-in), the prices are cheap, the location is ideal, and there is a large kitchen. And it has its own bar. The atmosphere is pretty good but it is a large hostel so it can have a bit of a hotel vibe.
---
Retox Party Hostel
Retox Party Hostel… well, the name says it all. One past guest said it's the "perfect for the traveler looking to meet new people, experience new things, and have wild nights full of debauchery." There is an on-site bar and they take you to bars and clubs at night. You're guaranteed meet a ton of people at Retox Party Hostel but don't expect much sleep. Want to party but still sleep? This hostel has sister hostels that all meet here to party but you can go back to your quiet hostel to sleep.
---
Carpe Noctem Vitae
Carpe Noctem Vitae is an award-winning hostel that's part of the same hostel group as Retox (see above) but it's more mellow — so you can actually get some sleep. It's still friendly hostel with a bit of a party atmosphere but they try to keep the actual party outside the hostel. There is a ton of common space so it's easy to meet people and they have nightly pub crawls and frequent dinners. The staff is great, the hostel is clean, and the location is also ideal.
---
Maverick Hostel & Ensuites

Maverick Hostel and Ensuites is located in an impressive fully renovated royal mansion and the hostel is close to lots of great nightlife. We really like how they don't have any bunk beds — which truly does help the hostel feel more comfortable and livable. They also have a fully-equipped kitchen. The staff is super nice and they offer free Hungarian alcoholic drink tastings twice a week and they put on evening events. This is a quiet hostel so it's a nice place if you want to get a good night's sleep — but it's not the best place to meet lots of other travelers (although they do organize pub crawls and walking tours).
---
Grandio Party Hostel
Grandio Party Hostel is another party hostel (are you starting to see a theme?) that "welcomes alcoholics, lost souls and party people with talent but no direction." In fact, it's probably the wildest hostel in Budapest. The hostel is located near many of the city's best bars — which they organize nightly pub crawls. They also have an on-site bar. The staff also goes the extra mile to make sure everyone is having an amazing time.
---
Carpe Noctem Original
Carpe Noctem Original is consistently voted the best overall hostel in Budapest year after year. It's a super welcoming hostel so the staff goes out of their way to make sure you're having a great time. The overall atmosphere is great and it's easy to meet fellow travelers — especially for solo travelers. That said, there is a noise curfew at 9 pm so you can actually get some sleep. Don't worry, they organize plenty of organized nights out. The hostel has nice facilities, it's clean, and it's located in a nice part of town.
---
Maverick City Lodge

Maverick City Lodge is one of the few really good hostels that aren't party hostels. We'd call this a mix of a hostel and a hotel so it's a bit more upscale budget accommodation. They aim to create a "serenity in the sleeping zones and cleanliness" so this is a place to stay if you want to actually sleep in a clean and quiet bed. That said, it does tend to have less of a community vibe. Other than that, it's located in the very cool Jewish neighborhood so you're super close to all the sights.
---
Pal's Hostel
Pal's Hostel is like a mix between a hostel, a hotel, and rental apartments. It's a nice option if you want a cheap, quiet, and clean place to stay but it's not a place to meet other travelers. There is one dorm room but most options are private rooms and apartments. This is also a good place for small groups traveling together since they have multiple private rooms. The staff is incredibly helpful, security was great and the location is excellent. They also impose a quiet time at night since you're living among residents as well as other travelers.
MORE HELPFUL TRAVEL ADVICE 
Here are some helpful links to articles that we think you'll find interesting if you're staying in hostels and traveling around Europe on a budget.
LEARN MORE ABOUT BUDAPEST
Visit our Budapest Destination Guide for more tips about visiting Budapest!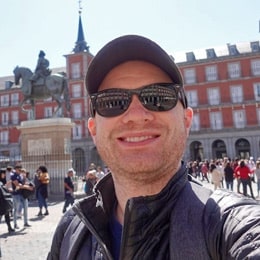 No Funny Business
The Savvy Backpacker is reader-supported. That means when you buy product/services through links on the site, I may earn an affiliate commission — it doesn't cost you anything extra and it helps support the site.
Thanks For Reading! — James
Questions? Learn more about our Strict Advertising Policy and How To Support Us.