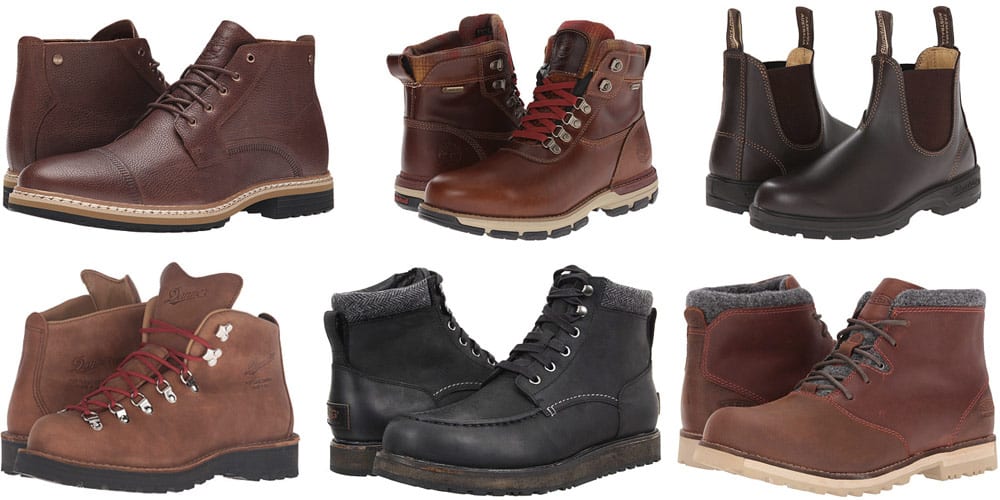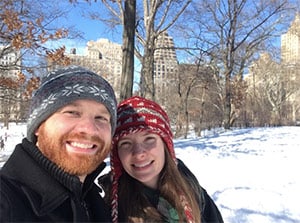 A nice pair of waterproof boots is one of the best footwear options for travel — especially if you're traveling during the winter or other times where there is a good chance of snow or rain.
But you don't want to be stomping around Europe in an ugly pair of boots, so we've put together a list of the best waterproof boots for men that are both comfortable and stylish.
Tips For Keeping Your Feet Comfortable
Quality Socks – People spend a lot of money on boots and then throw on a cheap pair of cheap socks — but quality socks are nearly as important as the boots. A good pair of socks will help prevent blisters, stop odor, and keep your feet comfortable. Here are our favorite socks that we use and trust.
Support & Insoles – Make sure your boots have the proper support for your feet. A quality pair of insoles can make boots much more comfortable. We're big fans of Superfeet insoles.
Match Shoes To Destination – This seems like a no-brainer, but you need to match your boots to when and where you'll be traveling. A pair of lightweight hiking shoes are better for summer travel and heavier duty boots are more appropriate for the cooler months.
Break In Your Boots – BREAK IN YOUR BOOTS! Boots often have a longer break-in period than shoes so wear them regularly for at least two weeks or longer before your trip. Your feet will thank you.
Get Waterproof — There's no point in wearing boots if they're not waterproof (all the boots in this guide are waterproof).
Blister Bandages — Pack a few blister bandages in case you develop a blister while traveling.
Quality Isn't Cheap — A nice pair of boots will start around $150 so they're not cheap. However, a good pair should last you for years. Here is a list of good brands:
Tips For Buying Well-Fitting Boots Online
We buy all our boots online because it's the best way to find exactly what you're looking for. However, buying boots can be a bit tricky because each brand and model fits differently. You'll want to try on multiple boots.
That's why we only order from Zappos. Their shipping is crazy fast and they offer super simple free returns. And because sizing can be tricky, we'll order two or three different sizes and return the ones that don't fit.
The Best Waterproof Boots
Listed below, in no particular order, are our favorite waterproof boots which are both comfortable and fashionable.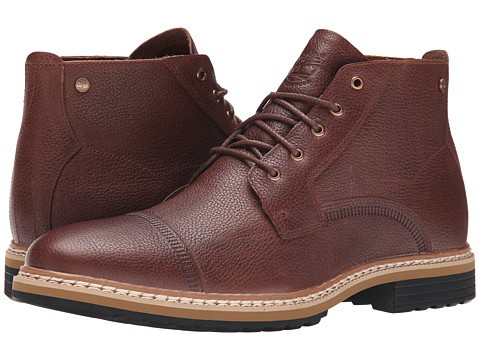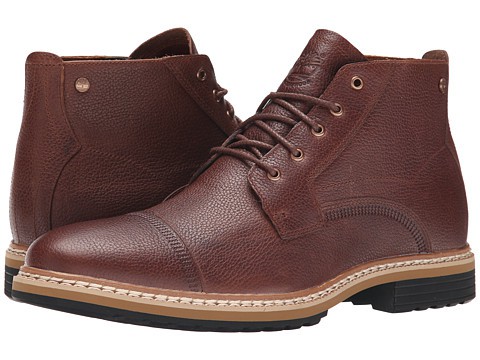 These Timberland waterproof Chukka boots have a classic styling so you can wear them casually or they can be dressed-up. They come in two color options.
Available from Zappos for $170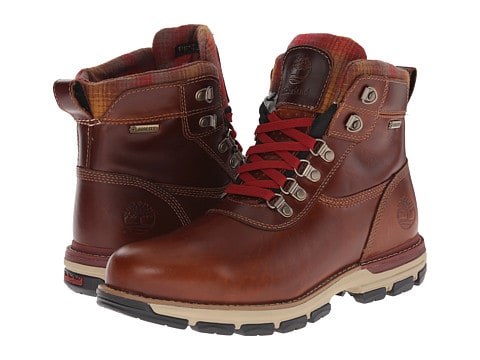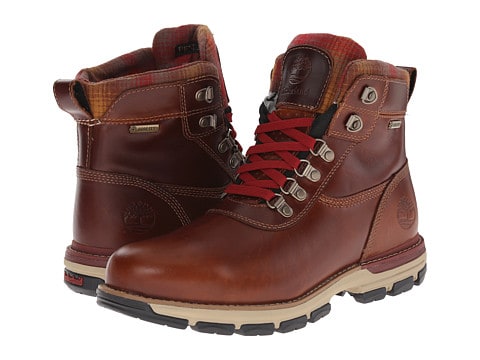 Here's another great looking pair of waterproof boots from Timberland. These Heston Mid boots have a GORE-TEX lining which helps keep your feet warm and dry while also letting sweat evaporate. I love the color of these.
Available from Zappos for $170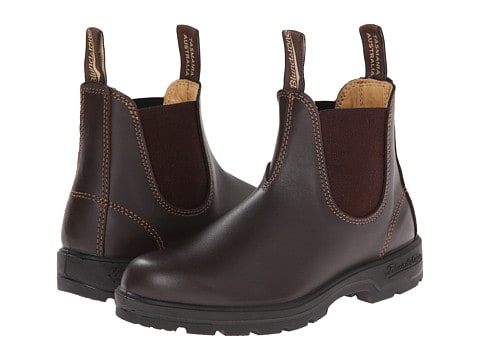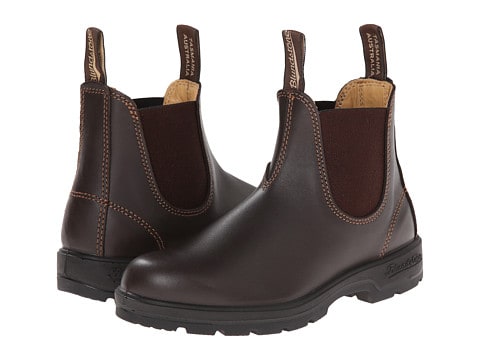 Blunderstone boots are well-known for being super comfortable and they receive a ton of great reviews. The BL550 boots can be dressed up or dressed down, and they're super easy to put on/take off (which is good for airport security).
Available from Zappos for $180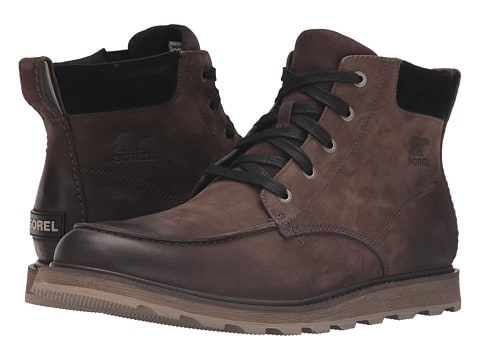 In addition to being waterproof, these Sorel Madson boots get great reviews for having great support. The styling is nice and they come in three color options.
Available from Zappos for $190.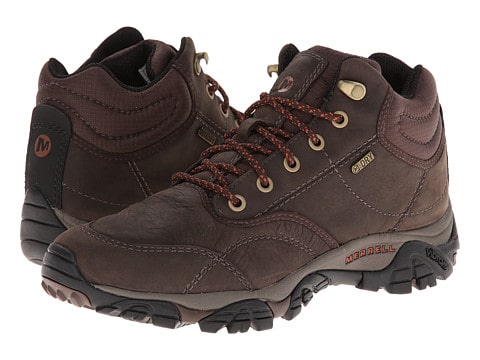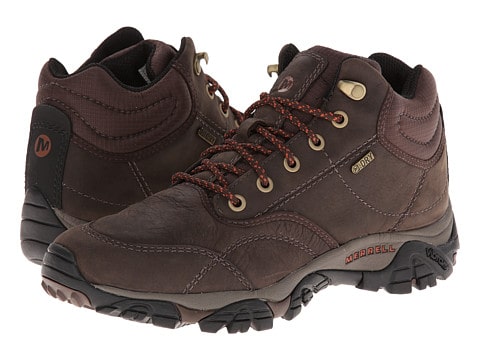 The Merrell Moab Rover waterproof boots are some of the more rugged-looking boots on this list. They get great reviews for comfort and they're an excellent option if you plan on doing any off-road hiking. They're available in three colors.
Available from Zappos for $140.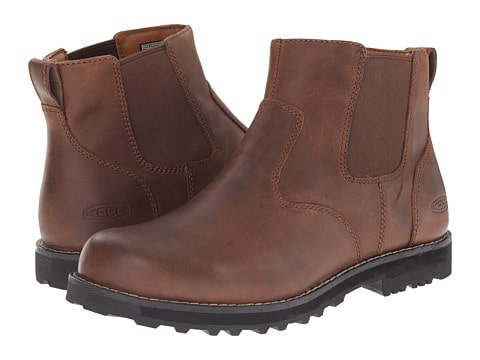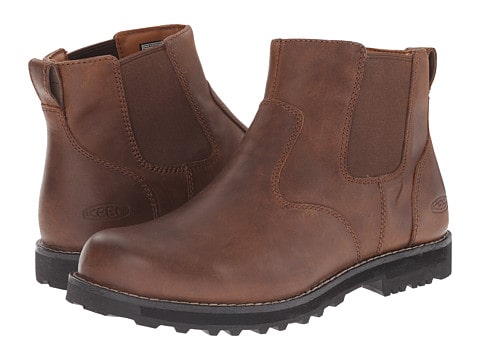 http://www.anrdoezrs.net/links/4120060/type/dlg/http://www.zappos.com/keen-tyretread-chelsea-wp-peanut
Keen has ventured into making a fashionable and comfortable waterproof boots. These Keen Tyretread Chelsea boots will keep you happy as you're stomping around Europe.
Available from Zappos for $140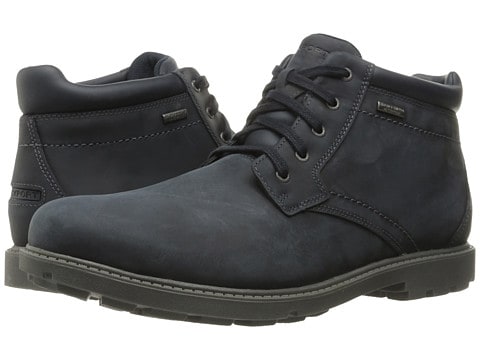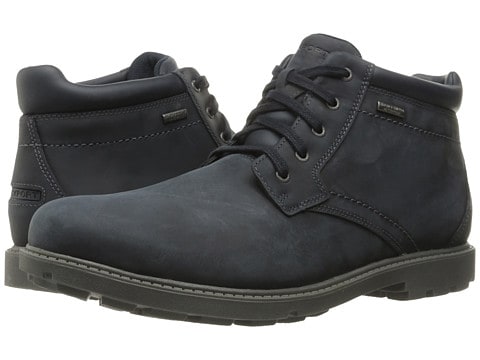 Rockport has long been known for their comfortable boots and these Rugged Bucks are a good option for city travel. They come in five color options.
Available from Zappos for $120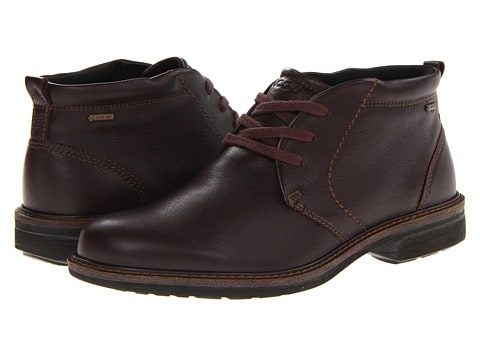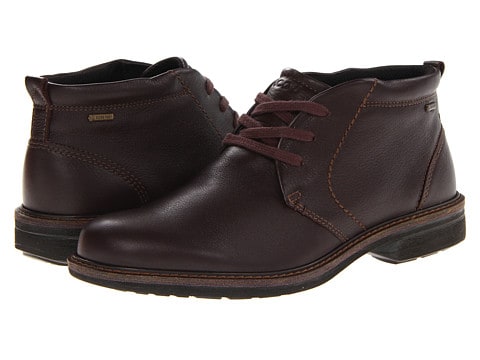 ECCO, who has a long history of making comfortable boots, has made another solid pair of boots. The Turn GTX has a GORE-TEX lining which is always a huge plus. These boots are available in two colors.
Available from Zappos for $230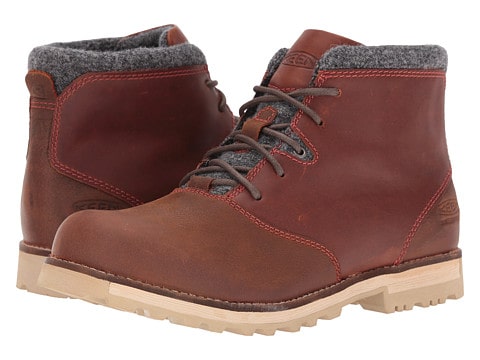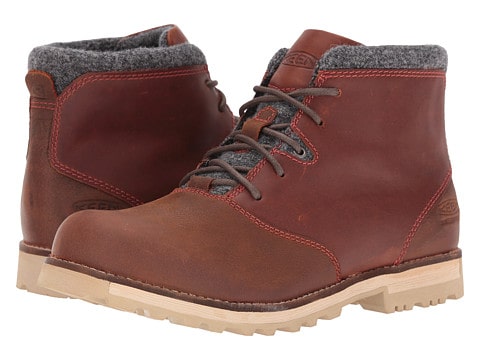 Keen's Slater waterproof boots get great reviews for being warm, sturdy, and supportive. They're a great option for exploring Europe during the winter.
Available from Zappos for $170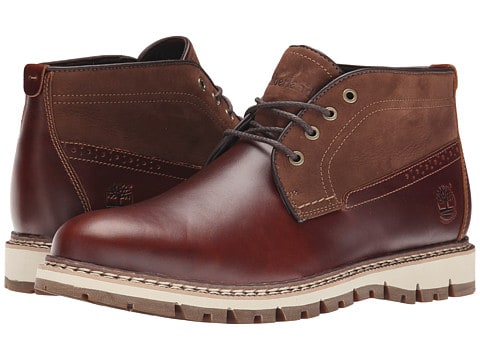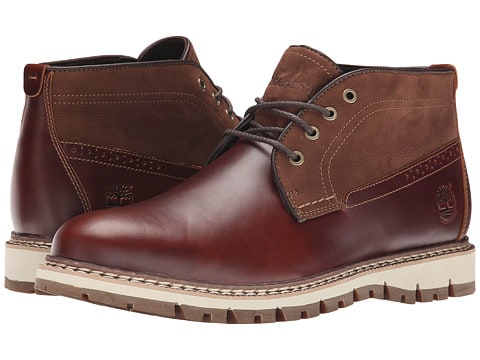 Timberland has another great looking boot with their Britton Hill Waterproof Chukka. As you can see, these boots can be dressed up or worn casually.
Available from Zappos for $180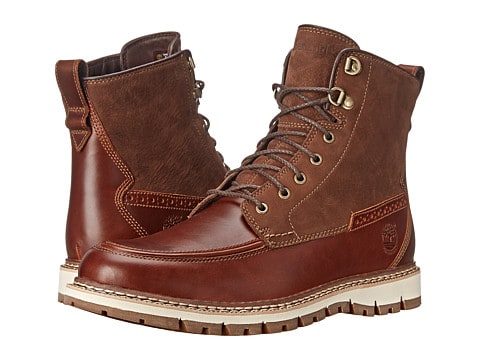 Here is another pair of waterproof boots from Timberland. These have a Moc Toe which adds a little extra aesthetic detail. They're also available in black.
Available from Zappos for $200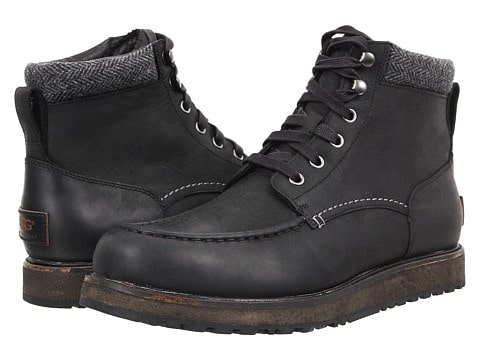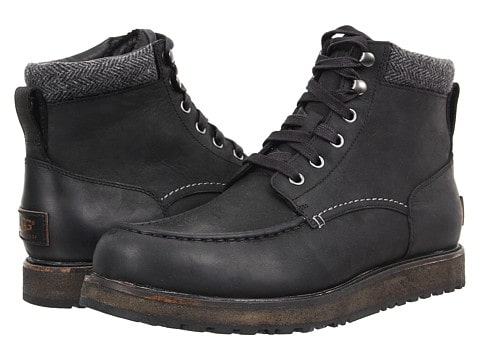 UGG, yes UGG, actually make some great-looking waterproof boots that are perfect for roaming the rainy streets of Europe. The Merrick boots come in two colors.
Available from Zappos for $190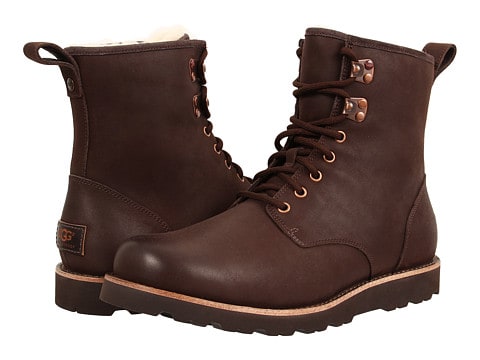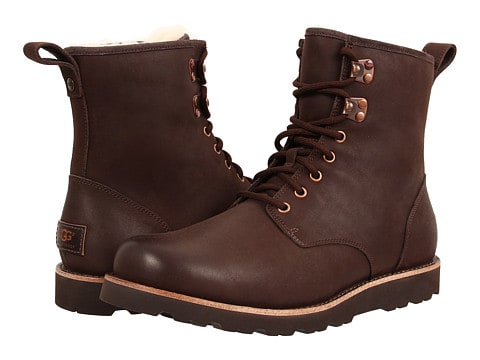 Here is another nice looking pair of waterproof boots from UGG that comes in five colors. These get good reviews for being supportive and warm.
Available from Zappos for $230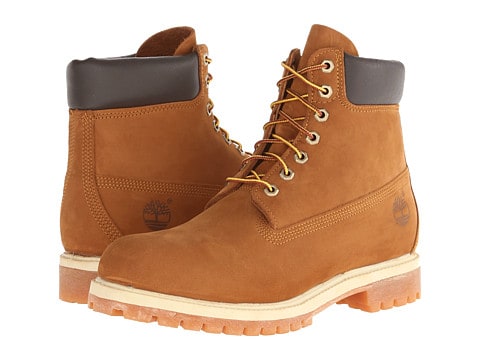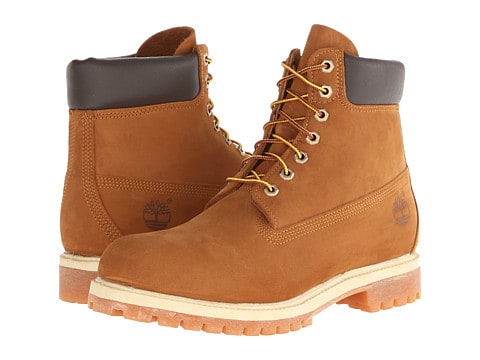 These Timberland boots have been a winter staple in urban fashion for multiple years. These sturdy boots come in four colors.
Available from Zappos for $190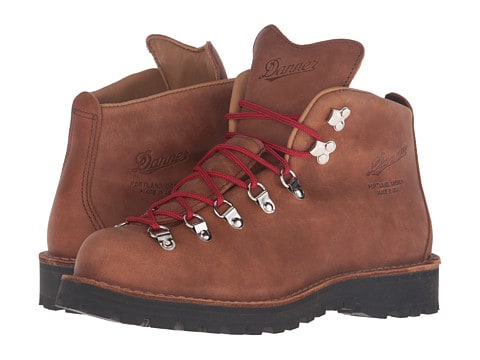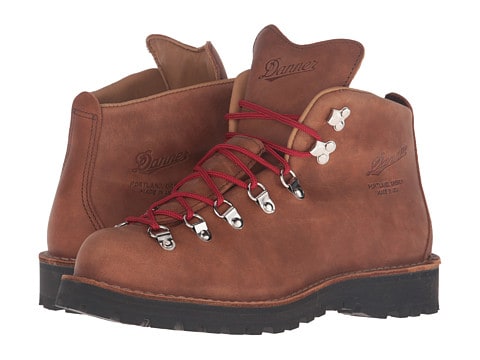 Danner makes some of the best boots on the market and these Mountain Light Cascade Clovis boots will last you for more than 10 years – and the price reflects this. These boots will require a longer break-in period so take that into account.
Available from Zappos for $380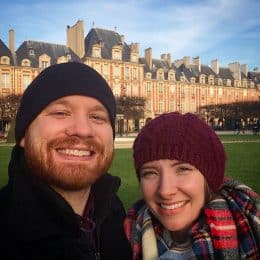 Support The Savvy Backpacker - It's Easy!
We hope you've found this article helpful. If you have, the best way to say thanks is by clicking on our Amazon.com links.
We get a depressingly small commission when you purchase anything on Amazon after you've clicked the link — this helps us keep the site running… & buys us a few beers.
 Plus, it doesn't cost you anything extra!
Thanks for all your support & click here to learn more about supporting us!