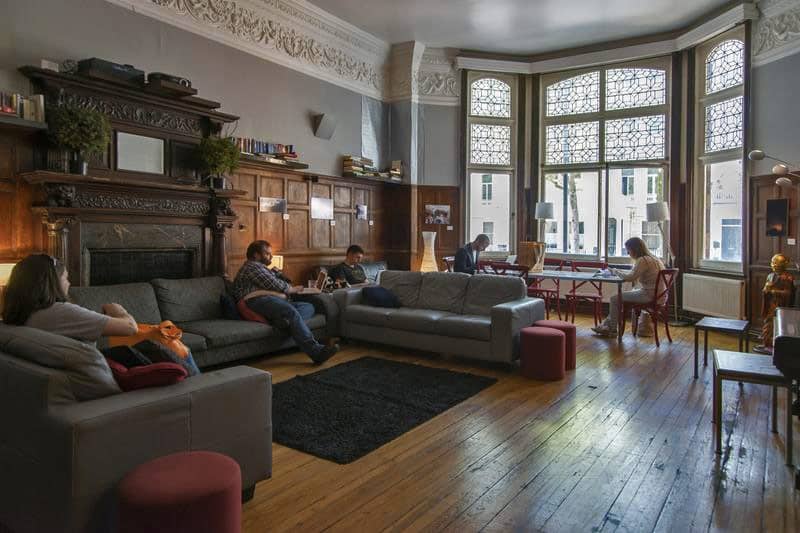 London is truly one of Europe's best cities for hostels. In fact, there are more than 100 hostels in London and they range from cheap and grungy to high-end and expensive. In this guide, we've assembled a list of the best hostels in London that have the perfect combination of great location, good amenities, and fair prices.
The Average London Hostel Prices
Hostels in London can be fairly expensive thanks to the exchange rate and the fact that London is an expensive city all around.
Well-rated hostels will be around £25-£50/night (which is about $32-$70/night) but you might be able to find a few that are around £20/night. Ultra-budget travelers can find something closer to £15 but don't expect much quality. Prices do tend to be a bit more expensive on Friday and Saturday night.
Check Hostelworld to get exact prices for your dates.
Quick Facts About London Hostels
Here are a few things to think about when looking for your hostel:
Book Early For Best Prices/Selection
The cheapest beds in London's best hostels fill up pretty quickly (especially in the summer), so it pays to book early if you want to snag a good deal in a good hostel.
Age Restrictions
There are a number of hostels that cater to families and school groups — so book an 18+ hostel if you don't want to be surrounded by a bunch of middle school kids. Also, family-friendly hostels tend to attract an older crowd so you probably won't find the typical "backpacker" experience.
Neighborhoods and Location
There are hostels in just about every area of London. The very dead-center doesn't have as many because of the crazy real estate prices but you shouldn't have any problem finding a place in a neighborhood you like.
Check-In Times and Cleaning Times
Many London hostels have late check-in times (around 2 pm-4 pm) but nearly all will let you store your bags if you arrive before check-in. Some will also close in the early afternoon so the cleaning crews can do their thing.
New To Hostels? Check out our Hostels 101 Guide to learn everything you need to know about finding the perfect hostel.
---
London Hostels: Our Top Picks
HOW WE RANK THE HOSTELS
Overall Quality: We take a holistic look at the hostel to see the positives and negatives. Our goal is to find amazing hostels that are still affordable.
Location: Most hostels we list will be centrally located.
Price: We try to filter out the super expensive hostels to help find the best price to quality ratio.
Vibe/Atmosphere: Every hostel has a personality. Some are party hostels and some are quiet. We try to note the atmosphere so you can find a place to stay that matches your travel style.
Past Guest Reviews: Every guest has a different experience so we look at the good and the bad. We suggest you take a few minutes to read prior reviews.
We encourage you to check out Hostelworld to do a bit of searching for yourself.
NOTE: All prices listed below are the cheapest option available during the busy (i.e. expensive) season. Prices will often be 20%+ cheaper during the slower seasons.
Barmy Badger Backpackers Hostel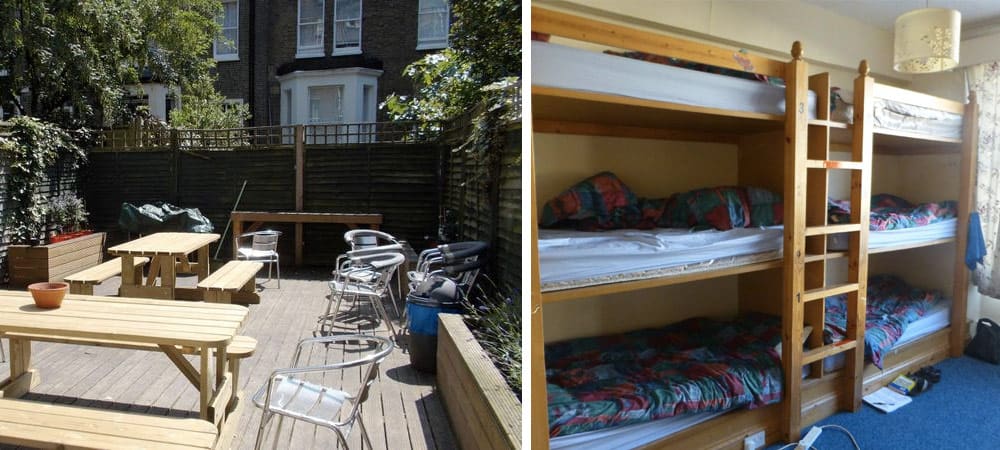 Barmy Badger Backpackers is one of the highest-rated hostels in London because it has free WiFi, free breakfast and it has a full kitchen. It also gets high ratings for comfy beds and it is next to a subway station so you're in the very center of town in about 10 minutes.
Beds Start Around £27/night.
Read More Reviews at Hostelworld
---
Wombats City Hostel London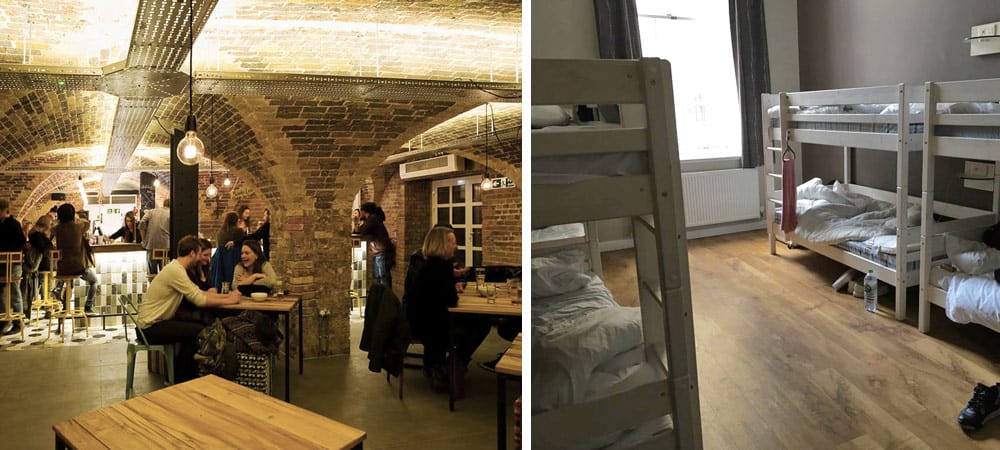 Wombats City Hostel London is another amazing hostel that opened in 2014 so everything is up-to-date. Plus, the Wombats chain of hostels receives solid ratings all around — so you can't really go wrong at any of their properties. It is fairly close to many of the popular sights.
Wombats City Hostel London has a bar on-site so this is a good option if you want to party/socialize and it has a kitchen. The only small negative is the lack of free breakfast.
Beds Start Around £30/night.
Read More Reviews at Hostelworld
---
Astor Hyde Park Hostel
Astor Hyde Park is located in the heart of London but it's just far enough away from the tourist trail to feel like you're in an authentic area. It's also right next to Hyde Park and a handful of great museums.
Astor Hyde Park gets solid reviews all around and it has a self-catering kitchen but no free breakfast (although it's super cheap if you want to buy it).
Beds Start Around £24/night
Read More Reviews at Hostelworld
---
Astor Queensway Hostel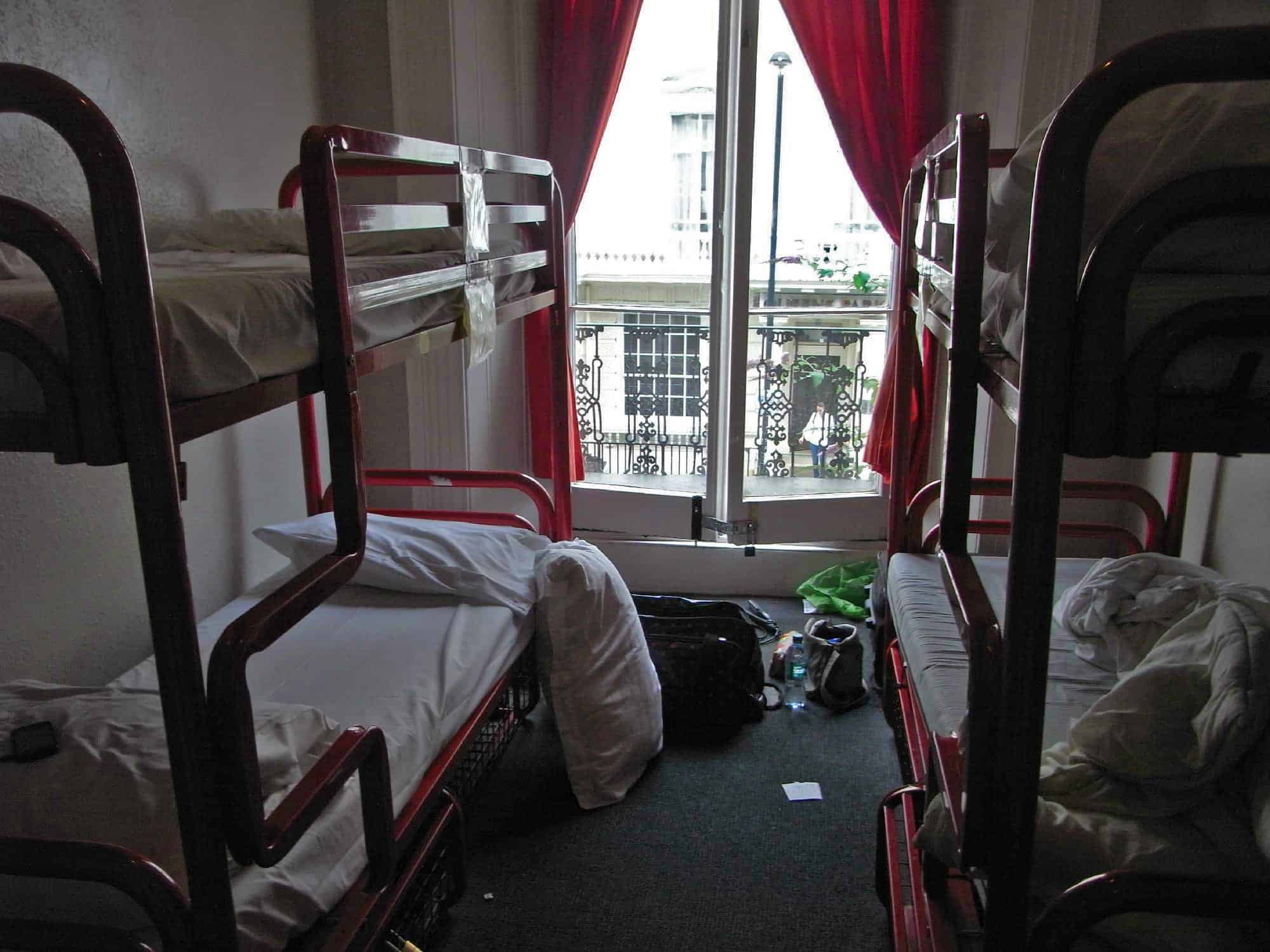 Astor Queensway is another Astor hostel (any Astor Hostel will be pretty solid) and the Queensway is a great option if you want to be in a quieter, upscale location.
Beds Start Around £24/night.
Read More Reviews at Hostelworld
---
MEININGER London Hyde Park Hostel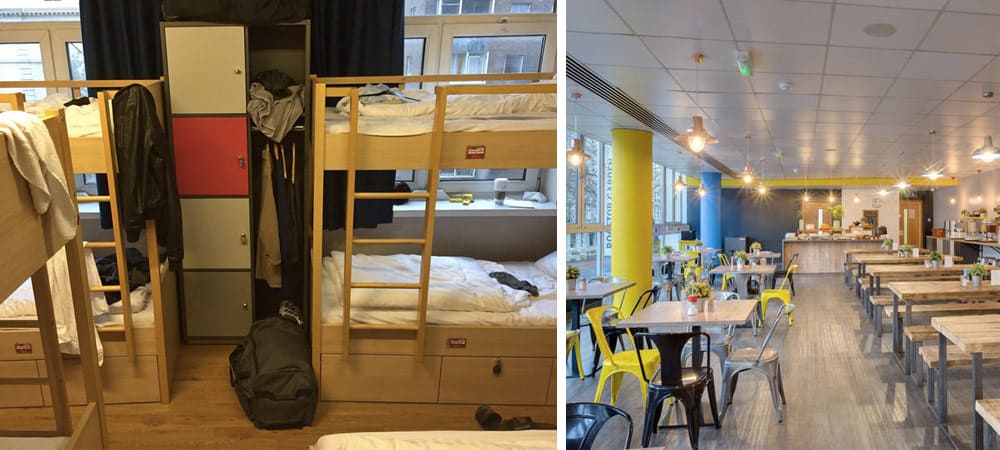 MEININGER London Hyde Park has an excellent location near Hyde Park so it's near most of London's sights without being overrun with tourists. Overall the hostel receives pretty good reviews and the prices are about average.
Like all MEININGER properties, this hostel is large and modern so it's nice but sometimes it lacks that "backpacker" atmosphere.
Beds Start Around £24/night.
Read More Reviews at Hostelworld
---
Palmers Lodge – Swiss Cottage Hostel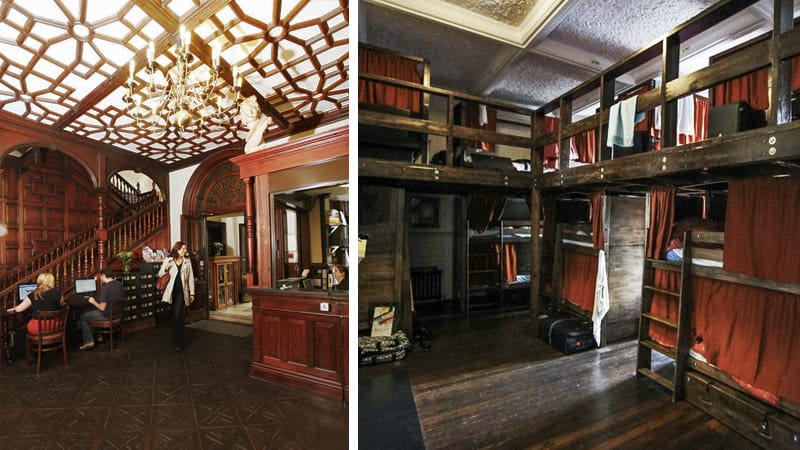 Palmers Lodge – Swiss Cottage is located inside a Victorian mansion — so that's pretty awesome. It is a bit outside the heart of London but it's well-connected via the Underground. It's also one of the cheaper hostels in the city if you're on a tight budget. Furthermore, it has a bar and a lively common area so the hostel has a great atmosphere.
Beds Start Around £20/night.
Read More Reviews at Hostelworld
---
Travel Joy Hostels Chelsea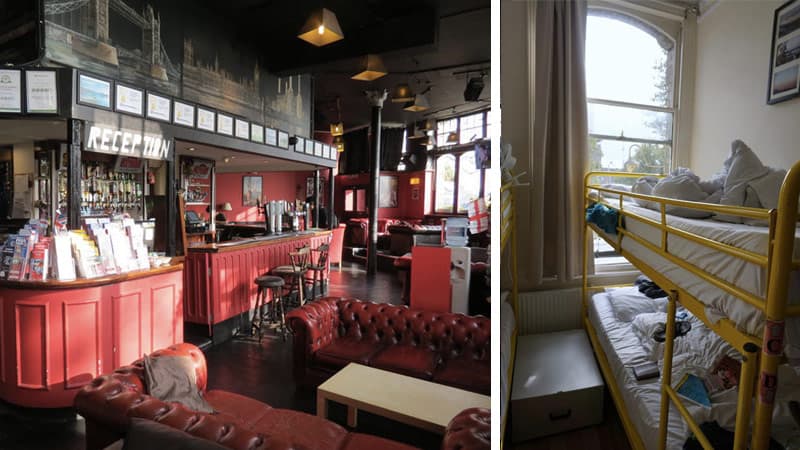 Travel Joy Hostels Chelsea is located on the Thames river and there is a great outdoor area that overlooks the river. And there is a bar on-site so it gets high reviews for fun and atmosphere. They also offer free breakfast. This hostel receives solid reviews all around so it's a solid place to stay for a few days.
Beds Start Around £26/night
Read More Reviews at Hostelworld
---
Astor Museum Inn Hostel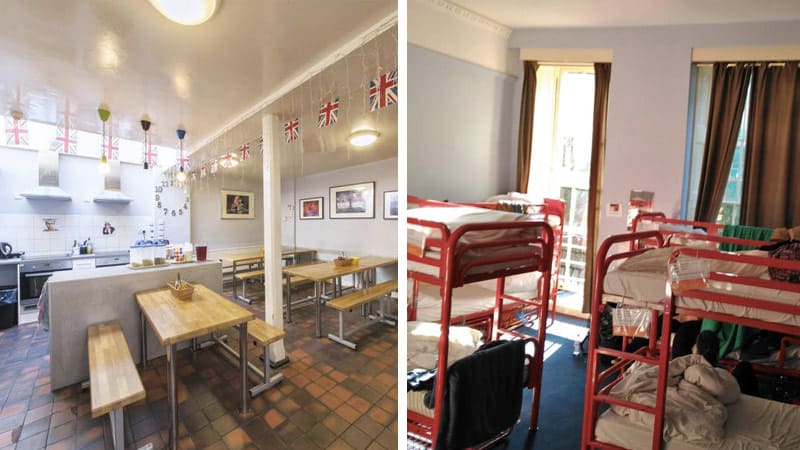 Astor Museum Inn is located in the heart of the city so it's probably the best-located hostel on our list. Breakfast isn't free but it is really cheap. It's a solid hostel overall but some people complained about the small showers.
Beds Start Around £23/night
Read More Reviews at Hostelworld
---
Clink78 Hostel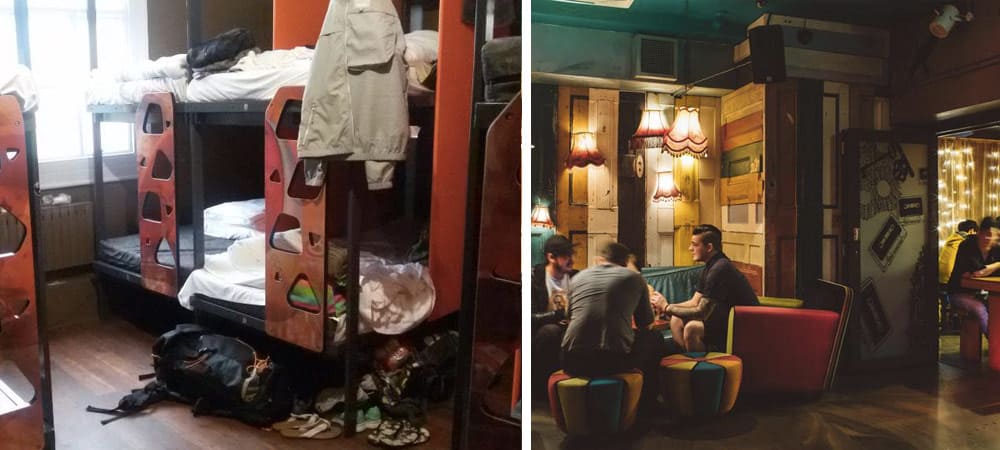 Clink78 has a reputation for being a party hostel thanks to its on-site bar. But people do complain that it can be loud at night, and it has small rooms so it's not a great option for light sleepers.
It's located near St Pancras International station (the Eurostar station) and King's Cross underground station so that's convenient if you're coming into London at those stations.
Beds Start Around £23/night.
Read More Reviews at Hostelworld
---
Packing Advice For Hostel Travel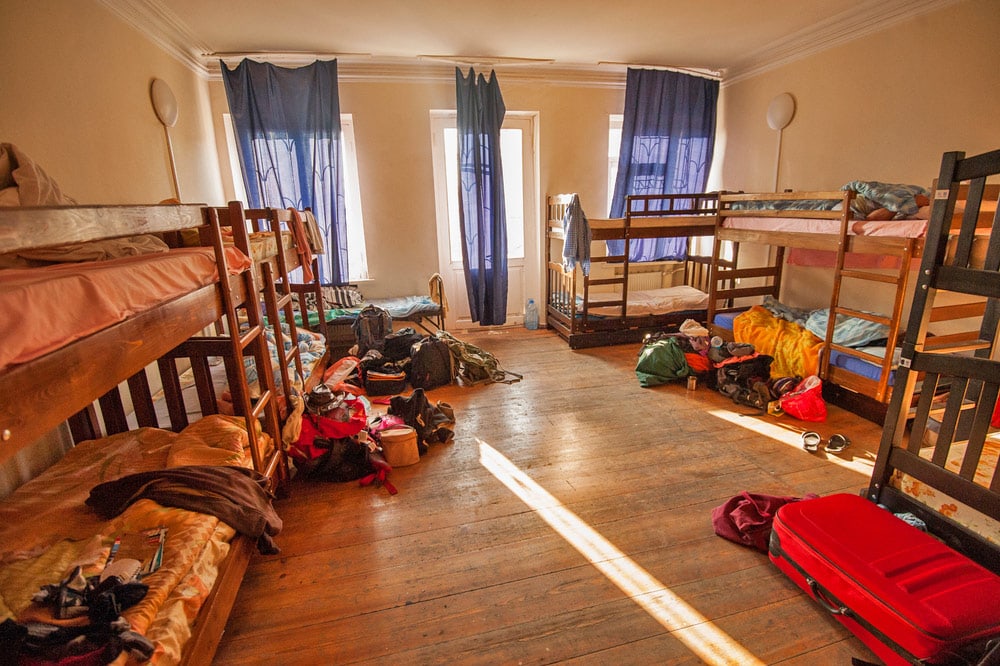 Staying in hostels poses a few unique packing challenges so I'm here to help by recommending a few of my must-have items. Check out my Hostel Packing List for the full list but below are the absolute necessities:
---
More Helpful Budget Travel Articles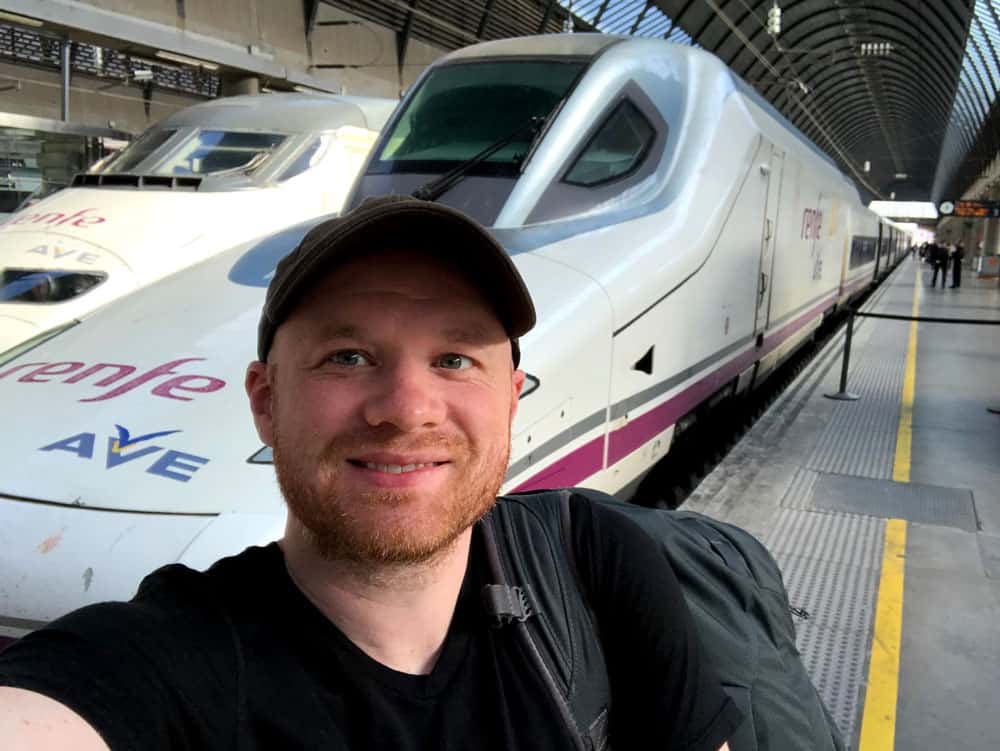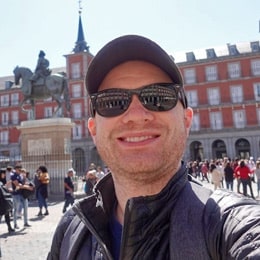 No Funny Business
The Savvy Backpacker is reader-supported. That means when you buy product/services through links on the site, I may earn an affiliate commission — it doesn't cost you anything extra and it helps support the site.
Thanks For Reading! — James
Questions? Learn more about our Strict Advertising Policy and How To Support Us.