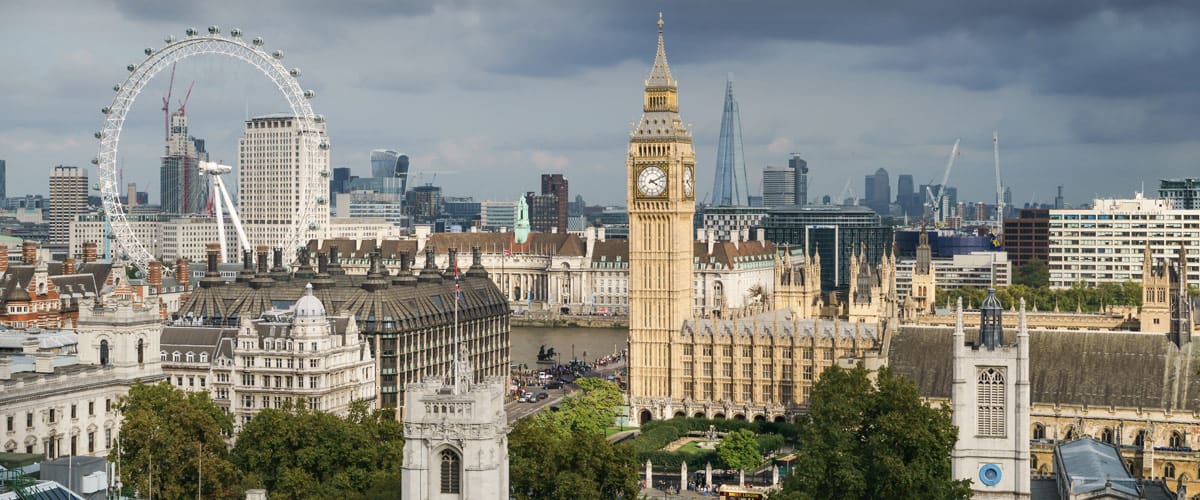 London is truly one of the world's greatest cities, and you owe it to yourself to spend at least a few days exploring its streets. It's easily one of our favorite places to visit.
One of the things that make London is great is that it has just about everything — history out the wazoo, amazing architecture, theater, art and museums, world-class nightlife, excellent shopping, friendly people, top-notch public transportation, and just about anything else you can imagine.   
Plus, London is the perfect first stop for your journey through Europe because it's an "easy" introduction to Europe.
How Much to Budget to Visit London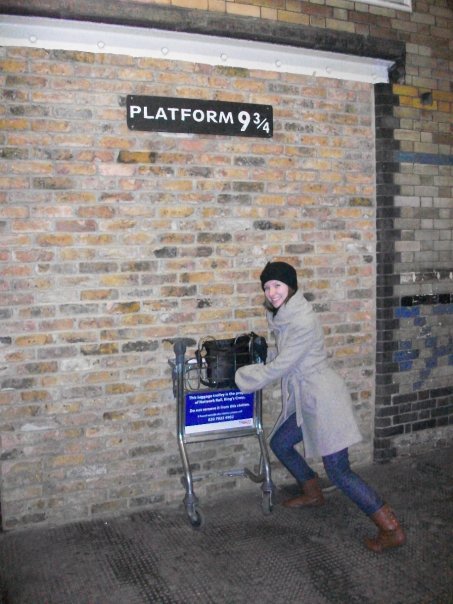 London isn't cheap, so we recommend budgeting £45-£80/day if you're on a backpacker's budget. You can check out our London City Price Guide for a more in-depth cost breakdown, but we recommend over-budgeting to be safe.
---
How Long to Visit London: 4+ Days
London is a large city with plenty of things to do and see. We recommend spending at least four full days, but you can easily spend a week or more and still feel like you've just scratched the surface.
---
London's Must-See Sights and Attractions
Tower of London
Founded by William the Conqueror in 1066, this UNESCO World Heritage Site has functioned as a royal palace and fortress, a prison and place of execution, a mint, an arsenal, a menagerie, and the home of the Queen's Crown Jewels. World class tours are given by the famous Beefeaters (retired sergeant majors from the British Army).
Tours are free, but admission to the Tower is £25.00. Visit Website 
Westminster Abbey
This Gothic abbey church was finished in 1066 and is the place for royal coronations and burials.
It's free to attend services but £18.00-£20 to take a tour (check their website for availability). Visit Website
St. Paul's Cathedral
Built in 1673, St. Paul's is the main cathedral of the Anglican Church, and it's sure to leave you breathless. You can also climb to the top of its dome — which may also leave you breathless.
Free to attend services. £18.00 for a regular visit (includes entry to the cathedral floor, crypt and the three galleries in the dome). Visit Website
National Gallery
Marvel at one of the greatest collections of paintings in the world featuring more than 2,000 pieces dating from the mid-13th century to 1900.
Free admission. Visit Website
British Museum
Opened in 1759, the British Museum is dedicated to two million years of human history, art, and culture — including Egyptian mummies and the Rosetta Stone.
Free admission. Visit Website
Victoria and Albert Museum
The world's largest museum of decorative arts and design — featuring ceramics, glass, textiles, costumes, silver, ironwork, jewelry, furniture, medieval objects, sculpture, and more from all across the globe.
Free admission. Visit Website
Tate Modern
Located in a former power plant, the Tate Modern is one of the largest museums of modern and contemporary art in the world. It features art from 1900 to the present day — including Warhol, Dali, Picasso, Lichtenstein, and more.
Free admission. Visit Website
Imperial War Museum
A museum of war and conflict from WWI to present day. The ground floor has tanks, trucks, planes, guns, and a range of other military equipment to explore. There are also exhibits on the Holocaust, spies, and more.
Free admission. Visit Website
Churchill War Rooms
Tour the underground headquarters where Churchill ran British operations during WWII.
Admission: £17.25. Visit Website
British Library
Not only is the British Library the national library of the UK, it also has the largest number of cataloged items in the world.
Free admission. Visit Website
Houses of Parliament
The Houses of Parliament is not only the meeting place of the House of Commons and the House of Lords, it's more notably where you'll see London's most famous landmark — Big Ben and the Clock Tower.
Admission: £19 for an audio tour. Visit Website
National Portrait Gallery
Fancy a look at the most historically important and famous British people? Then this is the place to be.
Free admission. Visit Website
Wallace Collection
An exquisite private family art collection housed in a London townhouse. Features fantastic art from many masters and great collections of antiques and weapons.
Free admission. Visit Website
Natural History Museum
This museum has an enormous collection of exhibits spanning multiple fields — from giant dinosaurs to tiny insects.
Free admission. Visit Website
Shakespeare's Globe
This oak-and-thatch reconstruction of Shakespeare's theater hosts multiple open-air plays.
Cheap seats start at £5 and go up to about £50. Visit Website
London Eye
A huge Ferris wheel that offers amazing views of the full London skyline.
Tickets start around £21. Visit Website
Tate Britain
The Tate Britain houses a major exhibition of art associated with the British Empire from the 16th century to the present day.
Free admission. Visit Website
Visit the Parks
Escape the city without leaving the city by visiting a few of London's excellent parks — including Hyde Park, St. James Park, and Hampstead Heath. Any of the parks makes an excellent place to have a picnic if the weather is nice.
Street Art of East London
Escape the stuffy museums and head to East London to check out the amazing street art.
Find a Pub
You can't visit London without having a few pints in a few pubs. There are loads of great options, but here is a list of London's most historic pubs (some date back to the 1600s).
And More
This list is just the tip of the iceberg. There is also Camden Market, Borough Market, Covent Garden, Trafalgar Square, walking along the Thames, Tower Bridge, and about a million other things you can do to fill your day.
---
Walking Tours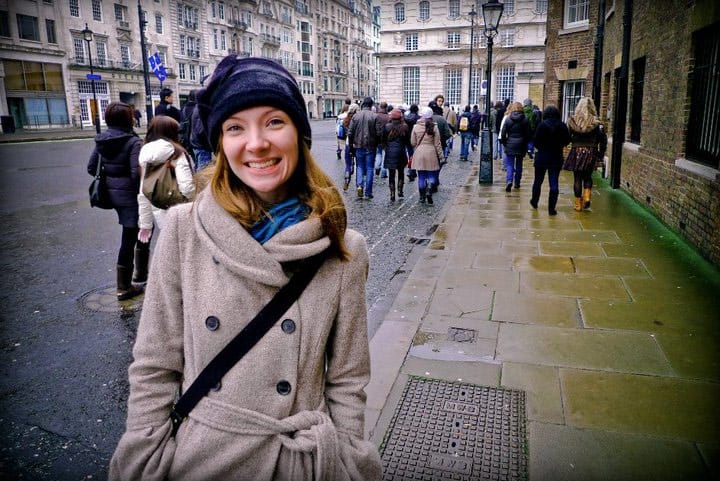 I'm always a fan of walking tours — they're a great way to learn more about a city and its history. There are a handful of free tours in London — Sandeman's New Europe, Free Tours by Foot, and Free London Walking Tours are some of the most popular. There are also many paid tours with professional guides like London Walks and London Walking Tours. Trip Advisor is a good place to find a tour to fit your needs.
---
Cheap Eats and Drinks
London is one of the most international cities in the world, so you can find food from just about anywhere. Chinese, Indian, Thai, Vietnamese, etc. are all filling, tasty, and affordable options. For Chinese food, head to Chinatown; Southall and Brick Lane are famous for Indian and Pakistani food; you can find Middle Eastern fare at Edgware Road, and Kingsland Road (aka Pho Mile) is the place to go for Vietnamese.
London also has dozens of markets offering both fresh and freshly-prepared foods. Some of the most popular markets are Borough Market, Portobello Road Market, Camden Street Market, Brick Lane Market, Covent Garden Market, and Greenwich Market. Here is an article from TimeOut about the 50 best street food stalls in London.
As for the ever-changing landscape of the best bars and hip restaurants… I'll leave those recommendations for the pros at Thrillist and TimeOut.
---
Best Hostels
London has a ton of hostels, and there are a number of top-notch ones. Some of the best rated are:
Want to learn more? Read our guide to the Best Hostels in London.
---
Traveling Around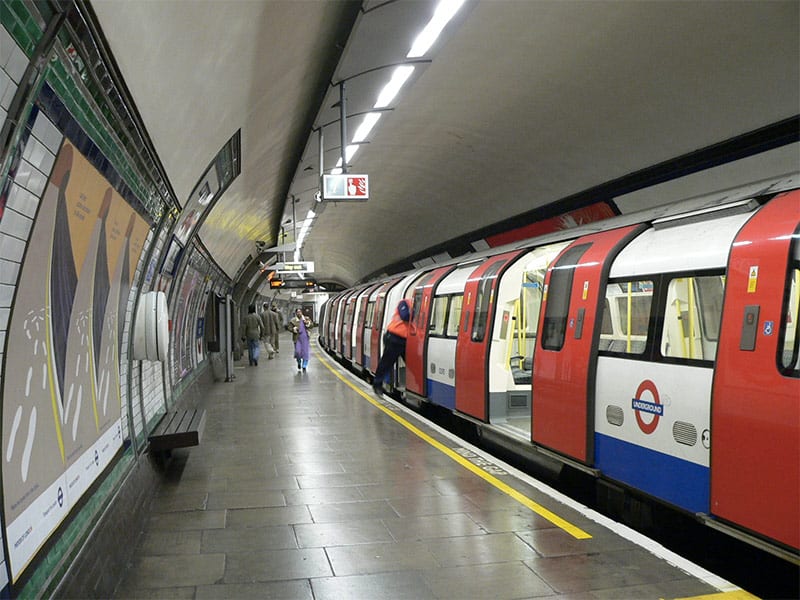 London has excellent public transportation. The Tube is clean and goes just about everywhere, and the bus system is also great (it lets you see the city). Buy an Oyster Card (a £5 reloadable travel card, available at any Tube station and at many convenience stores). The card will pay for itself quickly because it brings the price of a ride from almost £5 (when purchasing a single ticket) to £2.30. The Oyster card can also be used on the bus.
London also has a city bike program (Santander Cycles) that lets you rent bikes for free for rides under 30 minutes and £2 if you want to rent them for a 24-hour period. There are automated stations all over the city, so it's easy to find a bike.
---
More Resources to Help You Plan Your Visit On a Budget
London is one of those cities that offers something for everyone, so do yourself a favor by doing a bit of research before you go — a bit of planning will pay off. Below are a few solid budget-minded guidebooks and websites you may want to check out.
---
Packing Help
If you're looking at this article, I'm going to bet you're getting ready to travel. Check out these helpful articles that we wrote for tips and advice for packing for your trip.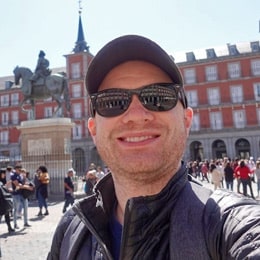 No Funny Business
The Savvy Backpacker is reader-supported. That means when you buy product/services through links on the site, I may earn an affiliate commission — it doesn't cost you anything extra and it helps support the site.
Thanks For Reading! — James
Questions? Learn more about our Strict Advertising Policy and How To Support Us.