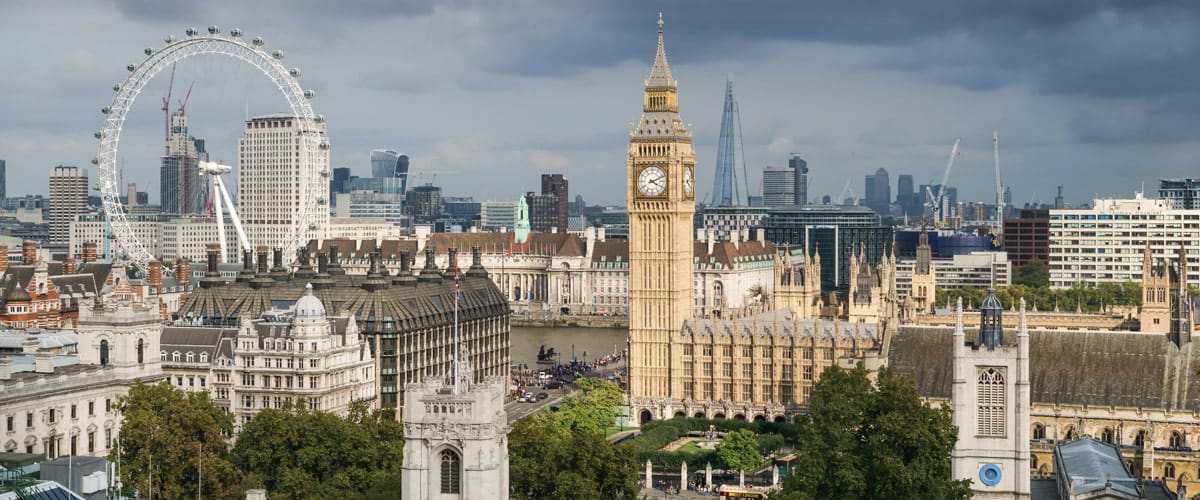 London is a world-class city that everyone should visit at least once. It's also consistently rated one of the most expensive cities in the world — especially since the British pound is so strong against the dollar. Luckily, hostels are reasonably affordable (at least for a major city), and there are plenty of great free museums. However, the cost of attractions and food can kill your budget. Below are some guidelines to help you estimate your daily travel costs.
This article is part of our City Price Guide Series — Click here to see all our city price guides.
Average Daily Cost For Visiting London
These prices are based on what you'll need to visit the city comfortably — they don't include things like big nights out at the bar/pub, club entry fees, souvenir/clothing shopping, tours, etc. Don't forget to budget extra for those "non-essentials."
Daily Cost of Budget Travel in London: £72 (Approx. $110)
Attractions: £15 (one paid attraction + any free museums)
Food: £23.50

Breakfast: £4
Lunch: £6
Dinner: £10
Treat (dessert/beer/wine): £3.50

Transportation: £7
Accommodation (hostel): £26/night
Daily Cost of Frugal Travel in London: £45 (Approx. $70)
Attractions: £0 (visit one of the many free museums)
Food: £13

Breakfast: £0 (free hostel breakfast)
Lunch: £5 (ethnic street food or takeaway shop fare)
Dinner: £5 (cook your own meal in the hostel)
Treat: £3 (something sweet)

Transportation: £2.30 (single tube ride)
Accommodation (cheap hostel bed): £20/night
London Attraction and Museum Prices
Good news… London has amazing museums and most of them are completely free. Bad news… all the other attractions are pretty damn expensive — so pick just a few if you're on a super tight budget.
Tower of London: £22.00
London Eye: £21.50
St. Paul's Cathedral: £16.50
Buckingham Palace: £9.75
Westminster Abbey: £18.00
British Museum: Free
Victoria and Albert Museum: Free
National Gallery: Free
Imperial War Museum: Free
Tate Modern: Free
Natural History Museum: Free
Walking Tours: Free (but you should tip the guides) — £10
You might be able to save some money by using the London Pass. Click here to read our review of the London Pass. 
London Food Prices
England isn't known for great food, but London does have a world-renowned food scene — but that high-end food is a budget killer. Budget travelers will have to stick to the basics, and even then, the food isn't cheap. If you're on a tight budget, you might want to cook for yourself as much as possible.
Budget Breakfast — Free – £8
Many hostels will offer a free, simple breakfast that normally consists of cereal, bread/croissant, and maybe milk, coffee, tea, or juice (some hostels will offer more and some less).
A traditional English breakfast from a typical café will cost £4-£8.
You can also find plenty of budget friendly options at the bakery or grocery store. Croissants and other baked goods start around £1. Coffee from a typical café will cost around £2.
Budget Lunch: £5-£15
Super budget travelers can make a super cheap lunch of bread, cheese, and fruit from any grocery store for a few pounds.
Takeaway meals (like kebabs with fries) or similar dishes from a takeaway shop will cost about £7-£9.
Check out street markets for pizza, falafel, tagines, burritos, curries, wraps, and sandwiches for £5-£9.
A simple, yet filling and tasty, lunch from a local (i.e. non-touristy) restaurant will cost about £10-£15.
Budget Dinner: £5-£18
Budget travelers will want to seek out the many ethnic restaurants in London. It isn't too tough to find a good meal for about £12-£18.
McDonalds combo meal (burger, fries, and a drink) will cost about £5.
Fish and chips from a typical fish and chips shop will cost around £5-£6.
Many of the options from the Budget Lunch section above also apply for dinner.
Drinks and Alcohol
Pint of standard beer out: £3.20-£6+
Pint of beer from a grocery store: £1-£2
Glass of the house wine at a restaurant: £4-£5+
London Transportation Prices
London is a big city, so you'll want to use public transportation. Unfortunately, it can be kind of expensive (and a bit confusing). Consider purchasing an Oyster Card (a refillable travel card) to save money.
Single one-way ticket: £4.80
Single one-way fare with Oyster Card: £2.90 (peak), £2.30 (off-peak)
Max Day Fare: £8.60 (you'll never pay more than £8.60 in a single day when using the Oyster Card)
Heathrow Express (fast train between LHR and London— travel time 15min): £26.50
London Underground (between airport and city — travel time 60min): £5.70
Heathrow Connect (30min journey): £10.10
Bus from LHR airport into the city (60-80min): £6.00
Taxi LHR airport into the city: £45 – £70
London Hostel/Hotel Accommodation Prices
London has plenty of hostels throughout the city, and all the competition helps to keep the prices down — but you still shouldn't expect super cheap prices. Don't expect much from budget hotels as most are small, rundown, and dingy. Apartment rentals can be a very attractive option if you're traveling with two or more people.
Hostels: £19-£40 (bed in a shared dorm room)
Plan on budgeting about £26/night per person for a decent hostel, although many hostels raise their prices on the weekend. Remember, these prices are for a bed in a shared dorm room. If you want a private room, expect to pay £50-£100.
We book our hostels through Hostel World.
Budget Hotels: £50-£150
At the low end you shouldn't expect much, and cheap hotels tend to be located a ways outside the city — but once you get around €100/night, the hotels get a bit better.
Rental Apartment: £90-£130+
From my experience, rental apartments (via Airbnb) tend to be much bigger and much nicer than similarly priced hotel rooms. Plus, you'll get a kitchen so you can save more money by cooking your own meals — click here to get $30 off your first stay.
Read More About the Cost of Visiting Europe
We've created a guide about the costs of backpacking Europe (including more city price guides) — Click here to read.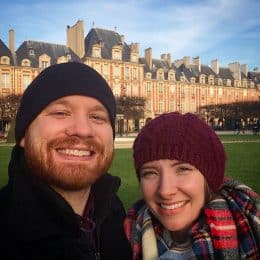 No Funny Business
We want to be fully transparent that this post may contain affiliate links. That means we receive a small commission if you make a purchase after clicking the link — it doesn't cost you anything extra and it helps support the site.
Thanks For The Support! — Susan and James
Questions? Learn more about our Strict Advertising Policy and How To Support Us.