London is a bit of an oddity when compared to other major European cities — all its world-class government-funded museums are free, but other attractions are shockingly expensive. If you've planned to visit London, you've probably heard of the London Pass. The pass is a popular choice for thousands of visitors, but it can be confusing to know whether it's worth the price.
In short, the London Pass is usually a good deal for travelers who want to see more than just the free museums, but it may not be worth it for other travelers. In this London Pass review, we break down the costs of the pass and explain who should buy and who should skip buying the pass.
Comparing London Pass & London Pass with Travel
The London Pass come in two variants — the London Pass and the London Pass with Travel.
The London Pass provides you access to a large number of attractions (see the London Pass website for the full list).

Adult Price/Child Price (age 5-15):

1 Day: 47£/30£
2 Days: 64£/47£
3 Days: 77£/53£
6 Days: 102£/72£

The London Pass with Travel is valid for the same sights and attractions as the regular London Pass, but it also includes unlimited journeys on all London Underground, buses, trams, Docklands light rail and above-ground trains within Zones 1 – 6 (children under 11 can ride public transportation for free). We'll discuss the price of using public transportation later in this guide.

Adult Price/Child Price (age 5-15):

1 Day: 56£/34£
2 Days: 82£/53£

3 Days: 104£/63£
6 Days: 156£/99£
Price Breakdown — London Pass vs. Buying Tickets Separately
The London Pass includes entry to many of the major sights and a few other attractions in London — including the Tower of London, St. Paul's Cathedral, Westminster Abbey, and Windsor Castle. The pass also gives you a discount on tours. You can view the full list on the London Pass website.
Attractions 
Tower of London — Adult: £21.45/Child: £10.75

The Tower of London is one of the world's most famous fortresses, and it's soaked in bloody history. It is also home to the Crown Jewels (which are also on display). I HIGHLY recommend getting a free 60-minute tour from the Yeoman Warder (they run every 30 minutes) — they are awesome. You do get to skip the ticket line with the London Pass, but the biggest line will be inside for the Crown Jewels exhibit (this line can get super long).

Westminster Abbey — Adult: £18/Child: £8

Dating back to 960, Westminster Abbey is steeped in history, and this magnificent building shouldn't be missed. They offer free guided tours and free audio tours. Unfortunately, your pass doesn't allow you to skip the line, so it is advisable to get there early if you're visiting during the summer.

St. Paul's Cathedral — Adult: £16/Child: £7

This beautiful cathedral is where Princess Diana was married, so you know it is going to be impressive. Visitors can climb to the top of the dome and enjoy a breathtaking 360-degree view of London. They offer free audio guides and a few free guided tours. The London Pass allows you to skip the ticket lines.

Windsor Castle — Adult: £17.75/Child: £10.60

Windsor Castle is the oldest and largest occupied castle in the world and the Official Residence of The Queen. This huge estate covers over 13 acres of land and is over 1,000 years old. The London Pass allows you to skip the lines which can be super long.

Hampton Court Palace — Adult: £16.00/Child: £8.00

Hampton Court Palace is the former home to King Henry VIII who decorated it with fabulous furnishings, tapestries, and paintings. It also features an impressive 60 acres of formal gardens that feature many different plants and flowers from all over the world. It is located about 35 minutes outside the city by train.

Other Attractions Included With the London Pass

Kensington Palace
Tower Bridge Exhibition
Royal Albert Hall
Royal Mews
The Monument
Jewel Tower
The Banqueting House
Eltham Palace
Benjamin Franklin House
Wellington Arch
Eton College
Apsley House
Wernher Collection at Ranger's House
Places of Interest
Shakespeare's Globe Theatre Tour — Adult: £13.50/Child: £8.00

If you're a fan of Shakespeare, you'll probably want to check out the famous Globe Theatre. The tours are limited to when there are performances, so you'll want to check out their website before planning your visit.

Other Places of Interest Included With the London Pass

London Zoo
London Bridge Experience
HMS Belfast
British Music Experience
Kew Gardens
Chelsea Physic Garden
London Wetland Centre
Chislehurst Caves
BAPS Shri Swaminarayan Mandir
Private Museums and Art Galleries
The Queen's Gallery
Churchill War Rooms
The Household Cavalry Museum
London Transport Museum
Wimbledon Lawn Tennis Museum
Twickenham Rugby Museum & Stadium Tour
The Guards Museum
Charles Dickens Museum
Design Museum London
Jewish Museum London
Florence Nightingale Museum
The Garden Museum
London Motor Museum
Handel House Museum
The Foundling Museum
Cartoon Museum
London Canal Museum
Pollock's Toy Museum
Firepower Royal Artillery Museum
Museum of Brands, Packaging, and Advertising
The Old Operating Theatre Museum
Fan Museum
The Courtauld Gallery
Estorick Collection of Modern Italian Art
London Tours and Cruises
Thames River Boat Cruise
Wembley Stadium Tours
Jason's Original Canal Boat Trip
Arsenal Stadium Tour
London Bicycle Tour
Wimbledon Tour Experience
Chelsea FC Stadium Tour
Lord's Cricket Ground Tours
National Theatre Backstage Tours
Rock n Roll Walk
Special Offers
The London Pass also gives you discounts on a handful of other London activities and shopping. Most things on the list aren't too exciting, but there are few decent discounts. I suggest at least checking them out to see if anything interests you.
London Pass With Travel vs Purchasing Your Own Transportation
The public transportation in London is excellent, but it is a little expensive and confusing. Hopefully, this section will clear things up and allow you to pick the best option for your travel needs. The City of London offers three ways to pay for travel on the Tube and buses: the Oyster Card, a Travelcard (which is different than the London Pass with Travel), and single-ticket cash fare (buying a single ticket is very expensive and should be avoided).
The Oyster card is a plastic smart card that can be loaded with credit which is used to pay for travel on any public transportation in London. The card automatically debits the price of the journey that you've taken. The nice thing about the Oyster Card is that it is pay-as-you-go, so you only pay for what you use. Another great feature is that the card will stop charging you once you've reached that zone's price cap. For example, the cost of a full day of unlimited off-peak travel in zones 1-2 is  7£. If you were to take one ride that day, you would be charged 2.10£ (the price of a single ticket), but if you were to take 10 rides you would only be charged 7£.

The Oyster Card does require a refundable deposit of 3£, and all the money on the card can also be refunded (or donated to charity).

The London Travelcard (which is different than the London Pass with Travel) is an unlimited journey travel card. It is little more expensive than the Oyster Card's all day fare. It is cheaper to use an Oyster Card if you're staying less than 7 days, but it might be cheaper to buy a Travelcard if you're visiting for 7 days or more.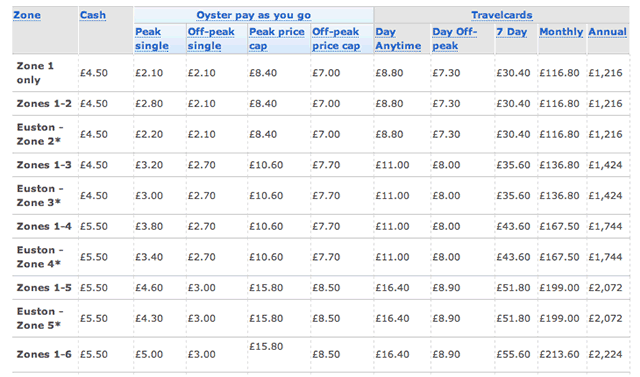 Basically, the travel card that comes with the London Pass With Travel option costs an extra 9£/day when compared to standard London Pass (the 6-day option does come with a 7-day pass, so you get that extra day for free).
Note: The 1-, 2-, and 3-day London Pass With Travel comes with an Off-Peak travel card — which means you can't use it until AFTER 9:30 am Monday to Friday (but you can use it all day on the weekend). However, the 6-day London Pass comes with a 7-day peak travel card which can be used all day long on any day of the week. All these travel cards are good for unlimited journeys on all London Underground, buses, trams, Docklands light rail and above-ground trains within Zones 1 – 6.
As you can see from the image above, you'll never pay more than 8,40£/day if you use the Oyster Card option for Zones 1-2. However, since the London Pass With Travel is good for Zone 6, you'll be able to use it to get into London via the Tube from Heathrow airport, which you'll have to pay a little extra for if you use the Oyster Card. Note: There is also a Heathrow Express that is much quicker than the Tube, but it is more expensive and isn't covered on either the Oyster Card or the London Pass With Travel option.
Calculating the Value of the London Pass
To calculate the value of the London Pass, it's best to create a sample itinerary and then crunch the numbers.
I would base your sample itinerary on the cost of the 3-day adult pass that costs 77£, which averages to 26£/day. Therefore, you would have to spend more than 26£/day for the pass to be worth the price. If you look at the prices of the attractions above, you'll see that some attractions can be as high as 21£, and most major sights are around 18£. This should give you an idea of how much you would need to do in a day for the pass to make financial sense.
The next thing I would do is choose which museums, sites, and attractions look interesting to you. Remember that all the major museums in London are free, so you can easily fill your days up with visits to the free museums — that said, many of the attractions on the London Pass are amazing, too.
Is the London Pass Worth It?
Who Should Consider the Pass:
Travelers with Children — If you're traveling with children, you might find that being able to skip some lines makes your trip go smoother.
Travelers Who Want to Do Extra Activities — If you want to do a lot of the activities on the pass, then it's definitely worth it. It will easily pay for itself quickly if you see a lot.
People Who Want to See a Lot in a Few Days — If you're in London for only a few days and you want to see all the major attractions, then the pass will be a good deal.
Travelers Who Want to See London at Their Own Pace — If you're not too worried about the price, the London Pass is a nice option just for the fact that you can hop in and out of attractions at your own pace.
Convenience — If you simply don't want to worry about purchasing tickets when you're in London, the pass is a nice option. You just have to get your pass delivered to your home and you're all ready to go once you arrive.
Who Should Skip the Pass?
Budget Travelers — If you're on a strict budget, I'd skip the pass or buy a one-day pass and see all that you can in that day. London does have a ton of free museums, so there will still be plenty to see.
Travelers Staying in London for Longer Periods — If you're spending a long time in the city, you'll probably want to spread your visits to the attractions over a longer period of time.
Travelers Who Just Want to See a Few Places — If you just want to see a few attractions over the course of your trip, then the pass isn't worth it.
Tips For Getting the Most Value Out of the London Pass
Get A Shorter Pass If You're On a Budget — If you want to see the sights on the London Pass, you can arrange your visit so that you see all the major sites on the pass in a day or two. This way, you can buy a shorter duration pass and then fill your remaining days with the free museums.
Check Hours and Days — Be sure to check the hours of the sights as many close down around 4:30 pm.
Night Activities — Since most museums and sights are only open during the day, you should see what activities are open later and do those after the other attractions are closed.
Don't Waste the First Day — The time on the pass starts the first day you use it, so if you use your pass for the first time at 8 pm, it will count as a full day.
Check Out the Discounts — The London Pass also gives you discounts on some other participating companies. Most are junk, but there are a few good ones. London Walks gives a 2£ discount on their walking tours, which are really great. They have a Haunted London walking tour that runs at night which my wife and I really enjoyed.
Where to Buy the London Pass
The easiest way to get the pass is to buy it online from the London Pass website and have it mailed to your home. This way it is all ready to go once you arrive in London. You can also purchase it online and then pick it up in London. Additionally, you can simply purchase the pass in London from the address below:
The London Pass Redemption Desk
11a Charing Cross Road
London, WC2H 0EP
(Nearest Underground Station: Leicester Square, take Exit 1)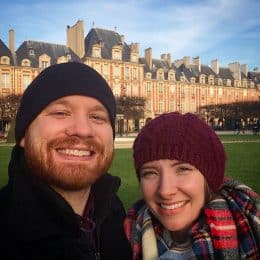 No Funny Business
We want to be fully transparent that this post may contain affiliate links. That means we receive a small commission if you make a purchase after clicking the link — it doesn't cost you anything extra and it helps support the site.
Thanks! — Susan and James
Questions? Learn more about our Strict Advertising Policy and How To Support Us.