If you want to backpack through Europe you probably need a backpack — shocking, I know. Choosing the right backpack can be confusing and time intensive. But you should take your time when choosing your pack. A proper backpack allows you to travel swiftly and easily, but a poor-fitting pack is like an anchor. You want one that is comfortable and fits your travel style. This guide will explain the different types of backpacks available and how to choose the perfect one for you.
Checkout Our Recommended Travel Backpacks
Read our recommended best travel backpacks for Europe once you've decided what type of bag you want. 
But First — Why A Backpack? A backpack is perfect because it allows you to be highly mobile while still carrying a lot of weight. Traditional suitcases and duffle bags are inconvenient because they are difficult to carry long distances. Wheeled-suitcases are tough because many of Europe's road are bumpy and trying to roll a bag through busy metro stations and narrow train isles is rather difficult. A backpack is simply the easiest way to transport your belongings.
There are three main styles of travel backpacks — top loading, front loading, and suitcase-style.
Top-Loading Backpacks
This style of backpack has a single opening at the top that is closed by a drawstring and covered by a protective flap. These bags were originally designed for mountain /back country hikers, but many European travelers also use them.
Pros

No Zippers For Main Compartment: You can stuff a lot of stuff in your backpack without worrying about breaking a zipper.
More Waterproof: Less chance of water getting into the bag.
Lighter: Top-loading packs tend to be lighter weight.
Better Fit: These bags are slimmer and tend to fit better better. They fit closer to the body and feel more natural.
Good Support: The support systems are more advanced in top-loading bags because they were designed for long treks by serious backpackers. These bags are designed to be worn for hours at a time.
Cons

Difficult To Pack/Unpack: Since everything is loaded from the top it makes it difficult to get to stuff on the bottom of your bag. You basically have to take out everything to get to the stuff that isn't on top. This can be somewhat alleviated if you pack your bag in a specific manner, but it is still a hassle.
Lots of Straps: All the straps can get caught and ripped off in the conveyor belts at the airport. Make sure all the straps are tied away.
Less Secure: The top of the pack is closed via a drawstring, so it is a bit easier to gain access than compared to the front loading style which can have its zippers locked.
My favorite top-loading backpack is the Osprey Atmos 50.
Front-Loading (Panel Loading) Backpacks
This style of backpack opens up like a traditional suitcase or a backpack you'd use at school. They are a cross between a suitcase and a backpack.
Pros

Easy access to all your stuff: You can simply unzip the zipper and get to whatever you need quickly. No need to totally unpack your bag when you need to get to something.
Extra Pockets: Most bags of this style include a lot of extra pockets on the outside of the bag. This is nice because you will have easy access to the items that you use often.
Easy to Organize: Packing cubes work very well with this style of backpack so it makes organizing your stuff so much simpler. Click here to read my post about packing and organizing your backpack. 

Cons

Zippers can break: The zipper is one of the weakest points. Higher quality backpacks use heavy-duty zippers that can withstand more abuse, but zipper breakage is still a concern.
Zipper Are Less Waterproof: Water can get in through the zipper. A lot of high quality bags now come with waterproof zippers or you can buy a waterproof rain cover.
Poorer Fit: Some people complain that these packs are too wide and less comfortable (but this isn't generally a big problem).
Poor Support System: Front-loaders were designed as luggage so the support system tends to be lesser quality. The bag will become more uncomfortable on longer treks, but most people won't be wearing their backpack around for that long.
My favorite front loader backpacks are the Osprey Farepoint and the Osprey Porter.
Convertible Backpacks


The convertible backpack is essentially a suitcase with backpack straps that can be zipped away. Convertible style backpacks are a great choice for travelers who like a suitcase, but want the option to wear it as a backpack.
Pros

Packable: These bags are easy to pack/unpack and keep organized.
Stylish: They blend in well to urban environments. Hiking-style backpacks stick out like a sore thumb in a city, so you'll look more like a local with this type of bag. Convertible-style bags are much more sleek and stylish — perfect for flashpackers.
Shoulder Strap: There have been many times when I wished I could easily throw my bag over my shoulder and this type of bag is perfect for that.

Cons

Suspension System: The backpack straps are not as advanced as what you'd find in a traditional hiking backpack. Although, I don't think it is too terribly important since you'll rarely have your backpack on your back for long periods of time.
My favorite convertible backpack is the Patagonia MLC (Maximum Legal Carry-on)
Conclusion – Top-Loading vs Front-Loading vs Convertible Backpacks:
All three types work. It really boils down to preference. The top-loader is going to be most comfortable but the panel-loader and convertible-style are much easier for accessing you stuff. Personally, I would choose a front loading/panel loading backpack or a convertible-style backpack. I first used a top-loading pack, but loading/unloading it was a pain in the ass and I don't think it is worth the hassle.
How To Choose The Correct Backpack Size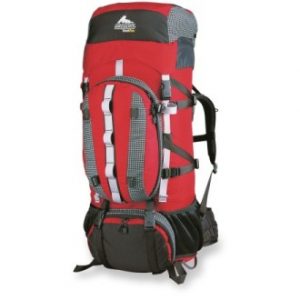 Important Words of Wisdom: The number one mistake new travelers make is bringing way too much stuff and it all starts when they buy a huge backpack. A large bag enables you to carry more unneeded stuff. A smaller bag forces you to pack light. I've seen people with backpacks so large and heavy that they need help getting it on their back/standing up.
Remember that you're going to be carrying this bag around for long periods of time. It is very important that you can handle your bag by yourself. You'll be throwing your bag up in overhead bins on planes and trains. You'll be walking through narrow train aisles and busy streets. Your heavy bag will quickly become a huge burden and it will negatively impact your trip. You're also bound to piss a bunch of people off when you accidentally smash them with your house-sized backpack. REMEMBER TO PACK LIGHT!
Backpack Sizes

Backpacks are measured in liters and/or cubic inches. Most bags range from about 35L (2,140 cubic inches) all the way to 100L+ (6,000+ cubic inches).
I recommend a backpack around 50L (about 3,000 cubic inches). Personally, I wouldn't go over 65L, but some people like a bigger bag. You can always go smaller, but I wouldn't recommend anything smaller than 35L — although I know people who have traveled with only a backpack you'd carry to school.
The length of your trip really doesn't make much of a difference when it comes to choosing a backpack, so don't buy a huge backpack because you're going on a 6 month journey. You'll carry the same amount of stuff for a 2 week trip as you will for a 6 month trip — you'll just wash your clothes every few weeks.
Important Info For Flyers: If you want to carry on your luggage (if you're wanting to avoid baggage fees on Ryanair or other discount airlines) then I wouldn't get a bag over 50L (3,000 cubic inches). I have a 50L bag (Osprey Atmos 50) and my bag barely fit Ryanair's guidelines (I had to really work to get it to fit). It is also nice to be able to skip the baggage claim. Most importantly, you never have to worry about the airlines losing your luggage — this can be absolutely disastrous on a backpacking trip.
Important Features Of A Backpack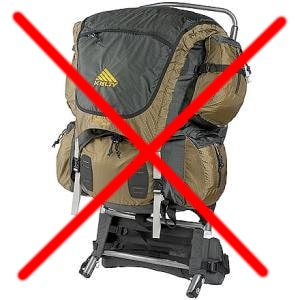 Internal Frame: Pretty much any hiking-style backpack has an internal frame. These are the only style you'll really see anyone ever using in Europe. Avoid external frame packs.
Quality Made: A backpack is one of the things you don't want to skimp on, but you don't want to spend a fortune either. I recommend looking for a backpack in the $120-$220 price range. Look for bags made by Osprey, Kelty, Gregory, Deuter, GoLite, Mountain Hardware, and Arc'teryx (there are a few other good brands). REI also sells very affordable "REI brand" backpacks that are good quality.
Comfortable Shoulder Straps: Nice shoulder straps will make your journey much more comfortable.
Padded Hip Belt: You actually carry most of the weight on your hips, not shoulders. You want the hip belt to be comfortable and to fit correctly.
Lightweight: A heavy backpack can weight 6-10lbs empty.  Once you start adding clothes the weight of the pack climbs very quickly. Look for a lightweight pack that weighs about 3-5lbs.
Nice Zippers: I prefer backpacks with waterproof zippers. The zippers should also have a little area for a small lock.
Plenty of Pockets: A few outside pockets are really handy for storing stuff that you need to access quickly.
Ventilation: Backpacks sit right up against your back and the limited airflow causes a nice sweaty back. Some packs offer a ventilation bubble (or chimney) by using mesh to allow air circulation. This is more of a luxury than a requirement.
Color: I have a bright red backpack. It might come in handy for the search and rescue chopper to spot me if I ever get lost in mountains, but I think it is a little too much for Europe. If I could do it again, I would get something a little less "flashy."
How To Find A Correct Fitting Backpack
It is essential that your backpack fits you properly. An ill-fitting pack will quickly become uncomfortable after even a brief wearing. Once you find a backpack you like, visit the manufacturer's website to see their sizing information because most will give you a detailed fitting guide.
Get The Proper Size Backpack: Backpack sizes are based off your torso measurement — not your height. Some backpacks are adjustable and some come in different sizes. The hip belts are adjustable so they should fit most people. Some brands offer different sized hip belts for people who have a hard time getting a standard belt to fit.
Packs For Women: Many brands are starting to offer packs designed specially for women. They are strong enough for a man but made for a woman.
Try On Multiple Packs: Each pack is designed differently so you should try on as many as you can.
Weigh Down The Packs: A quality outdoors store will have weights (sandbags) to help simulate carrying a load in your pack. It is important to try out a weighted pack so you can really know what it feels like.
Daypacks
A daypack is simply a small backpack that you carry around while touring the city. You use the pack to carry around stuff like a small jacket, your camera, snacks, and maybe a small journal. For more information about daypacks be sure to check out our guide to our favorite daypacks for Europe.
Read our recommended best travel backpacks for Europe once you've decided what type of bag you want. 
Support The Savvy Backpacker

I've invested a lot of long hours creating this site. If you've found it helpful, the best way to say thanks is by clicking on my Amazon.com links.
I get a depressingly small commission when you purchase anything within 2 hours on Amazon after you've clicked my link—this helps me keep the site running… and maybe buy a few beers.
And it doesn't cost you anything extra. Also, if you're a student don't forget to sign up for a FREE year of Amazon Prime. Thanks for all your support!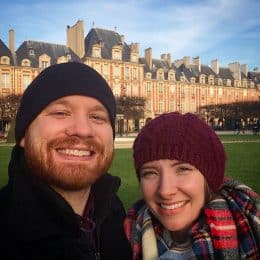 Support The Savvy Backpacker - It's Easy!
We hope you've found this article helpful. If you have, the best way to say thanks is by clicking on our Amazon.com links.
We get a depressingly small commission when you purchase anything on Amazon after you've clicked the link — this helps us keep the site running… & buys us a few beers.
 Plus, it doesn't cost you anything extra!
Thanks for all your support & click here to learn more about supporting us!