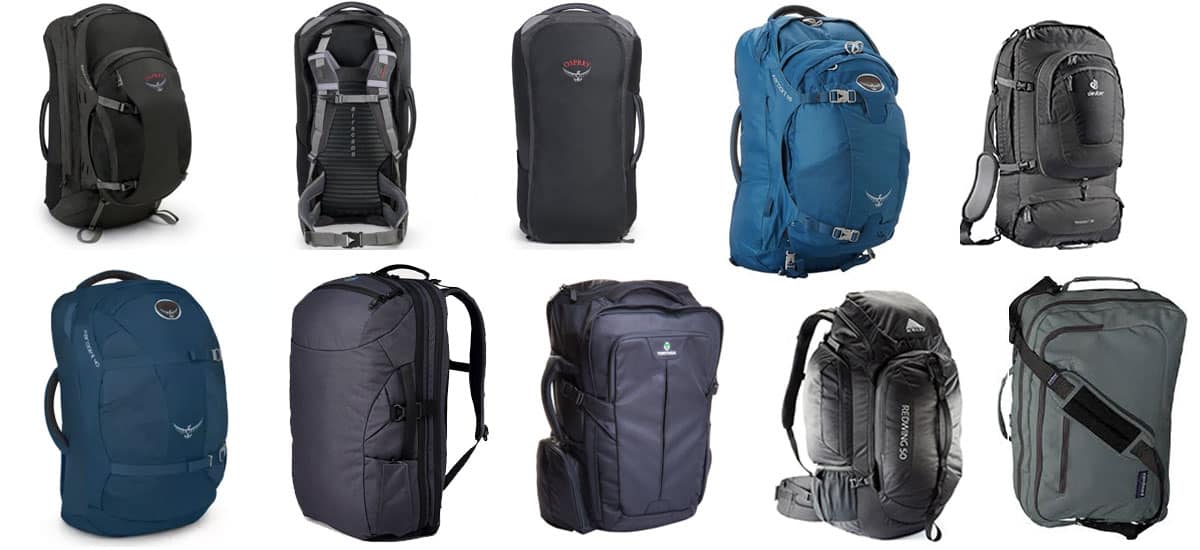 Finding the best travel backpack for Europe can be confusing because there are so many options. While most people use standard hiking backpacks to travel, there are also other non-traditional bags. In this guide, we've picked our favorite panel-loading bags, top-loading bags, and non-traditional bags. Before you choose a bag, make sure you know the benefits and disadvantages of each style of bag and what to look for in a travel backpack. We've created a guide for how to choose a backpack for traveling Europe, and I highly recommend that you check it out before buying a backpack.
Best Panel-Loading/Front-Loading Travel Backpacks for Europe

Osprey is my favorite backpack brand, so it is no surprise that the Osprey Porter is a great panel-loading backpack for traveling in Europe. This pack is sturdy and offers a lot of room for all your gear. I also love how it is very streamlined and lightweight, which makes it much easier to navigate crowds. The shoulder straps zip away behind a flap, which is very helpful when stowing it on planes/trains/buses. Personally, I think the 65 liter version is a bit too big, but if you don't mind checking your bag (or if you aren't going to be flying), it would probably be fine. My only complaint is that its waist belt isn't padded, so it isn't great for really long journeys.
Features:
The Porter 46 is carry-on size for most airlines (the Porter 65 is over the legal carry-on size).
Lightweight but sturdy construction.
Ballistic nylon.
Zip-away shoulder harness that is comfortable.
Tuck-away fabric waist belt.
StraightJacket compression that secures any size load.
Low-profile top and side grab handles which are great for lugging your bag around.
Large panel zip access with lockable zippers.
Osprey Porter 46 – $80-$100
| | | | | |
| --- | --- | --- | --- | --- |
| Size | cu. in. | liter | lbs/oz | kg. |
| Porter 46 | 2807 | 46 | 2/7 | 1.10 |
Dimensions
height x width x depth
In: 22 x 14 x 9
Cm: 56 x 35 x 23
Osprey Porter 65 – $100-$110
| | | | | |
| --- | --- | --- | --- | --- |
| Size | cu. in. | liter | lbs/oz | kg. |
| Porter 65 | 3967 | 65 | 3/1 | 1.40 |
Dimensions
height x width x depth
In: 26 x 15 x 11
Cm: 65 x 38 x 28

The Osprey Farpoint 55 is another great travel pack, and I think it is a great alternative to the Osprey Porter. This pack has a total of 55 liters of space, but the 55 liters are split up between the main backpack (40 liters) and the detachable day pack (15 liters). The day pack clips onto the main backpack, which can be handy when traveling. I think 40 liters is a pretty good size for a main bag. There is also the Osprey Farpoint 70, which is a bit bigger and runs around $200.
Features:
Main bag offers a panel-loading opening with lockable zippers, interior pocket, and internal compression straps to cinch down contents
Features removable sleeping pad/rain jacket straps
Adjustable suspension system can be stored in its own panel for streamlined transport as luggage
Spacer mesh back panel with LightWire frame helps promote airflow and moisture dispersal.
Detachable daypack includes multiple internal and external pockets, tuckaway harness, and an internal sleeve for hydration reservoir or a computer.
External compression straps help secure daypack and let you strap down loads.
| | | | | |
| --- | --- | --- | --- | --- |
| Size | cu. in. | liter | lbs/oz | kg. |
| S/M | 3173 | 52 | 3/12 | 1.70 |
| M/L | 3356 | 55 | 3/15 | 1.78 |
Dimensions
height x width x depth (Does not include daypack)
M/L
In: 25 x 13 x 12
Cm: 64 x 34 x 30
Osprey Waypoint Series — Around $210-$280

If you're not concerned about having a bag that can be considered a "carry-on," then the Osprey Waypoint series might be a good option (the 65L might be small enough for some airlines). I also like the Waypoint's suspension system as it is probably the best of the bunch. The Waypoint comes in two volume sizes — 65L and 85L. Additionally, the Waypoint is available in a men's and a women's version, which is nice. The Waypoint includes a detachable 15L daypack that clips onto the outside of the pack. The Waypoint is the largest travel backpack that we recommend, but it is an excellent choice for people who aren't concerned with ultralight travel. Click here to view: Women's 65L and Women's 85L — Men's 65L and Men's 85L.
Features:
Zip-away suspension with AirScape backpanel and LightWire frame
Gender specific, torso-adjustable harness
Gender specific hipbelt with ErgoPull closure
Foam padded sidewalls with StraightJacket compression secure and protect the load
Large panel zip access with locking sliders
Four internal zippered pockets for organization
Internal compression straps keep contents secure
Zip-and-clip detachable daypack
Stretch woven side pockets keep water bottles handy on trail
Padded top and side handles provide comfortable carry
Top stash pocket

I'm a fan of the Kelty Redwing because it is a comfortable pack with a lot of room and plenty of external pockets. I've always found Kelty's material to be tough and their suspension straps to be comfortable. The older version of the Kelty Redwing can usually be found for around $80-$100, so it is a nice option if you're on a budget.
Features:
Anatomically curved shoulder straps and a padded hip belt to help distribute load weight
Panel loading for simple loading and unloading
Zippered side pockets for easy access
Mesh water bottle pockets
Large front pocket with organization
Single Light Beam aluminum stay
Ventilating back panel, shoulder straps, and hip belt that help keep you sweat-free
Load-lifter/stabilizer straps
Scherer Cinch that makes adjusting the hip belt easy
Built with rugged 420-denier polyester and reinforced with 450-denier oxford polyester
Hydration compatible
| | | | | |
| --- | --- | --- | --- | --- |
| Size | cu. in. | liter | lbs/oz | kg. |
| Redwing 50 | 3100 | 50 | 3/9 | 1.6 |
Measures 18 x 25 x 14.5 inches (W x H x D)
Non-Traditional Travel Bags
While many people travel with travel backpacks (like those listed above), there are other good options for carrying your gear. Most notably, convertible bags are very desirable for a lot of travelers. Convertible bags are basically soft-sided suitcases with backpack-style shoulder straps. These bags have a large compartment, which makes packing simple, and they can be carried like a suitcase, a shoulder bag, or a backpack. This style of bag won't be as comfortable as a dedicated travel backpack, but it does provide added flexibility, which can be very helpful in some situations.
Patagonia makes great products and the Black Hole Duffle is an extremely popular option for people who want to travel with a convertible-style bag. Additionally, the MCL is the top choice for flashpackers because it is fashionable and makes you look like more of a local when you use it with the shoulder strap.
Features:
Main compartment opens like a book for easy packing, access, and organization with a compression pocket to secure contents
A secondary zippered sleeve pocket separates dirty clothes or shoes
Padded back panel holds shoulder straps and protects your back
Separated padded pocket stores a laptop or works well as a clothing organizer
External zippered pockets provide easy access to travel docs and vital gear
Dimensions:
20.5″ x 13.5″ x 7″

The
eBags Mother Lode Weekender
is another great travel bag option. Additionally, this bag is great for budget travelers because it only costs around $80. But even though it doesn't cost a lot, this bag is well-made and gets tons of amazing reviews.
Dimensions:
22″ x 14″ x 9″
| | | | | |
| --- | --- | --- | --- | --- |
| Size | cu. in. | liter | lbs/oz | kg. |
| Mother Lode | 3299 | 54 | 3/15 | 1.6 |
*3651 Cubic Inches fully expanded. Weight does not include removable shoulder strap or waist strap.
Best Top-Loading Travel Backpacks for Europe
Despite some of their shortcomings, top-loading backpacks are still a popular choice for traveling in Europe. This style of bag is generally a bit more comfortable and reliable (i.e. no zippers to break) than front-loading bags, but they are more difficult to pack/unpack. I'd generally recommend a front-loading bag when traveling in Europe, but some people prefer the durability of a top loader.

The
Osprey Atmos 50
was my first backpack, and it is still holding up well after three trips to Europe. It is super lightweight, built well and extremely comfortable. It also has the "airspeed" back mesh which allows air to flow to your back (which is super nice when it is warm). This is a great choice for a top-loading bag.
Features:
AirSpeed suspension has a fully adjustable torso length and adjustable hipbelt
Shoulder harness adjusts over a 3 in. range for a fine-tuned fit
Updated pad design with spacer-mesh contact surfaces and ventilated foam that provides breathable and supportive cushioning
Hipbelt uses dual-density foam for improved support and spacer mesh for breathability; exclusive adjustment system lets you customize the fit while wearing the pack
Hipbelt pads extend up to 3 in. on each side for 6 in. total adjustment range
LightWire alloy frame creates low-profile air space, optimizing balance and ventilation
Floating top lid has a large pocket and an under-the-lid mesh pocket
Front stretch woven pocket, side stretch-mesh pockets, zippered hipbelt pockets, and 2 large front zippered pockets help organize gear for quick, convenient access
The Osprey Atmos 50 pack is made with a lightweight yet strong 210- and 100-denier fabric set that offers excellent durability and less trail weight than heavier fabrics
| | | | | |
| --- | --- | --- | --- | --- |
| Size | cu. in. | liter | lbs/oz | kg. |
| Atmos 50 | 3050 | 50 | 3/4 | 1.5 |
Do you have a favorite backpack? Please let me know and I will review it!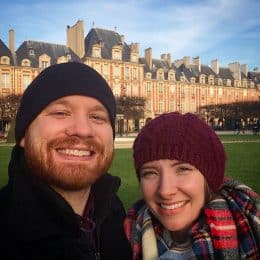 No Funny Business
We want to be fully transparent that this post may contain affiliate links. That means we receive a small commission if you make a purchase after clicking the link — it doesn't cost you anything extra and it helps support the site.
Thanks! — Susan and James
Questions? Learn more about our Strict Advertising Policy and How To Support Us.