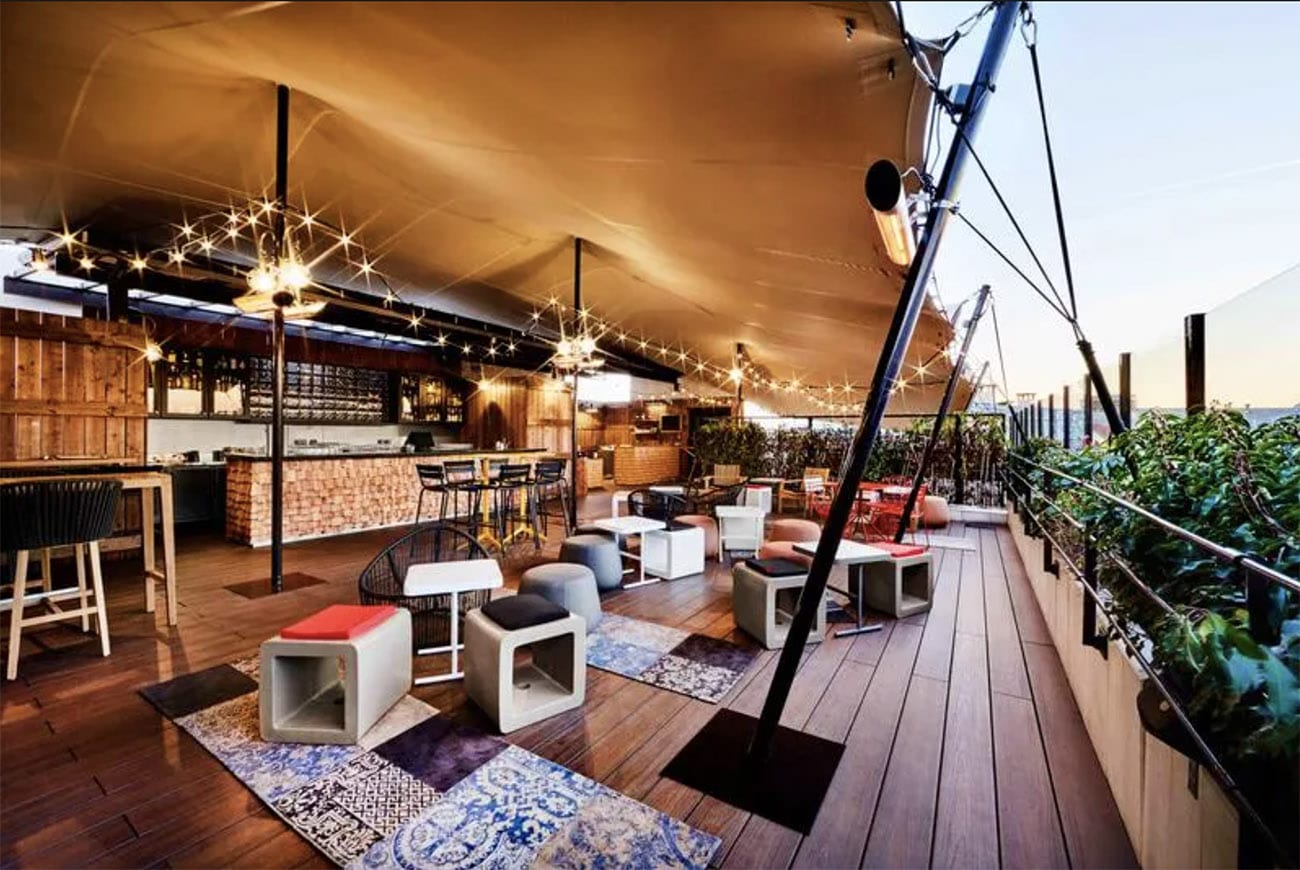 Whether you're backpacking Europe or just traveling on a budget, there is a good chance you'll find yourself in a few hostels along the way. And despite what you may have heard, there are a lot of excellent hostels but you have to find them first — which is where Hostelworld comes in.
For those that don't know, Hostelworld is the largest hostel booking website (with over 36,000 listings) so I thought I'd do a Hostelworld review to give you positives and negatives that I've found after booking dozens of hostels with them since my first trip back in 2006.
If you want to know about hostels in general, check out my Guide To Hostels in Europe.
My Stragegy For Finding The Best Hostels On Hostelworld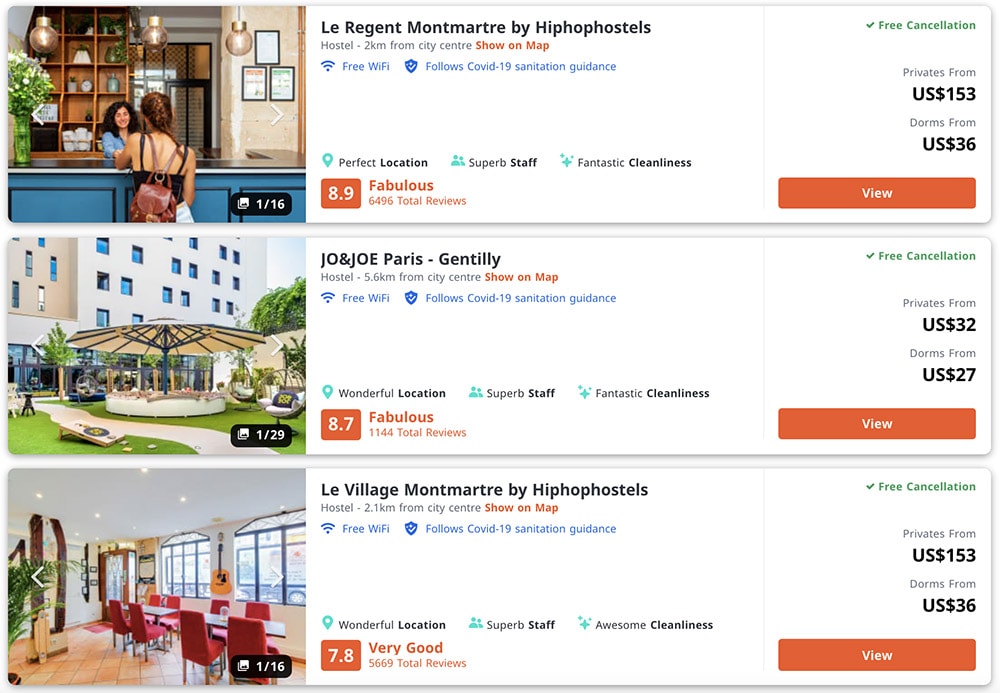 Booking a hostel with Hostelworld is a fairly straightforward process but finding a great hostel that fits your needs can take a little digging. Here's the process I use when I'm looking to book a hostel:
Compare Prices, Overall Ratings, and Number Of Reviews


After you enter your destination and travel dates, it's time to sort through the results so you can start culling down your best hostel options. At this point, there are three main things I pay attention to — price, overall rating, and the number of reviews.
Price
The search results page shows the starting nightly price for a bed in a shared dorm and the price to rent a private room.
This price displayed can be a little deceiving because these are the cheapest options in the hostel.
The cheapest dorms are typically the rooms with the greatest number of beds — and the least amount of privacy and peace. Hostels often have multiple room sizes so you'll typically pay extra if you want a room with fewer beds. You'll need to view the listing to get a better idea of the full range of price options.
Overall Rating
Hostelworld ranks hostels on a scale from 1-10 but I start getting a little suspect about any hosted that's under 8. I tend to try to only look at hostels with an 8.5+ ranking but these tend to command a higher price.
The overall ranking consists of things like location, amenities, vibe, security, cleanliness, etc.
You'll need to click into the hostel to get a better idea of the reviews — I'll talk more about deciphering these guest reviews later in this article.
Number Of Reviews
The overall rating listed on the search results page can be deceiving as some hostels can have super high scores but only a handful of reviews. That doesn't mean you should avoid places with minimal reviews but it's something to consider when looking closer at that property.
On the other hand, if the hostel has thousands of reviews and a high score then you know it's probably a great place to check out.
What To Look For In A Hostel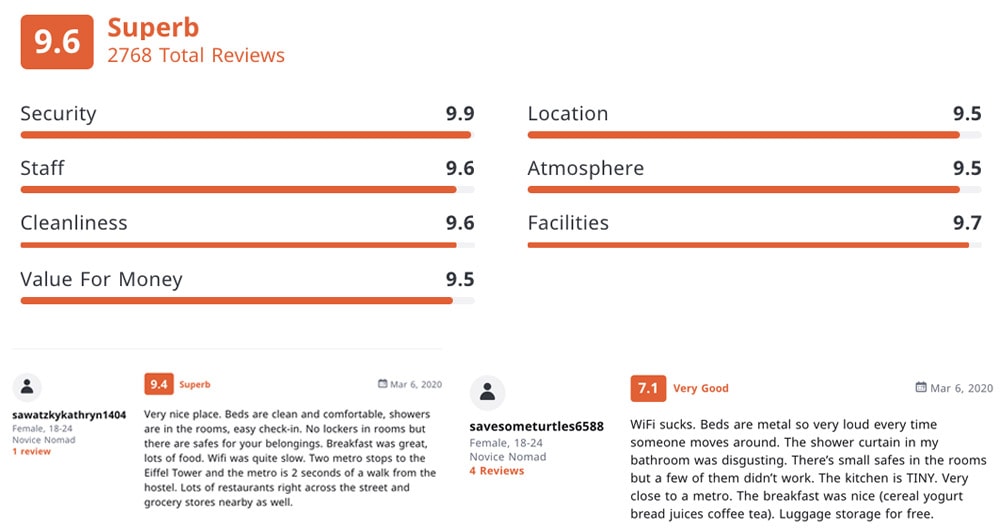 Once you've found a few hostels that look interesting it's time to take a deeper dive into the particulars listed on each hostels' Hostelworld profile. This is where it's wise to pay attention to the details because even well-rated hostels might not match up to your travel style.
Take A Deep Dive Into The Past Guest Reviews
Hostelworld does a good job at getting reviews from past guests and people tend to write about the good and bad parts of their stays. I also like that all the reviews on Hostelworld are from the past 6 months, so it gives you a better idea of the hostel's current condition.
I try to take a holistic view of the reviews because there are so many things that can affect someone's stay — from annoying hostel-mates that sour a nice hostel to really cool people that make an average hostel feel awesome.
When I read reviews I look for specific things:
The Atmosphere: Some hostels are "party" hostels, some a quiet but maybe a little dull, some are quiet and cozy, some are for families, some feel like hostels, etc. It's important to find one that fits your style.
Location: Location is a huge consideration and I'd much rather pay a little more if I can stay right in the heart of things. Reviews often make comments about the safety of the area as well.
Cleanliness: Just by their nature, hostels can quickly get dirty if the staff doesn't stay on top of the cleaning so that's something I think is important to look into.
Beds: Past reviewers will often comment on the quality of the beds — there are a lot of really terrible mattresses in hostels.
Bathrooms: Hostels are notorious for bad showers and bathrooms. Pay attention to what people say about them.
Kitchen: A kitchen is a nice bonus if you think you'll make simple meals. A kitchen also tends to be a popular place to hang out so these hostels tend to be more social.
Common Space: Some hostels have space to hang out and this helps make the hostel more social.
Hostel Bar: Hostels with bars are typically more social but sometimes they can be louder so that's something to consider.
Air Conditioning: Hostels can get stuffy so pay attention to what people say about how hot/cold the place is — even if they hostel says they have AC.
Additionally, I also look at the hostel's amenities — like free wifi, activities, staff, security, etc. Read more about what to look for when choosing a hostel in our guide to staying in hostels.
Other Ammenities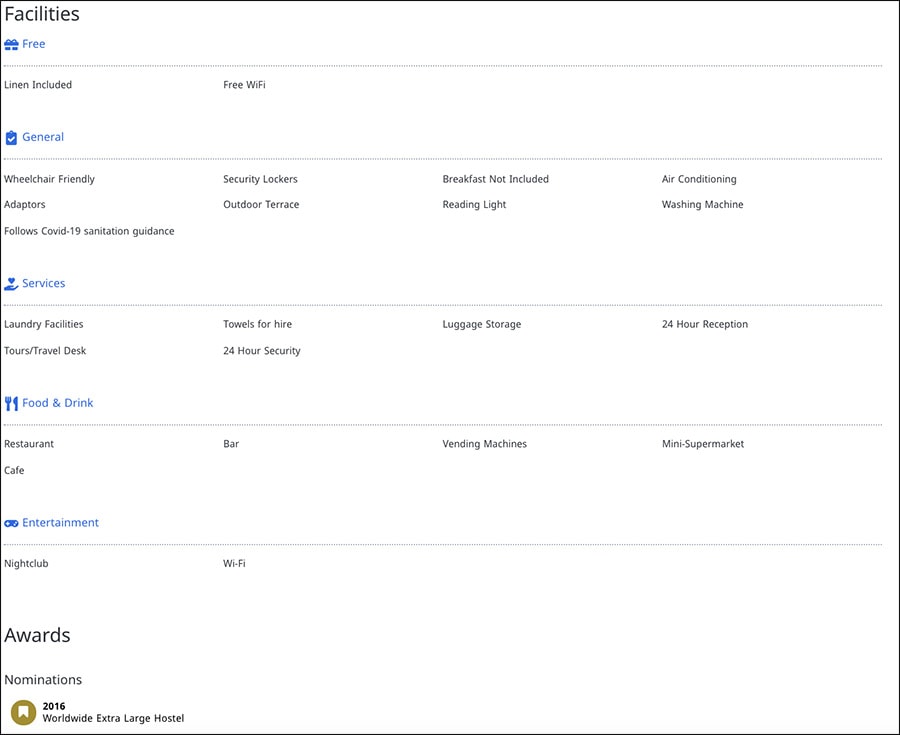 Hostelworld also lists out the hostel's other amenities so take a minute to look at what they offer.
Exploring Room Options and Prices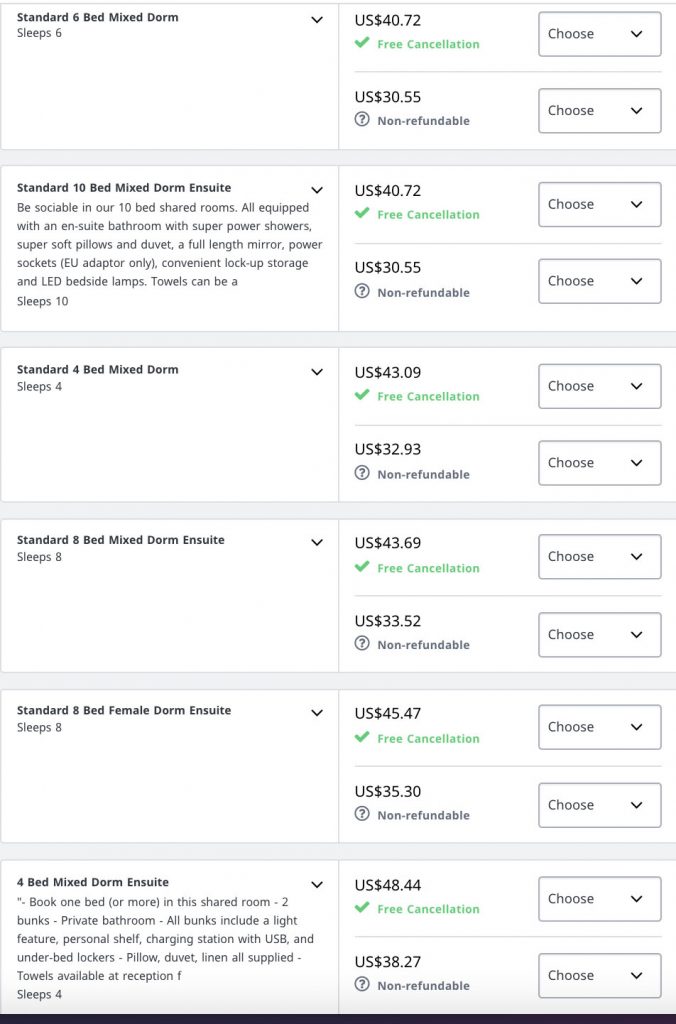 As mentioned before, most hostels have multiple dorm rooms of various sizes. Some hostels also have female-only rooms. Typically the rooms with the most amount of beds are the cheapest option — so a bed in a 14-bed room might be $30/night and a bed in a 4-bed room might be $40/night.
Hostels also often have private rooms which are considerably more expensive than dorms but you still get the hostel vibe with more privacy. Some hostels also have private rooms with four or six beds — which is a nice option for groups but you have to pay for the entire room regardless if you use all the beds.
Free Cancellation and Non-Refundable Bookings

Hostelworld recently started offering Free Cancellation and Non-Refundable pricing tiers.
As you can see from above, there is a fairly considerable price difference so you'll pay more for a Free Cancellation booking. On the other hand, you'll pay for the entire booking if you go with the cheaper non-refundable booking.
Read The Fine Print and Hostel Policies
---
Booking A Hostel At Hosteleworld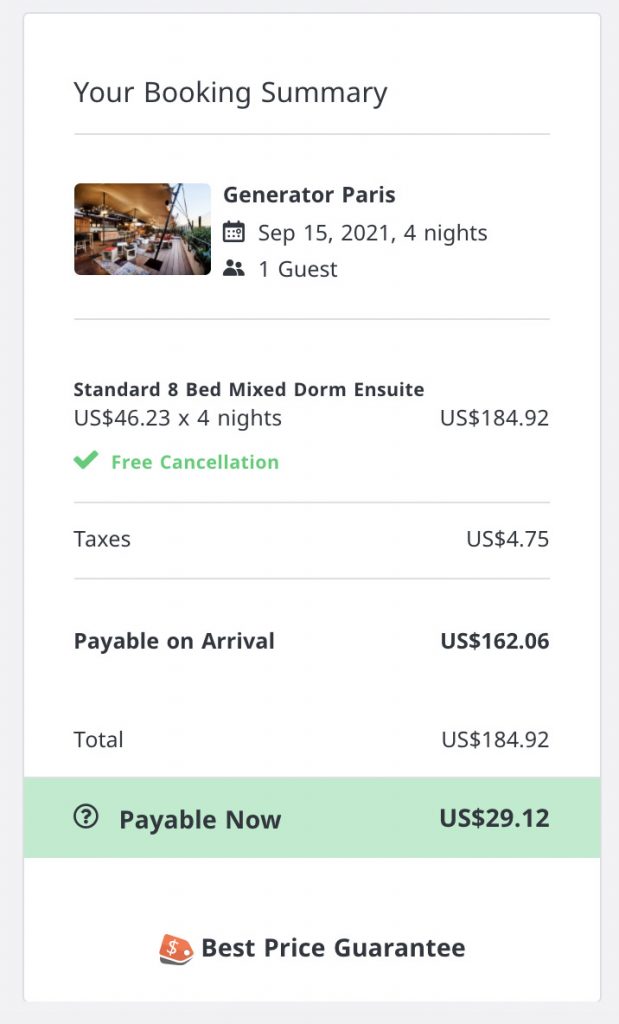 Booking a hostel on Hostelworld is simple. You select the type of room you want and the total price is shown at the bottom of the page. You are charged a 15% deposit/down payment (which is deducted from your total).
You then pay the remainder of the payment directly to the hostel when you physically check-in at the hostel. The whole process is painless and I've never had a problem in the 25+ hostels I've stayed in. Most hostels let you pay with a credit card but there are a few that only accept cash upon arrival.
The best way to learn about using Hostelworld is by clicking around and exploring the site. Hostelworld also now lists budget hotels and bed & breakfasts, but I've never used it to book those types of accommodation.

If you want to know more about what it's like to stay in a hostel, be sure to read my guide hostels in Europe.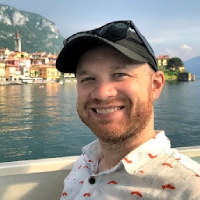 Latest posts by James Feess
(see all)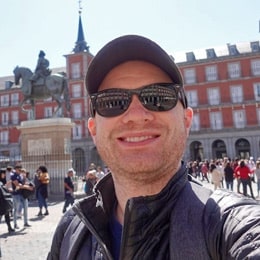 No Funny Business
The Savvy Backpacker is reader-supported. That means when you buy products/services through links on the site, I may earn an affiliate commission—it doesn't cost you anything extra and it helps support the site.
Thanks For Reading! — James
Questions? Learn more about our Strict Advertising Policy and How To Support Us.