If you're backpacking Europe on a budget, you'll probably stay in hostels. Luckily, there are thousands of hostels throughout the continent, but it's not surprising that some are not great. That's why I always use Hostelworld when I want to review and book hostels. Hostelworld is my favorite booking site because it has a ton of reviews from previous travelers. I use these reviews to make my decision on which hostel to book. In this article I will guide you through my process of booking a hostel and give you advice for finding the perfect hostel at the best price.
If you want to know about what it's like staying in a hostel, be sure to read my guide to hosteling in Europe. 
Okay, on to the guide…
Once you enter your location and travel dates, you'll get your search results. At this point, I prefer to first filter by rating to see the best-rated hostels.
But you should also look at the number of reviews because some hostels might have a really high rating but only have a few reviews. I'd rather book a hostel with a slightly lower rating, but with a few hundred reviews than a hostel with a higher rating but only 10-15 reviews. I also like that all the reviews on Hostelworld are from the past 6 months, so it gives you a better idea of the hostel's current condition.

Then I look a little deeper at the review. Hostelworld breaks down the review into six categories: character, security, location, staff, atmosphere, and cleanliness. You'll have to decide which categories matter the most to you.
I also like to read the written reviews of past travelers as they can put a story behind the guest's reviews.
Additionally, I also look at the hostel's amenities — like free wifi, kitchens, security, etc. Read more about what to look for when choosing a hostel in our guide to staying in hostels.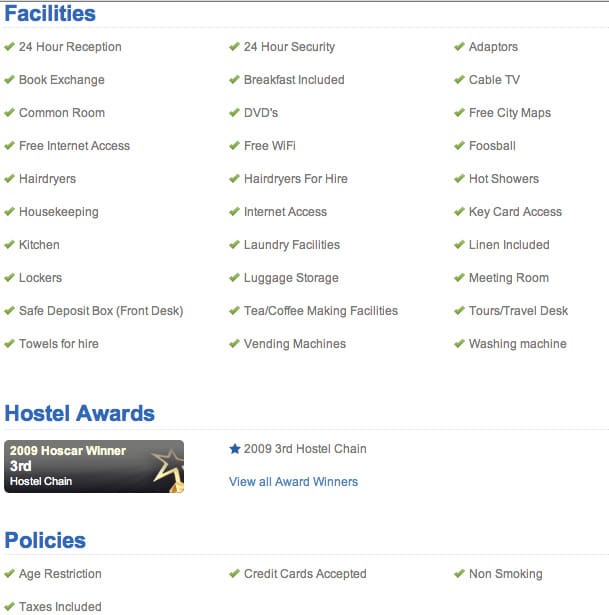 At this point, I start looking at the price. The display price can be a bit deceiving because it shows the price for the absolute cheapest option. The cheapest option might not be the best option for your travel preferences, which is why I look at the rating first before I look at the prices. For example, take a look at the image below. This is from a single hostel so you can see all the different room and price options some of these hostels have. And notice how the cheapest rate is for a bed in a 28-person dorm room. This is something you'd want to consider when booking a hostel.
How to Book Your Hostel
Booking a hostel is super easy. You select the type of room you want, and the total price is shown at the bottom of the page. You are charged a 10% deposit/down payment (this deposit is deducted from your total). You then pay the remainder of the payment directly to the hostel once you check in.  The whole process is pretty painless, and I've never had a problem in the 25+ hostels I've stayed in.

Once you book your hostel, make sure you write down the address, directions, and other important information. Most hostels provide this information, but it's a good idea to have it easily accessible.
The best way to learn about using Hostelworld is by clicking around and exploring the site. Hostelworld also now lists budget hotels and bed & breakfasts, but I've never used it to book those types of accommodation.

If you want to know more about what it's like to stay in a hostel, be sure to read my guide to hosteling in Europe.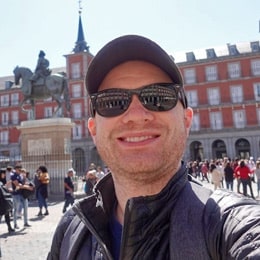 No Funny Business
The Savvy Backpacker is reader-supported. That means when you buy product/services through links on the site, I may earn an affiliate commission — it doesn't cost you anything extra and it helps support the site.
Thanks For Reading! — James
Questions? Learn more about our Strict Advertising Policy and How To Support Us.