There is a reason Paris constantly ranks as one of the most visited cities in the world — it's jam-packed with incredible food, museums, sights, entertainment, and shopping. In fact, there is so much to experience that it makes it hard to choose what to do. That's why we've gathered the best things to do in Paris.
We've divided this guide into different sections — sights, museums, parks/green spaces, experiences, etc. If you're on a short trip you won't be able to see everything (don't try), so take a look and choose what looks most interesting to you.
TIP: Planning on seeing a ton of museums? Consider the Paris Pass.
---
Sights and Monuments
One of the great things about Paris is that it has so many famous sights that you're bound to run into a few no matter where you walk. That said, here are a few of the must-see sights…
Eiffel Tower — The Eiffel Tower needs no introduction. It's magical. We prefer seeing it at night but it's beautiful any time of day.
Basilique du Sacré-Cœur and Montmartre — Built on a hill in the north of Paris is the village-esque neighborhood of Montmartre. Aimlessly walk through the neighborhood until you reach the top and you'll find the massive Sacré-Cœur Basilica. It's also the place to go for possibly the best view of the city.
Cimetière du Père Lachaise — A bit off the tourist track is the leafy and peaceful Père Lachaise Cemetery. It is easily one of the most beautiful cemeteries in the world. And it's huge (it's the final resting place of 1,000,000 people).
Cathédrale de Notre Dame de Paris — The most famous church in Paris is the iconic Notre Dame Cathedral. It's an architectural wonder and it's just as beautiful on the inside as it is on the outside. You can also climb 400+ stairs to the top for incredible views from smack-dab in the middle of the city.
Arc de Triomphe — At the end of the Champs-Elysées you'll find the Arc de Triomphe. There are also great views from the top but I prefer the views from the top of Notre Dame better.
Opéra Garnier — The Opéra Garnier is a beautiful building on the outside but the real treasure is on the inside. You can take a tour of the inside or you can buy ballet tickets.
Sainte-Chapelle — Visitors flock to the fairly small Sainte-Chapelle church to see some of the most amazing stained glass windows in the world.
---
Museums
Musée d'Orsay – Our favorite museum in Paris. This old art nouveau train station now houses an amazing collection of impressionist paintings from Renoir, Monet, van Gogh and others. If you only go to one museum it should be this one.
Centre Pompidou – Fans of excellent modern and contemporary art need to hit up the Centre Pompidou. Opened in the late 1970s, this museum is a bit odd looking from the outside but we love its aesthetics. Go to the top of the museum for panoramic views of the city.
The Louvre – So. Much. Art. Which makes sense because it's the biggest museum in the world. You won't see everything. Go early because everyone goes here. Even if you're not into art you should walk around the grounds of the Louvre.
Musée Picasso – The Picasso Museum is the largest collection of Picasso's works and it's housed inside a mansion built in the 1660's.
Musée Rodin – The Rodin Museum is an excellent place to visit on a nice day because its sculpture garden is beautiful. If you're on a budget or tired of looking at art then you can skip the onsite museum and just wander through the gardens.
Hôtel des Invalides – A large museum dedicated to France's Army history but it's most famous for Napoleon's opulent and gold-domed tomb.
Musée National du Moyen Âge – Also known as the Cluny Museum, the Musée National du Moyen Âge is France's national museum of the Middle Ages. You'll see lots of weapons, artwork, artifacts, tapestries, Roman baths ruins, and it's all housed in a grand, medieval building.
Musée du Quai Branly – Tired of all the European art? The Quai Branly Museum is dedicated to all non-European art with a strong focus on indigenous African, Oceania, and some South East Asia and American.
Musée Carnavalet – NOTE: Closed for remodeling until at least 2019. This free museum chronicles the history of Paris.
---
Parks/Green Space
Jardin du Luxembourg – The Luxembourg Garden is the quintessential Parisian garden. On a nice day Parisians of all ages and visitors flock here to soak up the sun, stroll, have a picnic, and the little kids love playing with toy sailboats in the fountain.
Jardin Des Tuileries – The perfectly manicured Tuileries Garden stretches from the Louvre to the Place de la Concorde. Leisurely stroll past the multiple fountains and sculptures as you admire the beautiful architecture and the Eiffel Tower in the distance.
Canal St. Martin – On a warm summer night you should head to the Canal St. Martin (use Chez Prune as a reference point). Hundreds of hip Parisians gather along the canal with friends and plenty of wine, beer, and snacks for an urban picnic (public drinking is no big deal so no worries there). There is also quite a bit of street art on the buildings surrounding the canal.
Parc des Buttes-Chaumont – The Buttes-Chaumont Park is a beautifully hilly green space that's off the tourist track but worth the trek if you have the time.
---
Experiences
Take A Walking Tour — The best way to see Paris is by foot. There are numerous walking tour companies in Paris and a handful are free (well, technically they work on tips).
Drinks on a Café – The Parisians love their sidewalk cafes. If you see a place that looks inviting you should grab a table, order a drink, and partake in Paris' national pastime of people watching.
Walk the Seine at Night – Paris is beautiful at night. You simply must head to the two islands in the middle of the Seine (Île Saint-Louis and Île de la Cité) and just soak in the ambiance. Walk along the bridges (pont Neuf is the most famous). Walk along the Seine. Just walk.
Food Markets – Food markets are still alive and well in Paris. If you happen to be staying near one you should stop by and pick up some fresh food. The largest in Paris is the Bastille Market and Rue Des Martyrs is a famous market street with lots of food shops. Marché d'Aligre is an excellent market with cheap prices and Marché aux Enfants Rouges is a covered market with multiple prepared food stalls.
Montparnasse Tower – The Montparnasse Tower is the only skyscraper in the city of Paris. It's ugly and everyone hates it. However, the view from the observation deck at the top is unbelievable.
Marché Aux Puces De Saint-Ouen (flea market) – The Saint-Ouen Flea Market is a huge flea market that sells just about everything — from antiques to knickknacks.
Versailles – Located about a 40-minute RER train ride outside of Paris, The Chateau of Versailles takes opulence to a whole other level. This massive estate was home to Marie Antoinette and King Louis (before they were dragged into Paris and beheaded) and now it's one of the most popular sights in the world.
Velib Bike Rental – Paris is a city best explored on foot but Paris by bike is just as magical. Take advantage of the city's cheap bike rental program.
---
Unusual Things To Do
Everyone knows about the Louvre and the Eiffel Tower — here are a few things that are a bit less-known.
Catacombs – The Catacombs are certainly unique and a bit macabre but it's a Parisian experience unlike anything else. I mean, where else can you walk through a former underground quarry that's now full of the bones of 7-millions Parisians.
Sewer Museum – Ok, walking through the Paris sewers may not be at the top of most people's list, but the sewer museum is an interesting experience if you've visited Paris a few times already.
Paris Plages — Every summer the city of Paris turns a huge swath of the road that runs along the River Seine into a manmade beach. It's certainly an interesting place to soak up the Parisian sun. 
Pari-Roller — Every Friday night Paris shuts down a bunch of streets to cars so people can skate through the streets. You'll have to find rental skates (unless you travel with skates… and then you'd be a maniac). Pari-Roller Website.   
---
Must-See Neighborhoods

Paris has a lot of great neighborhoods. Here is a list of our favorite places to explore and stay/sleep while you're in Paris. Be sure to explore each of these areas as night as they've all lively areas with plenty of restaurants, cafes, and bars.
Tip: renting an apartment is an excellent way to experience a neighborhood. Click here to get $35 off your first Airbnb rental. 
Le Marias – The Marais is trendy, youthful, and full of life. You'll find bars, restaurants, cafes, and shopping everywhere you go. It has a bit of everything — from budget to upscale.
Saint-Germain-des-Prés — St. Germain is classic Paris. It's certainly more upscale than the Latin Quarter so good luck finding many bargains here.
Saint-Germain is famous for its cafes that were frequented by literary icons like Hemingway. It's undoubtedly a beautiful part of Paris and its location is unbeatable.
Latin Quarter — In the Middle Ages the Latin Quarter was home to the universities in Paris. They all spoke Latin — hence why it's called the Latin Quarter. The area continues to be a hotbed of students thanks to the numerous colleges and universities in the area. Because of this, there are plenty of dive bars, restaurants, cafes, international food, bookshops, and other establishments for a budget-minded crowd.
Montmartre — Montmartre, situated on a large hill in northern Paris is incredibly charming and the views from the top are probably the best in Paris.
This area was once its own village until Paris grew so big that it was absorbed into the city in 1860. Montmartre was the place to be if you were an artist. Picasso, Dali, Monet, van Gogh, Renoir and dozens of other artists and writers made this hill their home thanks to the cheap rents and inclusive atmosphere.
The very top of the hill, mainly around the Basilica of the Sacré-Cœur, has become touristy and the restaurants reflect that, but you can still find authentic spots to eat with a little effort.
Want To Know More About Paris' Neighborhoods? Read our Where To Stay in Paris Neighborhood Guide. 
---
Things to Eat
Obviously, French food is known for being delicious and there are a thousand of restaurants in Paris to get a French meal… but we're not going to get into that. Let's talk about all the goodies that you can nibble on throughout your visit.
Croissants and Pain au Chocolat — Start your morning off with a croissant or a pain au chocolat (chocolate filled pastry). These things are like 80% butter so be careful.
Pastries — You'll find pastry shop windows tempting you everywhere you go.
Traditional Baguette — Everyone knows about baguettes. But order a Baguette tradition —which is a baguette made by hand at the bakery and they only use flour, leavening, water, and salt. If you ask for a "baguette" you'll get a crappy piece of bread made in a factory. Buy from a bakery — not a grocery store.
Cheese — Stop into an actual cheese shop and pick up a few types.
Macarons — France is famous for its macarons. Pierre Hermé and Ladurée are the most famous makers of macarons but there are a few other places that specialize in these amazing creations.
Crepes — You'll find stands selling both sweet and savory crepes throughout the city. A simple ham and cheese crepe is a cheap and tasty meal. Banana and Nutella crepes make a great dessert.
---
Best City Views
Paris looks amazing from every angle but it's especially beautiful from above. Here are a few of our favorite places to gaze down upon the city.
Basilique du Sacré-Cœur — The steps in front of the Sacré-Coeur offer amazing views from the north of Paris. You can climb to the top of the Sacré-Coeur's dome for even better views.
Tour Montparnasse — While a bit "touristy", the views from the top of the Tour Montparnasse (the only skyscraper in the city) are amazing. I'd say this is my favorite view of Paris. The tour is often overlooked by visitors so there is rarely any line.
Galeries Lafayette — This department store in the middle of the city has a top floor that offers great city views and it's all free.
Centre Pompidou — If you visit the Centre Pompidou then you have to take the escalator to the top floor for stunning views.
Notre Dame — Fancy some exercise? Climb a few hundred stairs to the top of Notre Dame. The views here are amazing because Notre Dame is at the very center of the city so excellent 360-degree views but you're not so high up that you lose details.
Institut du Monde Arabe (Arab World Institute) — One excellent view that not many people know about comes from the top of the Arab World Institute. This is my favorite view of the Seine and Notre Dame. The viewing platform is free to anyone. There is also a cafe up there that serves excellent tea.
---
Shopping In Paris

We don't tend to do a ton of shopping while we travel — mostly because we can't afford to buy that much and we pack light so we don't physically have a lot of room for stuff. That said, Paris is one of the best shopping cities in the world and you'll find international and French retailers all over the city.
Galleries Lafayette and Printemps — These two huge department stores (which are literally across the street from each other) are fairly upscale but they have a bit of everything. If nothing else, the inside of Galleries Lafayette is beautiful.
Citadium — Behind Galleries Lafayette and Printemps you'll find Citadium — which is a department which carries mainly streetwear, urban fashion, and all the things the cool kids are wearing.
Marias Neighborhood — The Marais is filled with boutique shops and a handful of international chain stores.
---
So Much More!
This is obviously just a taste of all there is to do in Paris but this list will keep you busy for at least a week.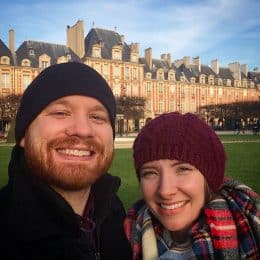 No Funny Business
The Savvy Backpacker is reader-supported. That means when you buy through links on our site, we may earn an affiliate commission — it doesn't cost you anything extra and it helps support the site.
Thanks For Reading! — Susan and James
Questions? Learn more about our Strict Advertising Policy and How To Support Us.