We lived in Paris for nearly two years so we know first-hand that there are so many things to do in Paris. In fact, Paris is jam-packed with so many museums, sights, entertainment, shopping, cool neighborhoods, and restaurants that it's hard to narrow it all down. But fear not because we're here to help show you what to do in Paris!
Note: Consider buying the Paris Pass. if you plan on seeing a lot of sights as you might be able to save some money and skip some of the lines. Read our Paris Pass Review to learn more.
Musée d'Orsay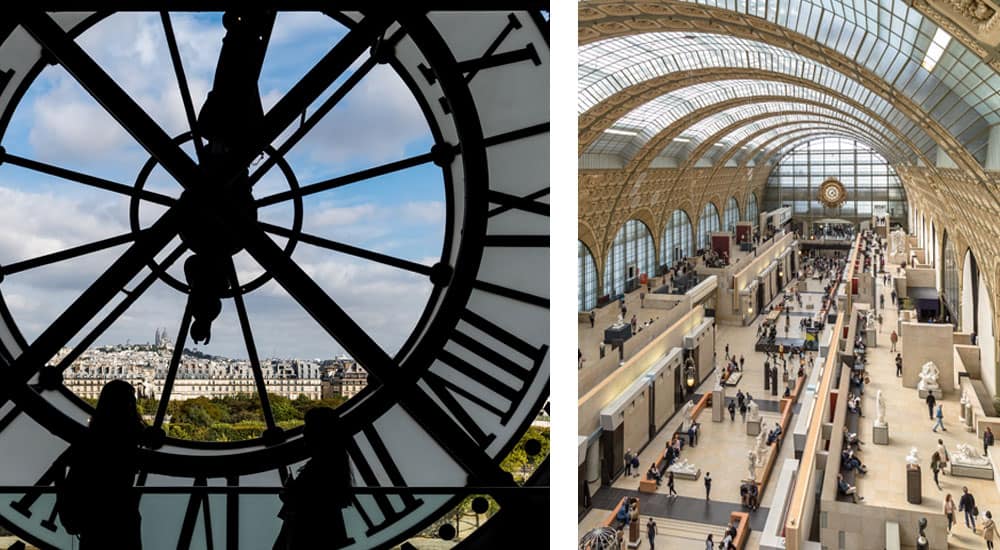 If you only visit one museum in Paris we recommend you make it the Musee d'Orsay. It might not be as grand or famous as the Louvre, but it has an excellent (and manageable) collection of art with a heavy emphasis on impressionist paintings from Renoir, Monet, van Gogh, and other masters.
Furthermore, the Musee d'Orsay is housed in an old art nouveau train station so it makes a beautiful space to view art.
The d'Orsay is one of the most popular things to do in Paris so it does get busy. We recommend getting there early or you can visit later in the day on Thursdays because they have extended hours (9:45 pm).
The Louvre Museum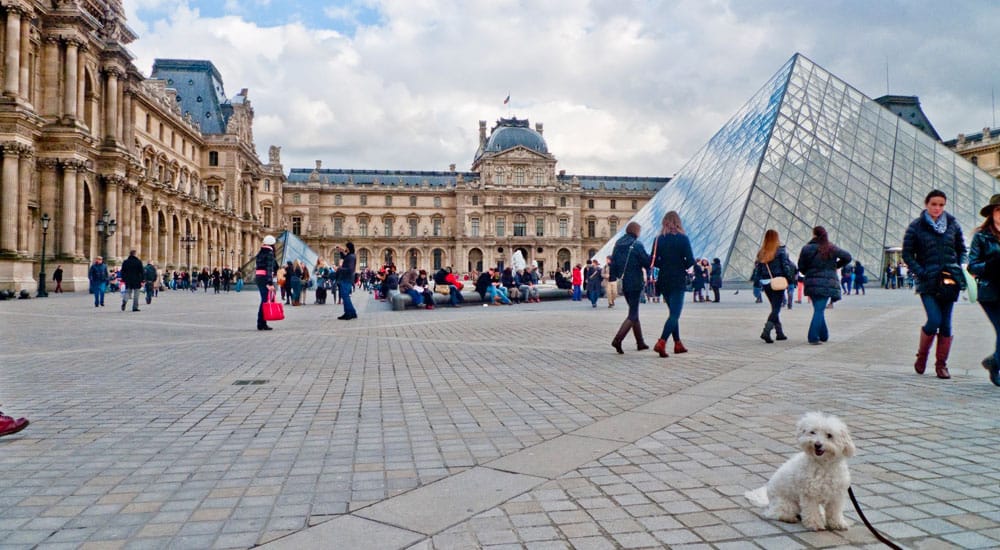 The Musee du Louvre is one of the biggest and most famous museums in the world. This place is insane so don't even try "seeing it all" because your brain will melt from museum overload. The collection covers art and artifacts that span thousands of years including Egyptian antiquities, Greek and Roman sculptures, Islamic art, and paintings from the 13th century to 1848.
Because of its popularity, the Louvre draws huge crowds so it is highly recommended that you arrive early or use a Museum Pass or pre-book your tickets so you can skip the ticket line. You can also visit Wednesday or Friday night because they have extended hours (9:45 pm).
Also, if nothing else, we recommend at least walking around the Louvre because the outside of the Louvre is beautiful and the grounds are impressive.
Drinks At A Sidewalk Café

One of the true joys of visiting Paris is living like a Parisian by nabbing a seat at a sidewalk cafe, ordering a drink, and watching the world go by. By the way, people-watching is a national pastime so be sure to join in for yourself.
Picnic and Cheap Drinks In Nature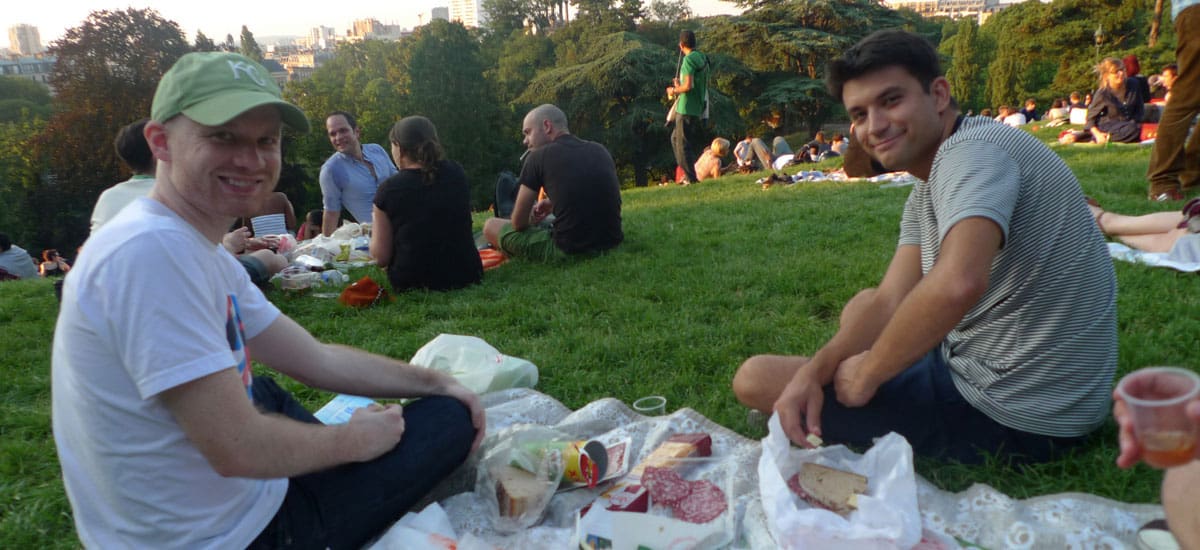 One of our favorite things to do is enjoy a nice picnic outside. Plus, it's a great way to save some money. For the best quality food, we suggest visiting a farmers market or fresh produce stand but a grocery store will also do the trick.
As long as you're not making a scene, it's perfectly legal to drink in parks, along the banks of the Seine River, and along the Canal St. Martin. So pop into a grocery store for a bottle of cheap wine and a few beers and then enjoy the freedom of drinking in public.
Tuileries Garden (Jardin Des Tuileries)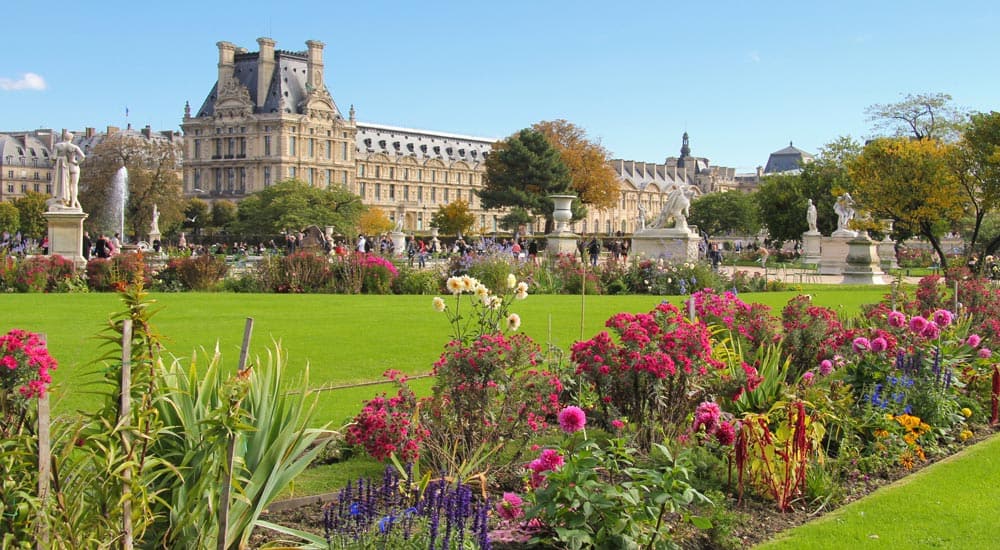 While you're at the Louvre, make sure to spend time strolling the perfectly manicured Tuileries Garden which stretches from the Louvre to the Place de la Concorde. The gardens feature multiple fountains, sculptures, flowers, trees, and you can also catch a nice glimpse of the Eiffel Tower in the distance.
Centre Pompidou Modern Art Museum


We love the Centre Pompidou for three reasons — it has an excellent collection of modern art, it has amazing city views from the top floor, and the outside of the building is totally weird (but we love it).
The Pompidou has an impressive permanent collection of works from big hitters from the modern art from everyone from Dalí to Warhol so it's a nice place to spend a few hours.
Be sure to head take the escalator to the top of the museum to soak in some of the best views of central Paris.
And once you're done, spend a little time admiring the bizarre exterior of the building. There are a handful of crepe vendors, street performers, and fun fountains to check out as well.
Eiffel Tower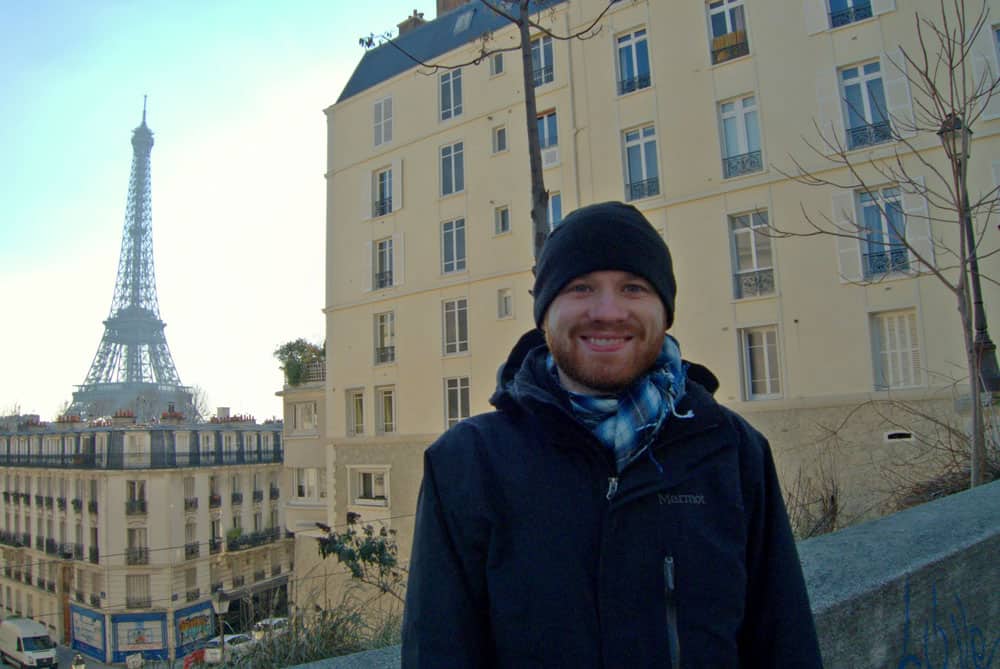 The Eiffel Tower is the iconic monument everyone needs to see at least once. Actually, you should see it twice — during the day and then again at night when it's beautifully illuminated.
The lines to go up the Eiffel Tower can get crazy long so it is smart to book your tickets online before you arrive to save yourself a lot of time.
Notre Dame Cathedral (Under Repair)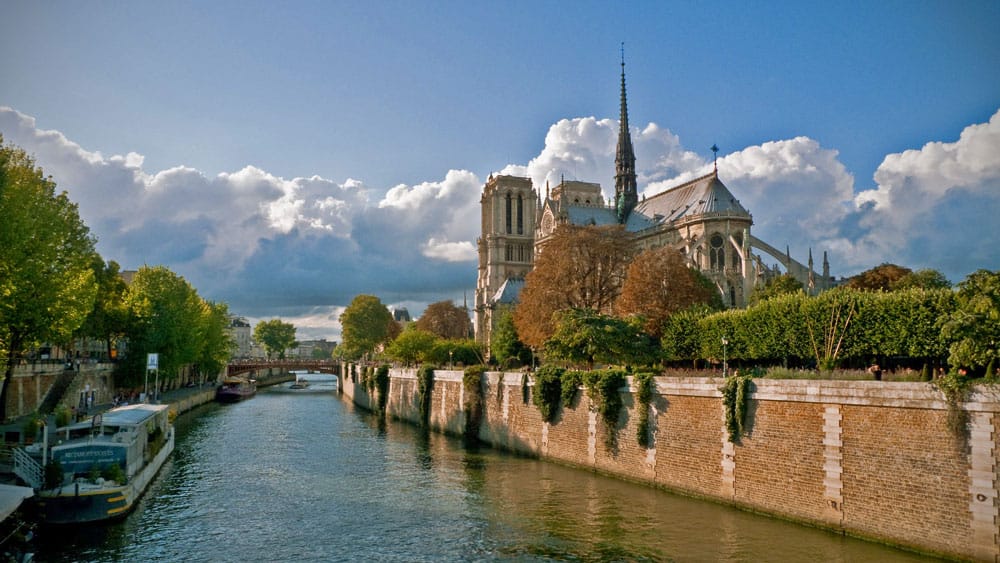 Unfortunately, the iconic Notre Dame Cathedral suffered a devastating fire so it will be closed for the foreseeable future. That said, we still recommend visiting the cathedral as much of the structure is still visible and the area around Notre Dame is beautiful.
Sacré-Cœur Basilica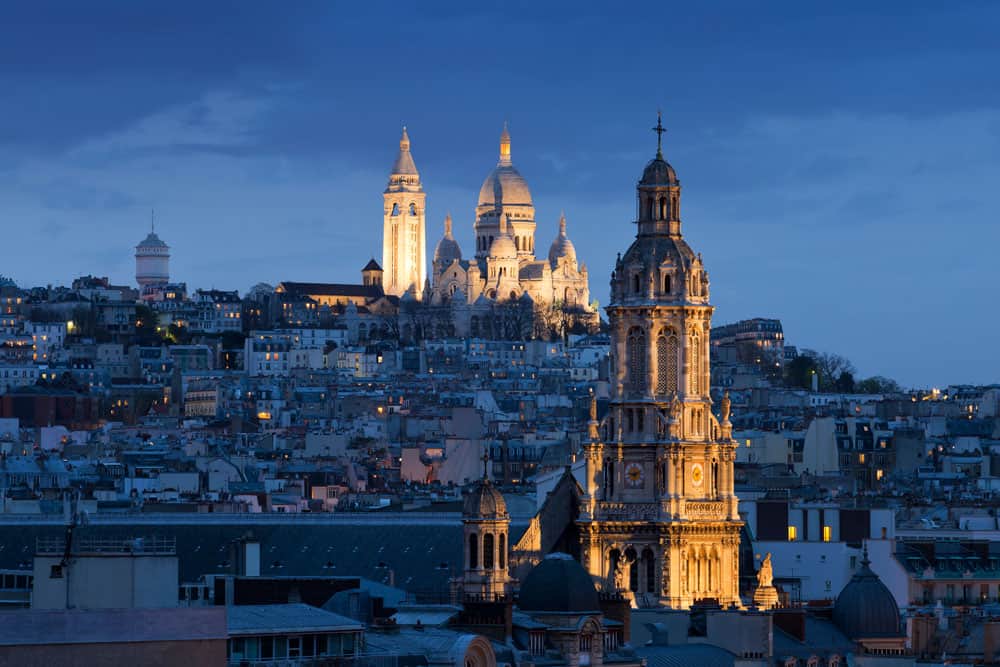 No visit to Paris is complete without exploring the beautiful and romantic village-like neighborhood of Montmartre. We recommend walking aimlessly through the neighborhood and soaking in the atmosphere until you reach the top — where you'll find the massive Sacré-Cœur Basilica. You can climb the top of the Sacré-Cœur for amazing city views or just enjoy the still-excellent views from the front steps of this impressive church.
Montmartre's restaurants have a reputation for being low-quality and overpriced so a little research if you plan on eating there.
Get Lost in the Streets of Paris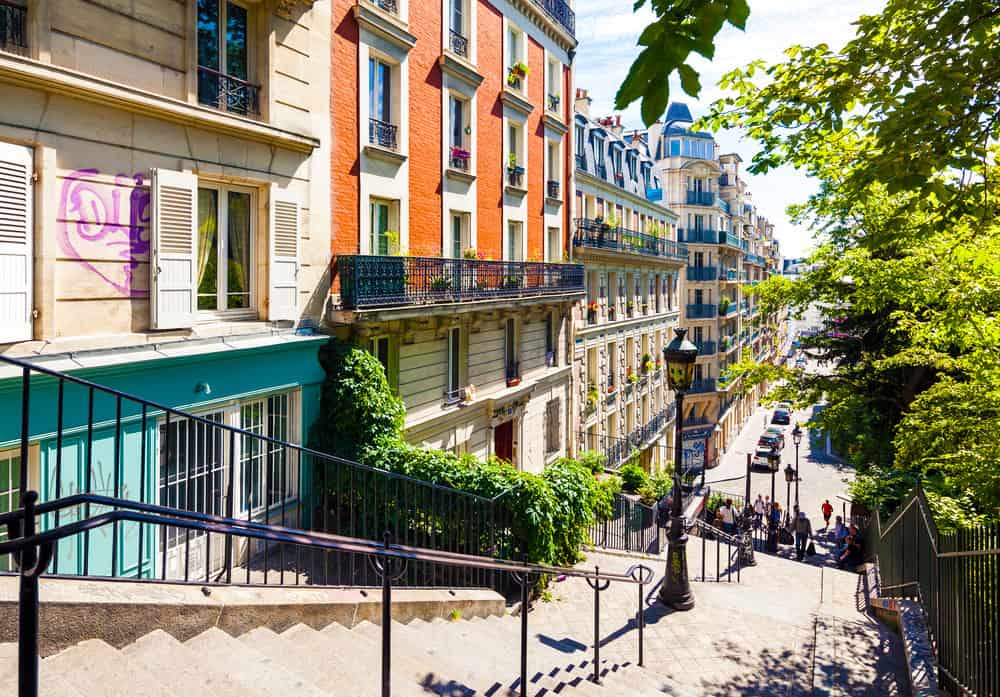 If you're not in a rush, we suggest taking it extra slow by simply wandering the streets of Paris. Soak in the atmosphere. Turn down random streets to see where it takes you. Pop into shops. Check out a grocery store. Have a drink somewhere random.
Champs-Elysées & The Arc de Triomphe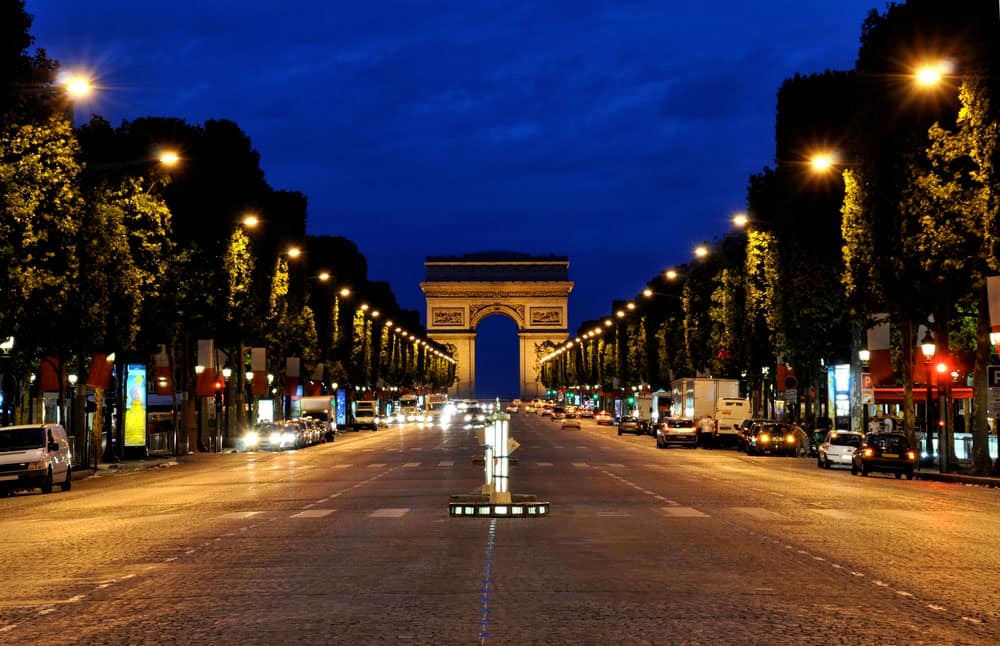 The Champs-Elysées is often called "the world's most beautiful avenue" so carve out some time to stroll along this leafy (and touristy) boulevard. All the restaurants along the Champs-Elysées are overpriced so we don't recommend eating or drinking there if you're on a budget.
At the end of the Champs-Elysées, you'll find the massive Arc de Triomphe. You can pay the visit the top of the Arc if you want some solid city views.
Walk Along The Seine River And Explore The Île Saint-Louis and Île de la Cité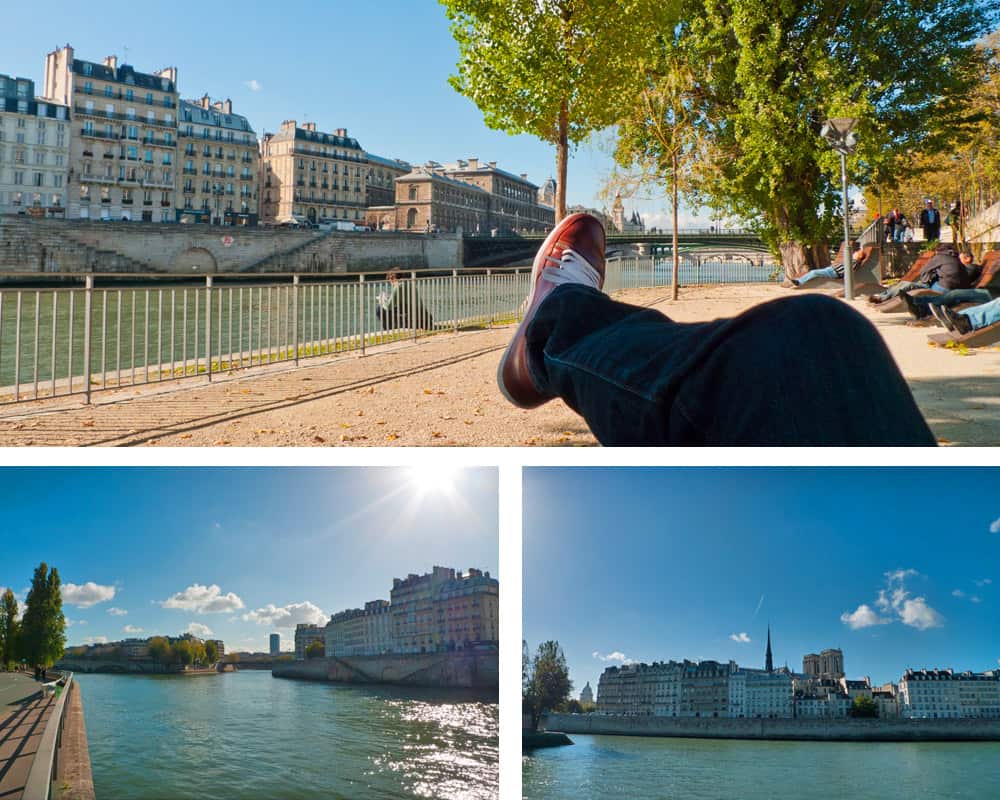 Many of Paris' most beautiful sights are found along the Seine — which makes walking along the Seine a feast for the eyes. But it gets even better at night when all the buildings, monuments, and bridges are lit up.
We suggest heading to the two islands in the middle of the Seine (Île Saint-Louis and Île de la Cité) to soak in the ambiance. Walk along the bridges (Pont Neuf and Pont Alexandre III are the most famous but there are many beautiful bridges to check out). Then walk towards the west and or wherever your heart takes you.
Wander Père Lachaise Cemetery (Cimetière du Père Lachaise)

For a nice change of pace away from the tourist path, head to the leafy and peaceful Père Lachaise Cemetery. It is easily one of the most beautiful cemeteries in the world and one of our favorite things to do in Paris. This huge cemetery is the final resting place of 1,000,000 people — including Oscar Wilde, Jim Morrison, Chopin, Édith Piaf, Proust, Gertrude Stein, and many of France's most famous citizens. You can easily spend an hour or two slowly exploring Père Lachaise.
Canal St. Martin With The Locals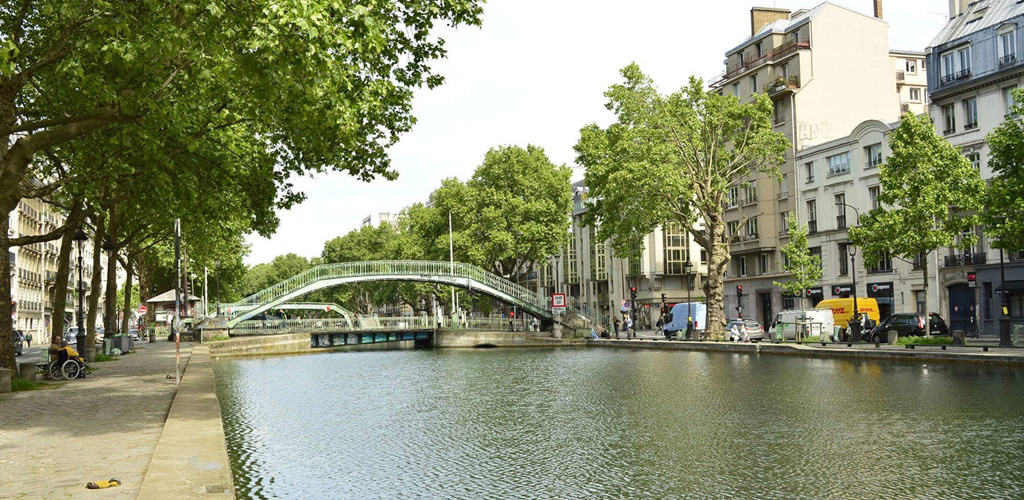 While we're off the tourist path, let's head to the uber-hip and trendy Canal St. Martin. This peaceful canal truly comes alive on summer nights when hundreds of locals flock to its banks to drink and hang out with friends. They bring bottles of wine, cans of beer, and snacks and chill until well past midnight. Don't worry, you're allowed to drink in public so do like the locals do!
The canal is also lined by plenty of cool bars and restaurants if that's more your style.
The canal is fairly long so we recommend using the restaurant Chez Prune (See On Google Maps) as a reference point of where to hang out — don't worry, you'll see plenty of people chilling along the canal so just pick an open spot.
Luxembourg Garden (Jardin du Luxembourg)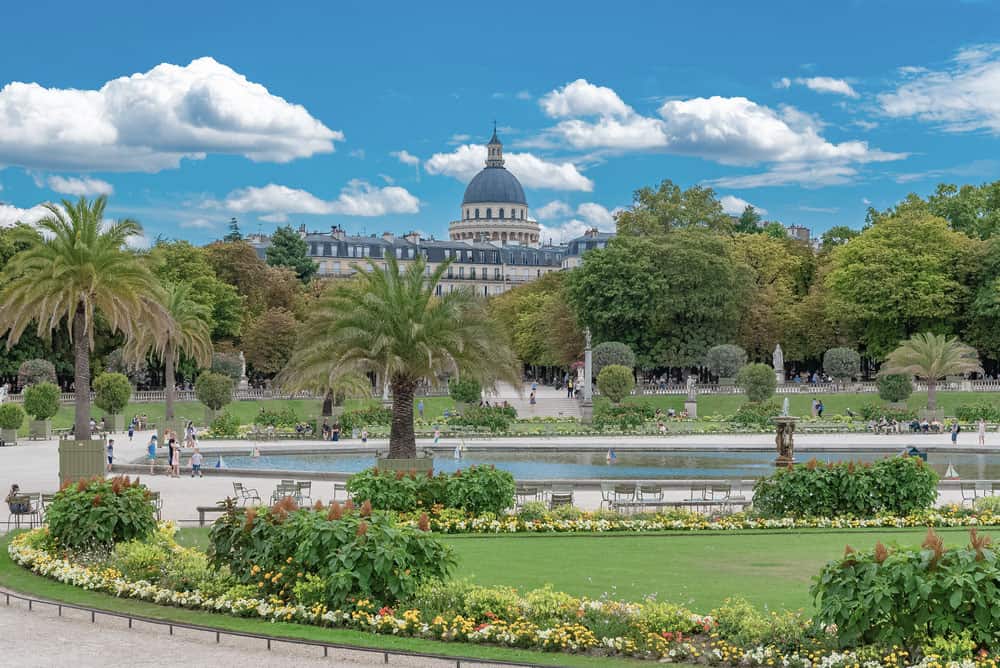 The Luxembourg Garden is the quintessential Parisian garden and its an excellent place to escape the craziness of the city. On a nice day, locals and visitors flock here to soak up the sun, stroll, have a picnic, admire the beautiful flowers, and watch the little kids playing with toy sailboats in the central fountain.
Buttes-Chaumont Park (Parc des Buttes-Chaumont)

Buttes-Chaumont Park is another hidden treasure that not many tourists know about. Created in the English style, this romantic park features rolling hills, beautiful trees, an impressive grotto, an iron bridge, and a high cliff with a waterfall. It makes an excellent picnic spot on a nice day.
Park Monceau (Parc Monceau)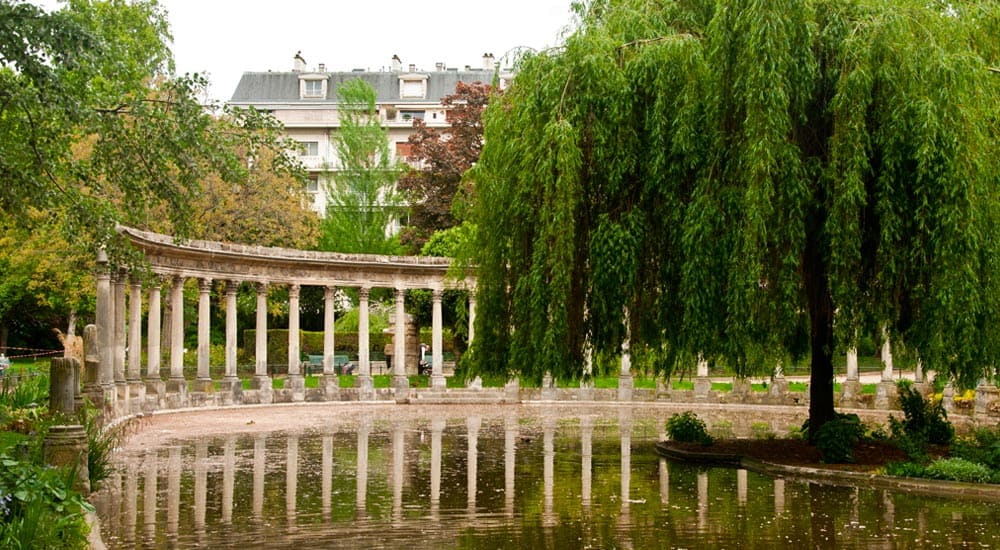 While it doesn't get as much love as Paris' other famous parks, Parc Monceau is still a beautiful small park in central Paris. Venture over and admire plenty of leafy trees, a rolling lawn, winding walking paths, a small pond, statues, and interesting architectural elements. It's a great place for a picnic or summer nap.
It's only about a 15-minute walk from the arch de triumph so it makes a nice place to enjoy a picnic or summer nap.
Rodin Museum & Sculpture Gardens (Musée Rodin)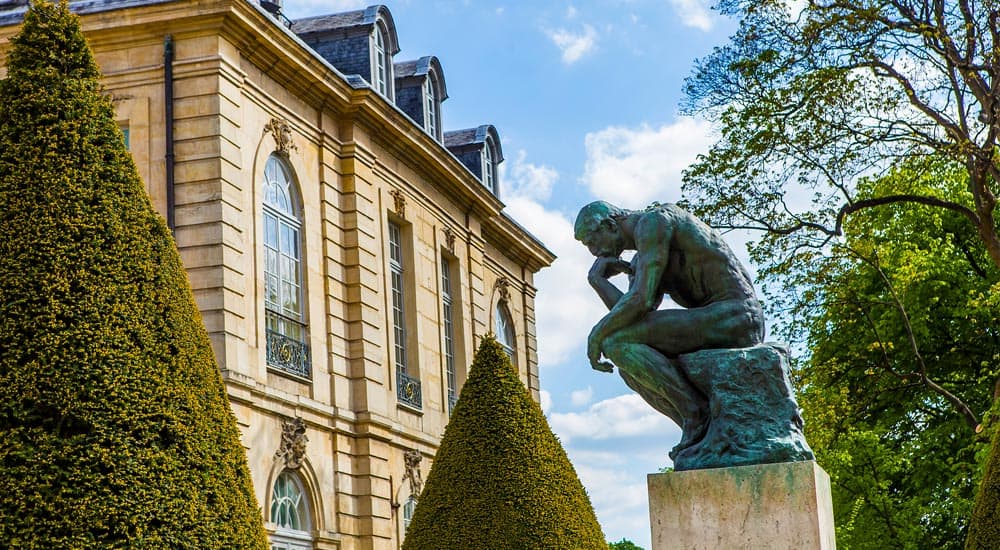 Fans of Rodin will enjoy seeing a collection of Rodin's sculptures housed in his former mansion home but most people visit the Rodin Museum for the beautiful sculpture garden. This manicured garden showcases many of his famous works like The Thinker and The Gates of Hell.
Picasso Museum (Musée Picasso)

After years of renovations to this 1660s mansion, the Picasso Museum is finally open. The museum is now the largest collection of Picasso artwork and it chronologically spans Picasso's life and works — it's truly interesting to see how his style evolved throughout his impressive career.
Be Amazed By The Palace of Versailles
Located about a 60-90 minute RER train ride (round-trip ticket costs about 7€) outside of Paris, The Palace of Versailles takes opulence to a whole other level. This massive estate was home to Marie Antoinette and King Louis (before they were dragged into Paris and beheaded) and now it's one of the most popular sights in the world.
We recommend budgeting the better part of a day for this popular Paris day trip. We also recommend buying a ticket with a timed entry because the lines here can get insanely long.
Tips for visiting: Go to any metro station and buy a ticket for Versailles-Château – Rive Gauche. There are three stops for Versailles but only Versailles-Château – Rive Gauche will get you to the chateau so pay attention to the signs (or ask someone). As mentioned before, you'll take an RER train (which is different than the Metro).
Take A Walking or Bike Tour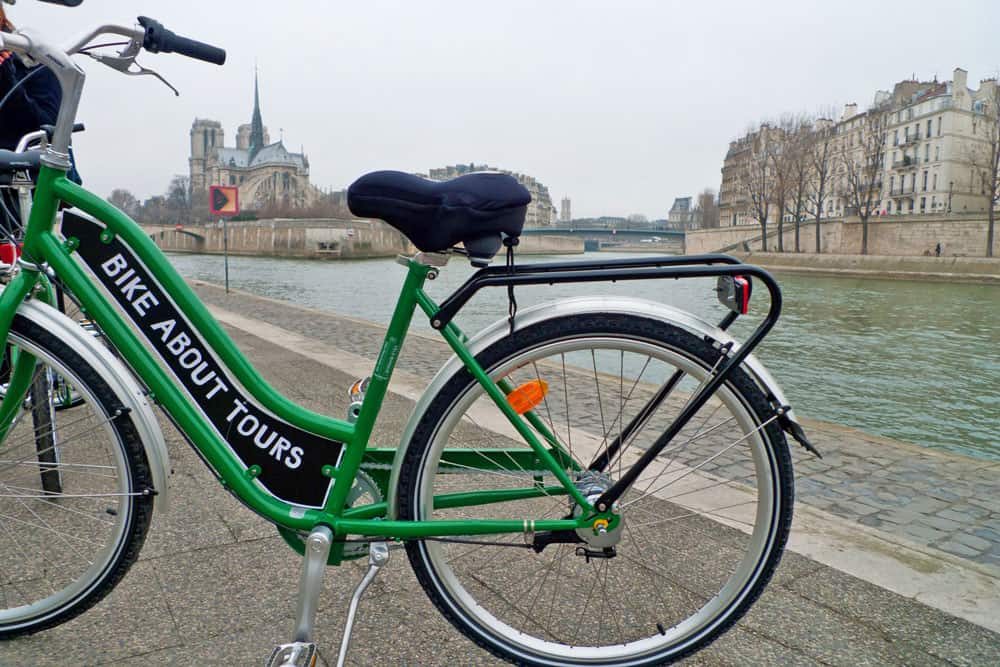 We love taking tours whenever we visit somewhere new and Paris has plenty of free tour options for all you budget travelers. More specialized tours will cost anywhere from about €20-€50+. We've also done a bike tour and thought that was a great way to see a lot of the city in a short amount of time.
FREE PARIS WALKING TOURS
The Opulent Opéra Garnier

The Opéra Garnier, which is Paris' main opera house, is a beautiful building on the outside but the real treasure is on the inside. We promise that the inside has some of the most opulent decorations you'll ever see. We highly recommend booking a guided tour so you can check it out — it was one of our favorite things we've done in Paris and we recommend it to everyone who visits.
Sainte-Chapelle Chapel

Sainte-Chapelle is a relatively small church but inside you'll find some of the most impressive stained glass windows in the world. The chapel, which dates back to 1248, is a very popular attraction so the lines can get long and the inside is crowded. So you might want to get there early so you don't have to deal with a bunch of visitors.
Musee de l'Orangerie


The Musee de l'Orangerie specializes in impressionist and post-impressionist paintings but it is most famous for its impressive display of Monet's Waterlilies Murals.
Seine River Cruise & Hop-On-Hop-Off Bus Tour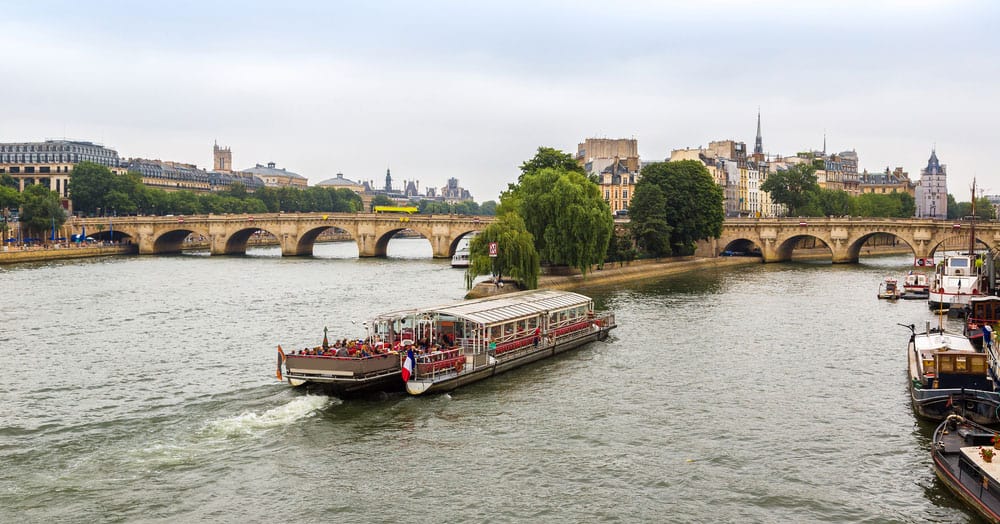 One of the best ways to see Paris is from the Seine River so an hour-long river cruise through Paris is actually a very enjoyable experience. There are a handful of different companies that offer cruises — from basic to fancy dinner cruises. We suggest taking a night cruise since the city is beautifully illuminated.
And yes, hop-on-hop-off bus tours a super touristy but Paris is such a beautiful city that they're kind of fun — and they're a good way to see a large amount of the city in a short about of time.
Catacombs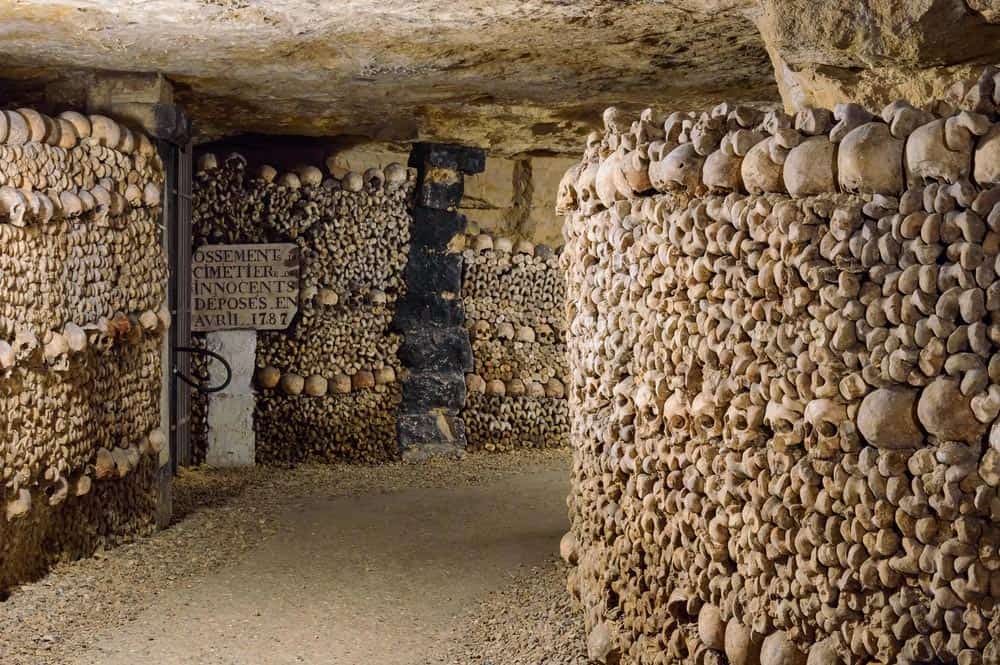 What happens when a city grows and its cemetery space becomes too valuable? Well, Paris dug up the bones of 7-millions Parisians and arranged them inside the city's many miles of underground quarry tunnels. And now you can walk around and see them all. Yeah, it's a bit bizarre and kinda creepy but it's a very popular attraction.
Note: They limit the number of people who can visit so the lines can get very long — it's highly suggested that you arrive early.
France Military Museum & Napoleon's Tomb (Les Invalides)

The Les Invalides chronicles France's long and impressive military history from ancient time to modern days. Les Invalides is also the final resting place of France's most iconic military leader — Napoleon. So you can also tour his opulent gold-domed tom
Visit The Residential Neighborhoods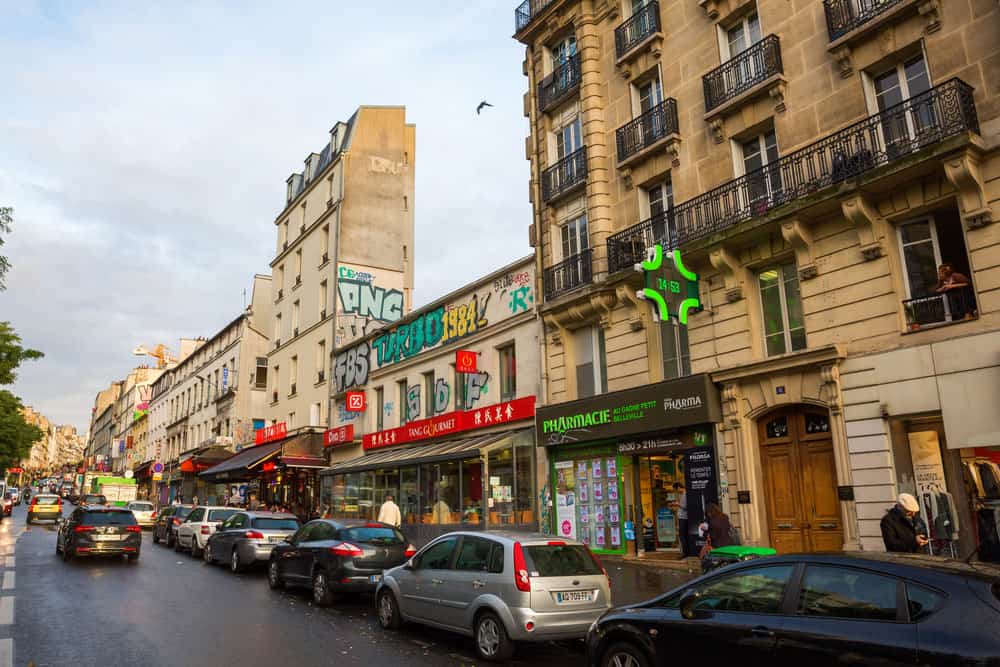 Most visitors stick to the areas of Paris around the river and near the major monuments/attractions. But exploring the less "touristy" neighborhoods is a great way to discover a different side of this amazing city.
Our favorite neighborhoods include the 11th (the Bastille and Canal St. Martin), the part of the 18th directly north of Montmartre, and Belleville. But even the "touristy" neighborhoods have plenty of quiet parts if you venture away from the famous attractions in the area.
Explore Paris Via Velib Bike Rental

Paris is a city best explored on foot but Paris by bike is just as magical thanks to its ever-expanding dedicated bike paths. Take advantage of the city's cheap bike-sharing program called Velib.
Musée du Quai Branly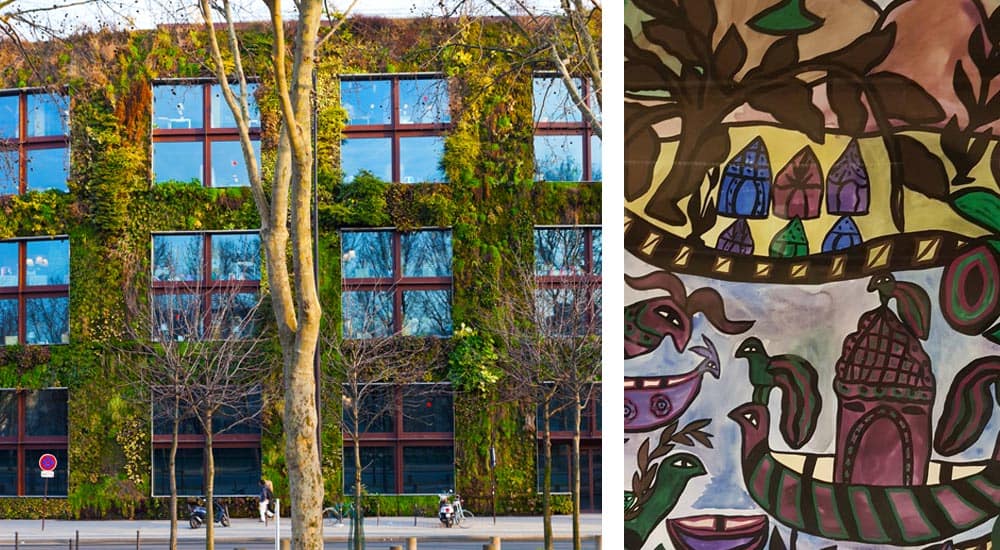 Tired of all the European art? The Quai Branly Museum is dedicated to all non-European art with a strong focus on indigenous African, Oceania, and some South East Asia and American. As an added bonus, its rooftop terrace has amazing panoramic views of the Eiffel Tower and the rest of the city.
National Museum of the Middle Ages (Musée National du Moyen Âge)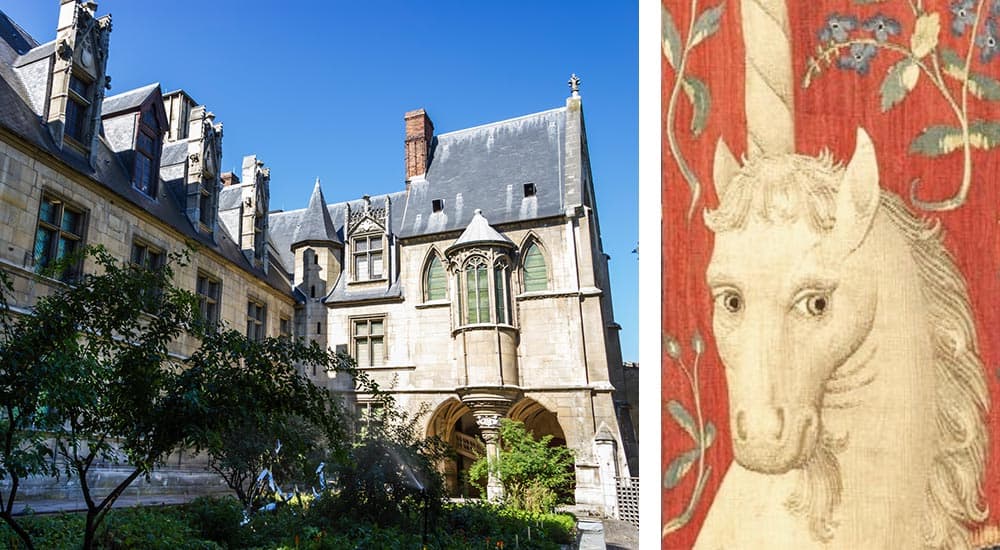 Also known as the Cluny Museum, the Musée National du Moyen Âge is France's national museum of the Middle Ages. You'll see lots of weapons, artwork, artifacts, tapestries, Roman baths ruins, and it's all housed in a grand, medieval building.
The Best Neighborhoods in Paris


Paris has a lot of great neighborhoods. Here is a list of our favorite places to explore and stay/sleep while you're in Paris. Be sure to explore each of these areas as night as well since they're full of restaurants, cafes, and bars.
Tip: renting an apartment is an excellent way to experience a neighborhood. Click here to get $35 off your first Airbnb rental.
Explore The Best Neighborhoods (Arrondissements) In Paris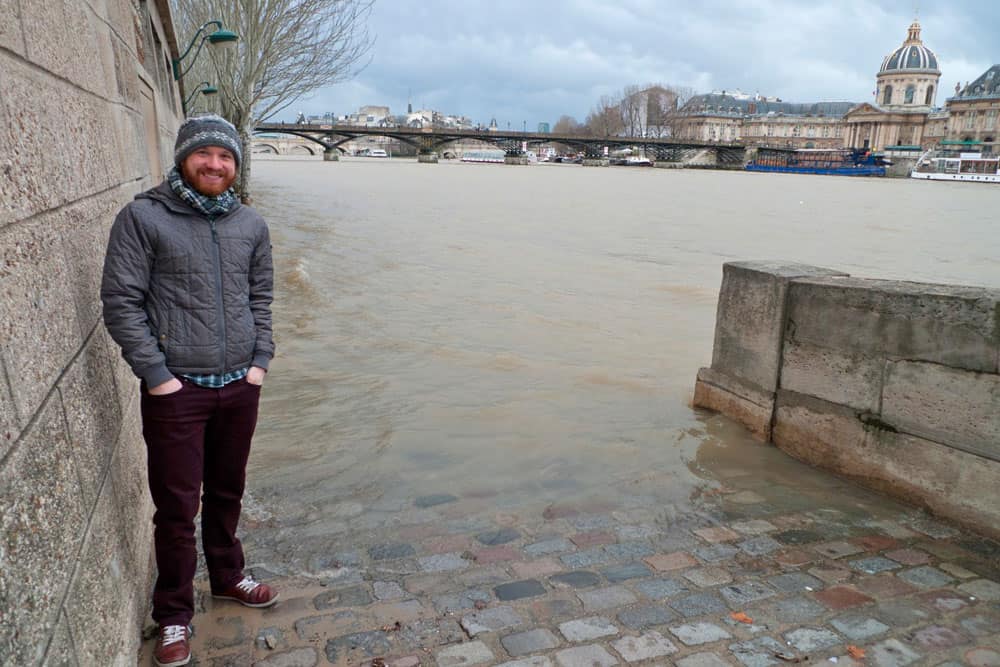 Paris is a beautiful city so you should take time to simply explore its neighborhoods and arrondissements on foot. Here's a list of our favorites:
Want To Know More About All Of The Neighborhoods in Paris? Read our Where To Stay in Paris Neighborhood Guide.
Le Marais Neighborhood

The Marais is trendy, youthful, and full of life. You'll find bars, restaurants, cafes, and shopping everywhere you go. It has a bit of everything — from budget to upscale.
This is our favorite neighborhood in Paris and it's where we try to stay when we visit the city.
Neighborhood Highlights
Musée Picasso
Musée national des Arts et Métiers
Notre-Dame de Paris
Hôtel de Ville (City Hall)
Centre Georges Pompidou
Maison de Victor Hugo
See Neighborhood On Google Maps
Saint-Germain-des-Prés Neighborhood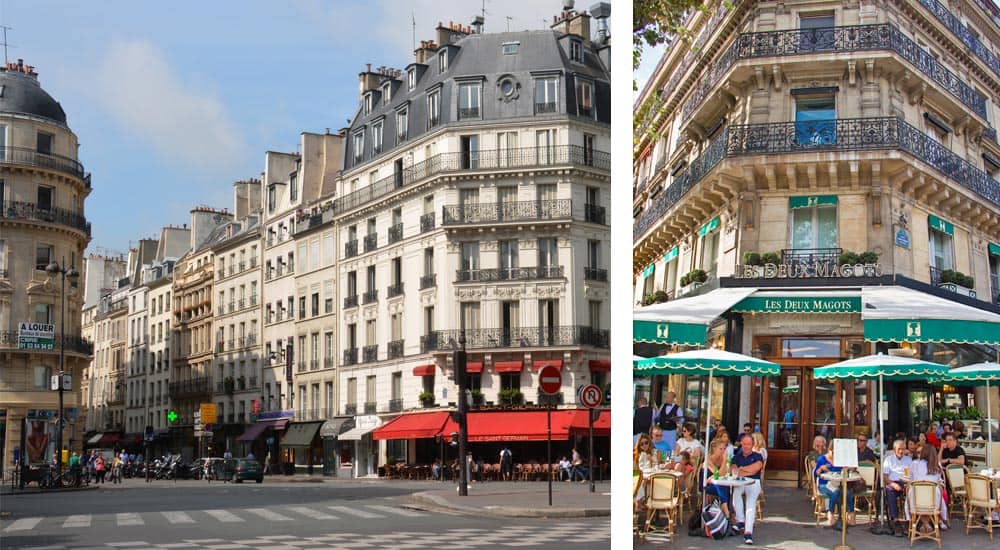 St. Germain is classic Paris. It's certainly more upscale than the Latin Quarter so good luck finding many bargains here.
Saint-Germain is famous for its cafes that were frequented by literary icons like Hemingway. It's undoubtedly a beautiful part of Paris and its location is unbeatable.
Neighborhood Highlights
Eglise Saint-Germain-des-Prés
Palais du Luxembourg
Latin Quarter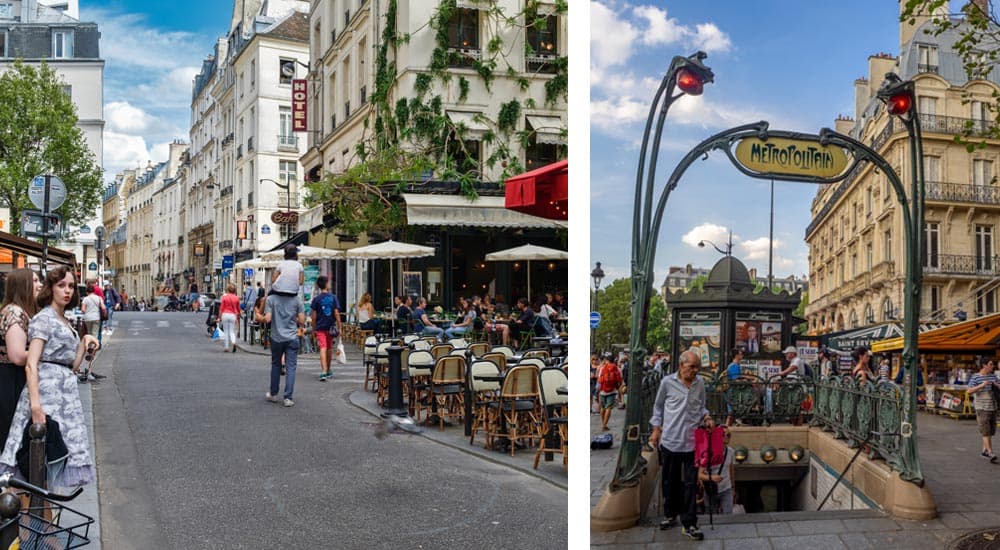 In the Middle Ages the Latin Quarter was home to the universities in Paris. They all spoke Latin — hence why it's called the Latin Quarter. The area continues to be a hotbed of students thanks to the numerous colleges and universities in the area. Because of this, there are plenty of dive bars, restaurants, cafes, international food, bookshops, and other establishments for a budget-minded crowd.
Neighborhood Highlights
Panthéon
Jardin des Plantes
Arenes de Lutece
Musée du Moyen Age
Musée de l'Institut du Monde Arabe
Montmartre Neighborhood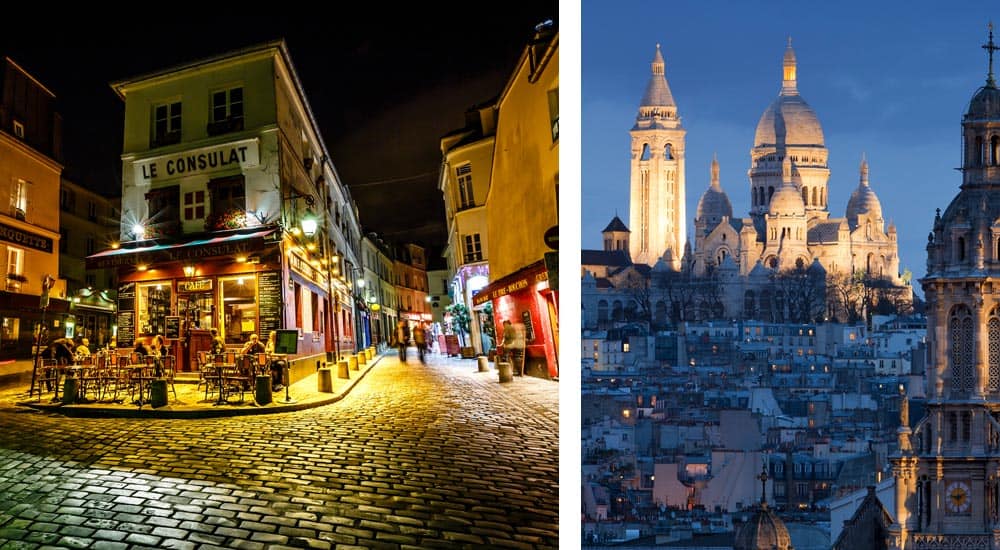 Montmartre, situated on a large hill in northern Paris is incredibly charming and the views from the top are probably the best in Paris.
This area was once its own village until Paris grew so big that it was absorbed into the city in 1860. Montmartre was the place to be if you were an artist. Picasso, Dali, Monet, van Gogh, Renoir and dozens of other artists and writers made this hill their home thanks to the cheap rents and inclusive atmosphere.
The very top of the hill, mainly around the Basilica of the Sacré-Cœur, has become touristy and the restaurants reflect that, but you can still find authentic spots to eat with a little effort.
Neighborhood Highlights
Shop Thre Best Farmers Markets and Market Streets in Paris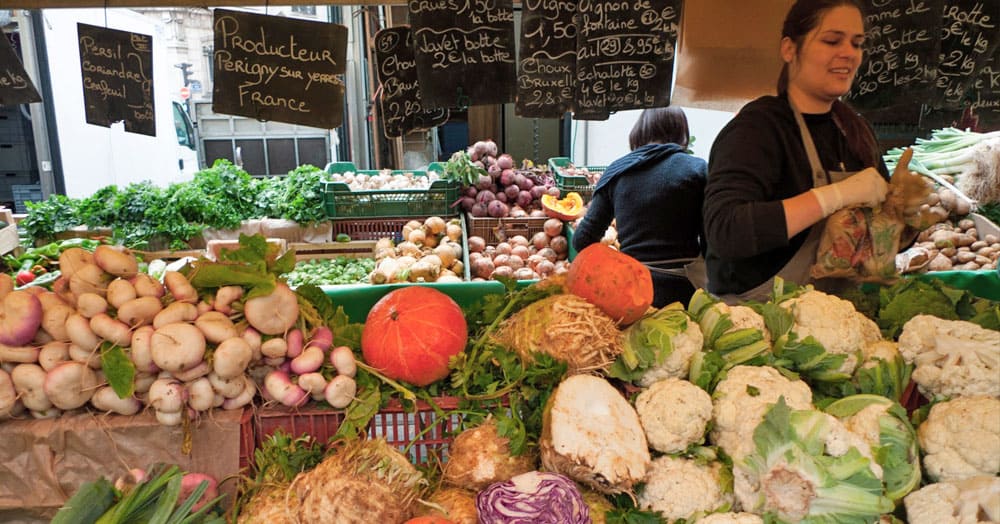 Farmers markets, food market streets, and fresh produce stores are still alive and well in Paris so getting your hands on some high-quality produce is easy. If you happen to be staying near one you should stop by to pick up some fresh goodies.
Below are a few of the best farmers markets and market streets in Paris:
MARCHÉ BASTILLE
The Bastille Market is the biggest and best open-air market in Paris. Here you'll find more than 100 stalls with vendors selling fresh produce, meats, cheese, bread, desserts, and prepared food.
Boulevard Richard Lenoir, 75011 (See On Google Maps)
Thursday, 7am-2.30pm // Sunday, 7am-3pm.
RUE CLER MARKET STREET
The most famous market street in Paris is easily Rue Cler so it's a must-visit for any foodie. Basically, every shop on this street specializes in one product so it's a great place to pick up high-quality cheese, meats, wine, produce, etc.
MARCHÉ D'ALIGRE & MARCHÉ BEAUVAU
The Marché d'Aligre and Marché Beauvau have been feeding the locals in this working-class neighborhood since 1866. Both markets are located at the same spot but the Marché d'Aligre is open-air and Marché Beauvau is covered. The prices are low and the quality is high since these markets cater to primarily to locals.
Place d'Aligre, 75012 (See On Google Maps)
Marché d'Aligre: Tuesday-Saturday 8am-5pm // Sunday 8am-1pm
Marché Beauvau: Tuesday-Friday 9am-1pm & 4-7:30pm // Saturday 9am-1pm & 3:30-7:30pm // Sunday 8:30am-1:30pm
MARCHÉ AUX ENFANTS ROUGES
The honor of the oldest market in Paris goes to the Marché des Enfants Rouges — which has been around for more than 400 years. This small market primarily specializes in prepared food and ready-to-eat meals but also have fruit, vegetables, cheese, bread, and flowers. This market is located in the Marais and it is hidden away behind nondescript metal doors so you might miss it at first glance.
39 rue de Bretagne, 75003 (See On Google Maps)
Tuesday-Friday, 8.30am-1pm & 4-7.30pm //Saturday, 4-8pm // Sunday, 8.30am-2pm
Shop Till You Drop In Paris


Paris has the best shopping in Europe and maybe the world so you will find international and French retailers all over the city.
Galleries Lafayette and Printemps
These two huge department stores (which are literally across the street from each other) are fairly upscale but they have a bit of everything. If nothing else, the inside of Galleries Lafayette is beautiful so it's worth stepping in to see. See On Google Maps.
Citadium
Behind Galleries Lafayette and Printemps you'll find Citadium — which is a department which carries mainly streetwear, urban fashion, and all the things the cool kids are wearing. See On Google Maps
Marias Neighborhood
The Marais is filled with boutique shops and a handful of international chain stores. See On Google Maps.
Triangle D'or
For the most high-end shopping in Paris, head to the Triangle D'or (Golden Triangle) of Avenue Montaigne, Avenue George V, and Rue François in the 8th arrondissement. Naturally, most of the stuff here is ultra expensive so you might be doing more window shopping than anything else. See On Google Maps.
Treasure Hunting at the Paris Flea Market (Marché Aux Puces De Saint-Ouen)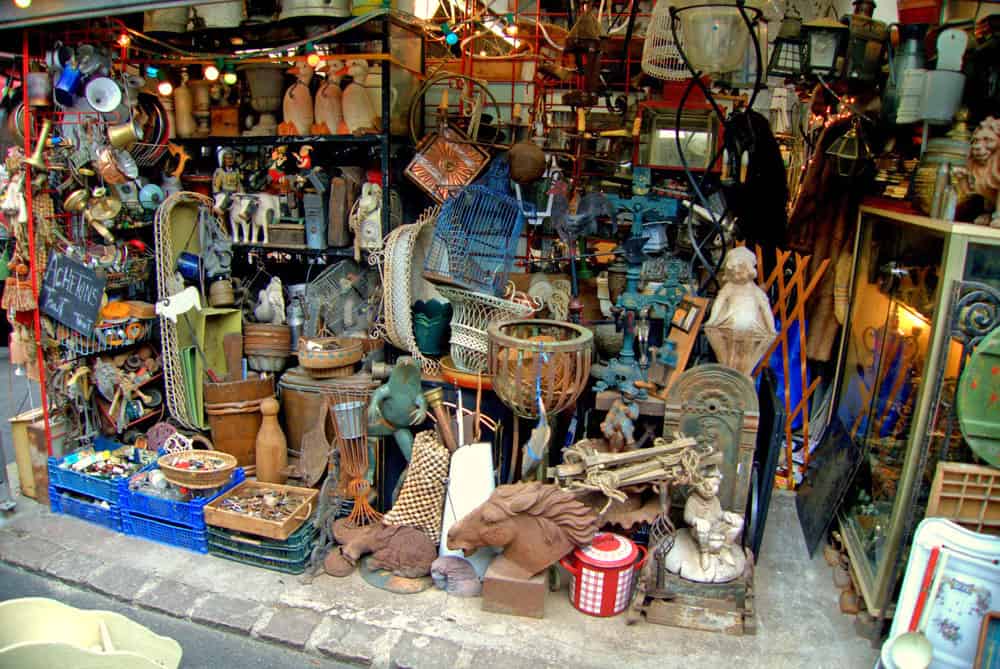 The Saint-Ouen Flea Market is a massive flea market filled with more than 200 stalls selling just about everything — from high-end antiques to cheap knickknacks. The prices here aren't exactly cheap but you might be able to score a good deal. And, if nothing else, it's a place to walk around.
Hours: Saturdays and Sundays from 10 AM to 6 PM and Mondays from 11 AM to 5 PM.
Street Art Spotting in Paris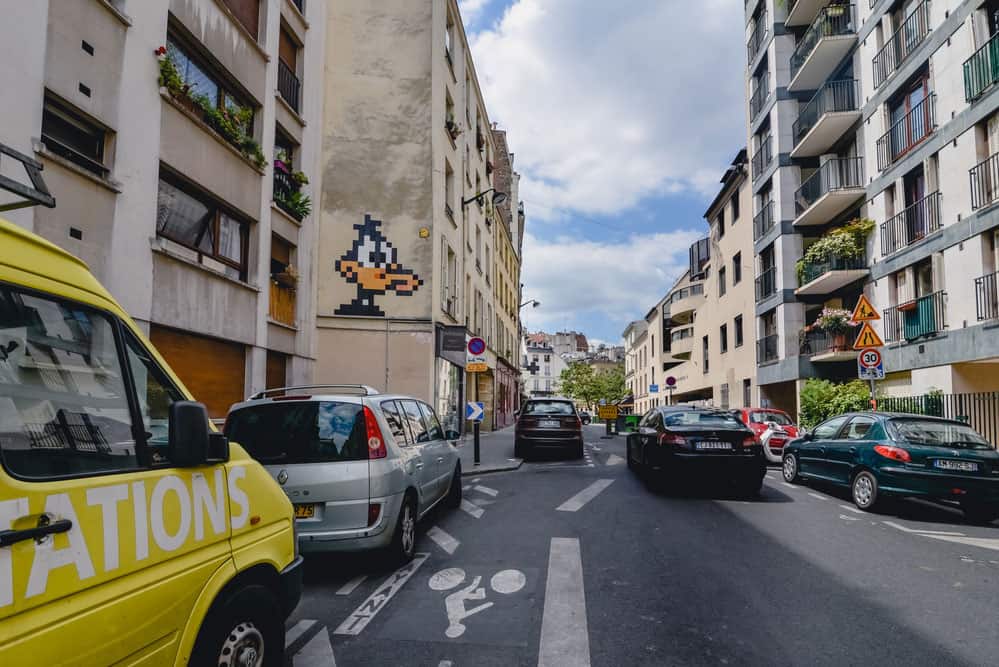 Paris has excellent (and some not-so-excellent) street just about everywhere so be sure to keep an eye out as you're exploring. My favorite is the pixel art from the artist called Space Invader — you'll see his stuff everything so it's fun trying to spot as many as possible.
Soak In The Best City Views Of Paris
Paris looks amazing from every angle but it's especially beautiful from above. Here are a few of our favorite places to gaze down upon the city.
View From The SACRÉ-COEUR & MONTMARTRE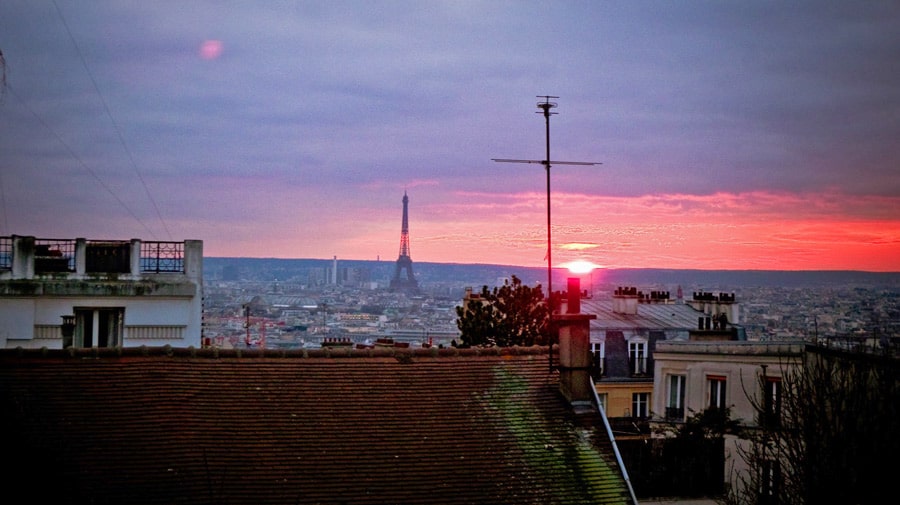 The steps in front of the Sacré-Coeur offer amazing views from the north of Paris. For a small fee, you can climb to the top of the Sacré-Coeur's dome for even better views. This is one of our favorites spots in Paris so it's a must-visit.
Tip: This is one of the best places to watch the sunset in Paris.
View From MONTPARNASSE TOWER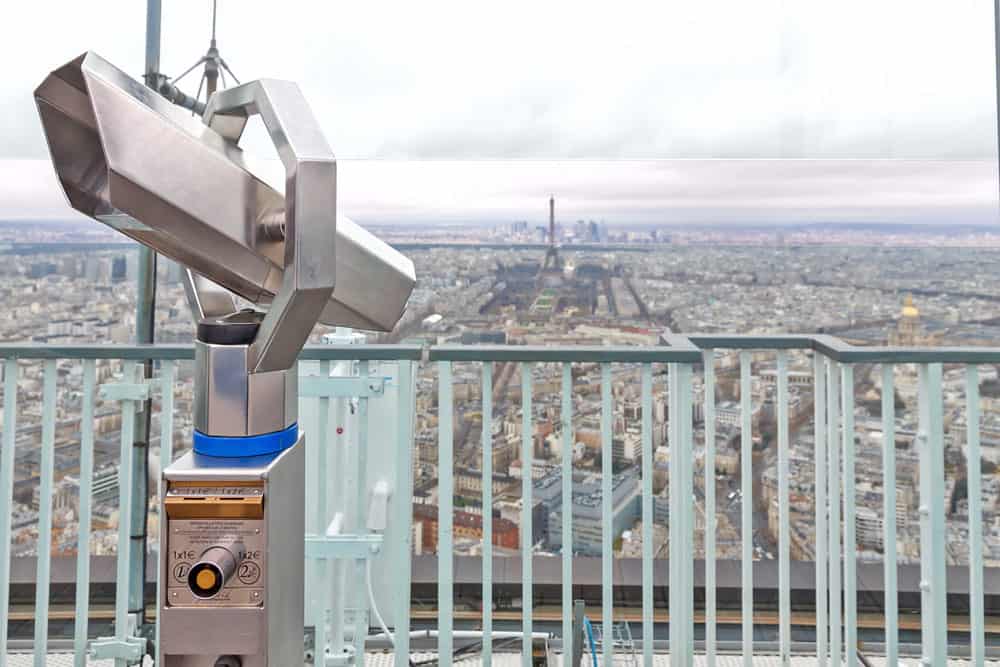 While a bit "touristy", the views from the top of the Tour Montparnasse (the only skyscraper in the city) are amazing. It's our favorite view of the city and this attraction is overlooked by most visitors so it's rarely busy.
Insider tip: Visit the tower's bar/restaurant (Le Ciel de Paris Restaurant) for some excellent views for the price of an expensive cocktail (€15-€20).
Drinks With A View At The WINDO BAR AT THE HYATT REGENCY HOTEL


For a "treat yo self" moment head to Windo at the Hyatt Regency Hotel. It's super swanky and has excellent city views of Paris and the Eiffel Tower. Sure, it's expensive but whatever.
View From The EIFFEL TOWER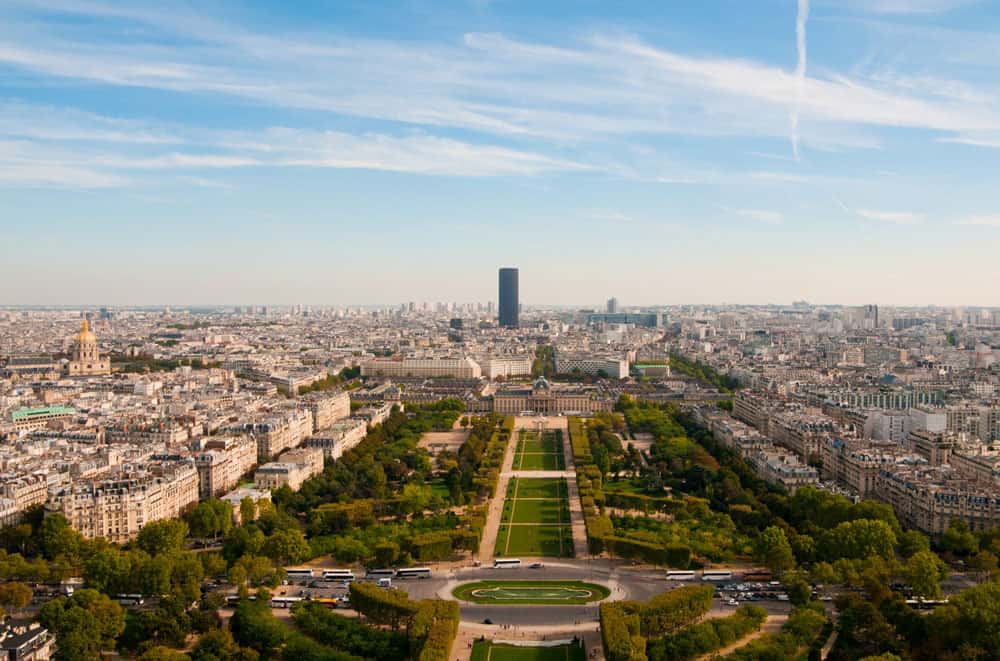 The observation decks on the Eiffel Tower offer some solid views of the city — but you can't see the Eiffel Tower so it's not our favorite spot… but its still one of those things you should experience at least once.
The View From GALERIES LAFAYETTE

The Galleries Lafayette department store is located in the middle of the city and has a top floor that offers great city views — and it's all free to visit.
View From The CENTRE POMPIDOU

If you visit the Centre Pompidou Modern Art Museum then you must take the escalator to the top floor for stunning views. The museum's cafe, Le Georges, also has some really nice views of the city.
Amazing Views From The Panthéon
Climb the 206 steps to the top of the dome of the Panthéon for amazing 360-degree views of Paris.
View From The ARAB WORLD INSTITUTE (INSTITUT DU MONDE ARABE)

One excellent view that not many people know about comes from the top of the Arab World Institute. This is my favorite view of the Seine River and Notre Dame. The viewing platform is free to anyone. There is also a cafe up there that serves excellent mint tea.
Get A Real Tan On A Fake Beach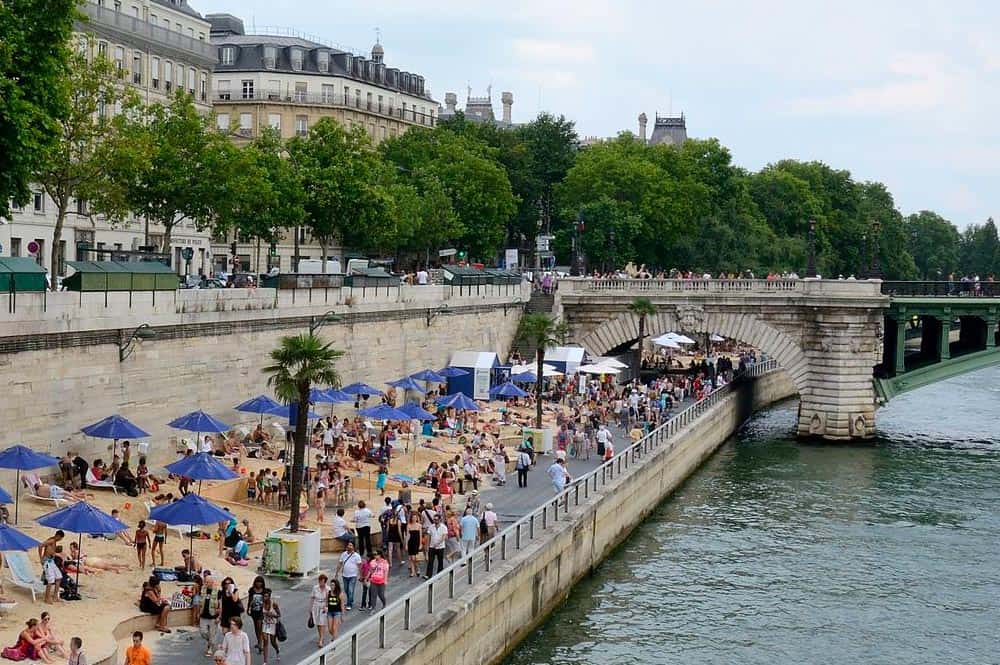 What do you do when you live in a city that's hours away from the beach? Make your own! Every summer the city trucks in tons of sand and created their own small beach along the banks of the Seine River — they even provide beach chairs and umbrellas.
When: Early July to September
Eat Your Way Through Paris

Screw your diet. This is Paris and it's full of so many tasty treats to chow down on. Below are a few things you should seek out as you make your way through Paris. Don't worry, we'll have some recommendations later in this guide.
Croissants & Pain au Chocolat: Start your morning off with a croissant or a pain au chocolat (chocolate filled pastry). These things are like 80% butter so be careful.
Pastries: You'll find pastry shop windows tempting you everywhere you go.
Traditional Baguette: Everyone knows about baguettes. But order a Baguette tradition —which is a baguette made by hand at the bakery and they only use flour, leavening, water, and salt. If you ask for a "baguette" you'll get a crappy piece of bread made in a factory. Buy from a bakery — not a grocery store.
Cheese: Stop into an actual cheese shop and pick up a few types.
Macarons: France is famous for its macarons. Pierre Hermé and Ladurée are the most famous makers of macarons but there are a few other places that specialize in these amazing creations.
Crepes: You'll find stands selling both sweet and savory crepes throughout the city. A simple ham and cheese crepe is a cheap and tasty meal. Banana and Nutella crepes make a great dessert.
The Best Ice Cream In Paris

What's the best ice cream in Paris? Berthillon.
Yes, this place is always busy but it's worth the wait. So go ahead and get a few scoops so you don't have to wait in line again cause you will want more.
Note: Berthillon closes during August but other cafes around Berthillon sell their ice cream (but get it from Berthillon if you can).
Eat The Best Baguettes In Paris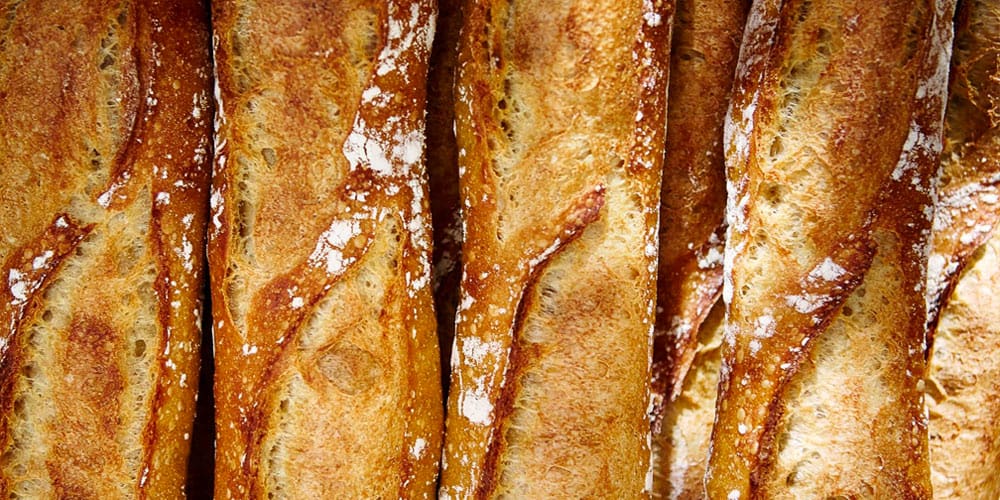 Every year the boulangeries in Paris compete to see who makes the "best baguette in Paris" and here is a list of the past winners.
Macaron Madness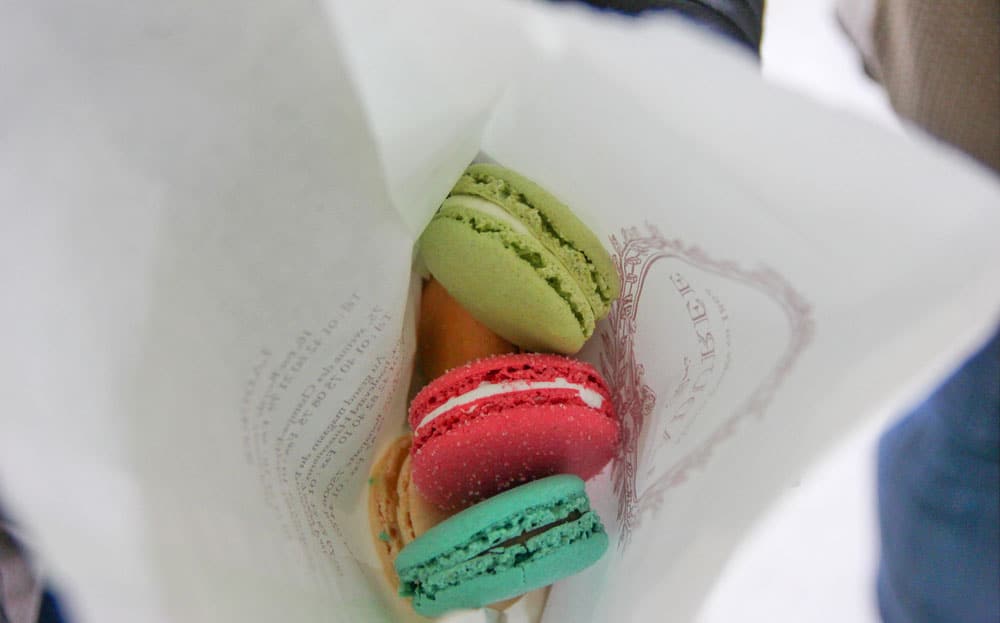 We could eat macarons all day long. And we've tried. And so should you. Luckily, Paris has multiple places to score these sweet little colorful desserts in about every flavor imaginable.
Our favorite macaron spots are:
Stuff Your Face With Pastries & Desserts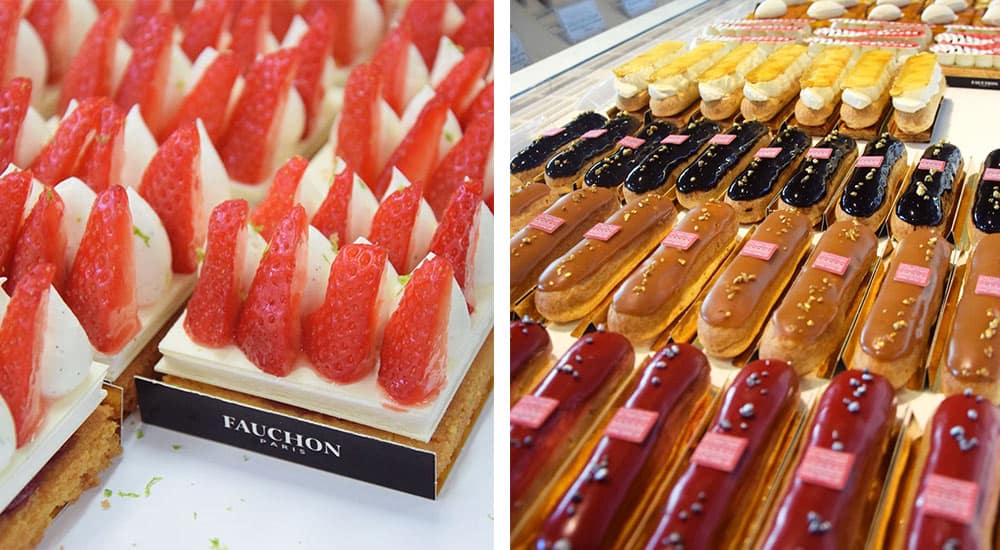 You can't swing a baguette without hitting a pastry shop filled with delicious-looking desserts. We've listed a few of our favorites below:
Savor The Best Hot Chocolate in Paris at Angelina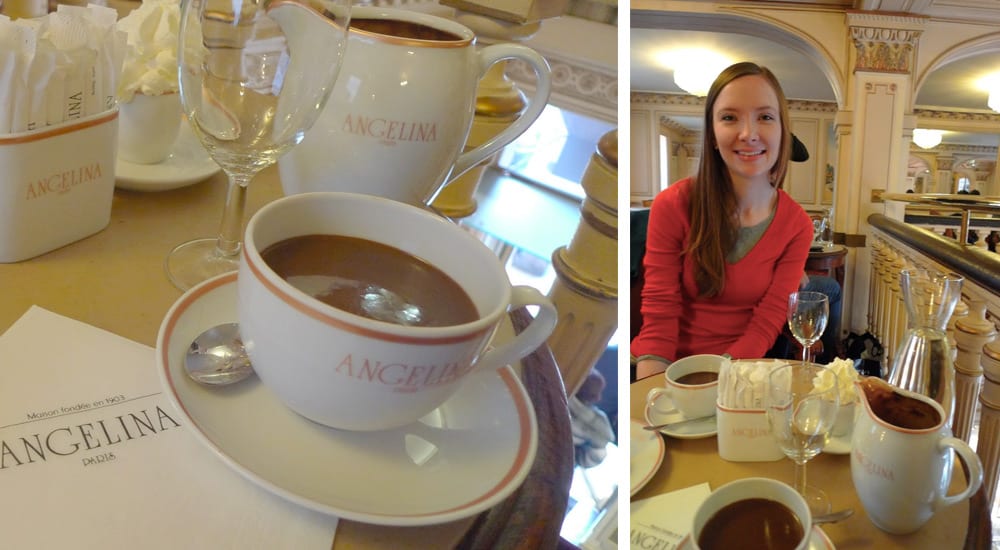 It's no secret that Angelina serves the best and most decadent hot chocolate in Paris — you're literally drinking melted chocolate bar. They have other dessert options and food but people flock to the hot chocolate. Angelina seems to always be busy so you might need to make a reservation.
See All Their Locations On Google Maps
Take A Cooking Class or Food Tour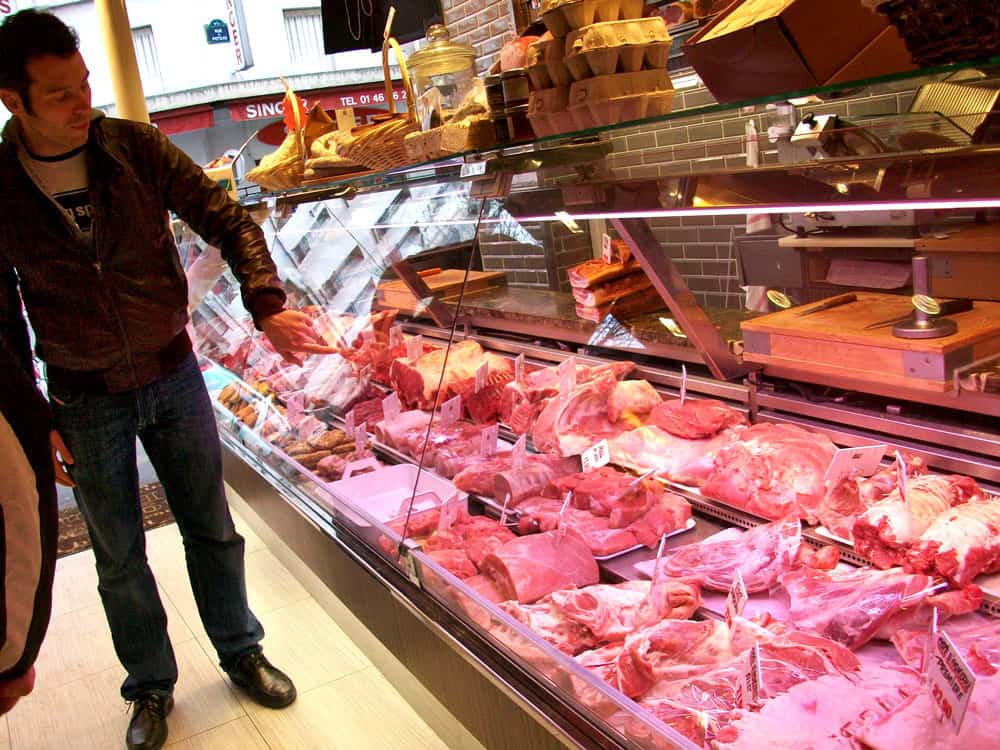 One of the best ways to learn about a culture is through its food. That's why we love taking food tours and cooking classes. There are a ton of different food tours and cooking classes you can take. We've personally taken cooking classes through Cooking With Class.
Skate Through Paris With Pari-Roller
Every Friday night in the summer, with the help of police escorts, Paris shuts down a handful of streets to cars so people can skate through the streets. You'll have to find rental skates (unless you travel with skates… weirdo).
Relax At The Place des Vosges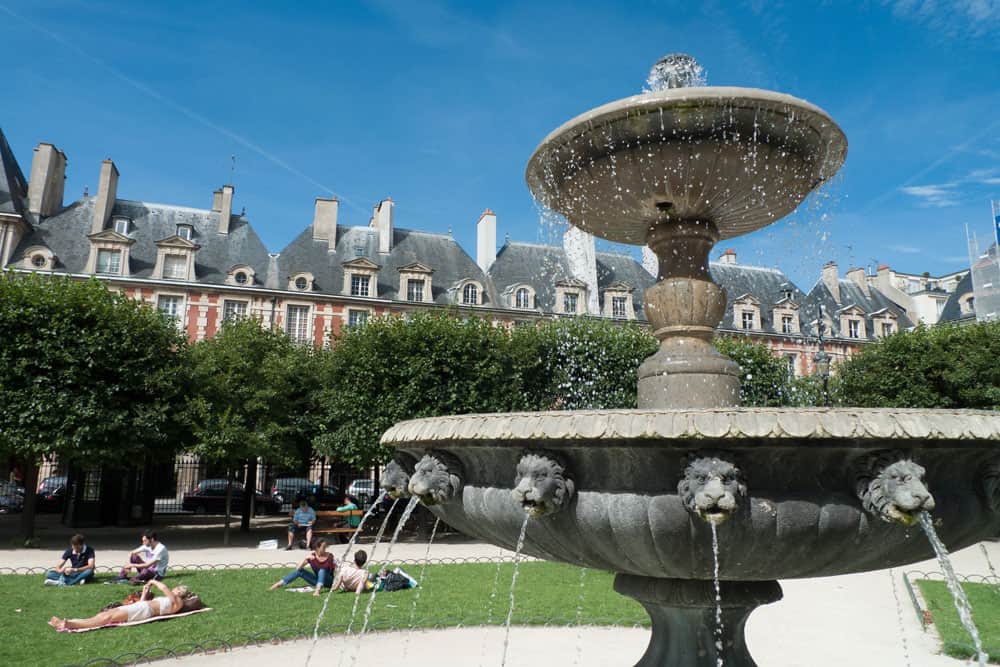 One of our favorite spots in Paris is the beautiful Place des Vosges in the Marais neighborhood. This quiet oasis is surrounded by a beautiful royal palace (built in 1612) and makes the perfect place to relax on a nice day. So pack a picnic, pick up a baguette sandwich from a nearby bakery, or get a famous falafel from the nearby L'As du Fallafel and enjoy it as you watch the world go by.
Partake in Paris' Craft Beer Scene

Wine will always reign supreme in France but the craft beer scene is quickly expanding in Paris and France. These days Paris has a handful of breweries, bars, and bottle shops that specialize in craft beer. Here are a few of our favorites:
Eat So Many Crepes

If you're not eating your weight in crepes then you're doing it wrong. You can find good crepes throughout the city but our favorite places are Breizh Cafe (See On Google Maps) and La Creperie Josseline (See On Google Maps). By the way, the Montparnasse neighborhood has a ton of great crêperies since a lot of people from Breton moved here.
See Some Live Jazz
Paris has always been known for its jazz scene so treat yourself to a night out at a jazz club.
Palais de Tokyo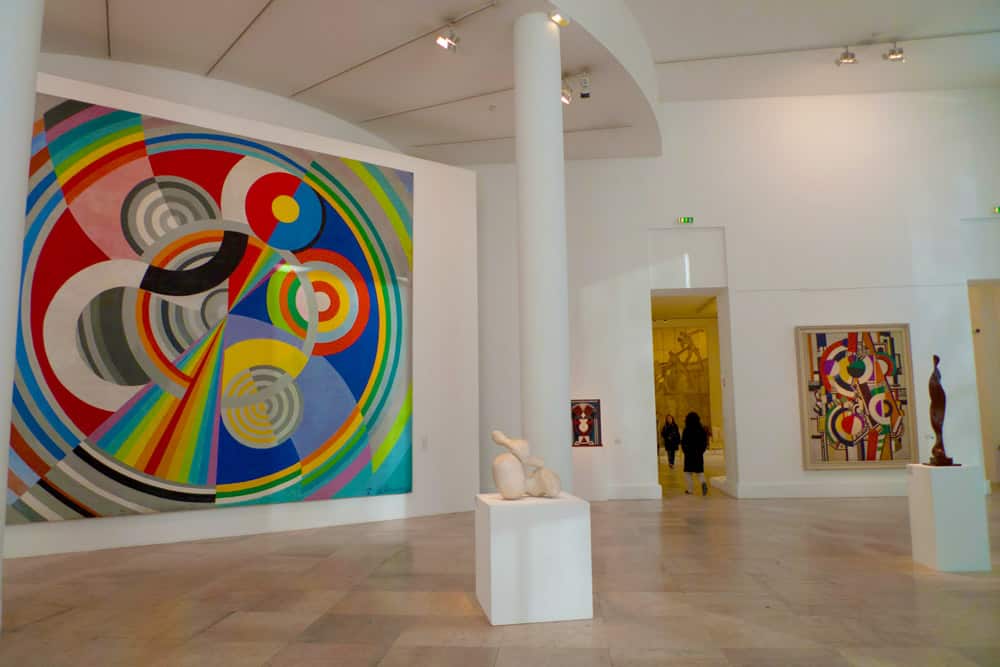 The Palais de Tokyo is a nice museum that features modern and contemporary art. The museum also has nice views of the Eiffel Tower and the Seien river.
Learn More About What To Do In Paris
Looking for more information about visiting Paris? We have you covered! Below are some other articles that we've written about Paris.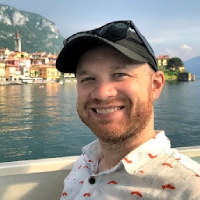 Latest posts by James Feess
(see all)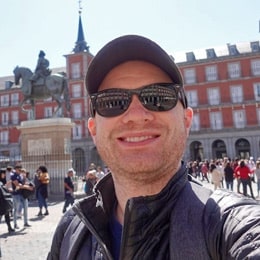 No Funny Business
The Savvy Backpacker is reader-supported. That means when you buy products/services through links on the site, I may earn an affiliate commission—it doesn't cost you anything extra and it helps support the site.
Thanks For Reading! — James
Questions? Learn more about our Strict Advertising Policy and How To Support Us.