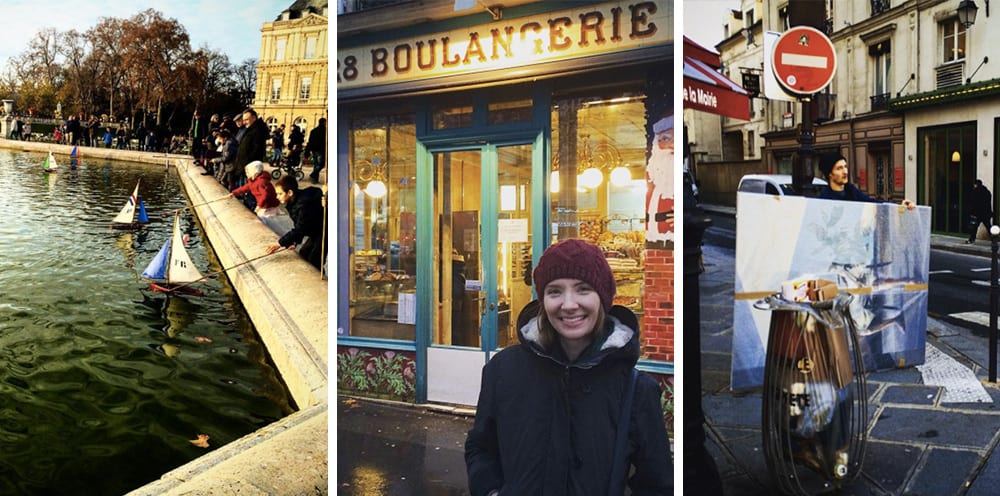 Choosing where to stay in Paris can be a little overwhelming. Each neighborhood has its own distinct vibe and quirks, so picking the best neighborhood for your travel style will make your trip to Paris even more magical. But don't worry — after living in Paris we have a good handle on each neighborhood (i.e. arrondissements) so this guide will help you choose.
Paris Neighborhood Guide
Paris is divided into 20 separate zones/neighborhoods called arrondissements. Each arrondissement offers something different. The city is also split in half by the Seine River. North of the river is called Rive Droite (which means Right Bank), and south of the river is called Rive Gauche (which means Left Bank).
Notre Dame Cathedral is considered to be the "center" of Paris, and most of the city's famous sights are within walking distance (or a short Metro ride) of the cathedral. That said, Paris is very compact so you'll be able to get anywhere you'd like without much effort.
Alright, on to the neighborhoods…
The Marais (3rd/4th)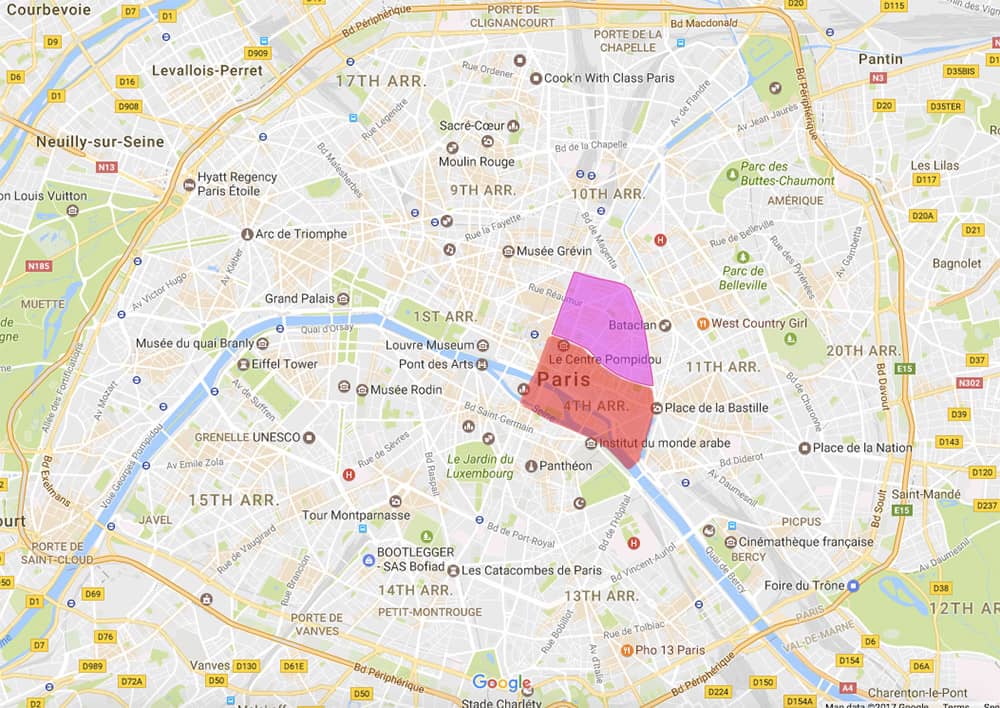 The Marais is cool, trendy, chic, full of energy, and the location is great. It's full of bars, restaurants, bakeries, and cafes. It has a ton of great shopping and boutiques (most of which we can't afford). It also has a handful of excellent museums. It truly has something for everybody.
The architecture in the Maris is charming and it has a different look than the rest of the city. The streets are narrow and lively. We love strolling around the neighborhood.
The Marais is also the most LGBT-friendly of all the neighborhoods so this is where you'll find the highest concentration of gay clubs in Paris. It's also historically been Paris' Jewish neighborhood so it's the place to grab a great falafel.
The southern part of the Marias can be loud well into the early hours of the morning — especially during the summer when people hang out in front of the bars and clubs. The nightlife quiets down considerably the more north you go.
Check Booking.com for the best hotels in the Marais and check Hostelworld to find hostels in or near the Marais.
The Ile Saint-Louis (4th)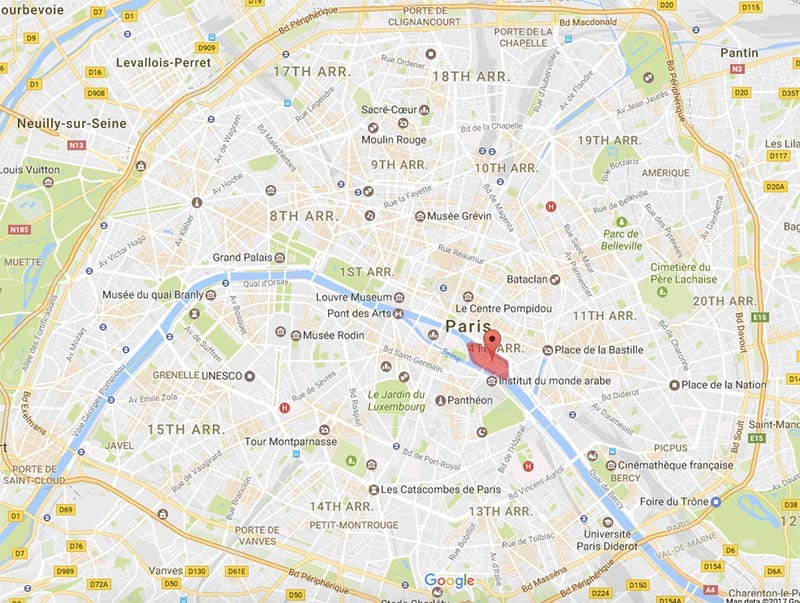 Want to be in the dead center of everything? Then the Ile Saint-Louis is for you. The Ile Saint-Louis is the smaller of the two islands in the middle of the Seine River. It's truly stunning. Many of the buildings date back to the 17th-century.
Strangely, for being in the center of Paris, the island is peaceful. There is very little traffic, all the streets are one-way, and there are no metro stations. This mostly residential island only has around 4000 residents.
You'll find a number of quiet restaurants, shops, bakeries, and excellent ice cream shops (Berthillon is the best. By far.) There is no nightlife other than people strolling around while eating ice cream. However, you're literally a few minutes walk to both the Latin Quarter and the Marais.
Accommodation here will be expensive — and small. There really isn't any way to get around that. 
Check Booking.com for the best hotels on the Ile St. Louis. There aren't any hostels on the island but check Hostelworld to find hostels nearby.
The Latin Quarter (5th)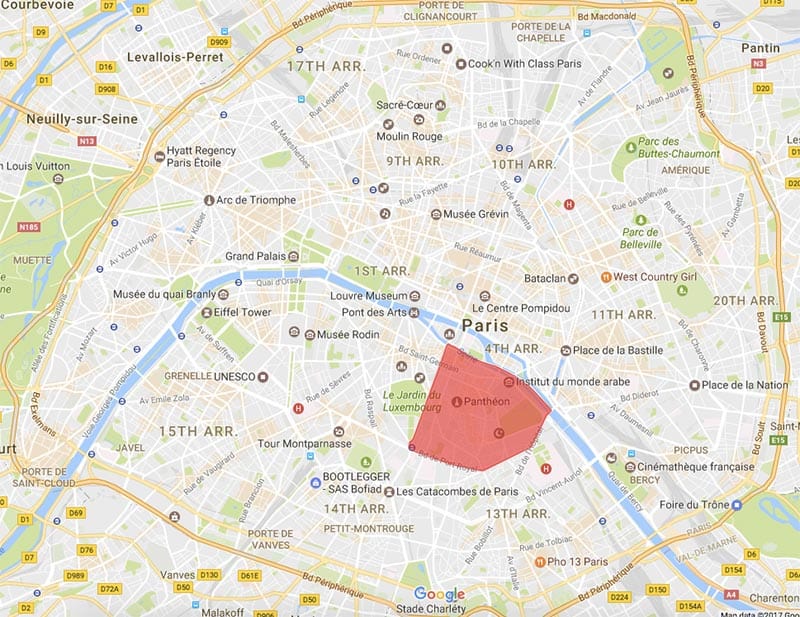 The Latin Quarter, along with its slightly trendier/upscale neighbor St. Germain, are undoubtedly classic Paris. It has grand boulevards, tiny streets that date back to nearly 1000 years, cafes, restaurants, shopping, bars… you get the idea.
It's also near the river and lots of Paris' famous sights and landmarks.
Back in the Middle Ages, the Latin Quarter was home to the universities in Paris. They all spoke Latin — hence why it's called the Latin Quarter. The area continues to be a hotbed of students thanks to the numerous colleges and universities in the area. Because of this, there are plenty of dive bars, restaurants, cafes, international food, book shops, and other establishments for a budget-minded crowd.
And then you have the tourists. The Latin Quarter has a lot of them — but you can't really blame them because it's a great area. This has pushed up prices a bit so there certainly aren't as many students as there once were, but the youthful vibe is alive and well.
The Latin Quarter is an excellent place to stay for your first (or 10th) time in Paris.
Check Booking.com for the best hotels in the Latin Quarter neighborhood and visit Hostelworld to find hostels in the neighborhood.
Saint-Germain-des-Prés (6th)

St. Germain is also classic Paris. It's certainly more upscale than the Latin Quarter so good luck finding many bargains here.
It's also famous for its cafes that were frequented by literary icons like Hemingway. Those cafes are now overpriced tourists traps but whatever.
That said, it's undoubtedly a beautiful part of Paris and its location is unbeatable. If you have a lot of cash to spend then you'll love it here. If you're on a budget, maybe stay elsewhere — however, prices do drop further away from the river).
Check Booking.com for the best hotels in St. Germaine and visit Hostelworld to find hostels in the neighborhood.
Bastille (11th)

The Bastille neighborhood and other parts of the 11th don't have any of Paris' most famous landmarks but this working-class neighborhood is where Parisians actually live. Over the past few years, this neighborhood has become home to many trendy restaurants and cafes as young chefs move in thanks to the cheaper rents.
Around the Bastille, there is excellent nightlife geared toward a 20-something crowd and a few blocks north around rue Oberkampf is another popular, yet slightly gritty nightlife area for twenty-somethings and university students looking for cheap drinks.
Bastille is also home to the largest outdoor market in Paris — the Bastille Market.
We like the location because it's slightly outside the tourist zone but it's still close enough that you don't feel disconnected from the sights. It's a short walk to the Marais and about a 20-minute walk to Notre Dame.
Check Booking.com for the best hotels in the Bastille neighborhood and visit Hostelworld to find hostels in the neighborhood.
Montparnasse (14th)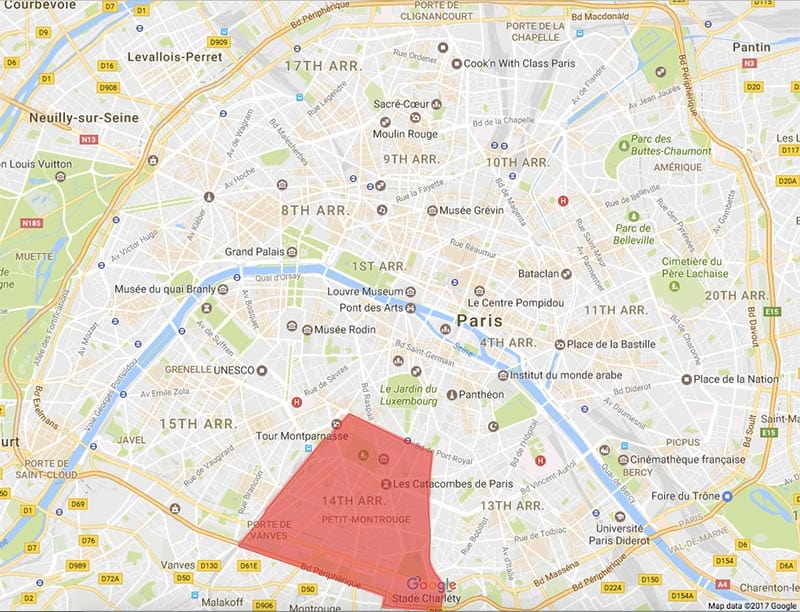 Montparnasse is most famous for being the home of the only skyscraper in Paris — the Montparnasse Tower. Everyone hates it. Paris banned all skyscraper constructions after it was built. However, the view from the top is amazing — which is its only redeeming feature.
That said, Montparnasse is bustling with plenty of cafes, restaurants, and shopping. This neighborhood was once a hotbed of artists, writers, intellectuals, and other performers. You can still visit the same cafes that Hemingway, Picasso, Fitzgerald, and numerous other famous citizens frequented — including Trotsky and Lenin.
While most wouldn't refer to Montparnasse as particularly cool or trendy, it is largely off the tourist path so you get a sense of everyday Parisian life. The area continues to have a bit of its bohemian and artistic vibe thanks to the young artists who move here to practice their craft.
Check Booking.com for the best hotels in the Montparnasse neighborhood and visit Hostelworld to find hostels.
Montmartre (18th)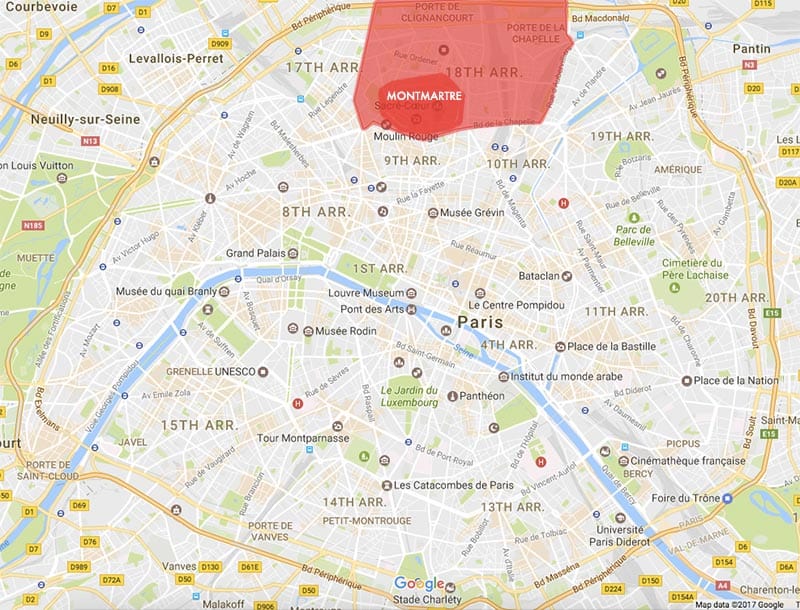 Montmartre, situated on a large hill in northern Paris, is another great place to stay. It's incredibly charming and the views from the top are probably the best in Paris. Note: The 18th is a large neighborhood and Montmartre is a small portion of it, so we've marked its general area on the map.
This area was once its own village until Paris grew so big that it was absorbed into the city in 1860. At the beginning of the twentieth century, Montmartre was the place to be if you were an artist. Picasso, Dali, Monet, van Gogh, Renoir, and dozens of other artists and writers made this hill their home thanks to the cheap rents and inclusive atmosphere.
The very top of the hill, mainly around the Basilica of the Sacré-Cœur, has become very touristy and the restaurants reflect that, but you can still find authentic spots to eat with a little effort.
At the bottom of the hill, near the Pigalle Metro, is Paris' red-light district. It's nothing dangerous but it can feel a little seedy. It's easy to avoid but you'll want to check the location of your accommodation. Additionally, it's best to avoid the eastern edge of the 18th as it's not a great neighborhood.
Montmartre is a bit of a trek from the city's other main sights (about an hour's walk to Notre Dame), but it's well connected via the Metro. Also, the neighborhood is very hilly and has lots of stairs, so avoid this area if you have mobility issues.
Check Booking.com for the best hotels in Montmartre and visit Hostelworld to find hostels.
Belleville (19th/20th)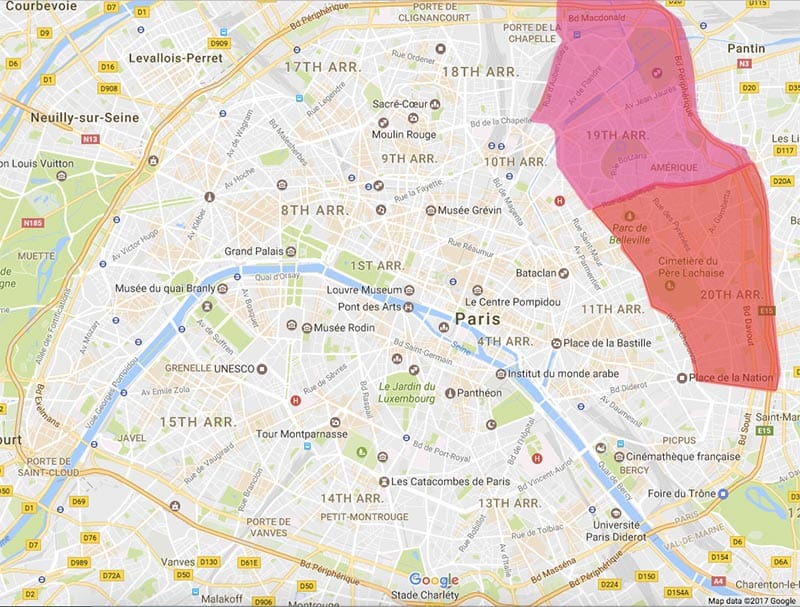 Belleville, which has historically been home to new immigrants from Africa and Asia, is certainly rough around the edges. And it doesn't always have that classic Parisian feel, but this is certainly an interesting place to stay if you want an unconventional view of up-and-coming Paris.
The neighborhood has embraced street art and you'll find graffiti on just about every building. These neighborhoods also have pockets of lively, yet affordable nightlife. Additionally, you'll find one of the city's best parks (Parc des Buttes-Chaumont) and the amazing Père Lachaise Cemetery.
Since this is a neighborhood with people from all over the world you'll find a lot of ethnic food at cheaper prices than other parts of the city.
The 19th and 20th arrondissements are located on the eastern edge of the city so it's will a bit of a trek to the city center. If you're looking for traditional Paris then you should look elsewhere but the adventurous, unconventional traveler will love it. Do be warned that some areas can feel a little sketchy.
Check Booking.com for the best hotels in Belleville and visit Hostelworld to find hostels.
---
Where You May Want To Avoid
There are two parts of Paris that many visitors flock to — the Eiffel Tower and the Champs Elysees. Don't get me wrong, these are nice areas of Paris but I would recommend against staying there. Here's why…
Eiffel Tower Area
People assume that Paris revolves around the Eiffel Tower. In actuality, it's fairly far away from the city's main sights, so you'll be doing a lot of commuting if you stay there.
Don't get me wrong, you should 100% see the Eiffel Tower. You should 1000% see it at night. You'll enjoy walking around the surrounding neighborhoods… but don't stay there. The neighborhoods around the tower are expensive and it's kind of boring (lots of rich old people). That said, if you can get an Eiffel Tower view then maybe it could be worth the price. Check Booking.com for Eiffel Tower view hotels. 
Champs Elysées
The Champs Elysées may be the most famous boulevard in the world but the area around it isn't a super interesting place to stay — especially if you're on a budget. It's expensive and it's teeming with tourists who are super rich or tourists who are paying way too much to stay there.
If you venture off the Champs Elysées you'll find gorgeous architecture and beautiful streets. You should take some time to see how the wealthy people live but we wouldn't recommend staying there.
Also, it's fairly far away from the center of the city so hoofing it back to your accommodation every day will get a little annoying.
---
Quick Guide to Paris' Arrondissements/Neighborhoods
We listed our recommended arrondissements above but we've put together a quick and dirty guide to all 20 of Paris' arrondissements.
1st Arrondissement
This is where you'll find a lot of the city's most famous sights — Louvre, Tuileries, Rue de Rivoli, Place de Vendôme, and Pont des Art.
It is beautiful but it's also an expensive part of town. There are a lot of fancy five-star hotels and high-end shopping. Things become a little more shabby than chic toward the eastern part of the 1st.
Highlights:
Le Louvre
Jardin des Tuileries
Place Vendôme
Le Palais Royal
Église Saint-Eustache
Sainte Chapelle
Musée de la Orangerie
2nd Arrondissement
The 2nd is the business and garment district. Largely residential, the 2nd is a bit off the tourist radar but it's still close to a lot of sights. It's fairly quiet but you'll find cafes, boulevards, and nice architecture.
Highlights:
Rue Montorgueil Pedestrian Area
3rd and 4th Arrondissements (The Marais)
The Marais takes up a big chunk of the 3rd and 4th Arrondissements. The Marais is trendy, youthful, and full of life. You'll find bars, restaurants, cafes, and shopping everywhere you go. It has a bit of everything — from budget to upscale.
The 4th is the liveliest area but things calm down (and get more affordable) as you move north into the 3rd.
Highlights:
Musée Picasso
Musée national des Arts et Métiers
Notre-Dame de Paris
Hôtel de Ville (City Hall)
Centre Georges Pompidou
Maison de Victor Hugo
5th Arrondissement (Latin Quarter)
The 5th is classic charming Paris and it is a lively student area packed with multiple universities. You'll find plenty of bars, cafes, bistros, and shops that cater to students.
This area is popular with visitors who want to live the typical Parisian life.
Highlights:
Panthéon
Jardin des Plantes
Arenes de Lutece
Musée du Moyen Age
Musée de l'Institut du Monde Arabe
6th Arrondissement (Saint Germain-des-Prés)
Saint Germain-des-Prés, which is located in an unbeatable location, is a classically Parisian neighborhood. Sidewalk cafes, bakeries, art galleries, parks, museums… everything you imagine when you think of Paris. It's also a top destination for tourists so there are plenty of bad/overpriced restaurants — so do your research.
Highlights:
Eglise Saint-Germain-des-Prés
Palais du Luxembourg
7th Arrondissement (Eiffel Tower)
The 7th is home to a handful of sights — most notably is the Eiffel Tower. The arrondissement is beautiful and boasts great architecture but it's a bit dull. It's the most affluent and prestigious residential area in France so it's home to the super-wealthy. It's a nice place to visit but it's not the best place to stay.
Highlights:
La Tour Eiffel
Hôtel des Invalides
Musée d'Orsay
Musée du quai Branly
Musée Rodin
8th Arrondissement
The 8th is most famous for the Champs-Élysées and having a ton of ultra-high-end shopping, fashion, dining, and hotels. The Champs-Élysées is good to see once but it has the "Times Square" vibe.
Overall, it's not that exciting of a location for visitors because a large chunk of the neighborhood is business. It gets pretty quiet at night so there isn't much to do. Walk around, enjoy the architecture, see people with $10,000 purses and spot a few supercars but don't stay here.
Highlights:
l'Arc de Triomphe
Église de la Madeleine
Le Grand Palais
9th Arrondissement
The 9th is home to Paris' famous high-end department stores and other shopping along its southern border. At its very north border is the city's Red-light district. In the middle is quiet and residential so there aren't many tourists because there aren't any famous sights.
Parts of this neighborhood can be a little rough around the edges but a few hip shops are restaurants are starting to pop up and younger people are moving in thanks to the cheaper rents.
Highlights:
Opéra Garnier
Printemps or the Galeries Lafayette Department Stores
10th Arrondissement
Historically, the 10th has been home to many different nationalities and it's had a lot of sketchy parts — notably the area surrounding and north of the Gare de Nord and Gare de l'Est train stations. It's still a little sketchy but the area is gentrifying quickly.
The southern part of the 10th and the area around the Canal St. Martin is becoming ultra cool and super hip. It has a lot of trendy restaurants and bars full of even trendier Parisians wanting to soak up this working-class neighborhood vibe.
Highlights:
11th Arrondissement
First off… I'm a little biased because we lived in the 11th. This working-class neighborhood is bustling with life and it's become a hotbed for hip new restaurants and bars thanks to the cheaper rents. It's also a youthful part of town and it boasts a few of the more popular nightlife areas around Oberkampf and Bastille.
Don't expect any famous sights but do expect an authentic living and breathing Parisian neighborhood without tourists.
Highlights:
12th Arrondissement
This large arrondissement is quiet, residential, and is home to a huge park called the Bois de Vincennes. It's still a working-class neighborhood that doesn't really get any tourists.
There are a few hidden gems like the excellent covered market Marché d'Aligre and the former elevated railroad track turned peaceful walkway; Promenade Plantée.
Highlights:
Promenade Plantée
Parc de Bercy
Bois de Vincennes
Marché d'Aligre
13th Arrondissement
The 13th contains Paris' Chinatown — although the 13th is fairly large and Chinatown only covers a small part of it. Chinatown also consists of ugly high-rise residential housing. I probably wouldn't recommend staying here unless you were staying on the northern edge.
14th Arrondissement
The former hangout of artists and intellectuals, the 14th is now a calm and peaceful neighborhood with plenty of cafes, restaurants, and shopping. There are a few notable attractions like the ugly Montparnasse Tower and spooky Catacombs. That said, this is a nice place to stay if you want to see how real Parisians live while also being close to the action of the city center.
Highlights:
Les Catacombes de Paris
Parc Montsouris
Cimetière de Montparnasse
Tour Montparnasse
15th Arrondissement
The 15th is the largest arrondissement in Paris — both in size and population. It's one of the wealthier neighborhoods and it's popular with families and professionals. It doesn't have much of a tourist draw, as there aren't any notable sights or nightlife.
It's also a bit removed from the city center so that that into consideration.
16th Arrondissement
This is another upper-class neighborhood that's home to rich business people and celebrities. It's a very quiet residential area so it can feel a bit sterile. There are a few sights in/near this neighborhood but it's probably not somewhere you'd want to stay.
Highlights:
Palais du Trocadéro
Bois de Boulogne
17th Arrondissement
The 17th has two different personalities. The parts near the Arc de Triomphe and Parc Monceau upscale. However, as you move north and east into the 17th the vibe shifts considerably. These areas a more working-class and multicultural.
One quickly up-and-coming section, in particular Batignolles, is very popular with artists, writers, and other creative people. This little enclave is sprouting quirky cafes, hip restaurants, and independent shops. It might not be my first recommendation for first-time visitors but Paris veterans may want to check it out.
Highlights:
18th Arrondissement
The 18th is home to Montmartre — a charming village-esque neighborhood in the north of Paris. The crown jewel of the neighborhood is the Sacré Coeur church that towers over the city. It also has the best views of the city.
Although the neighborhood is a bit of a trek from the city center, Montmartre is a favorite location for a lot of visitors.
Highlights:
19th Arrondissement
This out-of-the-way, yet up-and-coming neighborhood is mostly residential and is one of the most multicultural areas in Paris. It's also home to the great Parc des Buttes Chaumont.
Parts of the 19th are certainly rough around the edges but many areas are quiet and family-friendly — that said, it might not be the best place for first-time visitors.
Highlights:
20th Arrondissement
Often lumped in with the 19th, this neighborhood has traditionally been a working-class and immigrant area that's quickly becoming more gentrified. You'll still find both gritty and peaceful areas but you won't find many tourists.
The main attraction is the incredibly impressive Père-Lachaise Cemetery. Venture further into the 20th and you'll find a fairly edgy nightlife scene and affordable prices. If you're looking for the "classic" Parisian experience then this isn't the place for you.
Highlights:
Cimetière du Père Lachaise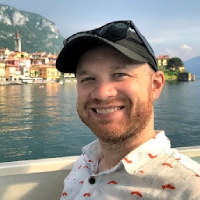 Latest posts by James Feess
(see all)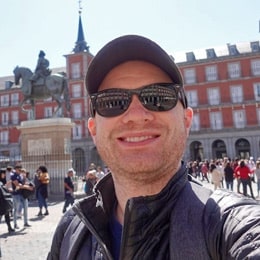 No Funny Business
The Savvy Backpacker is reader-supported. That means when you buy products/services through links on the site, I may earn an affiliate commission—it doesn't cost you anything extra and it helps support the site.
Thanks For Reading! — James
Questions? Learn more about our Strict Advertising Policy and How To Support Us.