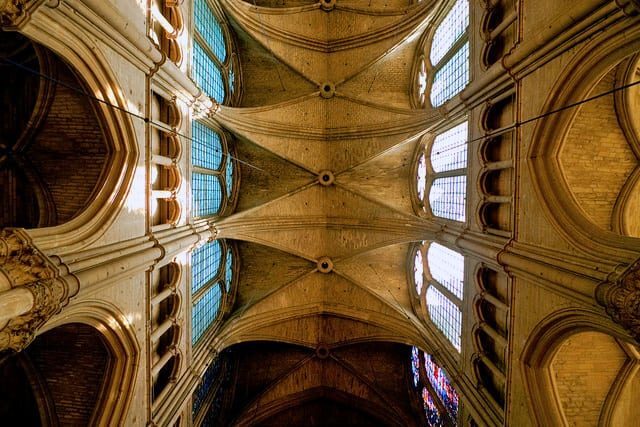 Is the hustle and bustle of Paris starting to wear you down? No worries. There are multiple great Paris day trips that will let you see a different side of France that you won't find in Paris. Each day trip we've listed below can easily be reached via the train from Paris, and there are trains every day of the week.
Some things to remember before boarding the train:
Most likely, you'll take the train, so don't forget to validate your tickets before you get on the train. Sometimes you'll walk through a subway-like turnstile; other times you'll need to insert the end of your ticket into a small yellow machine before you get to the platform. Even other times, you'll need to insert your ticket into a small machine that will punch out a corner/hole.
We've tried to list what you'll need to do for each trip, but just always keep this in mind. Not validating your ticket can lead to a fine. (If you do forget to validate your ticket, find the ticket controller as soon as you realize it. They will manually stamp it and you won't be fined.)
Also, keep in mind that many restaurants in France will only be open from 12-2 pm for lunch and won't open back up until 7:30 pm for dinner. If you see a sign that says "service continu," you're in luck; they're open all day.
The 9 Best Day Trips From Paris: Our Top Picks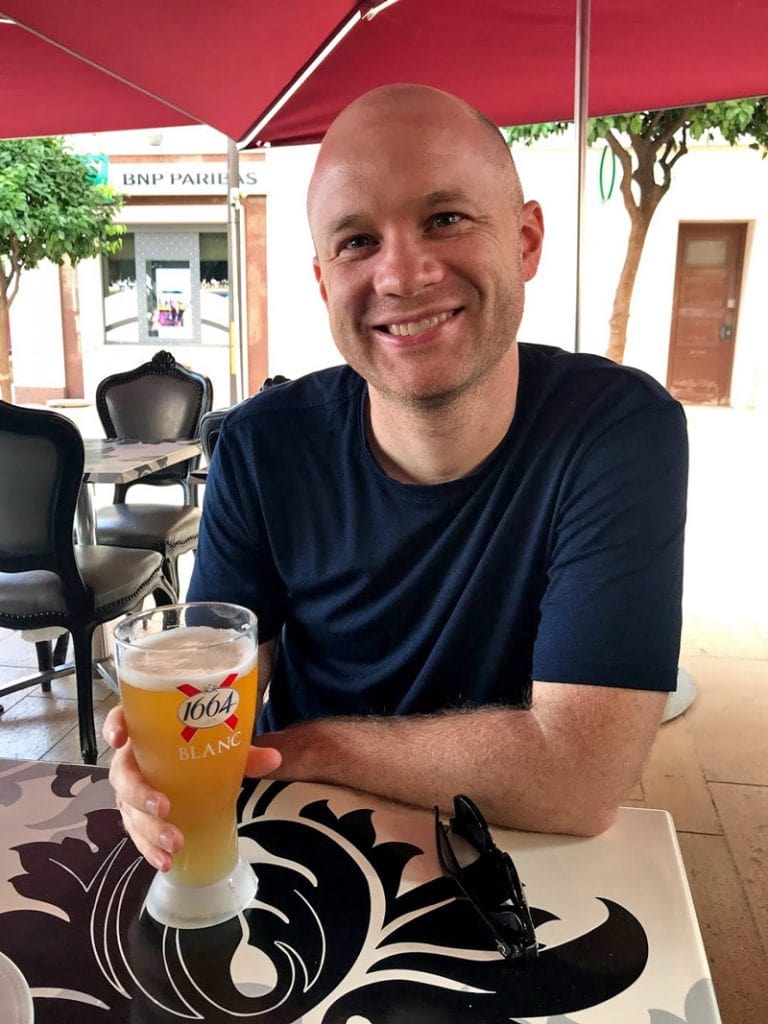 Provins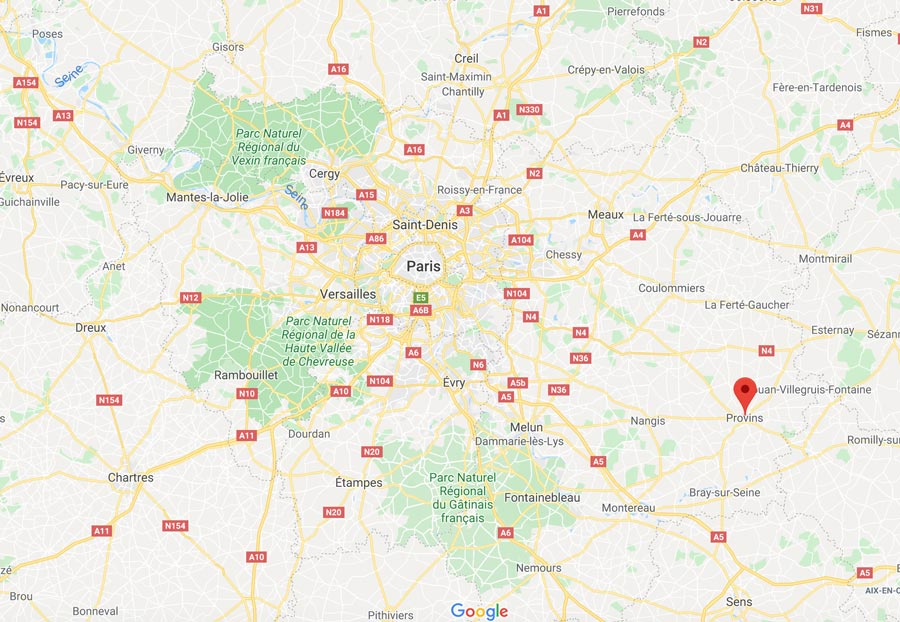 Provins (official website) is a quaint medieval city located about an hour and a half southeast of Paris and a wonderful day trip from Paris. When we visited, trains left every 45 minutes past the hour from the normal train platforms at the Gare de l'Est. I would recommend buying your ticket from an Ile de France ticket machine (so you can skip the line at the Ile de France ticket window). Just make sure you either have a chip-and-pin card or the machine you're using takes cash. Since Provins is normally the terminus station, look for it on the blue SNCF Ile de France screens to find your platform (updated about 10-15 minutes before departure and usually a higher numbered platform).

Provins is made up of the ville haute (the old, medieval "upper" city) and the ville basse (the new, more modern "lower" city). The train station is located in the ville basse, but if you just start making your way up, you'll be able to see the ramparts and the tower. Stop by the Office of Tourism to get a map and buy passes for any of the attractions you want to see. Their website also has lots of helpful information, so try to check that out before you leave.
If you're visiting during the off-season, make sure to check the hours of all the tourist attractions. We visited in late February and hours were quite limited (2-5 pm). After we found the Office of Tourism and stocked up on information booklets and maps, we decided to walk along the ramparts for a bit. So cool!
Then we decided on a cute little restaurant for lunch on the main square: Le Cesar Gourmand.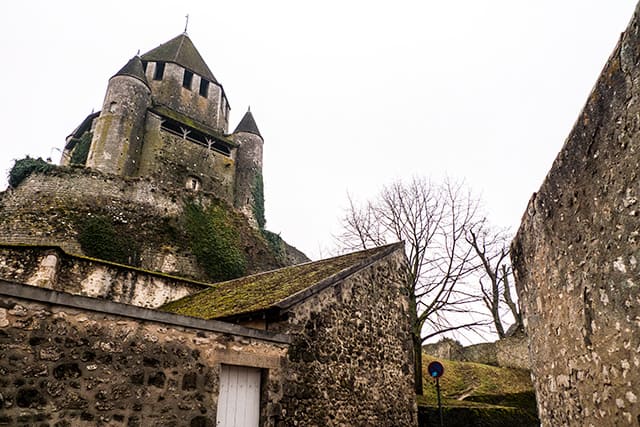 We picked two of Provins' main attractions to visit: the underground tunnels (les souterrains) and the watchman's tower (la Tour Cesar). If you think you might also visit the museum and the Tithe Barn (la Grange aux dimes), it's worth purchasing the pass. Just make sure that if you're traveling in the winter, you have enough time to see everything before they close.
Provins is famous for its roses, and you'll find rose-flavored everything. After walking out in the cold for a while, we warmed up with some rose-flavored hot chocolate and picked up a few rose-flavored candies before heading home.
Heading back to Paris is easy as well; just make sure you validate your ticket. The machines are a lot smaller, and it will just punch out a corner of your ticket – not stamp the date/time like the yellow machines in larger train stations do.
---
Rouen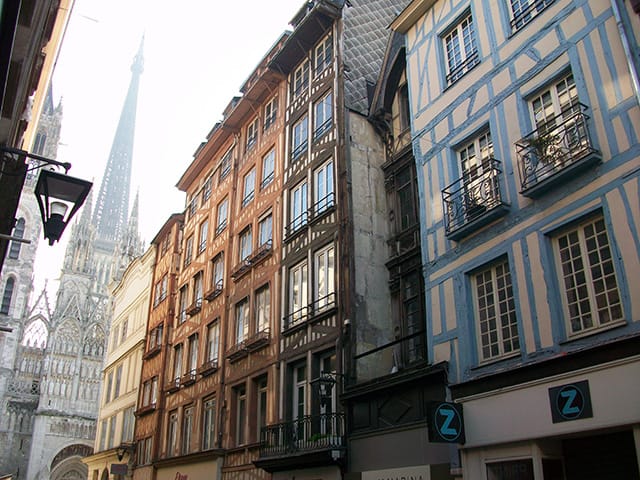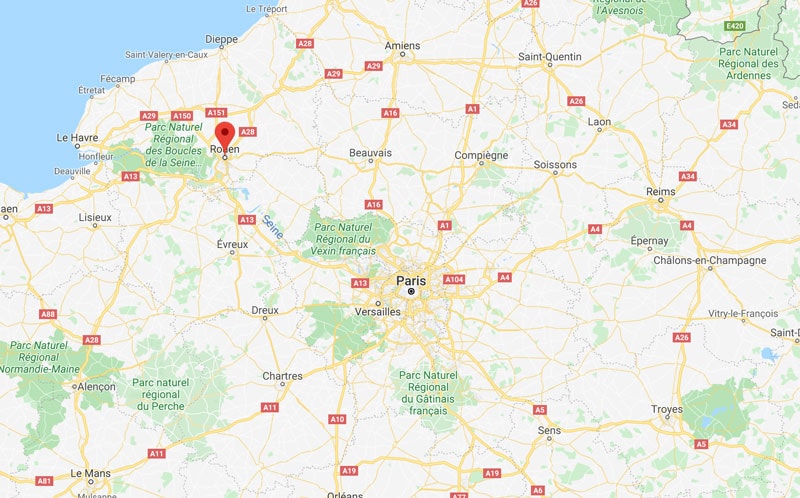 Another great Paris day trip is Rouen. This charming town is in the Normandy region of France, about an hour and a half north of Paris. You'll find brightly colored half-timbered buildings, a gorgeous cathedral, and a fancy astronomical clock tower. Rouen is also known for being where Joan of Arc was executed and you can visit a tower where she was held (la Tour Jeanne d'Arc).
Trains to Rouen leave twice an hour from the Gare Saint Lazare train station. Since you'll be leaving Ile de France this time, you'll want to purchase your tickets either online, at the main ticket window (Grandes Lignes), or at one of the yellow ticket machines (keep in mind that these machines only accept chip-and-pin cards). Lines can be long, so either purchase and pick up your ticket ahead of time or arrive at the train station with plenty of time to spare. For this trip, you'll use the small yellow machines located at the front of each platform to validate your tickets (this machine stamps the date/time on your ticket).
We planned our trip during the Normandy Gastronomy/Food Festival and it was amazing! It was a great way to sample specialties from the region without the restaurant price. We tried the local beer, spice bread, cider, sausage, a "Normandy Rose" apple funnel cake, and more! If you won't be around during the festival, the main square and old town also have plenty of lunch options.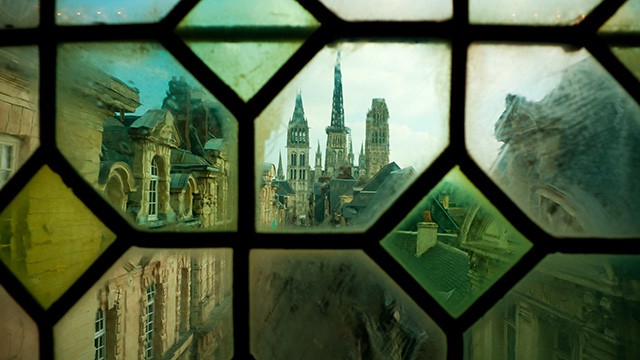 While in Rouen we checked out the cathedral, famously painted by Claude Monet.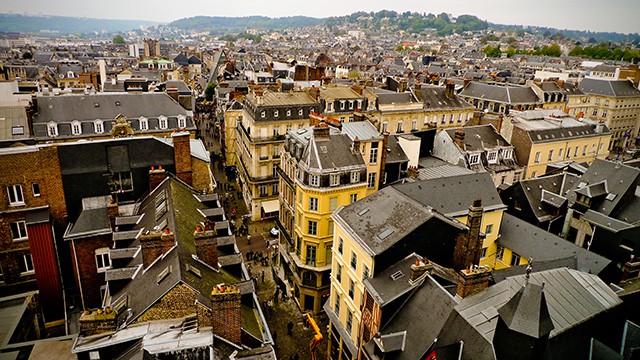 And took the tour of the "gros horloge" clock tower. Definitely do this – you'll have fantastic views of the city.
Your trip back to Paris will be fairly straightforward – just make sure to make the last train!
---
Versailles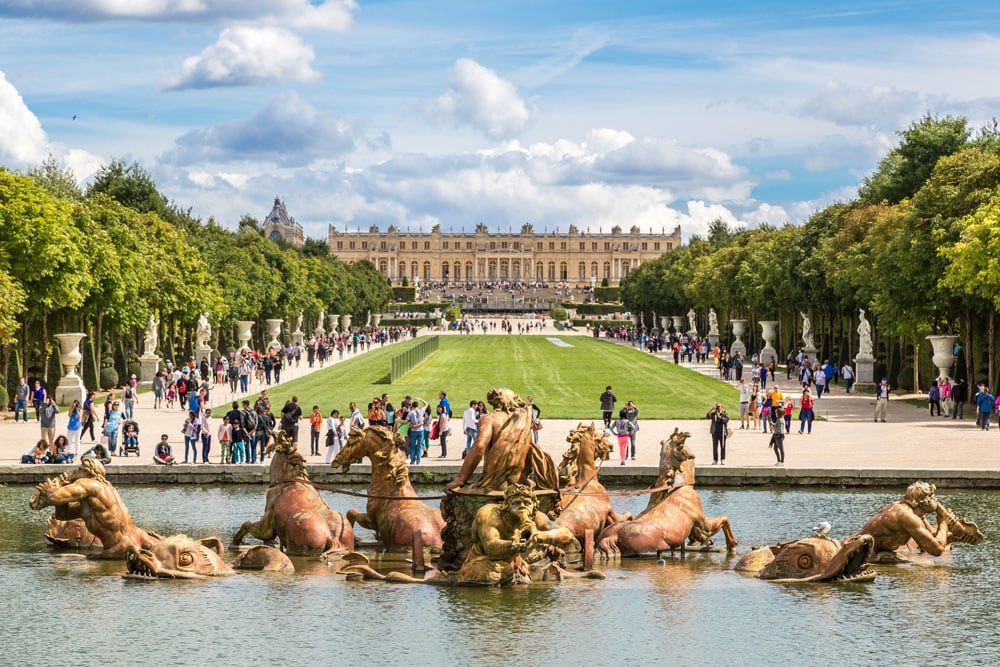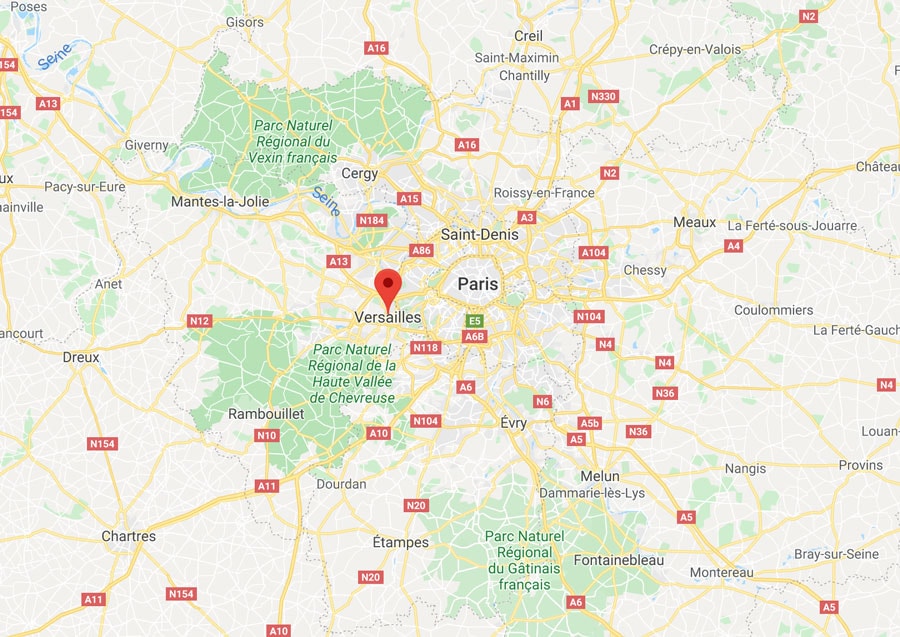 We couldn't talk about day trips from Paris without mentioning Versailles. Versailles is located just southwest of Paris and is easily accessed by the underground RER C (leaving from several convenient Metro stops in central Paris including Tour Eiffel, St. Michel/Notre Dame, Musee d'Orsay, and Gare d'Austerlitz). The line does split though, so make sure you get on a train with a terminus station of "Versailles Rive Gauche." It will be confusing because a train might arrive on your platform with a terminus station of "Versailles-Chantiers." Do not get on this train! Wait for "Versailles Rive Gauche." (If you do happen to get on the wrong one, no big deal, you'll just have to backtrack a bit and find the right one. Just don't go past the turnstiles.)
You will need to buy a different Metro ticket than the ones you've probably been using around Paris since Versailles is in Zone 4 (unless you have a Carte Paris Visite or a Passe Navigo that is valid through Zone 4, then use it!). Go ahead and buy a roundtrip ticket (aller-retour) and save yourself from waiting in line at the station in Versailles when you're trying to get back. Also, make sure to hold on to your ticket as you will need it to exit the platform once you arrive.
As for visiting the castle, my best advice is to purchase your tickets online and print them before you go. You'll be able to skip a line! Also, leave early. Even if you hate getting up early on vacation, if you get a late train out to Versailles, you'll spend at least an hour waiting in line.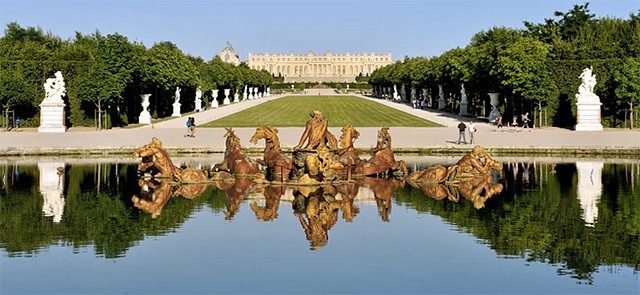 The castle is only about a 5-minute walk from the RER station, just follow the hoards of people. We like to visit the inside of the castle (an audio guide is included!), eat lunch at a place on the grounds, and then explore the gardens in the afternoon. Don't forget about the Grand and Petit Trianon and the Queen's Hamlet. The Queen's Hamlet is where Marie Antoinette would go to get away from the hassle of castle life and pretend she was in a quaint village. Really, it's adorable. It even includes a working farm and vineyard that is still functioning today!
Trains back to Paris run frequently, so you shouldn't have any problems getting back!
---
Fontainebleau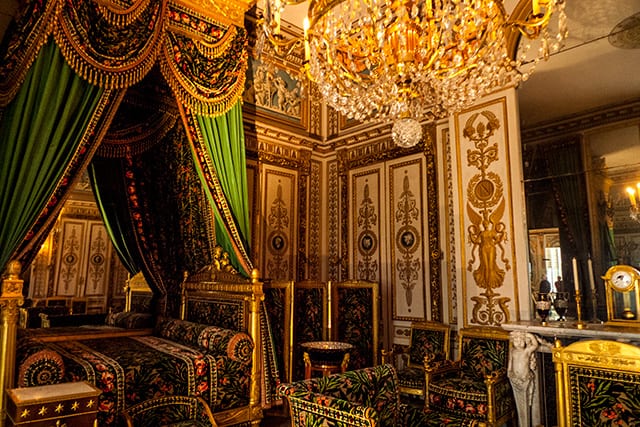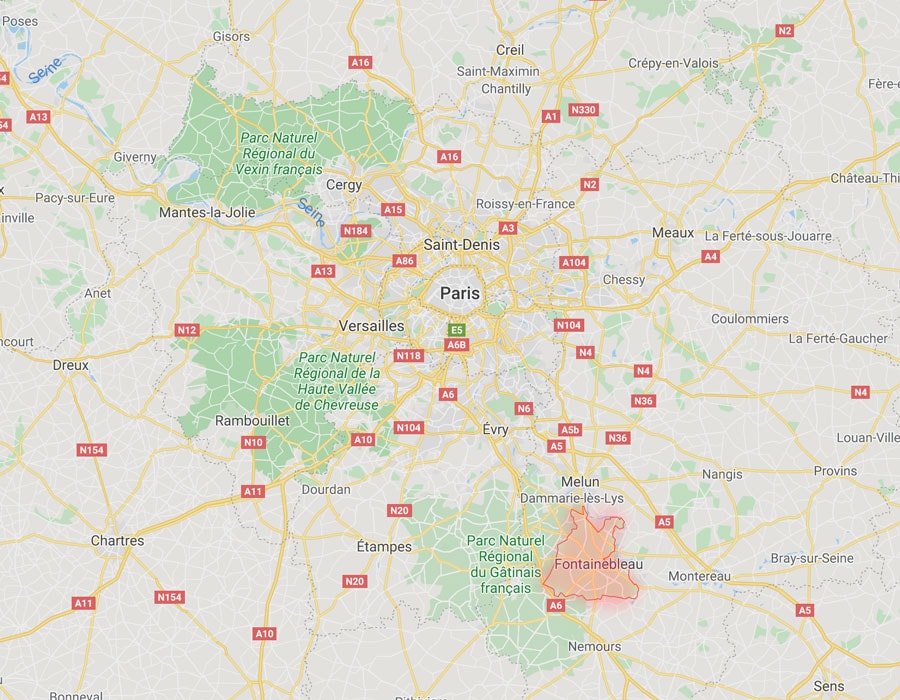 If you've already visited Versailles or you're just trying to avoid the mass of tourists there, Fontainebleau is an excellent alternative for a Paris day trip. For your 45-minute journey, you'll take the RER D from the Gare de Lyon. This RER is not underground, and you will actually leave from the main platforms (Grandes Lignes). Even if you see signs for the RER D pointing you to go downstairs somewhere, don't follow them! Luckily, if you do happen to get a bit turned around, trains leave about every hour, so your trip will not be delayed by much.
Because you'll be staying in the Ile de France region (just like Provins), you can buy your tickets from an Ile de France machine or ticket window and check out the SNCF Ile de France screens to find your platform. Your Carte Paris Visite or Passe Navigo valid through Zone 5 will also get you to Fontainebleau.
Fontainebleau will most likely not be the terminus station for your train. Look for one of the following cities that match up with your departure time: Laroche-Migennes, Montargis, Montereau, or Sens. This will be your train. Once you know the platform number, check out the TV monitor at the beginning of the platform (before you actually get to the train) for a list of towns that train services. Fontainebleau-Avon should be listed. If it's not, go back to the departure board and double-check the platform number.
The RER D will take you to the Fontainebleau/Avon train station where you'll hop on a bus that will take you to the castle (Bus 1). Don't worry about finding the bus, it's waiting there for you when you get off the train and almost everyone will get on (don't dawdle though!). Make sure to have coins/small bills to pay for your ticket (about 2 euros). If you used a Carte Paris Visite or a Passe Navigo valid through Zone 5 to make this journey, you can also use it for the bus. We purchased single train tickets and then paid the bus driver the extra 2 euros. If you're on a tight budget, it is possible to walk into town and will take anywhere from 25-45 minutes depending on the route. (Just take the bus.)

Honestly, I might even prefer the Fontainebleau castle to Versailles. Gasp! I think it's the architecture that does it for me. I love the steeply pitched roofs and little chimneys. And that staircase! We decided to go on the first Sunday of the month when the castle is free and we were met with basically zero crowds. The interior is just as opulent as Versailles and the grounds are beautifully manicured.

There are lots of great lunch places within walking distance of the castle, everything from nice cafés to kebabs. I had one of my favorite meals of all time at Bistrot 9.
Another bonus of Fontainebleau is the vast forest. If you have time, stop by the Office of Tourism for a map of the trails.

To get back to Paris, you'll just hop back on the bus and head towards the train station. Once again, don't forget to validate your train ticket. The machines will be quite small and, like Provins, it's going to punch out the corner, not stamp the date and time. A French girl sitting next to us forgot to validate hers (she said she didn't realize she had to) and received a 30 euro fine.
---
Mont Saint Michel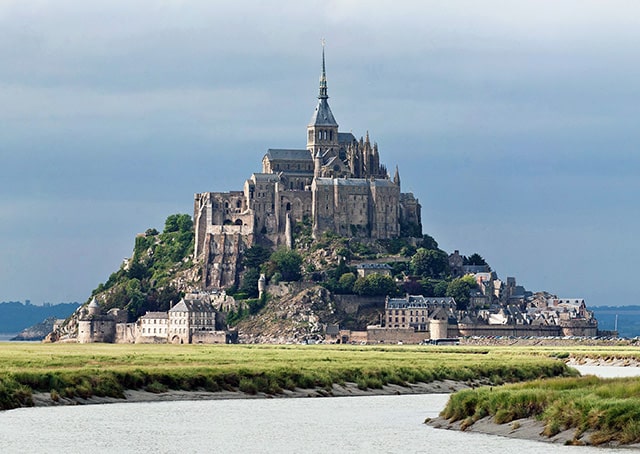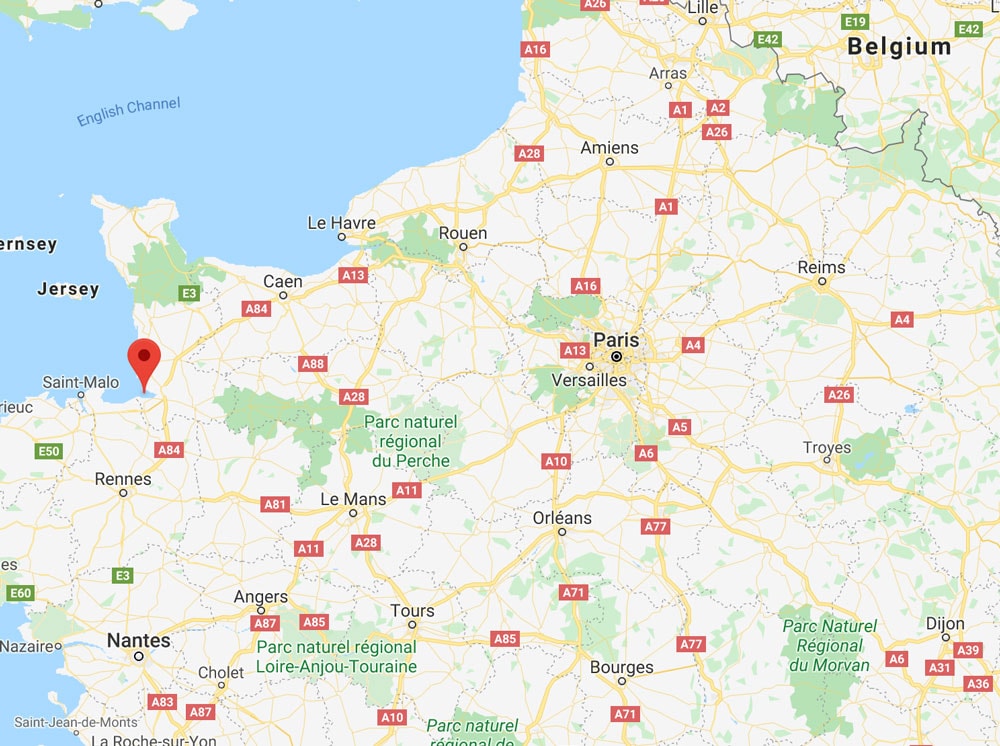 Mont Saint Michel (official website) is a magnificent island with a towering abbey, and wow, is it amazing! The oldest part of the abbey was completed in 1144 (with many additions and renovations coming later), but pilgrims have been visiting since 709 A.D when the Archangel Michael appeared to a local bishop.
Experiencing Mont Saint Michel as a day trip from Paris is a little difficult thanks to the distance but it can be done with proper planning. It is also one of the most visited monuments in France, so expect loads of people no matter what time of year you go.
You have a few different train journey options, but I would recommend booking a ticket that takes you to Dol de Bretagne where you'll catch a bus to Mont Saint Michel. The entire journey is booked together, either online (just search Paris to Mont Saint Michel), at the Grandes Lignes ticket window, or at one of the yellow ticket machines (only if you have a chip-and-pin card). In other words, you'll have a connection in Dol de Bretagne where instead of getting on another train, you'll be getting on an SNCF bus.
No matter what journey you decide on, your train will be leaving from the Gare Montparnasse. Because it's going to be a long one, do not miss your train. It's going to take you about 3 ½ hours to get there, so if you miss your train, chances are your day trip isn't going to work out. I know the connection in Dol de Bretagne looks really tight (only 11 minutes?!?!), but it isn't. Dol de Bretagne is super tiny, that bus is waiting for your train. Like in Fontainebleau, just follow everyone else and get on the bus waiting out front. Since Dol de Bretagne is super tiny, it will not be the terminus station for your train. This will most likely be Saint-Malo. Make sure to verify that Dol de Bretagne is listed as a stop on the TV monitors at the beginning of your platform before you get on your train. Also, don't forget to validate your tickets by inserting them in the little yellow machine!
One of my favorite views of Mont Saint Michel is when you're arriving and you can just see it in the distance. Have your camera ready! Once you do arrive, take note of where your bus dropped off and double-check your departure time. If you miss your bus back to Dol de Bretagne, you will also miss your train home.

Time to start the climb up! Mont Saint Michel is very touristy and most restaurants are overpriced and not that great. If you arrive around lunchtime, it's a good idea to grab something before you visit the abbey. We stopped at a random little place and had decent (but probably overpriced) croque monsieur sandwiches (basically ham and cheese). The island is known for its seafood and fluffy omelets. I'd also recommend La Sirene if you're in the mood for crepes.
Visiting the abbey is going to cost you 9€ if you're over 25 and 5€50 if you're 18-25 (free for 18-25 year-old Europeans and children under 18). An audioguide is an extra 4€50. They also have a few museums that aren't included in the abbey ticket. If you're interested in going to any of these, make sure you'll have enough time before you buy your tickets. We just stuck with the abbey and took our time exploring it and the quaint, winding streets of the rest of the island.
The trip home is just the opposite of what you did going to Mont Saint Michel and your bus will have you back to Dol de Bretagne in plenty of time for your train to Paris. When trains stop in small towns, they only stop for a few minutes. Make sure to be on the platform waiting for the train to arrive.
---
Giverny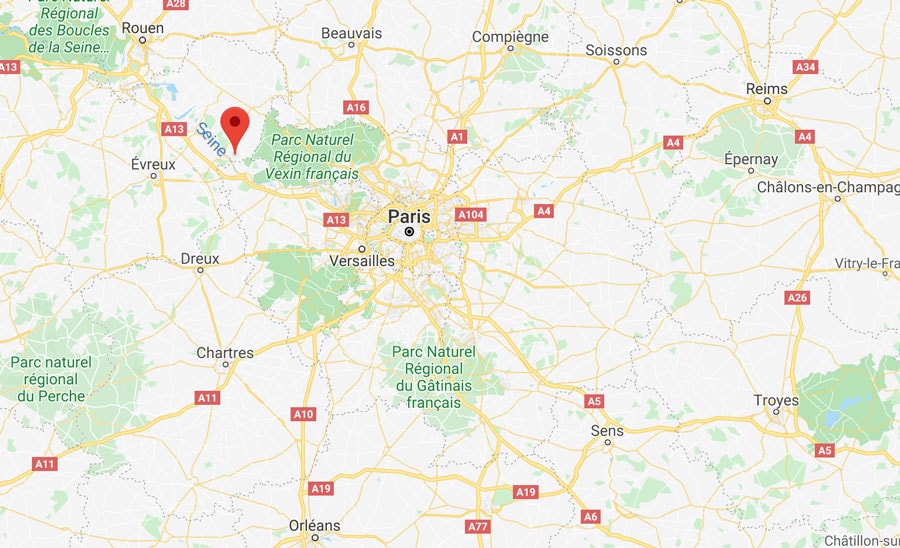 Made famous by Monet's gorgeous water lily paintings, Giverny is a wonderful place to visit during the spring and summer. You'll be able to stroll through his gardens and home – it's honestly like walking through one of his paintings! I would pass on Giverny if you're going to be visiting during the fall or winter. The main attractions here are the gardens, and they don't really start blooming until late May.
You'll want to purchase a train ticket to Vernon (online, at the Grandes Lignes ticket window, or by using the yellow machines if you have a chip-and-pin card) and it will leave from the Gare Saint Lazare. You will actually be taking the same train as you would for Rouen, just getting off a few stops earlier, about a 45-minute ride. That being said, the terminus station for your train will probably be Rouen. Make sure to check the monitors at the beginning of your platform to verify that Vernon is listed and validate your ticket in the small yellow machine.
Once you arrive in Vernon, you'll want to take the bus to Giverny (about a 20-minute ride). These buses will be waiting outside the train station, but they are not included in your original train ticket. You'll buy a ticket directly from the bus driver, so make sure you have cash (about 6€50, roundtrip).
To avoid waiting in the super long line, you can purchase your tickets online and print them at home. The day we went it rained all day, which was sort of a bummer, but at least the crowds were a little less.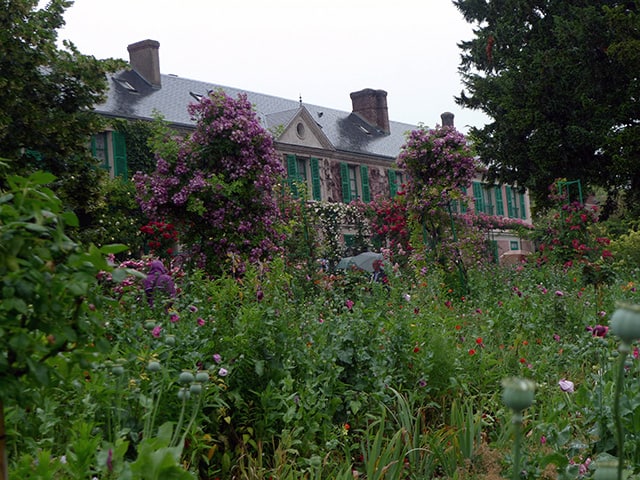 We stopped for lunch at a restaurant near the train station and I would highly recommend not doing this. There will be places to eat once you get to Giverny, and even though they might be touristy and a bit overpriced, they will be better than anything near the train station. La Capucine Giverny looks like a great little place for a sandwich or salad, even better with outdoor seating.
The gardens are breathtaking and Monet's house is absolutely adorable. They've preserved it quite well with his personal items, furniture, and a number of his paintings. Monet also has an impressive collection of Japanese prints and engravings, so you'll be able to see many of these around the house as well.
To get back to Vernon, you'll catch the bus again. This timetable will show you what bus corresponds to your train, but you can, of course, take any of them.
If you don't have time to make it to Giverny or you'll be traveling during the colder months, check out Monet's huge water lily paintings at the Musee de l'Orangerie in Paris.
---
Reims


Reims is the capital of the Champagne region and the perfect day-trip for anyone who loves a little bubbly. Reims is also home to a beautiful cathedral where French kings were crowned.
(Note: Reims is pronounced similar to a very nasal "rance". Whatever you do, don't say "reams".)
Your train will leave from the Gare de l'Est and you can purchase your tickets online, at the Grandes Lignes ticket window, or by using the yellow machines if you have a chip-and-pin card. Make sure you select the main Reims station (also called "Reims Gare" or "Reims Station") and not the Champagne-Ardennes TGV station. The Champagne-Ardennes TGV station is quite a bit out of town and means you would need to switch trains or take a bus or tram the rest of the way to Reims. I would recommend booking a direct train to central Reims, even if you do have to stop a little more along the way. The terminus station for your journey will probably be Reims, so locating your platform should be fairly straightforward.

The cathedral in Reims is, of course, gorgeous, and also has the extra history of being where the coronation of France's kings was held.

Your main reason for visiting is probably the champagne, so make sure to try a variety of it! There are a few large champagne houses that will give tours of their cellars and a tasting afterward. I loved the Pommery champagne house and James really enjoyed his visit to Mumm and Veuve Clicquot. Other well-known places are Taittinger and G.H. Martel. We purchased our tickets online and decided on the cellar tour with tasting two types of champagne. It was wonderful! I will advise skipping Pommery's "Pop" champagne as it seems all in the name of marketing. The Brut Royal is amazing!
---
Lille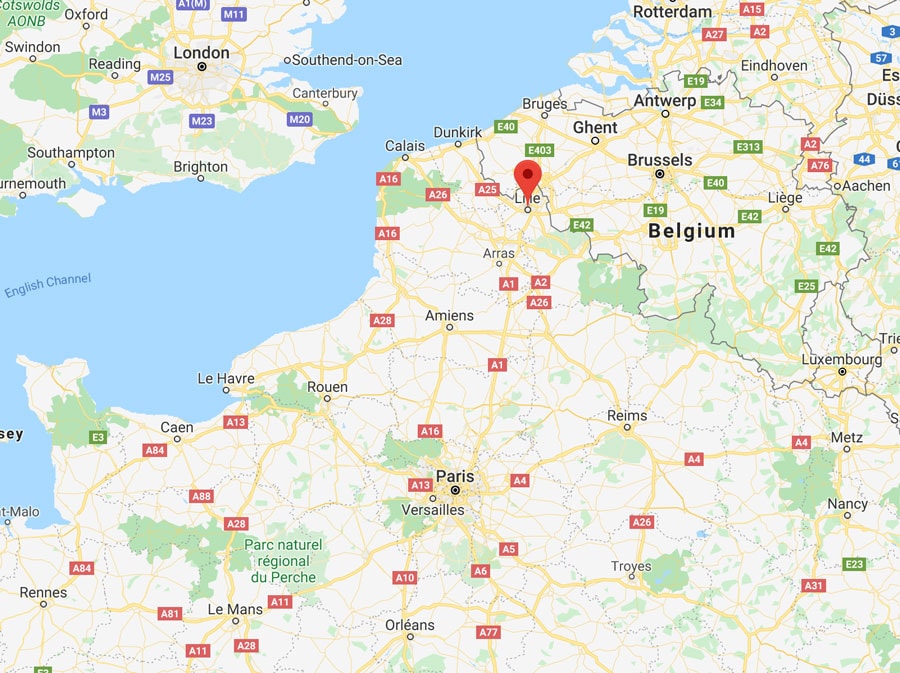 Lille is accessed easily from Paris via a high-speed train (TGV) from the Gare du Nord. In about an hour, you'll find yourself in the beautiful capital of northern France. Its Flemish-style architecture is much different from what you'll see in Paris and the people are very friendly!
Your train will leave from the Gare du Nord, and you can purchase your tickets online, at the Grandes Lignes ticket window, or by using the yellow machines if you have a chip-and-pin card. Your journey will most likely be direct to Lille, but some trains will stop in the smaller town of Douai. Just be careful where you get off.
You'll either arrive at the Gare de Lille Flandres or the Gare de Lille Europe, which are right next to one another. Lille Europe services high-speed trains and the Eurostar while Lille Flandres services regional and high-speed trains. It doesn't matter which one you choose, so just go with the time that works the best for your schedule.

There are two gorgeous squares in central Lille: Le Place du Général-de-Gaulle (also known as "le grand place") and Le Place du Théâtre. If you're into old French things, you'll want to go to La Vielle Bourse where you can purchase old postcards, books, coins, maps, and prints. The older part of the city, Vieux Lille, is quaint with its cobblestone streets and tiny shops.

While you're there, make sure you check out the beer scene (you'll find some great Belgian ones) and eat as many of their delicious fries as you can. The north is also known for its Maroilles cheese (quite strong, best when served warm in a sauce or tarte) and carbonade flammade (beef stew cooked in beer). Try to find a lunch place with these on the menu! We tended to just pop into places, so I'd recommend you do the same. Just avoid anything too close to either of the train stations.
Your trip home should be just as easy as your trip to Lille; just make sure you're at the correct train station!
---
Amiens


Amiens is just north of Paris in the Picardy region of France. It is home to the tallest cathedral in France, beautiful floating gardens ("hortillonnages"), and the mansion where Jules Verne spent a large portion of his life.

Once again you'll depart Paris from the Gare du Nord after purchasing your tickets online, at the Grandes Lignes ticket window, or by using the yellow machines if you have a chip-and-pin card. Amiens will be your terminus station, but your number of stops along the way could vary. Try to pick an "Intercités" train, if possible, as these will be faster and skip the smaller towns along the way. Your entire trip should be less than half an hour each way.
The cathedral is really gigantic and has a cool maze worked into the floor design. Try to find the sweet Weeping Angel statue.
You'll also want to check out Jules Verne's house and museum, located not too far from the train station. The hours can vary, and they are closed around lunchtime, so make sure to plan your day around these constraints.
If you are able to visit during the spring or summer, you must walk through the floating gardens. They are a series of small, man-made canals that have created a maze of little islands. We visited during the winter, but still enjoyed the walk due to the interesting doors/bridges people use to connect their backyards to the floating gardens.
For your trip home, try to get another "Intercités" train, and you'll be all set!
---
More France Travel Tips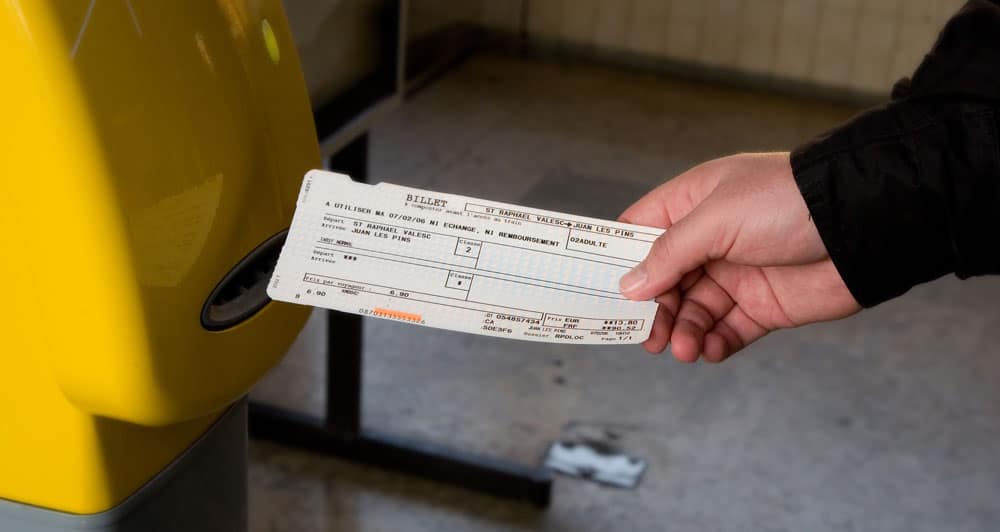 Let's keep the travels going! Here are some more travel tips for France: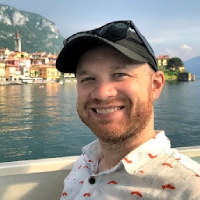 Latest posts by James Feess
(see all)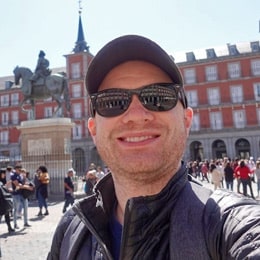 No Funny Business
The Savvy Backpacker is reader-supported. That means when you buy products/services through links on the site, I may earn an affiliate commission—it doesn't cost you anything extra and it helps support the site.
Thanks For Reading! — James
Questions? Learn more about our Strict Advertising Policy and How To Support Us.