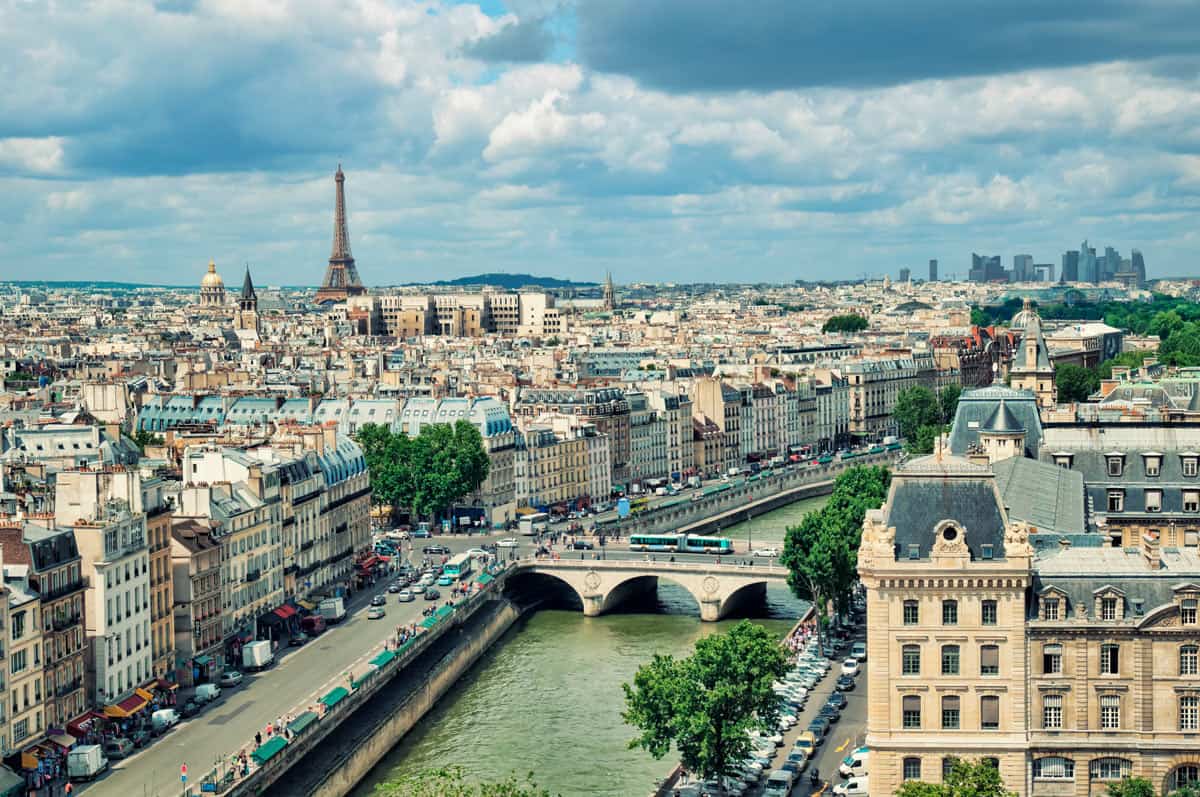 Paris will always be our favorite city. It was our home for a few years and we've visited multiple times — so we love helping people explore the city. In this Paris Travel Guide, we'll walk you through everything you need to know about visiting Paris — from what to see, where to eat, and the best neighborhoods to explore.
Quick Guide
Daily Costs To Visit Paris
First things first… how much money do you need to visit Paris? Well, this city isn't a cheap destination but it can still be somewhat of a budget-friendly destination if you're careful about how you spend your time.
The average cost per day for budget travel will be around €80/day but frugal travelers might spend around €40/day. That said, you can easily spend a little less or quite a bit more depending on your travel style. Check out our Paris Travel Cost Guide to get a better estimate of travel costs.
I also highly suggest buying a local SIM Card so you have fast, reliable, and affordable mobile data for your phone. Check out my Guide To The Best SIM Cards and Mobile Data Plans in France
---
How Long To Visit Paris: 5+ Days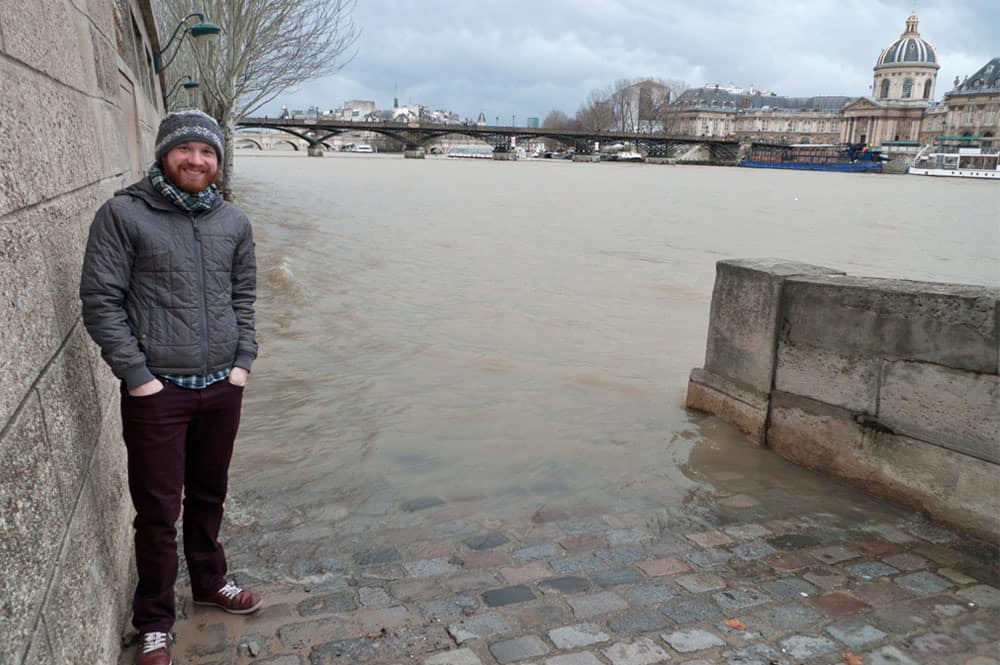 Paris is one of those cities that can't be experienced in a day or two. You honestly need a minimum of four days but you can also spend well over a week and feel like you're just scratching the surface.
Personally, we suggest you spend at least five days in Paris — this will let you experience a few different areas of the city without having to travel at a breakneck pace.
---
Paris: The Good & The Not-To-Good

Paris does a lot of things extremely well but it's not a perfect city. In this section, we'll cover the best and the worst that you'll experience when you visit Paris.
The Good
The Good Life: Our favorite thing about Paris is experiencing and soaking in the "good life" that Parisians experience every day.
The Food: There is no doubt that Paris is home to some of the best food in the world. Ok, it's usually expensive to eat in a nice restaurant but there are still some great values out there.
The Wine: You can find great wine at just about every restaurant and the house wine is usually very good.
Cafe Culture: One of our favorite things about Paris is simply enjoying have a meal or drink in a cafe — especially on a sidewalk cafe during a warm day.
Architecture: Exploring Paris is like walking through a living and breathing museum. The architecture is amazing everywhere you look.
The Metro: The Paris Metro is one of the best subway systems in the world. It's fast, it's extensive, and it's affordable. You're never more than about a five-minute walk from a metro station.
The Shopping: Paris is one of the great shopping cities in the world.
The Not-So-Good
Crowds: Paris is the most-visited city in Europe so the crowds at museums and other popular sights can get a little overwhelming. So pre-purchase tickets if possible or pick up the Paris Pass so you can skip most of the lines.
Smelly Metro: While most Metro stations don't smell bad, you'll probably experience a few that have a distinct urine smell.
Costs: As said before, Paris tends to be expensive and you can easily blow your budget on food and accommodation. So don't be surprised when your hotel is tiny and expensive.
Beggers and Pickpockets: Like most major cities in Europe, Paris isn't immune to pickpockets and beggars. You probably won't have any issues but it's smart to keep your wits about you.
---
Best Time To Visit Paris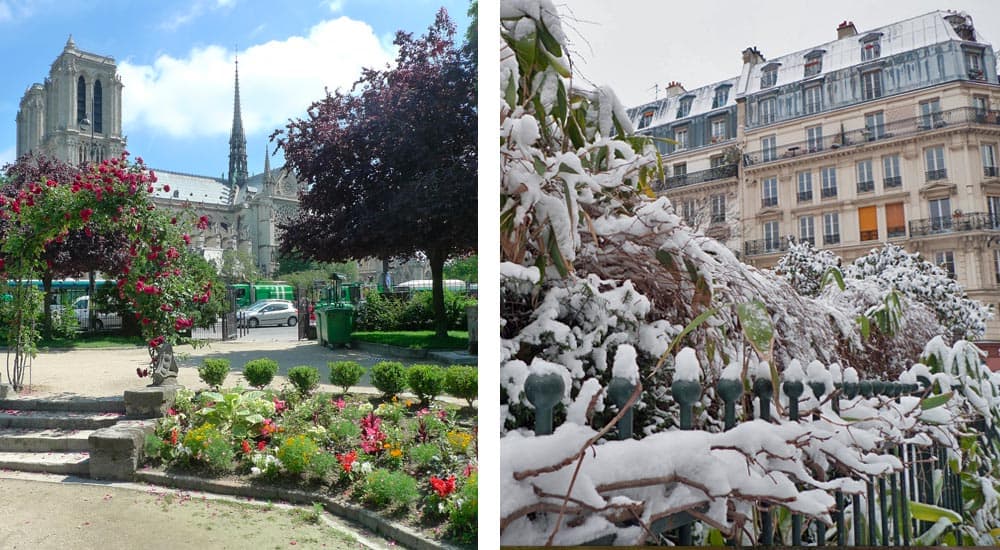 There is never a bad time to visit Paris as there is always something going on but each season does have its pros and cons. In this section, we'll give you a brief overview of each season to help you choose the best time for your visit.
Summer
The summer is obviously the most popular time to visit because the weather is nice and the rain is light/infrequent. The average high temperatures from June to August is about 75 degrees but the city will have a few 80-90+ degree days each summer.
You'll have to deal with all the crowds — which can get intense at the most popular attractions. Prices are also higher for accommodation and transportation (flights, trains, etc.). Also, August is traditionally a time when many Parisians take their vacations so some restaurants and independent shops might close down for 2-4 weeks (although this is becoming rarer).
Despite the crowds and elevated prices, summer is still a great time to visit. The streets are alive with activity, the cafes are buzzing, and the people watching can't be beaten. It's also a great time to spend hours in the city's numerous parks and gardens.
Fall
September through early November is another great time to visit as the temperatures are still comfortable but the crowds aren't at their summer peak. The average highs in September and October are still in the upper 60s and the rain doesn't seem to really pick up until November.
And while the sidewalk cafes might not be as busy, inside the cafes still buzz with plenty of life.
If we had to choose, we'd visit in mid-September since it's a nice balance between comfortable weather and fewer tourists.
Winter
Paris winters don't tend to get too cold but they are usually fairly grey and rainy. Snow is rare. There might be a handful of below-freezing days but the high temperatures are usually in the low 40s or high 30s. You'll want to pack for light rain and dress in layers.
November, January, and February are all slow months so you won't have to fight the crowds. Prices are also lowest during these times.
Paris does get a bit busy during the Christmas season so prices will be higher than normal.
Be sure to dress properly. Check out these handy winter-packing articles:
Spring
During March through mid-May, the weather starts to warm up and the city comes back to life. The flowers start blooming and people are out and about. Tourism doesn't really start picking up until the middle of May so it's still a nice time to experience the city before things get too crazy.
The temperatures average in the mid to upper 50s but April and May do tend to be a bit rainy.
---
Paris Neighborhoods & Where To Stay
Paris is divided up into 20 Arrondissements (i.e. neighborhoods/districts) and each has its own personality. In this section, we'll talk about a few of our favorite/must-see neighborhoods and this should hopefully help you decide where to explore and maybe stay in. By the way, check out our in-depth Paris Neighborhood Guide if you want a more detailed rundown on each of Paris' 20 Arrondissements.
Don't forget that Paris has an excellent public transportation system so traversing the city is quick and easy.
THE MARAIS (3RD/4TH)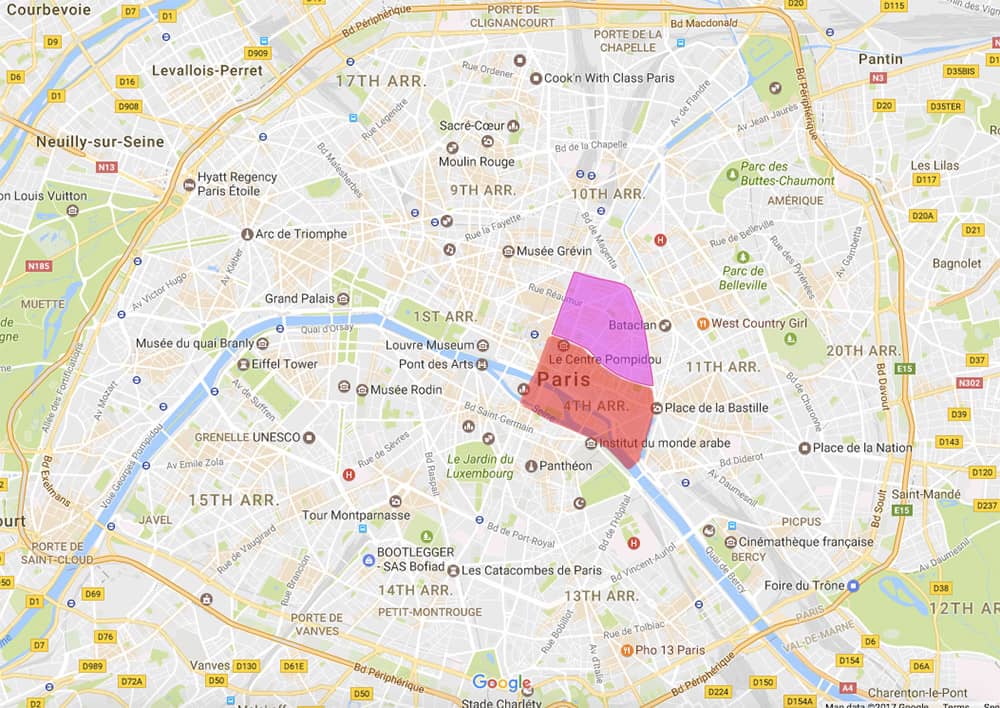 It's hard to beat the uber-cool Marais — it's centrally located, full of bars and restaurants, has a lot of great shopping, and it has great energy. It's also the most LGBT-friendly neighborhood. Additionally, the Marais has historically been Paris' Jewish neighborhood so it's the place to grab a great falafel.
In general, the southern area of the Marais has a bigger concentration of bars and nightlife so it can be a little louder at night. Things get a bit quieter as you go north.
Neighborhood Highlights:
Musée Picasso
Musée national des Arts et Métiers
Notre-Dame de Paris
Hôtel de Ville (City Hall)
Centre Georges Pompidou
Maison de Victor Hugo
Check Out Hotel Prices for the Marais Hotels at Booking.com
BASTILLE (11TH)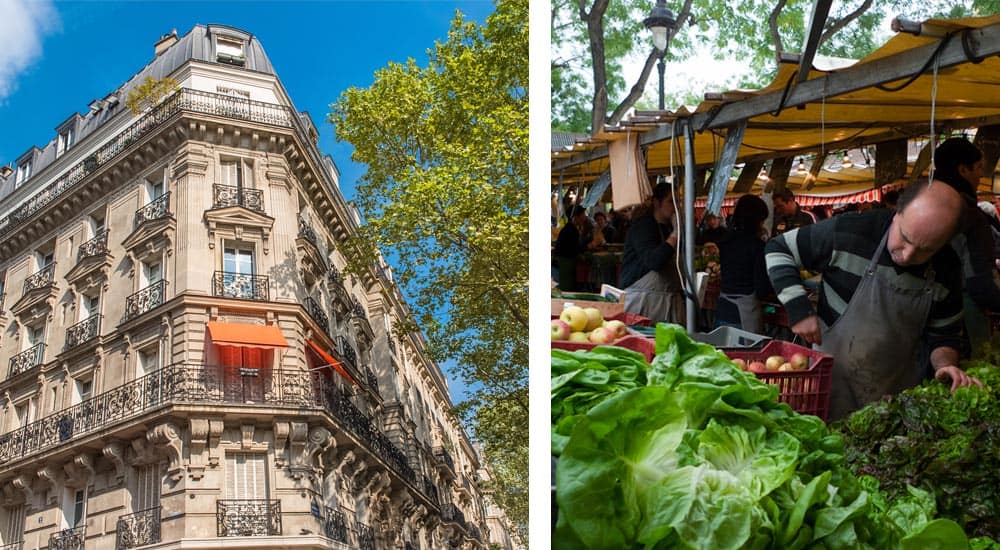 The Bastille has historically been a quiet working-class neighborhood but it's recently become Paris' new hip "it" neighborhood. These days young chefs are moving in and restaurants popping up every day. You'll also find some nice budget-friendly nightlife around rue Oberkampf and the streets around the Place de la Bastille. Furthermore, every Sunday you'll find the largest farmers market in the city.
The neighborhood isn't touristy so you'll get a real "local" feel when you stay there.
Neighborhood Highlights:
Bastille
Bastille Farmer's Market
Check out Booking.com to get an idea of hotel prices in the 11th
THE LATIN QUARTER (5TH)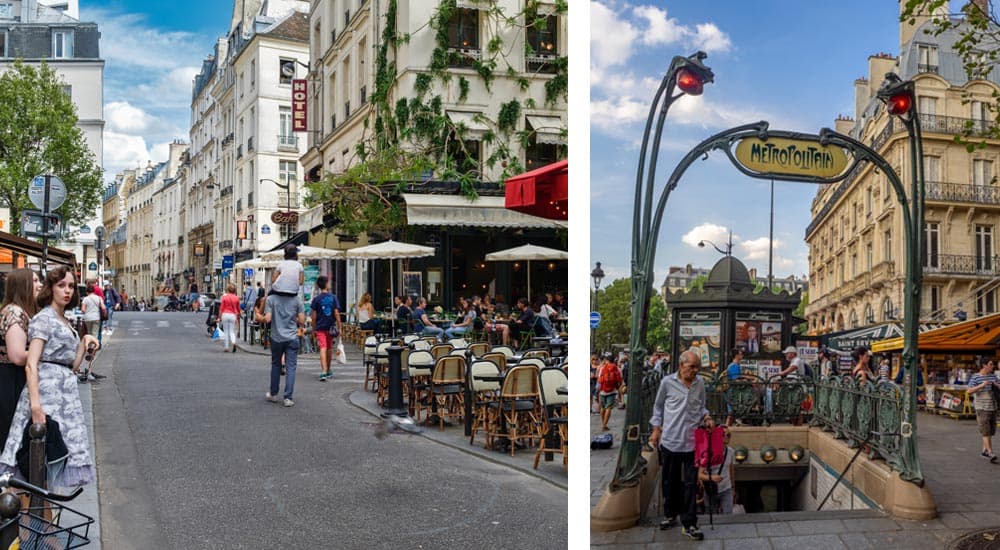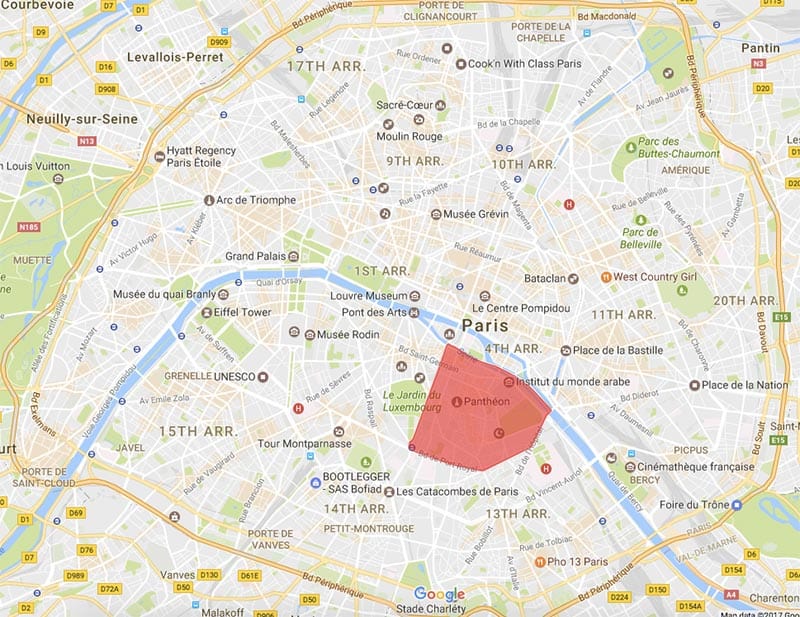 The Latin Quarter is classic Paris and there are parts that date back to the Middle Ages. It's what people picture when they imagine visiting Paris so its one of the most popular areas to explore and stay. It's full of tiny streets, cafes, shopping, and restaurants. It's also home to many universities so there is a solid student population (although not many can afford to live there anymore).
Accommodation and food prices tend to be fairly expensive since so many visitors want to stay here — but it's hard to blame them.
Neighborhood Highlights:
Panthéon
Jardin des Plantes
Arenes de Lutece
Musée du Moyen Age
Musée de l'Institut du Monde Arabe
Check Booking.com To See Average Hotel Prices for the Latin Quarter
SAINT-GERMAIN-DES-PRÉS (6TH)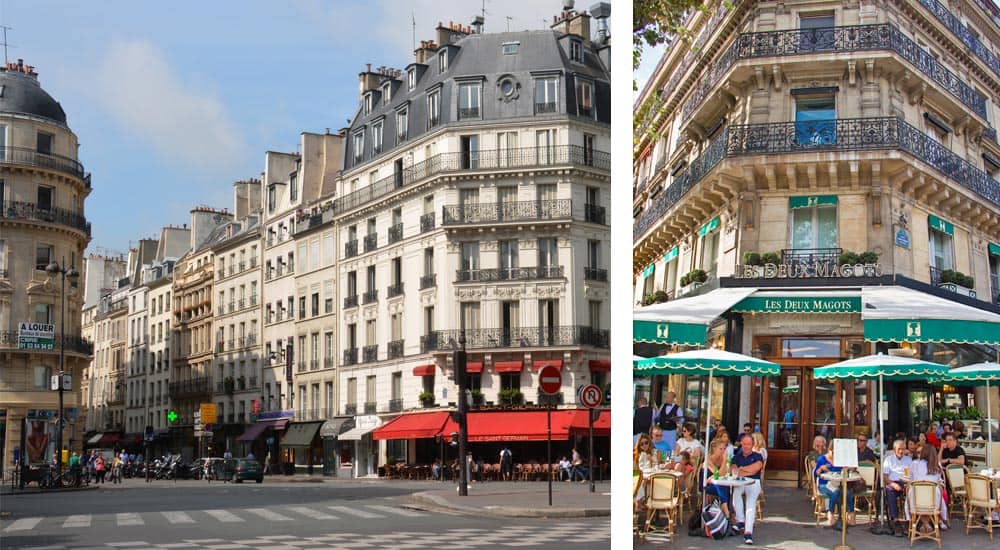 St. Germain is also classic, old-school Paris. It's beautiful. It's romantic. It's the heart of Paris' literary heritage. It's also expensive. In fact, it's probably one of the most expensive and most visited parts of the city. But you're in the heart of everything (especially if you stay near the river).
Neighborhood Highlights:
Eglise Saint-Germain-des-Prés
Palais du Luxembourg
Check Booking.com To See Average Hotel Prices for St. Germain
MONTMARTRE (18TH)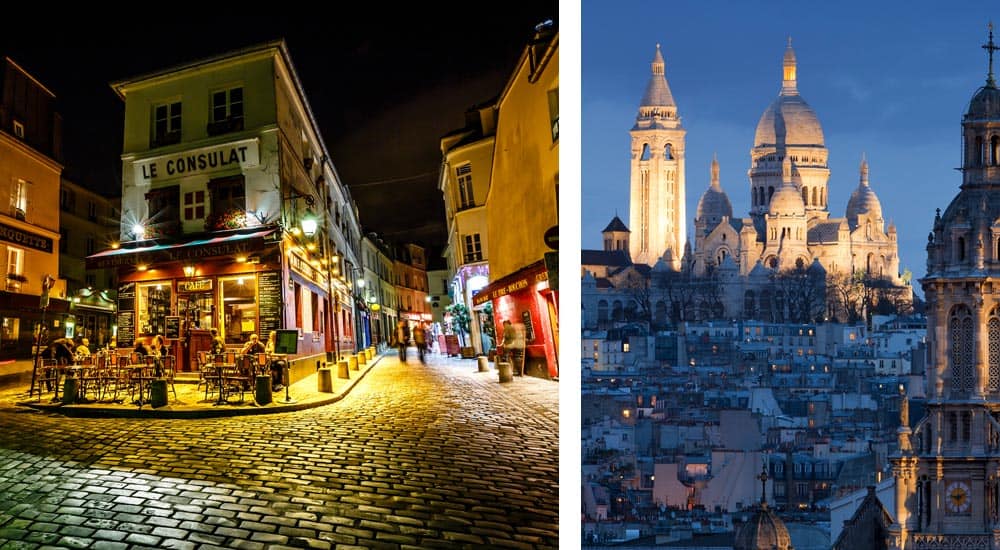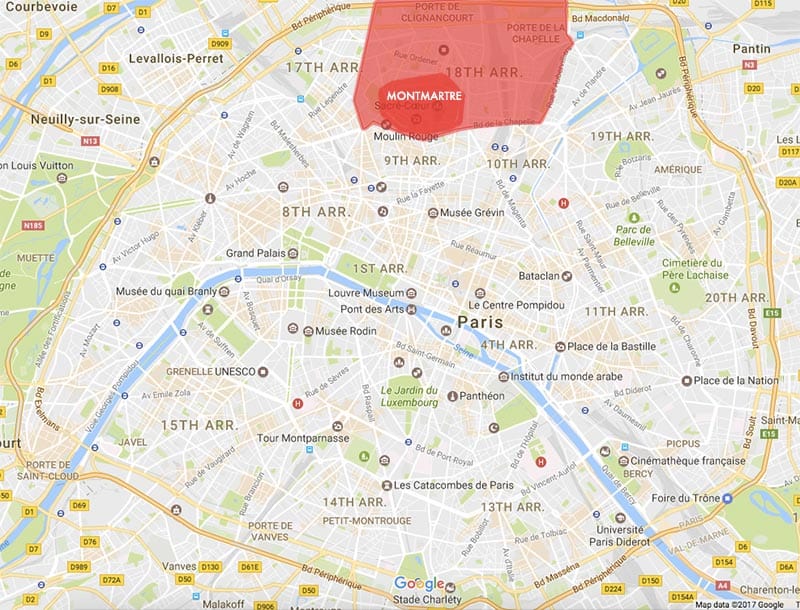 Montmartre is one of the most unique, romantic, and charming parts of the city. It's located on a large hill in the northern part of the city and it's topped with the Sacré-Cœur Basilica — the city views from the top of the hill can't be beaten. This area was its own village until the late 1800s so it has a different feel than the rest of Paris. It's also very hilly and has lots of stairs so it's not great for anyone with mobility issues.
Some parts of Montmartre are very touristy but accommodation tends to be a little cheaper than central Paris since it's not in the "center" of the city.
Once you go a bit north of Montmartre the neighborhood becomes a little rougher so it's not the most ideal place to stay. Paris' Red Light District (including the Moulin Rouge) is located in the very southern part of Montmartre but it's pretty tame.
Neighborhood Highlights:
Check out budget-friendly hotels in Montmartre at Booking.com
Again, these are our favorite neighborhoods but there are plenty of other great neighborhoods in Paris that might be perfect for your travel style. Check out our Paris Neighborhood Guide to learn more about each neighborhood.
---
Hostels and Hotels in Paris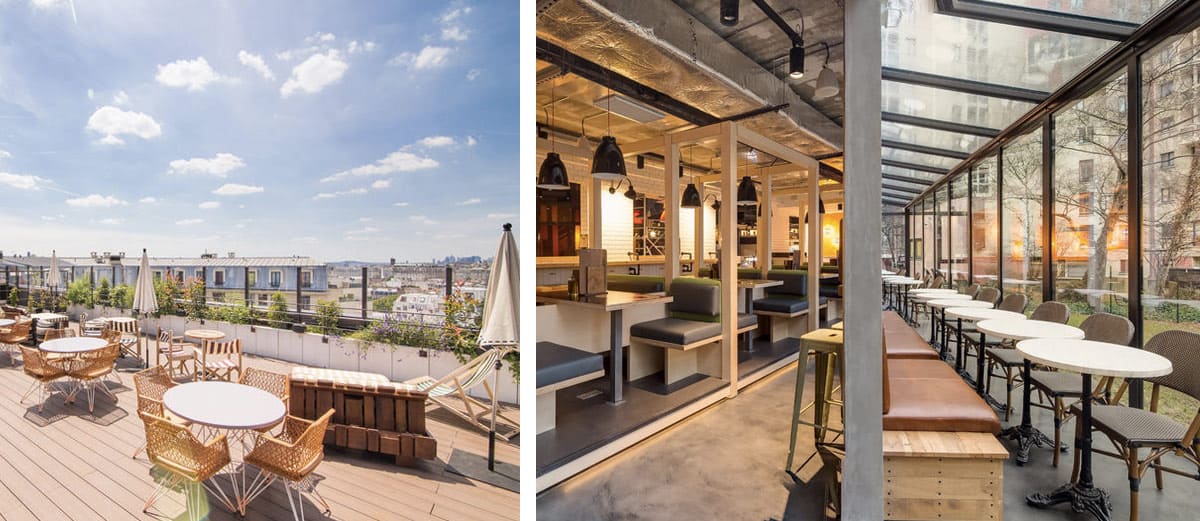 Alright, Paris has a handful of good, but not great, hostels. And unless you're spending big bucks, plan on staying in a very small hotel room that costs $120-$200+/night.
The average nightly cost for a bed in a hostel is around €30-€42 in the summer and €20-€30 in the winter. Check Hostelworld to get exact prices for your dates and read our guide to the Best Hostels in Paris for more information.
Top-Rated Hostels in Paris
Budget-Friendly Hotels
Hotel prices are all over the place in Paris — from budget to five-star. We recommend searching on Booking.com to find hotels in your price range — plus they make it easy to filter searches based on location, price, and rating.
---
Best Things To Do in Paris


Paris has sooooo many things to see and do — it's virtually impossible to cover everything (but we'll do our best). In this section, we'll cover the best and most popular things you'll definitely want to consider checking out.
P.S. Don't run yourself ragged trying to do it all. You'll get burnt out. We've found they most people who didn't like Paris were the ones who tried to "see it all." Give yourself time to soak it all in. Consider picking up the Paris Pass so you can skip the lines and better utilize your sightseeing time.
Museums
Paris is the museum capital of the world but we recommend only visiting the ones that seem most interesting to you so you avoid museum burnout.
Musée d'Orsay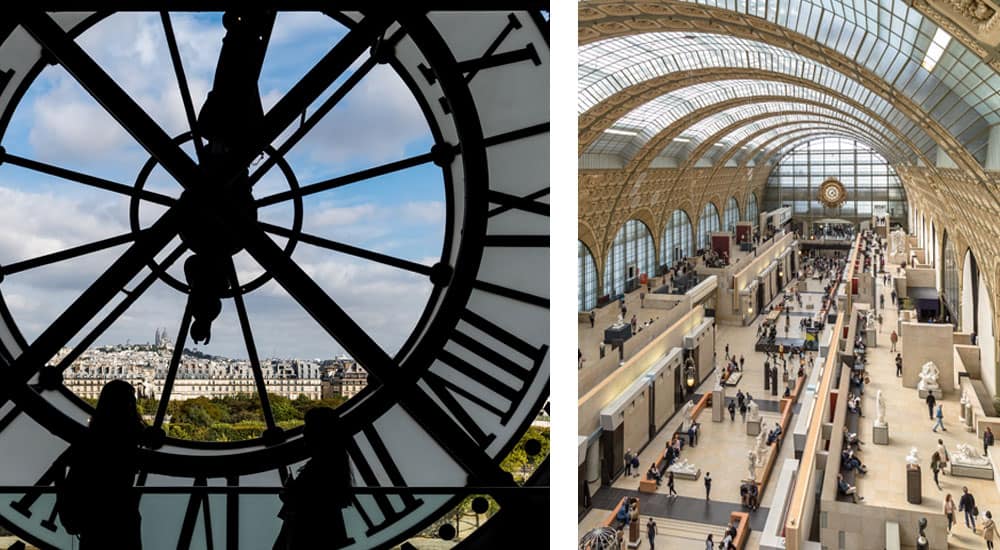 In our opinion, the Musee d'Orsay is the best museum in Paris. Sure, the Louvre is massive and more famous, but the d'Orsay shouldn't be missed. It's set in an old art nouveau train station and it contains an impressive collection — including one of the best collections of impressionist paintings from Renoir, Monet, van Gogh, and others.
The d'Orsay does get busy so get there early or visit later in the day on Thursday when it's open until 9:45 pm. Visit Website.
The Louvre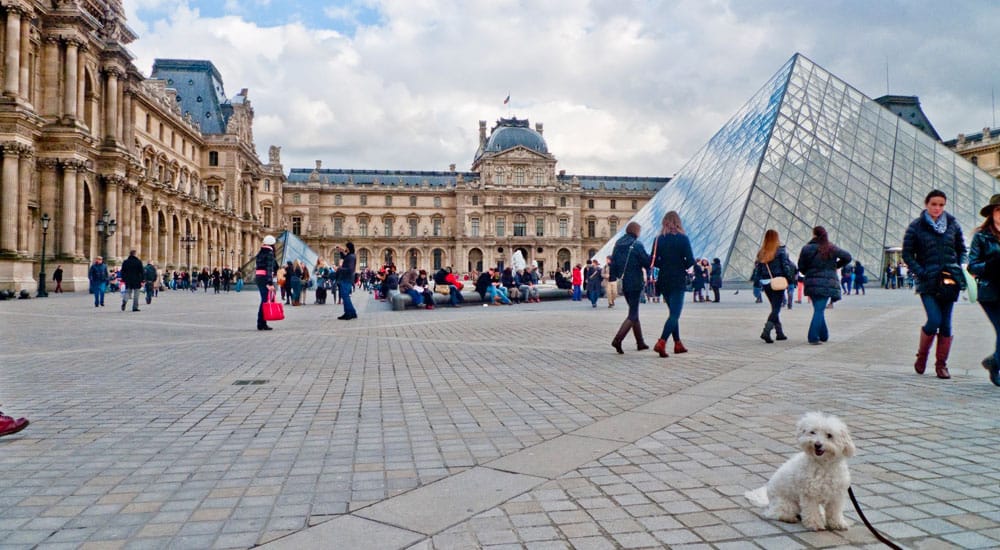 The Louvre is easily the most famous museum in the world. It's so huge that you can't really see it all in one day — you wouldn't want to try seeing it in a day anyway. It's recommended to arrive early to beat the crowds or purchase your tickets online. Even if you don't like art, you should still visit the grounds (Tuileries Gardens) to look at the impressive former palace.
Another tip is to visit on Wednesday or Friday night since it's open late (9:45 pm). Visit Website.
Centre Pompidou

The Centre Pompidou is Paris' modern and contemporary art museum. It houses works from everyone from Dalí to Warhol. Almost equally impressive (and somewhat bizarre) is the exterior design of the museum so take some time to appreciate that. Furthermore, take the escalator to the top of the museum for some excellent city views. Visit Website.
Musée Picasso

After years of being closed for renovations, the Picasso Museum is finally open. It's the largest collection of Picasso's works and it spans from his early life to the end of his career — it's interesting to see how his style evolved. Visit Website.
Musée Rodin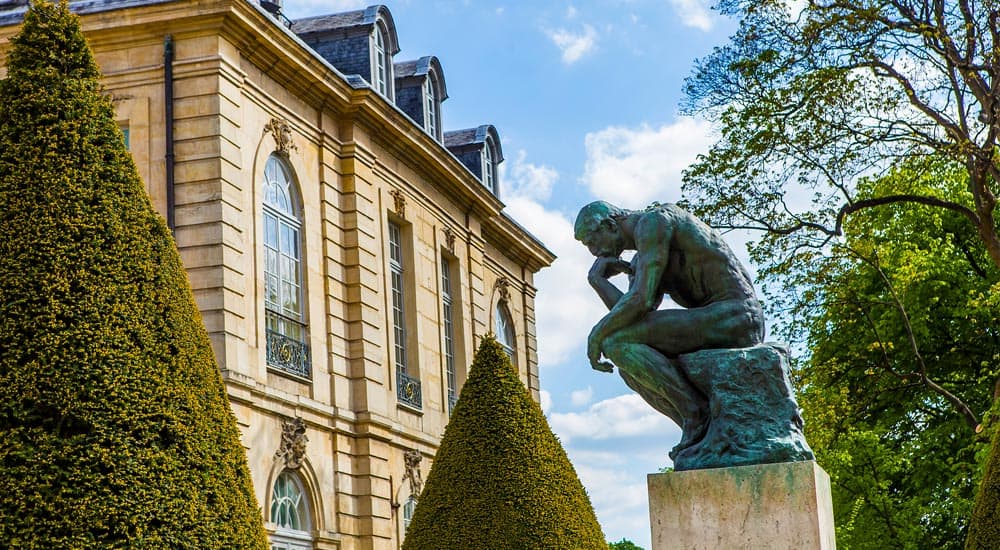 The Rodin Museum has a nice collection of small Rodin sculptures housed in his former home but the real star is the beautiful sculpture garden — which showcases many of his famous works like The Thinker and The Gates of Hell. We recommend visiting on a nice day so you can spend an hour or two wandering the gardens. Visit Website.
Hôtel des Invalides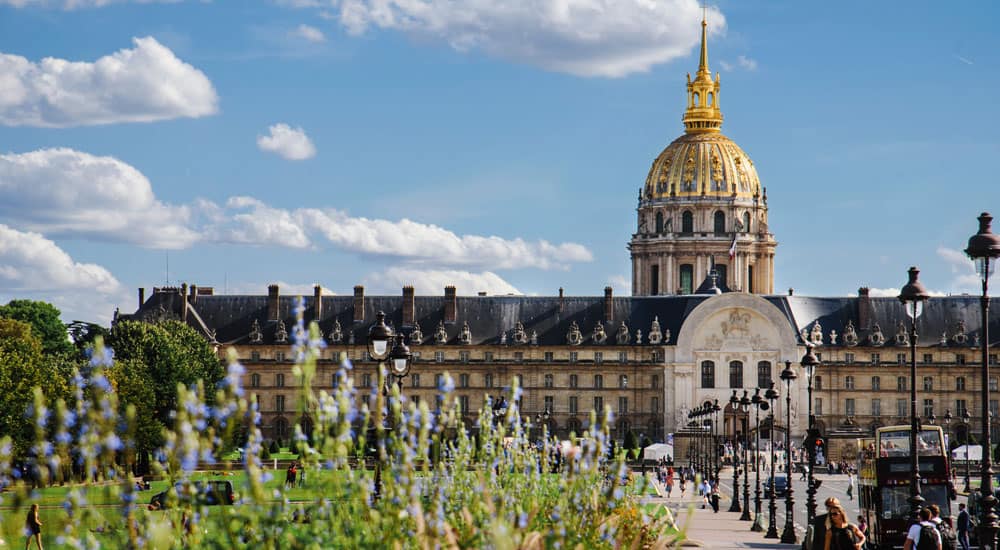 This expansive museum chronicles France's long and extensive military history. It's also where you'll find Napoleon's opulent and gold-domed tomb. Visit Website.
Musée Carnavalet

The Musée Carnavalet chronicles the rich history of Paris. It's a free museum so feel free to give it a quick look. NOTE: The museum is closed for remodeling until sometime in 2019.
Musée National du Moyen Âge (Cluny Museum)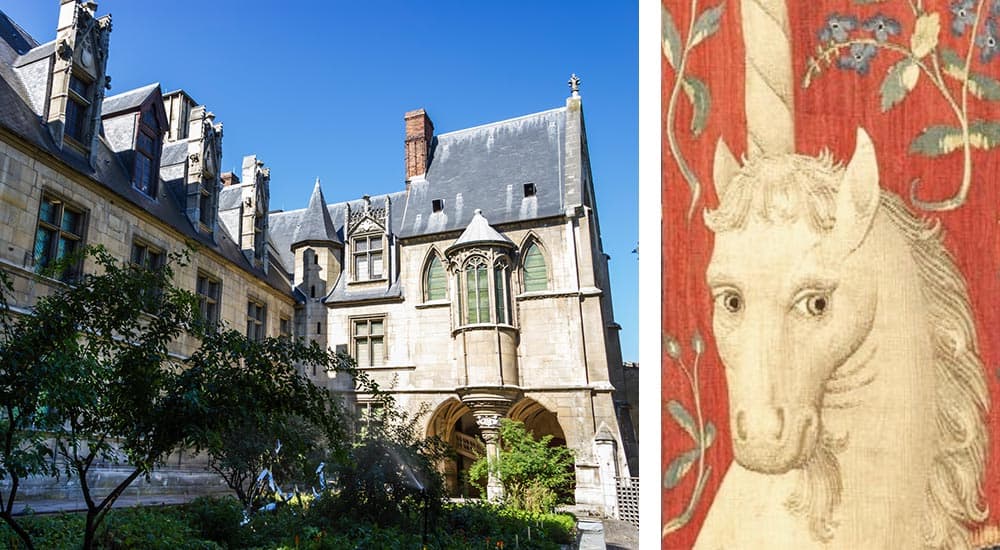 The Musée National du Moyen Âge is France's national museum of the Middle Ages and it's housed in an impressive medieval mansion. In this impressive museum, you'll find a collection of weapons, artwork, artifacts, tapestries, and Roman bath ruins. Visit Website.
Musée du Quai Branly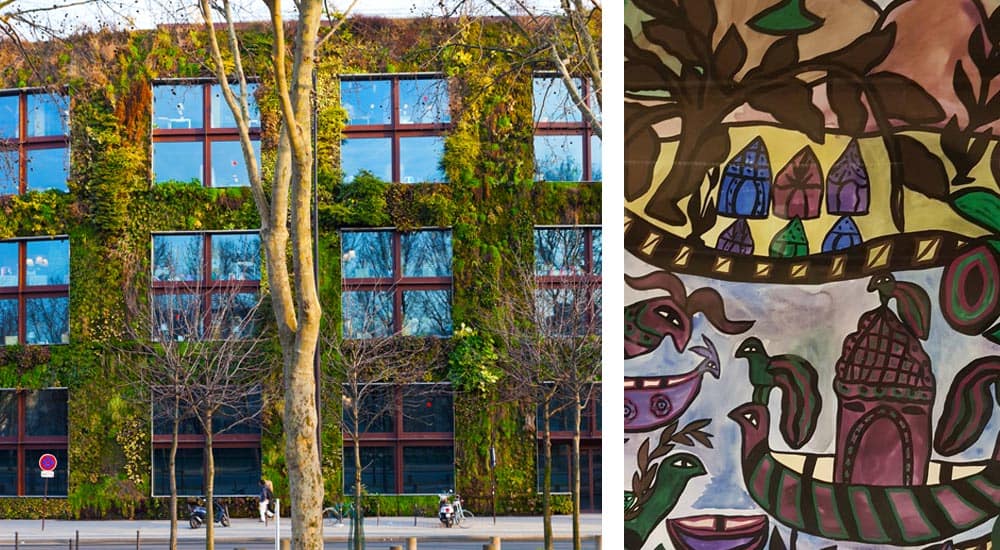 There is more than just European art in Paris — enter the Quai Branly Museum. Here you'll find non-European art with a strong focus on indigenous African, Oceania, and some South East Asia and American. Tip: Visit the rooftop terrace for amazing panoramic views of the Eiffel Tower and the rest of the city. Visit Website.
Major Sights & Attractions
Eiffel Tower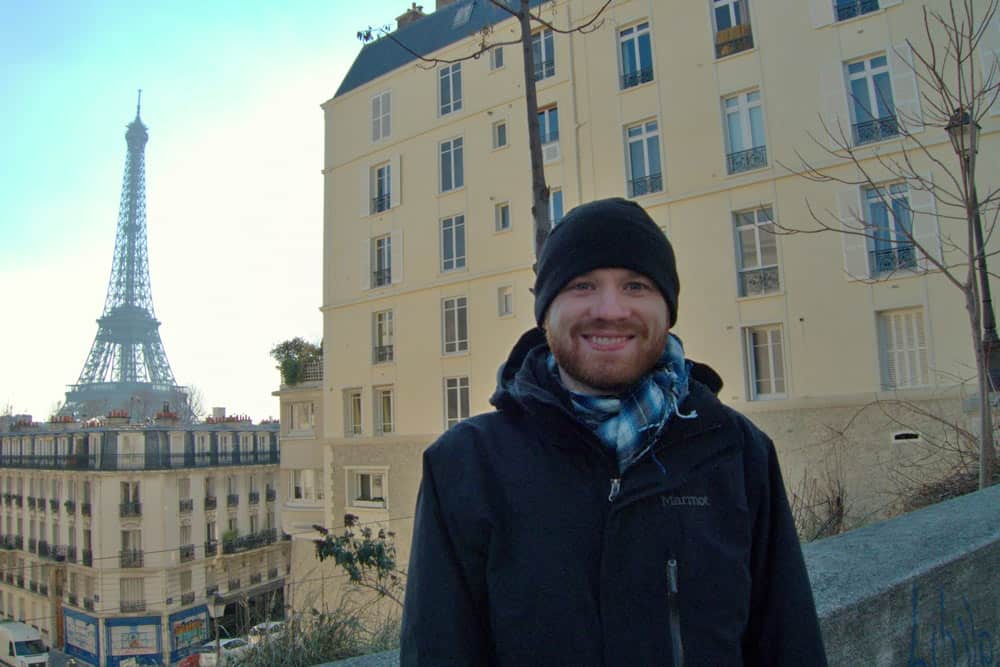 Everyone already knows about the Eiffel Tower — it is the most famous landmark in the world, after all. Everyone needs to see it at least once. If you can, see it during the day and then again at night. P.S. The tower sparkles every night on the hour.
You should always buy your tickets ahead of time if you plan on going up the tower as the ticket lines get insane.
Sacré-Cœur and Montmartre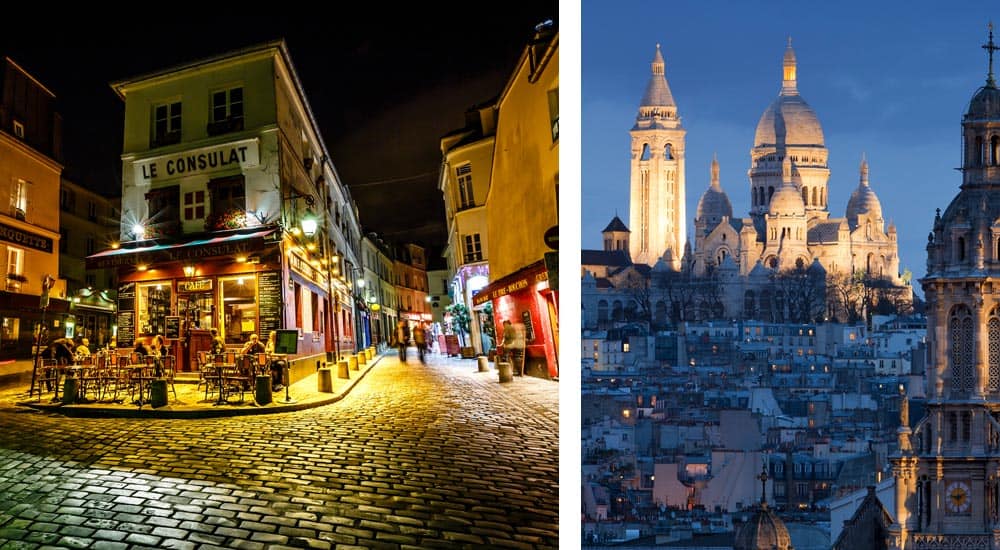 Spend a day exploring the hilly Montmartre neighborhood in the northern part of Paris. This bohemian neighborhood is ultra charming and offers some of the most breathtaking views of Paris. At the very top of Montmartre, you'll find the iconic white Sacré-Cœur Basilica. The area around the Sacré-Cœur is touristy (it's hard to find a good meal at a reasonable price) but it's still a can't miss destination.
Notre Dame Cathedral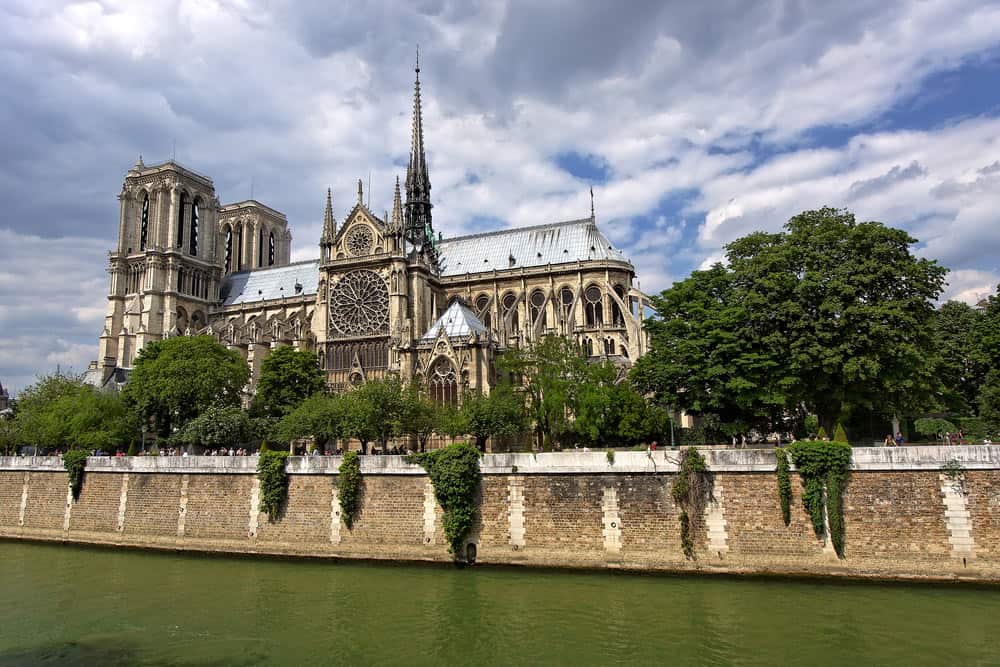 Notre Dame Cathedral is easily one of the most famous churches in the world. It's currently under construction after the devastating fire but you can still walk around to see the renovations of the exterior.
Sainte-Chapelle Chapel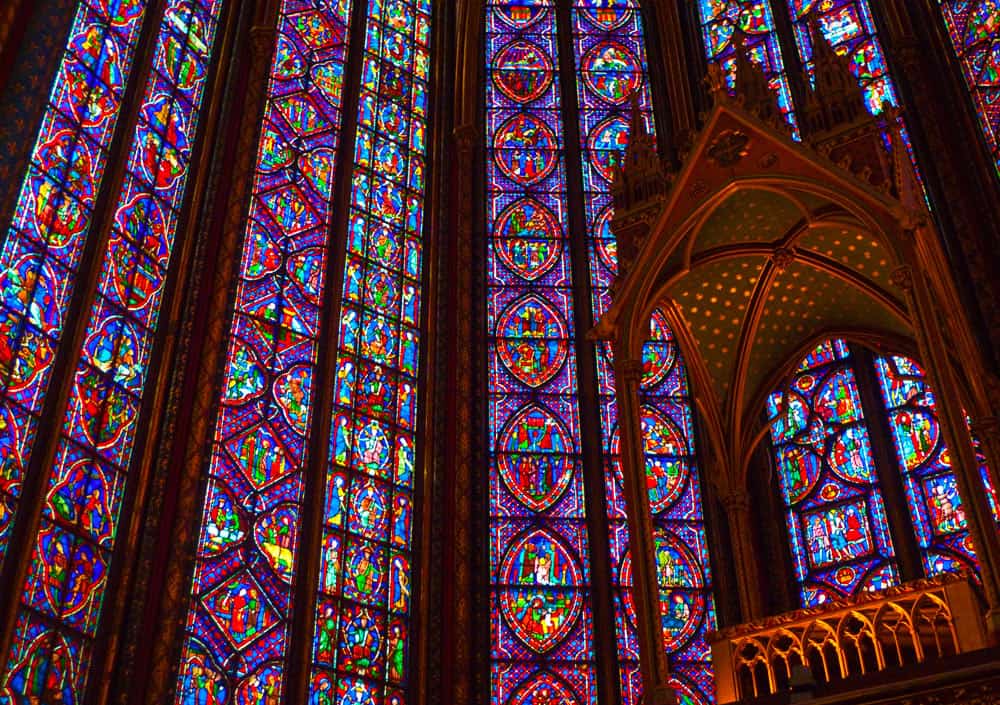 Sainte-Chapelle may not be the biggest church in Paris but it has some of the most impressive stained glass windows in the world. The chapel, which dates back to 1248, always draws a crowd so get there early if you want to avoid the lines and the hoard of people inside.
Note: Sainte-Chapelle is located near Notre Dame so their visits can easily be combined.
Opéra Garnier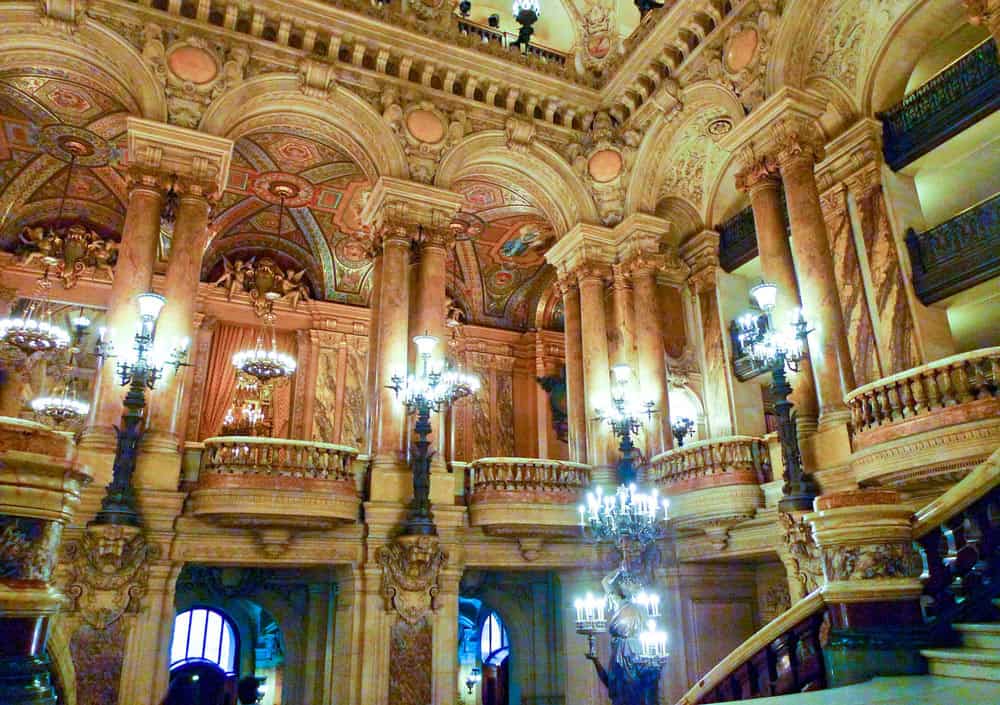 The Opéra Garnier isn't on most people's list of things to see but the decorations inside are truly amazing. It's seriously some of the most opulent decorations we've ever seen. We highly recommend booking a guided tour so you can check it out — it was one of our favorite things we've done in Paris.
Arc de Triomphe & Champs-Elysées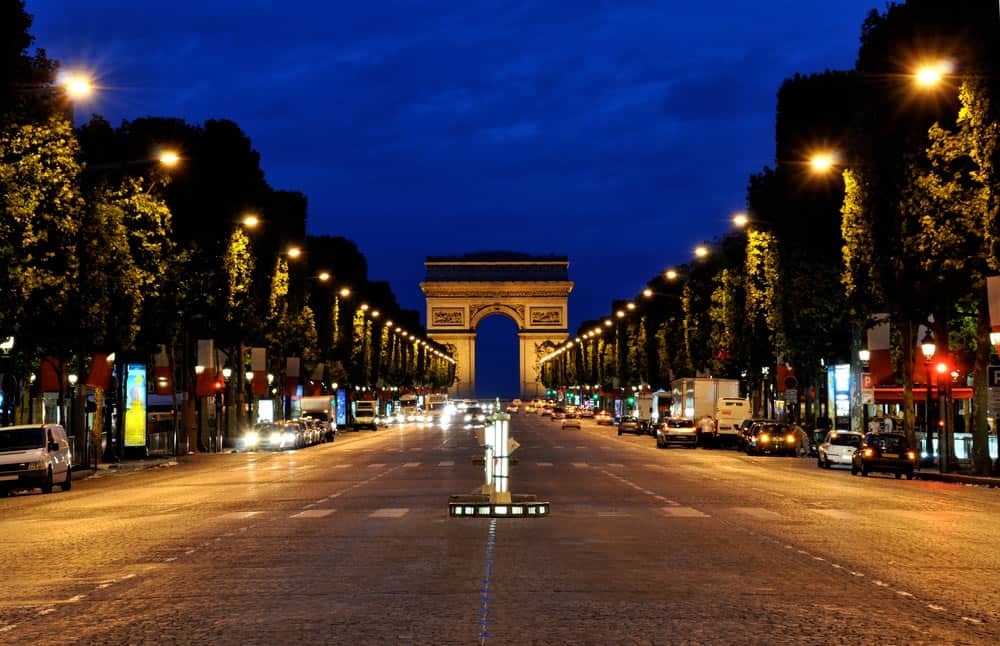 No visit to Paris is complete without strolling along the Champs-Elysées as you head toward the iconic Arc de Triomphe. Yes, the Champs-Elysées is about as touristy as it gets but you should see it at least once (all its restaurants are way overpriced, btw). You can also visit the top of the Arc de Triomphe for some great city views.
Other Fun Paris Experiences
Yes, there is more to Paris than the Eiffel Tower, Champs-Elysees, and Notre Dame. In this section, we've listed a few of our favorite activities that you'll find interesting.
Walking Tours and Bike Tours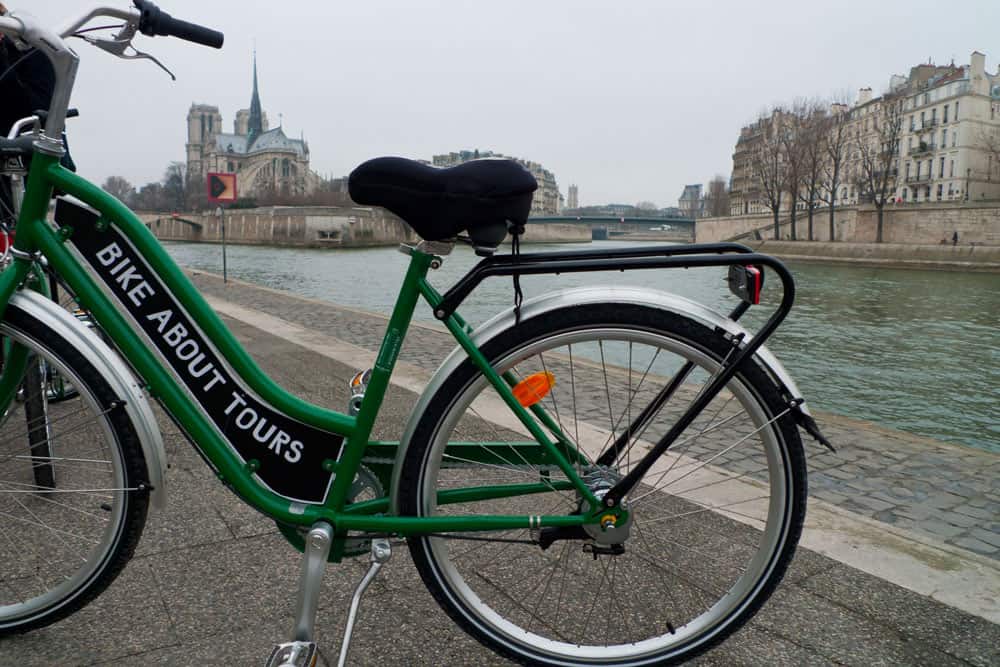 We always recommend taking some kind of tour since it's an excellent way to learn about the city. There are multiple free walking tours and even more paid tours. We've also done a bike tour and thought that was a great way to see a lot of the city in a short amount of time.
Free Walking Tours
Montparnasse Tower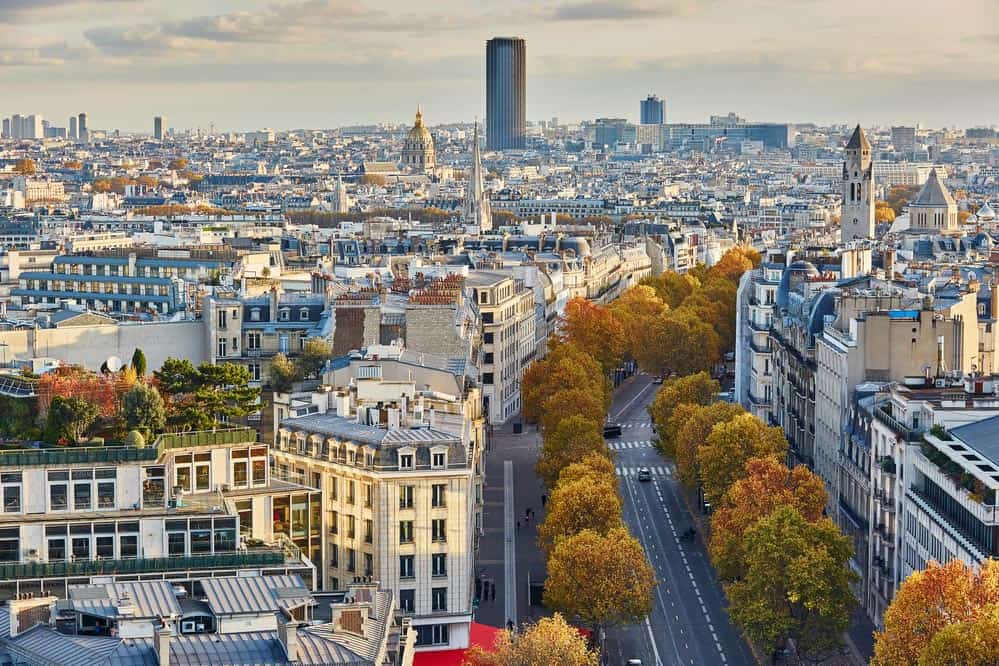 Central Paris only has one skyscraper — the Montparnasse Tower. Parisians hated it so much that they banned skyscrapers after it was built. We agree that it's ugly and out of place… but the views from the top-floor observation deck are unbelievable. It's a great way to see the city and it offers the best views of the Eiffel Tower.
Walk the Seine at Night


One of the best things about Paris is simply strolling its streets but it becomes even more magical at night when all the monuments and buildings are illuminated. For the most beautiful walk, we recommend strolling along the Seine as it passes many of the city's architectural highlights.
Catacombs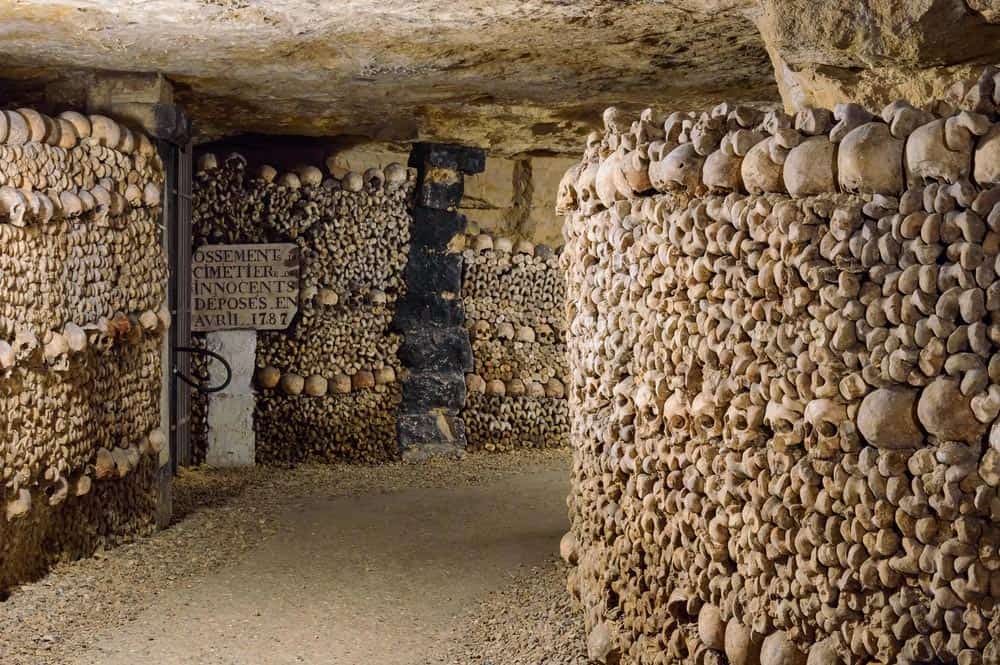 As Paris expanded the city realized that cemeteries might not be the best use of space… so they dug up the bones of nearly 7 million Parisians and arranged them inside the city's many miles of underground quarry tunnels. And now you can take a tour of these piles of bones. Yeah, it's a bit bizarre and kinda creepy but it's a very popular attraction. Note: They limit the number of people who can visit so the lines can get very long — it's highly suggested that you arrive early.
Paris Plages (Paris Beaches)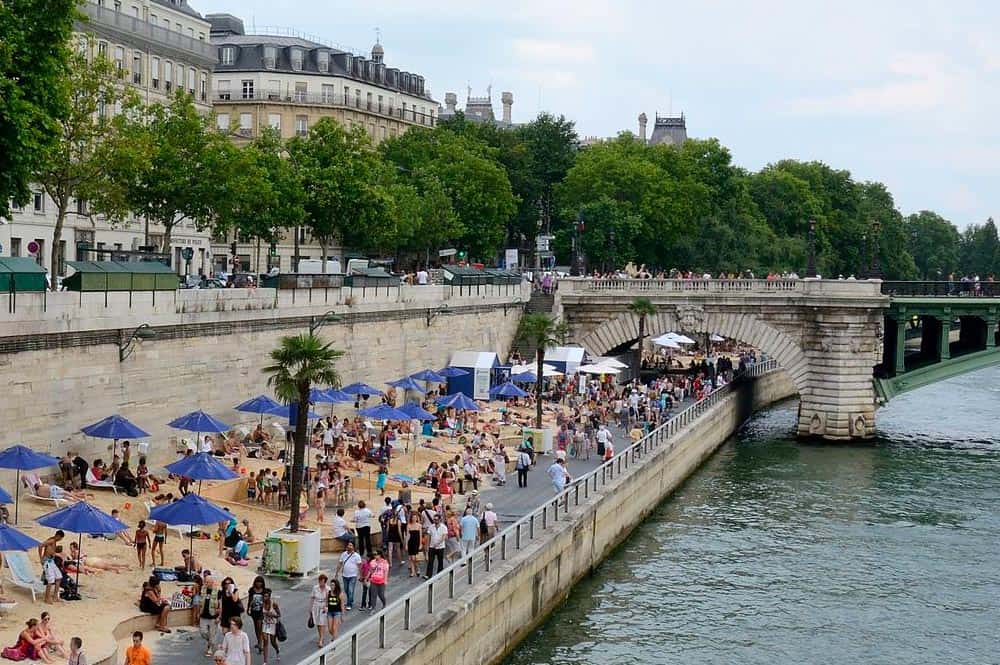 Parisians love the beach so much that every summer the city brings in tons of sand and turns the road that runs along the Seine River into a manmade beach — complete with beach chairs and umbrellas. So pack your most skimpy bathing suit and soak up the Parisian sun between early July and September.  
Pari-Roller
View this post on Instagram

Here's a chance to see Paris on wheels… no, not a bike, but skates. Every Friday night the city of Paris closes a handful of streets (complete with police escorts) so rollerbladers can skate through the city in large groups. You can rent skates here: www.roulezchampions.com
Sewer Museum (Musée des Egouts de Paris)
Paris has one of the first and most advanced sewer systems in the world and you can tour it. It's certainly a unique, and maybe a little stinky, way to see the city.
Hop-On-Hop-Off Bus Tour & Seine River Cruise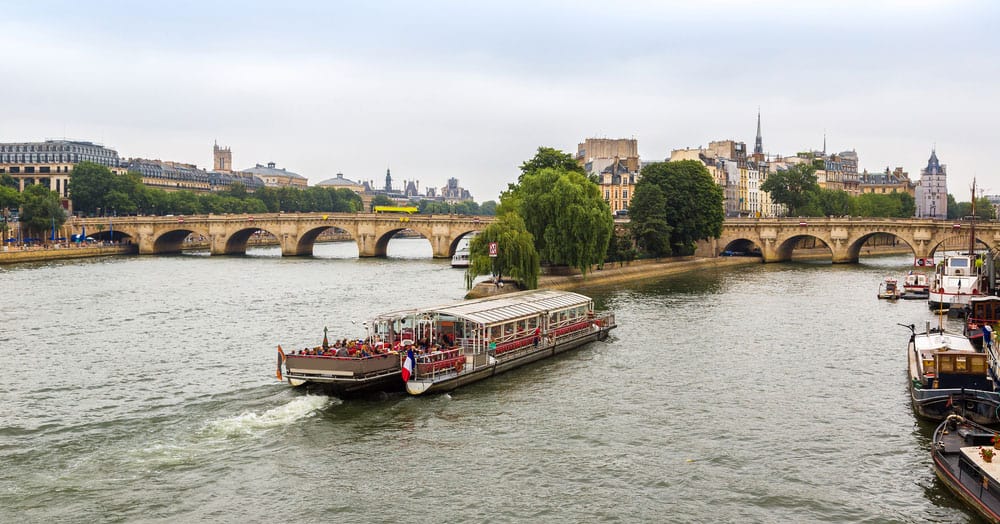 Yes, these are uber-touristy but Paris is such a beautiful city that they're kind of fun. The open-top bus tours give you a great overview of the city so they're great to take at the start of your visit.
And a river cruise gives you a unique perspective of the city — we recommend taking one at night because all the buildings are beautifully illuminated.
Best Parks, Gardens, & Green Space
Paris is one of the greenest cities in Europe so it's not too difficult to find a way to get a little fresh air.
Jardin du Luxembourg (Luxembourg Gardens)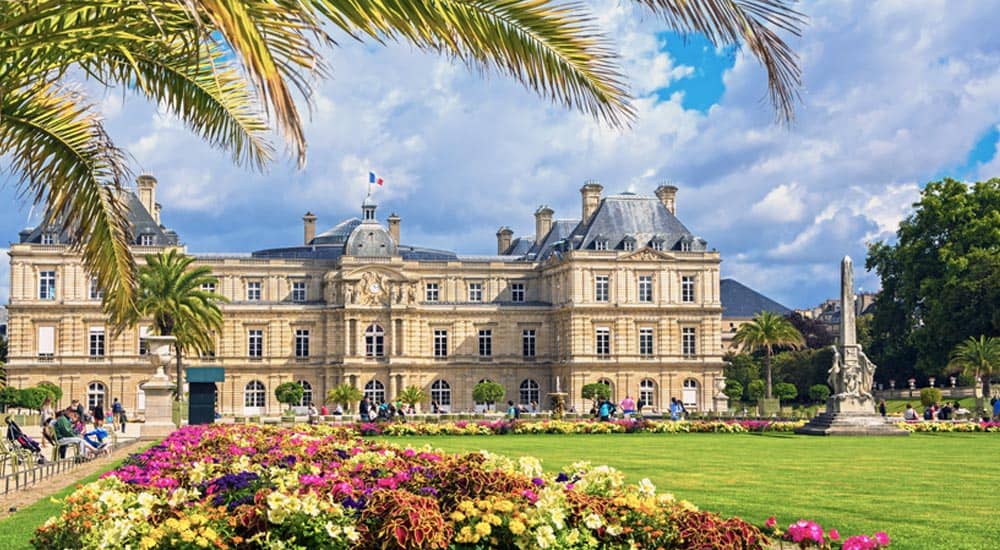 There is a reason Parisians flock to the Luxembourg Gardens all year long. It's simply beautiful — especially in the spring and summer when the flowers are in full bloom. On a nice day, you'll find hundreds of visitors, locals, and university students enjoying a nice picnic or bottle of wine. See On Google Maps.
Jardin Des Tuileries (Tuileries Garden)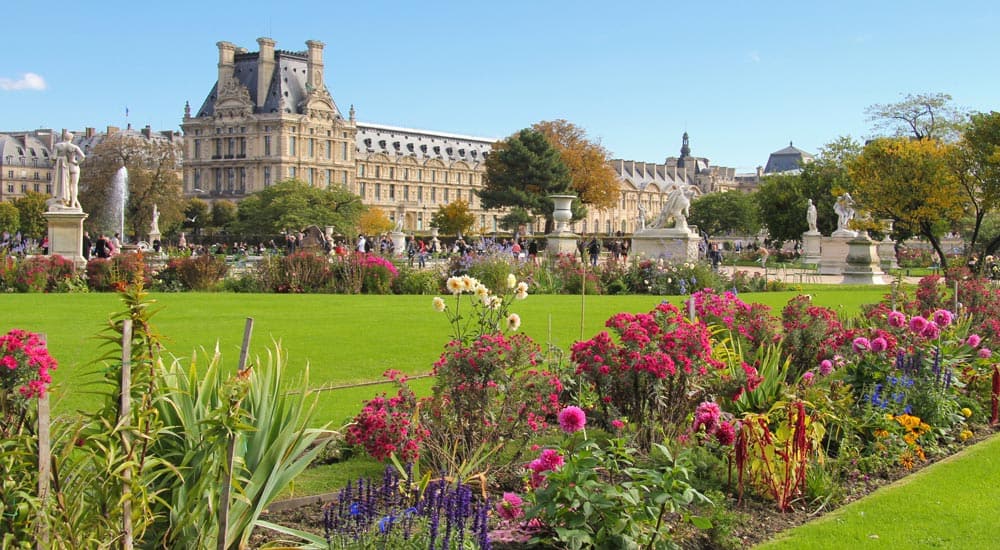 No visit to Paris is complete without strolling through the Tuileries Garden. This pristine urban garden stretches from the Louvre to the Place de la Concorde and it's filled with fountains, sculptures, and you even have a decent view of the Eiffel Tower. See On Google Maps.
Parc Monceau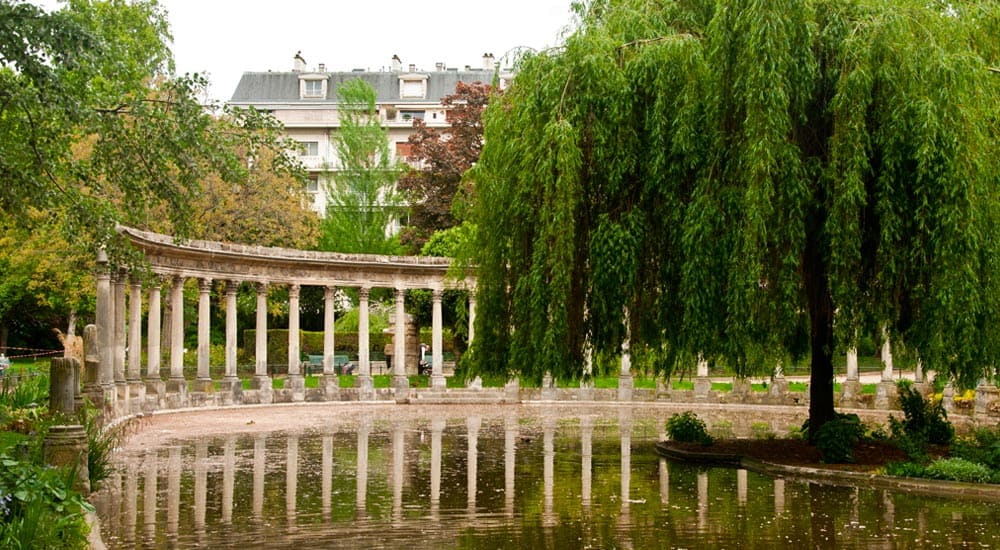 Parc Monceau isn't a huge park but that doesn't mean it's not an impressive and beautiful part of central Paris. This "English" style park features plenty of leafy trees, a rolling lawn, winding walking paths, a small pond, statues, and interesting architectural elements. It's a great place for a picnic or summer nap. See On Google Maps.
Parc des Buttes-Chaumont

Not many tourists venture to the Parc des Buttes-Chaumont but it's a charming, romantic, and hilly park in the 19th arrondissement that has nice views of the Sacre Coeur. It features an impressive grotto, an iron bridge, and a high cliff with a waterfall. It's worth checking out if you're in the area and especially on a nice day. See On Google Maps.
CIMETIÈRE DU PÈRE LACHAISE (Père Lachaise Cemetery)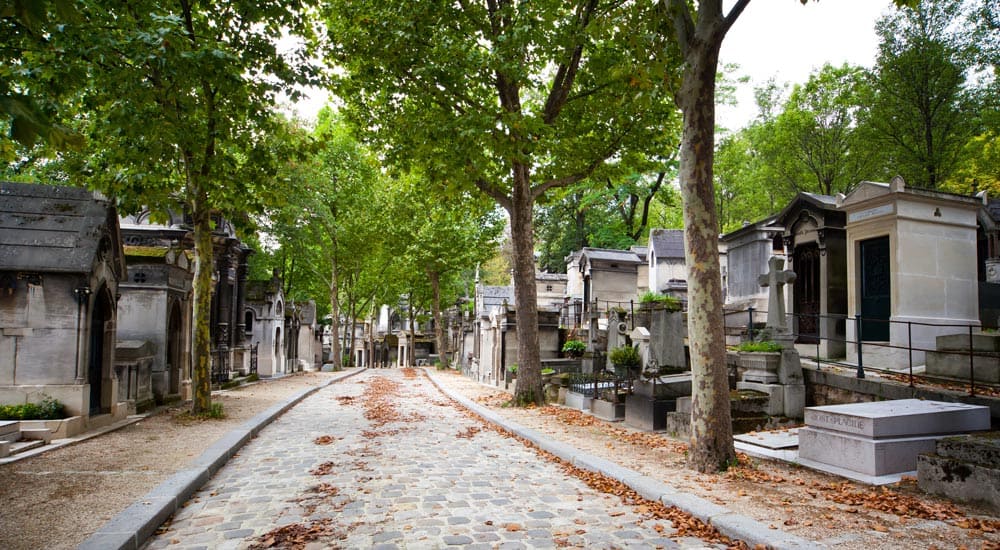 Père Lachaise is a massive and leafy cemetery inside Paris that's now home to many of the city's most wealthy and famous citizens — including Oscar Wilde, Jim Morrison, Chopin, Édith Piaf, Proust, Gertrude Stein, and more. It's a very beautiful cemetery so it's a peaceful place to stroll for an hour or two. See On Google Maps.
BOIS DE BOULOGNE & BOIS DE VINCENNES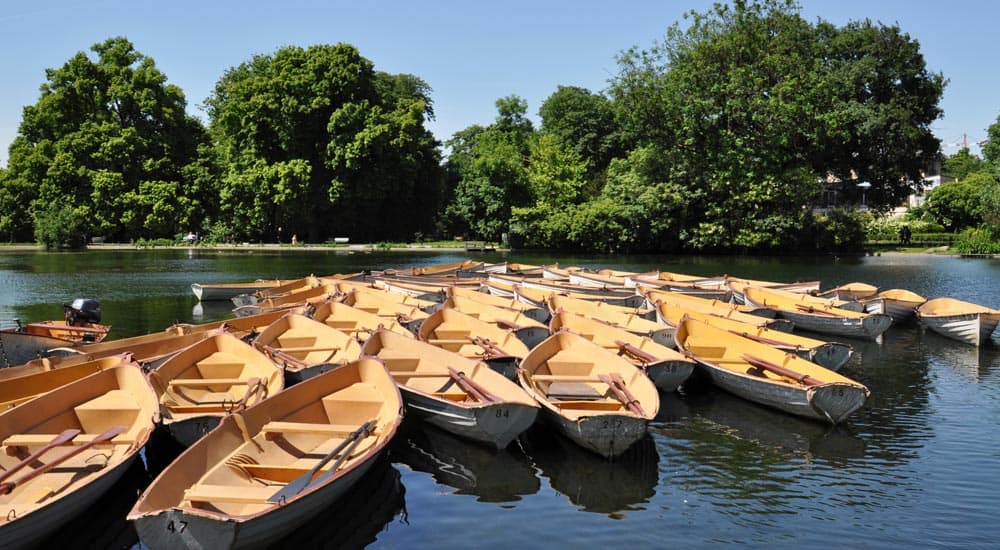 These two massive parks are known as the "lungs" of Paris. While we wouldn't suggest visiting them if you're only in Paris for a few days, we still think they're both good places to explore for experienced/long-term visitors.
The Bois de Boulogne is the second-largest park in Paris. It was originally a hunting ground for royalty but these days its home to English gardens, an impressive greenhouse (Le Jardin des Serres d'Auteuil), lakes, lawns, botanical gardens, playgrounds, and tennis courts. It's also a popular spot for prostitutes so don't be surprised if you see a few working.
The Bois de Vincennes is the largest park in the city (twice the size of Central Park), and it's located on the eastern edge of Pairs. It features multiple lakes, gardens, botanical gardens, arboretums, lawns, walking trails, greenhouses, theaters, horse racing tracks, and more.
Other Parks in Paris

Jardin des Plantes: Originally created as a royal herb garden in 1626, this is now the largest botanical garden in Paris. The Jardin des Plantes is located on the 5th and it's a short walk from the Seine. It's best enjoyed during the Spring/Summer since that's when the flowers are in bloom. See On Google Maps.
Parc de Belleville: This small neighborhood park is located way off the beaten path near the edge of Paris' 20th arrondissement. Its best feature is its city and Eiffel Tower views. Plus, it gives you an opportunity to explore the diverse and up-and-coming Belleville neighborhood. See On Google Maps.
Parc de la Villette: This is another off-the-beaten-path park that even a lot of Parisians have never visited — probably because it's located on the far northeastern edge of the 19th arrondissement. The park is full of post-modernist architecture and sculptures so it feels way different than other parks you've experienced. See On Google Maps.
Promenade Plantee: This three-mile stretch of abandoned elevated railroad tracks has been transformed into a peaceful plant-lined walking path. It's popular with locals but still undiscovered by visitors. See On Google Maps.
Albert Kahn Museum Gardens: Just outside central Paris you'll find the Albert Kahn Museum and its impressive gardens. This former home of banker and philanthropist Albert Kahn features a beautiful garden that is divided into multiple sections that are each modeled after different traditional gardens from around the world. See On Google Maps.
Channel Your Inner Parisian
The best way to experience Paris is by living life like the Parisians. Below are some things you should do
Sidewalk Cafe Drinks
Find a cute sidewalk cafe, order a drink, and watch the world go by for an hour or two. It doesn't get any better than that.
Drinks Along The Canal St. Martin
View this post on Instagram
One of the hippest spots in Paris is found along the banks of the Canal St. Martin. During the warm summer nights, hundreds of hip Parisians gather along the canal for drinks and snacks. Don't worry, you're allowed to drink in public so bring a bottle of wine or few beers. Additionally, there are a handful of cool bars and restaurants in the area.
We recommend using the ultra-hip Chez Prune restaurant as a reference point of where to hang out — don't worry, you'll see the crowds of people.
Drinks Along The Seine
Another great place to enjoy a bottle of wine is along the Seine River. The most romantic spot is a tiny part of the edge of the Ile de la Cité called Square du Vert-Galant — it's an amazing location in the middle of the Seine with spectacular views. If you're looking for more places to drink along to the Seine, we suggest checking out this guide from Discover Walks.
Velib Bike Rental

Paris continues to become more of a bike-friendly city every year so biking is a nice way to explore. Paris has an extensive bike-sharing program called Velib so you can find a bike station every few streets. They even have a pass specifically for visitors so renting a bike is super easy and affordable. Visit Website.
Best City Views in Paris
Paris looks amazing from every angle but it's especially beautiful from above. Here are a few of our favorite places to gaze down upon the city.
Sacré-Coeur Basilica & Montmartre


The steps in front of the Sacré-Coeur offer amazing views from the north of Paris. You can climb to the top of the Sacré-Coeur's dome for even better views. This is one of our favorite spots in Paris so it's a must-visit.
Notre Dame Cathedral

Fancy some exercise? Climb a few hundred stairs to the top of Notre Dame. The views here are amazing because Notre Dame is at the very center of the city so excellent 360-degree views but you're not so high up that you lose details.
Montparnasse Tower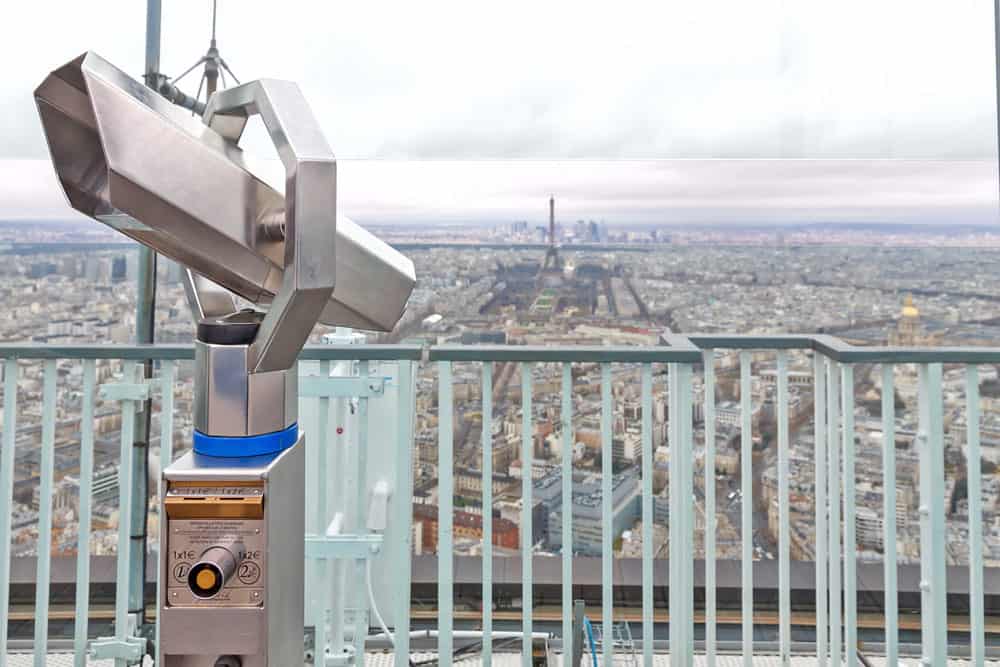 While a bit "touristy", the views from the top of the Tour Montparnasse (the only skyscraper in the city) are amazing. It's our favorite view of the city and this attraction is overlooked by most visitors so it's rarely busy.
Insider tip: Visit the tower's bar/restaurant (Le Ciel de Paris Restaurant) for some excellent views for the price of an expensive cocktail.
Windo Bar At The Hyatt Regency Hotel


For a "treat yo self" moment head to Windo at the Hyatt Regency Hotel. It's super swanky and has excellent city views of Paris and the Eiffel Tower. Sure, it's expensive but whatever. See On Google Maps.
Eiffel Tower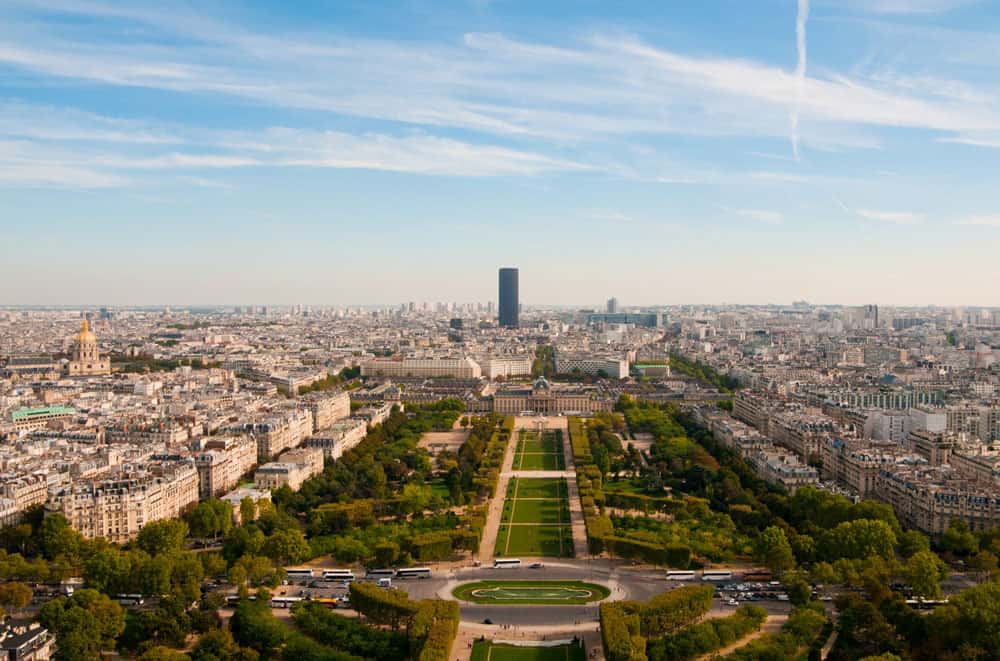 The observation decks on the Eiffel Tower offer some solid views of the city — but you can't see the Eiffel Tower so it's not our favorite spot… but its still one of those things you should experience at least once.
Galeries Lafayette

This department store in the middle of the city has a top floor that offers great city views and it's all free.
Centre Pompidou

If you visit the Centre Pompidou then you have to take the escalator to the top floor for stunning views. The museum's cafe, Le Georges, also has some really nice views of the city.
Arab World Institute (Institut du Monde Arabe)

One excellent view that not many people know about comes from the top of the Arab World Institute. This is my favorite view of the Seine and Notre Dame. The viewing platform is free for anyone — simply walk in and take the elevator to the roof. There is also a cafe up there that serves excellent mint tea.
---
Food, Alcohol, and Coffee in Paris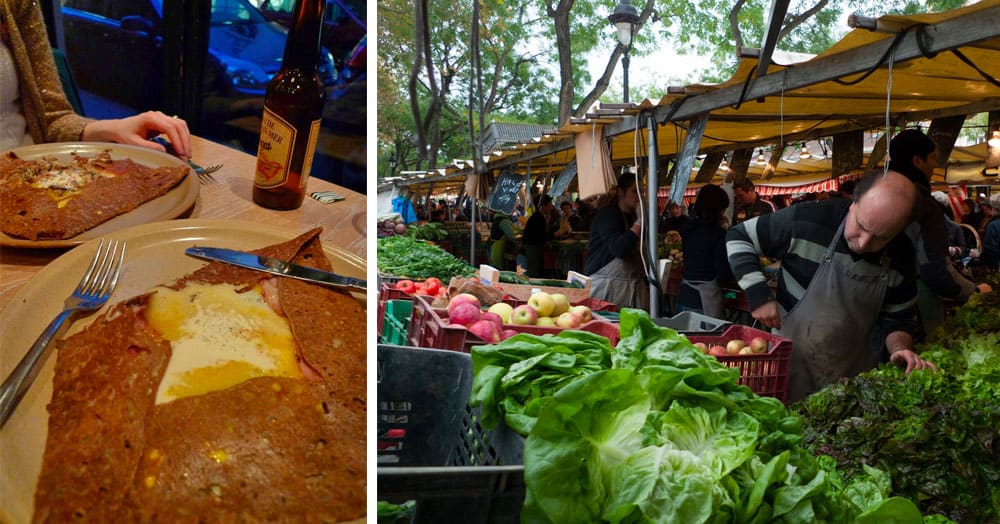 Everyone knows that Paris is famous for their cuisine but eating out is going to be expensive. But don't worry because in this section we'll cover some of the best places to get quality eats without spending a fortune.
We'll also highlight some of our favorite bars and coffee shops as well.
Read More: Check Out Our Guide To the Best Budget Restaurants in Paris.
Best Cheap Eats in Paris
Here's a tip: Any bakery that makes a great baguette will almost undoubtedly make a great sandwich and have other quality items. And if you're looking for an excellent baguette we highly recommend checking out Paris By Mouth's Guide To The Best Baguette in Paris.
Grenier Au Pain Bakery [Sandwiches & Bakery]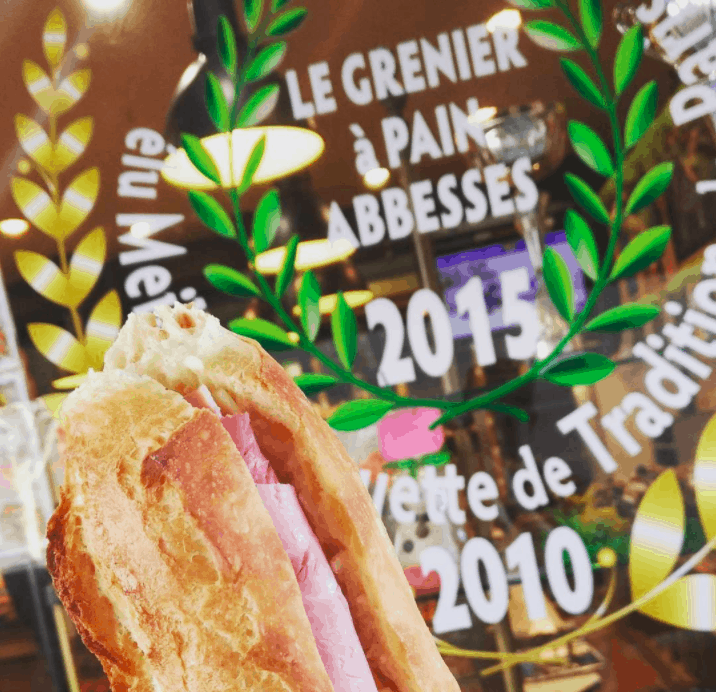 We probably ate 30+ sandwiches from Grenier Au Pain Bakery — they won the "best baguette in Paris" a handful of times since they opened. We recommend the classic Jambon–Beurre (ham and butter but it usually also has cheese).
Le Coquelicot [Bakery/Sandwiches]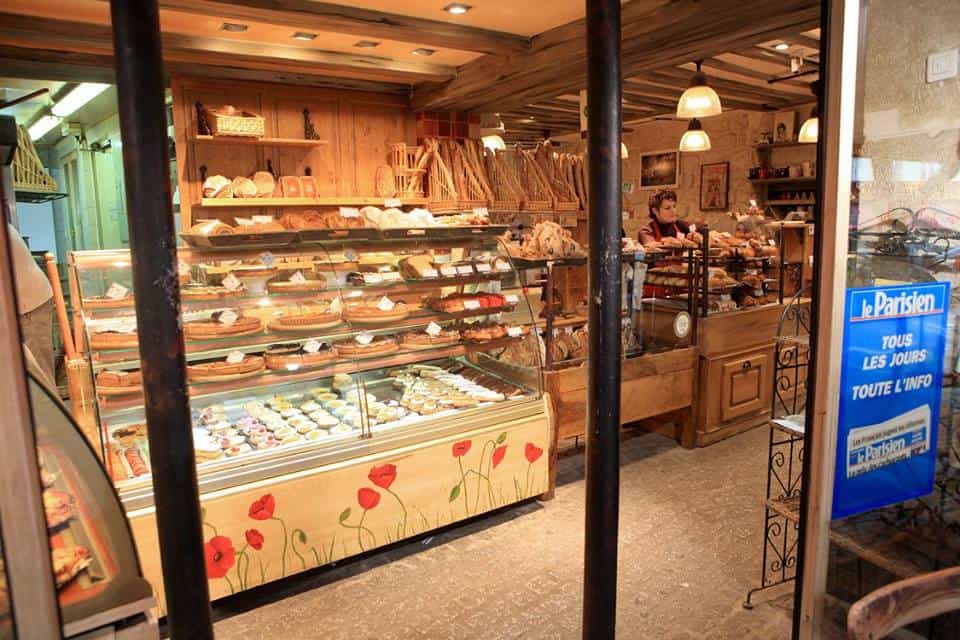 Le Coquelicot is another very solid bakery and sandwich shop — they're another "best baguette in Paris" winner. Everything is solid.
Le Petit Vendôme [Takeaway Sandwiches & Classic French Sitdown]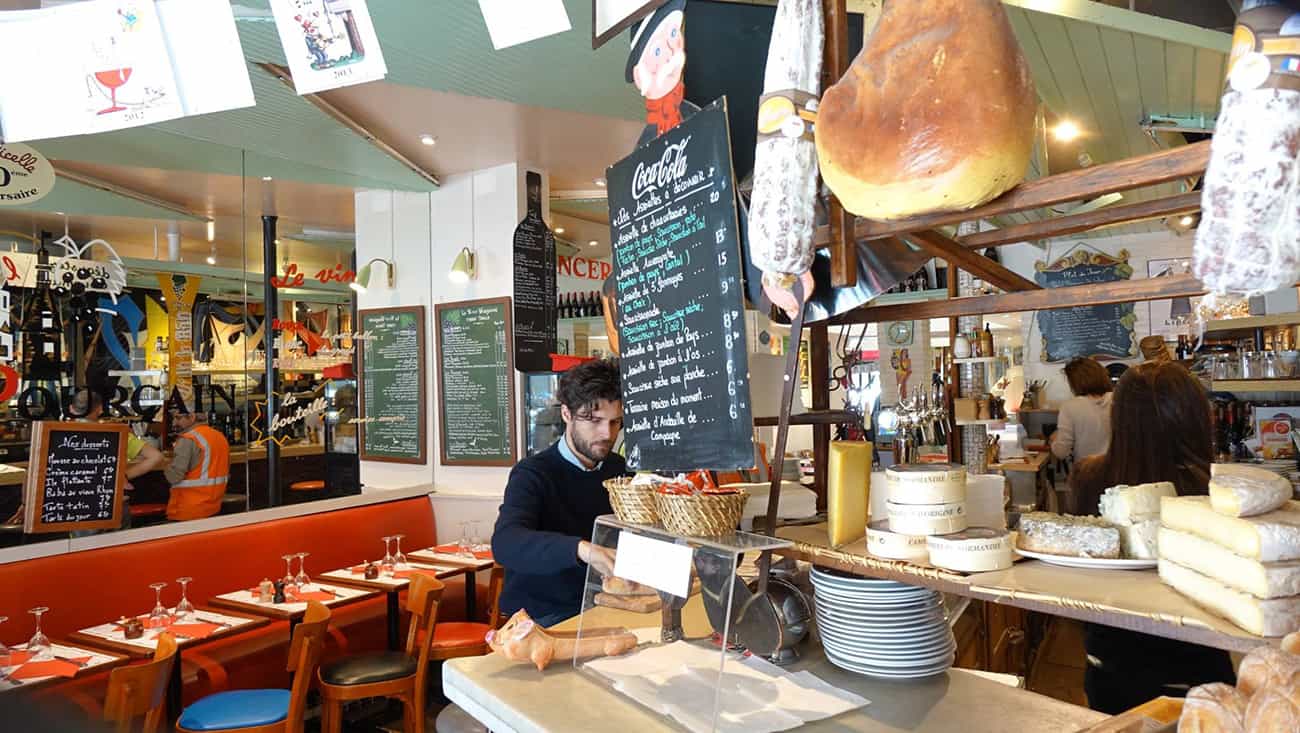 Every day at lunch there is a line of locals out the door waiting to get their hands on Le Petit Vendôme's famous sandwiches (takeaway only) — so join them! Or you can try finding a table inside for a menu of classic French dishes. We recommend the duck confit.
Mmmozza [Italian Sandwiches]

Chow down on excellent Italian sandwiches made with high-quality meats and cheese (€5-€8). A solid option for lunch on-the-go.
Urfa Dürüm [Turkish/Kurdish Sandwiches]

Urfa Dürüm has been a go-to spot for broke and hungry seeking quality Turkish kebab sandwiches. It was also a favorite spot of Anthony Bourdain. Everything, including the bread, is made fresh. Sandwiches are €6-€8. Expect a line at dinner time but know how to crank the sandwiches out quickly. 
BREIZH CAFÉ [FRENCH CREPES]

Located in the trendy Marais neighborhood, Breizh Cafe is one of our favorite crepe restaurants in Paris. This place seems to be on everyone's "top places to eat in Paris" list (and it's pretty small) so you might want to make reservations. And save room for dessert.
LA CRÊPERIE JOSSELIN [FRENCH CREPES]

Can you ever eat too many crepes? Nope. It's impossible. And if you head to the Montparnasse neighborhood (which is famous for its crepe places) you'll find La Creperie Josseline — one of the best crepe places in Paris. We've eaten here a few times and never had a bad crepe. To save a bit check out their lunch special of a savory crepe + dessert crepe + drink.
Happy Caffe [Crepes, Sandwiches, & Breakfast]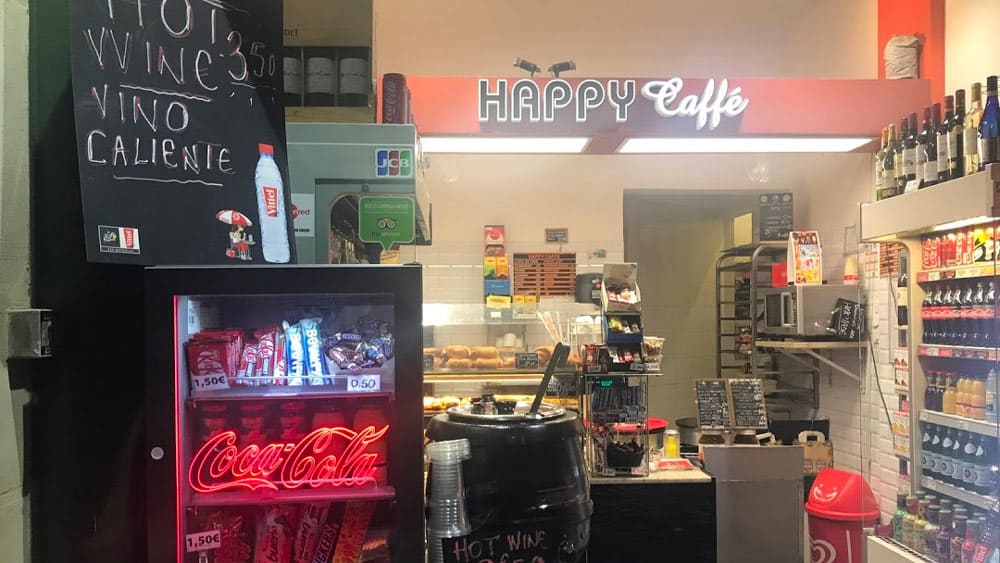 This unassuming takeaway spot is a great place to stop for a quick and cheap lunch if you happen to be near the Louvre/Tuileries Gardens. The owners are super friendly and they'll make you feel welcome.
CAFÉ DE L'INDUSTRIE [FRENCH BISTRO]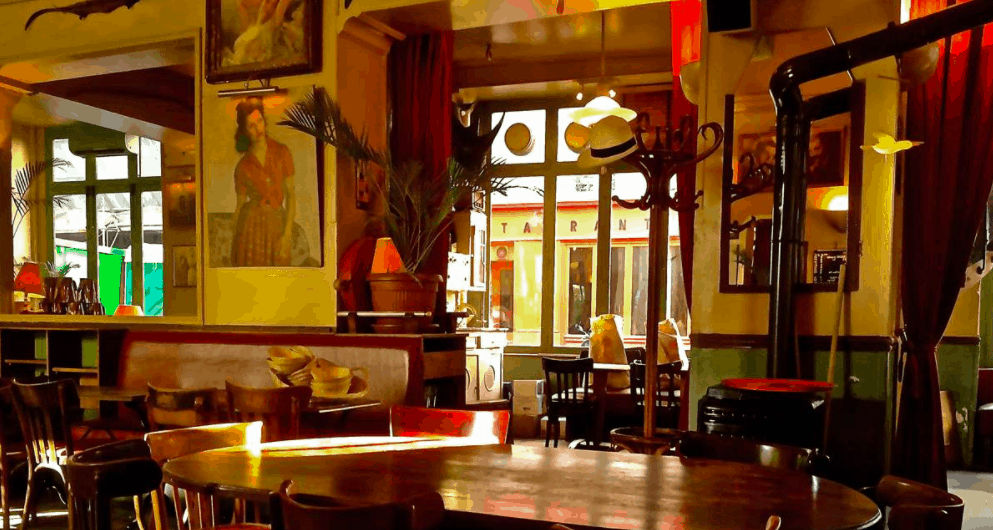 This was our go-to bistro when we lived in Paris. The service is fast and the prices are solid — the main dishes are €12-€17. They also have a weekday lunch special for around €13 (starter, main, and dessert). This restaurant is great for groups as it's a large space and the atmosphere is great. 
CHARTIER [CLASSIC FRENCH]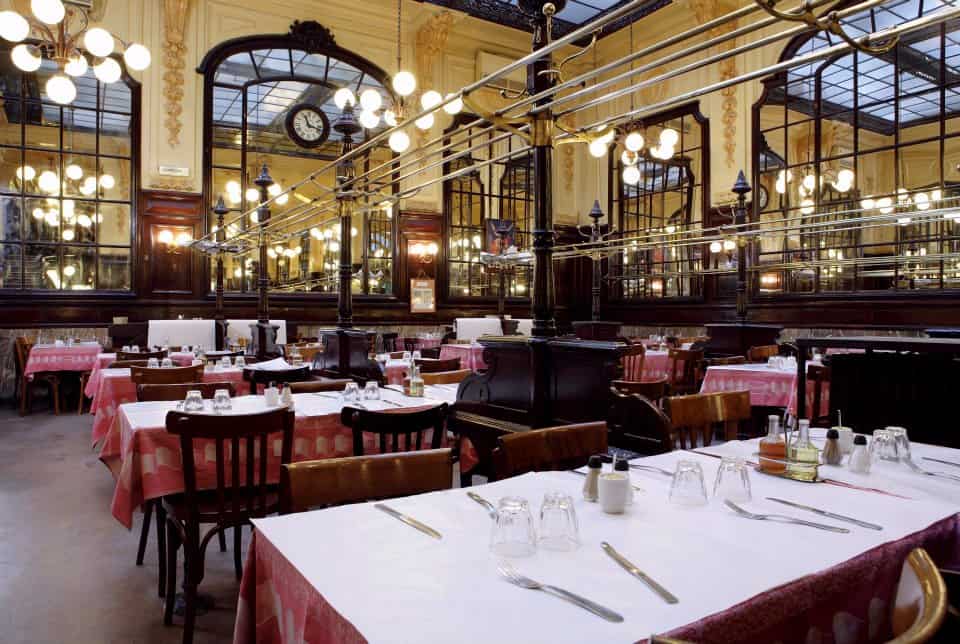 The old-school Parisian restaurant opened in 1896 and they've been serving cheap meals ever since. Ok, you don't don here for a gourmet meal — you go here for a cheap meal and a fun atmosphere. We recommend sticking with simple French dishes like chicken or steak & fries. 
Location:
LA PETITE ROSE DES SABLES [CLASSIC FRENCH]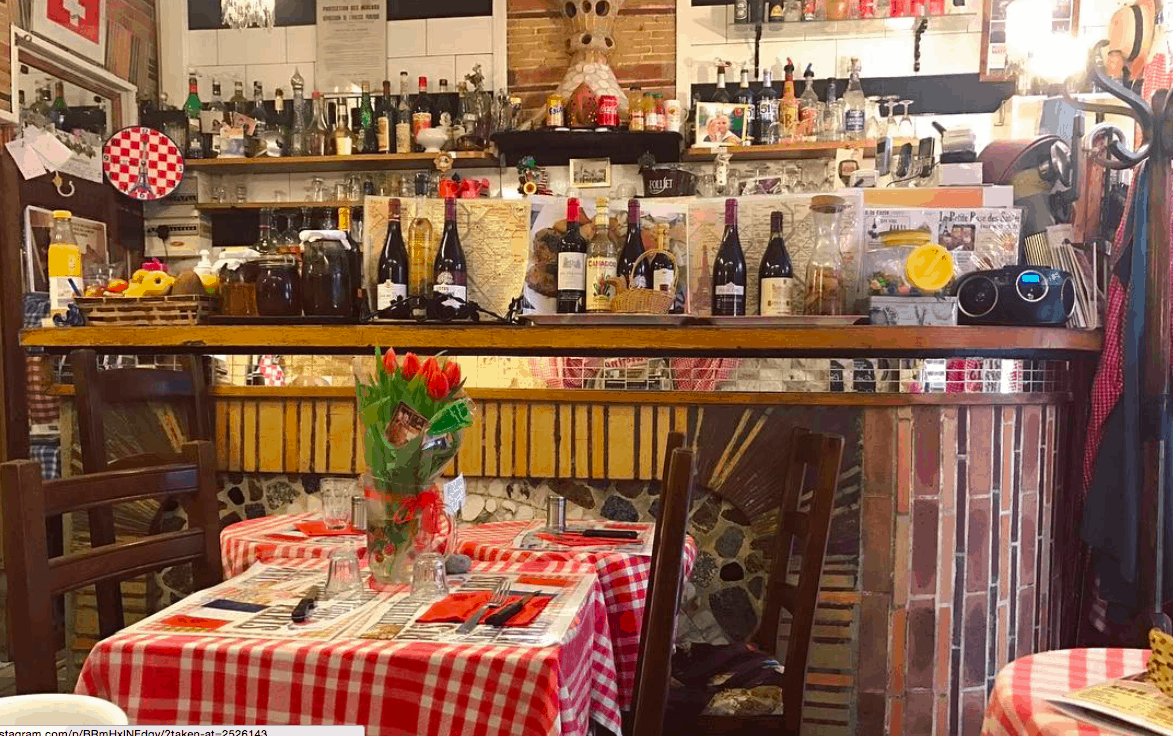 This little French restaurant is a true gem — it can literally only seat 8-10 people so make a reservation. It's run by an ultra-sweet husband (chef) and wife (server) team who serves up classic homemade French dishes — and maybe a kiss goodbye at the end of the meal.
BISTROT VICTOIRES [FRENCH]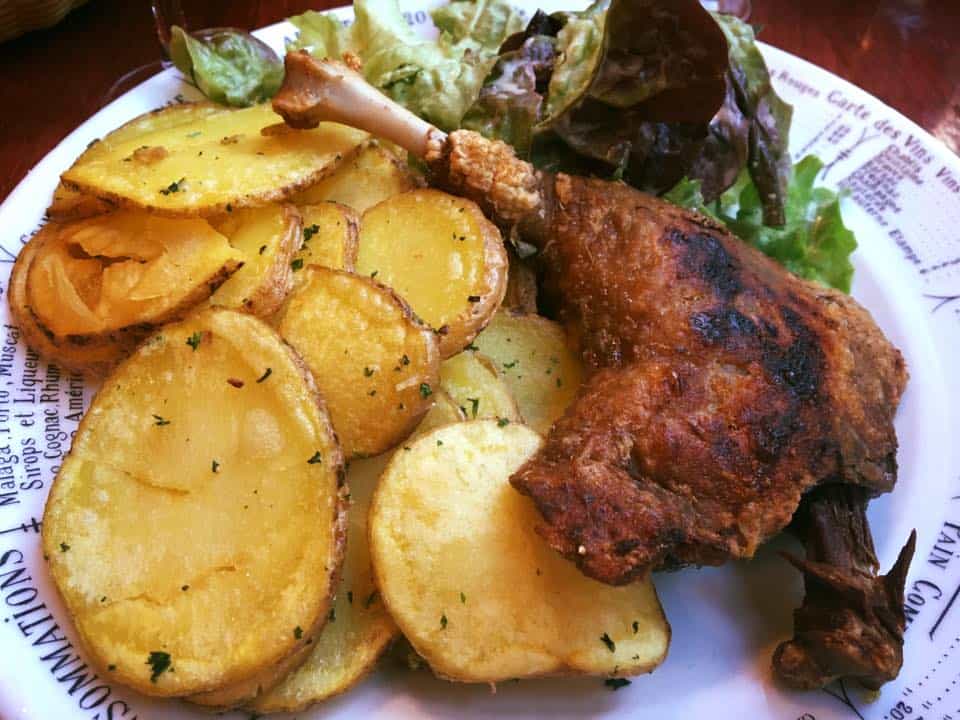 Looking for classic French dishes at really good prices? Check out Bistro Victories. It's Authentic, delicious, affordable, and the service is great. And, it's near the Louvre so it's one of the best value restaurants in the heart of Paris. 
CHEZ GLADINES [CLASSIC FRENCH]

Chez Gladines is another budget-friendly neighborhood bistro that serves up hearty French classics — with an emphasis on dishes from the Basques region.
L'AS DU FALLAFEL [KOSHER MIDDLE EASTERN]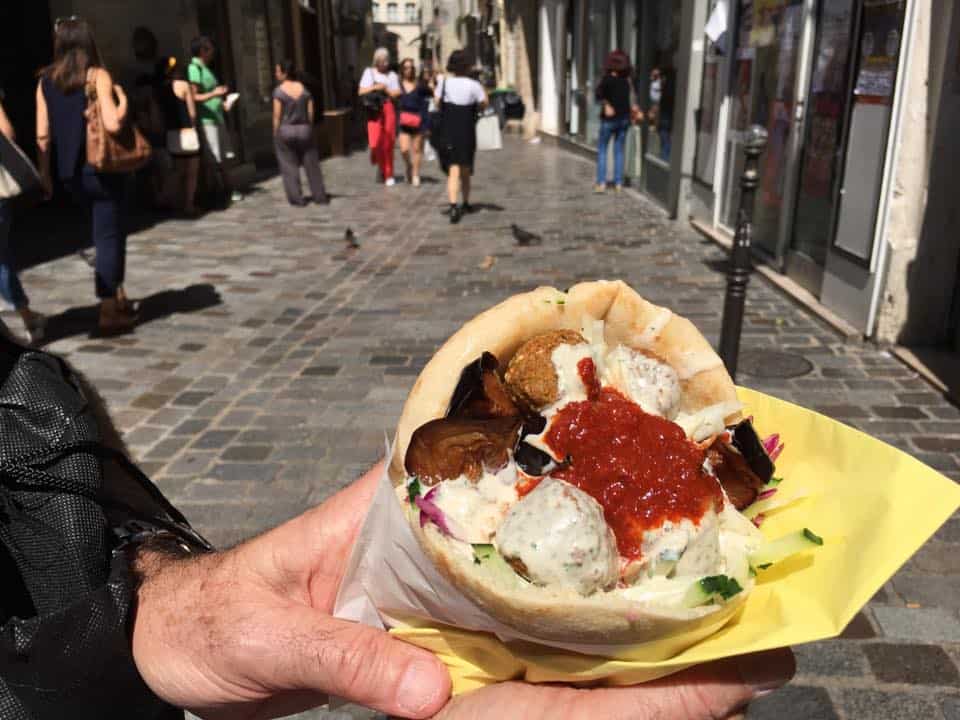 Yes, this is probably the most famous "budget" restaurant in Paris and just about every guidebook calls it the "best falafel in the world" so it's no surprise everyone loves it. It's mainly a takeaway place (it costs extra to eat inside) so we suggest eating your delicious falafel outside. There is almost always a long line but it moves quickly.
CHEZ LE LIBANAIS [LEBANESE]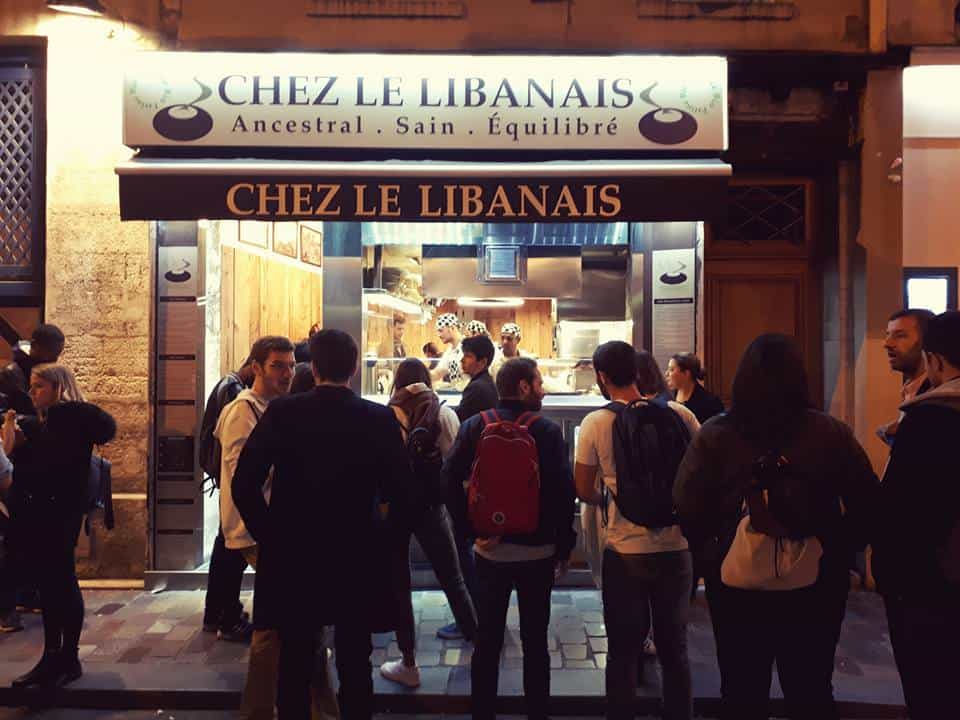 This small takeaway restaurant serves up fresh and delicious Lebanese wraps and shawarma on fresh-made bread. Very affordable and extra tasty — especially for its prime Latin Quarter/Saint Germain location. 
PHO 14 [VIETNAMEESE]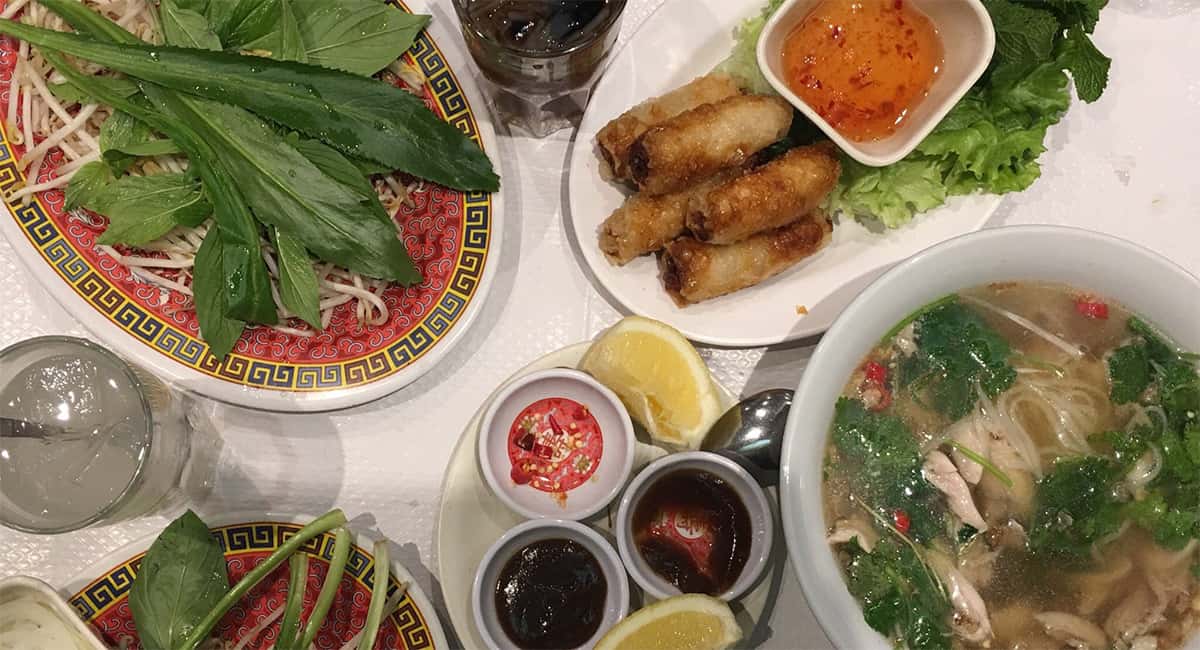 We are huge fans of Pho 14 and this bustling no-frills Vietnamese restaurant is totally worth the trip. Its high-quality and low prices make it a local favorite. It gets a little busy at peak times but the service is insanely quick so the line moves quickly. There are a handful of other pho restaurants on the same street but Pho 14 is the best.
HIGUMA [JAPANESE / RAMEN]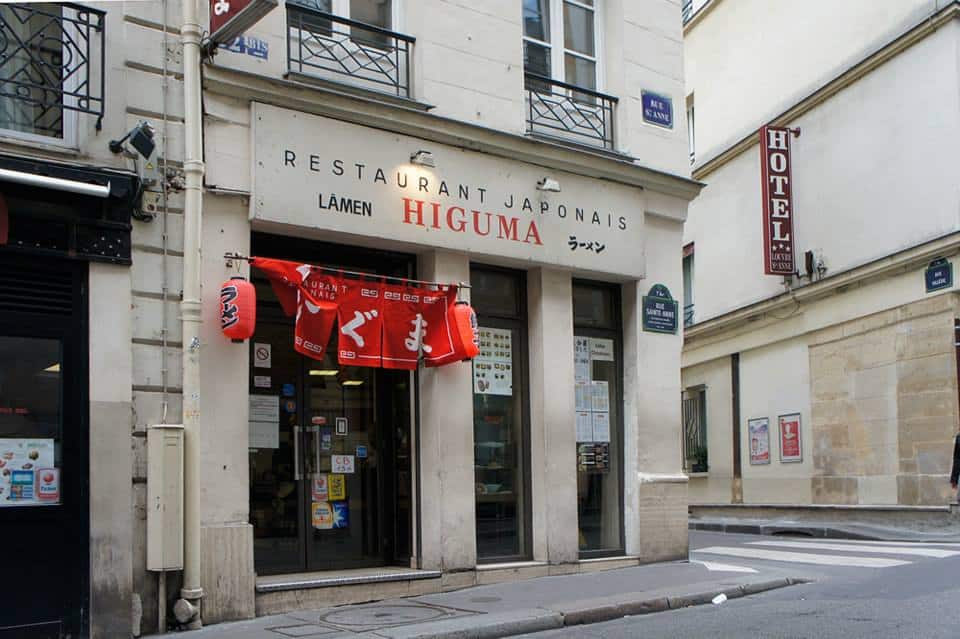 Get your ramen fix at Higuma. This no-frills spot has been serving up large bowls of authentic ramen for super cheap prices for years. Don't be put off by the lines as it moves quickly.
PIZZA ROSSI [PIZZA]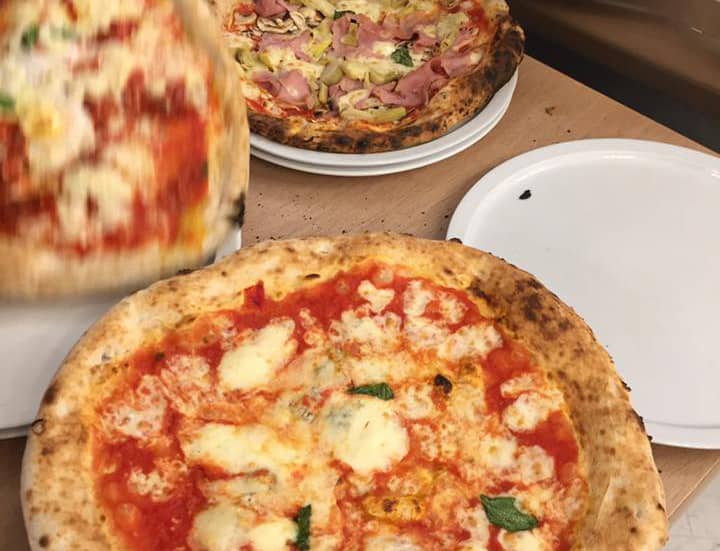 Excellent quality Neapolitan-style pizza at very affordable prices. This used to be a tiny little spot but they recently expanded so there is a bit more room to eat inside now. 
Joe Burger [Burgers]

When you're craving a tasty burger and you're on a budget then we recommend Joe Burger. A burger and fries will run you under €9.
Looking for more cheap eats? Check out our guide to the best budget restaurants in Paris.
Best Coffee Shops in Paris
Someone once said that finding street parking in Paris is easier than finding good coffee. Luckily, things are finally starting to change but you still have to seek out good coffee shops. Here are a few of the coffee shops we recommend checking out if you need to get your caffeine fix.
KB CaféShop

Take a break from Montmartre's tourist crowds and head down to the neighboring Pigalle neighborhood to visit KB CafeShop. The vibe is chill and there is a good amount of indoor and outdoor seating. They have a solid selection of coffee as well as smoothies, pastries, and some light breakfast and lunch options.
53 Avenue Trudaine, 75009 (See On Google Maps)
Lomi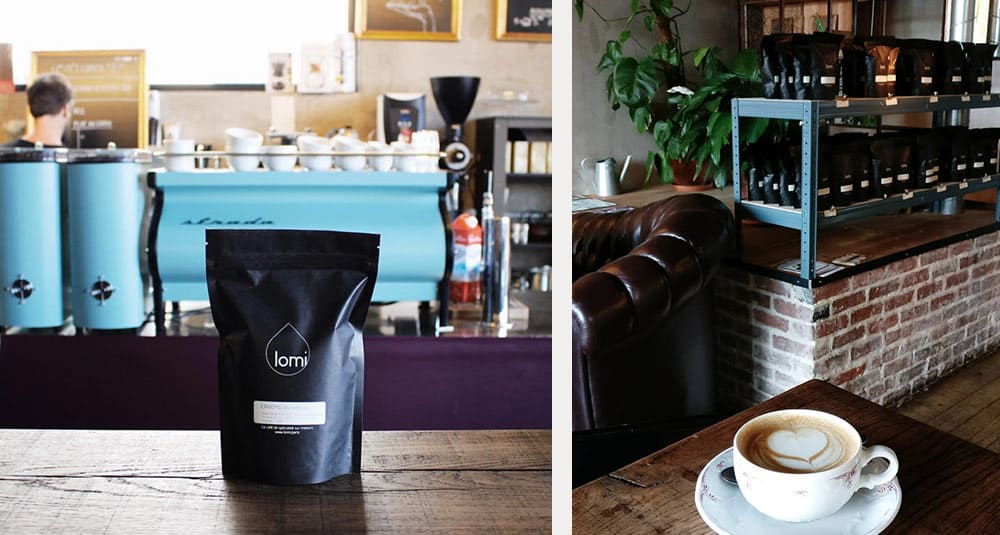 Lomi is another favorite coffee shop for Parisian coffee lovers. It's a cozy spot with comfy chairs, a wide range of tables, and places to chill out. They even roast their own coffee on-site and have a few small things to snack on. It's a nice place to spend an hour or two.
3 ter Rue Marcadet, 75018 (See On Google Maps)
Fondation Café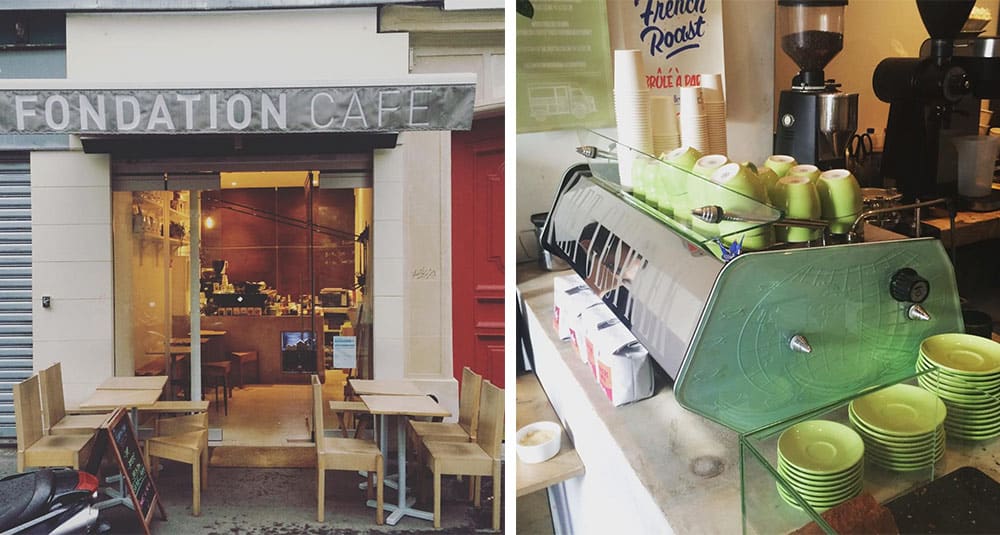 Located on the northern edge of the uber-cool Marais neighborhood, Fondation Café is a great little coffee shop on a quiet street that has nice music, a relaxed vibe, and the staff is super friendly (one of the owners is Australian). There is seating inside and outside so it's a nice place to relax if you can find a seat.
16 Rue Dupetit-Thouars, 75003 (See On Google Maps)
The Caféothèque of Paris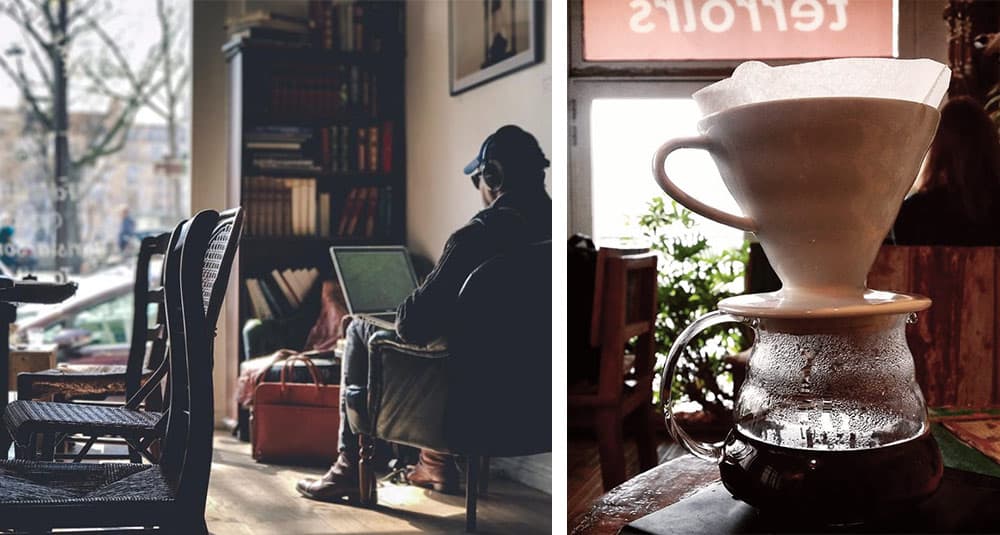 This cozy coffee shop serves up excellent espresso drinks, filter/Chemex, and iced coffees. There is no wifi and they ban laptops on the weekend so that helps keep the chill vibe. They also roast their beans on-site and have a few pastries/desserts to nibble on. It does get a little crowded on the weekend since it's located very close to Notre Dame and the Seine.
52 Rue de l'Hôtel de ville, 75004 (See On Google Maps)
Coutume Café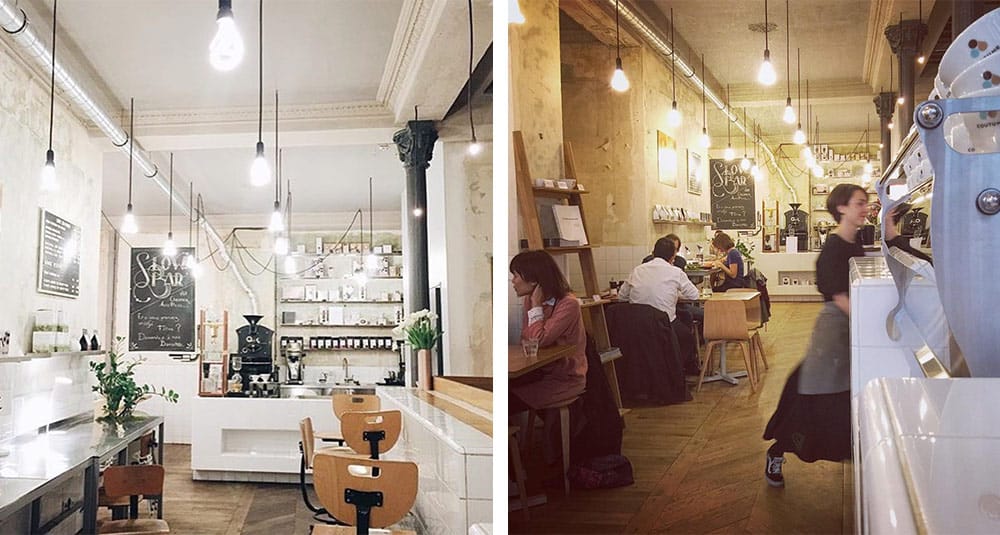 This is a super hipster and cozy coffee shop with excellent coffee and cold brew. The breakfast/brunch options are tasty but expensive so it's not the place to go eat on a budget. It does get busy, especially on the weekends, so visit during the off-peak times if you want a more chilled atmosphere. 
47 Rue de Babylone, 75007 (See On Google Maps)
Ten Belles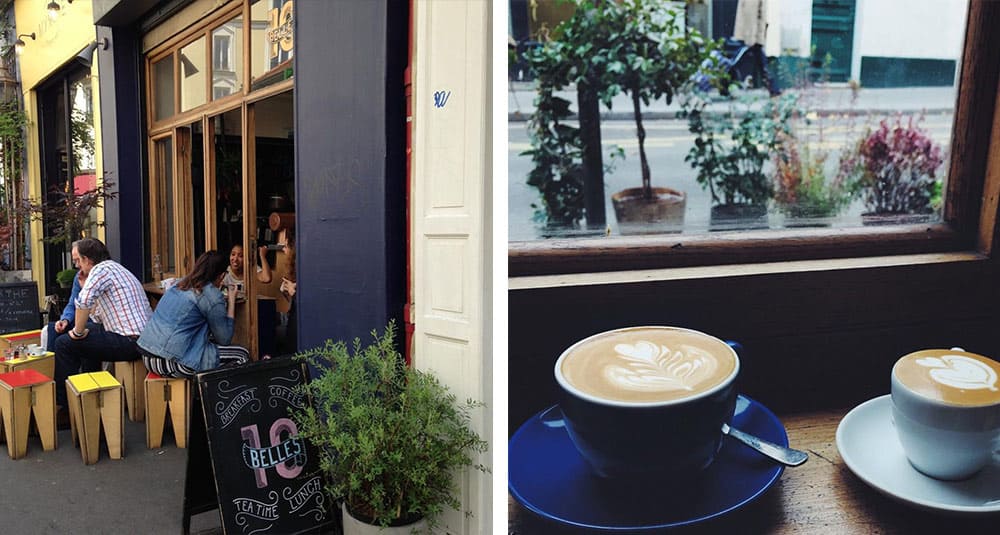 Near the hip Canal St. Martin area you'll find an equally-hip Ten Belles coffee shop selling quality coffee. The friendly staff is largely from England so no issues with any language barrier. It's a small joint with limited seating but there is some outdoor seating. There is no wifi so it's a nice place for a reading a book or meeting a friend. They also have a small selection of sandwiches, salads, and scones.
10 Rue de la Grange aux Belles, 75010 (See On Google Maps)
Café Oberkampf

This cozy cafe is a great place to get excellent lattes, espresso, pour-overs, and some tasty breakfast/brunch options. The vibe is super chill and the food is fresh. It's another "no laptops" cafe with no wifi.
3 Rue Neuve Popincourt, 75011 (See On Google Maps)
Kozy Bosquet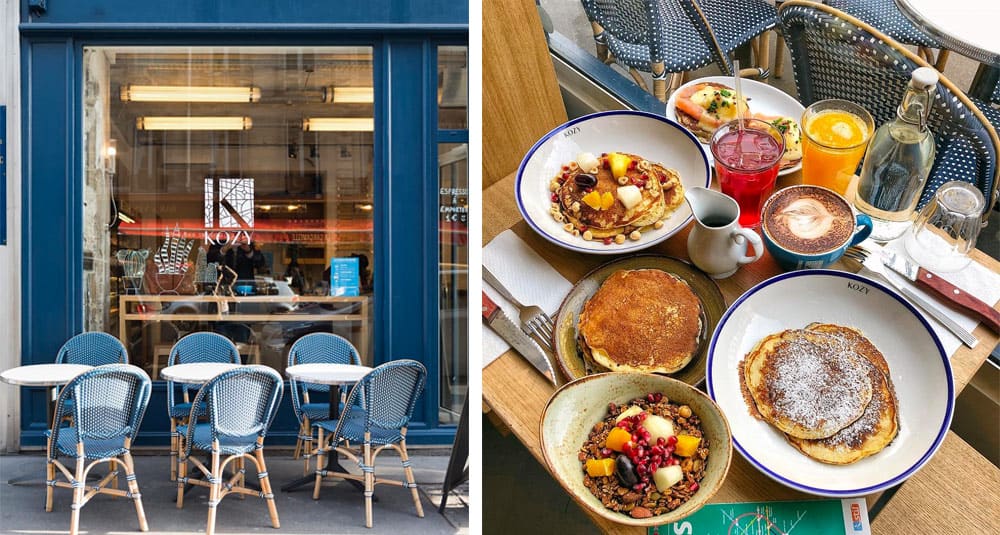 Kozy has solid coffee but they're more known for their weekend brunch offerings (granola bowls, pancakes, etc.). They have a smaller menu during the week. Kozy is located fairly close to the Eiffel Tower so it's not a bad place to stop while you're out sightseeing (but that also makes it fairly touristy).
79 Avenue Bosquet, 75007 (See On Google Maps)
Matamata Coffee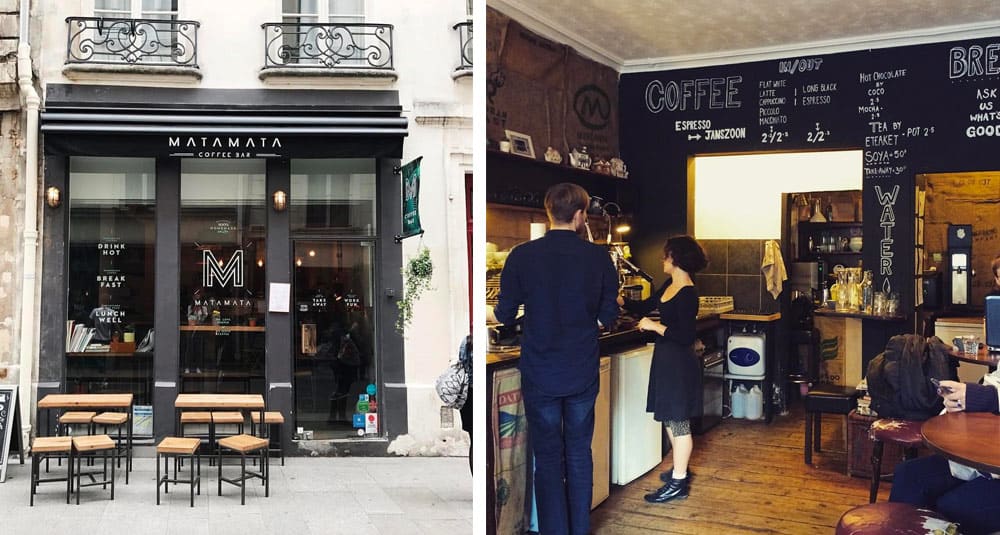 This cozy and quiet little coffee shop has a nice relaxed vibe but, considering its central location, it can get full during peak times. But the coffees and teas are delicious. They also have a nice selection of freshly made baked goodies to enjoy and some light breakfast/lunch options.
58 Rue d'Argout, 75002 (See On Google Maps)
Best Farmers Markets & Market Streets in Paris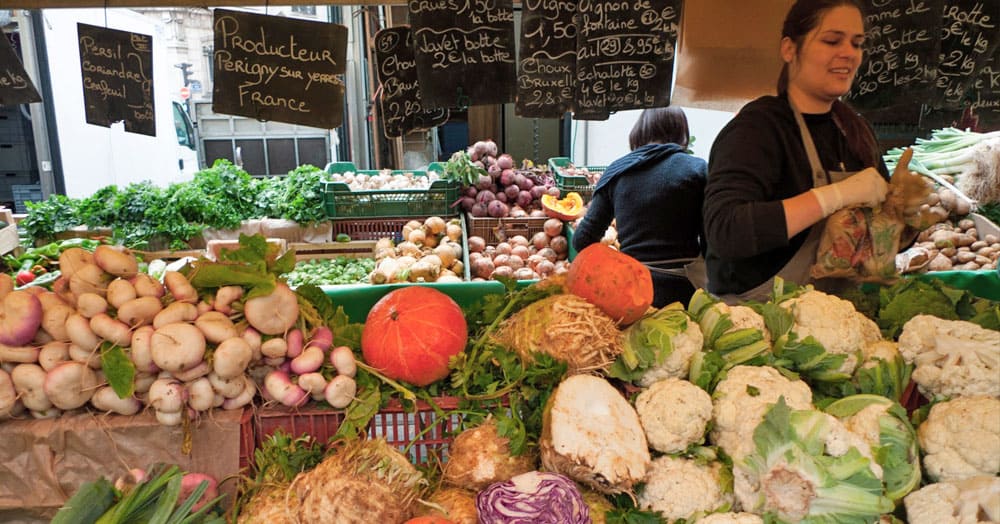 Of course, the best way to save money on food is by making meals for yourself. Luckily, Paris has some amazing farmer's markets. Additionally, just about every neighborhood will have a few high-quality produce stores that sell much better stuff than what you'll find at the grocery store.
MARCHÉ BASTILLE
The biggest and best open-air market in Paris — with over 100 stalls selling fresh and prepared food.
Boulevard Richard Lenoir, 75011 (See On Google Maps)
Thursday, 7am-2.30pm // Sunday, 7am-3pm.
MARCHÉ D'ALIGRE & Marché Beauvau
Locals have been flocking to the Marché d'Aligre and the Marché Beauvau since 1866. These are basically the same markets but Marché d'Aligre is open-air and Marché Beauvau is covered. The quality is great the prices are solid. 
Place d'Aligre, 75012 (See On Google Maps)
Marché d'Aligre: Tuesday-Saturday 8am-5pm // Sunday 8am-1pm
Marché Beauvau: Tuesday-Friday 9am-1pm & 4-7:30pm // Saturday 9am-1pm & 3:30-7:30pm // Sunday 8:30am-1:30pm
MARCHÉ AUX ENFANTS ROUGES
Head to the Marais to find the oldest covered market in Pairs — it's a bit hidden behind nondescript metal doors so you might miss it if you don't know what you're looking for. They specialize in ready-to-eat meals but also have fruit, vegetables, cheese, bread, and flowers. 
39 rue de Bretagne, 75003 (See On Google Maps)
Tuesday-Friday, 8.30am-1pm & 4-7.30pm //Saturday, 4-8pm // Sunday, 8.30am-2pm
RUE CLER Market Street
Any foodie already knows about the Rue Cler — it's arguably the most famous market street in Paris. The entire street is lined with specialty shops selling high-quality cheese, meats, and produce. 
Best Bakeries (Boulangeries) in Paris
Ahh yes. Who doesn't love a fresh croissant or a pain au chocolat? Or a warm baguette with butter? Well, get ready for a carb overload because Paris is filled with excellent boulangeries. Below are a few of our favorites but you can find good bakeries on just about every street.
Du Pain et Des Idées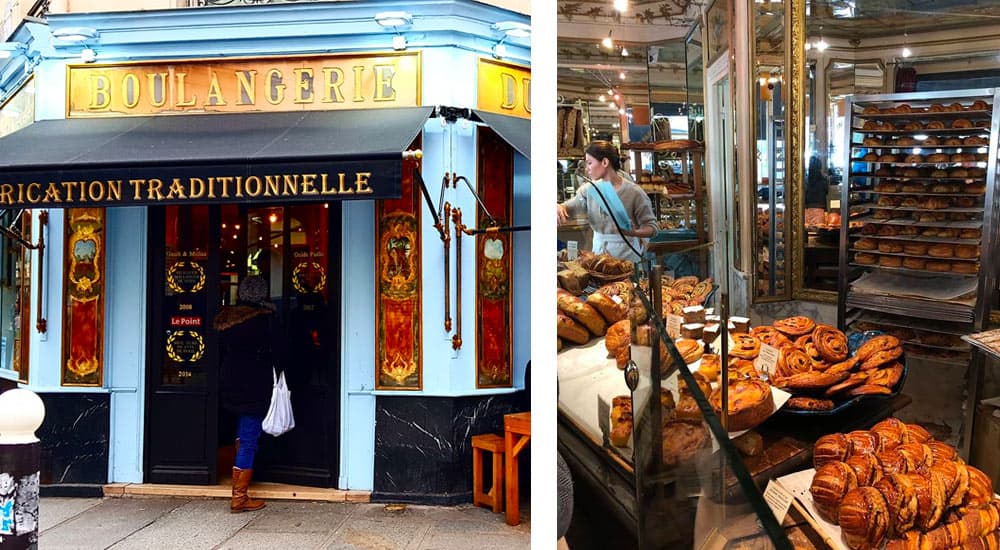 This is easily one of the most loved bakeries in Paris (both for their baked goods and the beautiful shop) so do yourself a favor and make the journey. They're especially famous for their pain des amis (friendship bread) but you can't really go wrong with anything here so pick whatever looks good.
34 Rue Yves Toudic, 75010 (See On Google Maps)
Blé Sucré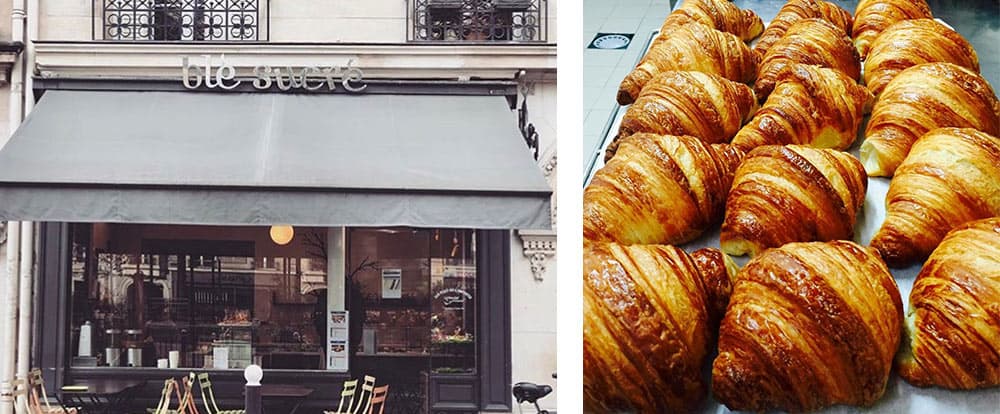 What happens when a pastry chef from a three-star Michelin restaurant opens his own bakery? Blé Sucré, that's what. This place is a bit of a hidden gem since it looks like an ordinary bakery that you find all over the city but they make some of the best baked goods in Paris. And the prices are affordable. Try the chocolate croissant. 
7 Rue Antoine Vollon, 75012 (See On Google Maps)
Best Baguette in Paris Winners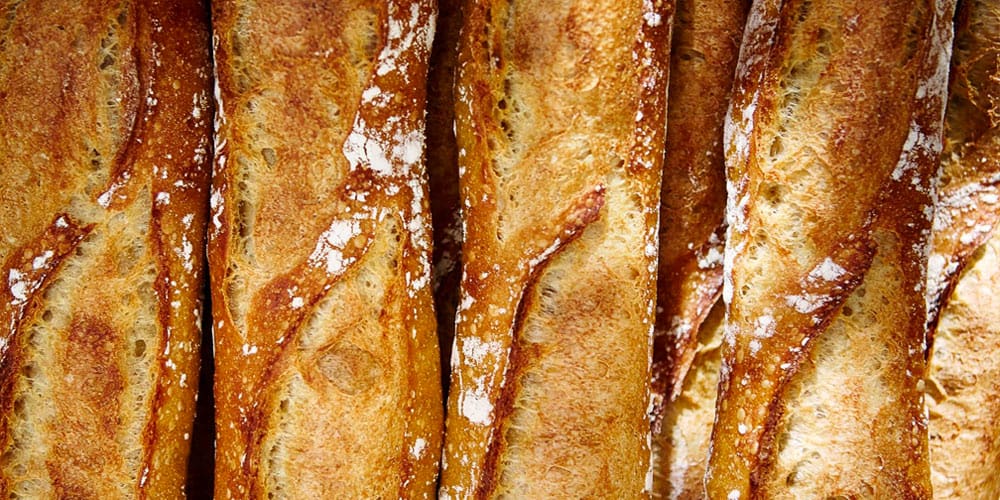 Every year bakeries compete for the title of "best baguette in Paris" and here are a few of those past winners. Also, places with great baguettes usually also make excellent sandwiches.
Best Patisseries & Dessert Shops in Paris
Do you have a sweet tooth? Well, Paris is truly heaven because everywhere you look there are shop windows filled with delicious-looking desserts. The main downside is that the best places tend to be fairly expensive but… whatever, you only live once.
By the way, it's impossible to list out every great patisserie and dessert shop in Paris — so we're not even going to try. That said, this list contains many of our favorite spots but there are dozens of other great dessert places in Paris.
Berthillon

Yes, Paris is known for delicious pastries (don't worry, we'll mention plenty of places to get them later in this article) but one of our absolute favorite things to eat in Paris is ice cream and sorbet from Berthillon. It's insanely good. Get multiple scoops.
Yes, there are hoards of tourists lined up in front of the shop all day but it's worth the wait. Note: They're closed in August but other cafes around Berthillon also sell their ice cream (but get it from Berthillon if you can). 
31 rue Saint-Louis en l'Ile, 75004 (See On Google Maps)
Pierre Hermé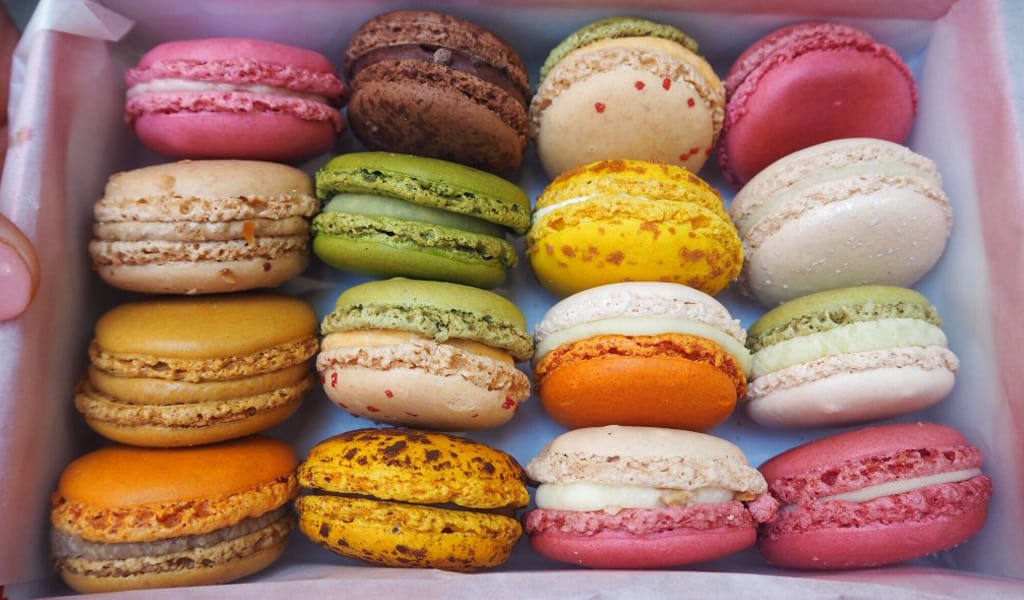 Pierre Hermé is a legend in the macaron world so you should treat yourself to as many as you can afford. They have many traditional flavors but Pierre Hermé often has a few more "creative" flavor combinations than other shops. And yes, they sell plenty of other excellent desserts if macarons aren't your thing. There are multiple locations throughout the city.
See All Their Locations on Google Maps
Ladurée

Ladurée is one of the most well-known macaron shops in the world. Yes, it's touristy but you should visit and try some of these tasty creations. They also have a wide range of other goodies but the macarons are the main event. There are multiple locations throughout Paris.
See All Their Locations on Google Maps
Angelina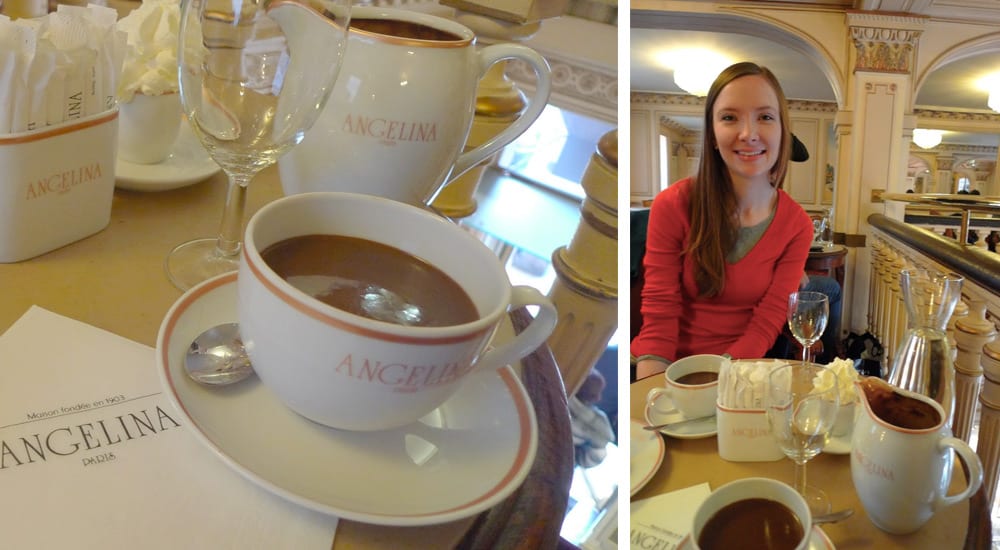 Angelina is famous for their ultra-decadent hot chocolate. It's basically like drinking a melted chocolate bar. Yes, this place is listed in all the guidebooks and it's touristy but it's something you really need to try. You might have to make reservations since this place is so popular.
See All Their Locations On Google Maps
Carette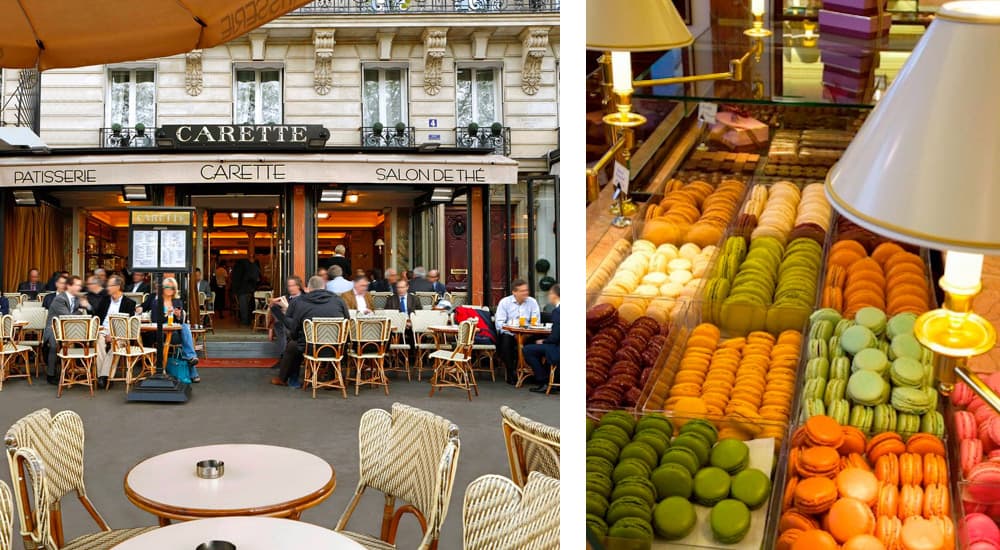 This old-school pastry shop/tea salon is beautiful and the desserts are top-notch — the macarons, hot chocolate, and just about everything is great. It's more expensive if you eat there so we suggest taking your treats to go if you're on a budget. They also have food but why would you fill up on that when you've got so many desserts to try.
4 Place du Trocadéro et du 11 Novembre, 75016 (See On Google Maps)
La Maison du Chocolat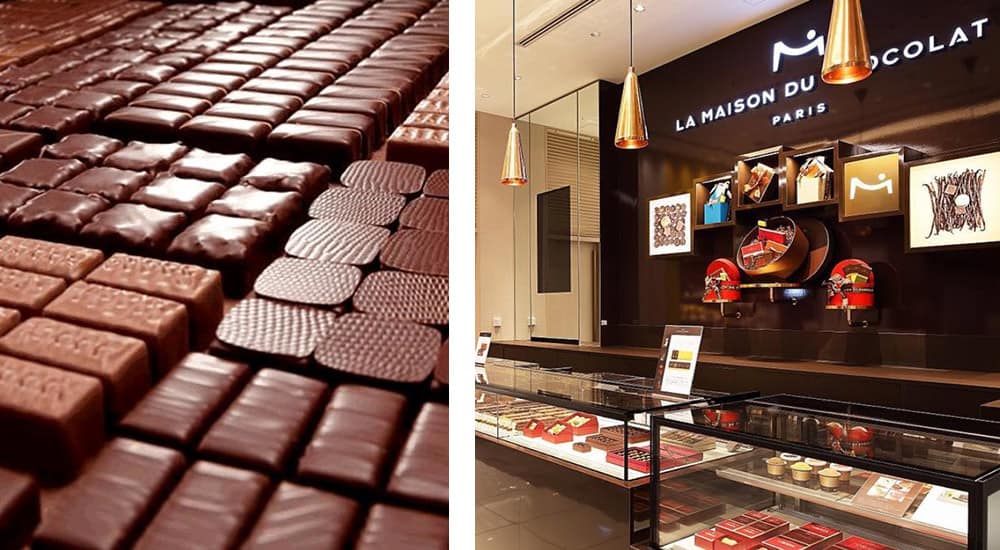 La Maison du Chocolat has excellent chocolate (some of the best in Paris) but they also have excellent macrons. I mean, everything is excellent.
See All Their Locations on Google Maps
Fauchon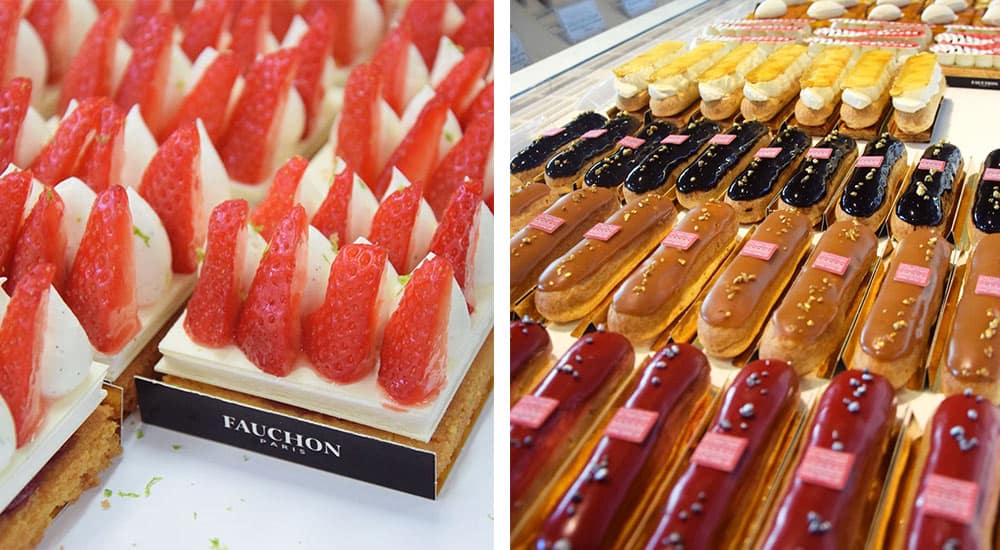 This legendary patisserie was founded in 1886 and it continues to be one of France's dessert powerhouses. We recommend the eclairs but they make a lot of other solid treats.
30 Place de la Madeleine, 75008 (See On Google Maps)
La Patisserie Cyril Lignac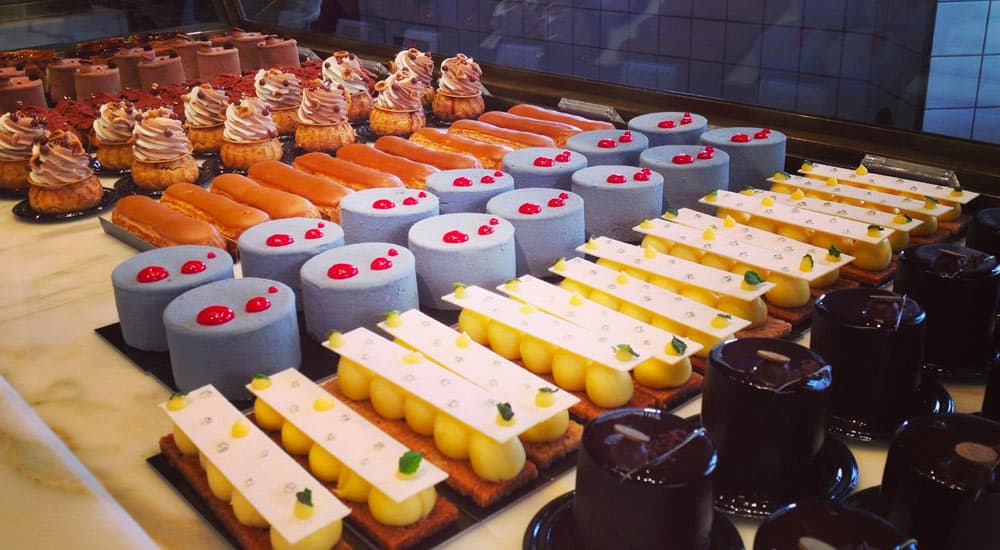 The list of amazing pastry shops in Paris seems to never end… Next on our list is the amazing La Patisserie Cyril Lignac. Everything is lovely and delicious — from their croissants and macaroons to eclairs and cakes. Kind of pricy though.
Pierre Marcolini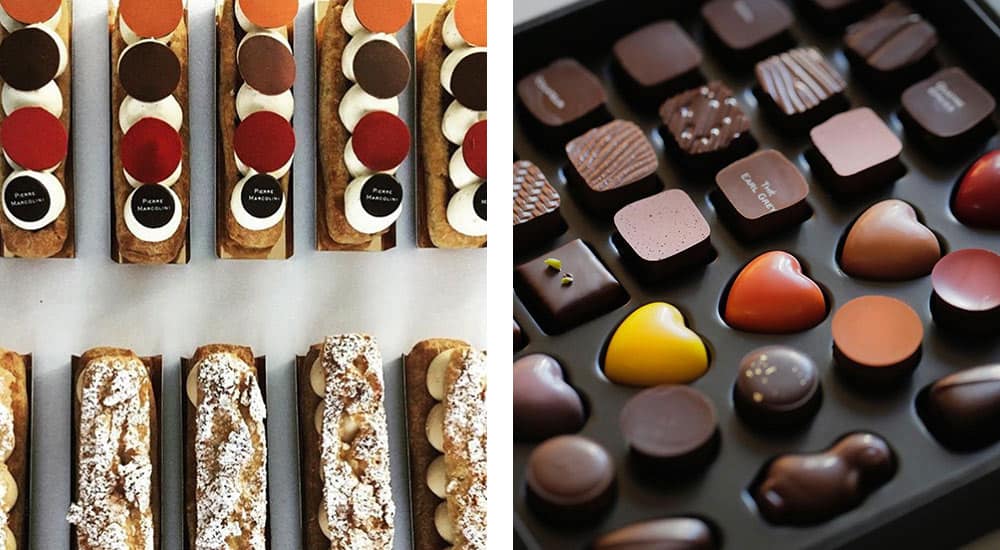 This high-end Belgian chocolate shop isn't cheap (ok, it's expensive) but they make some of the best chocolate in Paris. They have lots of exotic flavor combinations that you'll not find at other chocolate shops if that's something you're into.
Stohrer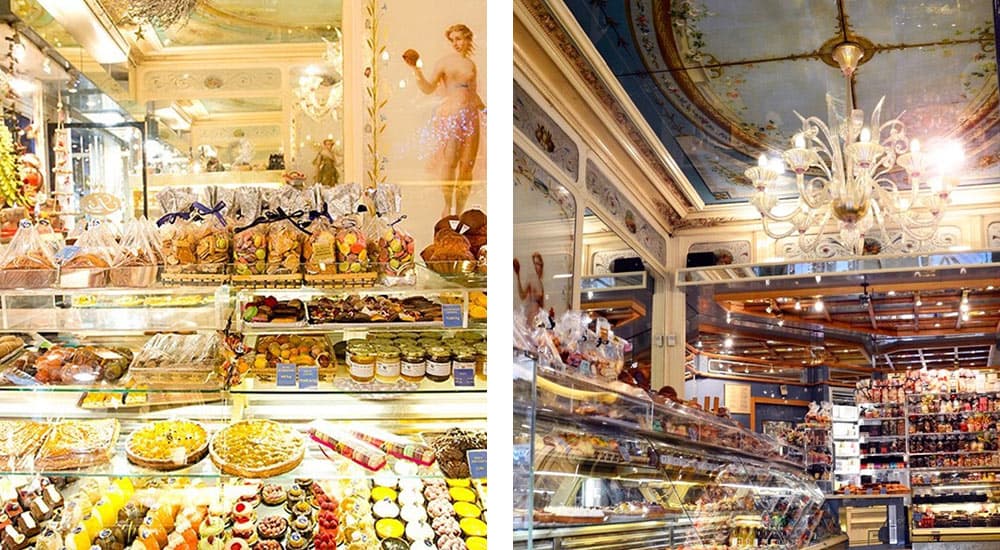 Stohrer, which opened in 1730, holds the honor of being the oldest pastry shop in Paris so you know they've got to be doing something right. This old-school spot makes a wide range of goodies and treats. It's worth a visit.
51 Rue Montorgueil, 75002 (See On Google Maps)
---
Best Paris Day Trips
One of the great things about Paris is the huge number of day trips that are within a 30min-two hour train ride from the city. Below is a list of our favorite places to visit but if you want a more in-depth look at these trips we recommend checkout out our guide to the best Paris day trips.
Versailles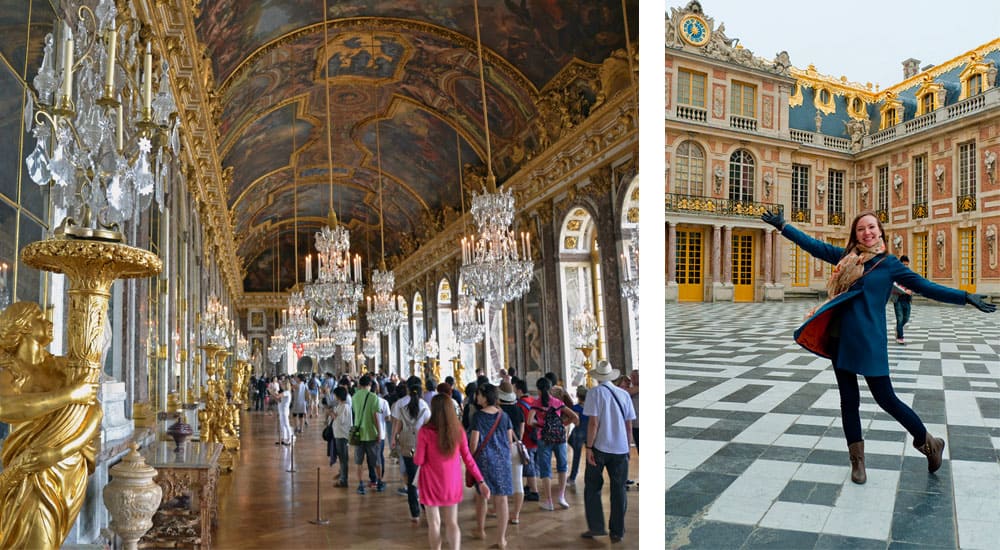 The Palace of Versailles is the most popular Paris day trip. This opulent royal residence is easily one of the most over-the-top buildings in the world. Versailles is connected via the RER regional train and the journey will take 60-90 minutes. A round-trip ticket costs about 7€ so traveling there isn't expensive.
Tips for visiting: Go to any metro station and buy a ticket for Versailles-Château – Rive Gauche. There are three stops for Versailles but only Versailles-Château – Rive Gauche will get you to the chateau so pay attention to the signs (or ask someone). As mentioned before, you'll take an RER train (which is different than the Metro).
Buy your tickets ahead of time or get there early as a lot of people visit so the lines can get crazy.
FONTAINEBLEAU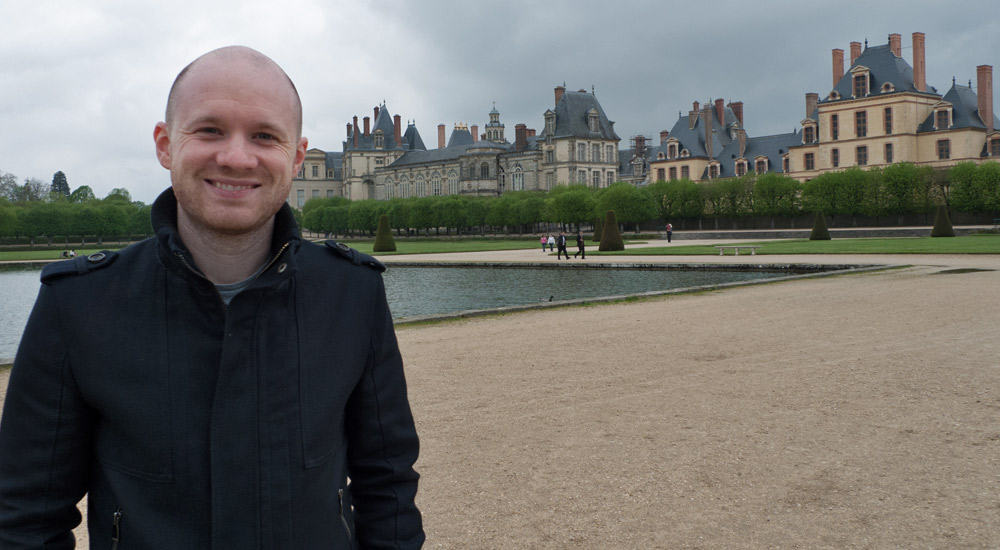 Fontainebleau is a chateau that's nearly as impressive as Versailles but only gets 10% of the visitors. The journey takes about 45 minutes via the RER D train that departs from the Gare de Lyon. We visited in the winter and only saw a handful of people there. Plus, the little town is cute and has some nice cafes and restaurants. 
GIVERNY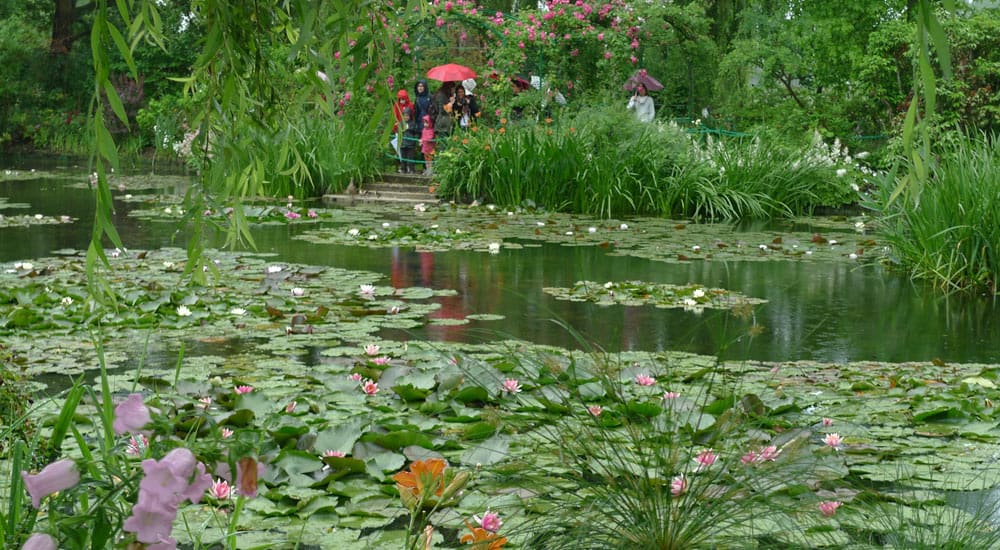 Made famous by Monet's gorgeous water lily paintings, Giverny is a wonderful place to visit during the spring and summer. Strolling through his gardens is like walking through one of his paintings! By the way, the gardens are closed in the winter and don't open until late March.
You'll take the train to Vernon (45 minutes from Paris) and from there you'll transfer to a bus to Giverny (about a 20-minute ride) — don't worry, the bus will be waiting after each train.
PROVINS


Provins is a quaint medieval town located about 90 minutes southeast of Paris and a wonderful day trip from Paris. Trains run hourly from the normal train platforms at the Gare de l'Est. The highlights of the city are the old watchman's tower that provides impressive views for miles and the ancient ramparts/city walls that you're free to explore. 
ROUEN


Rouen is another very popular day trip from Paris. This charming town in Normandy is about an hour and a half north of Paris. It's famous for its brightly colored half-timbered buildings, a gorgeous cathedral, and an old astronomical clock tower. Rouen is also known for being where Joan of Arc was executed and you can visit a tower where she was held (la Tour Jeanne d'Arc).
Trains to Rouen leave twice an hour from the Gare Saint Lazare train station.
REIMS

Reims is the capital of the Champagne region and is home to many champagne houses — many of which offer tours. Reims is also home to a beautiful cathedral where French kings were once crowned. We visited the Pommery and Mumm Champagne houses and thought both were nice tours. If you have more time, you can also visit the actual vineyards.  
AMIENS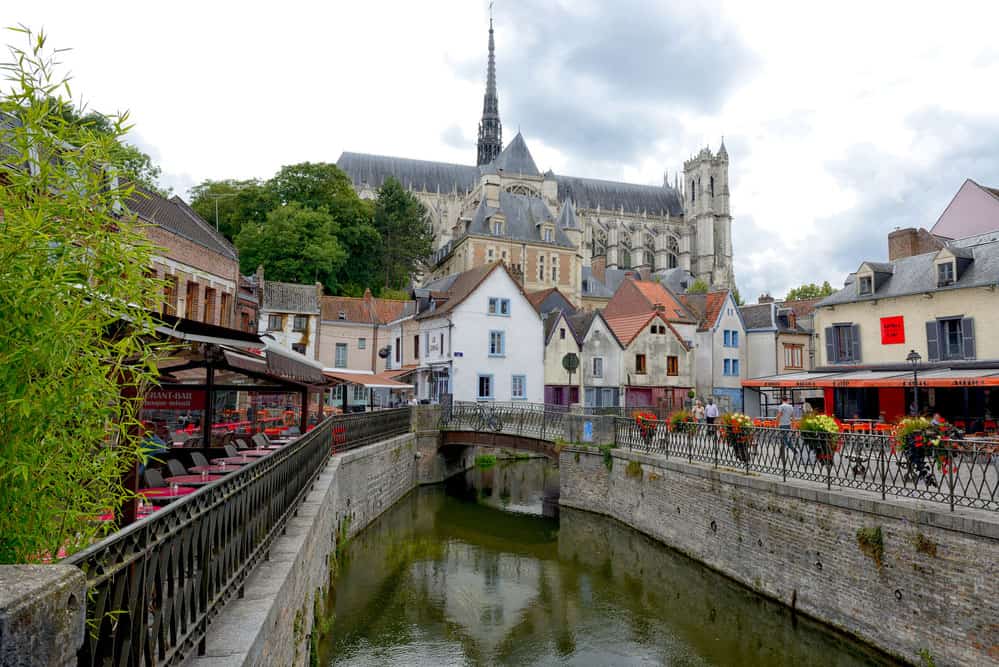 Amiens is about an hour train ride north of Paris in the Picardy region of France. It is most famous for having the tallest cathedral in France, beautiful floating gardens (hortillonnages), and the mansion where Jules Verne spent a large portion of his life.
LILLE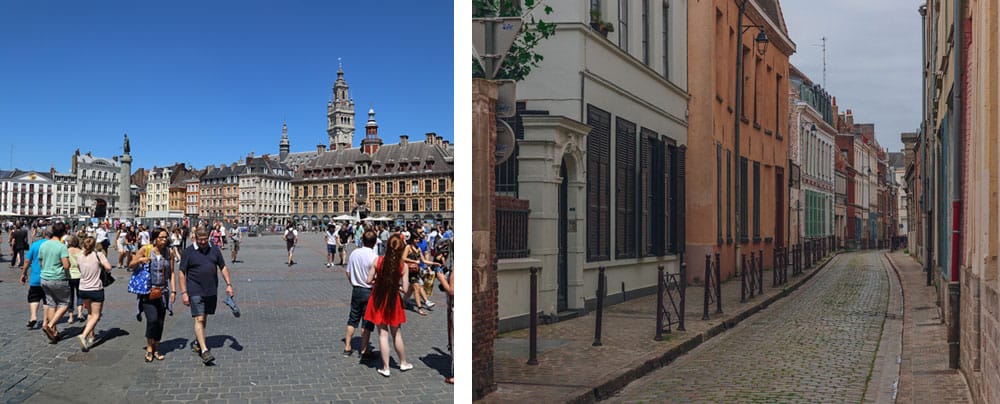 The city of Lille is a great place to visit for a day (or even longer). It's connected to Paris via the high-speed train (TGV) so it's only about an hour ride. We love the Flemish-style architecture, excellent Belgian beer, and hearty food (fries, beef stew, etc.). We suggest buying train tickets in advance since they can be expensive if purchased last minute.
MONT SAINT MICHEL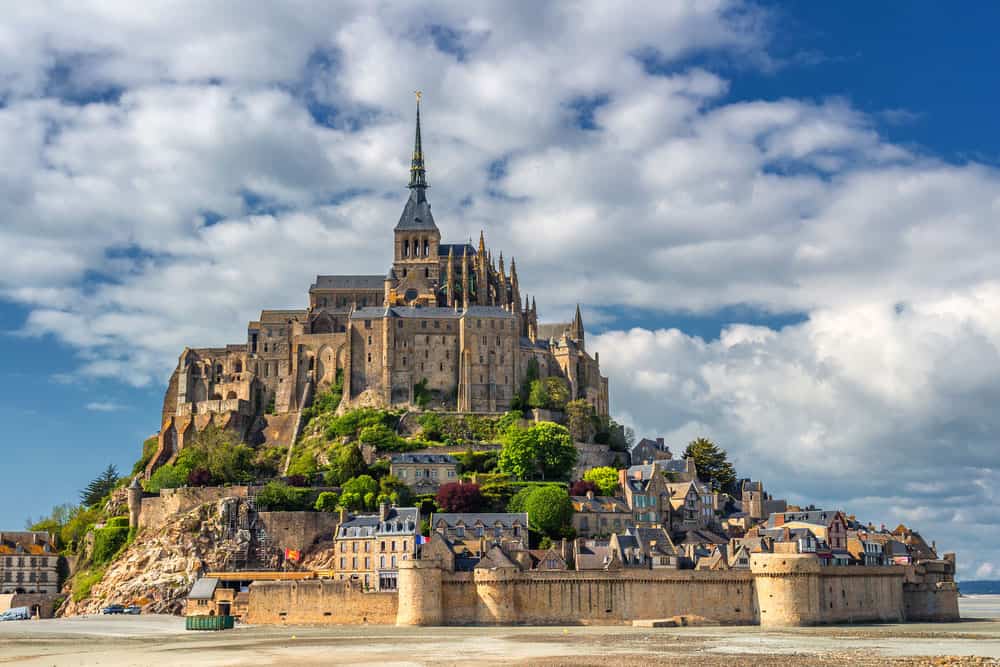 This magnificent abbey of Mont St. Michel is one of the most impressive parts of France — pilgrims have been visiting since 709 A.D and it's one of France's most visited sights. The main downside is its distance from Paris — it is about a 3.5-hour train ride so visiting will take up your entire day.
Domaine de Chantilly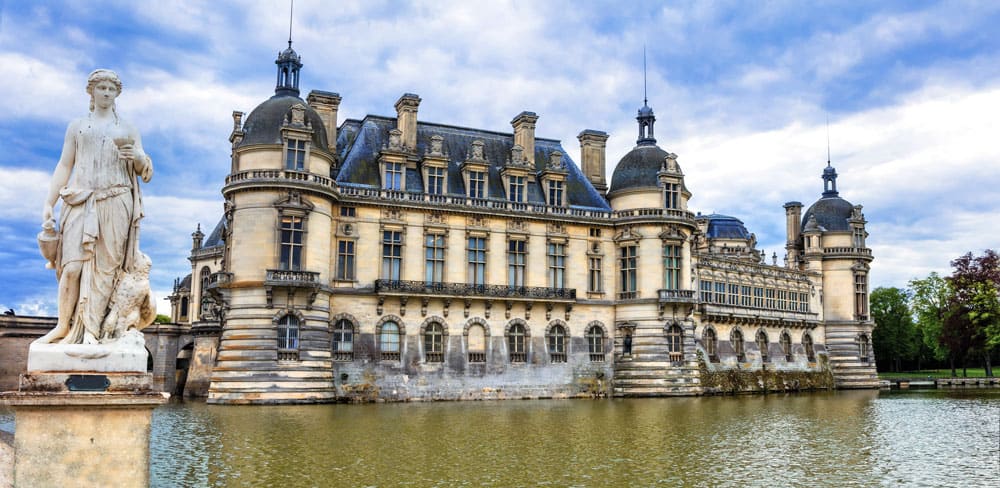 The Domaine de Chantilly is an impressive castle that's only a 25-minute train ride from the Gare du Nord in Paris. Exploring the impressive estate with its huge art collection and the beautiful gardens is an excellent way to spend the day.
---
Getting Around Paris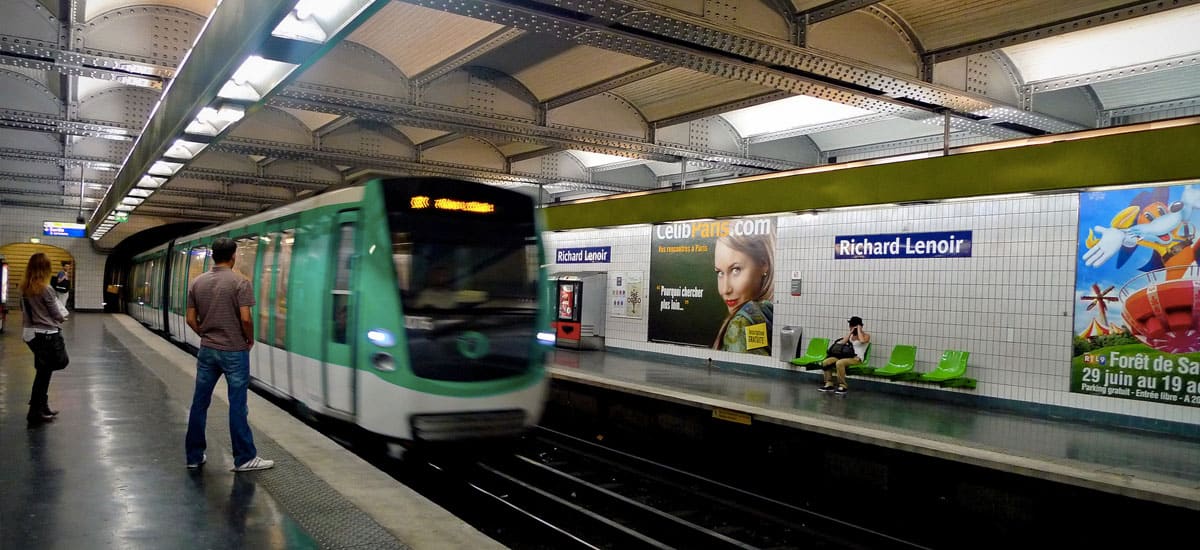 Paris has one of the best public transportation systems in the world and it's well-connected to the rest of Europe via its multiple train stations and airports.
Getting Into Paris From CDG Airport
Via Train: One of the easiest and cheapest ways to get from the CDG airport to Paris is by train — which is called the RER-B. The RER-B is well-marked so just follow the signs.
Cost: €10 one-way
Runs: 5am-11:50pm
Time: Around 30-45 minutes
Frequency: About every 10 minutes
Tip: The train starts running about 5 am but the ticket window doesn't open until around 6 am. Bring exact change so you can use the automated machine.
Tip: Hold on to your ticket! You'll need it to exit the RER and you can use it to transfer to the Metro(Subway).
Tip: This is a popular train for pickpockets.
Via Taxi: A standard taxi ride will cost €50 to €70 to get into central Paris. The ride will take around 35-60 minutes to get to/from the airport. Remember, only take official taxis from the designated taxi stand so you don't get ripped off by a private car.
Using The Paris Metro
The Metro is the Paris subway system. It's great and you're never more than around a five-minute walk from one of its 380 stations. And it's affordable.
Buy a Navigo Easy Travel Card: Paper metro tickets are being replaced by a rechargeable, contactless 'Navigo Easy' travel card (paper tickets will be totally phased out by 2025). The Navigo Easy cards cost 2 Euros and are sold at most stations on the Paris metro stations and approved shops. These cards can be recharged inside the stations. You can also pay via your phone if you download the Bonjour RATP app.

You can also buy Monthly or Weekly Navigo Packages.

Single Ride: €2.10
Pack of 10 Single Rides: €16.90 (this is usually the best deal)
Operating Hours: 05:30 am – 01:15 am (02:15 am on Friday and Saturday nights).
Caution: There are a lot of stairs and long walkways so carrying a lot of luggage can be difficult.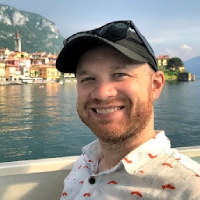 Latest posts by James Feess
(see all)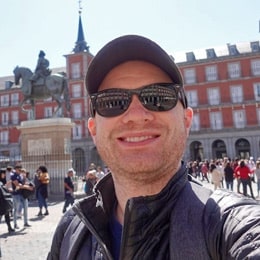 No Funny Business
The Savvy Backpacker is reader-supported. That means when you buy products/services through links on the site, I may earn an affiliate commission—it doesn't cost you anything extra and it helps support the site.
Thanks For Reading! — James
Questions? Learn more about our Strict Advertising Policy and How To Support Us.