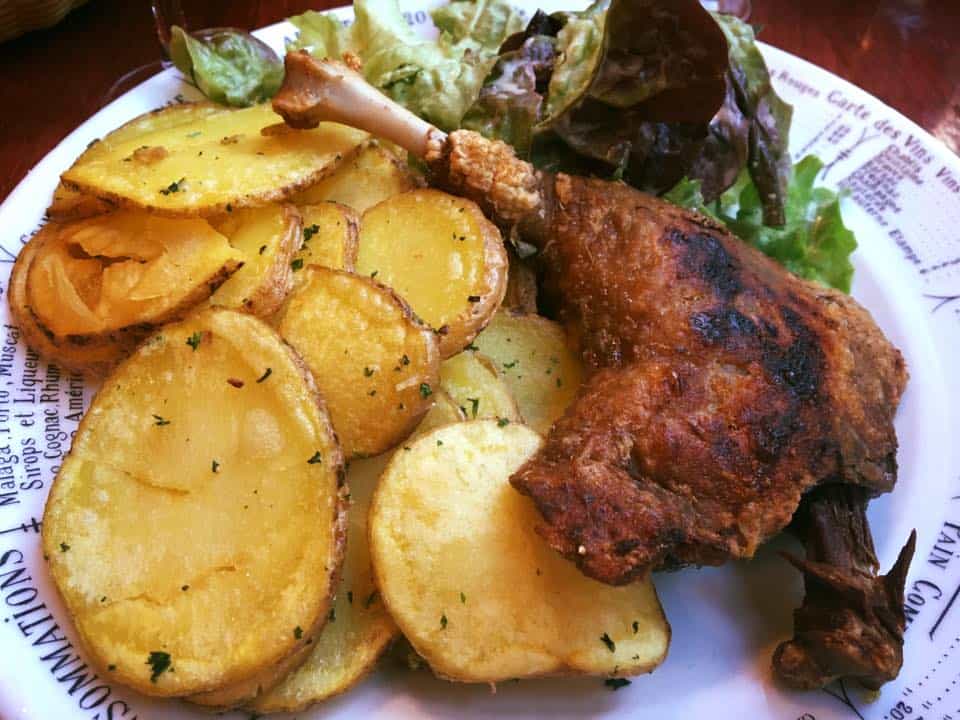 Parisians live to eat (and drink) so there is no shortage of amazing places to eat in Paris. Unfortunately, finding a cheap meal isn't always easy — especially if you don't want to settle for mediocre food. That's why we interviewed a handful of locals to find their favorite budget-friendly restaurants in Paris.
In this guide, we tried to list a wide range of restaurant options — from traditional French bistro classics and crepes to Mexican and Vietnamese. Most restaurants on this list offer main dishes priced from about €7-€15 so you shouldn't have any trouble getting a good meal + drink for under €10-€20
Do you have a favorite budget-friendly restaurant that's not on our list? Please leave a comment to let us know!
Quick Tips
Fixed Price Lunch and Dinner: Almost every restaurant has a fixed price menu — especially at lunch. It usually consists of a starter, main, and dessert — sometimes it's a starter & main or main & dessert. This is a good way to have a solid meal at a good price.
Good Boulangerie = Good Sandwiches: Almost every solid boulangerie will have a solid sandwich as well. Even a simple ham and cheese sandwich on a baguette will be very filling and cheap (€5-€8) lunch.
Double-Check Opening Times: Restaurants in Paris can have weird hours. Some are closed weekends or mid-week, some open late, some only serve lunch. Some close down in August. Always double check the hours.
Crepes: Street vendors all over the city sell delicious and filling crepes for €3-€7. You can't go wrong with ham and cheese. Go for banana & Nutella crepes for a snack.
Best Budget Restaurants in Paris
So here we go!
Grenier au Pain [Bakery / Sandwiches]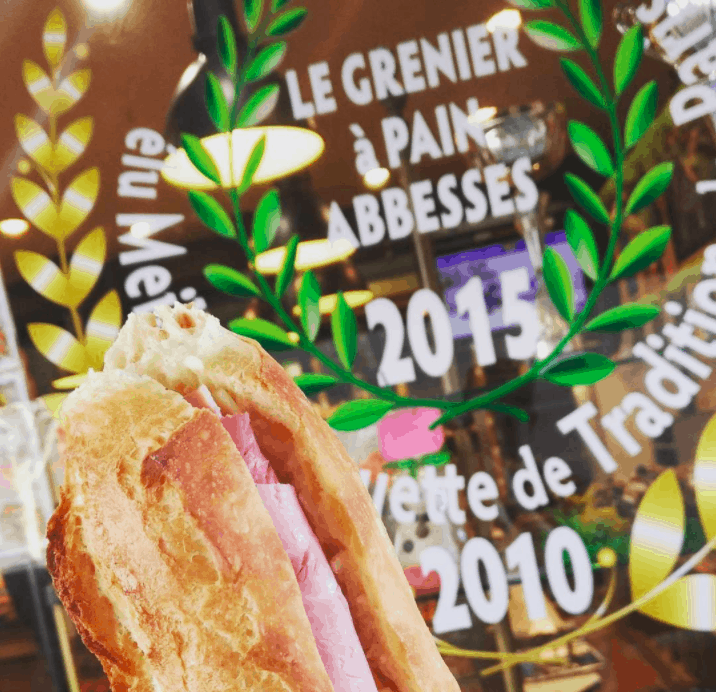 I worked near two Grenier au Pain boulangeries so I've eaten a few dozen of their ham and cheese sandwiches. In fact, Grenier au Pain has won the "best baguette in Paris" award multiple times so you know their baguette sandwiches are going to be good. I'm also a big fan of their croissants and eclairs. I forget the exact price but I believe they have a sandwich+drink+eclair lunch special for under €7.
38 rue des Abbesses, 75018 (Main store – Montmartre) // 127 rue Caulaincourt, 75018 (Montmartre) // 33bis rue Saint Amand, 75015 // 52 avenue d'Italie, 75013 // 91 rue Faubourg Poissonnière, 75009
Maison Castro [Sandwiches]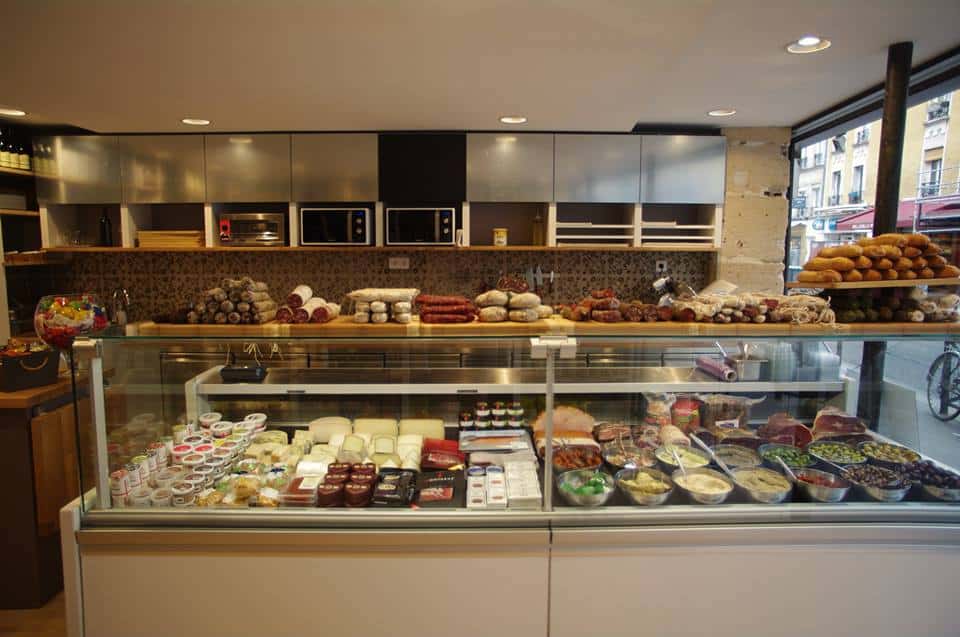 Baguette sandwiches with a Mediterranian twist — featuring meats and cheeses from France, Italy, and Spain. A nice choice if you want something different than the standard French sandwich. Sandwiches cost €5-€6.40.
9 Rue Cadet, 75009 — 47 Rue des Moines, 75017 — 15 bis rue Alexandre Parodi, 75010 — 114 rue de Belleville, 75020
Le Coquelicot [Bakery / Sandwiches]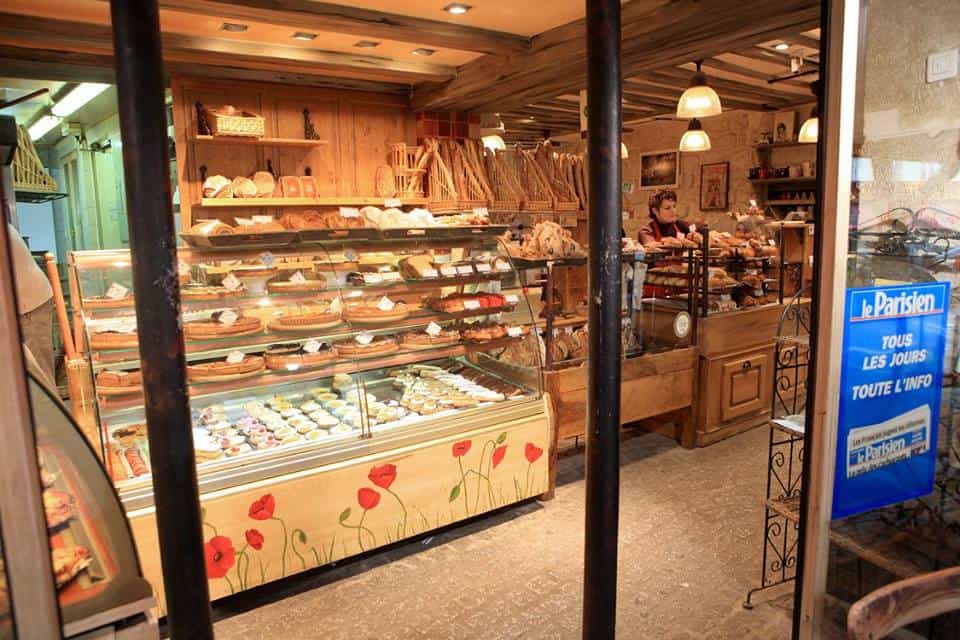 Located in the heart of Montmartre, Le Coquelicot is always a contender for the "best baguette in Paris." This is a good option for a quick breakfast, brunch, or a takeaway sandwich — items are considerably cheaper if you get them to go. A quiche and croque monsieur will run about €5/each.
24 rue des Abbesses, 75018
Cosi [Sandwiches]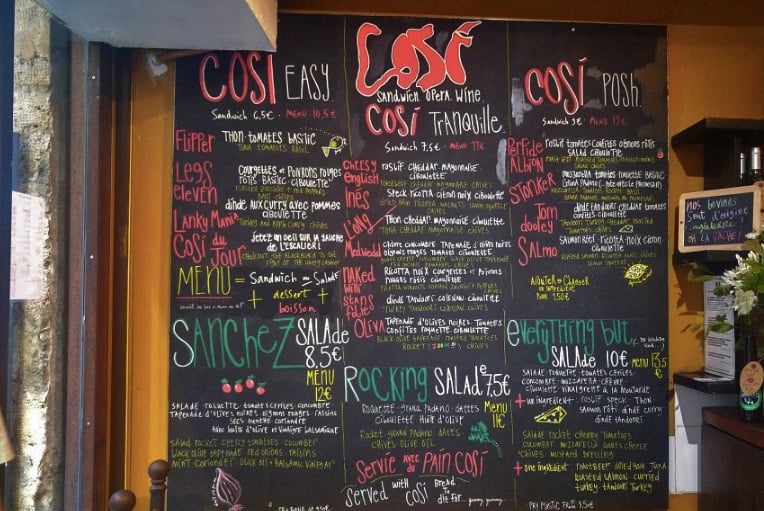 A local favorite for great sandwiches at a reasonable price — plus it's right in the center of the city so it's less than a 15-minute walk from Notre Dame.
54 rue de Seine, 75006
Le Petit Vendôme [Sandwiches + Classic French]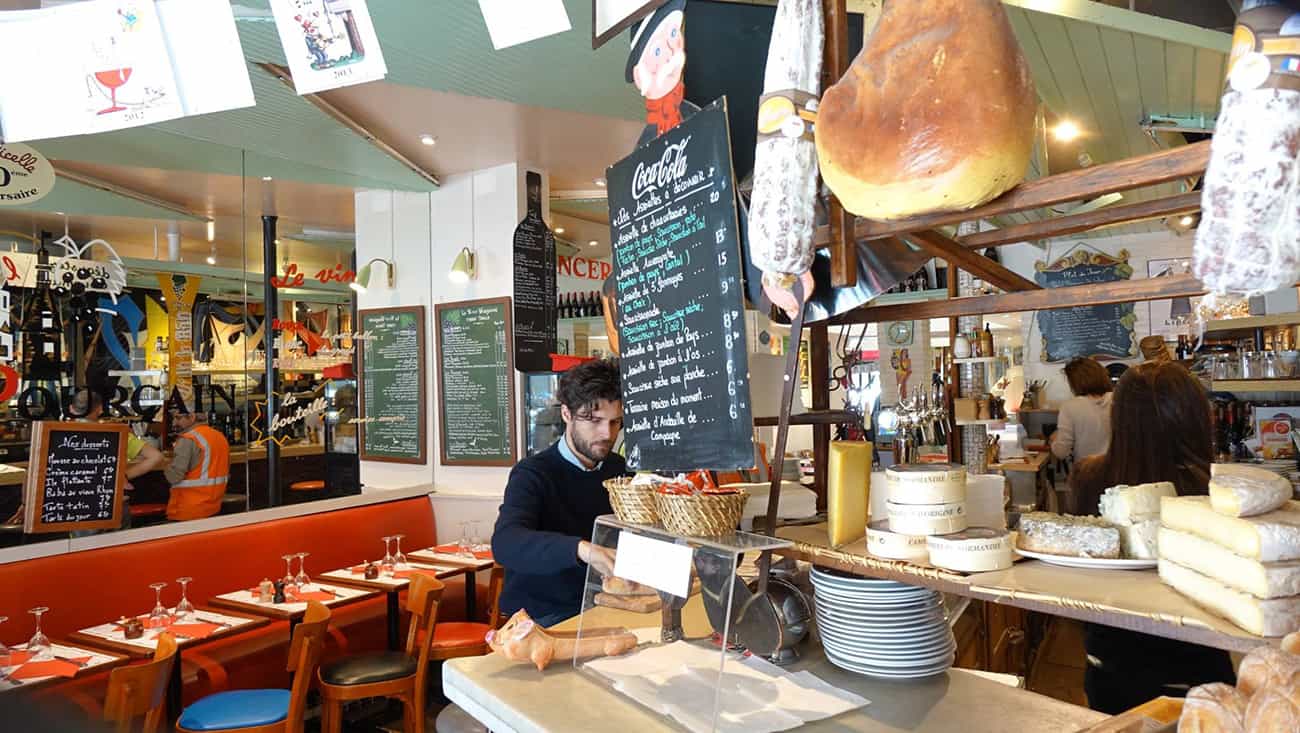 A classic Parisian bistro that's actually packed with Parisians. They are known for their sandwiches (€6.40-€9 takeaway only) — you'll see the line stretching out the door at lunchtime. Some say it's the best sandwich in Paris. You can also eat inside if you want classic French dishes — try the duck confit (€17). The place is always packed — especially at lunch.
8 Rue des Capucines, 75002
Urfa Dürüm [Turkish/Kurdish Sandwiches]
Amazing Turkish kebab sandwiches made with fresh homemade bread and meat cooked on skewers right in front of you. It's also a favorite of Anthony Bourdain. Sandwiches are €6-€8. Don't be surprised to see lots of locals lined up at dinner time.
58 Rue du Faubourg Saint-Denis, 75010
Mmmozza [Italian Sandwiches]
Italian sandwiches made with super high-quality meats and cheese (€5-€7). A solid option for lunch on-the-go.
57, rue de Bretagne 75003
Breizh Café [French Crepes]
Breizh Cafe is on the top of every "best crepes in Paris" list so it's smart to make a reservation. Most savory crepes are €7-€10.50 and the amazing dessert crepes cost around €7-€10.
109 rue Vieille du Temple, 75003 Paris, France
La Crêperie Josselin [French Crepes]
La Crêperie Josselin is another crepe place that consistently makes the "best crepes in Paris" list — so you can't go wrong. A savory crepe costs €10-€12 but there is a weekday lunch special that's €12 for a savory crepe + dessert crepe + drink.
67 Rue du Montparnasse, 75014
Crêperie Plougastel [French Crepes]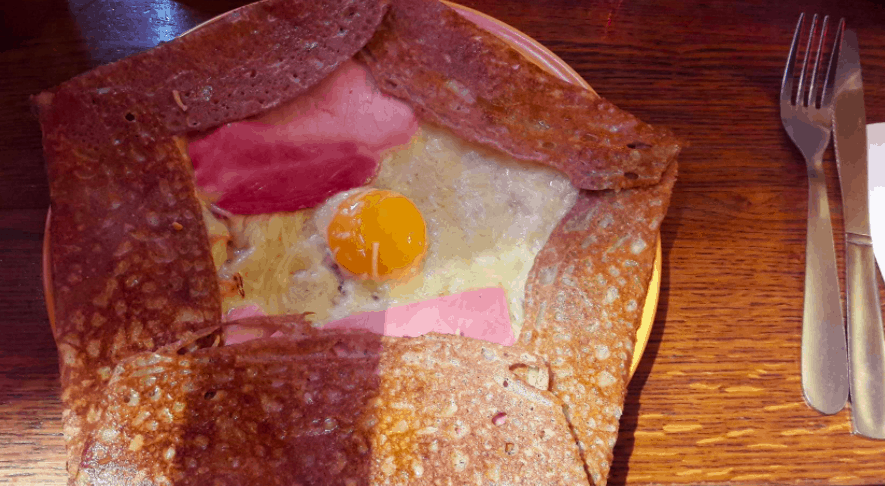 In a neighborhood full of crepe places, Crêperie Plougastel is the standout. Savory crepes cost between €7-€10 and dessert are about the same.
47 rue du Montparnasse, 75014
Bistrot Victoires [French]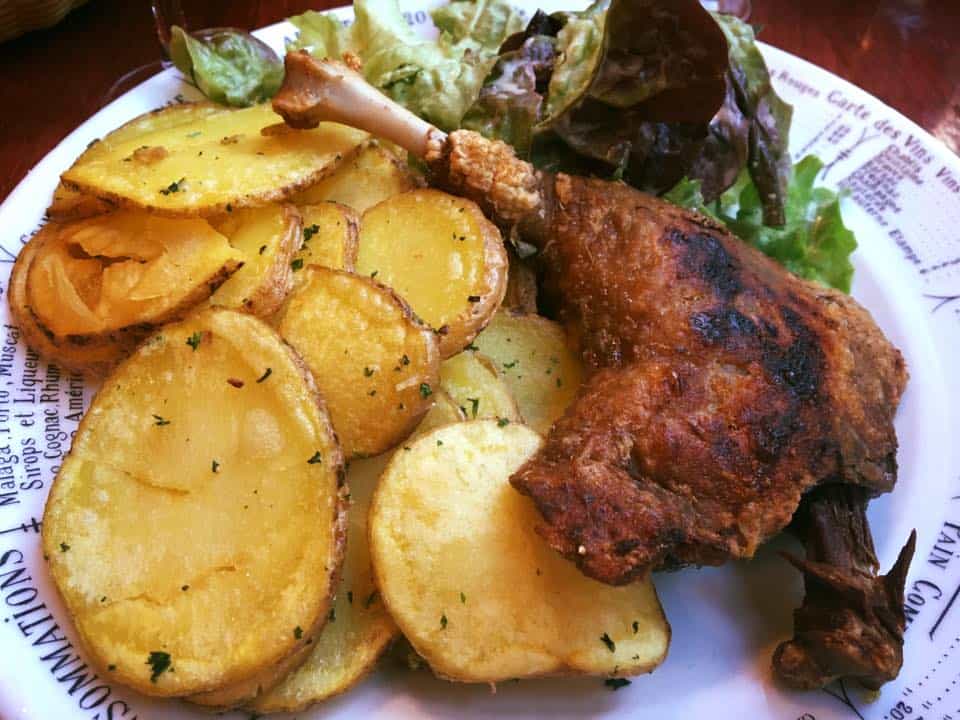 Bistrot Victories serves up tasty French classics at really good prices — especially considering its close proximity to the Louvre (where everything seems to be expensive and low quality). Duck confit and roast chicken are both less than €11… that's hard to beat.
6 rue de la Vrilliere, 75001
Chartier [Classic French]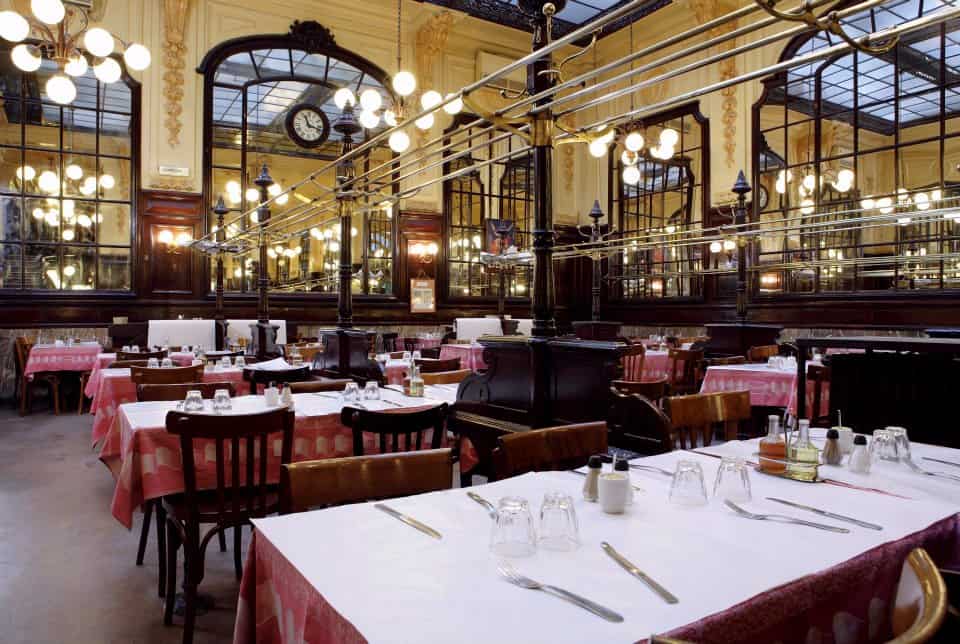 Founded in 1896, Bouillon Chartier is a massive old-school Parisian restaurant that's now officially classified as a historic monument. You're not going to get a gourmet meal here but it's cheap (main dishes are €8-€12) — which is part of its charm. Stick with the simple/classic French dishes like chicken or steak + fries and enjoy the fun atmosphere.
7 Rue du Faubourg Montmartre, 75009
Café de l'Industrie [French Bistro]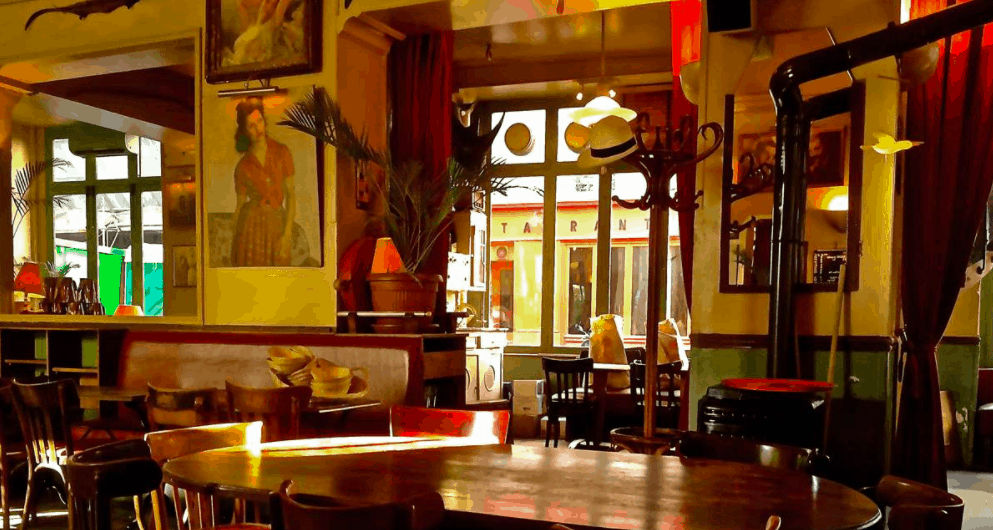 A fun and lively neighborhood French bistro/restaurant near the Bastille. It's a large space so it's good for groups (but also great for couples). Service is fast and prices are great — most main dishes are around €13. They also have a weekday lunch special for €12 (starter, main, and dessert).
15,16,17 Rue Saint-Sabin, 75011
Chez Gladines [Classic French]
Another one of the rare French restaurants with a solid quality/price ratio that serves many French classics — lots of meat & potatoes, sauces, and cheeses. Their specialties like duck confit and basic steak are around €16 and Basque chicken is €13.
64 rue de Charonne, 75011
La Petite Rose des Sables [Classic French]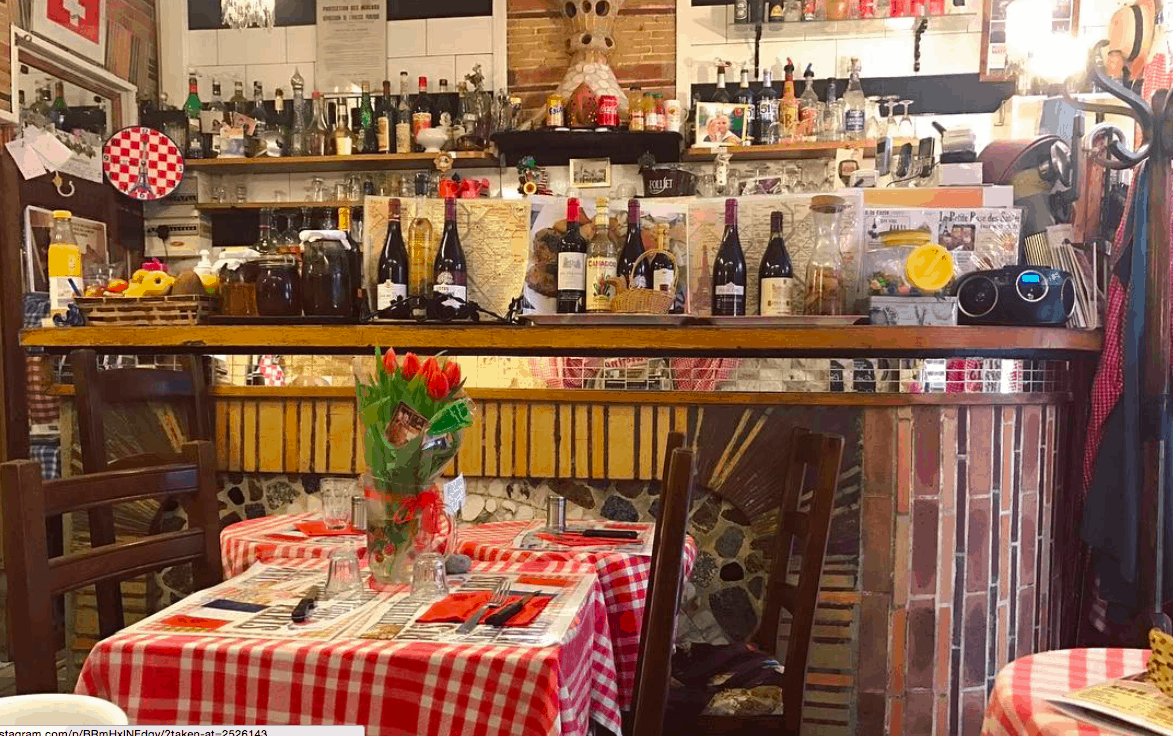 Eating here is like eating at grandma's house. It's run by an old French couple who are some of the nicest people in Paris — you'll probably even get a hug and kiss goodbye! Ohh and the food is classic home-made French. Beef bourguignon (beef stew) is only €12. The restaurant is tiny (it can only hold about 8-10 people) so try to make a reservation or show up 30 minutes before opening.
6 rue de Lancry, 75010
L'Express de Lyon [French Bistro + Craft Beer]

L'Express de Lyon features two of my favorite things — simple french dishes and amazing craft beer. This place has some of the cheapest craft beer in Paris (discount if you drink at the bar) and it's well off the tourist track so it's a good place to hang with the locals.
1 Rue de Lyon, 75012
Fermier Gourmet [French/European]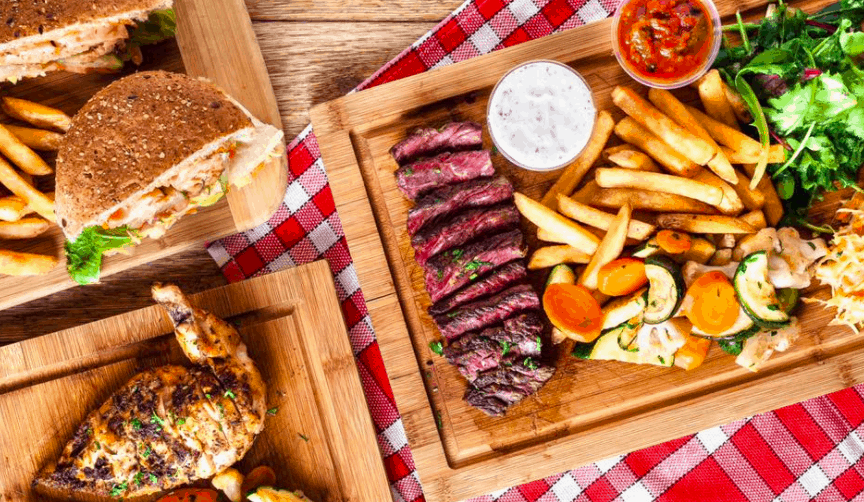 Duck, chicken, steak, burgers & fries… what else could you ask for. They also have a solid €12 takeaway salad which is great for lunch.
185 rue du Temple, 75003
Frenchie To Go [Modern Breakfast/Lunch]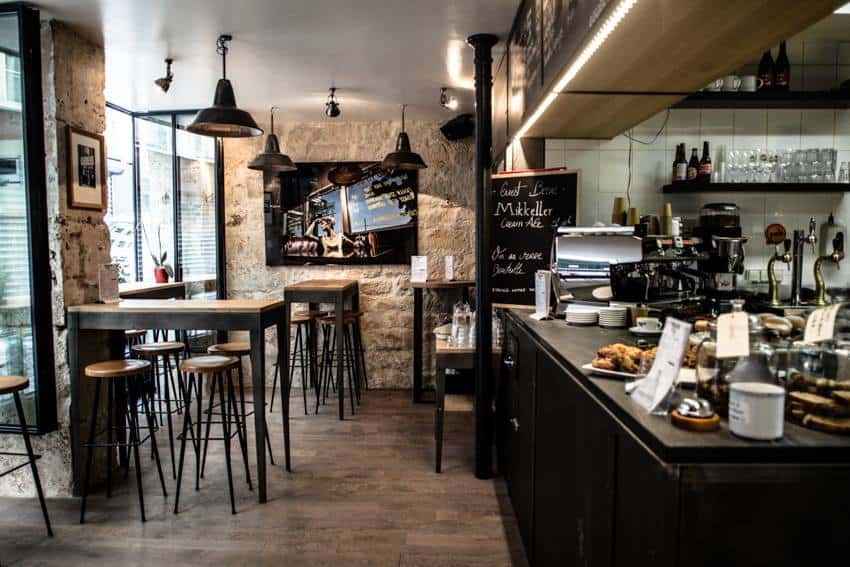 A super hip 15-seat restaurant that serves a small, yet solid, menu for breakfast (all day) and lunch (12-4pm) — as well as great coffee. Breakfast options consist of scones, breakfast muffins, eggs, yogurt w/ granola, etc. (€6-€11). For lunch, they have Reuben sandwich (€12), Pulled pork sandwich (€11), Pastrami on rye (€14), Hotdog (€8), Lobster roll (€22), and Fish & Chips (€14).
Big Fernand [Burgers]
Sometimes you just want a burger and Big Fernand is one of the best places to get one in Paris. Are the burgers as good as your favorite burger place back in the US? Doubtful. But they're still pretty solid. The "Bartholome" burger get the most love. Burgers range from €11-€13.
They have six locations throughout Paris.
Joe Burger [Burgers]
I don't know who Joe is but he makes a solid burger – and they're super affordable. A burger + fries is €7.80.
49 rue Descartes, 75005
Burger and Fries [Burgers]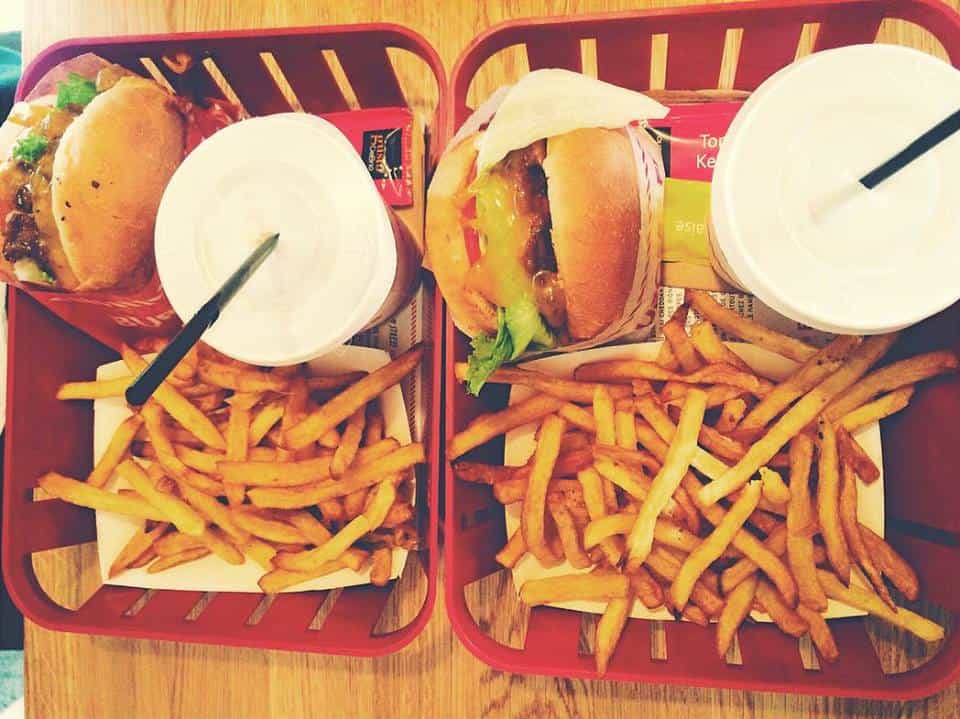 It's no secret what they serve here… yep, burgers and fries. This place reminds us of an IN n OUT or Shake Shack. A burger, fries, and drink combo only cost €7.95 so this is a good alternative to McDonald's. Not bad if you're in the area and want something quick & cheap.
1 boulevard de Bonne Nouvelle, 75002
Hank Burger [Vegan Burgers]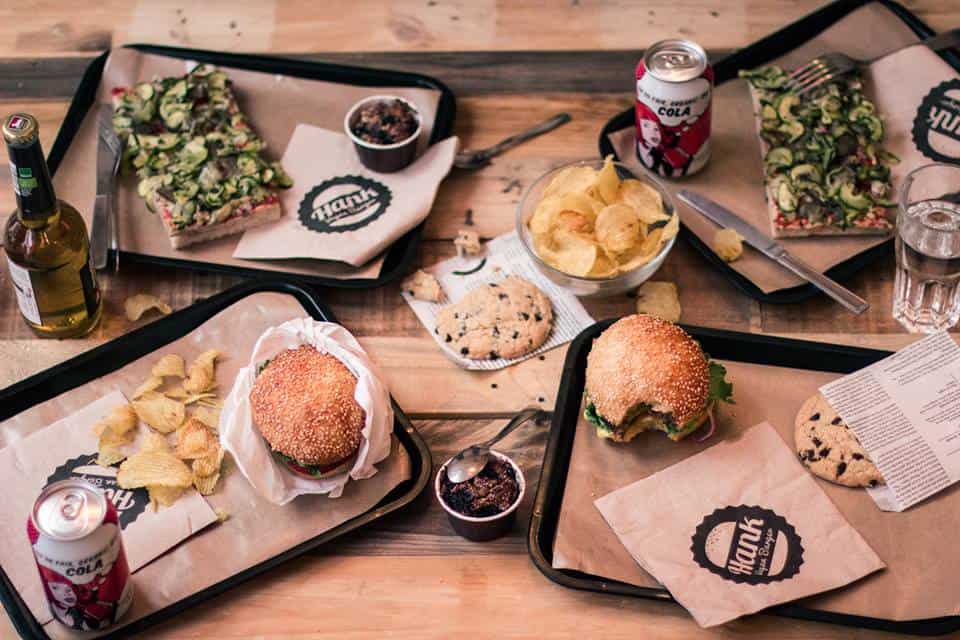 Vegans rejoice because this is the place to get a great vegan burger — they even have a gluten free option. Burgers start around €8.50 and they have a €12 menu (burger + fries + drink). They have a vegan pizza restaurant nearby (Hank Pizza).
55 rue des Archives, 75003
Pizza Julia [Pizza]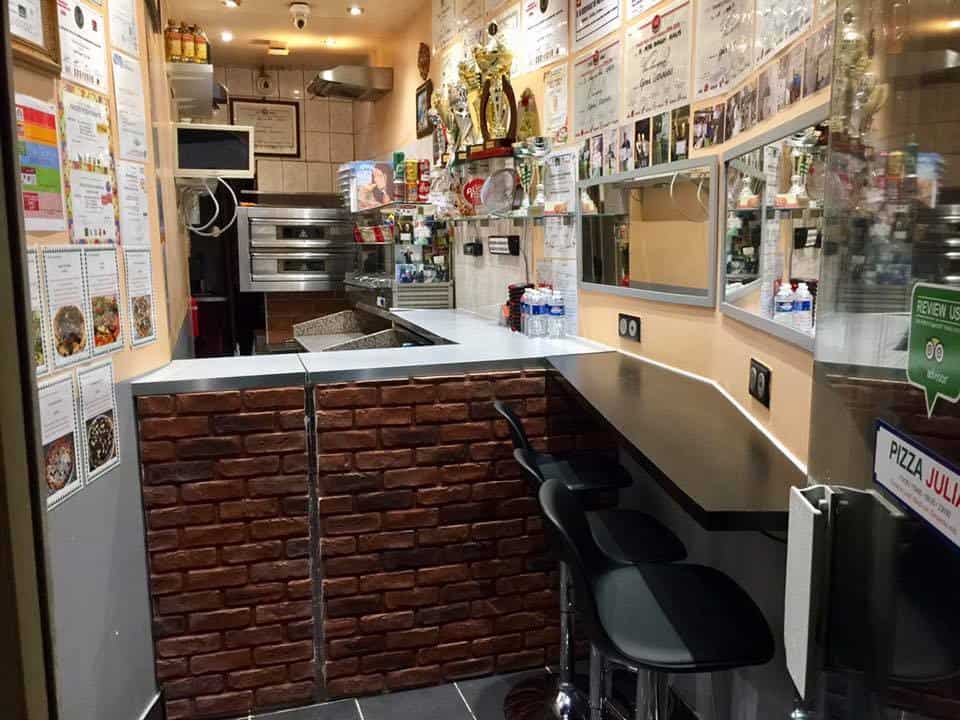 This mainly takeout pizza place serves some of the best pizza in Paris (they have the awards to back it up). If it's a nice day, we suggest taking your pie over to the Canal St. Martin to enjoy some al fresco dining. Pizzas run about €11-€16 and they're big enough to split.
43 rue de Charenton, 75012
Pizza Rossi [Pizza]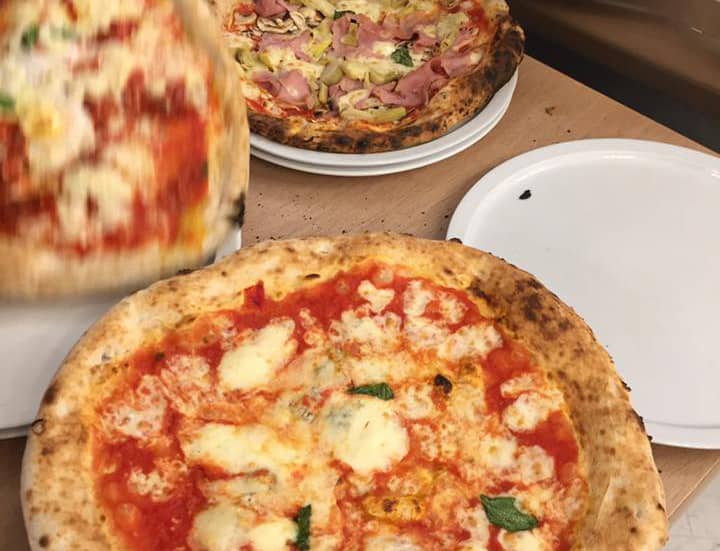 Pizza Rossi is another great option if you're in the mood for Neapolitan style pizza. They have a few small tables but this is mostly a takeaway restaurant. Pizzas cost €9-€14 — one might feed two people if you're not super hungry. Ohh, and it's located in a Red Light district (which is perfectly safe) so you might see some interesting ladies along the way.
24 rue Blondel, 75002
Kraft Hot Dogs [Hot Dogs]
And now for something completely different… hot dogs! These seriously good dogs have multiple topping options and prices range from €4-€6.50. It's a great place to stop for a quick bite while you're exploring the Marais neighborhood.
15 rue des Archives, 75004
L'As du Fallafel [Kosher Middle Eastern]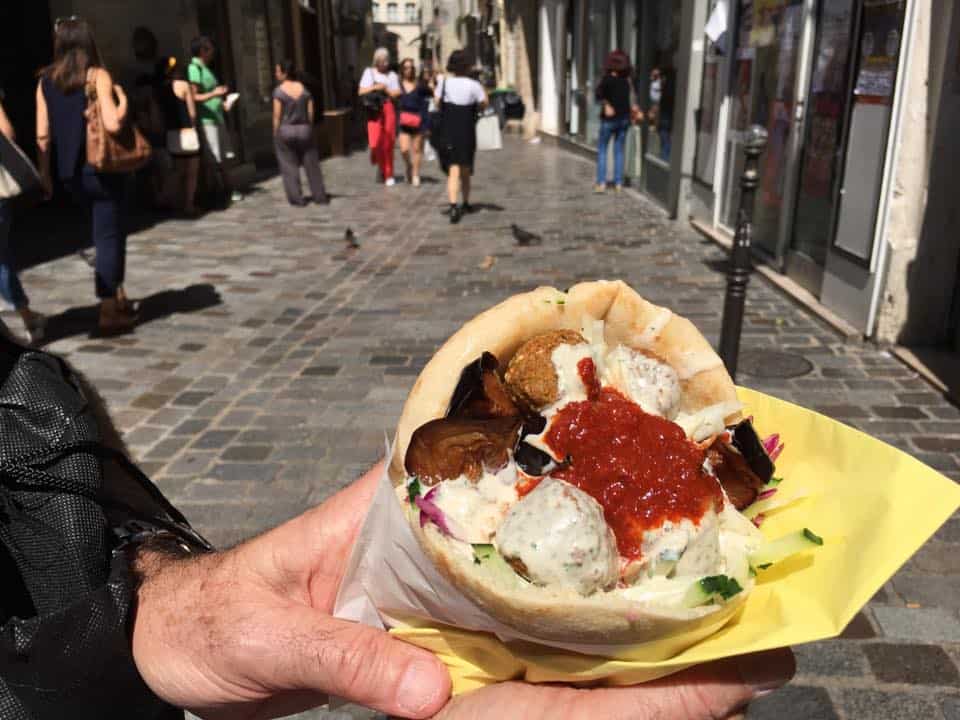 As the name suggests, this restaurant is famous for their excellent falafels sandwiches (some say it's the best falafel in the world and it's in all the guidebooks). The standard falafel sandwich is €6.50 and the shawarma sandwich is €9. You can eat inside but the prices are much higher inside so order from the takeaway window and eat on the street.
There will probably be a line but it moves quickly.
32 Rue des Rosiers, 75004
Chez le Libanais [Lebanese]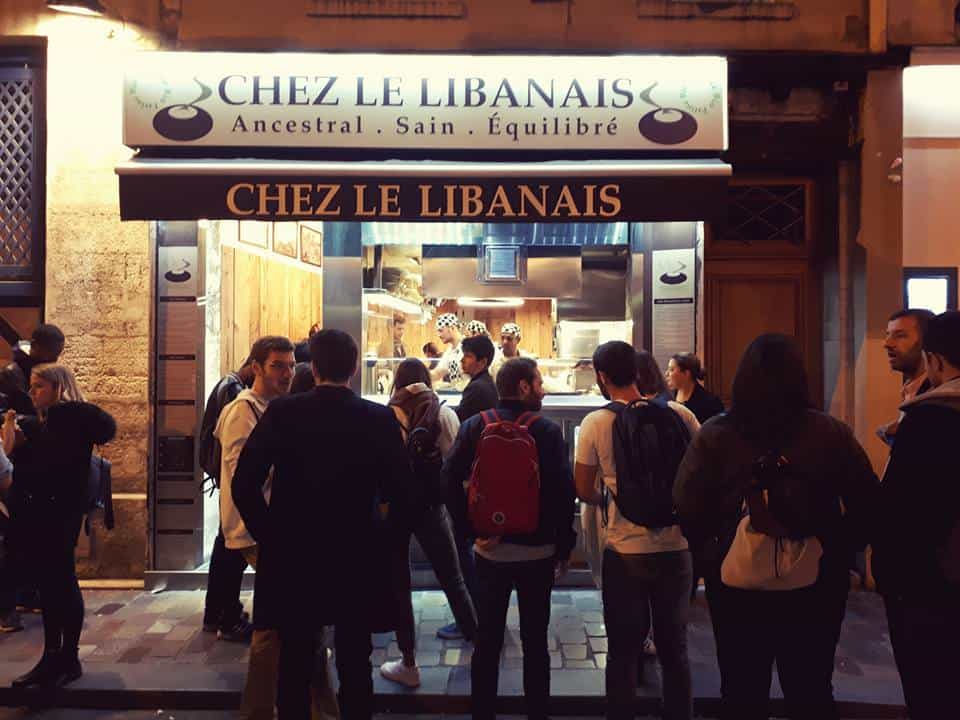 This tiny (mostly takeaway) Lebanese restaurant is located in Latin quarter/Saint Germain and serves up delicious wraps and shawarma on fresh-made bread. Most wraps/shawarma only cost €5-€6.
35 rue Saint Andre des Arts, 75006
Pho 14 [Vietnameese]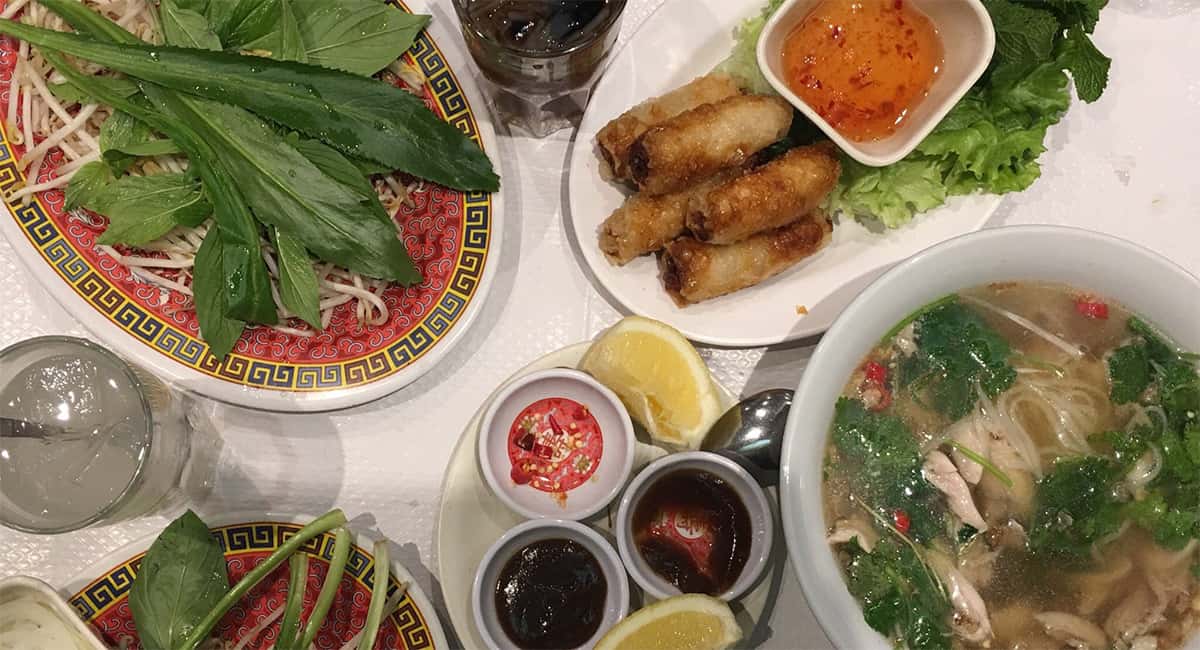 The best pho in Paris (we've been there multiple times). This is a bustling no-frills restaurant filled with locals and in-the-know tourists. Super quick service. There might be a line during the popular times but it moves quickly. A large bowl of Pho is around €8.60 and a bottle of beer is €3.70 — it's hard to find a better deal than that.
Quartier Chinois 129 avenue de Choisy, 75013
Kunitoraya [Japenese]
This authentic Japanese restaurant is known for the best udon bowls in the city (around €17) and Japanese fried chicken. Great option for a gloomy Paris day.
5 rue Villedo, 75001
Kodawari Ramen [Japanese / Ramen]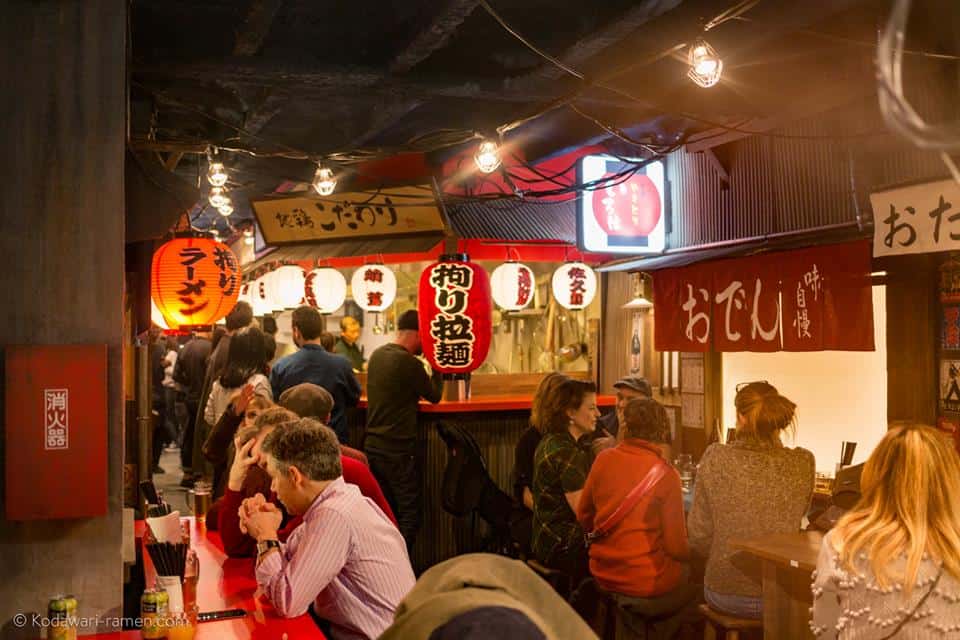 The lines coming out of Kodawari should tell you that this place knows how to make some tasty authentic ramen. The vibe inside is also pretty cool. A bowl of ramen will run you about €12 (the egg costs €2 extra — which is a bummer).
29 Rue Mazarine, 75006
Higuma [Japanese / Ramen]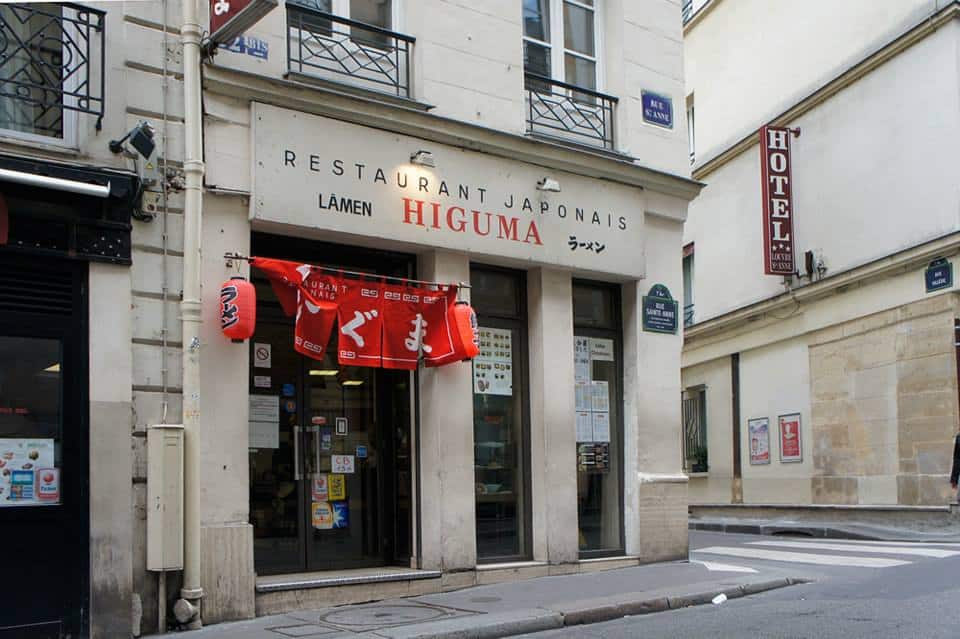 This no-frills Parisian institution serves heaping bowls of fresh and authentic ramen for super cheap prices — some of the cheapest eats in Paris. Ramen is only around €8 and a meal (ramen + side goes for about €10-€12). Expect a line but it moves quickly so don't sweat it.
Nanashi [Japenese Bento]
Looking for a lighter meal? This Japenese restaurant in the Marais neighborhood offers up healthy bento boxes for lunch and dinner (€14 and €16). They also have juices and desserts.
57 rue Charlot, 75003
Tien Hiang – [Asian Vegan/Vegetarian]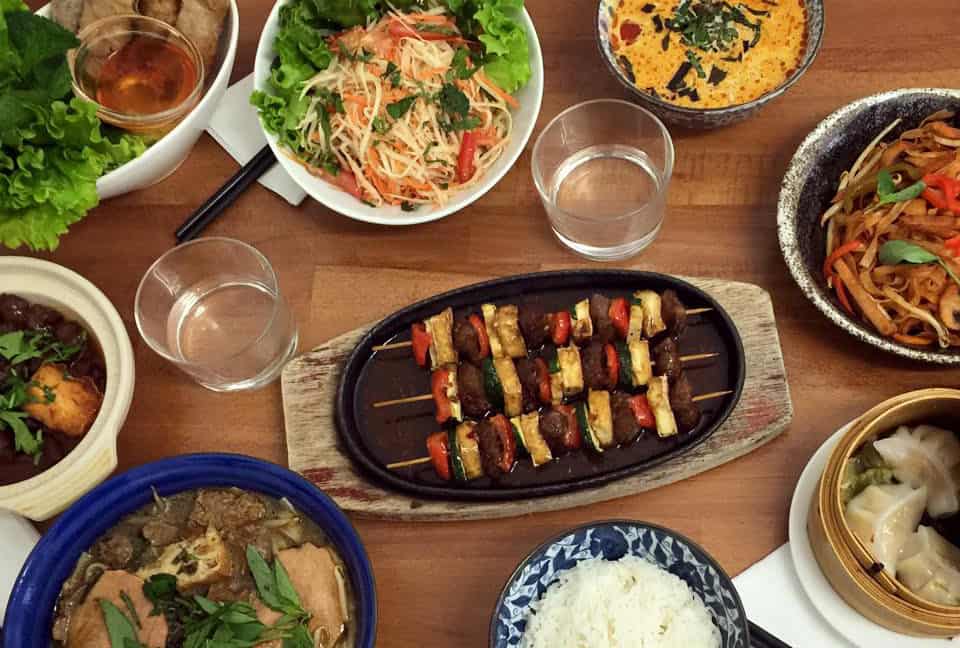 A nice local favorite that's a vegetarian and vegan's dream come true. Almost all the main dishes are €6.50-€9 — so it's easy on the wallet as well.
14 rue Bichat, 75010
Bien Bien [Thai]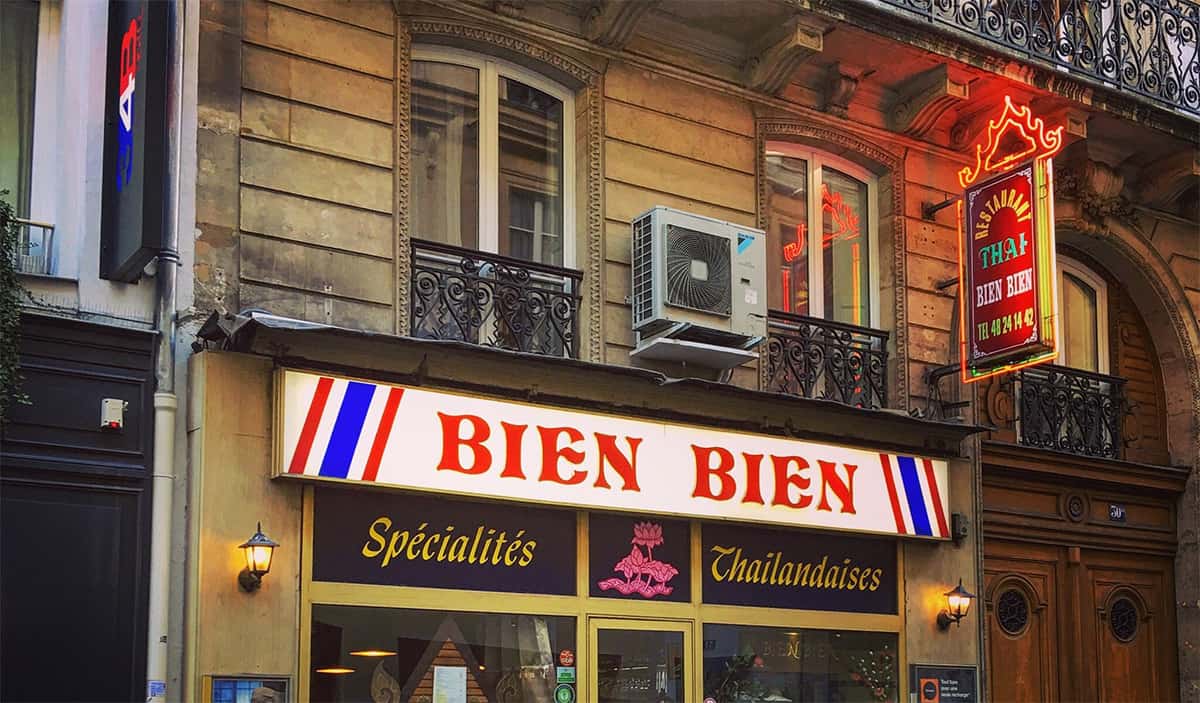 Another one of Paris' best Thai restaurants. It's a small restaurant and it does fill up quickly but service is fast. They also own the Thai restaurant next door (called Bien 2 — same menu and prices).
30 bis, rue Bergere, 75009 Paris
Thai Spices [Thai]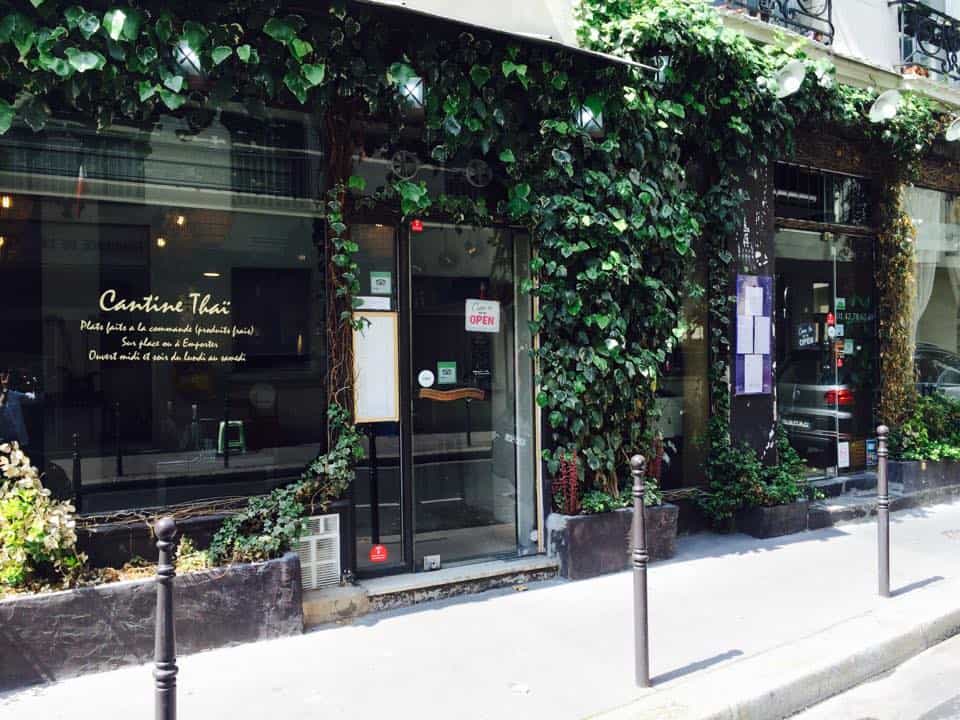 Great little Thai spot in the center of Paris that gets solid reviews for their red and green curry. Main dishes are around €18.
5-7 rue de l'Ave Maria, 75004
My Noodles [Chinese]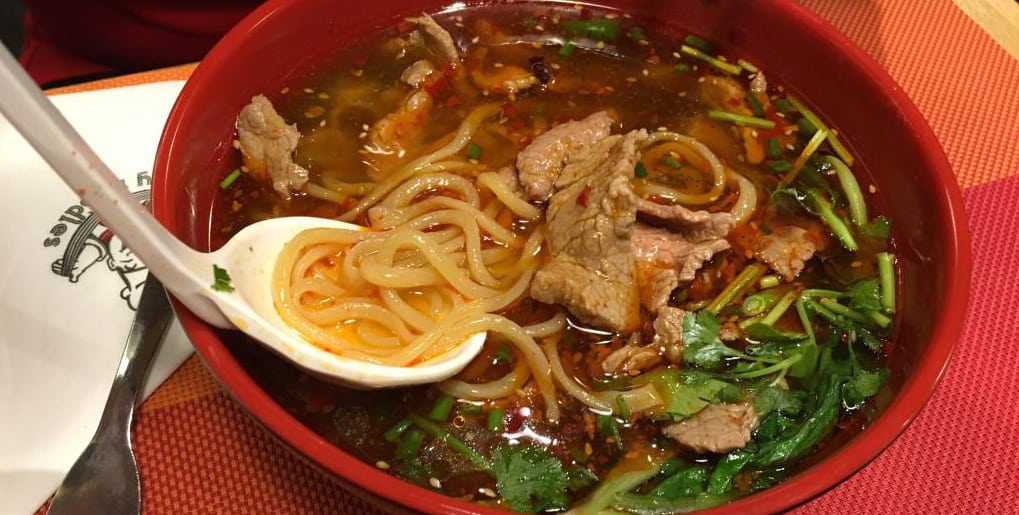 Tasty homemade noodles, spring rolls, and pot stickers. It's close to the Luxembourg Gardens so it's a great place to stop if you're in the area. Main dishes are €9-€14.
129 boulevard du Montparnasse, 75006
Bululu Arepera [Venezuelan]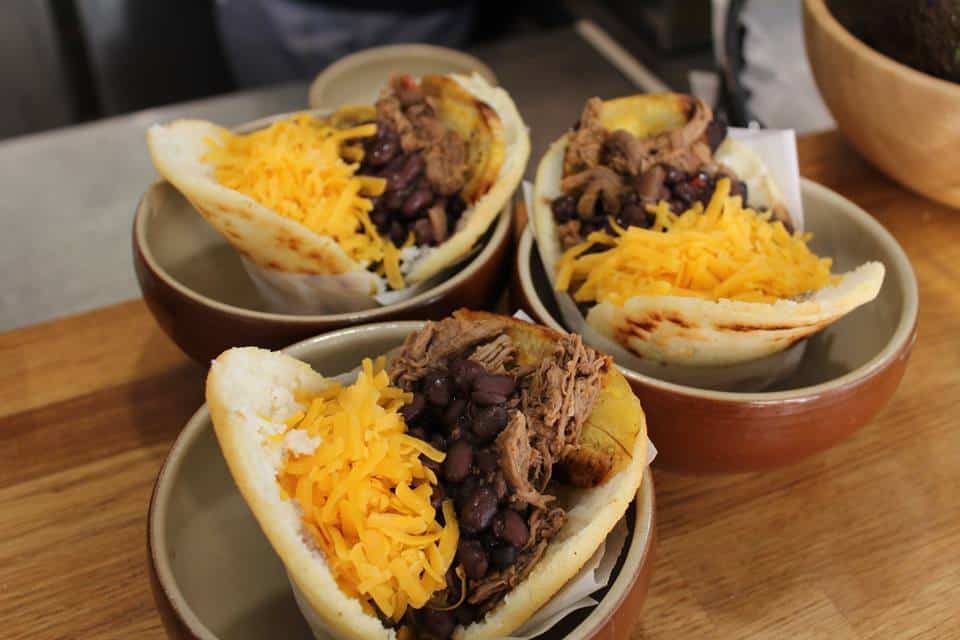 Chow down on Arepas (corn-based bread served hot and filled with pulled meat, beans, cheese, vegetables, and sauce) in this cute little Venezuelan spot away from the tourist trail. Arepas are €8/each.
20 Rue de la Fontaine du But, 75018
El Nopal [Mexican]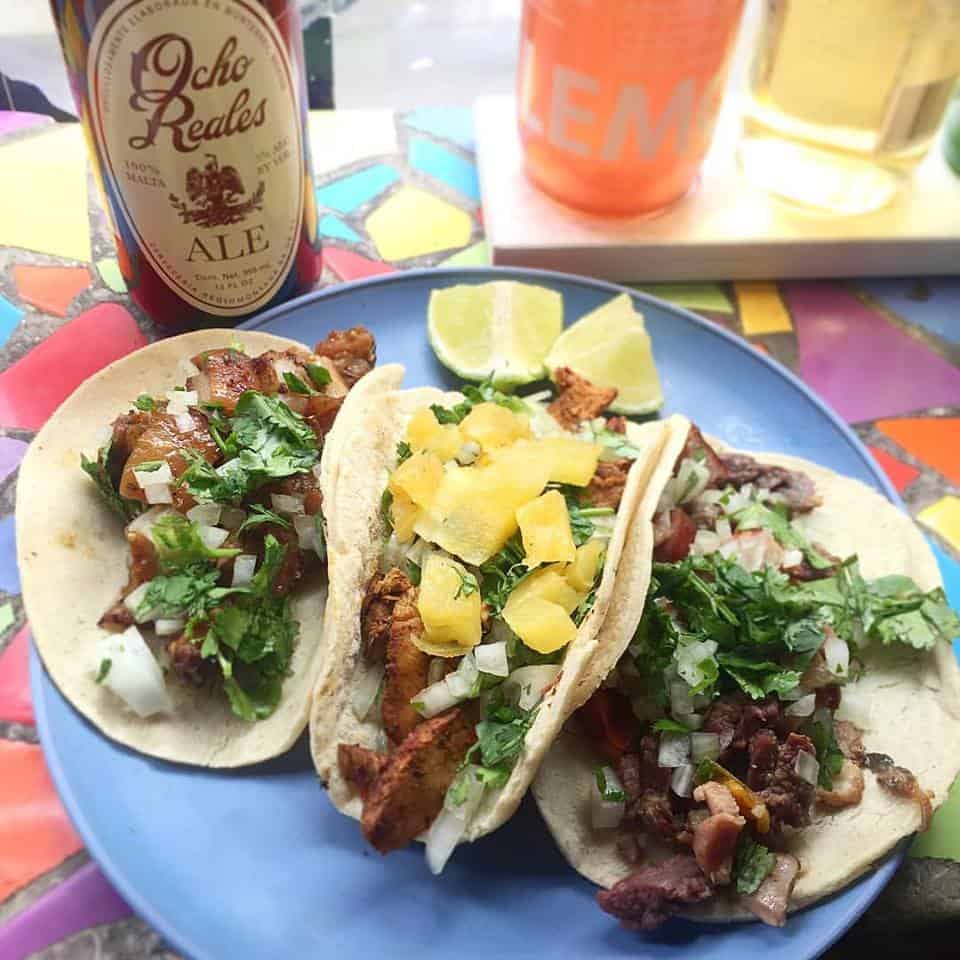 It's next to impossible to find good Mexican food in Europe but El Nopal is a rare exception. This little spot is takeaway only but it's near the Canal St. Martin so you can eat there. Three tacos are about €8.
3 Rue Eugène Varlin, 75010
Buono Sano Bello [Italian]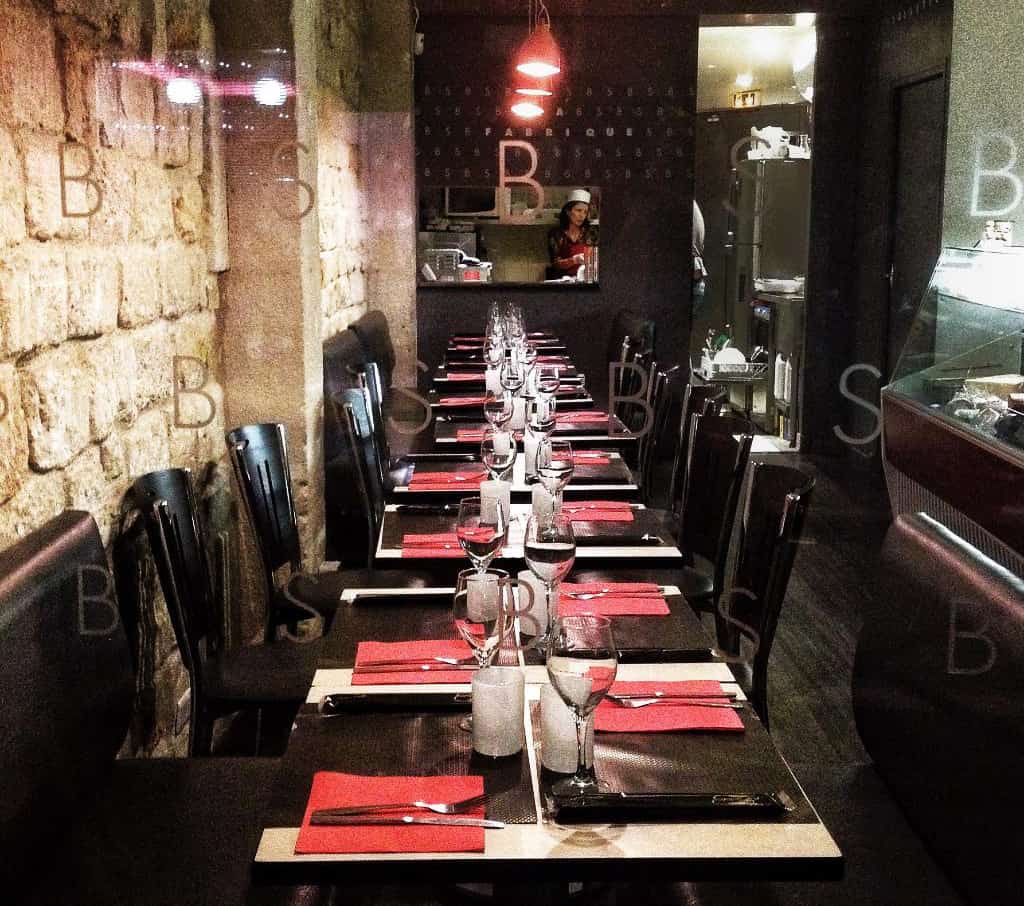 A solid Italian place off the tourist track. They serve lots of fresh homemade pasta dishes at a decent price — main dishes cost around €10-€14.
14 rue de la Villette, 75019
Soul Kitchen [Modern Vegetatian]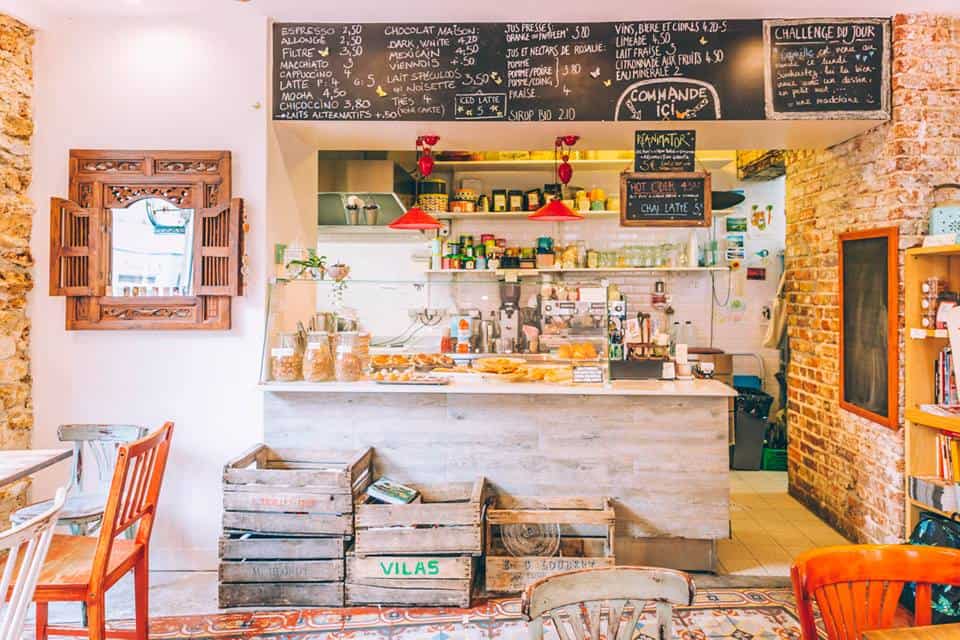 Nestled in Montmartre, this great little vegetarian café-restaurant has breakfast staples and a revolving €13.90 multi-course lunch menu.
33 Rue Lamarck, 75018
That's all for now!
Do you have a favorite budget-friendly restaurant that's not on our list? Please leave a comment to let us know!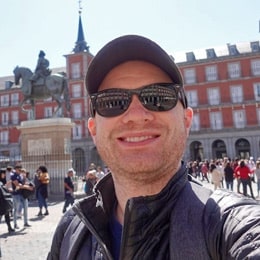 No Funny Business
The Savvy Backpacker is reader-supported. That means when you buy product/services through links on the site, I may earn an affiliate commission — it doesn't cost you anything extra and it helps support the site.
Thanks For Reading! — James
Questions? Learn more about our Strict Advertising Policy and How To Support Us.