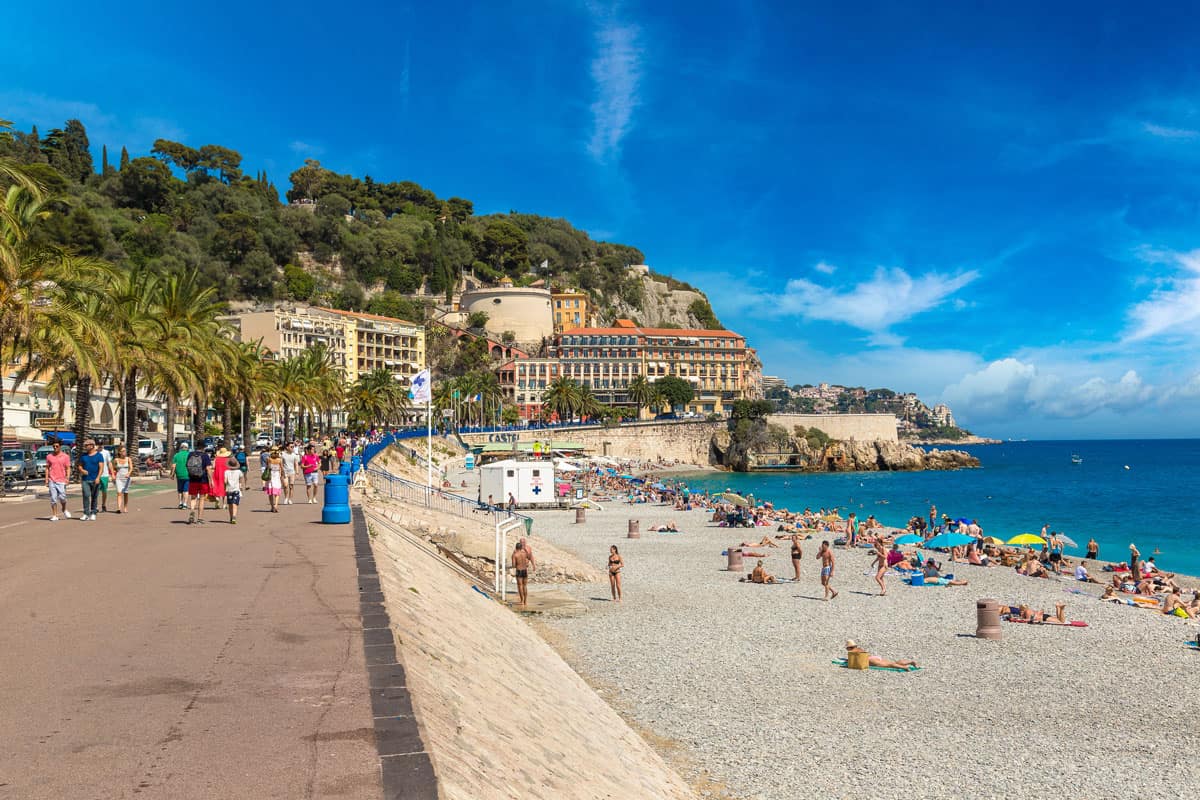 It's easy to see why people flock to Nice. First, the weather is amazing (hello 300 days of sunshine) and we love how the city is a great blend of France and Italy (i.e. lots of great food). Its large beach and cute old town are perfect for people-watching. Nice also has a lot of solid shopping and museums to check out. Additionally, Nice is the perfect home-base for exploring the smaller cities and towns of the French Riveria or if you're just stopping by as part of a larger tour of France.
In this Nice Travel Guide, we'll cover the best things to do in Nice and help you find what to do, where to eat, where to stay, and how to get around while traveling on a budget.
How Much To Budget For Nice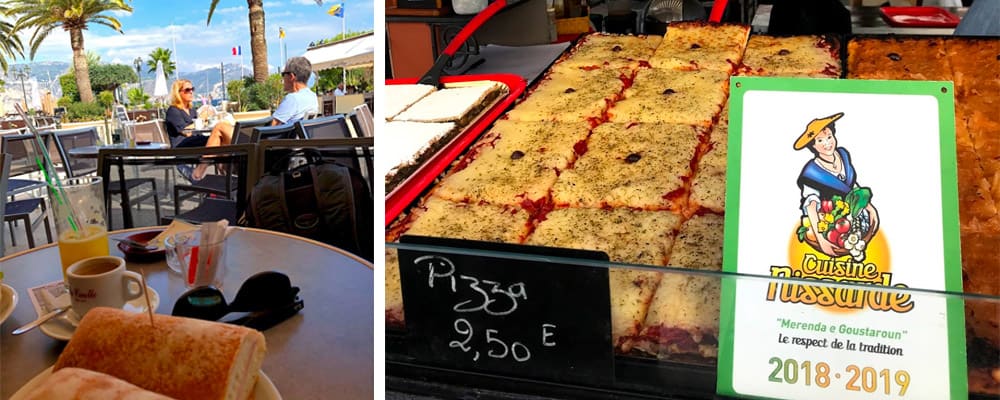 The words "budget" and "French Riveria" usually don't go together but Nice can still be a budget destination with a bit of planning.
We recommend budgeting around €35-€60/day if you're on a backpacker's budget. You can easily spend more, and you might be able to spend less, but this is a good range for planning purposes. Our Nice, France Travel Price Guide has a more in-depth breakdown of travel costs if you want to learn more.
---
How Long To Visit Nice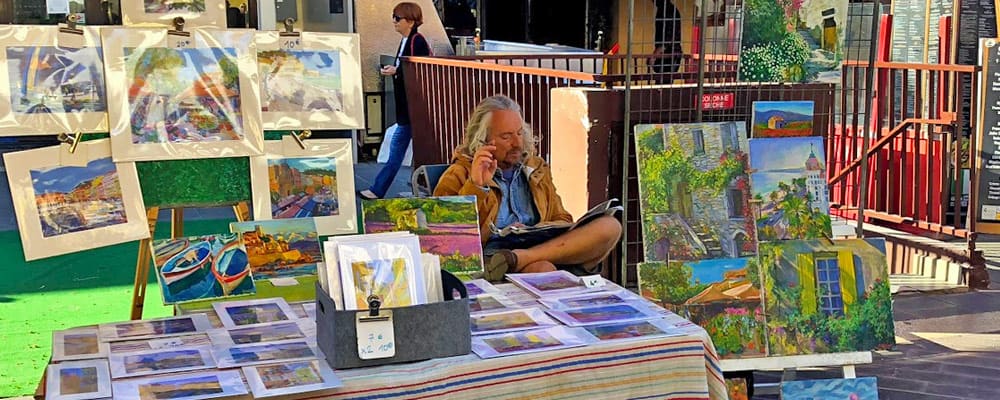 The highlights of Nice can be seen in about two days but you can easily add a few more days to explore the multiple day-trips from Nice that dot the coast of the French Riveria — like Monaco, Villefranche-sur-Mer, Cap Ferrat, and Eze. There are also a number of inland cities that can be easily reached via Nice. A lot of travelers include Nice as part of a bigger trip through Southern France/Provence.
We spent six nights in Nice but traveled at a fairly leisurely pace and explored a few of the surrounding towns. However, if you're in a hurry, you can explore Nice itself in about two days and then add an extra day or two for the surrounding areas.
---
The Good and Not-So-Good of Nice

We always like to cover the good and the bad of every city to help give you a quick idea of what you'll experience when visiting Nice.
The Good
Weather: Nice gets 300+ days of sunshine.
Food: Nice is near Italy so there is a lot of good Italian food as well as good French food. And, of course, there are some tasty local specialties.
Nature and Views: One of the main draws to Nice (and the rest of the French Riveria) are the beautiful natural views. There's a reason so many artists lived and worked in Nice and the French Riviera throughout the years (Pablo Picasso, Claude Monet, Paul Cezanne, Henri Matisse, etc.)
Beaches: Nice has a long stretch of beach that draws both tourists and locals.
Hiking: The French Riviera offers plenty of leisurely hiking opportunities — most of which don't require anything other than a sturdy pair of shoes.
Gateway To The Riviera: Nice makes an excellent home base to explore the rest of the French Riviera — most of which are easily connected by buses or trains.
The Not-So-Good
Summer Crowds: Like most towns in Europe, Nice does get a bit busy during the summer so you might have to fight the crowds. Make sure to make dinner reservations.
Rocky Beach: The beach is great but you'll want shoes/sandals if you plan on walking along the beach. Additionally, the water gets deep quickly so you can't venture too far from the beach. That said, there are plenty of sandy beaches in the nearby towns.
Summer Heat: Nice can get pretty toasty in the middle of summer — which is great for the beach but it not ideal for doing hikes and long walks.
Lack Of A/C: The summers can be hot but not all hotels and rental apartments have air conditioning. Furthermore, the Old Town can be a little noisy at night so keeping your windows open can make it hard to sleep.
Tourist Prices: Nice's main industry is tourism so you have to seek out the good deals if you're traveling on a budget (but that's what this guide is for).
---
Get Orientated

Here is some practical information to help you plan your trip to Nice.
Getting Into Nice
The Nice-Ville Train Station is located in the northern part of the city. The Nice Tram is about a five-minute walk from the train station — which will take you to the old town and fairly close to the beach. It's about a 20-minute walk to get to the old town. There will also be taxis or you can call an Uber.
The Nice Airport (Aéroport Nice Côte d'Azur) is only a few miles from Nice.
A taxi ride should be a fixed rate of €32 (including luggage) if you're going into the city center (be careful of drivers who don't charge the fixed fare).
The #98 and #99 express airport buses connect the airport to the city center for €6/ticket (Aéro Ticket). There are a number of city buses that connect the city with the airport for €1.50/ticket but it's slower and not super convenient with luggage.
Uber is also popular in Nice. Expect to spend around €20-€25.
There is currently a tram being constructed from the airport to the city center but delays have pushed back the opening date to sometime in 2019.
Getting Around Nice
The bus and the tram are the main ways to get around Nice via public transportation. Single tickets are €1.50 per ride and you can buy them directly from the diver or automated machines. You can also buy a €5 unlimited day ticket from the machines.
Of course, Nice is a fairly compact city so we pretty much walked everywhere without much trouble. For example, from the Old Town to the beach is about a five-minute walk and the Old Town to the train station was a 20-minute walk.
Taxis and Uber are also plentiful — although taxis are very expensive. For example, our 10-minute Uber ride from the Old Town to the Chagall Museum was around €10 but a taxi would have been about double.
You won't want to use a car to get around Nice.
Nice also has a cheap bike sharing program called Velo Bleu — simply take a bike from one of the many stations throughout the city. That said, lots of visitors find it difficult to use (especially if you don't speak French) because of the service's quirks, finicky stations, and broken bikes.
Where To Stay in Nice (Neighborhoods)
Nice is roughly divided into four main areas — the Old Town (Vieux Nice), City Center, the Beach Front (which spans the Old Town and the City Center), and the Port. Ok, there are a few more neighborhoods but we've only listed the ones most popular with visitors. You'll find a variety of accommodation options in each neighborhood at all price ranges.
Old Town (Vieux Nice)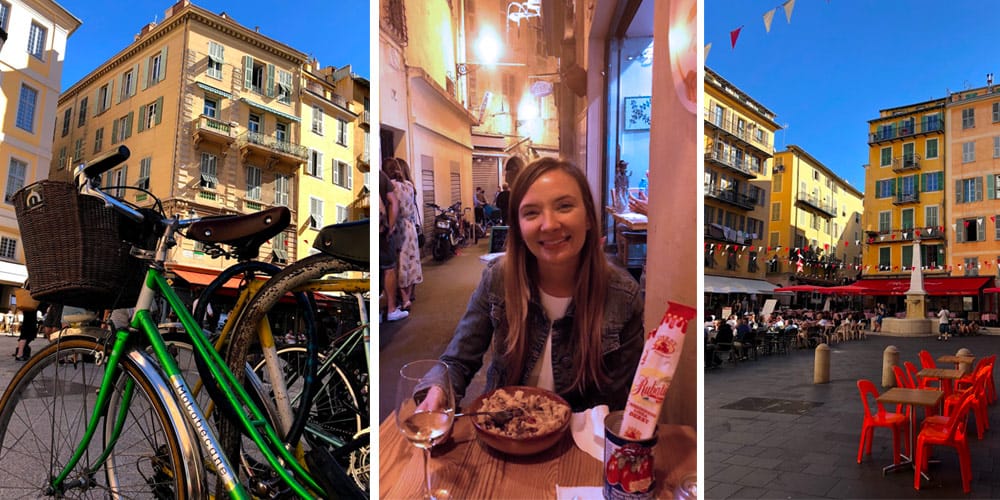 Nice's 16th century Old Town (Vieux Nice) is the cute, largely pedestrian-only part of town that's packed full of restaurants, bars, cafes, markets, etc. The area is safe and lively so expect a bit of noise as people enjoy these narrow winding streets. You'll find a handful of small hotels and a plenty of rental apartments in this area. [See On Google Maps]
City Center/New Town

The area roughly east of the Old Town is considered the City Center. Here you'll find plenty of modern shopping, wider streets and sidewalks, "newer" buildings (well, when compared to the 16th century Old Town), and plenty of restaurants, cafes, and nightlife. There are a lot of budget-friendly options in the neighborhood but the area around the train station does feel a bit seedier but prices there are more affordable. [See On Google Maps]
Beach Front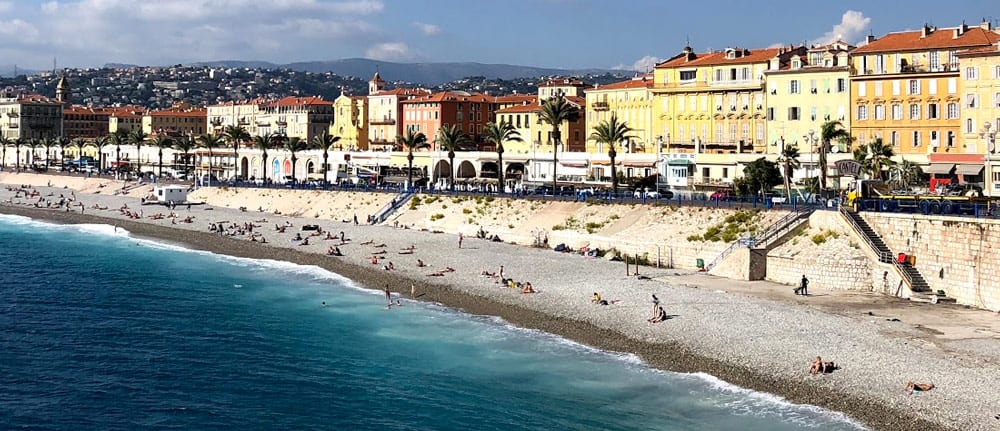 Naturally, the areas close to the beach (i.e. along the Promenade des Anglais) tend to mostly be luxury hotels. Most budget travelers probably won't be staying here but there are still a handful of fairly affordable rental apartments in the area. Luckily Nice is fairly compact so you're never very far away from the beach. [See On Google Maps]
Port Area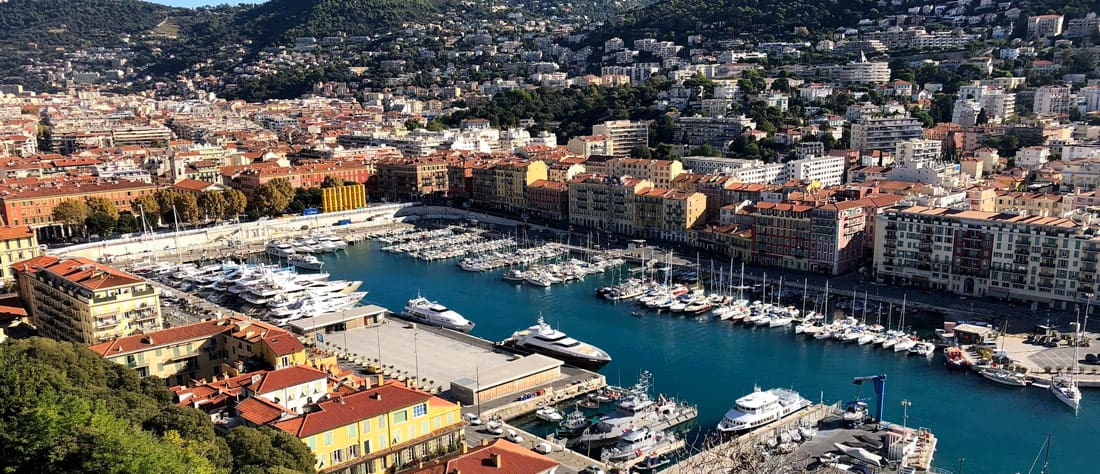 To the west of Old Town is Nice's port neighborhood. The port is lively and has plenty of hip bars, restaurants, and nightlife. This area doesn't attract a ton of tourists so it's a nice spot if you want to get a more local feel of Nice — plus the accommodation and food is cheaper. That said, getting to the beach is a little more difficult since there is a large hill separating the port and the rest of Nice. [See On Google Maps]
Best Hostels In Nice

Nice only has about 15 hostels but many of them are well-rated and affordable. Nice does get busy in the summer so you might want to book in advance to get the best price. We recommend checking out Hostelworld to see the most current review and rates.
Looking for a budget hotel? We suggest checking out Booking.com to see hotel prices for your dates since they're always changing.
---
Best Things To Do In Nice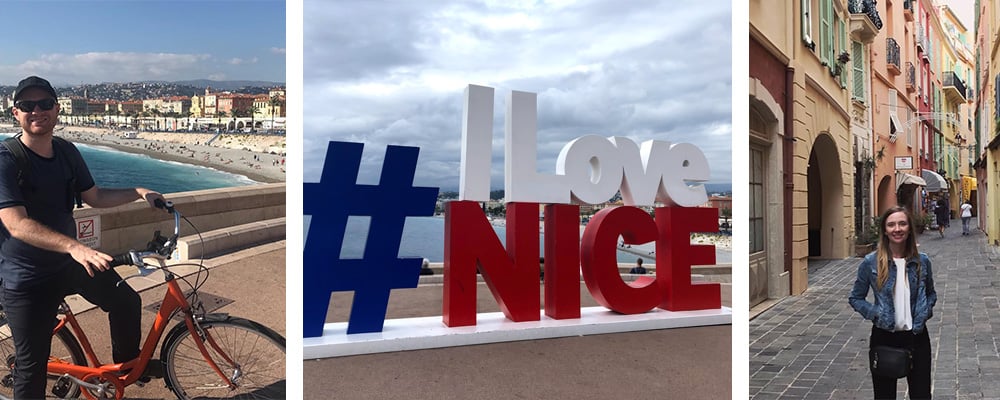 Let's take a look at some of the top things to do in Nice, France.
Promenade des Anglais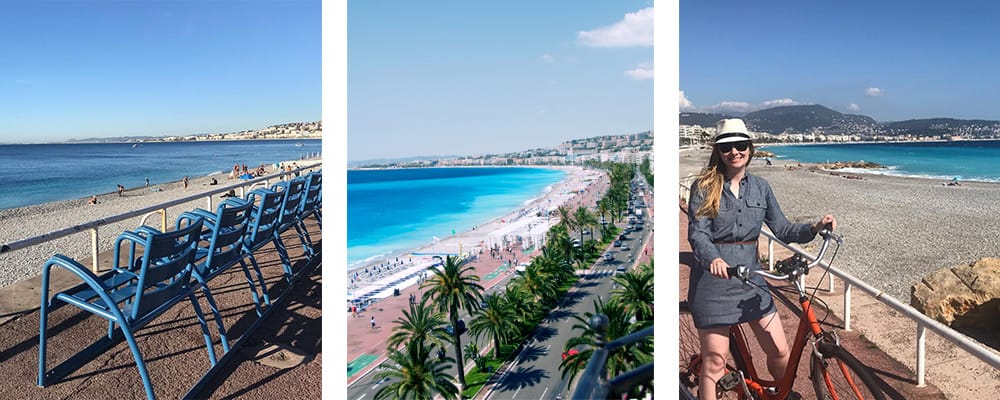 The star of the show in Nice is its long Promenade that winds along its white pebble beach. Enjoy a stroll along this four-mile promenade and get your fill of people watching. The eastern side of the promenade offers some great city views and views of the harbor. Head back at night and listen to the street musicians as you stroll along.
Or rent a bike for a few hours! The promenade has dedicated bike lanes and it's a pretty easy ride. We got our bikes (€4/hr or €10/day) from a place on promenade called Roller Station. It took us about an hour to bike from end to end and back.
The Beach

You can't visit Nice without spending some time on its white pebble beaches. Word of caution, the pebbles are painful to walk on so bring sandals or beach shoes. Also, bring a beach towel because are a little painful to sit on and the salty film will rub off on your pants. Also, the water becomes deep very quickly so it's not ideal for swimming.
All the beaches are open to the public but there are a few private sections with lounge chairs and umbrellas that can be rented for about €20/day (€15 for a half day) — you can also just rent a towel for around €5. These are usually run by hotels but anyone can rent a spot — but you might want to snag one early in the summer. Waiters will also walk around to serve you food/drink.
TIP: Visit the nearby Farmers Market to pick up some goodies for a cheap beach picnic.
Explore Old Town (Vieux Nice)

Nice's Old Town dates back to the 16th Century so it's fun to spend the day wandering its narrow streets. We wouldn't say there are many "must see" sighs within the Old Town so just explore, get lost, and enjoy the ambiance. Stop at one of the many sidewalk cafes for a drink or stroll around with some gelato. [See On Google Maps]
Castle Hill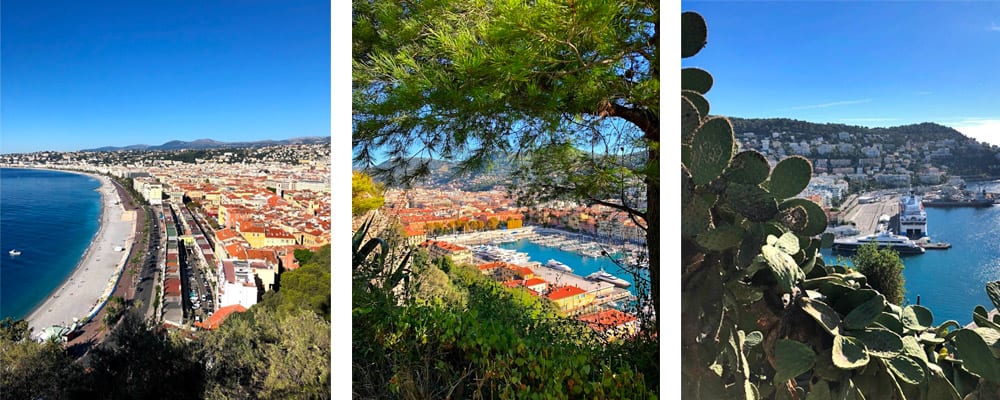 Castle Hill is perched along the eastern edge of the Old Town and towers above Nice so it's a great place for some amazing views and photo-ops of the city and the port. At the top, you'll also find a nice park, a waterfall, and the castle cemetery. There is a free elevator to the top or you can walk up its steps [See On Google Maps].
Tip: Visit during the sunset.
Farmer's and Flower Market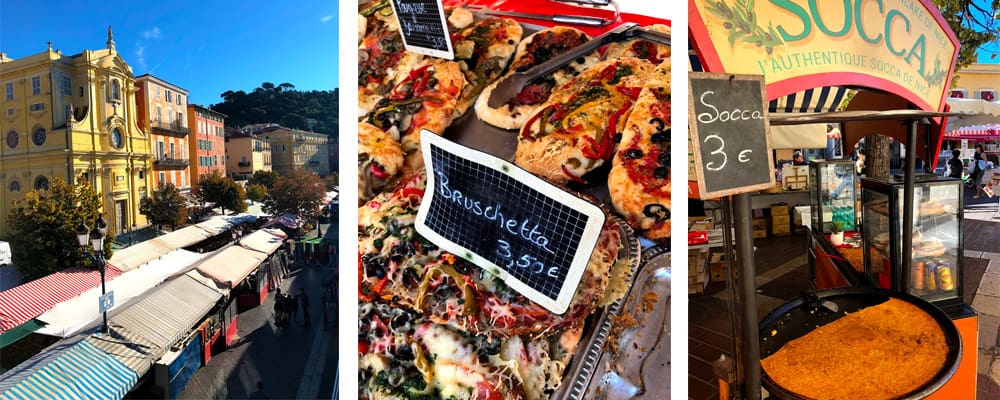 There is a Farmers and Farmer's market (Cours Saleya Market) every day in Nice's Old Town — except Monday when its a flea market. It's full of meat, cheese, fresh produce, and sweets. You can also buy prepared food. Be sure to try the local traditional snack called Socca (basically a large chickpea pancake) that are served fresh all day — the best Socca stall at the market is Theresa Socca (you can't miss her). [See On Google Maps]
Ave Jean Medecin

Avenue Jean Medecin is a long boulevard that stretches from the old town to the train station. The avenue is lined with tons of shopping (mostly big name brands) and some restaurants. Note: There is an excellent gelato place on the avenue called Cesar Milano — it's 100% worth the walk.
Promenade de Paillon

The Promenade de Paillon is a long walkway/greenway that essentially separates the Old Town and New Town. It's a nice stroll and you find lots of children enjoying the water fountain park during warm weather.
Museums


Nice has a few great museums but the best is the Chagall Museum that features the largest public collection of Chagall works. It's a fairly small museum and we found the audio guide to be very helpful and informative — highly recommended. Tickets are €8 for adults and the audioguide is €2.
The other two popular museums in Nice are the Matisse Museum (the largest collection of Henri Matisse) and the Museum of Modern Art and Contemporary Art (which also has great city views from the roof).
Nice also has a number of smaller museums. Check out the French Riviera Pass as it covers multiple museums and other sighs/attractions in Nice and the surrounding towns. It's available 1, 2 or 3 days for €26/€38/€56. There is also a Nice Museum Pass that gives 7-day access to municipal museums for €20. Check out the Nice Tourism Office for more information on all of Nice's museums.
Fort Mount Alban

This 16th-century fort is perched in the hills above Nice, Villefranche, & Cap Ferrat. Make your way to the top for gorgeous panoramic views of the towns and the coast. It's a fairly leisurely hour-long walk from Nice (there are some steep steps/slopes but it's mostly paved) or you can take the #14 bus. Not many people make the journey so it's a good way to escape the tourist crowds.
Russian Orthodox Cathedral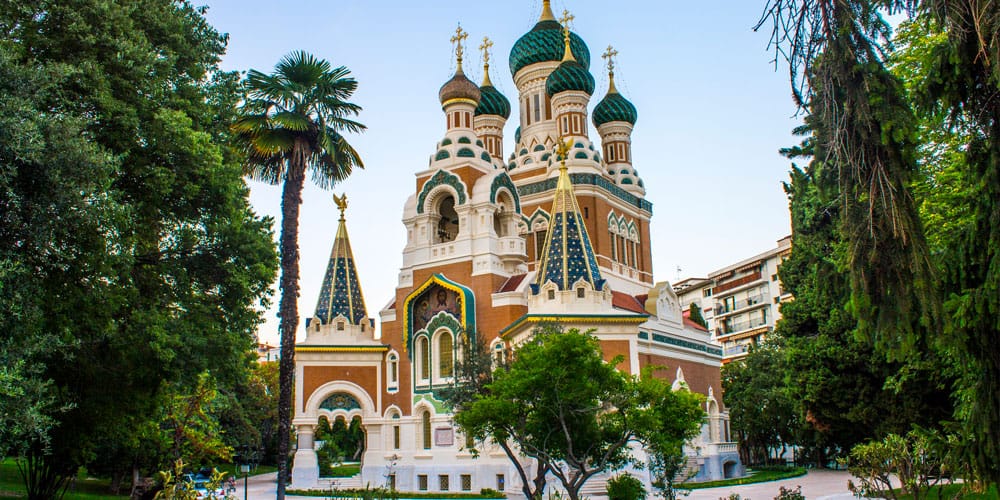 Nice has an impressive Russian Orthodox Cathedral that was completed in 1912. It's a bit outside the city center but it's worth a visit if you have the time.
Coastal Walk To Villefranche
Hiking lovers can make the two-hour trek from Nice to Villefranche — which is almost most entirely along the coast. It's a nice walk if you're in Nice for more than a few days.
Other Things To Do In Nice
Check out the upscale Cimiez Neighborhood in the northern part of Nice as it's home to Roman ruins, beautiful monastery gardens, thermal baths, and a nice park. It's also home to a few museums — notably the Musée Matisse and Marc Chagall National Museum.
Take a cruise around Nice to get a beautifully unique perspective of theCôte d'Azur. Trans Côte d'Azur cruise company offers an hour-long cruise along the coastline for €18. They also offer longer cruises to Monaco, Cannes, ST-Tropez, and a few other locations.
For amazing views of Nice, we suggest Castle Hill, the rooftop of the Modern Art Museum, and the Nice Observatory (two-hour walk or an hour bus ride).
Looking for something a bit bizarre? Check out Cunégonde et Malabar — home of conceptual artist Ben Vautier. He decorated the outside of this home in signs, gnomes, toilets, and other found objects. That said, it's not the easiest place to get to [See On Google Maps]. Here are his directions to his place.
Tours and Activities
There are a number of tours and other activities available in Nice and in the area. Check out Viator to book a wide range of activities. Here are a few highlights:
French Riveria Pass & Nice Museum Pass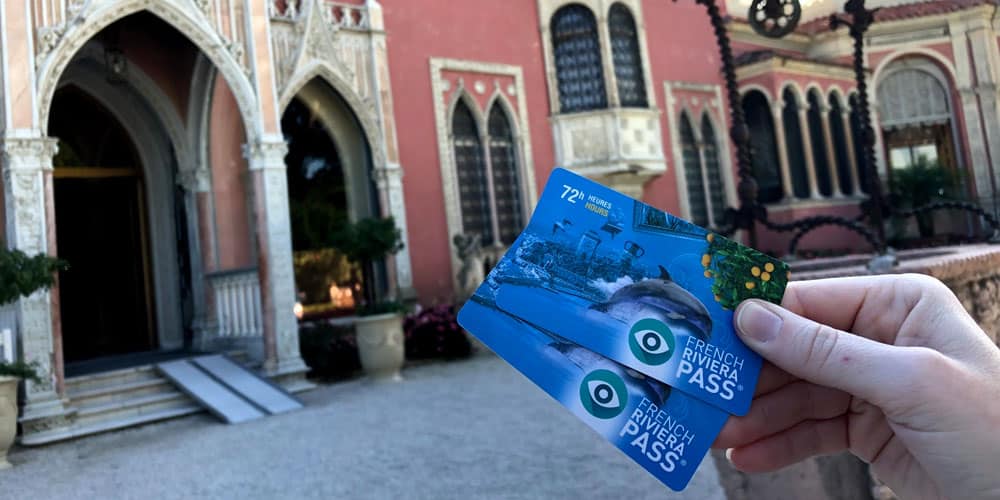 Looking to fill your days while visiting the French Riviera? Take a look at the newly introduced French Riviera Pass as it includes admission to multiple museums and activities in Nice and the neighboring towns. The pass comes in three versions 24h(€26), 48h(€38), and 72h(€56). So take a look to see if this pass could save you money on the sites you were probably going to see anyways.
A few of the highlights are:
Oceanographic Museum in Monaco
Picasso Museum
Museum of Modern Art (MAMAC)
Marc Chagall Museum
Renoir Museum
Rothschild Villa and Gardens
Double-Decker Bus Tour
Segway Tour
Bike Rental
1-Hour Ocean Cruise
There is also a Nice Museum Pass that gives 7-day access to municipal museums for €20. Check out the Nice Tourism Office for more information on all of Nice's museums.
---
Where & What To Eat In Nice


Since Nice is so close to Italy you'll find that a lot of the food is a mix of French and Italian (there's plenty of international food as well). Tourism is the main industry in Nice so food prices tend to be a bit on the high side. Luckily, there are still a handful of places serving up quality meals for a fair price but you'll want to do your research — furthermore, the budget-friendly places fill up quickly so reservations are highly recommended.
Traditional Cuisine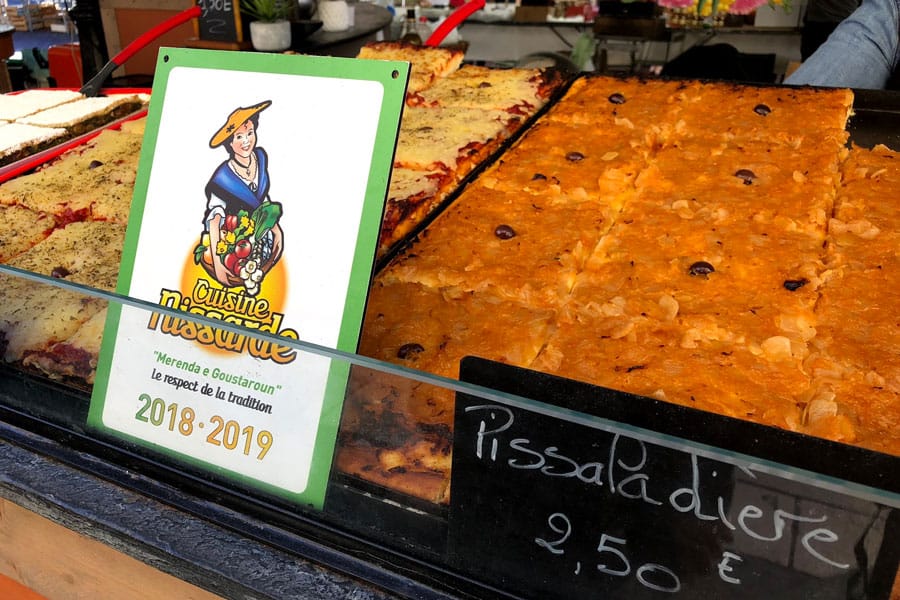 Want to try traditional Nicoise cuisine? Look for restaurants that have earned the certification Cuisine Nissarde. These restaurants will have an official sticker posted on their window to let you know they use traditional local recipes made with fresh ingredients. Here's the official list of the fewer than 30 Cuisine Nissarde Certifies Restaurants in Nice.
Local Dishes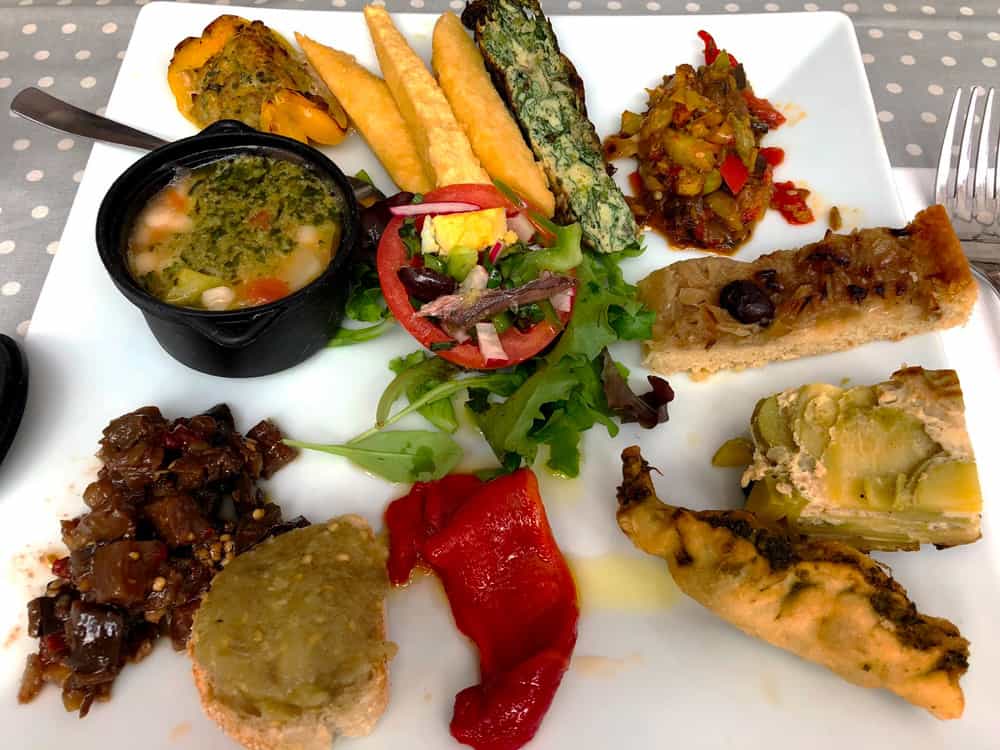 Socca: Socca is essentially a thin, slightly crispy chickpea pancake. This traditional street food is a popular on-the-go snack and is often consumed with a cold beer on a sidewalk cafe. You can find Socca at the Nice Farmers Market (the best is Chez Thérésa) or at a few restaurants around town (we recommend Chez Pipo).
La Daube Niçoise: This hearty tradition beef stew is made from red wine, bacon, tomatoes, carrots, mushroom, onions, garlic, and celery and is traditionally served over gnocchi.
Ravioli Niçois: You can often find the Daube Niçoise in ravioli form as well.
Salade Niçoise: This traditional Nice salad has lettuce, hard-boiled eggs, tuna, tomatoes, olives, anchovies, and olive oil.
Le Pan Bagnat: This is basically a Salade Niçoise on a sandwich. This is a nice takeaway food.
Ratatouille: This classic French vegetable dish was invented in Nice.
Pissaladière: Caramelized onion tart that is often topped with anchovy.
Petits Farcis: Vegetables (usually eggplant, tomatoes or zucchini) stuffed with meat and vegetables.
Panisse: Fries made of chickpea flour.
Tourte de Blettes: This dessert dish is a bit unusual but it was actually very tasty. It's made of Swiss chard (a leafy green kind of like spinach), apples, raisins, pine nuts, and brown sugar in a pie crust. Then it's all topped with powdered sugar. We know, it sounds weird but it was pretty good.
Budget-Friendly Restaurants & Street Food
There are a number of takeaway restaurants where you can order a sandwich, panini, pizza, or other simple street foods. Additionally, you can also find a handful of affordable sit-down restaurants throughout the city — we always recommend making a reservation if possible. And of course, there are a number of grocery stores (like Monoprix) throughout the city.
Places to Checkout:
Illia Pasta: It's a small barebones restaurant but the owner/chef serves up fresh, affordable, and tasty pasta. There isn't much ambiance inside so snag one of the outdoor tables for some lovely al fresco dining. You can also get your pasta to go. Great Old Town location.
Chez Palmyre: An excellent place to get a traditional, home-style French cooking. We recommend their €18 three-course menu. Reservations encouraged.
Creperie Le Trimaran: A nice little crepes place. You can get a savory and dessert crepe for under €10.
L'Atelier de Julien: Friendly pizza joint but it's a bit outside Old Town.
Made in Sud Pizzeria: Neopolitian pizza place near the Port.
Chez Pipo: The most popular place to get socca.
A Buteghinn: A small restaurant in the middle of Old Town serving up traditional "certification Cuisine Nissarde" dishes. The restaurant is run/owned by three sweet French women. Mostly outdoor seating. They also have preprepared takeaway food if you're on the go. Reservations recommended. Cash only.
Lou Pilha Leva: Outdoor picnic style seating at this takeaway restaurant in the heart of Old Town. Stop by for a quick traditional snack and cold beer. The chicken and fries for €8.50 is a solid deal.
Chez Rene Socca: A chaotic and no-frills place in Old Town that serves up local street food at affordable prices. There are tables outside available but you're required to buy a drink. There is always a line but service is quick.
Badaboom Bistro And BeJuice Bar: Hip hole-in-the-wall restaurant serving organic vegan food and juices. Nice owners. It's a bit expensive but the quality is solid.
Tartine et Galinette: Another fairly barebones spot serving up cheap but tasty pizza, sandwiches, and other simple meals.
Le Falafel: An authentic family-run middle eastern restaurant serving up fresh falafel and shawarma dishes. Quick and friendly service.
Oliviera: Ok, Oliviera is slightly too expensive to be considered "budget" but the food gets rave reviews and the jovial owner is super welcoming and passionate about olive oil. Everything is homemade by the owner and his wife. Located in the Old Town. Open for lunch only. Reservations strongly suggested.
Farmers Market: The Farmers Market is a great place to get all kinds of fresh produce and prepared food — from cheese and bread to bruschetta and fruit. Open every day, from 6 am to 5.30 pm except Mondays, Sunday afternoons and public holidays.
L'Autre Part: This hip and welcoming wine bar run by a nice couple is a great place to escape the tourist crowds. They serve organic wines as well as excellent charcuterie and cheese. Located in the Port neighborhood.
Ice Cream and Gelato

There are quite a few gelato/ice cream places around Nice but our friend from Nice (she's Italian so she knows her gelato) gave us a few of her favorite spots.
Cesar Milano: Our friend's favorite gelato place in Nice was easily Cesar Milano in the New Town. We literally tried about 10 different flavors — each was excellent. The owner/chef is usually on-site and he's happy to suggest flavor pairings. He makes both classic and a few more creative flavors so don't be shy about asking to sample a flavor you might normally shy away from.
Oui, Jelato: Our friend also recommended Oui, Jelato in the Old Town. They have mostly classic flavor offerings. We both enjoyed our gelato.
Fenocchio Glacier: Fenocchio is easily the most popular ice cream shop in Nice — there is always a crowd of people jostling for a spot to get their scoops. They have a ton of flavors. We both got ice cream here and enjoyed it. Located in the Old Town.
---
Nice Day Trips

Nice is surrounded by a number of small cities and towns which make great day trips. Even better, each is easily connected to Nice via bus or train — both of which are very inexpensive. You can also take a ferry from Nice to a few of the towns (it's a bit more expensive but the views are priceless).
French Riveria Seaside Towns
Below is a list of the most popular cities to visit from Nice — each is located along the coast of the French Riveria.
To the east of Nice, there's Villefranche-sur-Mer, St. Jean Cap Ferrat, Eze-le-Village, Monaco, and Menton. To the west of Nice, there's Antibes and Cannes. There are a few other small towns but these are the most popular destinations.
Villefranche-sur-Mer and Cap Ferrat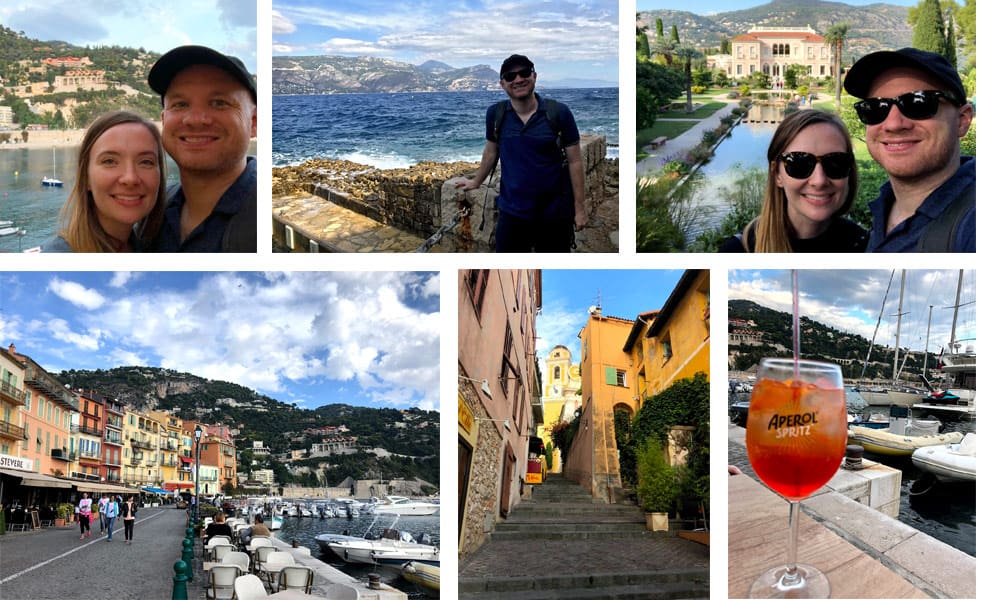 Villefranche-sur-Mer is a laid-back port town that's less than a 10-minute train or a 20-minute bus ride (#81 or #100 / €1.50) from Nice. A separate village, Cap Ferrat, is a short bus ride away and are often seen on the same day.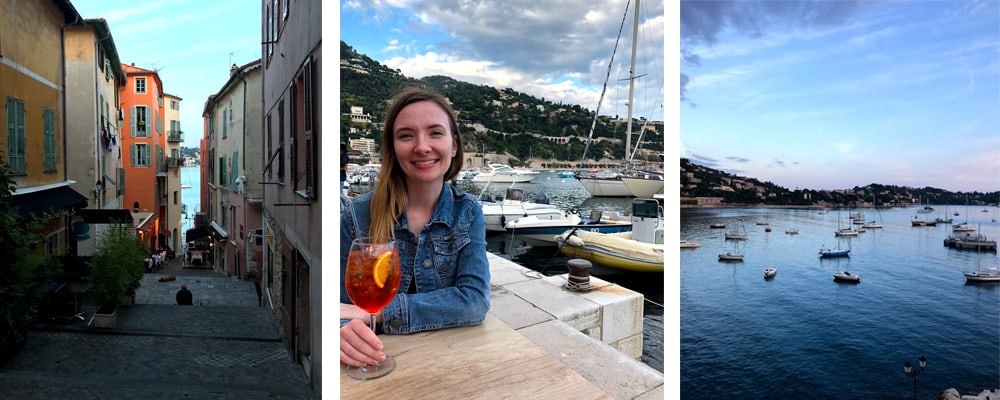 Villefranche-sur-Mer is a small seaside postcard-perfect French fishing village with a picturesque port. The cute old town is very small so it takes less than an hour to wander through all its tiny streets (maybe a little more if you get a drink down by the harbor). Perched above the city is an old citadel with thick, imposing walls that you're free to explore. But the harbor is Villefranche-sur-Mer's main attraction. Its super deep waters make it a favorite parking spot for mega-yachts. There are a number of restaurants along the port so it's a great place to have a quiet drink or bite to eat.
If you're feeling adventurous, you can take a 45min-60min hike up to Fort du Mont–Alban — an old fortification that has great views of Nice, Villefranche and the rest of the Cote d'Azur. You can also take a bus/uber if you're feeling lazy.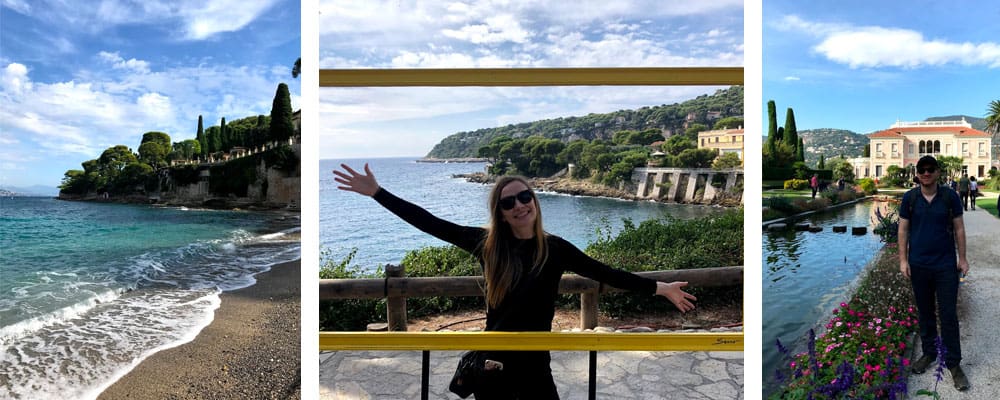 From Villefranche-sur-Mer, you can take a 15-minute bus ride (Bus #81 / €1.50) to the peninsula of Cap Ferrat. There isn't too much to see in the town of St. Jean Cap Ferrat. That said, there are a few fun seasides walks around the peninsula — a walk around the entire peninsula will take a little under 3 hours or a smaller walk (which we took) will take about an hour at a leisurely pace.
The main reason for most people visit is to see the impressive Rothschild Mansion and Gardens. Some people go straight from Villefranche-sur-Mer to Rothschild Mansion (~10minute via bus from Villefranche) and skip the town. The grounds of the Rothschild Mansion are very beautiful and it's easy to spend a few hours soaking in the views.
Eze-le-Village

Eze is actually separated into two parts — Eze-le-Village and Eze-Bord-de-Mer. We only visited Eze-le-Village (which is perched high in the hills over the ocean) because we were told Eze-Bord-de-Mer (which is located along the coast) doesn't offer much to see.
From Nice, take bus #82 or #112 and enjoy the views on this 30-minute ride (sit on the righthand side of the bus) to Eze-le-Village. Be sure to check the bus schedule. There is supposed to be one or two buses every hour but for us, it was only once every two hours — which was kind of annoying (maybe since we went off-season).
In Eze-le-Village head up to the Old Town of the village — specifically the Eze Gardens. The views from gardens are well worth the €6 entrance fees. There is a super expensive restaurant/bar (Chateau Eza) with world-class Cote d'Azur views or there are a few cheaper options as well.
There isn't much more to see in Eze-le-Village (other than two touristy perfume shops) so after getting a quick bite we hopped on the quick bus ride to Monaco.
Monaco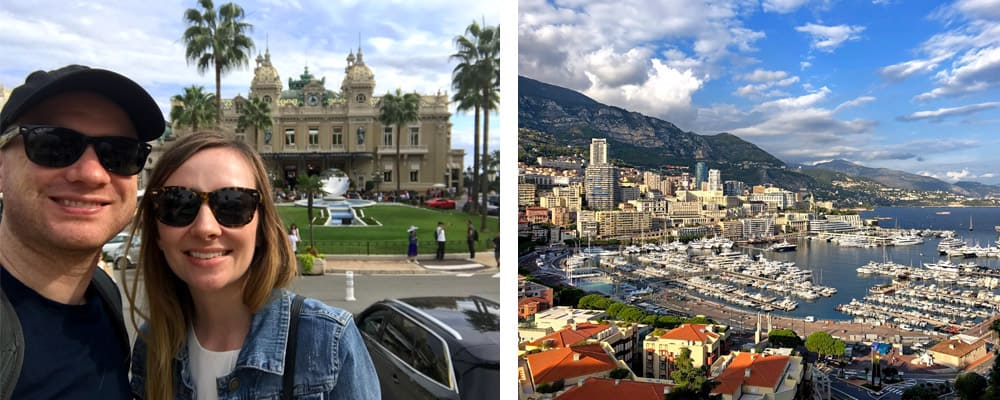 Monaco is the playground to the ultra, ultra-wealthy so spend a little time looking at the megayachts and fancy cars. From Nice, it's a quick and cheap 20-minute train ride to Monaco. You can also take the bus but the train is easier, faster, and only a bit more expensive.
Monaco is basically split up into three parts — the Palace Square, the Old Town/Port, and the Monte Carlos Casino. The country is tiny so all the neighborhoods are within walking distance (but there is also a city bus).
Palace Square:  The palace/Palace Square overlooks the Port and Old Town. The neighborhood also has a nice cliffside garden. The famous Monaco Oceanographic Museum is also in the area.
Old Town/Port: This is the place to do a little shopping or get something to eat/drink at one of the many sidewalk cafes. Take a look at the yachts.
Monte Carlos Casino: Blow all your cash for your entire vacation at the Monte Carlos Casino… or win a ton of money and never stop traveling. After 7 pm you probably won't get into the casino unless your we'll dressed — i.e. blazer and dress pants for guys. From 2-7pm normal-dressed people can walk around the atrium free-of-charge but it's a pretty quick visit.
Menton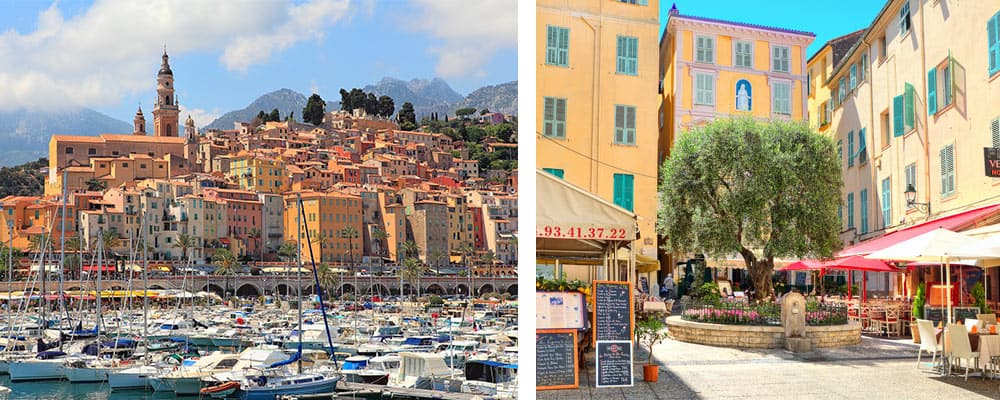 To the east of Monaco is the lovely French seaside town of Menton (which is near the border of Italy). Not many tourists venture to Menton so the town feels much less commercialized than many of the other towns. Spend an hour exploring the pastel buildings of the hilly, medieval Old Town. Have a drink at a quiet sidewalk cafe. The Jardin botanique exotique du Val Rahmeh is a lovely exotic garden that's worth a wander. Menton also has a nice sandy beach.
Menton, thanks to its close proximity to Italy, offers quite a few restaurants serving up quality Italian food.
Monton a quick bus or train ride from Monaco and it also has frequent trains to Nice.
Antibes and Cannes

Antibes and Cannes are both located to the west of Nice. It's a quick 20-minute train to Antibes and a 30-minute train ride to Cannes. There is also a bus but it takes quite a bit longer so the train is recommended.
Antibes has a number of beaches — everything from soft sand to painful pebbles. The beaches can get pretty crowded during the summer. Most of the beaches are public there are a few private beaches if you're looking for a little more luxe experience.
After you soak in the sun, head to Antibes' charming Old Town and stroll around the city's 16th-century ramparts that offer amazing views of the sea. Many people check out the Picasso Museum (€6). Don't forget to check out Port Vauban — the largest port in the Mediterranian and home to many of the biggest yachts in the world.
If you're rich and famous then feel free to visit Cannes — otherwise, we suggest skipping it. It's expensive and there isn't a huge amount to experience if you don't have deep pockets.
How To Visit These Seaside Towns

All these cities are located very close to each other and are well-connected via public transportation and tickets are cheap — although it can be a bit tricky since there are multiple bus lines. You can easily visit 1-3 towns in a day.
Via Car/Bus (Corniche Roads)
There are three beautiful scenic "Corniche" cliff-roads that run along the coast from Nice to Monaco/Menton. Bus routes connect the cities (listed below) but they're less frequent than the train and they take a little longer — but you get beautiful coastal views (if you're on the righthand side of the bus). That said, the Nice to Monaco bus (which is essentially the longest route) will take about an hour.
Note: All bus tickets cost €1.50 and can be purchased on the bus. Check the bus schedules since they can change. The Nice Tourism Office should have up-to-date schedules. For example, when were visited, the #82 & #112 bus from Nice to Eze toMonacoo was only running once every two hours.
The Lower Corniche (Inférieure Corniche) runs along the coast but doesn't offer great views and is often congested with traffic. It's served by #81 and #100 bus.
The Middle Corniche (Moyenne Corniche) has beautiful views of the cliffs/ocean and it's connected via the #82 and #112 bus.
The Higher Corniche (Grande Corniche) is considered one of the most beautiful roads in Europe — which is best explored via car since public transportation isn't really available.
Via Train
The train is the easiest/fastest way to get from town to town but you miss out on most of the French Riviera views. For example, the train from Nice to Monaco takes 20 minutes and costs around €4. Also, not all the towns are accessible by train (so you may have to transfer from train to bus for some locations).
---
More Nice Travel Tips

Trésors Publics is a fun concept store in the Old Town that only sells products made in France. They put a little label on each product to show where in France its made. It's not exactly budget-friendly but it's still a fun place to pick up some unique gifts. [See On Google Maps]
Head to La Maison Auer to feed your sweet tooth. This confectionery and chocolate shop has been serving up goodies since 1820. We highly recommend the caramels. And chocolate. And everything else. Located in the Old Town. [See On Google Maps]
Take a Free Walking Tour of Nice. The company Beach Riviera Bar Crawl and Tours offers 11:00 am tours every Tuesday till Saturday morning from March 1st to September 30th. Don't forget that the tour guides work on tips. See their Tripadvisor Reviews.
Meet the locals. Nice is full of friendly locals who are proud of their town and there are a few local volunteers who are happy to show visitors around for two or three hours. Simply request at least a week before arrival and they'll do their best to pair you up with someone depending on availability. Visit http://en.nice-greeters.com for more information.
Visit the Nice Tourist Office for city maps, bus times, and brochures on things to do & see in Nice — plus they have free wifi. The Nice Tourism Website also has a lot of information what's going on in Nice.
The Negresco Hotel is Nice's most high-end hotel and it has a beautiful cocktail bar with authentic walnut woodwork dating back to 1913. The drinks are expensive (€20 for cocktails, ouch) but it's still a fun way to pretend like you're living the jet-setter lifestyle for an hour.
The Best Time To Visit Nice is probably March/Mid-May or September/October as the weather is still nice but the crowds are smaller. The summers can get pretty hot but that's perfect if you're spending most of your time at the beach.
For a less-touristy beach experience, we recommend checking out La Réserve or Coco Beach. They're both a bit outside of town (20-minute walk or a short bus ride). Again, these are rocky beaches so bring proper footwear.
A big breakfast isn't really a thing in Nice so do like the locals do and head to a boulangerie for croissants, pain aux chocolate, and coffee.
---
More European Travel Resources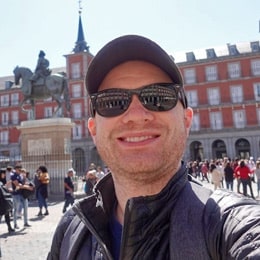 No Funny Business
The Savvy Backpacker is reader-supported. That means when you buy products/services through links on the site, I may earn an affiliate commission—it doesn't cost you anything extra and it helps support the site.
Thanks For Reading! — James
Questions? Learn more about our Strict Advertising Policy and How To Support Us.