Let's face it… finding cheap airline tickets isn't easy.
That's why I was extremely interested when I heard about Scott's Cheap Flights on Reddit. Basically, Scott's Cheap Flights is a service that seeks out super cheap flights/mistake fares and emails them to you. And when I head the average savings is around $600/flight I had to learn more.
I've been using the premium version of this service for a while now (there is also a free version), and so far I'm very impressed. I also hate this service because getting super cheap flight deal in my inbox every day is giving me a serious case of wanderlust and it's making me want to book multiple trips a day. haha.
Our Scott's Cheap Flights Review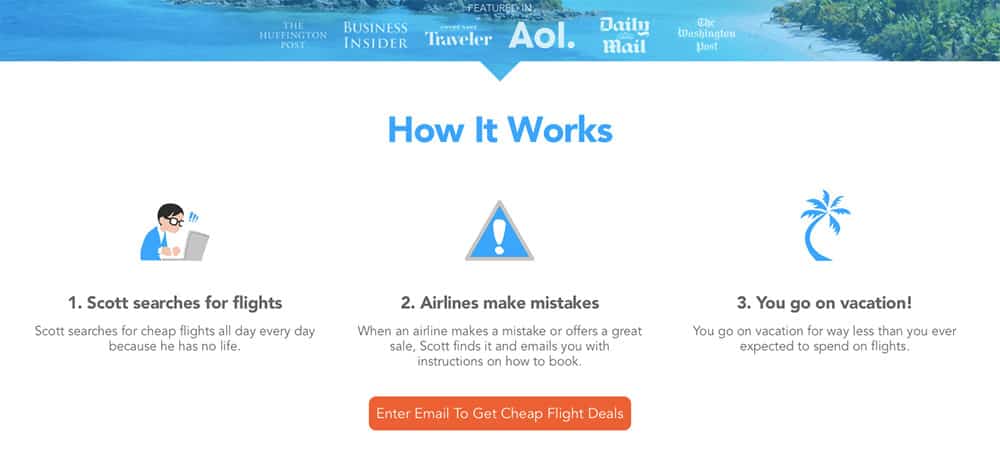 So this is how it works…
You sign up for their service. You can choose the free or the premium. The premium costs $15 for 3 months, $25 for 6 months, or $39 for a year.
Then you choose which region you live in so you only get sent deals for airports where you live (it doesn't make sense to get deals for the east coast if you live in San Francisco — but you can sign up for all regions if you like).
Then you sit back and get deals sent to your inbox. Scott also tells you where and how to buy the ticket (he doesn't actually sell them himself).
More Details About The Service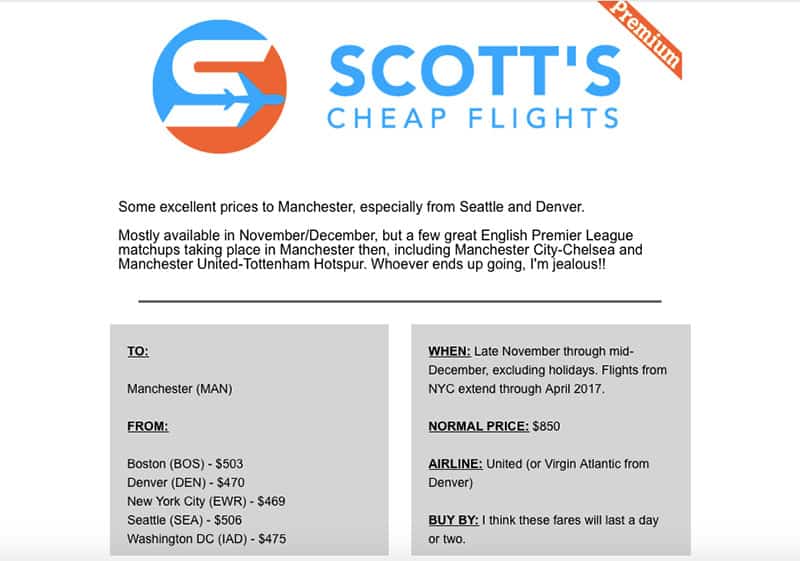 I'm signed up for the East Coast email list, and I average between 1-3 deals each day. Below are a few of the offers I've received over the past few days.
As you can see, I'm getting a lot of round trip tickets to various cities in Europe for $300-$500. Obviously, these are some great prices. According to the
As you can see, these fares are only available anywhere from a few hours to a few days — so you have to act pretty fast if you want to score these deals. Also, this service is best for people who aren't tied to specific airports, but Europe is small so you can get to any location easily. The deals are also for specific dates so this is best for people who are flexible.
Luckily there are multiple deals sent each week so there are bound to be a few deals that work for your trip.
I do want to point out that I've only received deals that are for travel dates between Fall and early Spring. I'm sure the prices will be a little more expensive during the summer, so I'm curious to see what prices look like during the high season.
Also, these deals are for international flights only.
Paid Vs Free Version
As I mentioned before, I'm using the premium version but there is also a free version.
The free version receives 1/3 the number of deals as the premium version, and the premium version gets the deals 30 min before.
Conclusion
So yeah, I'm happily surprised. I'm really digging Scott's Free Flights and I love getting emails just about every day with great deals. I'm signed up for the Premium version (provided free from Scott's Cheap Flights) and I feel like it's worth the price based on how much you'll save in time and money — they claim they save an average of $607 per flight.
It doesn't hurt to sign up — especially with the free version. Click Here to learn out more and to sign up!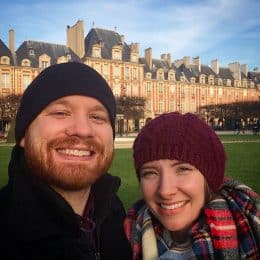 No Funny Business
The Savvy Backpacker is reader-supported. That means when you buy through links on our site, we may earn an affiliate commission — it doesn't cost you anything extra and it helps support the site.
Thanks For Reading! — Susan and James
Questions? Learn more about our Strict Advertising Policy and How To Support Us.