Having fast and reliable mobile data while traveling around Germany is essential because modern German life relies on having mobile data—train tickets have gone digital, restaurant menus are digital, museum/event tickets are electronic, getting around with Google Maps, calling an UBER/taxi, and many other things require data. That's why it's smart to get a prepaid German SIM card with a mobile data plan when you visit.
In this guide, I'll cover everything you need to know about buying a SIM Card in Germany and how to buy the best prepaid German high-speed mobile data plan that won't cost you a lot of money.
---
How To Buy A SIM Card For Germany With A Prepaid High-Speed Data Plan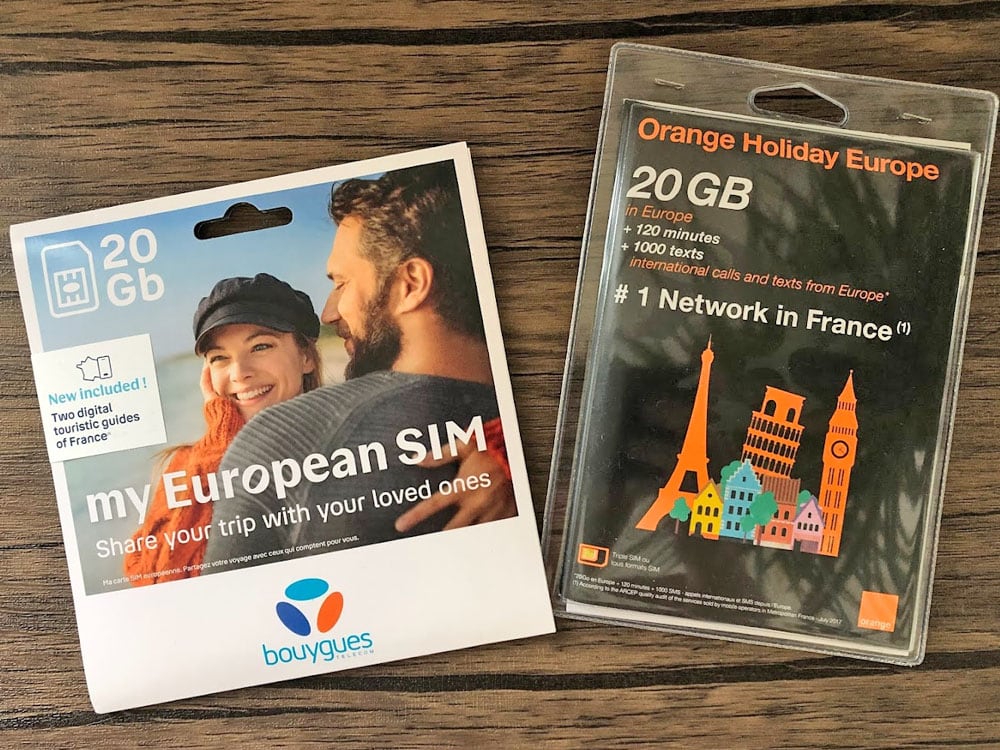 UPDATE: This article is about physical SIM Cards but most new phones are eSIM compatible. These new digital eSIM plans are more convenient than physical SIM cards because you simply purchase the prepaid data plan online, scan a QR code that's sent to your email to install the digital "card", and you're ready to go (there are many other benefits as well).

Learn more about eSIMs at The Savvy Backpacker's Guide To The Best eSIM Data Plans for Europe and my guide to the best eSIM for Germany.
There are two main options when it comes to buying a SIM Card for Germany:
The Easy Way – Buy a SIM Card Before Your Travel: Buying your prepaid SIM card before you travel is slightly more expensive but it's much more convenient (and you have mobile data as soon as you arrive in Germany).
The Cheaper Way – Buy a SIM Card In Germany: Buying a German SIM Card in Germany can be cheaper but it can be more of a hassle because you have to track down a SIM retailer after arrival.

In general, it's easier to pre-buy a prepaid data plan if you're visiting for less than two weeks. But buying a local SIM card will be cheaper for longer trips.
How To Buy A Prepaid German SIM Card Before You Travel (i.e. The Easy Way)
The easiest way to get mobile data for your phone in Germany is to prepurchase a SIM card before you depart.
There are a handful of data plans aimed at visitors/non-residents that are a bit more expensive than buying a SIM card in Germany but there is zero hassle—no tracking down a mobile phone shop, no registering your SIM card, no having to deal with people who don't speak English, etc.
You simply pop the SIM card into your phone once you're in Germany and it will automatically connect to a local mobile data provider—the European Union banned data roaming charges so any European data plan will work in any EU country.
There are a number of different mobile data plans available at SimOptions.com (I've used them in the past) and they'll ship the SIM card to you before your trip.
UPDATE: Most new phones now support eSIM data plans and they're even more convenient than traditional SIM cards—instant delivery, no shipping charges, you can keep your regular SIM card, etc. Learn more about eSIM data plans and see if your phone accepts eSIMs in my Guide to Prepaid eSIM Data Plans in Europe.
QUICK MATH: You'll typically spend a total of an extra $10-$20 over the course of a two-week trip if you buy your SIM card ahead at SimOptions.com vs waiting to buy in Germany—personally, I think the extra cost is worth the convenience.
The Best Tourist-Friendly, Pre-Paid SIM Cards For Germany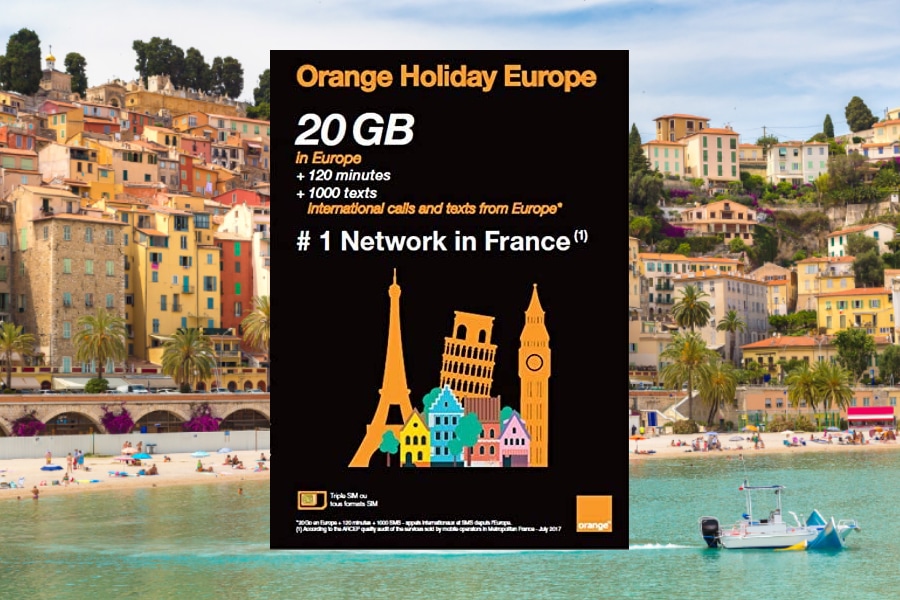 Here are my top SIM cards if you're wanting a pre-purchase your SIM before arriving in Germany:
Orange Holiday Europe Prepaid SIM Card
The Orange Holiday Europe Prepaid SIM Card is probably the best all-around option for SIM cards that can be purchased abroad because it offers a lot of data for a good price—and it includes a lot of worldwide calls and text.
Additionally, Orange is one of the largest mobile companies in Europe so they have great coverage throughout most of Europe (which isn't always the case with smaller European carriers).
Plan Specs:
PRICE: $50
DATA: 30GB
CALLS: Unlimted in Europe and 1200 minutes worldwide
TEXT: Unlimted in Europe and 1000 worldwide
USED AS A MOBILE HOTSPOT?: Yes
CREDIT VALID FOR: 14 Days
The Orange Holiday Europe plan is good because it gives you a lot of mobile data for a decent price but the only possible drawback is the 14-day validity period—which doesn't matter if your trip is less than two weeks. That said, you can buy an extra 10GB of credit after the two weeks are up for around $25.
If you need less data and want to save a little money, check out the $30 Orange Holiday Zen plan that gives you 8GB of data for 14 days.
Update: The Orange Holiday plans are also available as an eSIM—which means you don't have to wait for delivery or pay for shipping (assuming your phone is eSIM compatible). Check out the eSIM data plans at SimOptions to get the details on both the Orange Holiday Europe eSIM and the Orange Holiday Zen eSIM plans.

Learn more about eSIM data plans and see if your phone accepts eSIM cards in my Guide to eSIM Prepaid Data Plans in Europe.
Three UK PAYG AIO15
Three UK is another large European mobile carrier and their PAYG AIO15 plan is a good value for people who don't need the 20GB offered by the Orange Holiday Europe plan. I like how the plan has a validity period of 30 days so it's good for longer trips.
Plan Specs:
PRICE: $30
DATA: 10GB
CALLS: Unlimted in Europe
TEXT: Unlimted in Europe
USED AS A MOBILE HOTSPOT?: No
CREDIT VALID FOR: 30 Days
Note: SimOptions.com has other cards for sale but these are the best options/deals.
---
Where To Buy A SIM Card with a Data Plan in Germany?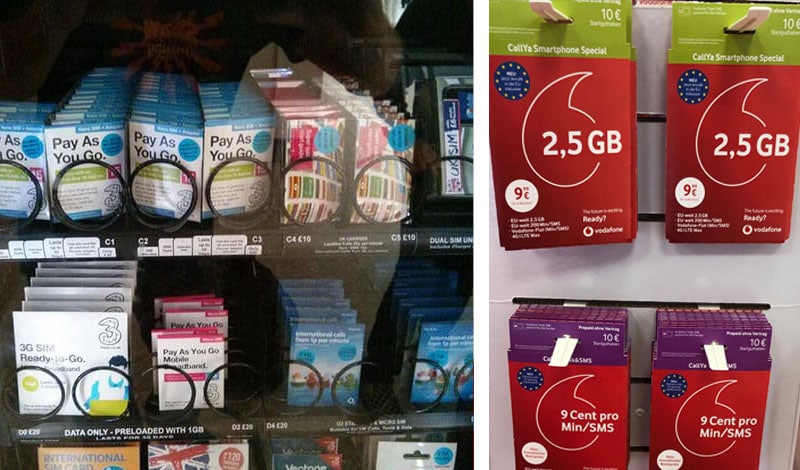 Buying a SIM card in Germany is reasonably straightforward so keep reading to learn the best way to get your mobile data at the best price possible.
The first step is knowing where to go to buy SIM Cards that have prepaid mobile data. In general, there are three main places that sell SIM cards:
Carrier-Specific Mobile Carriers
The major mobile carriers will have brick-and-mortar shops throughout most major cities. The largest carriers are:
Most employees should speak some English. But even if they don't, these folks install SIM cards all day so they should be able to set you up without much verbal communication needed.
If you're not tech-savvy, then this is probably your best bet in getting your SIM card set up since the employees should be able to troubleshoot any issues while you're in the store.
Third-Party Phone Shops
There are many mobile phone shops that sell a range of phone plans from multiple companies. Employees might be able to offer some help getting set up but service probably won't be as good as carrier-specific shops.
Newsstands, Tobacco Shops, Grocery Stores, Vending Machines, etc
You can find SIM cards being sold in multiple smaller shops at airports, train stations, newsstands, bookshops, and randomly throughout most cities.
ALDI and Lidl are two popular budget grocery stores that sell their own mobile plans.
This is where you'll find plans sold by smaller companies so prices might be a bit cheaper but your data speeds/coverage might be limited.
Also, don't expect any customer service when buying from these kinds of shops so it's not the place to go if you're worried about getting your service set up correctly.
---
The Best SIM Cards and Mobile Data Plans in Germany
Germany is served by a handful of major mobile operators and a few smaller companies. I recommend sticking with the major companies we've listed below (especially for visitors) since the major carriers will have the best coverage, speeds, and customer service.
Let's take a deeper dive into the various mobile data plans and prepaid mobile data plans available in Germany.
IMPORTANT: Many German mobile data plans can only be paid via a direct debit from a bank account—which can be difficult if you're traveling and don't have a German bank account (some can be paid via Paypal). It might be more convenient to buy a prepaid European SIM that can be paid with a credit card.
Telekom Prepaid Mobile Data Plans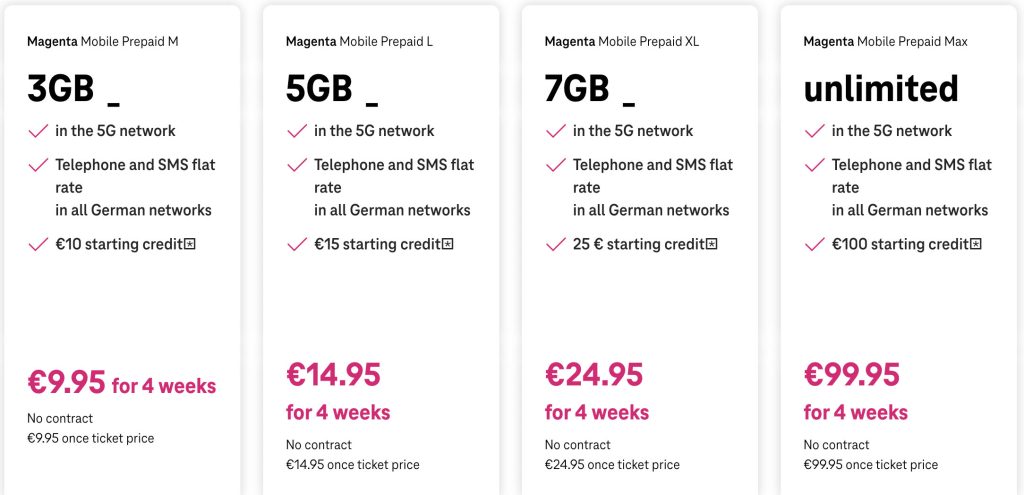 Telekom (T-Mobile) is the largest mobile provider in Germany so they have the most extensive coverage and the fastest network. They're also more expensive than the other German mobile carrier but they have the best service.
Lebara Prepaid Mobile Data Plans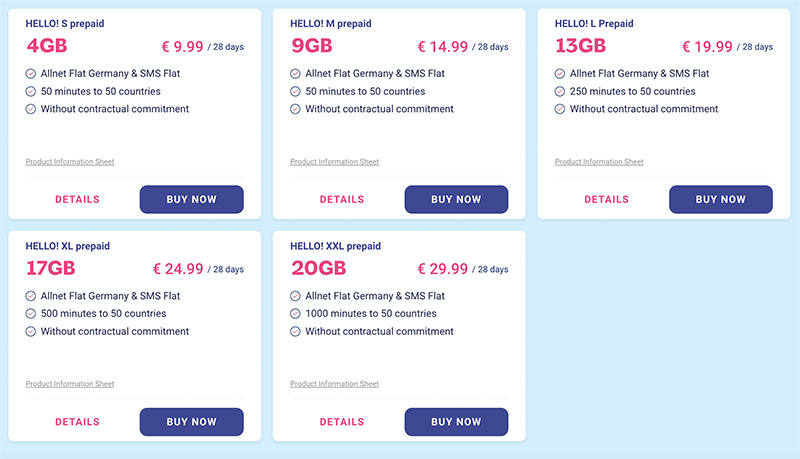 Lebara offers a few different prepaid mobile data plans that range from €10-€30 per month depending on how many gigs of data you want. They also come with some international phone time which can come in handy if want to call home.
Vodafone Prepaid Mobile Data Plans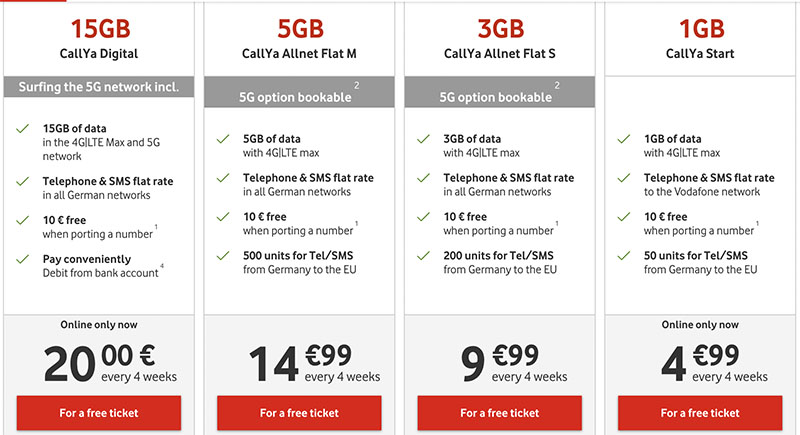 Vodafone is one of the largest mobile providers in Germany so you'll have great coverage no matter where you go. Their prices are a bit higher than other companies but the service is solid.
ALDI Talk Prepaid Mobile Data Plans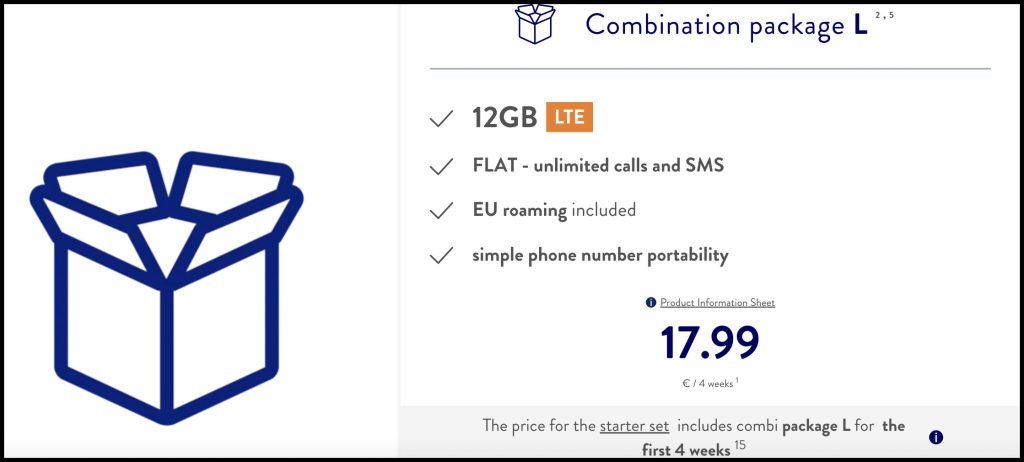 ALDI, the budget grocery store chain, also sells a few different affordable mobile data plans in their stores but you shouldn't expect any customer service (since it's a grocery store). ALDI Talks uses the O2 network which typically works well in urban areas but coverage is much more limited outside cities.
O2 Prepaid Mobile Data Plans

O2 is a large mobile provider that's based in the UK but they also have a large presence in Germany as well. O2 isn't as large as other German carriers so their service works well in urban areas but coverage can be spotty outside cities.
Lidl Connect Prepaid Mobile Data Plans

Lidl, another popular discount grocery chain, also sells its own mobile data plans in its shops. Lidl uses the Telekom network so it has good coverage but you have to pay via bank wire or Paypal so it is somewhat inconvenient for international travelers.
---
German SIM Card and Prepaid Data Plan Basics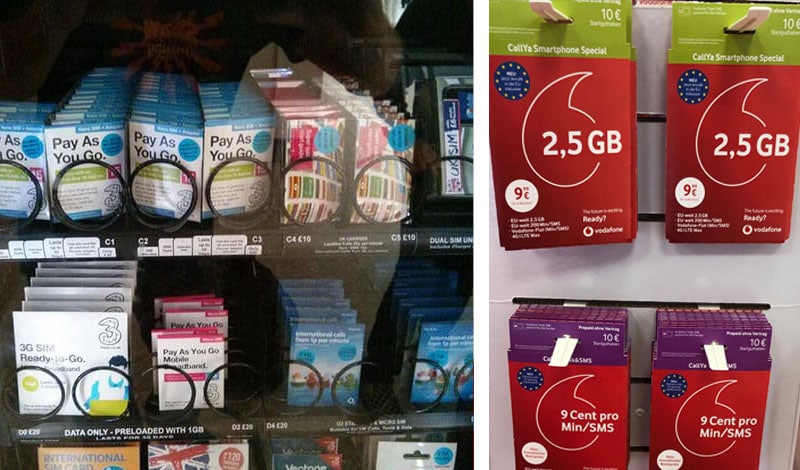 Here is some helpful background info on mobile data plans so you have a better idea of how mobile data service works in Germany.
How Much Mobile Data Do You Need?
As long as you're not streaming music/videos or uploading a ton of photos, you probably won't use more than 3GB-6GB of mobile data a week. In fact, the average American smartphone owner uses around 10GB of mobile data each month.
If you're spending a lot of time on social media (notably Instagram and TikTok) then you might use a bit more but if you're just doing normal web browsing and using Google Maps then you might only use 1-2GB a week.
You'll Need Your Passport and A Local Address
In many cases, you'll need to provide your passport when purchasing a SIM card from a shop. You'll also be asked to provide a local address but you can use your hotel/rental apartment's address. This typically isn't much of an issue but some shops aren't used to dealing with non-German customers so there might be a few hiccups.
The benefit of using the Orange Holiday Europe SIM or the Orange Holiday eSIM is that you don't need to provide this information.
All Data Plans Give European Union Wide Coverage With No Roaming Fees
A law was recently passed in the EU which banned mobile carriers from charging roaming fees within the EU—which means you can use a SIM card you bought in Germany and use it in Germany without paying any extra fees or data roaming charges. This is great for travelers because you can use one plan everywhere. However, some plans might limit the number of texts or mobile minutes if you're out of the plan's home country.
Here are the countries/areas where there is no data roaming: Andorra, Azores, Aland islands, Austria, Balearic Islands, Belgium, Canary Islands, Cyprus, Corfu, Crete, the Cyclades, Croatia, Czech Republic, Denmark, Estonia, Faeroe Islands, Finland, France mainland, Germany, Gibraltar, Greece, Guernsey, Hungary, Ireland, Iceland, Italy, Jersey, Latvia, Liechtenstein, Lithuania, Luxembourg. Madeira, Malta. Isle of Man, Norway, Netherlands, Poland, Portugal, Rhodes, Romania, Spain, United Kingdom, San Marino, Sardinia, Sicily, Slovakia, Switzerland, Sweden, Vatican
Your Phone Must Be Unlocked
Some mobile carriers (mainly in the US, Australia, and New Zealand) "lock" their phones so they'll only work on that carrier's network—this typically applies if you have a plan that includes a free phone with a multi-year contract. You'll need to contact your carrier and have them "unlock" your phone so it will accept a third-party SIM card.
In the US, carriers are required to unlock phones if the customer requests it but it's rarely unlocked by default. That said, a few carriers still make customers jump through hoops to unlock their phones so don't put this off to the last minute or you could be out of luck.
A New SIM Card Gives You A New Phone Number
Installing a new SIM card gives you a new phone number so your old number won't work until you reinstall your original SIM card [Keep your other SIM card in a safe place!]. So, if people need to reach you, you'll need to tell people your new German number. NOTE: iMessage will still work like normal even with a new SIM card installed (your iPhone will update when you install the new SIM).
Remember, lots of websites and apps use two-factor authentication that's connected to your phone number so that will no longer be an option with the new SIM installed. And if you use Uber/Lyft, you'll need to update your new phone number in the app when you install your new SIM.
---
More Tips On Using Your Mobile Phone In Germany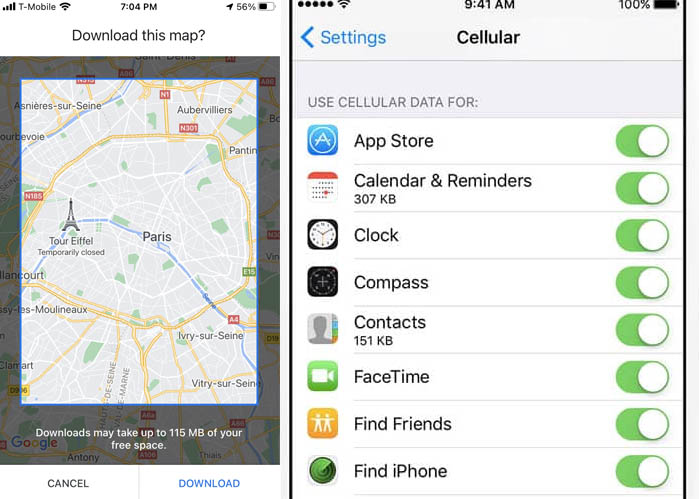 I've written extensively about using smartphones and data plans in Europe as well as tips for buying SIM Cards For Visiting Europe but below are some more helpful tips about using your phone in Spain.
Buy A Portable Battery Charger
Traveling with your phone will quickly drain your battery so I highly recommend a portable battery. I use Anker PowerCore 10000 because it's tiny and affordable but there are multiple options.
Take Steps To Lower Your Mobile Data Usage
Data can be expensive and it's extremely easy to unknowingly burn through a lot of data because many apps use data in the background. Facebook, email, Instagram, Snapchat… those all constantly use data throughout the day without you knowing it. That's it's important to know how to limit your data usage.
Use Airplane Mode And Block Data to Specific Apps
I'll put my phone in Airplane Mode because that disables all data (but GPS still works in Airplane Mode). You can also go into the settings and disable data access to each individual app. I'll go in and turn every off except for things like Google Maps or others that I'll use more frequently — this way when I turn off Airplane Mode only those apps that will use data. Then I'll turn Airplane Mode back on when I'm done.
Download Offline Maps
Google Maps lets you download entire city maps so they can be used offline. As an added bonus, GPS doesn't use data so offline Google Maps works fairly well (but not all functionality works). Here is a good YouTube video that explains everything.
Make Calls Over WiFi
WhatsApp is an excellent app for free calling and text messages — I've found that many Europeans exclusively use WhatsApp to communicate (including many Airbnb hosts).
---
More Germany Travel Tips From The Savvy Backpacker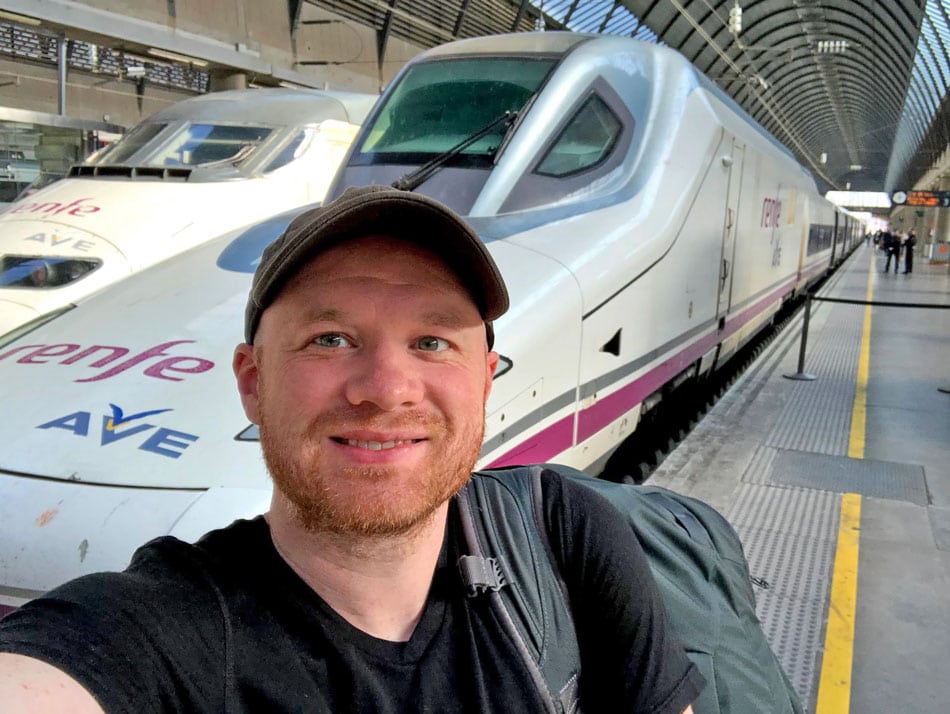 Here are some more helpful articles we've written about visiting Germany on a budget: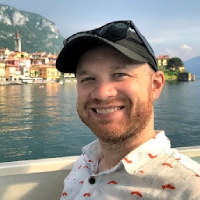 Latest posts by James Feess
(see all)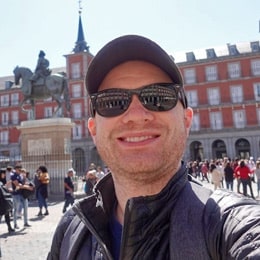 No Funny Business
The Savvy Backpacker is reader-supported. That means when you buy products/services through links on the site, I may earn an affiliate commission—it doesn't cost you anything extra and it helps support the site.
Thanks For Reading! — James
Questions? Learn more about our Strict Advertising Policy and How To Support Us.