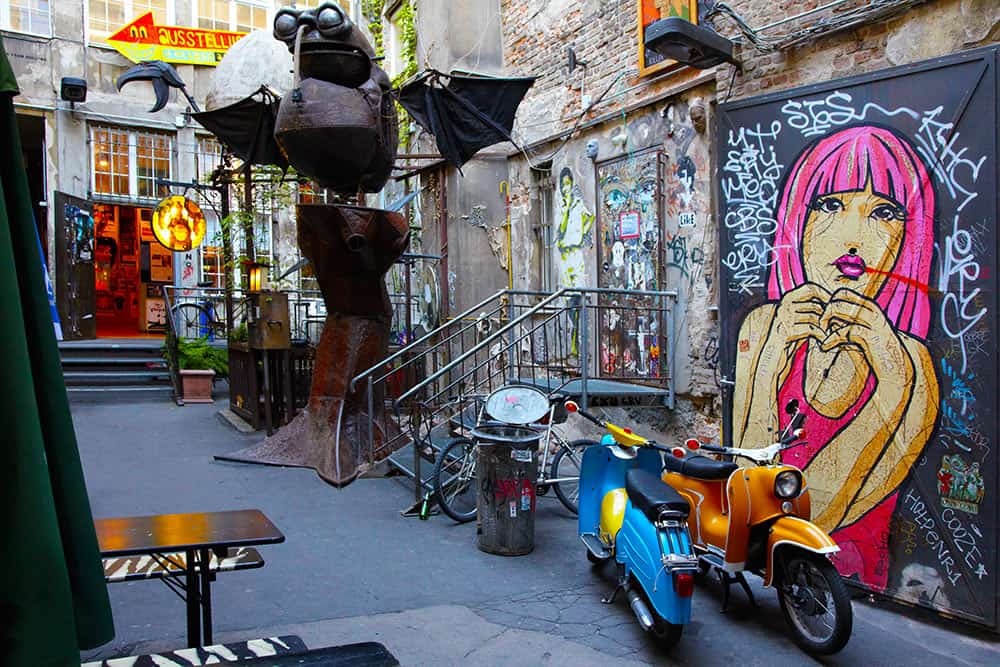 Berlin is by far the cheapest capital city in Western Europe, so it's a great place for budget-minded backpackers and anyone wanting a great deal. Berlin has world-class museums, cheap food, crazy nightlife, and affordable accommodation. Prices are slowly rising but there are still easy to visit without spending a lot of money.
This article is part of our City Price Guide Series — Click here to see all our European City Price Guides.
Average Daily Cost For Visiting Berlin
These prices are based on what you'll need to visit the city comfortably — they don't include things like big nights out at the bar/pub, club entry fees, souvenir/clothing shopping, tours, random purchases etc. Don't forget to budget extra for those "non-essentials."
Daily Cost of Budget Travel in Berlin: €57 (Approx. $70)
Attractions: €12 (one paid attraction + any free sites)
Food: €18

Breakfast: €2.50
Lunch: €4
Dinner: €9
Treat (dessert/beer/wine): €2.50

Transportation: €5.20
Accommodation (hostel): €22/night
Daily Cost of Frugal Travel in Berlin: €36 (Approx. $42)
Attractions: €5 (free walking tour + visit one of the free sites)
Food: €10

Breakfast: €0 (free hostel breakfast)
Lunch: €3.5 (ethnic street food or takeaway shop fare)
Dinner: €5 (make your own meal in the hostel or street food)
Beer: €1 (chill out at the park and have a cold one)

Transportation: €5.20 (two rides)
Accommodation (cheap hostel bed): €16/night
---
Berlin Attraction and Museum Prices
Berlin has a number of great museums and sights — and most are fairly affordable. Museum buffs will want to check out one of the many museum passes since those can save you some money. Furthermore, there are multiple sights, monuments, parks, and street art that are all totally free. Museum Portal Berlin is a great resource for all things relating to museums (hours, location, prices, etc.).
Pergamon Museum: €12
Reichstag Building: Free
TV Tower (Fernsehturm) Observation Deck: €15.50
Topography of Terror: Free
DDR Museum: €8.50
Neues Museum: €12
Sanssouci Palace: €12
Old National Gallery: €12
Altes Museum: €10
Bode Museum: €12
Walking Tours: Free (but you should tip the guides) — €20
Note: Most museums and attractions have student prices, so be sure to bring your student ID. There are also a number of Museum Passes available like the Museum Island Pass for €18 which gives you access to all the museums on Museum Island. 
---
Berlin Food Prices
You won't go hungry in Berlin because it has plenty of budget options for even the most penny-pinching backpacker. Most meals are hearty and the beer is cheap. What else could you ask for?
Budget Breakfast: Free – €10
Many hostels will offer a free, simple breakfast that normally consists of cereal, bread/croissant, and maybe milk, coffee, tea, or juice. If you're lucky, you might get some cold-cuts and cheese.
Since Berlin is known for its all-night parties, it's no surprise that there are plenty of cafés/restaurants offering a hearty breakfast. Expect to pay €5-€10.
You can also find plenty of budget-friendly options at the bakery or grocery store. Pastries start around €1 and coffee will cost around €2-€4 (depending on how "fancy" it is).
A Few Budget Breakfast Options:
Budget Lunch: €4-€7
Super budget travelers can make a super cheap lunch of bread, deli meat, cheese, and fruit from any grocery store for a few euros.
Takeaway meals (like kebabs with fries) or similar dishes from a takeaway shop will cost about €3.50.
Currywurst and bratwurst from a takeaway shop will set you back about €2.50.
You can get a delicious fried half chicken and fries for about €4.
A cheap pizza will cost about €3-€5.
Budget Dinner: €5-€12
Budget travelers will want to seek out the many ethnic restaurants in Berlin. Even for traditional German fare, it's easy to find a good meal for €8-€10.
There are a good number of quality burger joints serving burgers for around €3.50.
The famous half-a-hen (with bread) from Henne's only costs €8.
Many of the options from the Budget Lunch section above also apply for dinner.
A Few Budget Lunch And Dinner Options:
Drinks and Alcohol
Pint of standard beer out: €2.50-€3.50
Pint of beer from a grocery store:  €.80-€1
Bottle of (drinkable) wine from the grocery store: €5
---
Berlin Transportation Prices
Berlin is a huge, sprawling city, so you'll need to take public transportation. Luckily, Berlin has just about every transportation option — like subways, trains, trams, buses, bikes, and taxis. Even better, the U-Bahn, S-Bahn, bus, tram, and regional rail all use the same ticket. Read more at the Official Visit Berlin website.
Public Transportation: 
Single One-Way Ticket: €3.40
Short Distance (three stop) Single One-Way Ticket: €1.70
Day Card: €7.00
Small Group Ticket (for up to five people — This is the most cost-effective for three people and above.): €20
Bike Rental: €8-€12/day
Other Transportation:
Taxi Between Tegel and City Center: €20–€30
Berlin Schönefeld Airport Express Train: €3.30
Taxi Between Schönefeld and City Center: €40
---
Berlin Hostel, Hotel, and Rental Apartment Prices
Berlin has a large number of hostels, and the prices are affordable. Even hotels aren't too bad if you do a little digging. Rental apartments are also plentiful and affordable, and they're a great way to experience the city like a local.
Hostels: €15-€38/night
Plan on budgeting about €25/night per person for a good hostel, although many hostels raise their prices on the weekend. Remember, these prices are for a bed in a shared dorm room. If you want a private room, expect to pay €50-€70.
We book our hostels through Hostelworld.
Budget Hotels: €40-€100/night
At the low end you can expect basic accommodation, but once you get around €70/night, the hotels get a bit better.
Rental Apartment: €65-€100/night
Rental apartments are usually bigger than hotels and you'll get a kitchen so you can save more money by cooking your own meals. That said, rental apartments aren't always super convenient and they're not great for shorter stays.
Read More About the Cost of Visiting Europe
We've created a series of guides about the costs of backpacking Europe (including more city price guides) — Click here to read more.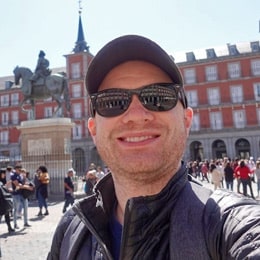 No Funny Business
The Savvy Backpacker is reader-supported. That means when you buy product/services through links on the site, I may earn an affiliate commission — it doesn't cost you anything extra and it helps support the site.
Thanks For Reading! — James
Questions? Learn more about our Strict Advertising Policy and How To Support Us.