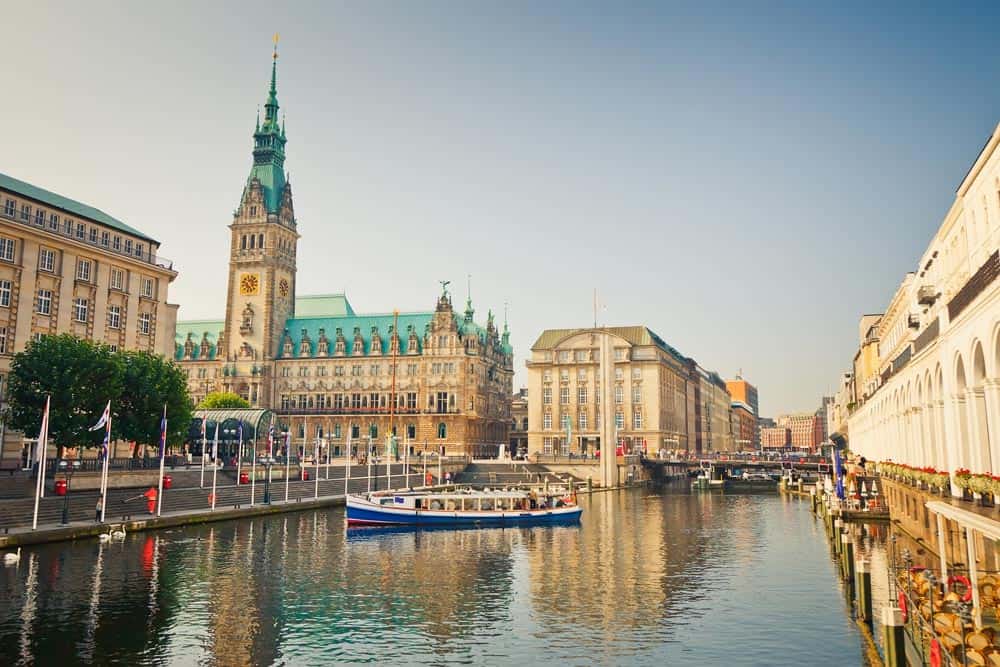 Even though it's Germany's second largest city, Hamburg is overshadowed by Berlin's and Munich's tourism draws. Hamburg is actually a very modern city (it was completely destroyed in WWII), so it has a much different vibe than the stereotypical "quaint" Germany — although it does have plenty of old-world charm.
Hamburg is also home to the second largest port in Europe, so the people are very open and the city boasts excellent nightlife… and no port city could be complete without a Red Light District. Hamburg is also near many quaint small towns so it makes a great home base for exploring. Like most of Germany, Hamburg skews towards the expensive side but this up-and-coming city can still be experienced affordably.
In this travel price guide, we'll outline the estimated travel expenses for food, accommodation, attractions, alcohol, and other things that you'll experience when you visit Hamburg.
This article is part of our City Price Guide Series — Click here to see all our city price guides.
Average Daily Costs for Visiting Hamburg
Below is our breakdown of how much you can expect to spend on an average day for the budget-conscious traveler. These prices are based on what you'll need to visit the city comfortably — they don't include things like big nights out at the bar/pub, club entry fees, souvenir/clothing shopping, tours, random purchases, nicer food, etc. Don't forget to budget extra for those "non-essentials."
Average daily costs for budget travel in Hamburg: €65 (Approx. $76)
Attractions: €10 (one paid attraction + any free sights)
Food: €24

Breakfast: €3
Lunch: €6
Dinner: €10
Treat (dessert/beer/wine): €3.50

Transportation: €3.10
Accommodation (hostel): €28
Average daily cost of frugal travel in Hamburg: €39 (Approx. $46)
Attractions: €5 (free walking tour + visit one of the free sights)
Food: €14

Breakfast: €0 (free hostel breakfast)
Lunch: €4.50 (street food or takeaway shop fare)
Dinner: €8 (make your own meal in the hostel or grab something cheap)
Beer: €1 (chill out at the park and have a cold one)

Transportation: €0 (walk)
Accommodation (cheap hostel): €20
---
Hamburg Attraction and Museum Prices
International Maritime Museum: €13
Dialog im Dunkeln: €17.50-€21.50
MiniaturWunderland: €15
Museum fur Kunst und Gewerbe Hamburg: €10
Hamburg Museum: €9
Prototype Car Museum: €10
Walking & Tours: Free-€30+
Tours emphasize the history of Hamburg and its cultural institutions. Expect to pay a little more for bicycle tours (€26), which will show the sites and markets of Hamburg.
---
Hamburg Food Prices
Hamburg offers a variety of traditional German foods alongside ethnic cuisine. Fish is a common staple, with the city situated on the Elbe, and is available from stands and restaurants. There are a number of expensive restaurants, but you can find plenty of budget options if you seek them out. Read more of our strategies for Eating and Drinking in Europe on a Budget.
Budget Breakfast Prices: Free – €4
Many hostels will offer a free simple breakfast of that normally consists of cereal, bread/croissant, and maybe milk, coffee, tea, or juice (some hostels will offer more and some less). Hotel breakfasts tend to be overpriced, so skip these in most cases.
Coffee and a pastry will set you back €1.75-€3.
Budget-Friendly Breakfast Places
Lieblingsplatz: A nice spot serving up large and affordable breakfast dishes and sandwiches.
Der Kiezbacker: A bakery with multiple breakfast options.
Transmontana: Great coffee and Portuguese pastries.
Budget Lunch Prices: €3-€7
Super budget travelers can make a super cheap lunch of bread, cheese, and fruit from any grocery store for a few euros.
Kebabs from a stand run €2.50-€4.
Currywurst and bratwurst are popular and cheap options at fast food/takeaway and run around €2.50-€4.50.
The Hauptbahnhof (main train station) is full of cheap take-away and fast food options and will run €3.50-€6 for a full meal from an ethnic establishment (Middle Eastern, Indian, or pan-Asian).
Cheap sandwiches run €2-€3.50 at stands throughout the city; especially recommend are fish sandwiches in the harbor area.
Budget Dinner Prices: €6-€12
Pretty much all the options from the 'Budget Lunch' section above will also apply for dinner.
Brauhaus (brewhouses) offer beer and a meal for €5-€7.
Traditional German schnitzel is common and inexpensive: €4.50-€8 for dinner at a brewhouse or stand.
Ethnic food and vegetarian options are plentiful and cheap: falafel, grills, and Indian all run €4-€8 for a meal as a takeaway or sit-down.
Cafés are more informal, and a meal of a sandwich or burger runs €4.50-€8.
Budget-Friendly Lunch and Dinner Spots
Drinks and Alcohol Prices:
Expect to pay €3-€3.50 for a beer out.
At a grocery, beer runs €.95-€1.10, and a bottle of wine about €5.50
---
Hamburg Transportation Prices
Public transportation in Hamburg includes S-Bahn and U-Bahn trains and buses. Bicycle rentals are common in the city and inexpensive. There is a ferry system as well which provides access to the harbor and the Elbe river. HVV administers the city's transit system in and around Hamburg.
Tickets on the HVV system are purchased by duration and distance. Ticket vending machines are available at transit stations. The machines dispense the correct ticket after you enter your destination.
Public Transport:
1 fare within the greater Hamburg area: €3.30
1 fare within the city center: €1.60-2.20
Day ticket within the greater Hamburg area: €7.70
1-week pass within Hamburg city center/outside city center: €13.40/€17.40
Airport transit from the city center:
via taxi: €20-€30
via rail: Single-journey fare on S-Bahn direct train is €3.30 from the airport to the city center.
Bicycle rental: First 30 minutes are free. After is €.08/minute for use or €12/day.
---
Hamburg Hostel/Hotel Accommodation Prices
You shouldn't have any trouble finding accommodation in Hamburg. However, there aren't a ton of hostels so the prices are a little higher when compared to Berlin. Rental apartments are popular in the city so that's a good option if you want a little more space and privacy.
Hostels: €21-€40/night
You should budget about €24-€34/night per person for a nice hostel — although many hostels raise their prices on the weekend. Remember, these prices are for a bed in a shared dorm room. If you want a private room, expect to pay €55-€80 total (for two people).
Check out the latest hostel prices at Hostelworld.
Budget Hotels: €60-€150
A decent budget hotel that is in the city center will cost around €100/night. You can find cheaper hotels if you want to stay farther away from the center of the city or if you don't mind staying in a super-budget place. 
We suggest checking out Booking.com to see hotel prices for your dates since they're always changing.
Rental Apartment: €50-€90/night
Hamburg has a decent amount of rental apartments throughout the city. They can be a good option for large groups or travelers who want a little more space (and a kitchen). On the other hand, you may also have to deal with inconvenient check-in processes and things like extra cleaning fees and service charges. For short stays, we prefer hotels/hostels but rental apartments can be a nice option for longer stays.
---
LEARN MORE ABOUT THE COST TO VISIT EUROPE
We've created a guide about the costs of traveling through Europe (including more city price guides) — Click here to read more about Europe Travel Costs.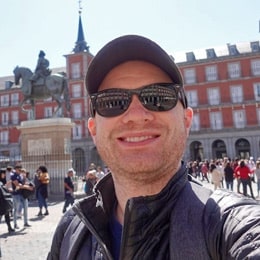 No Funny Business
The Savvy Backpacker is reader-supported. That means when you buy product/services through links on the site, I may earn an affiliate commission — it doesn't cost you anything extra and it helps support the site.
Thanks For Reading! — James
Questions? Learn more about our Strict Advertising Policy and How To Support Us.