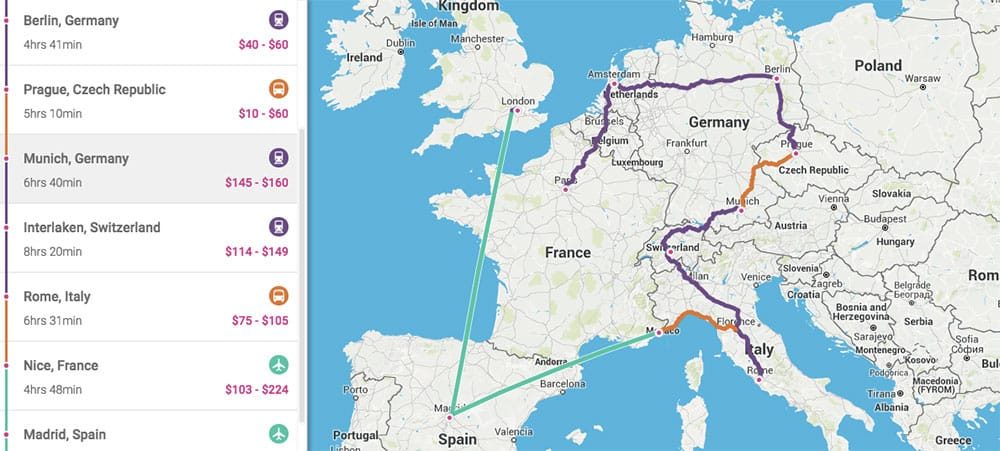 In our opinion, creating a travel itinerary (even if it is a loose outline) is essential when planning your travel to Europe. It's even more essential if you want to go backpacking cheaply in Europe.
Here's the thing about visiting Europe… you could travel for over 12 months and still feel like you've missed a lot. Everyone has difficulty choosing where to visit. It's probably the most common struggle. It takes a lot of creativity and you'll probably spend many hours trying to nail down your itinerary.
There are multiple strategies for traveling, and it's up to you to find the one that works the best for your journey.
This article will help give you advice for planning your travel itinerary.
We like to think of travel planning kind of like you're doing a puzzle. You start by assembling the border (your arrival and departure dates) because that is the easiest. Then you figure the rest out. Sometimes you have a few chunks assembled, but it takes a lot of trial and error before you complete it.
---
Why Should I Plan an Itinerary? I Want To Be A Free Spirit!
Some people travel to Europe with the "I'll just wing it and see what happens" attitude. I was one of those people. It can work but it usually doesn't. Without planning, you waste a lot of time on trivial stuff that you could have easily done at home, and you end up missing a lot of great things and spending a lot more money.
For example, it takes 10 minutes to book a hostel online, but it can take you an hour or two trying to find one randomly in an unfamiliar city. It takes an hour to research a city to find stuff that looks interesting, but showing up in a city without any clue about what it has to offer can be a disaster.
You'll spend all your time wandering, and you might not find anything that is really interesting to you. European cities are not like Disneyland — everything isn't laid out all nice and neat. Sights are spread throughout the city, and you'll never find the little gems if you don't look ahead of time.
You don't have to plan out every second of your trip, but a little homework really pays off.
First, the length of your trip has a huge impact on how much of an itinerary you'll need. Basically, the shorter your trip, the more you need to plan. Here's our advice:
Anything under two weeks should be planned out in-depth because you're short on time.
Trips of two to four weeks require a little less planning because you have more wiggle room.
Anything over a month can be planned as you travel but you should still do some planning ahead of time.
---
Travel Planning Equals Saving Money
Here is the truth… the more you plan, the less you'll spend.
The best way to save money on high-speed train tickets and plane tickets is by booking far in advance because prices rise as the departure date nears. For example, booking a high-speed train from Paris to Amsterdam is €40 if bought 3-4 months in advance. However, that same ticket costs €120+ if bought last minute. The same goes for plane tickets throughout Europe.
Don't want to lose flexibility? A rail pass is probably a better option (learn more about Rail Passes here), but buying all your tickets far in advance will almost always be cheaper than using a rail pass.
Things like hostels, hotels, and apartment rentals can be cheaper when booked early — because the earlier you book, the more options you have. For example, booking a hostel last minute could result in needing to book an expensive bed because the cheaper ones are already taken.
Even spending a little time researching restaurants can help you find quality places that aren't expensive.
---
How To Plan Your Europe Travel Itinerary
I tried to present these steps in a logical order but it is impossible to document exactly how to choose your itinerary.
These steps will get you about 80% to where you need to be but you'll have to figure out your own system to do the rest.
Step One: Choose The Season
Choose the time of year you want to travel. Each season has its pros and cons so check out our guide to picking the best season to travel to learn more.
Step Two: Choose Your Travel Dates
Your travel dates are usually determined by your budget or available free time—probably a combination of the two. How you plan a two-week trip is a lot different than a six-month trip.
Once you know your exact dates, you'll be able to start filling in those days.
Step Three: Concrete Events
Write down anything you are 100% certain you are going to do. This is stuff like "I have tickets to a music festival on June 18th in Paris" or "My rich uncle is letting us stay at his villa in Tuscany May 5th-13th." These are dates that can't be moved. You'll have to plan around these events so they'll greatly affect your other travel plans.
Step Four: Where To Visit
Break out the map and start brainstorming where you want to visit. Go to the bookstore to take a look at travel books. Look online at travel sites. Write down all the places that look interesting (don't limit yourself at this point – go crazy). Think about what kind of stuff you're interested in seeing — castles, beaches, WWII sights, major cities, nature, etc.
Further Reading [The Best Travel Guidebooks and Travel Guide Websites for Budget Travel in Europe.]
Step Five: Get More Realistic
This is where it starts getting difficult… start narrowing down your list. I would make three lists:
Places you 100% want to see
Places you really want to see
Places you could live without.
You'll find yourself returning to this step often as you narrow down your list.
Step Six: Determine Days In Each Location
This is a tough step.
Write down how many days you think you'll want to spend in each city. Don't rush it! This is where many beginners — myself included — make mistakes.
Naturally, you want to see as much as possible, so you end up trying to jam a million things into a short amount of time. You'll just end up missing a lot, and you will get burned out.
Getting burned out is one of the worst things that can happen — it will make your trip extremely stressful, and you might get to the point where you hate traveling.
I would recommend a minimum of three full days for big cities (and that is really rushing it). You can easily spend 5-10 days in cities like London and Paris without getting bored. The list below indicates the minimum amount of days that we think you should spend in each city. Remember that only staying for the minimum will feel like a whirlwind.
Minimum Visit Lengths:
Amsterdam: 2-3 days
Bruges: 1-2 days
Athens: 1-2 days
Barcelona: 3 days
Berlin: 2-3 days
Budapest: 2-3 days
Florence: 2-3 days
Edinburgh: 2-3 days
Dublin: 2 days
London: 4 days
Krakow: 2-3 days
Madrid: 2-3 days
Interlaken: 2 days
Munich: 2 days
Paris: 4 days
Prague: 2-3 days
Rome: 3-4 days
Seville: 1-2 days
Venice: 2-3 days
Vienna: 1-2 days
Don't forget that there are a lot of good day trips that can be taken while in big cities.
Important: Take travel time into account during the planning phase!
Many beginner travelers forget how much time it takes to travel from one city to another. The traveling process includes getting to the airport/train station (including having to arrive early), time spent traveling, getting to your new hostel, checking in, etc.
An Example Of How Travel Time Adds Up — Paris To Amsterdam (By Train)
Hostel to Metro Station: 15-minute walk + 5-minute wait for the train
Metro Ride to Train Station: 45 minutes
Wait Time at Train Station: 30 minutes (you don't want to miss your train)
Train Ride From Paris to Amsterdam: 4.5 hours
Walking to New Hostel: 35 minutes
Getting Checked In and Putting Your Stuff Away: 30 minutes
Total Travel Time: About 7 hours (even though the train ride was only 4.5 hours). This also doesn't take into account the extra time you'll spend getting lost when you can't find your new hostel (it will happen, trust me).
Another Travel Note: Traveling is exhausting. Spending all your time on a plane/train is not much fun, and by the time you arrive at your new hostel, you'll be too tired to want to do anything. So this is another reason to slow down and to spend more time in each of your destinations.
Step Seven: Flying To Europe
At this point, you have a rough idea of where you want to visit. I would now start looking at your plane ticket to/from Europe. You have two options when purchasing a ticket. You can either buy a standard ticket or an "open jaw" ticket.
Standard Ticket: You arrive and depart from the same airport. These can be good if you're traveling in a specific region and the airport is relatively near where you're traveling.

For example, you want to travel to France, Belgium, Netherlands, Germany, and Switzerland. You can easily fly in and out of Paris because you can design your travel so you go in a loop with Paris being at the end of the journey.

Open Jaw: You arrive and depart from different airports. This can be a good option if you plan on traveling a good distance away from your arrival airport so you don't have to waste time getting back to your arrival airport.

For example, if you want to visit Ireland, England, France, and Germany, it makes sense to fly into Dublin and leave from Frankfurt.
There are many factors that go into what plane ticket you purchase. An open-jaw ticket could be more expensive but sometimes the price difference is actually quite small (it could even be cheaper). There can be a huge price difference between airports, so you might have to base your trip around that factor too.
Further Reading: [Guide to finding the cheapest airfare to Europe.]
Step Eight: Pick a Route
Decide on the best route to take. Try to avoid backtracking because it wastes time and money. Get a calendar and block out the days you'll visit each location. Remember to not rush.
Step Nine: Transportation Within Europe
Now you should figure out your transportation options and costs. Are you going to take the train (individual tickets or use a Eurail pass), are you going to fly, rent a car, or maybe use the bus? Are you going to take multiple forms of transportation? You need to price each option and figure this into your budget.
Further Reading [Transportation in Europe]
Now get a rough idea of how much it is going to cost to get from city to city. You'll quickly start to see how much transportation eats into your budget. If the costs are getting too high, you might want to limit the number of cities you visit. Omio is an excellent website for estimating transportation options/costs.
Even if you're using a rail pass, you should still get an idea of where you want to visit. You want to use your pass as efficiently as possible. Click here for our guide to choosing and using a Eurail pass.
Step Ten: Recalculate
Go back through all the steps above (in no specific order) until you figure out your itinerary. Remember that all this will take some time and you'll change your mind often.
You might start to see that you're still being too ambitious with your travel itinerary so take this opportunity to simplify.
It is important to remember that this isn't about planning every second of your trip. You'll drive yourself crazy doing that, but you'll save a lot of money — and frustration — by planning as much as possible.
---
More Europe Itinerary Planning Tips
If you're a new traveler, I suggest starting your trip in an English-speaking country. London is an excellent place to start. Aside from being one of the greatest cities in the world, it is foreign enough to be interesting, but similar enough to not be overwhelming (it also has excellent connections to the rest of Europe). This way, you'll ease into traveling before heading off to non-English-speaking countries.
Don't forget about jet lag. Your first day might be a little rough, so don't plan on doing a ton of stuff. But don't go to sleep in the middle of the day either because this will really mess you up.
Build In Rest Days: Planning for downtime is essential for avoiding burnout. That's why I like to add a few "take it easy" days to my schedule.
---
Sample Europe Travel Itineraries
We've put together a few popular itineraries: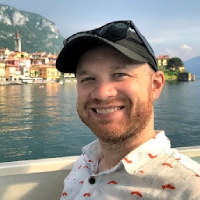 Latest posts by James Feess
(see all)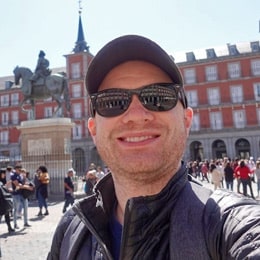 No Funny Business
The Savvy Backpacker is reader-supported. That means when you buy products/services through links on the site, I may earn an affiliate commission—it doesn't cost you anything extra and it helps support the site.
Thanks For Reading! — James
Questions? Learn more about our Strict Advertising Policy and How To Support Us.