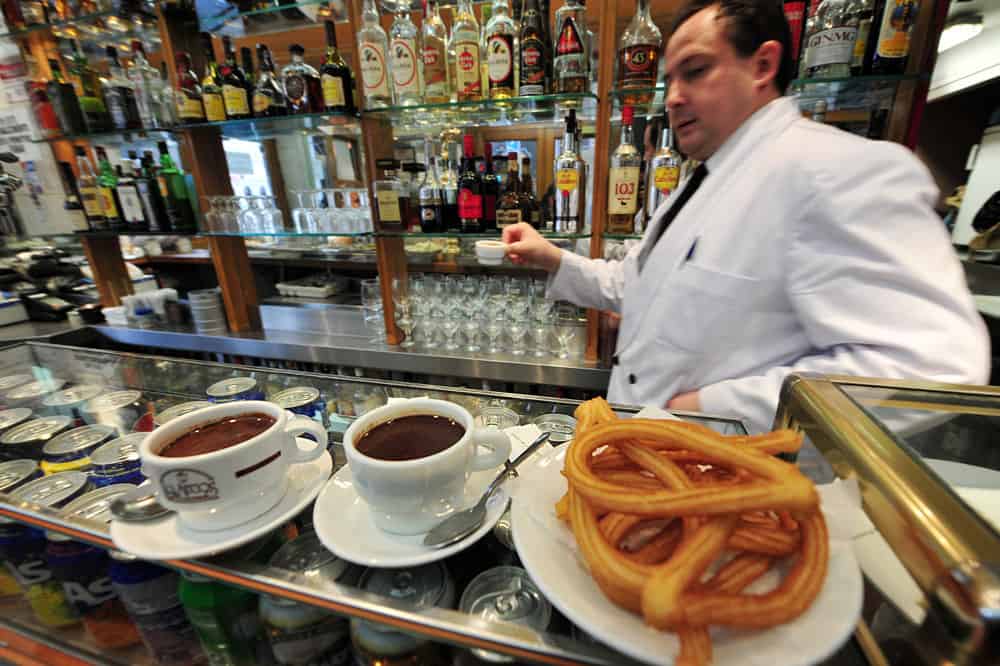 Madrid is not only the capital of Spain, but it's also the country's biggest city. Best of all, it's one of the cheaper cities in Western Europe. Pair those reasonable prices with an incredibly lively nightlife scene and beautiful architecture, and well… it's no surprise it's one of the most popular tourist destinations in Europe.
In this Madrid travel price guide, we'll outline the estimated travel expenses for food, accommodation, attractions, alcohol, and other things that you'll experience when you visit Madrid.
This article is part of our City Price Guide Series — Click here to see all our city price guides.
AVERAGE DAILY COST FOR MADRID
These prices are based on what you'll need to visit the city comfortably — they don't include things like big nights out at the bar/pub, club entry fees, souvenir/clothing shopping, tours, random purchases, nicer food, bail money, etc. Don't forget to budget extra for those "non-essentials."
DAILY COST OF BUDGET TRAVEL IN MADRID: €56 (APPROX. $64)
Attractions: €10 (one paid attraction + any free sights)
Food: €26

Breakfast: €4
Lunch: €6
Dinner: €14
Treat (dessert/beer/wine): €2.50

Transportation: €1.50
Accommodation (hostel): €18
DAILY COST OF FRUGAL TRAVEL IN MADRID: €32 (APPROX. $37)
Attractions: €5 (free walking tour + visit one of the free sights)
Food: €14

Breakfast: 0€ (free hostel breakfast)
Lunch: €5 (ethnic street food, takeaway shop fare, or similar)
Dinner: €7 (make your own meal in the hostel or grab something cheap)
Beer (pint): €2

Transportation: €0 (the city is very walkable)
Accommodation: €13 (cheap hostel bed)
---
MADRID ATTRACTION AND MUSEUM PRICES
Madrid offers a wide range of attractions, and many of them are cheap or even free on certain days of the week. Furthermore, Madrid is a great city for strolling the streets and gawking at the architecture.
Royal Palace of Madrid: €10
Thyssen-Bornemisza Museum: €12, free on Monday afternoons (noon-4pm)
Museo Nacional del Prado: €15
Basilica de San Francisco el Grande: free during mass, €3 guided visit
Ermita de San Antonio de la Florida: free
Walking tour: Free (but you should tip the guides) or €15–€50 (for paid tours)
Bike tour: €22-€35
---
MADRID FOOD PRICES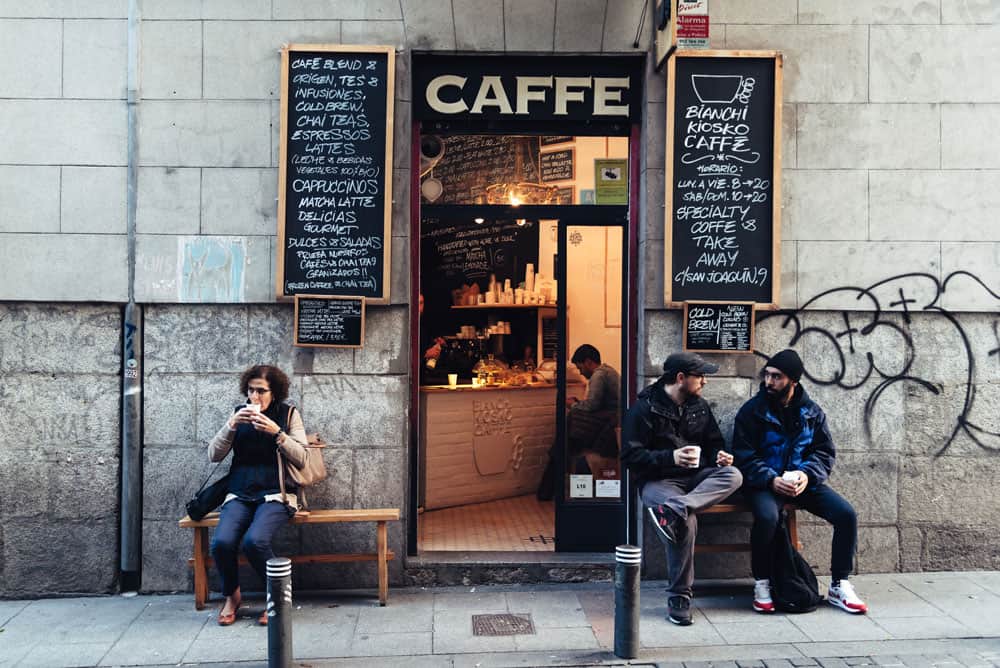 Like most of southern Europe, Madrid's food prices are quite reasonable, so it's not too difficult to eat well on a budget. Locals traditionally don't eat lunch until later in the afternoon so places serving lunch at noon are probably catering to tourists. Similarly, dinner doesn't start until around 9 pm — so keep that in mind when planning your day and meals.
However, you can usually stop into a bar at any time of the day to feast on cheap tapas. As always, try to scope out where locals go since that is a good sign that the food is good quality. Be especially wary of paella restaurants catering to tourists because they're notoriously bad.
And don't forget to eat plenty of ham — Madrid is famous for it.
Another note: While it's becoming rarer, some tapas bars offer free tapas — as long as you're buying beer or wine. These places will be crowded, but seek them out if you want to save a few euros.
Read more of our strategies for Eating and Drinking in Europe on a Budget.
BUDGET BREAKFAST Prices: FREE–€5
Many hostels will offer a free simple breakfast that normally consists of cereal, bread/croissant, and maybe milk, coffee, tea, or juice (some hostels will offer more and some less).
A typical Madrid breakfast consists of toast with marmalade and coffee. Churros (long, thin fried doughnuts) with chocolate dipping sauce is another great option if you're feeling fancy. Expect to pay €3-€4.
The typical Madrid breakfast is eaten quite early. If you sleep in a bit, you might be more on track for the 11 am snack time. You'll find more savory options then — such as toasted ham and cheese sandwiches and omelets. The chain restaurant 100 Montaditos has some good options. Go ahead and fill up because lunch isn't until around 2-3pm. Expect to pay €4-€5.
Budget-Friendly Breakfast Spots
BUDGET LUNCH Prices: €3-€10
Lunch is traditionally the largest meal of the day and can include multiple courses, but you can still find some budget-friendly options.
Super budget travelers can make a cheap lunch of bread, cheese, and fruit from any grocery store for a few euros.
Pans & Company is a chain "fast-food" restaurant that offers fresh sandwiches and salads. Think of it as the nicer, Spanish version of Subway. You can get a sandwich, drink, and side for €4-€7.
You can find calamari sandwiches for €3-€4.
A cheap takeaway meal (like a kebab with fries) will cost about €5.
Lunch at a restaurant/café will run €10+.
BUDGET DINNER Prices: €15-€30
Spanish people tend to eat dinner later in the evening, around 9-11pm. A great way to bridge the hunger gap between lunch and dinner is tapas. You can also sample a few and make a meal out of them. Expect to pay €3-€5/tapas or about €15 for dinner.
Cocido (Madrid's famous stew): €18-€30
You should also be able to find dinner at a restaurant in a less touristy part of town for around €15.
Many of the options from the Budget Lunch section above also apply for dinner.
Budget-Friendly Lunch and Dinner Restaurants
DRINKS AND ALCOHOL Prices
A pint of standard beer out: €3
Pint of beer from a grocery store: €.90
Bottle of (drinkable) wine from the grocery store: €5
Espresso: €1.80
---
MADRID TRANSPORTATION PRICES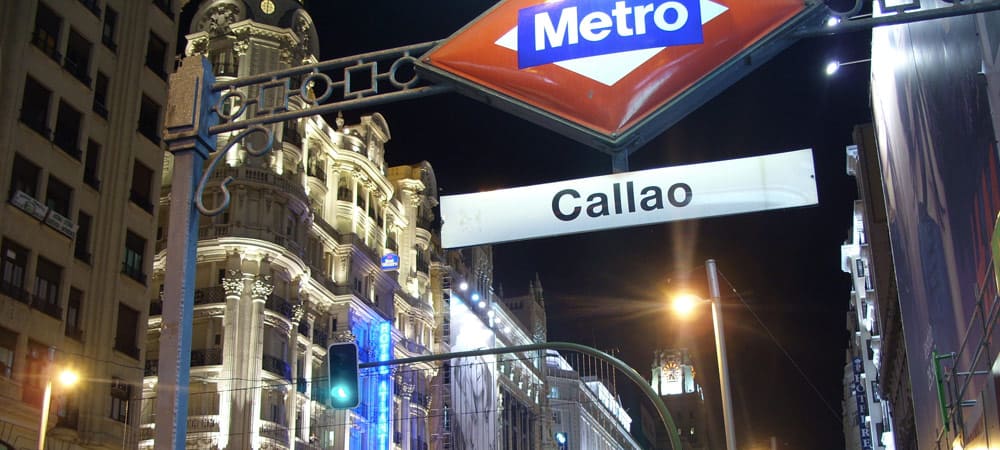 Madrid has an inexpensive and extensive network of subway and bus lines. The major sights are all within about a 20-minute walk from the center of the city, so you may not find yourself using public transportation too often.
Single one-way Metrobús ticket for Metro (subway) and bus: €1.50
Metrobús 10 journey ticket (valid for use on Metro and bus): €12.20
Day passes are valid for all types of public transport in Zone A.

1-day pass: €8.40
2-day pass: €14.20
3-day pass: €18.40
5-day pass: €26.80
7-day pass: €35.40

Bus from airport to city (Airport Express): €5
Taxi from airport to city: €30 (flat rate)
---
MADRID HOSTEL, HOTEL & Rental Apartment PRICES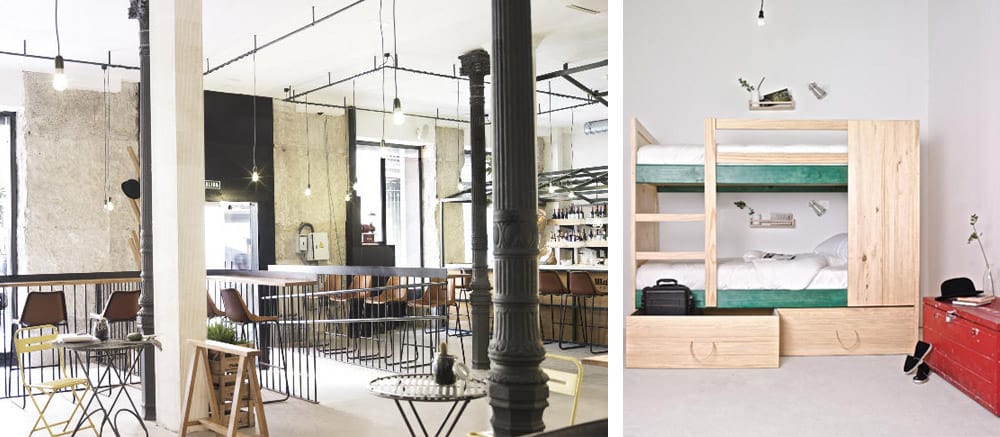 Madrid sees a huge influx of visitors during the summer so it's recommended that you book your accommodation in advance if you want to have the most options available. That said, accommodation is affordable, and it's usually good quality.
Hostels Prices: €11-€23
You should budget about €17/night per person for a decent hostel — although many hostels raise their prices on the weekend. Remember, these prices are for bed in a shared dorm room. If you want a private room, expect to pay €45-€60. Check out the latest hostel prices at Hostelworld.
The Top Hostels in Madrid:
Be sure to check out our Guide To The Best Hostels in Madrid. 
Budget Hotels Prices: €50-€110/Night
At the low end, you shouldn't expect much but once you get around €55/night, the hotels get a bit better. A room with a private bathroom and twin bed will be around €45-€80 and a double bed will be €50-€130+.
We suggest checking out Booking.com to see hotel prices for your dates since they're always changing.
Rental Apartment Prices: €60-€120+/Night
Madrid has plenty of rental apartments. They can be a good option for large groups or travelers who want a little more space (and a kitchen). On the other hand, you may also have to deal with inconvenient check-in processes and things like extra cleaning fees and service charges. For short stays, we prefer hotels/hostels but rental apartments can be a nice option for longer stays.
---
LEARN MORE ABOUT EUROPE TRAVEL COSTS
We've created a guide about the costs of traveling through Europe (including more City Price Guides) — Click here to read more about Europe Travel Costs.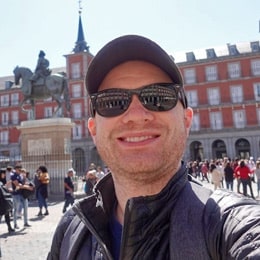 No Funny Business
The Savvy Backpacker is reader-supported. That means when you buy product/services through links on the site, I may earn an affiliate commission — it doesn't cost you anything extra and it helps support the site.
Thanks For Reading! — James
Questions? Learn more about our Strict Advertising Policy and How To Support Us.