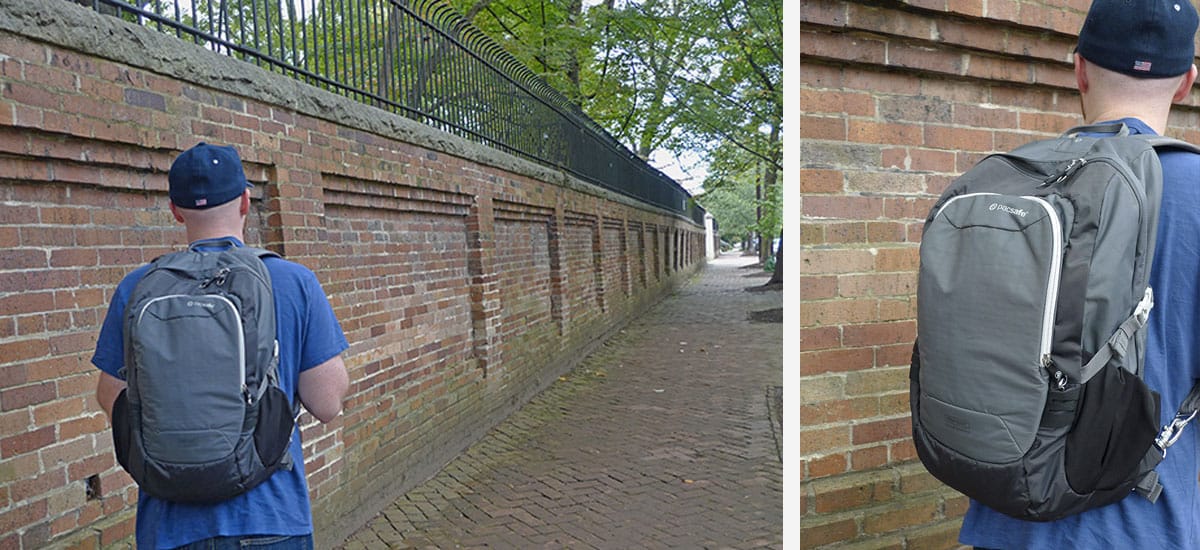 Being a victim of a pickpocket sucks (I wrote about pickpockets in Europe here). One way to thwart the thieves is with the Pacsafe Venturesafe 25L anti-theft backpack (available on Amazon). The reason I wanted to review this backpack was because it actually looks good — which can be a bit of a challenge in anti-theft backpacks.
Like all Pacsafe bags, the Venturesafe 25L backpack has a cut-proof wire mesh sewn into the lining. This mesh helps prevent thieves from cutting your bag open. There is also a wire that runs through the shoulder straps.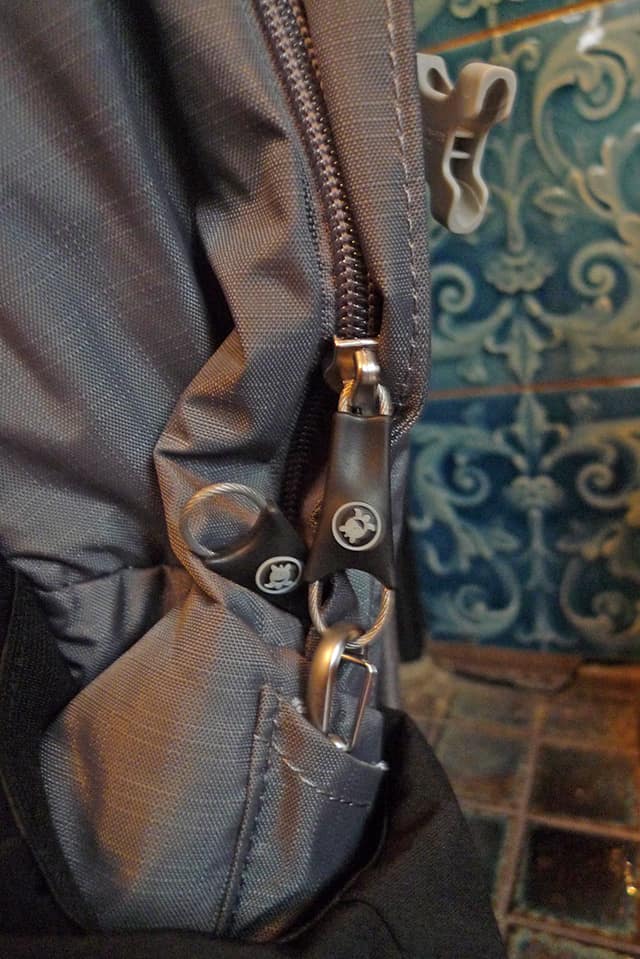 Another security feature are the zipper clips. These clips allow you to easily clip your zippers closed to prevent others from unzipping your bags. All the zippers on the bag have this feature. The zippers to the main compartment also have lockable rings (you'll need your own luggage locks), but I find that the clips are good enough to stop 99% of pickpockets — however, it is a nice option to have if you want to be extra safe. Actually, I sometimes found the clips somewhat difficult to open myself (which is the point), and I see that as a positive.

As mentioned before, I think the Pacsafe Venturesafe looks pretty good and doesn't seem too touristy. The bag comes in a few different colors. I like the black just because it is the most inconspicuous.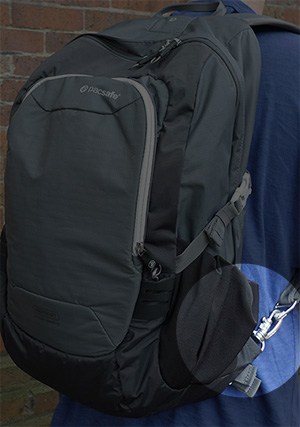 Another nice feature is its ability for one of the shoulder straps to unclip from the bag, so you're able to secure the bag to a chair, luggage rack, etc. This is great because it will prevent someone from doing a snatch-and-run with your bag.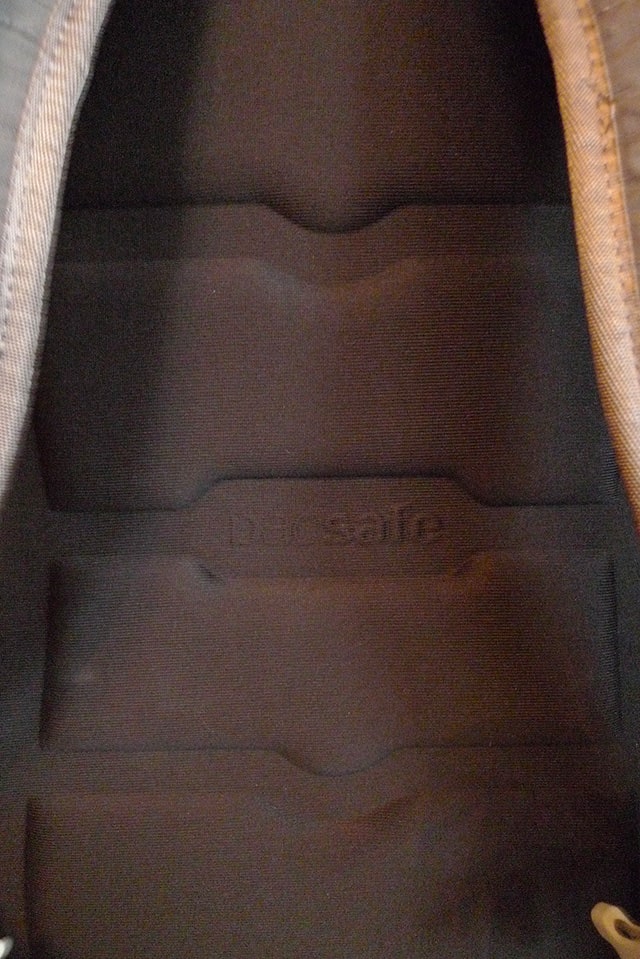 The back of the Pacsafe Venturesafe has pockets which help promote airflow. I'm not sure how much airflow you'll get, but it is a nice feature.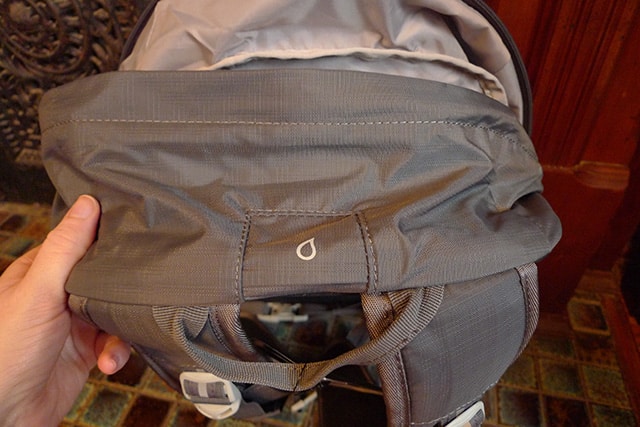 The bag has an option for installing a hydration system (not included). I've never tried using it so I can't comment on how well it works.

The main compartment is pretty big and can hold a decent amount of stuff. There is also a laptop sleeve which fits my 13″ Macbook Air. I'm not actually sure how big a laptop it can fit.  

The smaller exterior pocket has pockets for organizing pens, notepads, and other small items. One of the pockets has an RFID blocker so thieves won't be able to read the information from your passport or credit cards.


The straps can be adjusted for a comfortable fit. It also comes with a sternum strap and a strap for your waist. I personally don't use those extra straps but some people really like them. There are also pockets on the side for a water bottle.
Final Thoughts on the Pacsafe Venturesafe 25L
Like all the Pascafe products I've reviewed, the Venturesafe 25L is another great choice if you're looking for an anti-theft backpack. It seems to be constructed well, the zippers are good quality, and I think it does a good job at what it advertises. The main drawback is the price. At around $130 this bag is pretty pricey, but it is a solid backpack. The best price I've found is on Amazon.
Pacsafe has a number of other backpacks and bags via Amazon.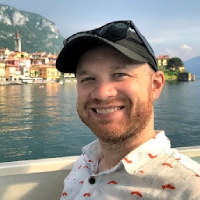 Latest posts by James Feess
(see all)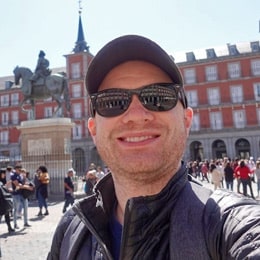 No Funny Business
The Savvy Backpacker is reader-supported. That means when you buy products/services through links on the site, I may earn an affiliate commission—it doesn't cost you anything extra and it helps support the site.
Thanks For Reading! — James
Questions? Learn more about our Strict Advertising Policy and How To Support Us.