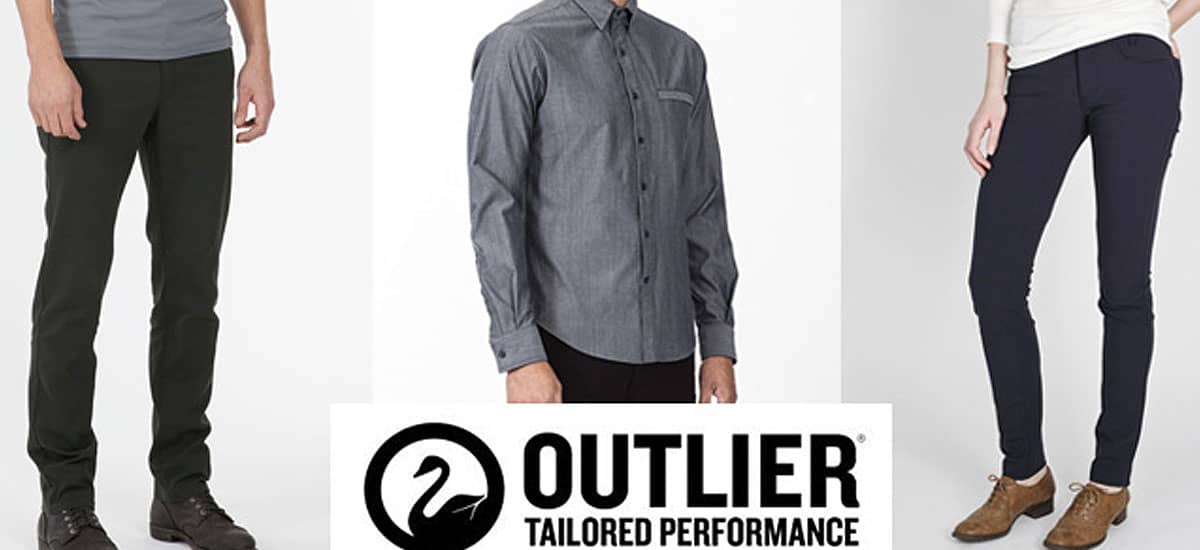 Anyone that reads this website knows how much I desperately seek out travel clothing that actually looks fashionable. It's something that is hard to find. Most of the travel clothing out there looks like something you'd see on an African safari. But the times, they are a changing.
We recently got our grubby little hands on a few pieces by Outlier. I've heard good things about them for a while but hadn't gotten a chance to test them out for myself. And wow… I'm impressed. These are the travel clothes I've been looking for all these years. Everything I tested was amazing. I mean, their travel shirts and pants are nicer than my normal clothes. So not only are they functional, but they actually look great.
Outlier is a Brooklyn-based company that was started a few years ago by two friends who wanted clothing that was well-suited for their daily bike commute. They sought out a Swiss fabric company that specialized in technical fabrics, brought the fabric back to NYC, and churned out some high-tech pants. Since then they've continued to tweak their designs and they've produced a topnotch lineup of men's and women's performance clothing.
Ok, so let's review the clothing I tested out.
In this post we'll review the Men's Slim Dungarees, Men's Merino/Co Pivot shirt, Women's Daily Riding Pant, and the Merino wool t-shirt.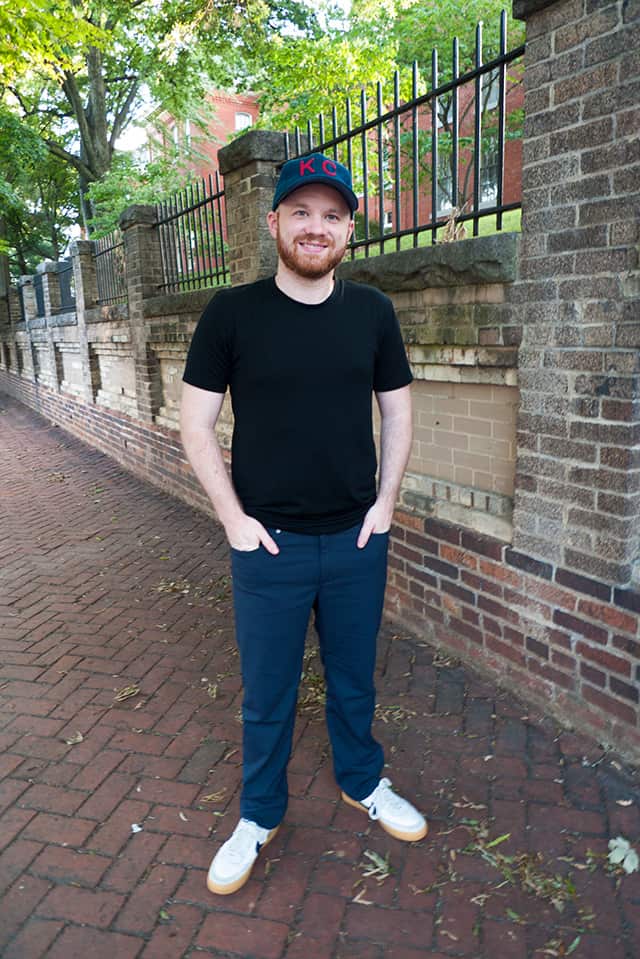 The first item is Outlier's Slim Dungarees. I've been wearing these bad boys for the past five days straight. They are super comfortable. Just as few days ago I wore them on an eight-hour plane ride and never once were they uncomfortable. The Slim Dungarees are made of 82% Nylon, 16% Polyester, and 2% Elastane and the fabric feels really durable. At the same time it is breathable so they're more comfortable than jeans or normal cotton chinos. Another thing I really like is that the fabric has a bit of stretch which makes the pants even more comfortable. The fabric is made in Switzerland and the pants are sewn in NYC, so you know the quality is topnotch.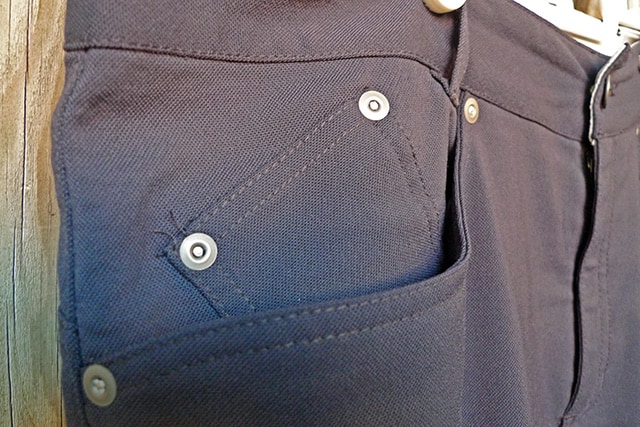 But most importably, the Slim Dungarees looks great. They actually look like normal pants. No, actually, they look like fashionable pants you'd find in a boutique  — because that is exactly basically what they are. The Slim Dungarees are slim, so it's a nice, classic cut. The fabric has a special coating that helps resist water, coffee, wine, beer, etc., so you can wear them longer before washing. Plus, the fabric is quick drying so you don't have to wait forever after you wash them — or if you get caught in a rainstorm.
To be completely honest…. I think these will replace my jeans when I travel (and I love jeans so that's a pretty big deal). That's how much I like them.



Up next is the Outlier Merino/Co Pivot shirt. Outlier claims this shirt is their "holy grail" of travel shirts. That's a pretty big claim but it's actually a pretty great shirt. The quality of the fabric and the cut is top-notch — again, this is a shirt you could easily imagine seeing in a high-end fashion boutique.
The fabric is a 59% merino and 41% cotton blend. As I've mentioned multiple times previously, merino wool is an amazing fabric — it is soft, it wicks moisture, and it is naturally odor resistant. The one problem is its lack of structure. Merino wool is a drapey fabric, so it isn't ideal for a crisp and structured button shirt. That's where the 41% cotton comes in. The cotton gives the extra structure needed while still retaining the benefits of merino wool. Score.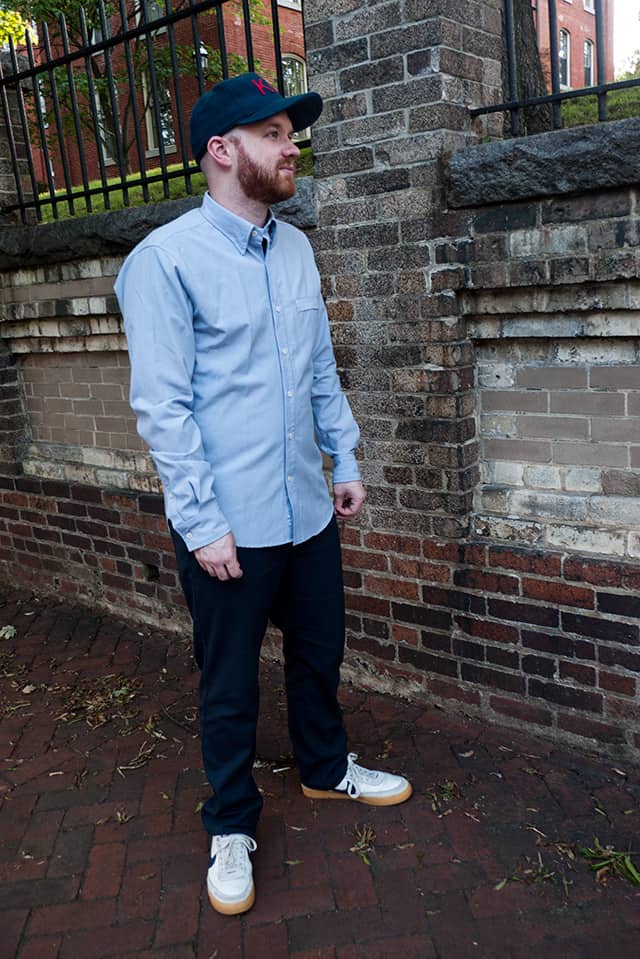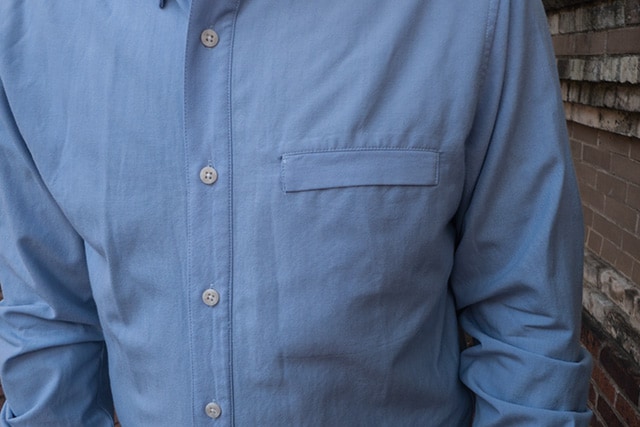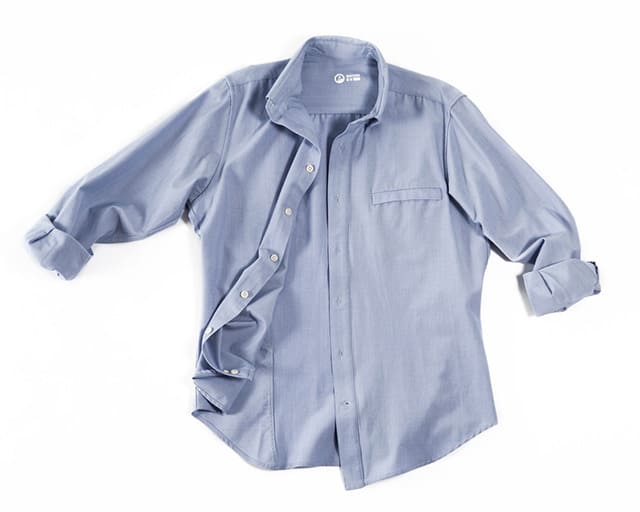 We're not done yet! So now something for the ladies — the Outlier Women's Daily Rider Pants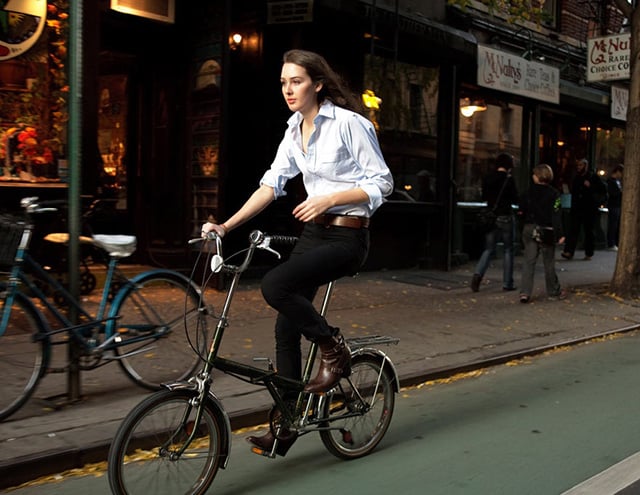 The Women's Daily Rider pants are are made from Outlier's 4Season OG cloth fabric which is soft and stretchy. The fabric is treated with a self-cleaning" Nanosphere treatment which makes it highly resistant to dirt, coffee, beer, wine, and other liquids. The anti-liquid treatment will repel liquid, but it will dry in about 20 minutes if you get caught in heavy rain or spill a huge amount of beer on yourself.   
As mentioned before, the 4 way stretch fabric is super stretchy and it is also very breathable so they're great for travel.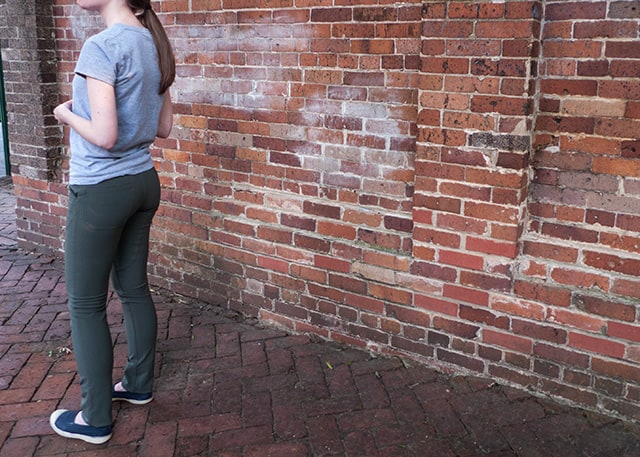 Lean, sleek, and made out of the core 4Season OG Cloth. Full performance features in an elegant silhouette. The four way stretch and soft inner face of the doubleweave twill fabric ensures you're always moving in both comfort and style. Classy enough to wear out for drinks and tough enough to ride there.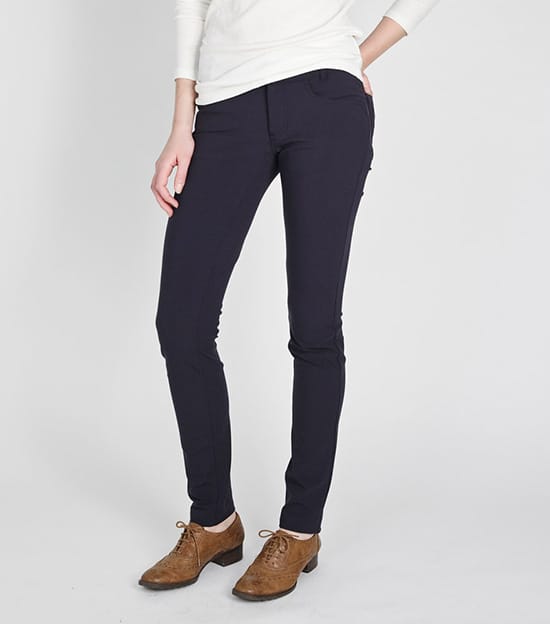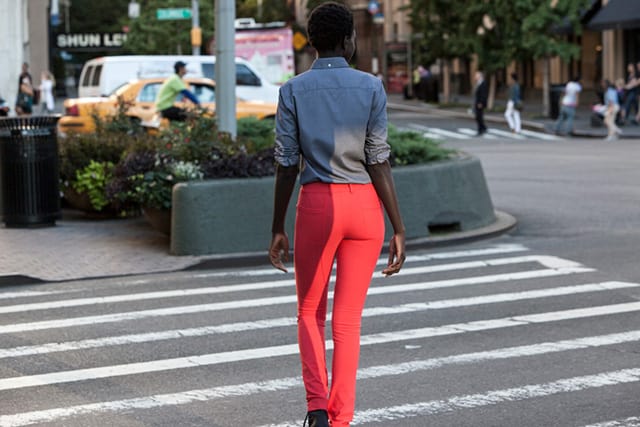 Hold on folks… we're not done yet. Up next we have Outlier's Ultrafine Merino t-shirt.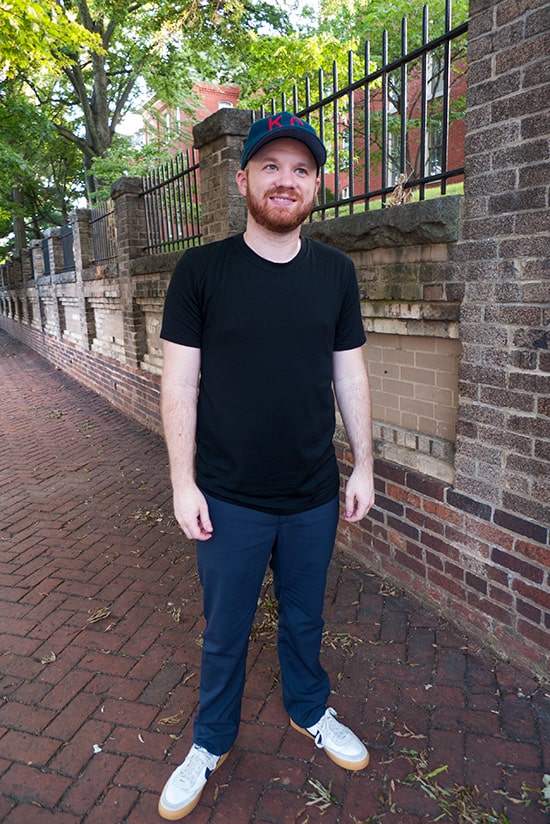 I know, I know… you're probably tired of hearing about merino wool. Well, I'm sorry because now we have the Outlier Ultrafine Merino t-shirt. It's a t-shirt made of 100% merino wool and it is another topnotch piece of clothing. It's made of 17.5 micron yarns, so it is super soft. I wore my shirt for about five days before I washed it and remained virtually odor free, so that is always a good thing when you're on the road. It a slightly fitted shirt, so it is comfortable and sharp without being restricting. 
I have the black shirt, but I would recommend getting one of the other colors because the wool has a tendency to attract lint, hair, and other fuzzy things. All that stuff won't be as noticeable on a lighter colored shirt.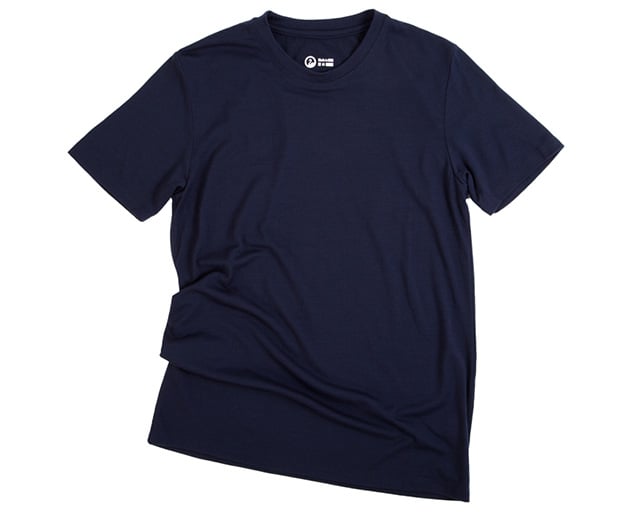 Overall, I'm super impressed with everything I've tried from Outlier. I'd be totally happy wearing their clothes even when I'm not traveling… Actually, I wear mine to work all the time. This quality does come at a price. Their pants range from $125-$240, but this is about the same price you'd pay for a nice pair of jeans… and I'd rather travel with these than jeans. If you're an ultralight traveler you could get away with packing a single pair of Outlier pants and these are much lighter than jeans or cotton chinos. The button up shirts range from $125-$175 and the merino t-shirts are $98. The quality of Outlier items is super high, so I'm confident that they're lifespan will be much longer than cheaper mass-market clothing.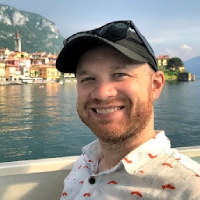 Latest posts by James Feess
(see all)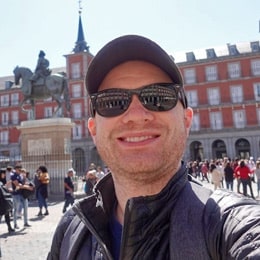 No Funny Business
The Savvy Backpacker is reader-supported. That means when you buy product/services through links on the site, I may earn an affiliate commission — it doesn't cost you anything extra and it helps support the site.
Thanks For Reading! — James
Questions? Learn more about our Strict Advertising Policy and How To Support Us.