Munich has long been a must-visit destination for beer lovers: it's the home of the Hofbräuhaus and Oktoberfest. Even if you're not into beer, you'll appreciate the city's beauty and culture. In terms of prices, Munich isn't quite as expensive as London or Paris, but it's still pricey.
This article is part of our City Price Guide Series — Click here to see all our city price guides.
Average Daily Costs for Visiting Munich
These prices are based on what you'll need to visit the city comfortably — they don't include things like big nights out at the bar/pub, club entry fees, souvenir/clothing shopping, tours, random purchases, nicer food, etc. Don't forget to budget extra for those "non-essentials."
Daily Cost of Budget Travel in Munich: €61 (Approx. $68)
Attractions: €11 (one paid attraction + any free sights)
Food: €23

Breakfast: €3
Lunch: €6
Dinner: €11
Treat (dessert/beer/wine): €3

Transportation: €2.70
Accommodation (Hostel): €24
Daily Cost of Frugal Travel in Munich: €38 (Approx. $42)
Attractions: €5 (free walking tour + visit one of the free sights)
Food: €14

Breakfast: €0 (free hostel breakfast)
Lunch: €3.5 (street food or takeaway shop fare)
Dinner: €9 (make your own meal in the hostel or grab something cheap)
Beer: €1 (chill out at the park and have a cold one)

Transportation: €0 (walk)
Accommodation (Cheap Hostel): €19
Munich Attraction and Museum Prices
Admission to most attractions is around €10, which is about average in Western Europe. One of the biggest attractions is the giant English Garden park. Inside the English Garden you can simply chill out, watch people surfing in the river (yes, really), or head to the beer garden where you can enjoy a liter of beer for a little over €7.
Deutsches Museum: €11
Old Picture Gallery (Alte Pinakothek): €4
Residenz Museum: €7
BMW World: €10
Nymphenburg Palace (Schloss Nymphenburg): €11.50
Modern Picture Gallery (Pinakothek der Moderne): €10
Walking Tour: Free (tip around €5) – €15
Munich Food Prices
Food prices in Munich aren't super cheap, but you can find some good deals if you search for them. As always, food does get pricey around the main tourist areas, so you should seek out restaurants catering to locals. The best way to fill up on a warm meal is by hitting up the street food stalls, takeaway restaurants, or lunch restaurant specials.
Budget Breakfast: Free – €5
Many hostels will offer a free simple breakfast that normally consists of cereal, bread/croissant, and maybe milk, coffee, tea, or juice (some hostels will offer more and some less). Hotel breakfasts tend to be overpriced, so skip those in most cases.
Breakfast pastry from a local bakery runs about €1.5-€2.5.
Budget Lunch: €3-€10
Super budget travelers can make a super cheap lunch of bread, cheese, and fruit from any grocery store for a few euros.
Kebab: €3 to €3.50
Cheap meal from one of the many Turkish restaurants: €5-€6
Bratwurst: €3
Frankfurters from a butcher: €2
Special lunch specials: €7-€10
Budget Dinner: €7-€18
You should be able to find dinner at a restaurant in a less touristy part of town for around €10-€18.
Pork roast with dumpling: €9-€13
Thai curry: €7
Upscale burger w/ fries: €6-€9
You can also find cheap and filling food from department store cafeterias, such as Galeria Kaufhof, for a good price.
Many of the options from the Budget Lunch section above also apply for dinner.
Drinks and Alcohol
A pint of standard beer out: €3.5
Pint of beer from a grocery store: €1
Bottle of (drinkable) wine from grocery store: €7
Coffee: €2-€3
Munich Transportation Prices
Munich is one of the most walkable cities in Europe, but it also has a subway (U-Bahn), suburban trains (S-Bahn), trams, and buses. All public transportation operates on the same ticket, so it's probably best to buy an unlimited day ticket (but singles tickets are available).
Single ticket: €2.70
Day ticket, inner zone (Single Tageskarte Innenraum): €6.20
3-day ticket, inner zone (Single 3-Tagekarte Innenraum): €15.50
Munich Hostel/Hotel Accommodation Prices
Accommodation prices in Munich aren't cheap, and beware of super high prices during Oktoberfest.
Hostels: €20-€26 (Bed in a shared dorm room)
You should budget about €24/night per person for a decent hostel, although many hostels raise their prices on the weekend. Remember, these prices are for a bed in a shared dorm room. If you want a private room, expect to pay €60-€100 total (for two people).
We book our hostels through Hostel World.
Budget Hotels: €95-€150
A decent budget hotel in the city center will cost around 120€/night. You can find cheaper hotels if you want to stay farther away from the center of the city.
Rental Apartment: €80-€120/night
From my experience, rental apartments (via Airbnb) tend to be much bigger and much nicer than similarly priced hotel rooms. Plus, you'll get a kitchen so you can save more money by cooking your own meals — click here to get $30 off your first stay.
You should be able to find a highly rated studio or 1-bedroom for around €80-€120/night. If you want to rent a room in someone's place, expect to pay around €40-€80/night.
Plus, if you use this link you'll get $30 off your first stay.
Check Out Our Other City Price Guides To See How Much It Costs To Visit Europe's Most Popular Cities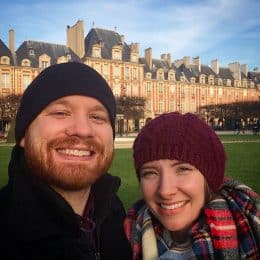 No Funny Business
We want to be fully transparent that this post may contain affiliate links. That means we receive a small commission if you make a purchase after clicking the link — it doesn't cost you anything extra and it helps support the site.
Thanks For The Support! — Susan and James
Questions? Learn more about our Strict Advertising Policy and How To Support Us.