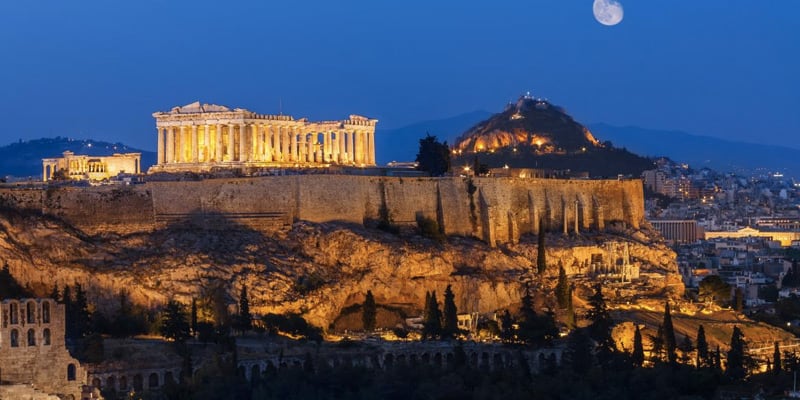 Athens is bursting with impressive ruins from the ancient world — which means it's also bursting with people wanting to see those ruins. Sure, you have to visit the Parthenon and the Acropolis, but you can escape the crowds by visiting other neighborhoods like Monastiráki, Pláka, and Psyrrí. The city, while kind of ugly and difficult to navigate, is vibrant, and the cafés, bars, and restaurants bustle until early into the morning. 
Hotels can be a little expensive, but there are lot of affordable Airbnb options — especially if you're traveling with other people. Luckily, attraction prices are about average, so visiting a few won't break the bank. You can find a lot of affordable food options once you leave the tourist zones.
Overall, Athens is an affordable options for budget travelers.
This article is part of our City Price Guide Series — Click here to see all our city price guides.
Average Daily Cost for Visiting Athens
These prices are based on what you'll need to visit the city comfortably — they don't include things like big nights out at the bar/pub, club entry fees, souvenir/clothing shopping, tours, random purchases, nicer food, etc. Don't forget to budget extra for those "non-essentials."
Daily Cost of Budget Travel in Athens: 55€ (Approx. $61)
Attractions: 7€ (one paid attraction + any free sights)
Food: 23€

Breakfast: 3€
Lunch: 6€
Dinner: 12€
Treat (dessert/beer/wine): 2.5€

Transportation: 3€
Accommodation (Hostel): 22€
Daily Cost of Frugal Travel in Athens: 27€ (Approx. $30)
Attractions: 5€ (free walking tour + visit one of the free sights)
Food: 11€

Breakfast: 0€ (free hostel breakfast)
Lunch: 3.5€ (street food or takeaway shop fare)
Dinner: 6€ (make your own meal in the hostel or grab something cheap)
Beer: 1.5€ (chill out at the park and have a cold one)

Transportation: 1€
Accommodation (Hostel): 10€ (cheap hostel bed)
Athens Attraction and Museum Prices
If you're a history buff, then you're in luck because Athens is full of a number of ancient ruins and cheap museums.
Parthenon: 12€
Acropolis: 12€
National Archaeological Museum: 7€
Ancient Agora: 4€
Benaki Museum: 6€
New Acropolis Museum: 5€
Temple of Olympian Zeus: 12€
Walking Tour: Free (but you should tip the guides at least 5€) – 35€
Athens Food Prices
Food prices in Athens are reasonable, so you shouldn't have to live on bread and water. As always, food does get pricey around the main tourist areas, so you should seek out restaurants catering to locals. The best way to fill up on a warm meal is by hitting up the street food stalls or takeaway restaurants. 
Budget Breakfast: Free – 5€
Many hostels will offer a free simple breakfast that normally consists of cereal, bread/croissant, and maybe milk, coffee, tea, or juice (some hostels will offer more and some less). Hotel breakfasts tend to be overpriced, so skip those in most cases.
A breakfast pastry from a local bakery will cost 1€-2€.
Budget Lunch: 3€-6€
Super budget travelers can make a super cheap lunch of bread, cheese, and fruit from any grocery store for a few euros.
Caesar or Greek salad: 4€-5€
Fresh sandwich: 4€
Toasted cheese sandwich: 2.20€
Pita kebab: 2.50€-3€
Souvlaki (pita bread, fried potatoes, vegetable, chicken) with gyro meat: 2€-4€
Budget Dinner: 8€-15€
You should be able to find dinner at a restaurant in a less touristy part of town for around 12€-15€.
A basic Greek meal (moussaka for example) will cost around 10€.
An upscale burger with fries runs 6€-9€.
Many of the options from the Budget Lunch section above also apply for dinner.
Drinks and Alcohol
A pint of standard beer out: 2€-4€
Pint of beer from a grocery store: 1€
Bottle of (drinkable) wine from grocery store: 12€
Espresso: 1€-2€
Athens Transportation Prices
In addition to walking, Athens has a number of public transportation options. The bus, tram, and subway all operate on the same (affordable) ticket.
3-day unlimited travel (includes round-trip ticket to airport): 20€
Individual ticket (valid for 90 minutes): 1€
Daily ticket: 3€
Athens Hostel/Hotel Accommodation Prices
Accommodation prices in Athens are about normal, but hotels tend to be more expensive than you might expect.
Hostels: 10€-30€ (Bed in a shared dorm room)
You should budget about 22€/night per person for a decent hostel, although many hostels raise their prices on the weekend. Remember, these prices are for a bed in a shared dorm room. If you want a private room, expect to pay 70€-100€ total (for two people).
We book our hostels through Hostel World.
Budget Hotels: 50€-150€
Hotels aren't the cheapest since Athens is a very popular destination. A decent budget hotel in the city center will cost around 100€/night. You can find cheaper hotels if you want to stay farther away from the center of the city.
Rental Apartment: 20€-85€/night
From my experience, rental apartments (via Airbnb ) tend to be much bigger and much nicer than similarly priced hotel rooms. Plus, you'll get a kitchen so you can save more money by cooking your own meals — click here to get $30 off your first stay.
There are quite a few nice Airbnb options available in Athens — you should be able to find a highly rated studio for around 35€-45€/night or a 1-bedroom closer to 60€. If you want to rent a room in someone's place, expect to pay around 25€-35€/night.
Check Out Our Other City Price Guides To See How Much It Costs To Visit Europe's Most Popular Cities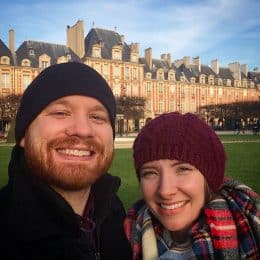 No Funny Business
We want to be fully transparent that this post may contain affiliate links. That means we receive a small commission if you make a purchase after clicking the link — it doesn't cost you anything extra and it helps support the site.
Thanks For The Support! — Susan and James
Questions? Learn more about our Strict Advertising Policy and How To Support Us.