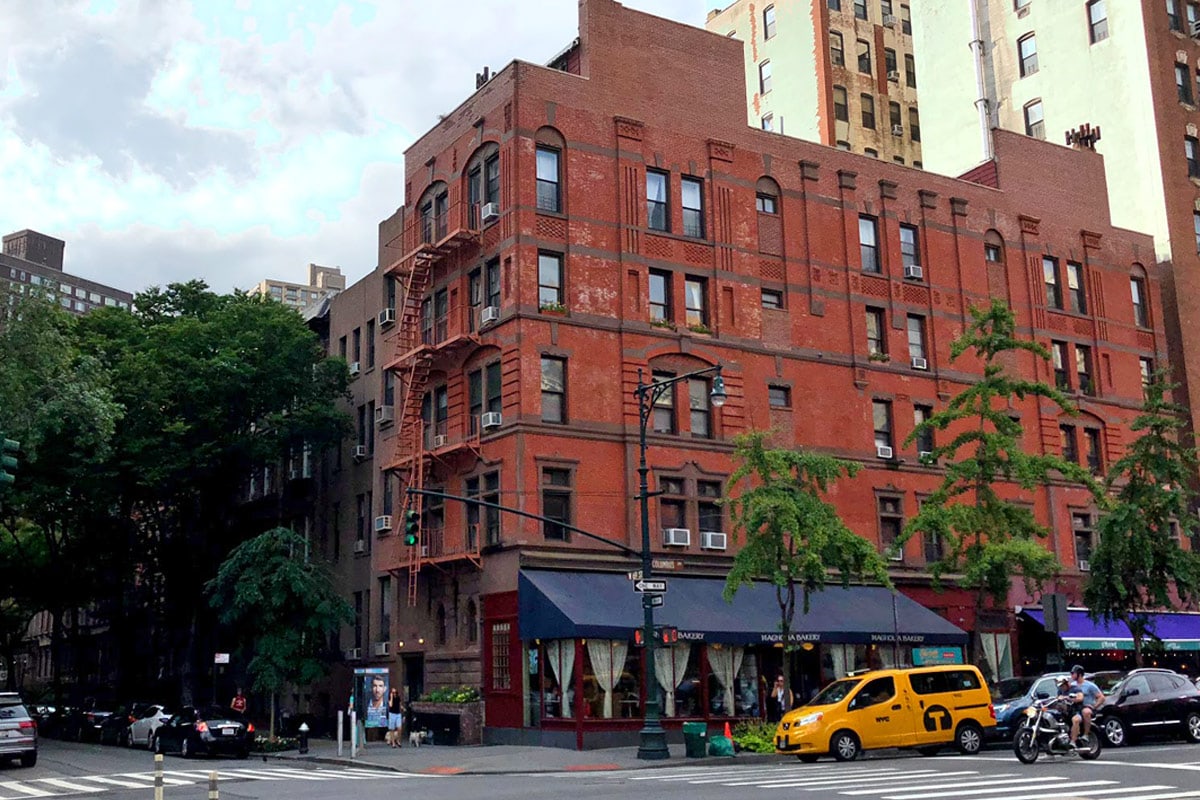 New York City is one of the most-loved and most-visited cities in the world, but it's also one of the most expensive travel destinations — I should know, I've lived here for more than five years.
So how much does it cost to visit NYC? Well, that truly depends on your travel style. That's why I've created this NYC Price Guide to give you some ballpark travel costs tailored for the average budget-conscious traveler.
This article is part of our City Price Guide Series — Click here to see all our city price guides.
---
Average Daily Costs To Visit New York City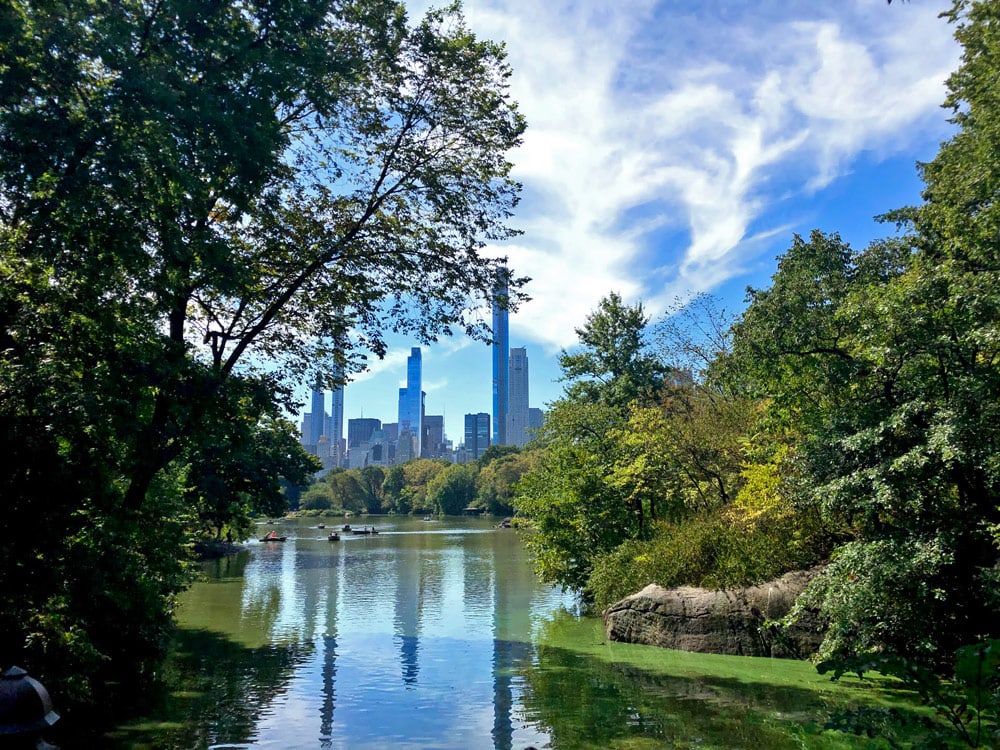 These NYC travel prices are calculated based on what you'll need to visit New York comfortably — so it includes things like food, accommodation, sightseeing, transportation, etc.
But I haven't included "extra" things like big nights out at the bar, club entry fees, souvenir/clothing shopping, tours, random purchases, higher-end dining, etc. Don't forget to budget extra for those "non-essentials."
DAILY COST OF BUDGET TRAVEL IN NYC: $135-$220
Attractions: $25 (one paid attraction + any free sights)
Food: $40/day

Breakfast: $3-$7
Lunch: $8-$14
Dinner: $10-$20
Treat (dessert/beer/wine): $6

Transportation: $5.50
Accommodation (average hostel): $65/night
Accommodation (budget hotel): $150/night
DAILY COST OF FRUGAL TRAVEL IN NYC: $75
Attractions: $10 (free walking tour + visit one of the free sights)
Food: $30

Breakfast: $3-$4
Lunch: $7 (ethnic street food, takeaway shop fare, deli sandwich, or similar)
Dinner: $12 (make your own meal in the hostel or grab something cheap)
Cheap Beer or treat: $4

Transportation: $0 (explore by foot)
Accommodation (cheap hostel bed): $35
---
New York City Attraction and Museum Prices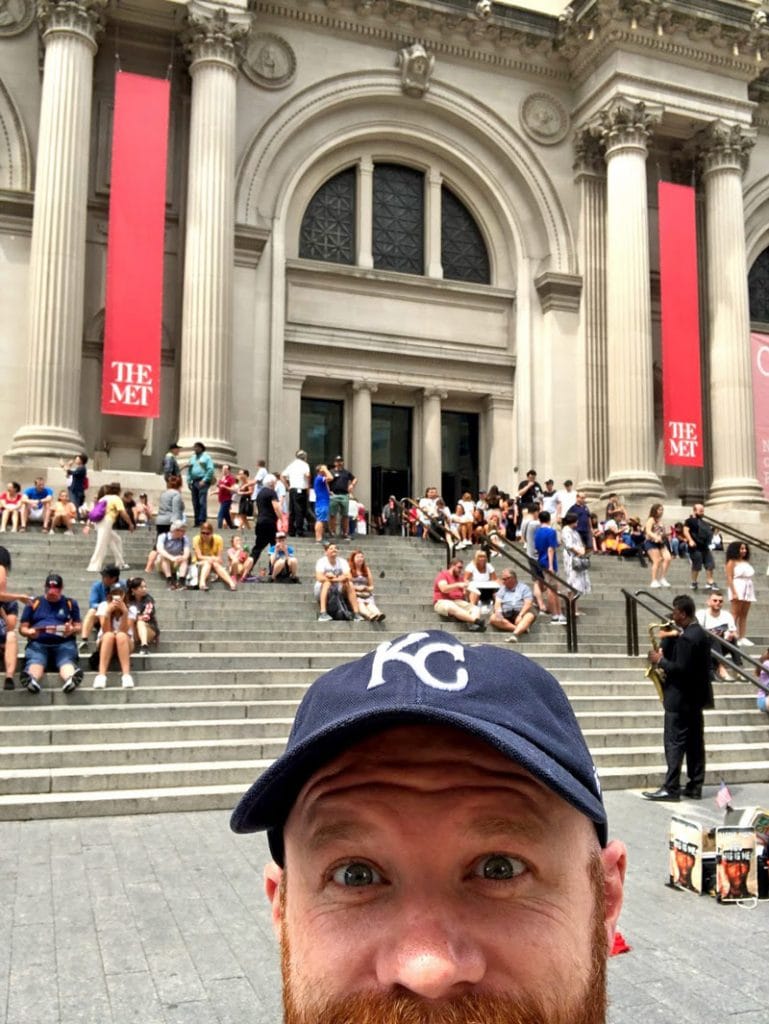 Most of New York's major paid attractions and museums are expensive so take that into consideration when you're budgeting your trip. Here are a few of the most popular NYC attractions:
Museum of Modern Art: $25
Metropolitan Museum of Art: $25
Guggenheim Museum: $25
Natural History Museum: $25
Whitney Art Museum: $25
Top Of The Rock/Empire State Building Observatories: $35-$50
Broadway Tickets: Averages around $100/ticket but range from $50-$250+
Note: Many museums have free/pay-what-you-wish days but expect huge crowds so get there early. Here is a complete list at NYC-Arts.org but here are a few highlights:
Museum of Modern Art: 4-8 pm every Friday
Whitney Museum of American Art: 7-9:30 pm every Friday
Frick Collection: 11 am-1 pm is pay-what-you-wish every Sunday
Budget Tip: Consider picking up the New York Pass if you want to see a lot in a short amount of time. You can read our New York Pass Review to see if it's right for your trip.
---
New York City Food Prices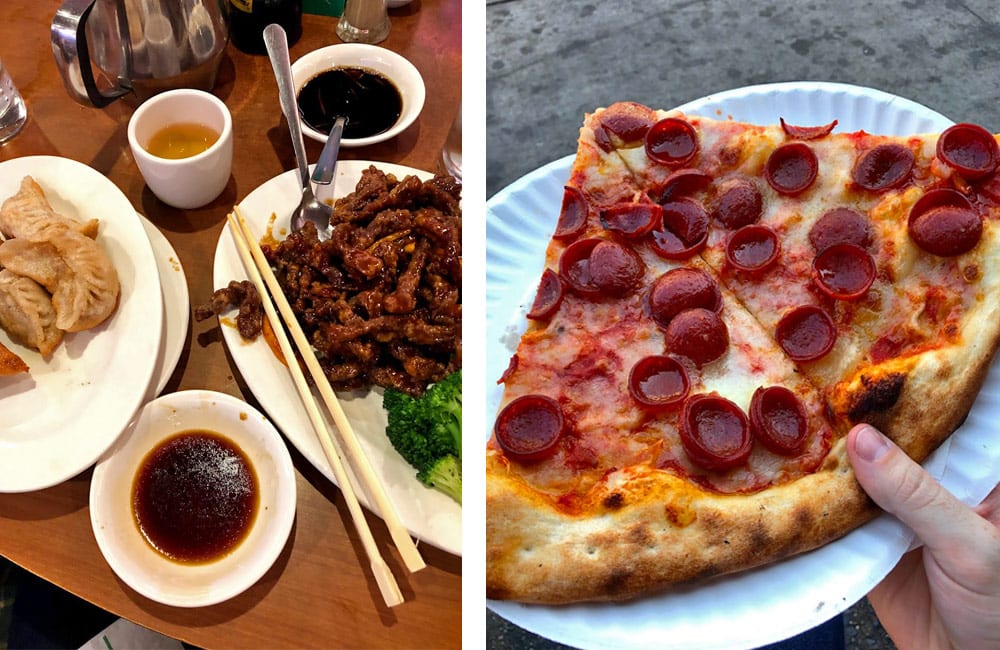 NYC has some of the best dining options in the world but eating out can quickly bust your budget. That said, there are a few budget-friendly options but I highly suggest adding a little extra to your food budget so you can eat at a few of NYC's restaurants.
Local Tip: I highly suggest doing some research when it comes to eating in NYC as there are plenty of overpriced/low-quality establisments. I'll give some of my favorite spots but you should do some reaseach as well.
NYC Budget Breakfast Options & Prices
New York has just about every breakfast option under the sun. Here are some sample prices:
A bagel with cream cheese will cost between $2-$4. A bagel sandwich with eggs and cheese will run you around $5-$8. For a cheap, no-frills bagel with bacon, egg, and cheese, simply stop into just about any bodega.
Basic coffee and croissant will set you back about $4-$6.
A basic doughnut from a Dunkin is around $1.75-$2/each but a higher-end doughnut will cost between $3.75-$4.50/each.
A typical omelet from a diner will be anywhere from $6.50-$10.
You can buy affordable fruit from street vendors for cheaper than the grocery store.
NYC Budget Lunch/Dinner Options & Prices
Most New Yorkers have very little time for lunch so they eat at their desks. That's why you'll find an abundance of takeaway restaurants serving soups, salads, and sandwiches — it's pretty amazing how quickly these places crank this stuff out. Below are a few examples of typical food prices in NYC:
Street food carts sell a range of affordable options like tacos, chicken over rice, hot dogs, gyros, etc. Most things tend to cost between $4-$8. There are also specialty food carts that tend to cost a little more.
A premade sandwich or panini from a bodega/deli is usually $7-$9.
A make-your-own salad typically costs between $8-$14.
A slice of pizza will run you from $1 for a cheap slice to around $3.00-$5.50 for a quality slice.
A quality personal Neapolitan pizza will set you back around $13-$16. A sharable pizza costs $22-$30.
A good taco costs around $3-$4/each and a burrito will be $9-$10.
Chicken and waffles from a Harlem soul food joint tend to cost around $18.
Chinese food from Chinatown offers plenty of budget-friendly options. An order of soup dumplings cost around $8-$10 for eight dumplings. Other main dishes will range from $10-$18+ depending on what you get.
Tasty ramen from most quality ramen restaurants will be around $8-$12.
Two hotdogs and a drink from Gray's Papaya is $7.
A double Shack Burger from Shake Shack is $8. Add another $3 for fries. An order of burger and fries at a sitdown restaurant will run you around $12-$18.
My favorite budget-friendly Lunch and Dinner Restaurants (aka Meals around $10)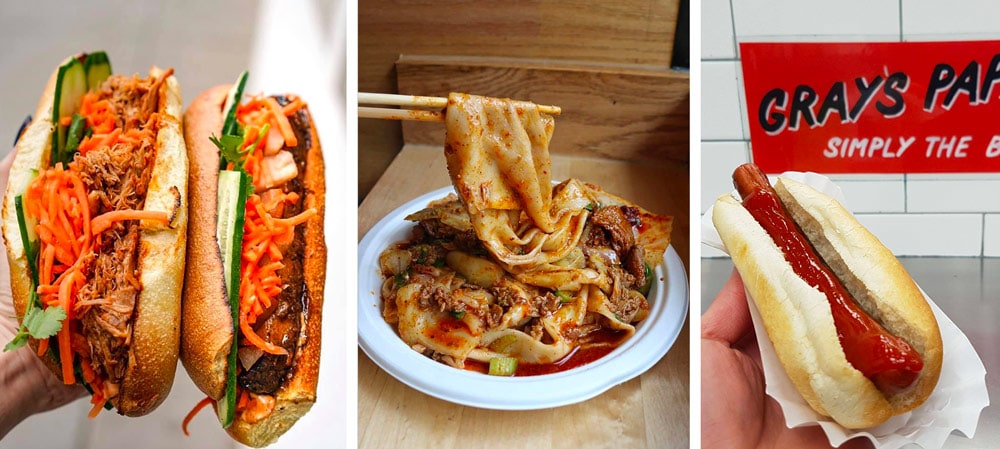 Here's a list of places I eat when I'm on a budget. This is by no means an exhaustive list of every budget restaurant in NYC (I'm working on a bigger list) but these are all solid places.
NYC Drink & Dessert Prices
It's easy to be tempted by all the desserts, coffee, and alcohol in NYC. In fact, it's good to treat yourself but it doesn't come cheap. In fact, alcohol is a real budget killer.
Cocktails tend to start around $12 but can easily be $18-$22.
A typical domestic beer costs $6-$8 but nicer beers are $8-$12. You can find cheaper alcohol options during happy hour if you seek them out.
An espresso or simple black coffee will run you around $3-$3.50. Cappuccinos and similar coffee drinks will set you back around $4.50-$5.00.
Two scoops of quality ice cream will cost $5-$8.
Really good cookies are generally around $2.50-$5.
Specialty doughnuts cost $3-$5/each.
---
New York City Transportation Prices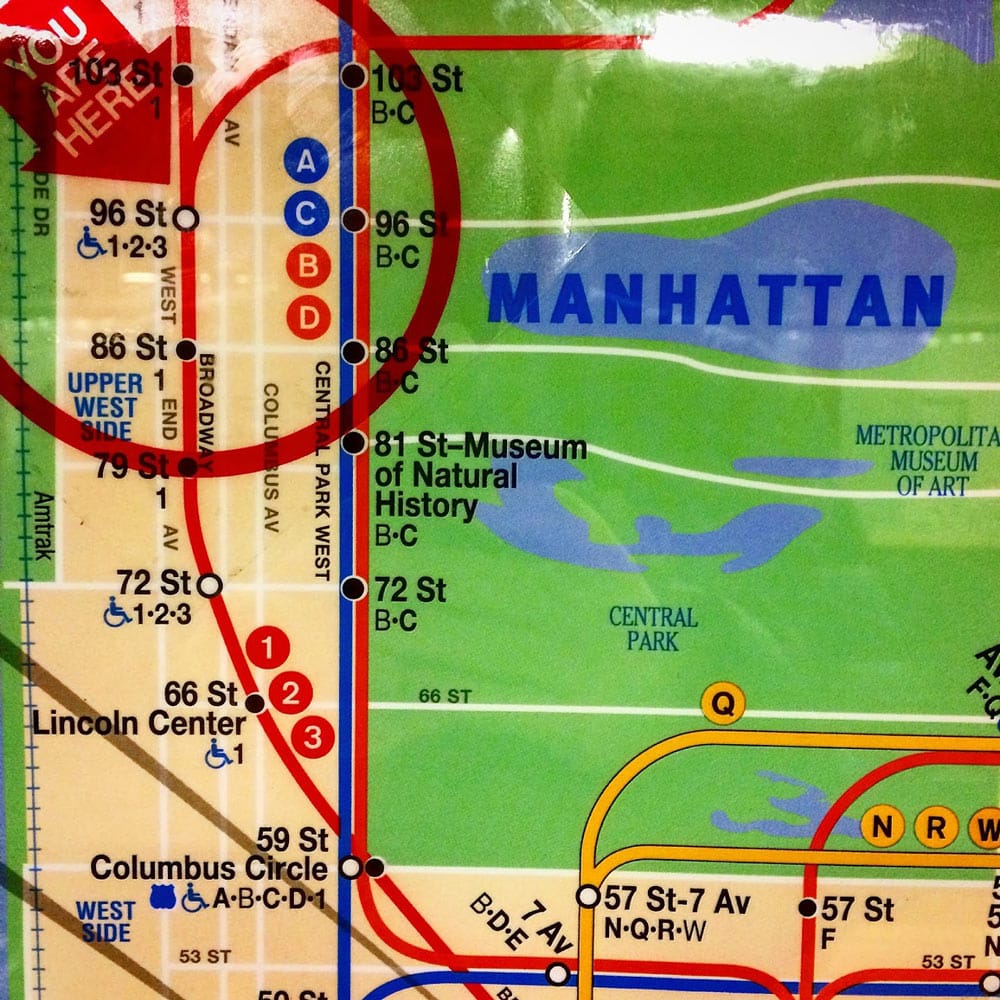 NYC is a big city with multiple excellent neighborhoods so you'll certainly want to use public transportation at least once or twice a day.
Subway and Bus
The best and most affordable way to get around NYC is the subway. A single ride costs $2.75 and a 7-Day Unlimited Ride pass is $33. Unfortunately, there isn't an unlimited day pass.
The bus uses the same ticket as the subway.
Taxis and Uber/Lyft
Taxis are plentiful in Manhattan (unless it's raining) and you rarely have to wait for more than a few minutes for an Uber — but they're both a lot more expensive than taking the subway. Expect to pay $15-$35 for a ride within Manhattan.
---
NYC Accommodation Prices
Staying in Manhattan is expensive — even shoebox-sized hotel rooms are far from cheap. Options get a little cheaper in Brooklyn, Queens, or New Jersey. But, if you can afford it, I recommend trying to stay in Manhattan to get the true New York City experience.
Average NYC Hotel Prices
If you have the cash, I recommend staying in Manhattan. Specifically, I recommend staying in downtown Manhattan but most visitors end up staying in Midtown (i.e. around Times Square).
Here are average hotel prices for Manhattan (based on a mid-June stay):
Average Two-Star Hotel Prices: The average price per night is $175 (ranges from $150-$250).
Average Three-Star Hotel Prices: The average price per night is $225 (ranges from $175-$330).
Average Four-Star Hotel Prices: The average price per night is $270 (ranges from $215-$380).
Average NYC Hostel Prices
While NYC does have a handful of hostels, it doesn't have many when you compare it to European cities — therefore prices tend to be comparatively high. Check out our guide to the best hostels in NYC to learn more about my top-hostel picks but below are the average hostel prices for NYC:
A bed in a good hostel will cost anywhere from about $40-$80/night with an average of around $55/night. The cheapest hostel you'll find will cost around $35/night but the quality most-likely won't be great.
Also, many NYC hostels only have private rooms so they're more like "budget hotels" — which also means the prices are higher at these hostels since you have privacy.
NYC's Top-Rated Hostels:
NOTE: These are "high-season" prices for the cheapest bed option — off-season prices will be 20%-30% cheaper. Also, prices are often a little more expensive on Friday and Saturday nights than on weeknights.
Check Hostelworld to get exact prices for your dates.
---
More NYC Travel Tips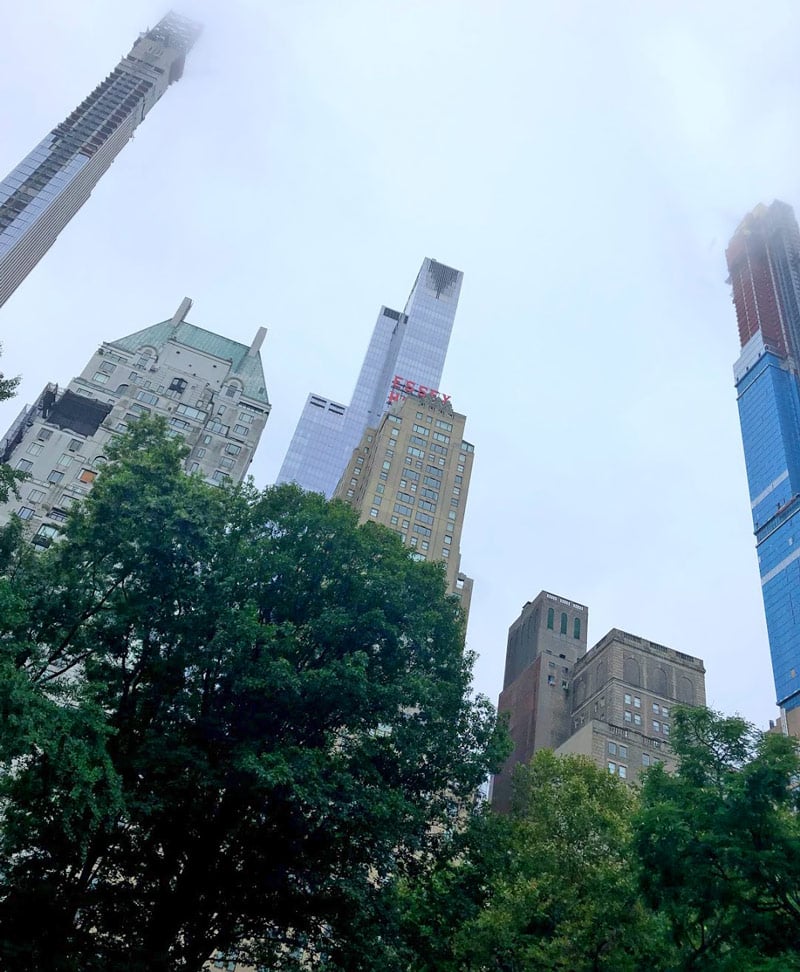 I'm constantly adding new NYC travel tips to The Savvy Backpacker. Check them out!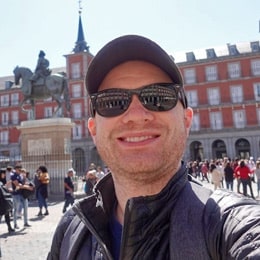 No Funny Business
The Savvy Backpacker is reader-supported. That means when you buy product/services through links on the site, I may earn an affiliate commission — it doesn't cost you anything extra and it helps support the site.
Thanks For Reading! — James
Questions? Learn more about our Strict Advertising Policy and How To Support Us.