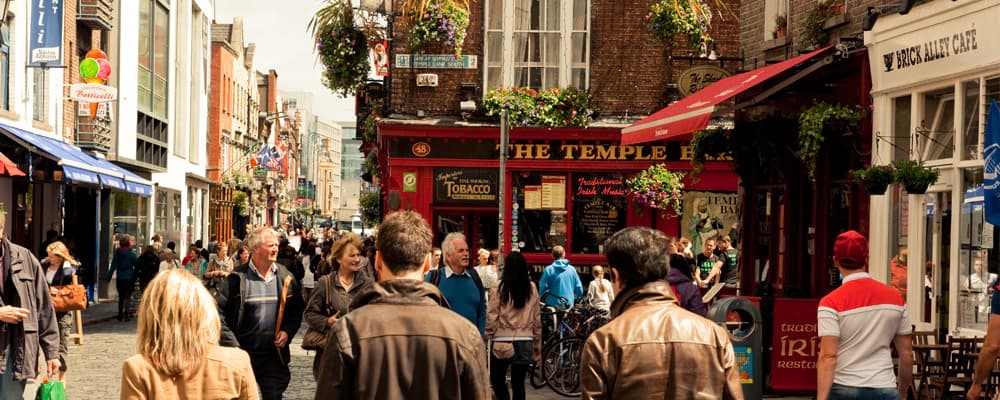 Thanks to its vibrancy, nightlife, and tourist attractions, it's no surprise that Dublin is a top destination for travelers. It seems to be a city that's always in a good mood. The city is fairly small, so it's very manageable to explore by foot. However, Dublin is fairly expensive (especially food and alcohol). But since most people only spend a few days here, it shouldn't bust your budget.
This article is part of our City Price Guide Series — Click here to see all our city price guides.
Average Daily Cost For Visiting Dublin
These prices are based on what you'll need to visit the city comfortably — they don't include things like big nights out at the bar/pub, club entry fees, souvenir/clothing shopping, tours, random purchases, nicer food, etc. Don't forget to budget extra for those "non-essentials."
Daily Cost of Budget Travel in Dublin: €51 ($60 USD)
Attractions: €8 (one paid attraction + any free sights)
Food: €22

Breakfast: €4
Lunch: €7.50
Dinner: €10
Treat (dessert/beer/wine): €4

Transportation: €3
Accommodation (hostel): €18
Daily Cost of Frugal Travel in Dublin: €33 ($38 USD)
Attractions: €5 (free walking tour + visit one of the free sights)
Food: €14

Breakfast: $0 (free hostel breakfast)
Lunch: €6 (ethnic street food, takeaway shop fare, or similar)
Dinner: €6 (make your own meal in the hostel or grab something cheap)
Beer: €2 (chill out at the park and have a cold one)

Transportation: €0 (explore by foot)
Accommodation (cheap hostel bed): €14
Dublin Attraction and Museum Prices
Dublin, while small, does have a number of attractions that will easily fill up a few days. Most of the attractions are reasonably priced, but the Guinness, Jameson, and Whiskey Museum tours will take a big chunk out of your drinking budget.
National Gallery of Ireland: Free
Kilmainham Gaol: €6
Dublin Castle: €4.50 (guided tour, grounds are free)
St. Patrick's Cathedral: €6
Irish Whiskey Museum: €15 (includes tasting)
Guinness Storehouse: €18 (includes pint of Guinness)
Old Jameson Distillery: €17
Walking tours: Free (but you should tip the guides) — €10-13 (for paid tours)
Bike tour: €20
Dublin Food Prices
Dublin isn't exactly cheap when it comes to food. Most things in the center of town are going to cost a premium, so you'll want to avoid these tourist areas as they're filled with overpriced restaurants. Do a bit of research online before you head out to ensure you get a quality meal at a good price (they do exist).
Budget Breakfast: Free – €12
Many hostels will offer a free simple breakfast that normally consists of cereal, bread/croissant, and maybe milk, coffee, tea, or juice (some hostels will offer more and some less).
Another budget option is to get a breakfast roll from a convenience store (Centra, Spar, Mace). It usually consists of a baguette filled with bacon, sausage, hash browns, egg, and tomato. Expect to pay €3-€6.
Full Irish breakfast: €8-€12
Budget Lunch: €4-€9
Super budget travelers can make a super cheap lunch of bread, cheese, and fruit from any grocery store for a few euros. The convenience stores mentioned above also offer affordable lunch options for €4-6.
A sandwich at a pub will cost around €5-€9.
A cheap takeaway meal (like a kebab with fries) will cost about €7.
Budget Dinner: €7-€20
Dublin has a lot of wonderful pubs where you can find some great food at good prices, even in the city center. Prices range from €6-€10 for a sandwich or €10-€15 for a main course.
You should also be able to find dinner at a restaurant in a less touristy part of town for around €15-€20.
Many of the options from the Budget Lunch section above also apply for dinner.
Drinks and Alcohol
A pint of standard beer out: €5
Pint of beer from a grocery store: €2.50
Bottle of (drinkable) wine from grocery store: €10
Cup of coffee: €2.50-€3
Read more of our strategies for Eating and Drinking in Europe on a Budget.
Dublin Transportation Prices
Dublin has a large bus network and a couple of tram (LUAS) lines that will help you get around the city. A Leap Card will work on both buses and trams, but all other tickets need to be purchased separately.
Dublin Bus:
City Centre: €0.60 single ticket
Zone 1-3: €1.50 single ticket
5-day pass: €29.50
10 journeys of 90 minutes of unlimited travel: €29.50
LUAS (tram):
Zone 1: €1.44 single ticket
Zone 2: €1.75 single ticket
1-day pass: €6.80
7-day pass: €24
Leap Card:
Refundable deposit of €5
Pay-as you go or day pass options (bus only)
Use for bus and tram
Freedom Pass:
3 days unlimited travel on Dublin Bus — Includes Airlink Express airport transfers and green hop-on, hop-off city tour buses:  €30
Bus (Airlink Express/747) from airport to city: €6 one way, €10 round trip
Taxi from airport to city: €20-€30
Dublin Hostel/Hotel Accommodation Prices
Hostels: €12-€20 (bed in a shared dorm room)
You should budget about €17/night per person for a decent hostel, although many hostels raise their prices on the weekend. Remember, these prices are for a bed in a shared dorm room. If you want a private room, expect to pay €35-€80.
We book our hostels through Hostel World.
Budget Hotels: €70-€150
At the low end you shouldn't expect much, but once you get around €90/night, the hotels get a bit better (think Super 8 or Motel 6). A room with a private bathroom and twin bed will be around €70-€100; a double bed will be €90-€150. The cheapest hotels are away from the city center, so be aware because you may not want to travel such a long distance each day.
Rental Apartment: €65-€200+
From my experience, rental apartments (via Airbnb) tend to be much bigger and much nicer than similarly priced hotel rooms. Plus, you'll get a kitchen so you can save more money by cooking your own meals — click here to get $30 off your first stay.
Furthermore, if you're traveling in a group, it can often be cheaper per person to rent a single apartment.
Read More About the Cost of Visiting Europe
We've created a guide about the costs of backpacking Europe (including more city price guides) — Click here to read more.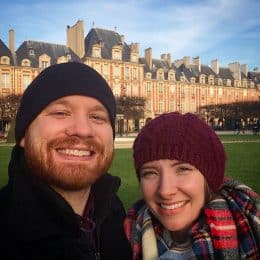 No Funny Business
We want to be fully transparent that this post may contain affiliate links. That means we receive a small commission if you make a purchase after clicking the link — it doesn't cost you anything extra and it helps support the site.
Thanks For The Support! — Susan and James
Questions? Learn more about our Strict Advertising Policy and How To Support Us.