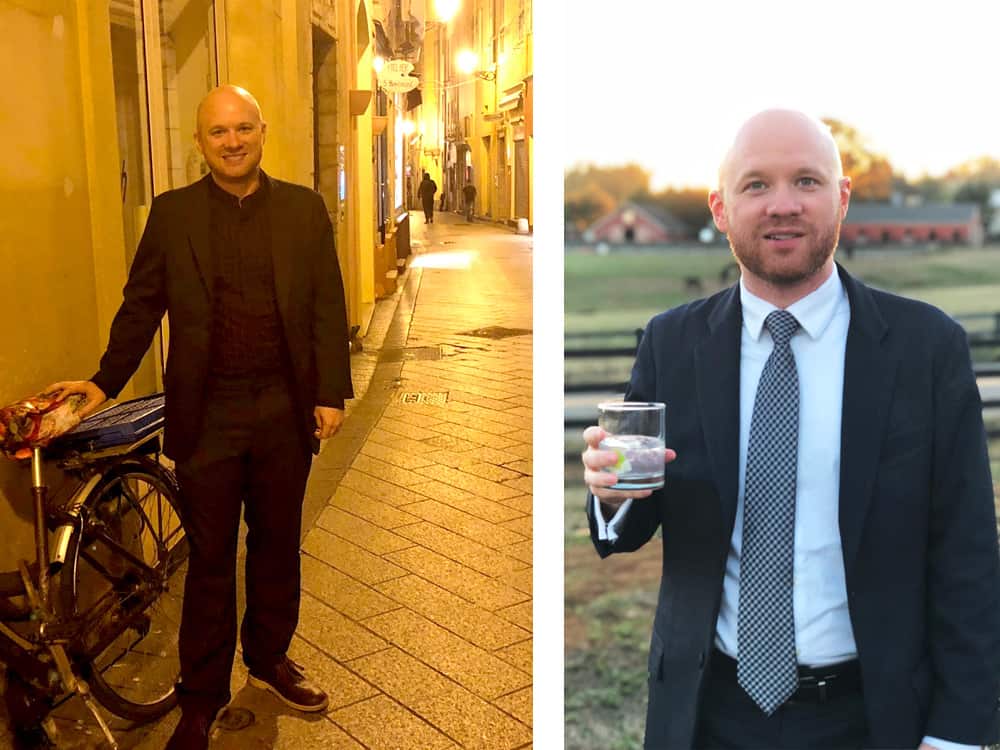 Dressing nicely is never easy when you're living out of a suitcase or a backpack. And traveling with a suit is even more difficult — because, well, there really isn't a good way to pack a suit. Luckily, the Gramercy Travel Suit by Bluffworks makes packing a suit super simple. We're talking so simple that I literally stuffed the suit into my backpack and it still looked great.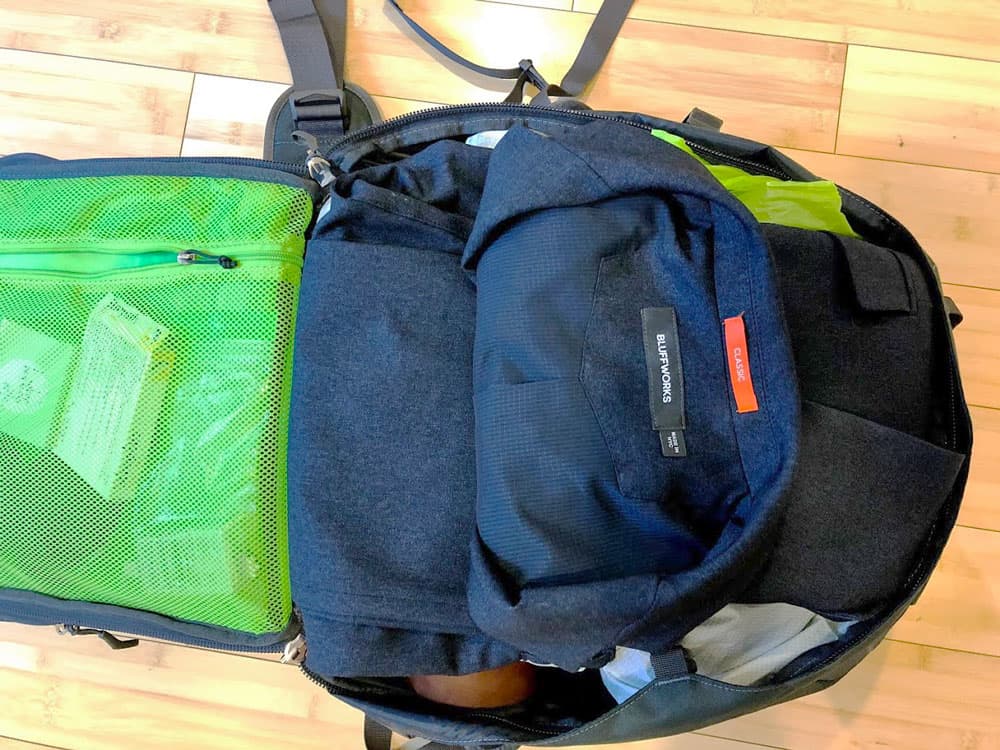 Well, a month ago I had a bit of a hectic schedule that required me to travel with a suit. I traveled from NYC to Nice, France for a quick vacation and then I immediately had a wedding in Portland, OR. And I did it all with a small 40L backpack. All I had to do was throw my Bluffworks suit into my backpack.
About The Bluffworks Travel Suit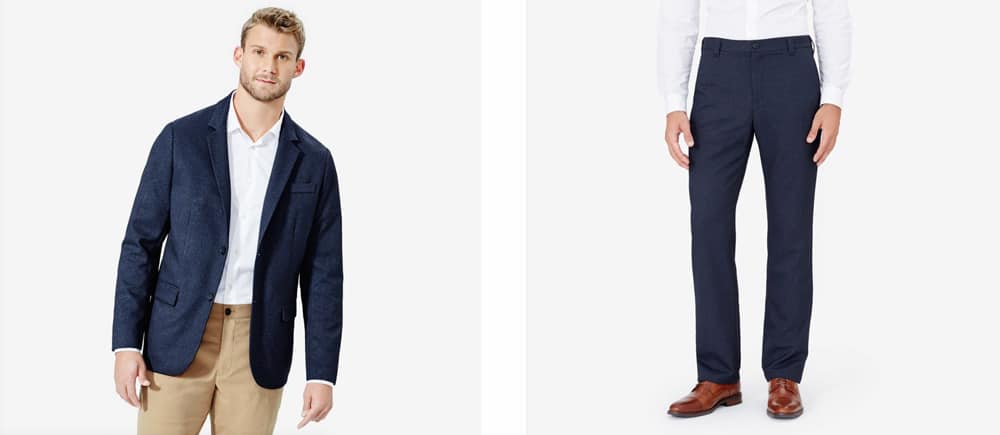 The Gramercy Travel Suit it actually consists of two separate pieces — the Gramercy Travel Blazer and the Gramercy Pants (they're sold separately).
Both garments are made of lightweight and breathable technical polyester fabrics. The fabric is durable and does a great job of resisting wrinkles. In fact, it's so no-fuss that you can even put in the washer and dryer.
But the best part is that the fabric looks and even feels very similar to wool — i.e. it doesn't have that shiny "synthetic" appearance that's common with other polyester fabrics.
So let's go into a little more detail about what we like and what we think could be improved on this travel suit by Bluffworks.
Look, Fit, And Feel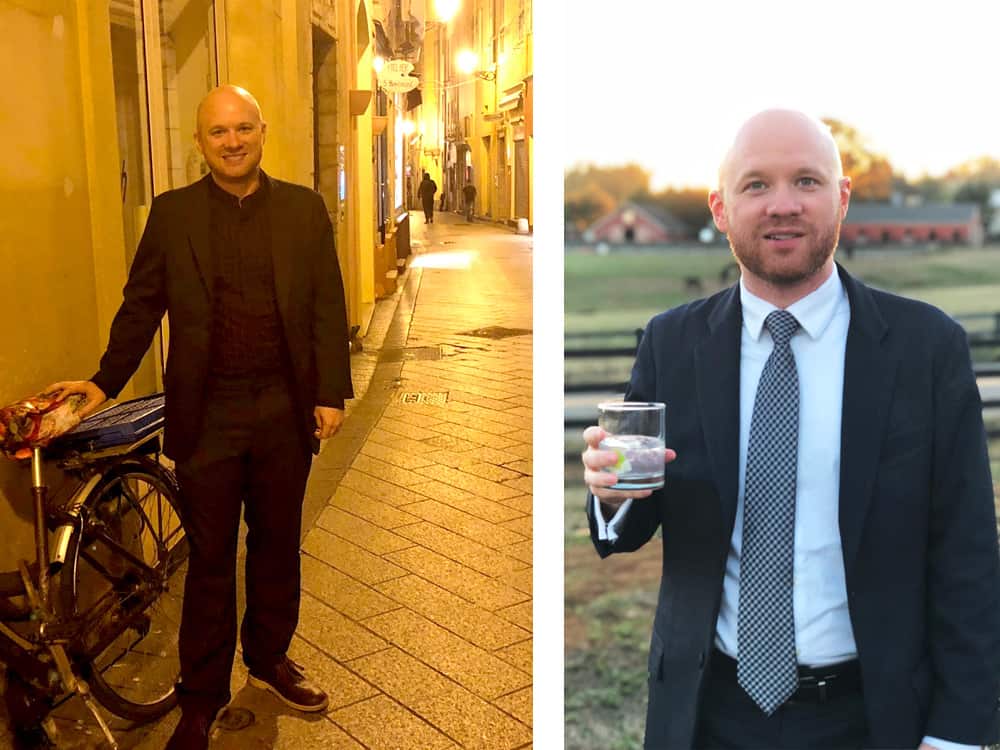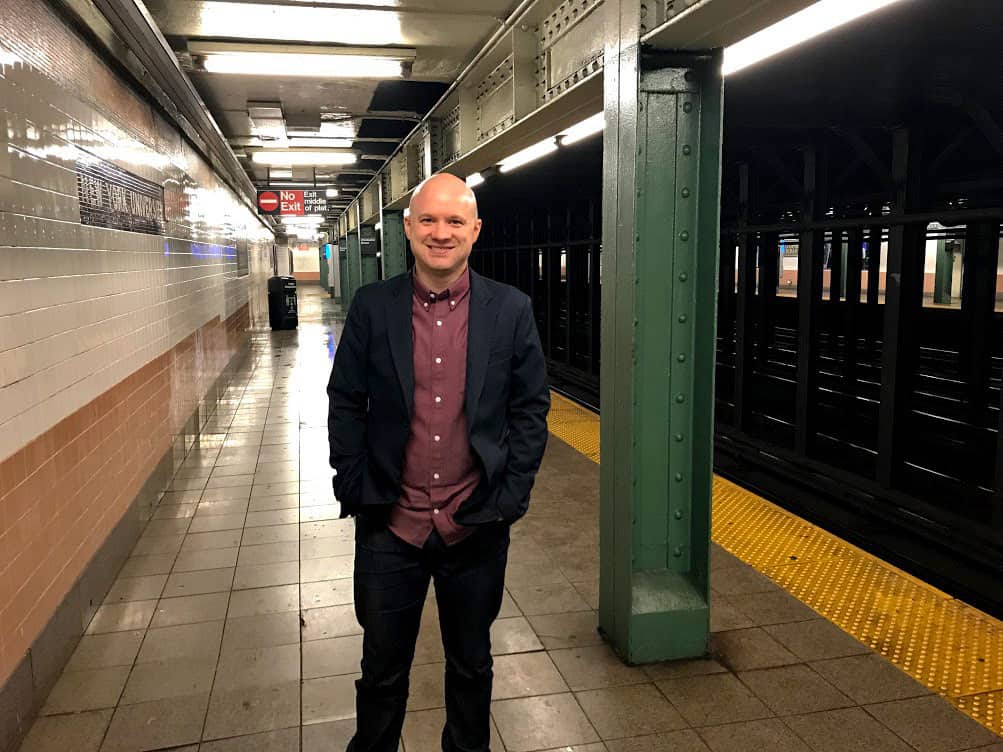 My number one rule about "travel" clothing is that it has to look like normal clothing. Basically, if it wouldn't wear it on a normal day then I won't wear it while I travel.
So I was happy to see that Bluffworks did a great job of making their Gramercy Blazer and the Gramercy Pants look like an actual wool suit (despite it being made out of high-tech polyester fabric). As for the style, I'd call this a smart/casual suit. It's not super formal (you're not going to confuse this for a perfectly tailored $2,000 suit) but I still feel plenty "put together" when I wear it.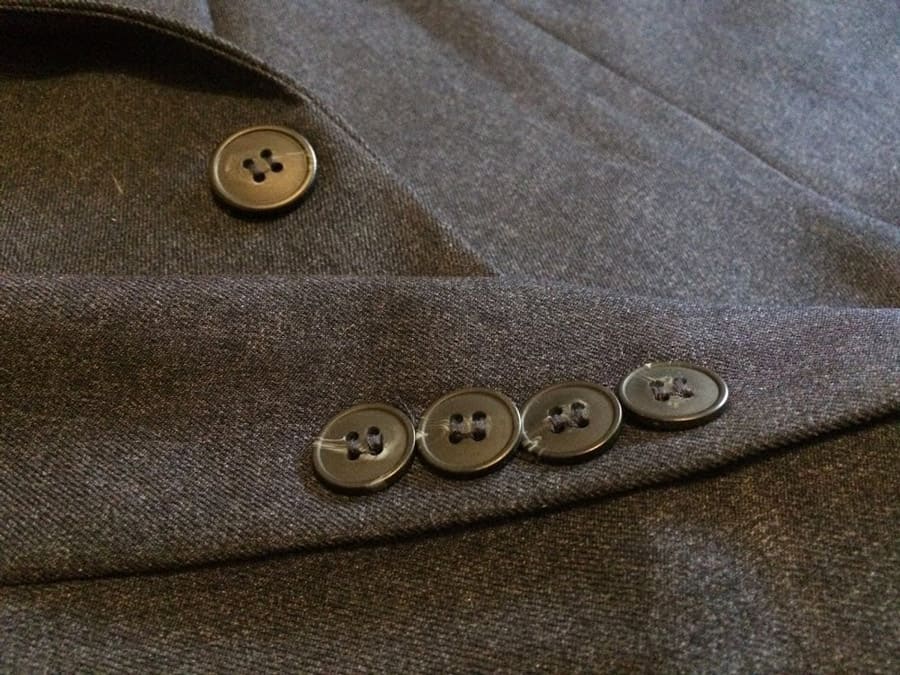 It's kind of hard to capture on camera but the fabric is heathered and that gives it the appearance of wool. It also has a texture that also has a bit of a wool feel.
I hate how some suits are sold together as a set so I was relieved that you can buy the Gramercy Pants and Gramercy Blazer separately — this lets you get a much better fit straight off the rack.
Speaking of fit, not only does the Gramercy Blazer come in chest size 36-48, but it also comes in a regular and long length and a regular and slim fit. This is impressive as many other travel blazers I've seen only come in S-XL sizing. Similarly, the Gramercy Pants also come in a regular or tailored fit.
The shoulders don't have any padding (i.e. unstructured) and I found they fit well. Additionally, the sleeves aren't lined. I didn't find this to be an issue — especially since it cuts down on the weight.
I was reading reviews from other owners who commented that unlike many traditional dress pants, the Gramercy Pants don't have a permanent leg crease, so they considered these pants are a bit more "casual" than traditional dress pants. This wasn't an issue for me and I don't think 99.9% of you all will care — but I wanted to point it out.

I also like how Bluffworks offers three different colors — Gothan Grey, Northwest Gray, and Blue Hour. I opted for the Blue Hour color. They did a good job of making sure the pants and the blazer were essentially the same color — there is a very very slight difference in colors but anyone in the clothing business knows how difficult/impossible color matching can be. That said, I highly doubt anyone will notice so it's a very minor issue.
Note: As someone who is only 5'6″, I do wish the blazer came in a "short". I did have to have the sleeves shortened a bit — which costs $30 at my local tailor (NYC prices). By the way, the back and body of the blazer can be altered if needed so I might get it shortened by about an inch or two in the future.
Pockets and Security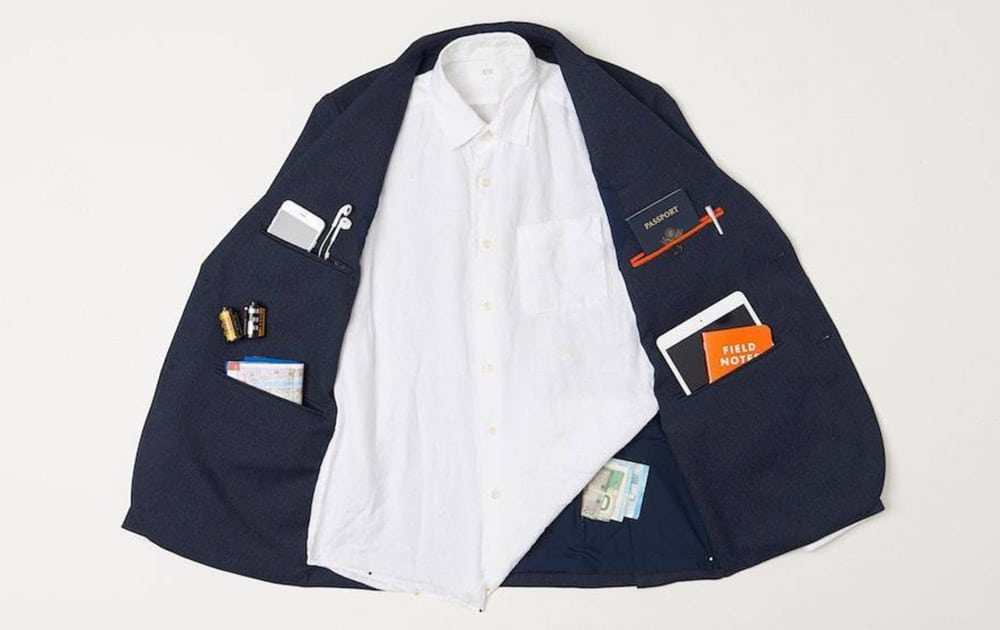 In addition to looking like a normal blazer, Bluffworks added a bunch of interior pockets (many with zippers) to help keep all your stuff safe and secure.


The Gramercy Pants also have multiple zippered pockets — both front pockets have a zippered compartment and one of the back pockets has a zipper. It's honestly kind of overkill and the zippers make the front pockets bulge outward a bit when you sit down. It's a small complaint but a lot of people have mentioned the same thing. If I were to make one change, I would keep the zippered back pocket but remove the zippers from the two front pockets because I rarely keep multiple valuable things in my pants pockets.
Durability and Performance
One of the things that make this suit combo so great for travel is the high-tech performance fabric. I literally had the blazer and the pants stuffed into a backpack for a month and when I took them out they looked almost as good as new. There was a tiny bit of wrinkling but I hung them up in the bathroom while I took a shower and the stream did a pretty good job of releasing the wrinkles.
As for the durability, I haven't noticed any issues after multiple wearing (no fraying, pilling, warping, discoloration, etc.). I've washed both the blazer and pants in the washing machine 2-3 times and they look the same a new.
Speaking of washing… You can wash both the pants and the blazer by hand or in the washing machine. And they can be put in the dryer. So no need for dry cleaning!
Bluffworks says you can put it in the dryer for about 10 minutes in medium heat and then let it air dry for a few hours (it took mine about 8-9 hours to dry). If you don't have access to a dryer then it will probably take about 12 hours to dry — which is still pretty good.
As for the pants, they can be fully dried in the dryer but they'll also air dry in a few hours.
Overall Thoughts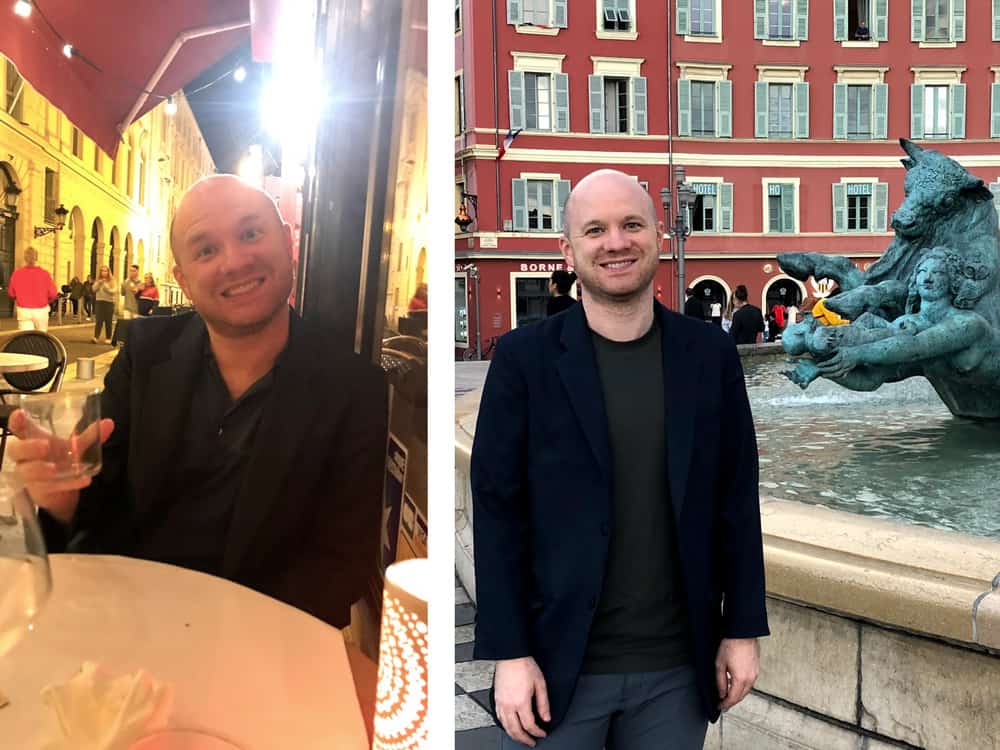 I'm really digging the Bluffworks Travel Suit. I rarely wear a suit so I don't have the patience to spend a lot of time fussing with one if I do need to wear one. That's the main reason I don't mind traveling with this suit — I don't have to think about it and I know it's going to look good when I pull it out of my backpack.
Personally, I think the combination of the Gramercy Travel Blazer and the Gramercy Pants make a great travel suit. I actually liked wearing it (maybe because I usually dress like a schlub). I also like wearing the Gramcery Travel Blazer with a pair of jeans. The Gramercy Pants also look nice with just a nice shirt.
Gramercy Travel Blazer ($295) and the Gramercy Pants ($140) are sold directly from Bluffworks.
Big thanks to Bluffworks for sending me this suit. There was no payment for this post (we never accept payments for any product review).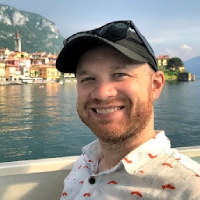 Latest posts by James Feess
(see all)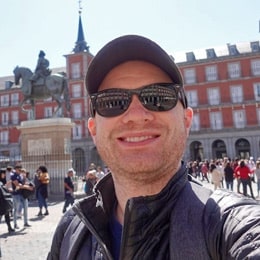 No Funny Business
The Savvy Backpacker is reader-supported. That means when you buy products/services through links on the site, I may earn an affiliate commission—it doesn't cost you anything extra and it helps support the site.
Thanks For Reading! — James
Questions? Learn more about our Strict Advertising Policy and How To Support Us.