I'm always in search of travel clothing that is both fashionable and functional. Trust me, it is way more difficult that it seems. Most clothing that is made with quick-drying and wrinkle-free technical fabric is geared toward backcountry hikers and other outdoor enthusiasts. That's all well and good if you're exploring the great outdoors, but they look terrible in an urban environment — they have all sorts of weird pockets, strange fits, and they basically scream "hey, all you hot European women, please stay as far away from me as possible. thanks."

That's why I got excited when I came across these great new travel pants from Bluffworks. They have all the benefits of technical fabric, but they look fashionable enough for the streets of Paris or a nice restaurant. Finally.  Ohh, and they're made in the USA.

They are lightweight. I'd guess they weigh about 1/3 of what jeans do. They're also super breathable, which makes them great for summer (you don't see many European men wearing shorts, so this is a good option if you want to "blend in"). The material is moisture-wicking, so it will help you dry if you sweat.

One of the most frustrating things about living out of a backpack is dealing with wrinkled clothes. Luckily, Bluffworks travel pants are wrinkle-free! Ok, you can probably find a way to wrinkle these but they do a hell of a lot better than normal pants. In the photo above I wadded up the pants and left them that way for about 48 hours. The photo on the right shows what they looked like after they'd been wadded up — I didn't iron or try to make them look better. It is hard to beat that. And if that's not enough, these pants can be worn for multiple days without needing to be washed, so you can focus on travel — not laundry.


Another cool feature is the two zippered pockets. One of the pockets on the back is zippered and there is a hidden zippered pocket inside the left front pocket. This is great because it is an extra level of protection against pickpockets and it prevents losing something important from your pockets.


The pants have a slim leg but they have enough room so you can still move around easily. They come in multiple lengths, too — I probably could have gone with a shorter length (I should have read the sizing chart better).

Bluff Works pants are low maintenance. They can be hand or machine washed. You can also throw them in the dryer (on low) or air dry them. To test how fast they'll air dry I put my pair in the bathtub, patted them down with a towel, and hung them up in my bathroom to dry. They were completely dry in about 5.5 hours. For reference, a pair of jeans would take around 24 hours to air dry.


Bluffworks has four different colors — Charcoal, Classic Gray, Velvet Brown, and Light Khaki. I'm wearing the classic gray.

Bluff Works got their big break after launching a successful Kickstarter campaign — they raised almost $130,000 (their goal was $13,500). They are currently on their second version of the pants (they've been improved from the Kickstarter version).
FINAL THOUGHTS
These pants are great, and I can't wait to do some serious traveling with them. I can't think of a better pair of pants for traveling Europe because they're super stylish and functional. I can see myself wearing these all day while sightseeing and then wearing them to a bar, restaurant, or club. I hope they offer more colors in the future!
Bluff Work trousers are priced at $93 (free shipping) and they offer a 100% satisfaction guarantee. They can be purchased directly from Bluffworks.com
UPDATE:
BluffWorks has released multiple versions of their travel pants so check them all out.
I wanted to thank Bluffworks for sending me this pair of pants for me to review. I also wanted to point out that I contacted them first because I had to try them out for myself. All opinions are mine.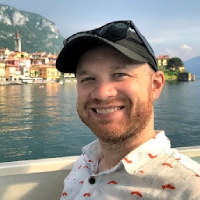 Latest posts by James Feess
(see all)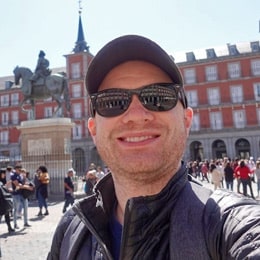 No Funny Business
The Savvy Backpacker is reader-supported. That means when you buy product/services through links on the site, I may earn an affiliate commission — it doesn't cost you anything extra and it helps support the site.
Thanks For Reading! — James
Questions? Learn more about our Strict Advertising Policy and How To Support Us.