The Tortuga Setout is a new travel backpack from Tortuga. As you all know, we're on a quest (some say it's a sickness) to find the best travel backpacks, so I immediately had to get my hands on this bag to do an in-depth review Tortuga Setout review.
UPDATE (4/10/19): Tortuga recently made a few small tweaks to their Setout Backpack. First, they added load lifters to the shoulder straps — which is a great and well-needed update.

They've also added a 35L version in addition to the 45L version. Additionally, the backpack now comes in multiple colors.

We'll do a hands-on test soon but we wanted to let you all know since many people are planning trips for the next few months.

Check out new updated Tortuga Setout.
Tortuga Setout Review – A Quick Look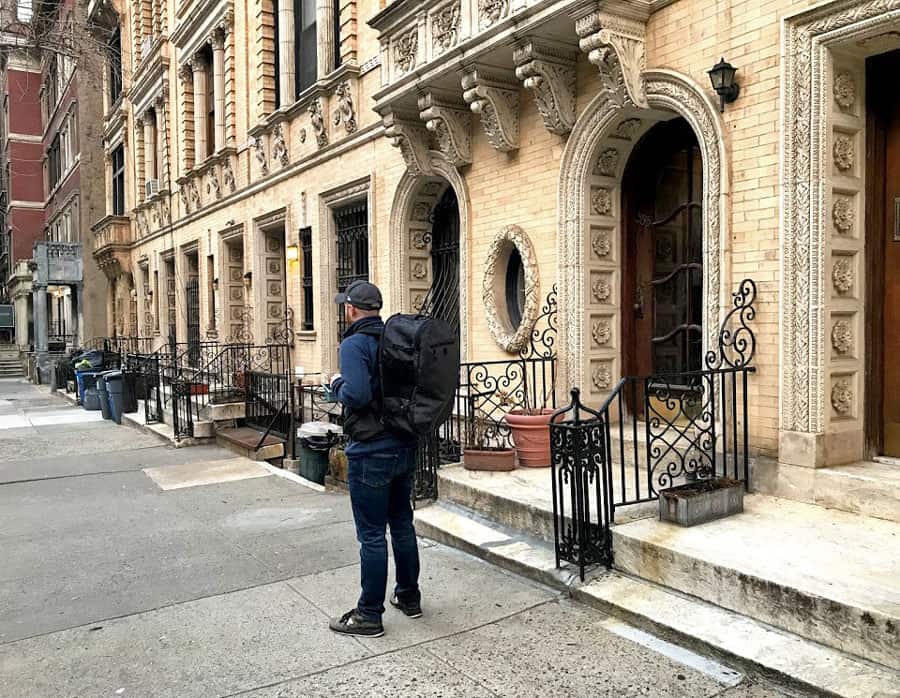 We like to think of the Setout as the little bother to Tortuga's full-featured/workhorse Outbreaker backpack (read our Outbreaker review). Don't get us wrong, the Setout is a large backpack but it's a bit more streamlined and has fewer features — ohh, and the Setout is cheaper than the Outbreaker.
We'd classify the Setout as a smartly-designed, well-made, and above average-looking urban travel backpack. It's designed to haul all your stuff as you travel from Paris to Amsterdam to Berlin to Prague — whether you're traveling by train, plane, or bus.
Speaking of hauling stuff… the Setout can hold a lot. It's a bit of a beast (in a good way). It's 45L — which is essentially the maximum size for carry-on bags. That said, it only weights 3.3 lbs. so it's actually fairly lightweight.
It's a comfortable backpack. The suspension system gets the job done and shoulder straps are nice — but if you cram this bag to the brim you're probably going to experience some back/shoulder discomfort. That said, the Setout does have a fairly substantial hip-belt which will help take a lot of strain off your shoulders.
The Setout costs $199 w/ free shipping from the Tortuga website.
---
In-Depth Tortuga Setout Review

Alright, y'all. We've spent a few months playing with the Tortuga Setout so we've had a lot of time to get a really good look at the good and the bad of this backpack.
So let's get into it!
---
Backpack Size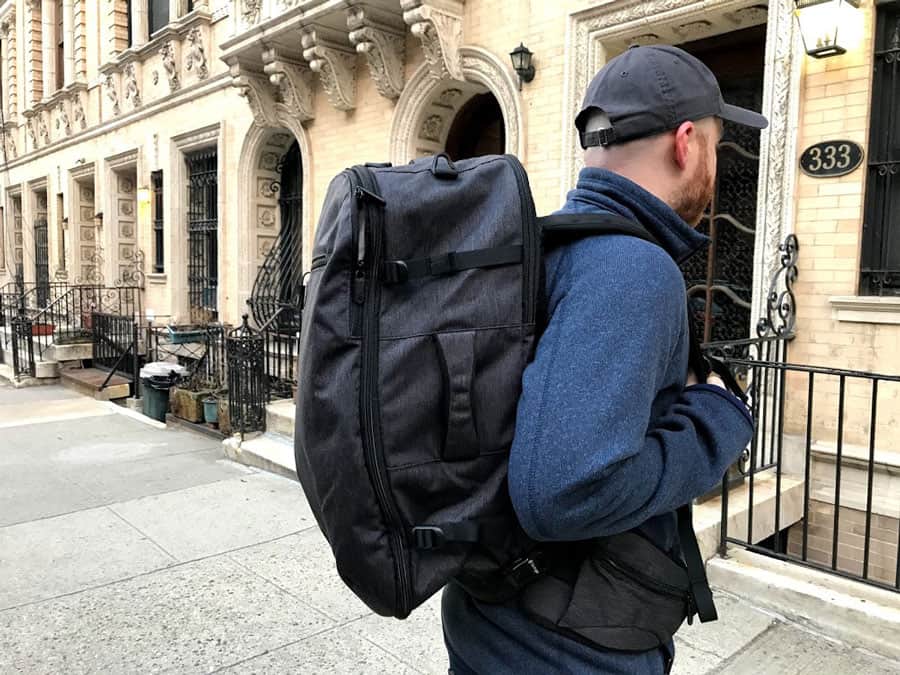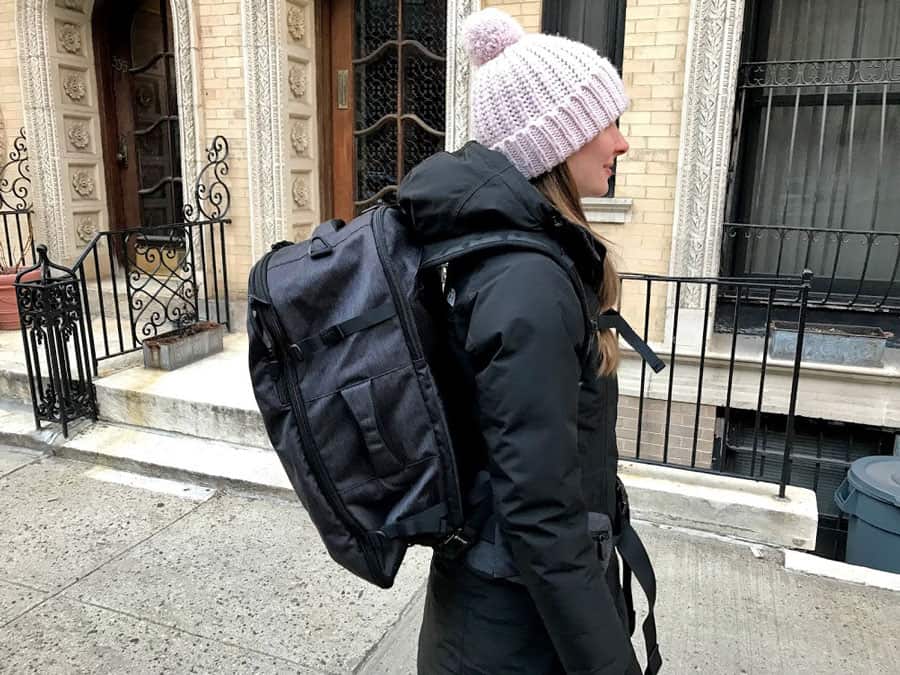 The Setout comes in one size — 45L. And its official measurements are 22" x 14" x 9". This bag was made to be carry-on compliant on most airlines so you shouldn't have to worry about needing to check it. Plus, the bag has soft sides so you can "make it fit" by smushing it into those bag measurement templates.
UPDATE: The Setout now comes in both 45L and 35L.
In short, this is a large bag so you'll be able to fit a lot of stuff. That said, it surprisingly only weighs 3.3 lbs. — which slightly lighter than similar Osprey backpacks and more than a pound lighter than the Tortuga Outbreaker.
The Setout certainly isn't a slim and sleek backpack — it is 45L after all. It actually doesn't look that bad but there is no hiding its big and boxy shape. But whatever, you get this bag because you want to comfortably carry a lot of stuff.
Also, Tortuga says the bag is ideal for people with a torso length between 17″-19″ — the bag isn't adjustable but the Outbreaker is.
---
Organization & Layout
Let's take a look how the Setout is laid-out.
Main Compartment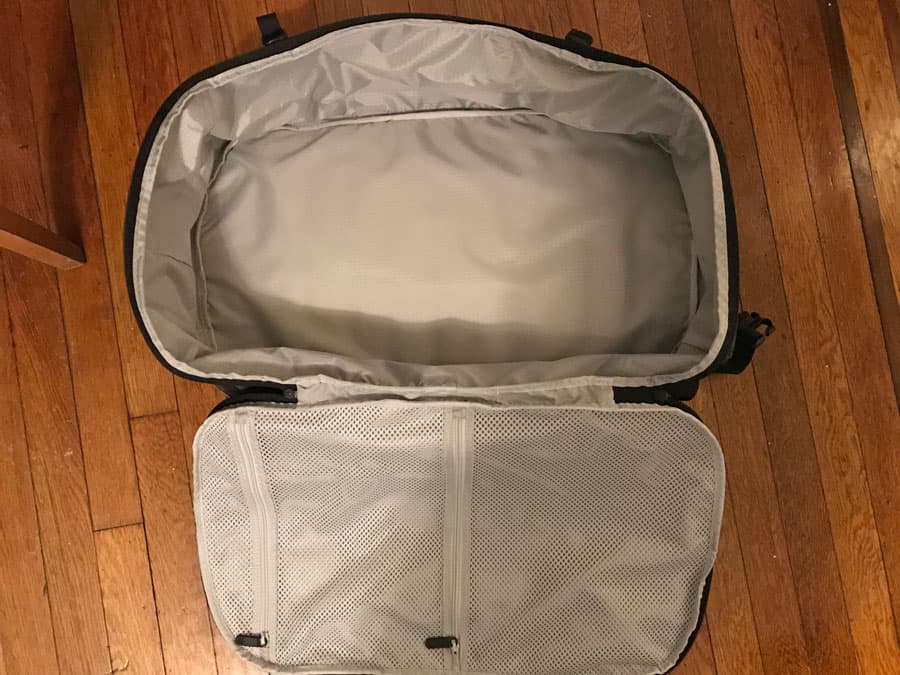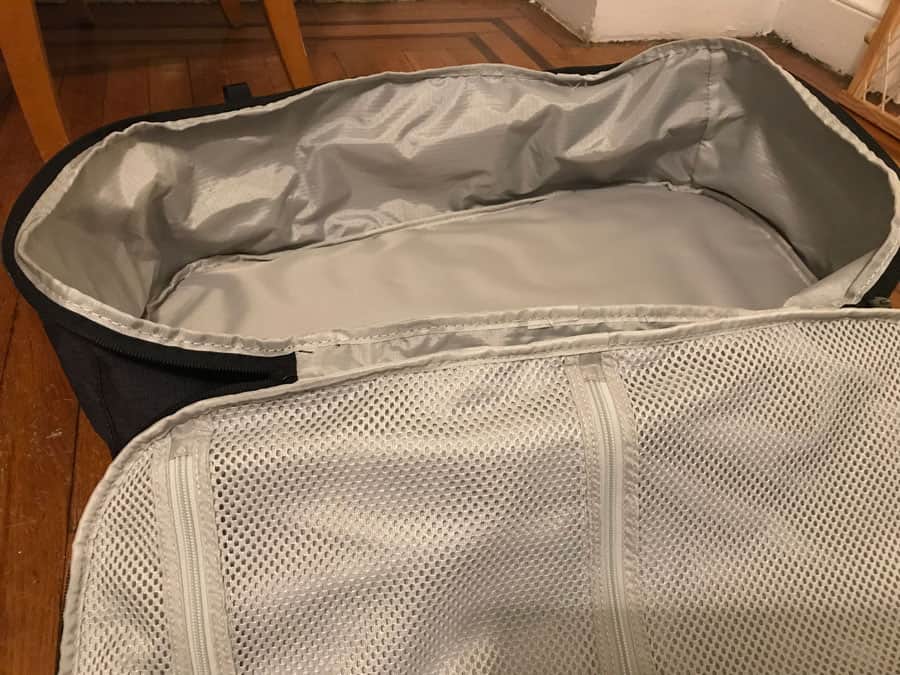 The Setout is a front loading backpack that opens like a book/suitcase. I find this to be the easiest style of opening and it makes access simple.
The backpack is essentially one giant deep compartment so plenty of space for all your stuff. We highly recommend using packing cubes to keep things organized. Check out our favorite packing cubes.
The flap has two zippered mesh pockets. These pockets don't expand much so they're better for flat things like cords, thin notebooks, passports, or other small items.
Exterior Pockets
The Setout has quite a few pockets to help keep you organized. Let's take a look.
Front Zippered Pocket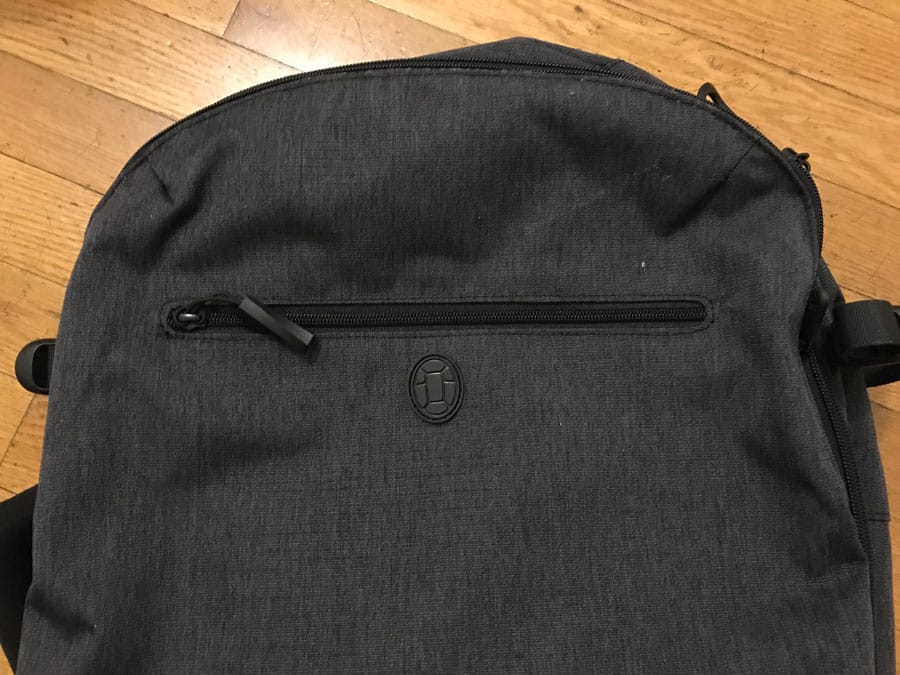 This small front pocket is handy for those small things you need to access easily. I throw my wallet and phone into it when I go through airport security. It's not a super deep pocket so you won't have to go fishing for the stuff you put in there.
Tech Pocket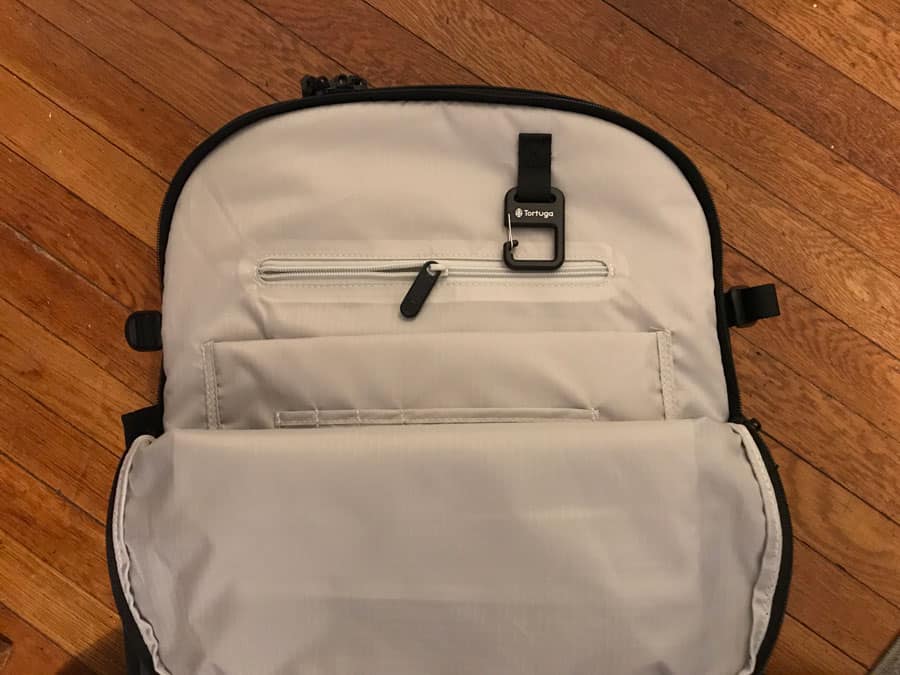 Almost every backpack has a variation of the tech pocket and the Setout is no different. There are a handful of small compartments and pockets for pens, notebooks, passports, hidden cash, sun glasses, and other doodads.
The main pocket also extends to the bottom of the backpack so there is room to fit something like a light jacket.
Laptop Pocket

The laptop pocket is located on the back of the backpack so it sits against your back when wearing. I find this is the safest place to carry a laptop. The internal laptop sleeve is both padded and is suspended off the ground to keep it safe from drops and bumps. Also, the Setout can hold hold a 15″ laptop and an iPad.
We also like how the laptop compartment can be accessed super easily without needing to open up the main compartment. This will make airport security a breeze.
Water Bottle Pocket

I rarely carry a water bottle while I travel so I haven't used the water bottle pocket on this bag. But it's a big pocket so it should easily carry anything you throw at it.
---
SUSPENSION SYSTEM
One of the most important features of any backpack is the suspension system — shoulder straps, hip-belt, etc. So let's see how the Setout performs.
Shoulder Straps


The shoulder straps are made from dense yet comfortable injection molded foam that has a series of holes to cut down on weight and promote some airflow.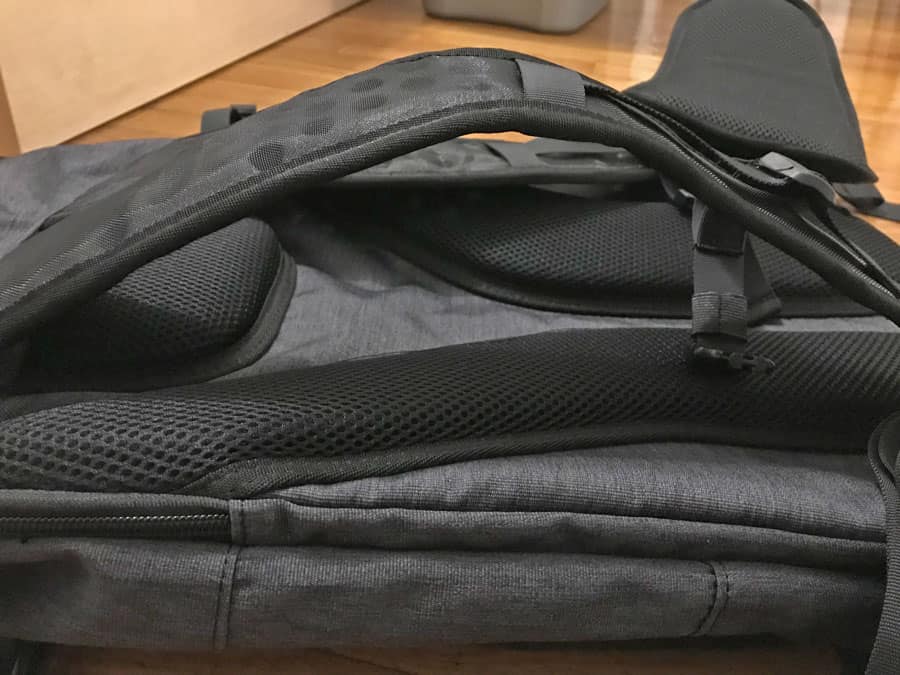 The shoulder straps don't have a ton of padding (certainly not as much as the Outbreaker) but we found it to be surprisingly comfortable — especially for point-to-point city travel. They claim injection molded foam breaks in over time and becomes more comfortable. Plus, the straps are a nice width so that helps distribute the weight.
The shoulder straps can stow away incase you need to gate check your bag or you want to carry it like a duffle bag.

I do wish the shoulder straps had load lifter straps — these are straps that help pull the backpack closer to your back and make the shoulder straps better fit your shoulders. That's my main complaint about this backpack.
UPDATE: The Setout now comes with load lofter straps.
Hip-Belt



The Setout has a nice hip-belt that's also easily removable (it's held on via velcro so you can remove it in three seconds). The hip-belt has a good size pockets on each side which can hold a phone, wallet, a granola bar, and other random things you might needs easy access to.
Padded Back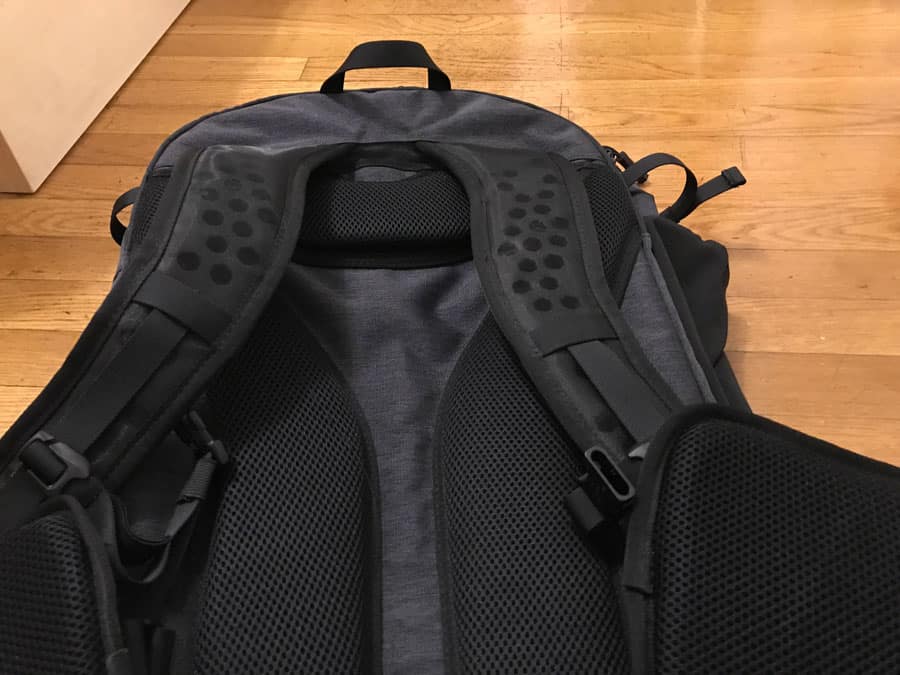 We're digging the padded back on this bag and it really adds to the comfort to the bag — especially if you're carrying a laptop. The pads are also designed to help air circulation so your back doesn't get super sweaty.
Padded Handles

We're loving the padded top handle and side handle. These handles are a great feature as they make it easy to carry your bag when it's not on your back. It might not seem like it but these handles will come in super handy on planes, trains, and busses.
---
Materials & Construction

The overall construction of this bag is topnotch. It uses 900D heathered polyester which is durable and weather resistant. It's not a waterproof backpack but it will easily withstand a rain shower.
Its YKK zippers are big, durable, and smooth — so no worries about them breaking if the bag is stuffed full.
---
Comfort Test

So how comfortable is the Tortuga Setout in the real world environment? We loaded it up with an average amount of gear and hit the streets of NYC to put it though its paces.
Things started off well. The shoulder straps were comfortable and the hip-belt did a good job of taking a lot of the load off my shoulders. I can see this bag being uncomfortable without using the hip-straps — especially with moderately loaded.
I walked for a solid 30 minutes and it remained comfortable. I started to feel a little shoulder/back strain around 45 minutes but that's to be expected on a backpack with this style of shoulder harness. After about an hour my back and shoulders were strained but fairly rare that you'll wear your backpack for an hour straight. So, overall, we'd give its comfort a respectable 8/10.
Overall Thoughts
We gotta say…. we were pleasantly surprised by the Tortuga Setout. It strikes a nice balance between size, weight, and features. Yes, it's big and boxy and kinda bulky but that's the point — the Setout was designed to carry a lot of stuff. It's essentially the backpack for the traveler who wants a carry-on bag that can fit as much stuff as possible — do yourself a favor and use packing cubes.
Luckily, the bag is made from lightweight (yet durable) material so it's actually pretty light. Plus, the shoulder strap + hip-belt do a pretty good job of distributing the weight of a fully-packed backpack. But I do wish the shoulder straps had load lifters because I think it would make heavy loads even more comfortable. I also wish there was a small pocket at the top of the bag for sun glasses or a phone — but this is a minor complaint.
That said, all-in-all, we think the Tortuga Setout is quality backpack and we'd have no qualms traveling with it.
The Setout costs $199 w/ free shipping from the Tortuga website.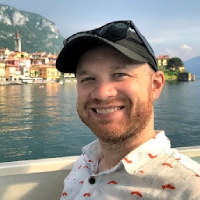 Latest posts by James Feess
(see all)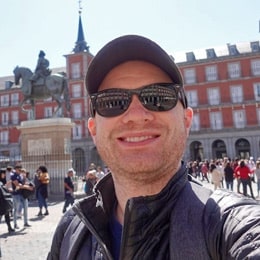 No Funny Business
The Savvy Backpacker is reader-supported. That means when you buy products/services through links on the site, I may earn an affiliate commission—it doesn't cost you anything extra and it helps support the site.
Thanks For Reading! — James
Questions? Learn more about our Strict Advertising Policy and How To Support Us.