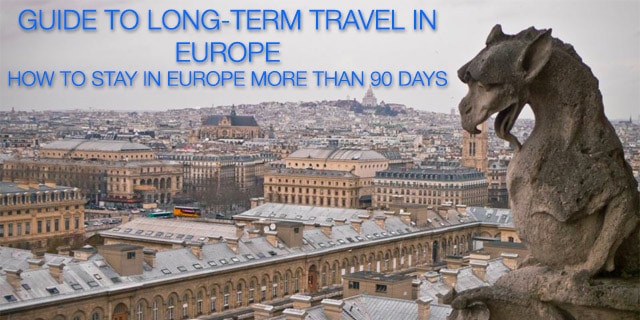 Long-term travel in Europe is a dream that many of us have, but dealing with visa issues, travel costs, accommodation, and saving money can be quite difficult. This guide will walk you through these important steps of staying in Europe longer than 90 days and will help you plan your big trip abroad.
Quick Outline To This Guide
Note About Staying in Europe For More than 90 Days
Ways To Stay In Europe For More Than 90 Days
Money-Saving Advice for Long Term Travel
Note About Staying in Europe for More than 90 Days
The very first step of planning your long-term travels through Europe is to ensure that you know the laws on how long you're legally allowed to visit. Traveling more than 90 days gets a bit tricky because of visa issues. 
Unfortunately, these visa issues often make it very difficult to travel through Europe for an extended amount of time — but there are still options for determined travelers. This guide will explain what you need to know about long-term travel in Europe.
The Schengen Area Explained
The first thing you need to know about is the Schengen Area…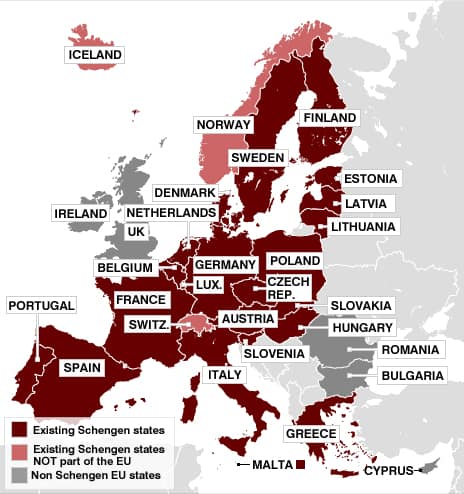 From Wikipedia…
The Schengen Area is a group of 26 European countries that have abolished passport and immigration controls at their common borders. It functions as a single country for international travel purposes, with a common visa policy. Joining Schengen entails eliminating internal border controls with the other Schengen members, while simultaneously strengthening external border controls with non-Schengen states. — Wikipedia
When most travelers mention being able to stay in Europe for more than 90 days, they are generally referring to staying in the Schengen Area — this is because the Schengen Area encompasses most of the countries in Europe.
The map above is from the BBC and it does a good job of visually showing the difference between all the different zones. For most travelers (Americans, Canadians, Australians, New Zealanders), you only need a valid passport to enter a Schengen Area country — but the bad news is that you need a visa (which is difficult to get) if you wish to stay more than 90 days.
How The Schengen Zone Effects You
Americans, Canadians, Australians, New Zealanders, etc. can only stay in the Schengen Area (without a special visa) for a period of 90 days within a 180 day period.
If you leave the Schengen Area, the countdown clock stops and doesn't start until you enter it again. Once you reach your 90-day limit, you have to stay out for an additional 90 days.
Think of it this way… the day you enter the Schengen zone it starts a 180-day countdown. Of that 180 days, you can only stay there for a total of 90 days. You can stay for 30 days, then 10 days, then 2 days, etc. but once you hit that 90-day total you have to leave until that initial 180 days have elapsed.
List of Schengen Area countries
| | | | |
| --- | --- | --- | --- |
| Austria | Belgium | Czech Republic | Denmark |
| Estonia | Finland | France | Germany |
| Greece | Hungary | Iceland | Italy |
| Latvia | Lithuania | Luxembourg | Malta |
| Netherlands | Norway | Poland | Portugal |
| Slovakia | Slovenia | Spain | Sweden |
| Switzerland | | | |
Non-Schengen Area Countries
Each non-Schengen member country has its own rules about how long a visitor can stay in the country without a special visa. Notable countries include:
Ways To Stay In Europe For More Than 90 Days
I hate to say it but traveling for longer than 90 days in Europe is very difficult.
But it isn't impossible!
I've listed all the methods I know of, but there could be other ways. Please let me know if you know of any other methods.
Split Up Schengen and Non-Schengen Countries
The easiest way to extend your trip past 90 days is to visit both Schengen and non-Schengen countries. Once your 90 days are up, travel to the UK, Ireland, or one of the many Eastern European countries that aren't part of the agreement. Once you've spent 90 days there, you are free to return to the Schengen area for another 90 days. You can keep repeating this process until you run out of money.
Working Holiday Visa
Citizens of Canada, Australia, and New Zealand have working holiday agreements with many European countries that usually last between 1-2 years. These visas are intended to allow young people (18-35) to work while they travel. These visas normally have a few stipulations, but they're easy to obtain. The United States does not have a working holiday visa program with any European country. You can view a list of working holiday agreements here.
Become a Student at a European University
Full-time foreign students are granted visas to complete their studies. There are many university courses taught completely in English throughout Europe (but your options will increase if you speak the local language).
Additionally, a few countries charge foreign students the same tuition as their citizens — which can be as low as a few hundred euros a year. Once you have a visa, you are free to move around any EU country without hassle. It isn't exactly uncommon for students to pay the super cheap tuition, get their student visa, and then just travel and never actually go to school.
There are many full-time foreign language courses in Europe that will enable you to get a student visa — this is a nice option if you want to learn a foreign language and travel on the weekends and holidays. These courses normally don't follow the same tuition guidelines as normal European Universities, so they're more expensive.
For example, the intensive 25 hours/week French language course through the Sorbonne in Paris will cost a few thousand dollars for a semester. However, student visa holders are often entitled to work part-time. There are many options available throughout Europe, but you'll have to scour the web.
Long-Term Tourist Visa
Many countries offer a long-term tourist visa that is generally valid for one year. I know France is one country that will allow you to apply for a one-year visa. However, you have to have a lot of money in the bank, and you won't have any right to work. The French consulate never specifies how much money you need to have in savings, but most people say around $30,000+. You have to approve a few other things, but you can read what is required on the French Consulate of San Francisco site. They really want to make sure you can fully support yourself while in France.
Language Assistant Program
I know France and Spain (maybe other countries, too) have an English language assistant program that is run by the government. You normally do need to have some knowledge of the local language, but this is a good way to stay in Europe for a long period of time. I have friends who did the language assistant program in France for seven months. Language assistants work 12 hours in class each week and get paid around €1000/month after taxes. Some assistants get lucky and don't have any classes on Monday and Friday — which allows them to travel around Europe on the weekends.
Teaching English as a Foreign Language (TEFL) Jobs
I'm not super familiar with this, but I know some people who were able to get TEFL jobs in Prague, and they were granted 6-month visas (which could be renewed). You'll need some type of TEFL training, but this could be a good way to stay in Europe for an extended period of time. This is also common in Spain.
Self Employment or Freelance Visa
If you're self-employed and have the ability to work from anywhere in the world, then you might be eligible for a self-employment visa.
I know France has a version of this that can be pretty complicated and confusing, and I believe you have to get the visa before you arrive in France.
Germany is another country that issues this type of visa for foreigners, but you don't apply for it until you get to Germany. Registering as a freelancer is surprisingly simple if you meet all the requirements. You just need to fill out a few forms and you'll get a one-year visa. The most popular place to be a freelancer is Berlin since it is so cheap. This site will tell you what documents you need to get a freelance visa in Berlin.
Get A European Passport
Do your parents (or grandparents/great-grandparents in some cases) have citizenship in a European country? If so, you might be able to apply for a passport for that country. Once you have a passport from an EU country, you can work in any EU country without any paperwork or restrictions. This process can take a very long time, but it is worth looking into.
Stay Illegally
Important Note: With the recent immigration/refugee issues throughout Europe there have been increased border checks — even between Schengen members. Overstaying your stay is a bit riskier these days and it's not recommended.
While I certainly don't recommend it, many people choose to overstay the 90-day limit and continue to travel. This is mainly possible because there are no border checks between Schengen member countries. For example, if you travel from France to Italy, no one will look at your passport — whether you're European or not. There will sometimes be immigration officials on trains, but they usually won't look too closely at your passport if you look like your average western tourist. BUT, sometimes they do look closely, so do this at your own risk.
The biggest chance of getting caught is when you actually leave the Schengen zone (even if you're going back to your home country) because the immigration officials will often add up the amount of time you've been there. After living in France for 18 months, I went back to the US via Iceland, and they questioned why I was in Europe for so long. Luckily, I had my valid French work permit card in my wallet because I had no other proof in my passport that showed I was allowed to stay in Europe that long.
I've found out that Scandinavian countries, as well as Germany, the Netherlands, Switzerland, and Poland are all pretty big sticklers about checking the length of time you've been in the Schengen area. Therefore, if you do overstay 90 days, I highly recommend that you don't depart from those countries.
For whatever reason, France, Italy, and Greece seem to be the most relaxed with their immigration. They sometimes don't even stamp the passports of people entering on flights straight from the US. Additionally, they seem to never even look at the passports of outgoing travelers. If you do overstay the 90-day limit, I highly recommend leaving from one of these countries — but make sure you don't change planes in one of the countries listed in the previous paragraph. For example, when I flew from France, I changed planes in Iceland, and they checked my passport closely at the airport there.
So what are the penalties if you overstay the 90 days? It seems to vary. You might get a warning and be forced to leave the country right then. Or you might also get a big fine and be banned from entering the EU or any Schengen Area country for 1-5 years. Honestly, I wouldn't want to risk it.
---
Money Saving Advice for Long Term Travel
Since most long-term travelers go without an income for a long period of time, it is important to find ways to live as inexpensively as possible. The ideas below will help extend your travel money.
Quality Over Quantity
One of the beautiful things about long-term travel is the ability to stay in one location for an extended period of time. Instead of rushing off to a new location every 3-4 days, you can now stay in the same city for weeks. This allows you to truly experience life like a local, and you'll develop a greater appreciation for the place you're visiting. You won't feel guilty for spending a few hours relaxing in a park instead of trying to visit every cultural sight in the city.
Another benefit of moving around less often is the reduced transportation costs. Taking a train or a plane every week will seriously eat your savings away — especially if you're traveling for an extended amount of time. Here are a bunch of articles about saving money on transportation.
Apartments and Hostels
If you stick to one location for an extended period of time, you'll also be able to save money on accommodation. Sometimes hostels will give you a better deal if you stay over a week or two (it might be best to contact the hostel directly).
But the best bang for your buck will probably be renting an apartment. If you rent an apartment for a few weeks, it will often cost just about the same as staying in a hostel — and it will be much more comfortable (staying in a hostel for a month does start to wear on you). Plus, with an apartment, you can cook your own meals — which is a great excuse to check out local markets. I've written a more in-depth article about renting an apartment in Europe.
Couchsurfing
It is certainly difficult to travel long-term without having to pay a lot for accommodation, and Couchsurfing is probably the easiest way. Although you will have to be pretty flexible with your schedule and sometimes book a last-minute hostel if your hosts have to bail. But Couchsurfing is still a great way to travel if you don't mind losing a bit of privacy. For more about Couchsurfing, you can read my post where I go into a lot more detail.
VOLUNTEER (WWOOF, HELPX, ETC.)
Many farmers in Europe need extra assistance during certain times of the year, so they get volunteers to help. They can't legally pay you, but they can provide room and board. Volunteering can last anywhere from a few days to a few months (as long as you don't overstay your visa). WWOOF and HelpX are the two biggest resources for finding volunteer opportunities.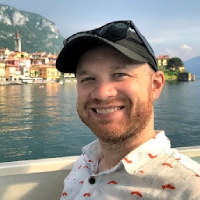 Latest posts by James Feess
(see all)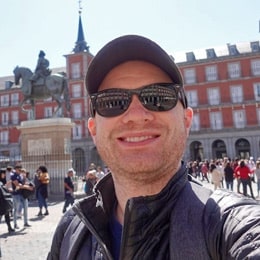 No Funny Business
The Savvy Backpacker is reader-supported. That means when you buy products/services through links on the site, I may earn an affiliate commission—it doesn't cost you anything extra and it helps support the site.
Thanks For Reading! — James
Questions? Learn more about our Strict Advertising Policy and How To Support Us.