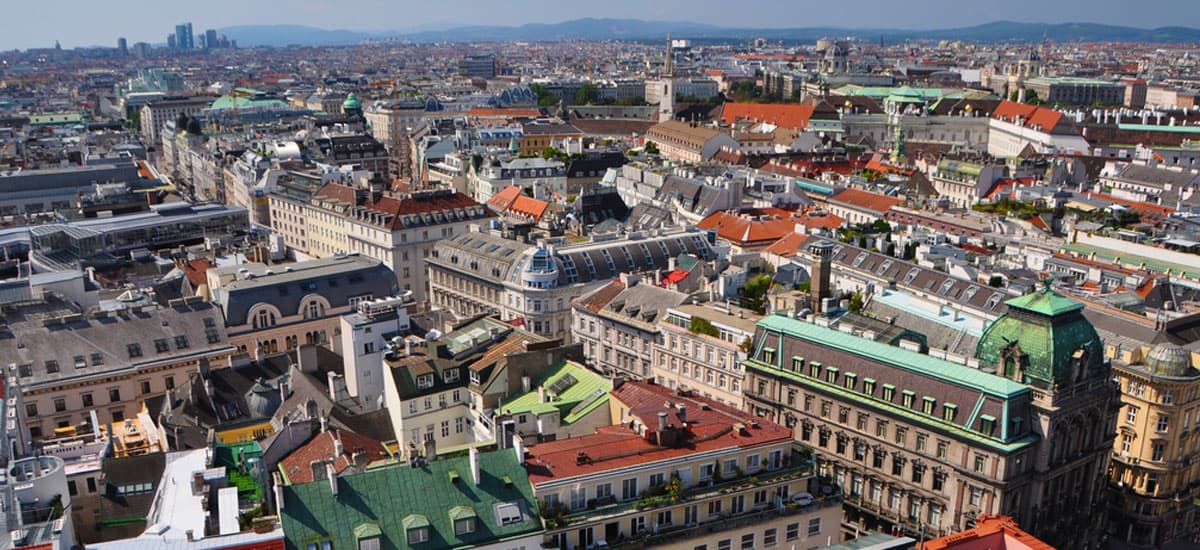 Vienna is known as the City of Music for its musical legacy. It's also been named the best city in the world for its quality of life, and it has beautiful architecture… so it's no wonder that people love visiting. Since it's the capital of Austria, it is fairly expensive, but it actually isn't as bad at other capital cities.
This article is part of our City Price Guide Series — Click here to see all our city price guides.
Average Daily Costs for Visiting Vienna
These prices are based on what you'll need to visit the city comfortably — they don't include things like big nights out at the bar/pub, club entry fees, souvenir/clothing shopping, tours, random purchases, nicer food, etc. Don't forget to budget extra for those "non-essentials."
Daily Cost of Budget Travel in Vienna: €51 (Approx. $54)
Attractions: €10 (one paid attraction + any free sights)
Food: €22

Breakfast: €4
Lunch: €5
Dinner: €9
Treat (dessert/beer/wine): €3.50

Transportation: €2.20
Accommodation (Hostel): €17
Daily Cost of Frugal Travel in Vienna: €28 (Approx. $31)
Attractions: €5 (free walking tour + visit one of the free sights)
Food: €12

Breakfast: €0 (free hostel breakfast)
Lunch: €4.50 (street food or takeaway shop fare)
Dinner: €7 (make your own meal in the hostel or grab something cheap)
Beer: €1 (chill out at the park and have a cold one)

Transportation: €0 (walk)
Accommodation (Cheap Hostel): €11
Vienna Attraction and Museum Prices
Attractions in Vienna can get a little pricey, especially if you want to see multiple things. However, the city is gorgeous, so you can happily spend your days sipping coffee at a sidewalk café.
Kunst haus Wien: €10
Museum of Military History: €6
Kunst Historisches Museum Wien (Art History Museum): €14
Belvedere Palace and Museum: €7-20, depending on galleries/locations chosen
Imperial Treasury of Vienna: €12
Schonbrunn Palace: €12-16
Walking Tours: Free-€50 (A number of thematic tours are available for Vienna, including food, beer, and for the Vienna Opera House)
Vienna Food Prices
In general, food in Vienna can get fairly expensive, but there are still plenty of budget options. Scope out the good value options before you head out for the day or you might risk spending more than you'd like.
Traditional Viennese food includes wiener schnitzel (breaded and fried veal), tafelspitz (boiled beef), and sauerkraut. Markets located throughout the city offer fresh fare and ready-to-eat items, plus they provide the authentic Vienna experience.
Budget Breakfast: Free – €4
Many hostels will offer a free simple breakfast that normally consists of cereal, bread/croissant, and maybe milk, coffee, tea, or juice (some hostels will offer more and some less). Hotel breakfasts tend to be overpriced, so skip those in most cases.
Cafés are popular and common – the Viennese love their coffee. Mokka (espresso), verlangerter (espresso and water, also known as a Café Americano), and einspanner (double espresso with whipped cream) are common. Expect to spend €1.75-€3.
Breakfast – at Café Merkur or any other hole-in-the-wall café – will run from €1.50 (for a pastry) up to €3-€5 for a full breakfast spread.
Budget Lunch: €3.50–€6
Super budget travelers can make a super cheap lunch of bread, cheese, and fruit from any grocery store for a few euros.
Visit one of the city's markets – Naschmarkt, Brunnenmarkt, or Carmelitemarkt – for fresh food and goods.
Small cafés offer takeaway for open-faced sandwiches, schnitzel, and fries. €1.50-€6, depending on what you get.
Buffet Colloseum (on Nussdorfer Strasse 4) is recommended for its old-school canteen feel and cheap, great food.
Pita, falafel, schwarma from a cart will run around €3.50-€5.
Budget Dinner: €4–€10
Pretty much all the options from the 'Budget Lunch' section above also apply for dinner.
Again, the city markets are a good choice for cheap, ethnic (Asian, Greek, Middle Eastern) food. €5-€8 for a meal at one of Naschmarkt's stands, or €6-€10 at a stand-alone place (Maschu Maschu is recommended for falafel and sides).
Wiener Deween is a buffet-style place where you pay what you want: mostly Pakistani food, and popular among tourists and students (buffet is available all day).
Pizza runs €4-€7 at local places.
Read more of our strategies for Eating and Drinking in Europe on a Budget.
Drinks and Alcohol
Expect to pay about €3.50 for a beer out.
At a grocery, beer runs about €1 and a bottle of wine about €5.
Vienna Transportation Prices
Vienna has a great public transportation system, so you won't have to worry about getting around the city. The city offers a ViennaPass that provides access to all the transit networks in Vienna's inner-zone (metro, train, tram, and buses) as well as discounted or free access to museums and attractions.
Tickets for Vienna's public transit system can be purchased by journey or by duration.
A single trip is €2.20, or four trips for €8.80.
24-hour pass: €7.60
48-hour pass: €13.30
72-hour pass: €16.50
When purchasing tickets, airport transfer tickets can also be added for €10.
Airport transit from city center (bus, taxi):
via taxi: €27-€30
via bus: €8
via City Airport Train (CAT): €12/single, €19/round-trip
Bicycle rental:
First hour free, with €1 for two hours, €2 for three hours, €4 for four hours, and €4 for every hour thereafter.
Vienna Hostel/Hotel Accommodation Prices
Accommodation prices in Vienna aren't too bad — especially for a capital city. Hostels are surprisingly cheap, and there are a good number of budget hotels. Airbnb is also popular in the city, so that's a good option if you want a little more space and privacy.
Hostels: €10-€20 (bed in a shared dorm room)
You should budget about 16€/night per person for a decent hostel — although many hostels raise their prices on the weekend. Remember, these prices are for a bed in a shared dorm room. If you want a private room, expect to pay €40-€85 total (for two people), so it's probably a better deal to rent an apartment.
We book our hostels through Hostel World.
Budget Hotels: €90-€100
A decent budget hotel that is in the city center will cost around €90-€100/night. You can find cheaper hotels if you want to stay farther away from the center of the city or if you don't mind staying in a junky place. 
Rental Apartment (Airbnb): €55- €100/night
From my experience, rental apartments (via Airbnb) tend to be much bigger and much nicer than similarly priced hotel rooms. Plus, you'll get a kitchen so you can save more money by cooking your own meals — click here to get $30 off your first stay.
There are quite a few nice Airbnb options available in Vienna — you should be able to find a highly rated studio or 1-bedroom for around €70/night, but I've seen some as cheap as €45/night. If you want to rent a room in someone's place, expect to pay around €25-€55/night.
Plus, if you use this link you'll get $30 off your first stay.
More City Price Guides
We have even more city price guides — click here to check them out!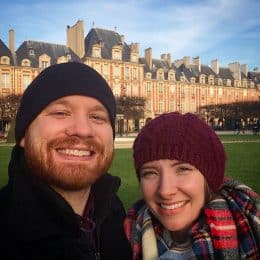 No Funny Business
We want to be fully transparent that this post may contain affiliate links. That means we receive a small commission if you make a purchase after clicking the link — it doesn't cost you anything extra and it helps support the site.
Thanks For The Support! — Susan and James
Questions? Learn more about our Strict Advertising Policy and How To Support Us.