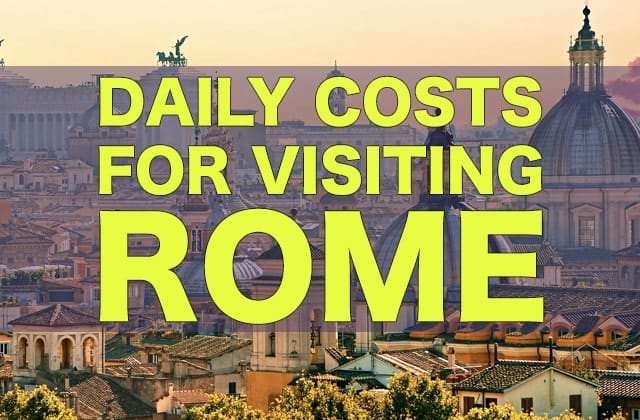 Rome seems to be at the top of almost every visitor's list. It's no surprise because it offers so much to experience. Rome is one of the more expensive cities in Europe, so you'll have to watch your expenses.
This article is part of our City Price Guide Series — Click here to see all our city price guides.
Average Daily Cost For Visiting Rome
These prices are based on what you'll need to visit the city comfortably — they don't include things like big nights out at the bar/pub, club entry fees, souvenir/clothing shopping, tours, random purchases, nicer food, etc. Don't forget to budget extra for those "non-essentials."
Daily Cost of Budget Travel in Rome: €62 ($71 USD)
Attractions: €14 (one paid attraction + any free sights)
Food: €20

Breakfast: €2.50
Lunch: €5
Dinner: €9
Treat (dessert/beer/wine): €3

Transportation: €3
Accommodation (hostel): €25
Daily Cost of Frugal Travel in Rome: €35 ($40 USD)
Attractions: €5 (free walking tour + visit one of the free sights)
Food: €12

Breakfast: $0 (free hostel breakfast)
Lunch: €5 (ethnic street food, takeaway shop fare, or similar)
Dinner: €5 (make your own meal in the hostel or grab something cheap)
Beer: €1.50 (chill out at the park and have a cold one)

Transportation: €1.50
Accommodation (cheap hostel bed): €16
Rome Attraction and Museum Prices
Rome has a number of free things to do, but most of the paid attractions are fairly expensive. Rome is also known for its long lines and hoards of tourists, so get up early to beat the crowds.
Pantheon: Free
Saint Peter's Basilica: Free (€5 to climb stairs to dome)
Colosseum & Roman Forum (also includes Palatine Hill): €12
Vatican Museums and Sistine Chapel: €16
Basilica of St. John Lateran: Free (cloisters: €8)
Capitoline Museum: €15
Galleria Borghese: €11
Walking tour: Free (but you should tip the guides) or €25-€40+ (for paid tours)
Bike tour: €35-€45
You might consider purchasing the Roma Pass which will get you into a couple museums and includes unlimited travel on public transit. A 3-day pass is €36, and the 48hr pass is €28.
Rome Food Prices
Italy is known for its amazing food, and there is no shortage of it in Rome. However, you will have to do some research before you head out in order to ensure you get a quality meal at a good price — because there are PLENTY of overpriced tourist traps.
Budget Breakfast: Free – €5
Many hostels will offer a free simple breakfast that normally consists of cereal, bread/croissant, and maybe milk, coffee, tea, or juice (some hostels will offer more and some less).
Cappuccino & sweet roll: €2-€5
Budget Lunch:  €4-€10
Super budget travelers can make a super cheap lunch of bread, cheese, and fruit from any grocery store for a few dollars.
Pizza for one: €4-€8
No-frills, quick pasta: €5-10
Cheap takeaway meals (like a kebab with fries): €4.
Budget Dinner: €7-€15
You can get some nice deals on pizza + drink during the "aperitivo" time of day, usually 6pm-9pm. Expect to pay around €7-€12.
Pasta at a decent restaurant will run around €10-€12.
You should be able to find dinner at a restaurant in a less touristy part of town for around €15.
Many of the options from the Budget Lunch section above also apply for dinner.
Drinks and Alcohol
Pint of standard beer out: €5
Pint of beer from a grocery store: €1.50
Bottle of (drinkable) wine from grocery store: €5
Cappuccino: €1
Gelato: €2
Read more of our strategies for Eating and Drinking in Europe on a Budget.
Rome Transportation Prices
Rome has an extensive network of subways, trams, and buses that will get you around the city easily.
Roman Metro (subway), Tram, & Bus:
Single one-way ticket (BIT): €1.50
1-day pass (BIG): €6
3-day pass (BTI): €16.50
Week pass (CIS): €24
Bus from airport to city: €4-€5
Train (Leonardo Express) from airport to city: €11
Taxi from airport to city: €48
Rome Hostel/Hotel Accommodation Prices
It is generally recommended that you book your accommodation in advance since the city is such a popular travel destination. Many people find that the Termini station can be a little dangerous at night, so you may consider avoiding hotels within the immediate vicinity.
Hostels: €18-€32 (bed in a shared dorm room)
You should budget about €24/night per person for a decent hostel — although many hostels raise their prices on the weekend. Remember, these prices are for bed in a shared dorm room. If you want a private room, expect to pay €45-€80.
We book our hostels through Hostel World.
Budget Hotels: €53-€125
Hotels in Rome are more expensive than other cities in Southern Europe, probably because it's one of the most visited cities in Europe. At the low end, you shouldn't expect much, but once you get around €80/night, the hotels get a bit better (think Super 8 or Motel 6). A room with a private bathroom and a twin bed will be around €53-€95, and a double bed (or two twin beds) will be €75-€125.
Rental Apartments: €80-€120+
From my experience, rental apartments (via Airbnb) tend to be much bigger and much nicer than similarly priced hotel rooms. Plus, you'll get a kitchen so you can save more money by cooking your own meals — click here to get $30 off your first stay.
Read More About the Cost of Visiting Europe
We've created a guide about the costs of backpacking Europe (including more city price guides) — Click here to read more.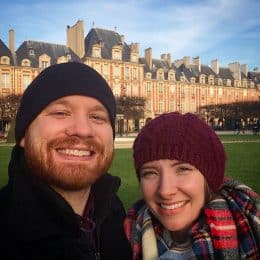 No Funny Business
We want to be fully transparent that this post may contain affiliate links. That means we receive a small commission if you make a purchase after clicking the link — it doesn't cost you anything extra and it helps support the site.
Thanks For The Support! — Susan and James
Questions? Learn more about our Strict Advertising Policy and How To Support Us.