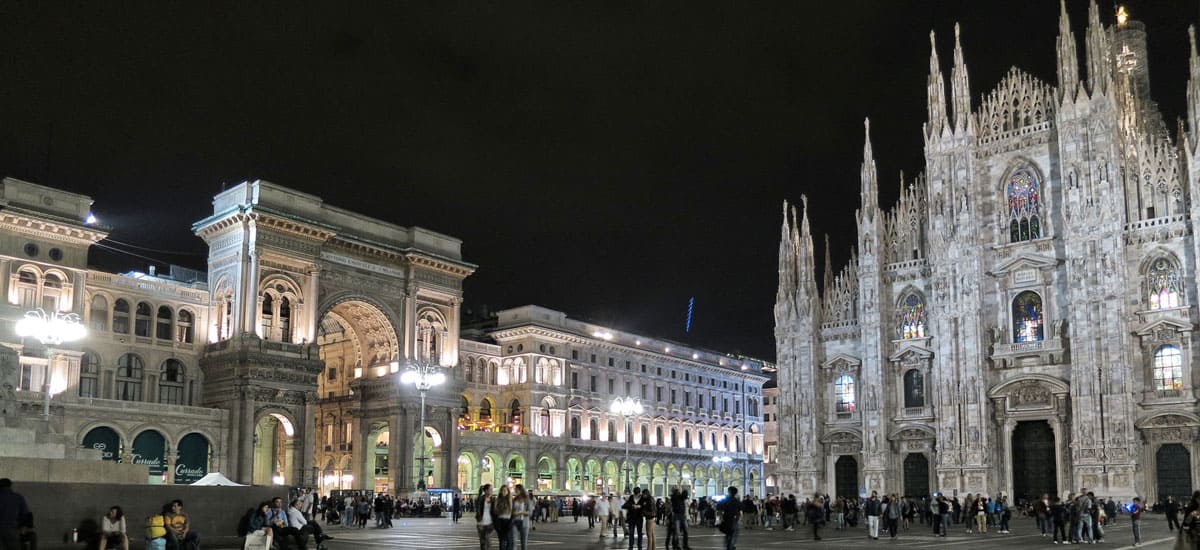 Milan is located in Northern Italy, so in many ways it feels more French than Italian — at least when compared to southern Italy. Milan is also more expensive than many other cities in Italy since it's the country's business center. Hotel rates can skyrocket when there is a big convention in town, but that doesn't really affect hostel rates.  The city isn't much of a tourist attraction, but Leonardo da Vinci's The Last Supper and the amazing Duomo Cathedral are the two main draws.
This article is part of our City Price Guide Series — Click here to see all our city price guides.
Average Daily Costs for Visiting Milan
These prices are based on what you'll need to visit the city comfortably — they don't include things like big nights out at the bar/pub, club entry fees, souvenir/clothing shopping, tours, random purchases, nicer food, etc. Don't forget to budget extra for those "non-essentials."
Daily Cost of Budget Travel in Milan: €53 (Approx. $58)
Attractions: €10 (one paid attraction + any free sights)
Food: €21

Breakfast: €3
Lunch: €6
Dinner: €10
Treat (dessert/beer/wine): €2

Transportation: €1.50
Accommodation (Hostel): €20
Daily Cost of Frugal Travel in Milan: €30 (Approx. $33)
Attractions: €5 (free walking tour + visit one of the free sights)
Food: €14

Breakfast: €0 (free hostel breakfast)
Lunch: €4 (street food or takeaway shop fare)
Dinner: €9 (make your own meal in the hostel or grab something cheap)
Beer: €1 (chill out at the park and have a cold one)

Transportation: €0 (walk)
Accommodation (Cheap Hostel): €11
Milan Attraction and Museum Prices
Duomo Cathedral: Free; access to archeological area: €6; museum: €2; terraces: €8-€13
Monumental Cemetery: Free
Teatro alla Scala (Opera) Museum: €7
Museo del Novecento: €5
Biblioteca Ambrosiana (Ambrosiana Library & Gallery): Dependent on exhibit, usually around €15
Milan Museum: €10-30, depending on exhibit – including Da Vinci's The Last Supper (make reservations super early)
Walking tours: Free-€38 (Tours in Milan showcase the city's historic architecture, churches, and gardens.)
City bike tour: €35
Milan Food Prices
Milan is filled with trattoria, little eating establishments far less formal than the typical sit-down restaurants. Trattoria are a solid bet for trying local foods for less: michetta (bread and salami), panettone (a sweet pastry), and cassoeula (meat and vegetable stew) are common staples. Panini are a solid, budget choice for lunch or dinner and are served at takeaway and casual trattoria.
Budget Breakfast: Free – €4
Many hostels will offer a free simple breakfast of that normally consists of cereal, bread/croissant, and maybe milk, coffee, tea, or juice (some hostels will offer more and some less). Hotel breakfasts tend to be overpriced, so skip those in most cases.
Panettone – a sweet brioche – is available at bakeries throughout the city. Expect to pay €1.50-€2.50.
Coffee at a café will run €1-€2.25.
Budget Lunch: €3.50–€10
Super budget travelers can make a super cheap lunch of bread, cheese, and fruit from any grocery store for a few euros.
Look for local chain Pastarito for pizza and pasta meals that run about €7-€12.
Panino, grilled sandwiches with cheese and (typically) ham run €4.
Piadino are similar to crepes (either sweet or savory) and cost between €2-€3.50.
Panzerotto (similar to calzones) cost €2-€3/each at local bakeries, and 1-2 make a solid meal.
Kebabs from street vendors run €2.50-€4, depending on soda/additions.
Budget Dinner: €8–€18
Pretty much all the options from the 'Budget Lunch' section above will also apply for dinner.
A pizza at a sit-down place will run €10-€13.
Asian and Middle Eastern cuisine is cheap and available for €8-€12 for a full meal.
Risotto alla Milanese – Milanese risotto – a saffron-hued (and flavored) risotto dish famous in Milan, traditionally accompanied by ossobucco (veal). At a more upscale restaurant, it will run €22-€30.
Read more of our strategies for Eating and Drinking in Europe on a Budget.
Drinks and Alcohol
Expect to pay €4-€5 for a beer out.
At a grocery, beer runs about €1.30, and a bottle of wine about €5.75.
Milan Transportation Prices
Tickets for Milan's Urban transportation system are good for 90 minutes after first stamped, and are valid for one journey on the rail or underground network. The network is only within Milan.
1 journey: €1.50
4 journeys: €6
10 ticket: €13.80
24-hour ticket: €4.50
48-hour ticket: €8.25
Cumulative tickets should be purchased to allow access to towns in the greater Milan area, in addition to the urban network. Cumulative tickets are issued per-journey and range from €1.90-€4.70 depending on the distance of the zone you're traveling to.
Airport transit from city center:
via train: €12
via bus from Milan central station: €8
via taxi: €90
Bicycle rental:
€.50 for first hour, €1.50 for 90 minutes. 2 hour maximum per rental from Milan city bikes, with a €2 penalty per additional hour late. (Users can renew bicycles at bike stations).
Milan Hostel/Hotel Accommodation Prices
Accommodation runs the gamut in Milan, but many of the hotels cater to the rich — but there are a few budget options. There aren't too many hostels in Milan, but the prices still aren't too expensive. However, you may want to book a little in advance since they can fill up fairly quickly.
Hostels: €10-€35  (bed in a shared dorm room)
You should budget about 20€/night per person for a decent hostel — although many hostels raise their prices on the weekend. Remember, these prices are for a bed in a shared dorm room. If you want a private room, expect to pay €50-€90 total (for two people).
We book our hostels through Hostel World.
Budget Hotels: €80-€150
A decent budget hotel that is in the city center will cost around €100/night. You can find cheaper hotels if you want to stay farther away from the center of the city or if you don't mind staying in a junky place. 
Rental Apartment (Airbnb): €50-€100/night
From my experience, rental apartments (via Airbnb) tend to be much bigger and much nicer than similarly priced hotel rooms. Plus, you'll get a kitchen so you can save more money by cooking your own meals — click here to get $30 off your first stay.
There are quite a few nice Airbnb options available in Milan — you should be able to find a highly rated studio or 1-bedroom for around €70/night, but I've seen some as cheap as €45/night. If you want to rent a room in someone's place, expect to pay around €25-€65/night.
Use this link you'll get $30 off your first stay.
More City Price Guides
We have even more city price guides — click here to check them out!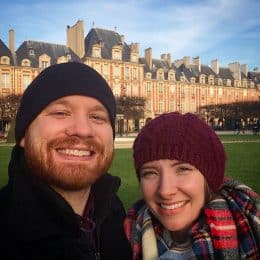 No Funny Business
We want to be fully transparent that this post may contain affiliate links. That means we receive a small commission if you make a purchase after clicking the link — it doesn't cost you anything extra and it helps support the site.
Thanks For The Support! — Susan and James
Questions? Learn more about our Strict Advertising Policy and How To Support Us.