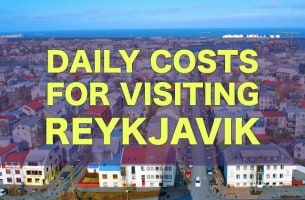 Reykjavik might seem a bit out of the way, but it's a gorgeous place to visit. Although the city itself isn't too exciting, it serves as the gateway to Iceland's breathtaking natural beauty. However, Reykjavik is one of the more expensive places to visit in Europe, so you may not want to stay too long if you're on a tight budget.
One way to possibly save a little cash is to fly Icelandair because they'll let you extend your layover in Reykjavik by up to seven nights for no additional charge.
This article is part of our City Price Guide Series — Click here to see all our city price guides.
Average Daily Cost For Visiting Reykjavik
These prices are based on what you'll need to visit the city comfortably — they don't include things like big nights out at the bar/pub, club entry fees, souvenir/clothing shopping, tours, random purchases, nicer food, bail money, etc. Don't forget to budget extra for those "non-essentials."
Note: The currency in Iceland is the Icelandic Krona, but we've given all prices in USD. The current exchange rate is about $1=138 krona.
Daily Cost of Budget Travel in Reykjavik: $88
Attractions: $10 (one paid attraction + any free sights)
Food: $43

Breakfast: $7
Lunch: $11
Dinner: $18
Treat (dessert/beer/wine): $7

Transportation: $0
Accommodation (hostel): $35
Note: This price guide does not include tours which can easily run $100+
Daily Cost of Frugal Travel in Reykjavik: $59
Attractions: $5 (free walking tour + visit one of the free sights)
Food: $26

Breakfast:$0 (free hostel breakfast)
Lunch: $7 (ethnic street food, takeaway shop fare, or similar)
Dinner: $12 (make your own meal in the hostel or grab something cheap)
Beer (pint): $7

Transportation: $0 (the city is very walkable)
Accommodation: $28 (cheap hostel bed)
Note: This price guide does not include tours which can easily run $100+
Reykjavik Attraction and Museum Prices
Iceland's true attraction is its incredibly stunning natural wonders, but visiting can get pretty pricey.
National Museum of Iceland: $11
Hallgrimskirkja (church): $6 to take elevator to the top
Open-air Folk Museum: $10.50
Volcano House: Free
Walking tour: Free (but you should tip the guides)
Sightseeing Tours: There are a ton of tours available that will take you to all the amazing sights in Iceland. Full day-trips can range from $70-$375, depending on the activity. You will also find a lot of tours that combine a couple activities.

Glacier hiking: $147-$186
Blue lagoon: $75-$92
Golden circle: $70
Viking horse tour (you ride to somewhere cool): $80-$144
South coast: $144-$270
Northern lights cruise (Sept to mid-April): $63-$76
Reykjavik Food Prices
Yep, once again, Reykjavik is out to batter your wallet when it comes to food. You really have to shop around to find something in the realm of affordability.  Oh, and you'll want to cut back on the alcohol because Reykjavik's alcohol prices are some of the highest in the world. Ugg.
Budget Breakfast: Free – $10
Many hostels will offer a free simple breakfast that normally consists of cereal, bread/croissant, and maybe milk, coffee, tea, or juice (some hostels will offer more and some less).
Porridge: $8
Yogurt w/muesli and fruit: $7
Toasted bread w/cheese and jam: $5-$8
Budget Lunch: $5-$19
Super budget travelers can make a super cheap lunch of bread, cheese, and fruit from any grocery store for a few dollars.
Hot dog: $4
Fast-food hamburger: $6-$11
Fast-food sandwich: $6-$13
Noodles: $8-$10.50
Sandwich at a restaurant/café: $12-$19
Cheap takeaway meals (like a kebab with fries): $10.
Budget Dinner: $15-$25
You should be able to find dinner at a restaurant in a less touristy part of town for around $18. Try some of the amazing seafood!
Many of the options from the Budget Lunch section above also apply for dinner.
Drinks and Alcohol
A pint of standard beer out: $8
Pint of beer from a grocery store: $3
Bottle of (drinkable) wine from grocery store: $18
Cappuccino: $3.50
Read more of our strategies for Eating and Drinking in Europe on a Budget.
Reykjavik Transportation Prices
Reykjavik has a fairly nice bus system that will help you get around the city and even out to some other locations. Buses come every 20 minutes during the week and every 30 minutes on the weekend. A one-way ticket costs $3.50.
If you're with a few people, you might look into renting a Jeep/SUV. This will give you more freedom than the bus and save you a bit on booking tours. It won't come cheap though; expect to spend $150-$277/day. If you book for a week, the prices tend to be lower.
Reykjavik Hostel/Hotel Accommodation Prices
Hostels: $28-$55 (bed in a shared dorm room)
You should budget about $35/night per person for a decent hostel — although many hostels raise their prices on the weekend. Remember, these prices are for bed in a shared dorm room. If you want a private room, expect to pay $66-$200.
We book our hostels through Hostel World.
Budget Hotels: $110-$240
At the low end, you shouldn't expect much, but once you get around $150/night, the hotels get a bit better (think Super 8 or Motel 6). A room with a private bathroom and a twin bed will be around $110–$230, and a double bed (or two twin beds) will be $140-$240.
Rental Apartment: $90-$165+
From my experience, rental apartments (via Airbnb) tend to be much bigger and much nicer than similarly priced hotel rooms. Plus, you'll get a kitchen so you can save more money by cooking your own meals — click here to get $30 off your first stay.
If you don't mind simply renting a room in someone's apartment via Airbnb, you can find options from $70-$80.
Read More About the Cost of Visiting Europe
Click here to read our in-depth guide to the Cost of Backpacking Europe (including more city price guides).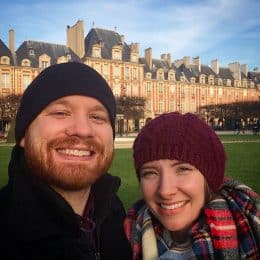 No Funny Business
We want to be fully transparent that this post may contain affiliate links. That means we receive a small commission if you make a purchase after clicking the link — it doesn't cost you anything extra and it helps support the site.
Thanks For The Support! — Susan and James
Questions? Learn more about our Strict Advertising Policy and How To Support Us.