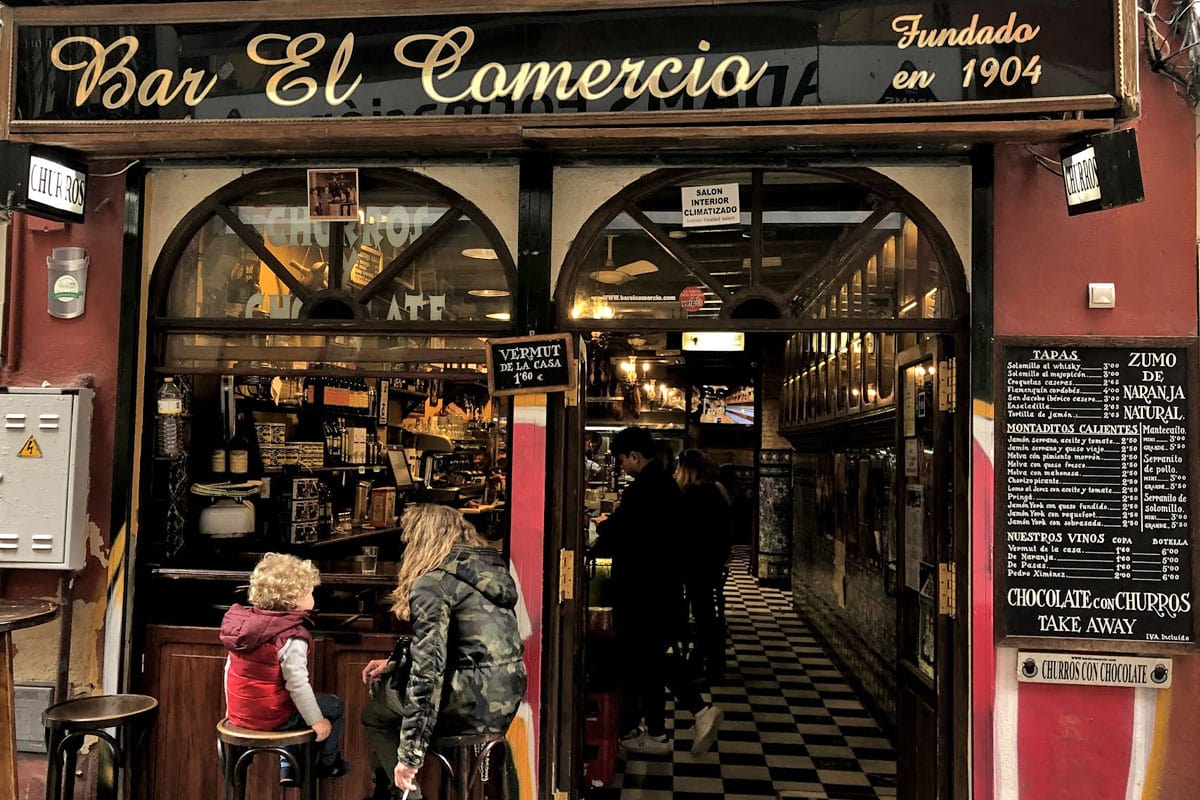 Despite its popularity, Seville can be a relatively affordable place to visit and it's generally slightly cheaper than Barcelona or Madrid.
In this Seville travel price guide, I've outlined how much it costs to visit Seville—including typical prices for food, accommodation, attractions, alcohol, and other common expenses to help you budget your trip to Seville.
This Seville Price Guide is part of our City Price Guide Series where we break down the travel costs of Europe's most popular cities.
---
Average Daily Travel Costs To Visit Seville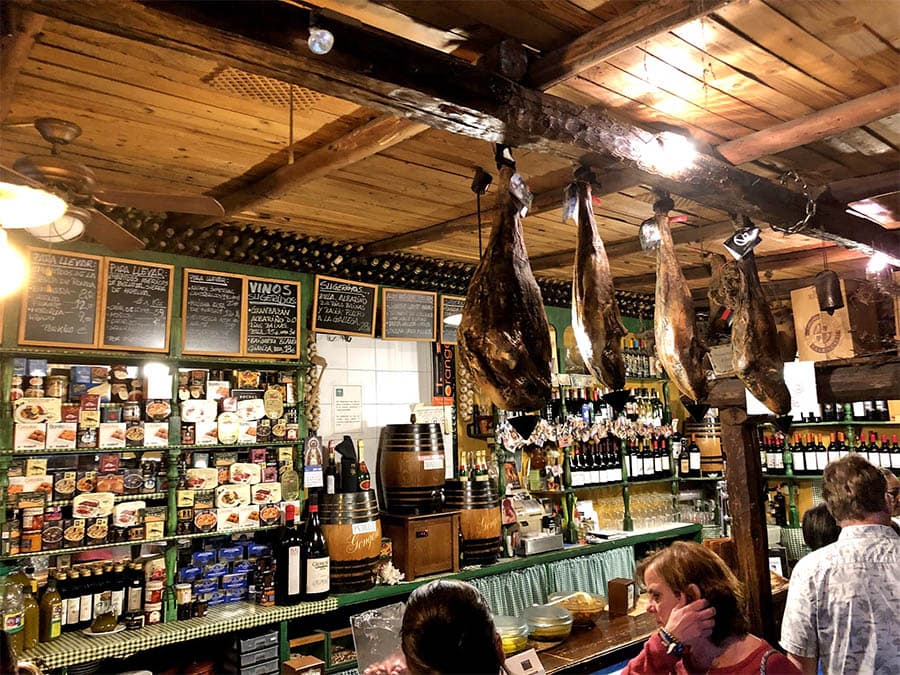 Despite its relatively small size, Seville is one of the most popular cities in Europe and it caters to travelers of any budget — from frugal backpackers to high-end travelers. And while Seville is more expensive than other cities in the region, Seville is less expensive than Madrid and Barcelona.
It costs around €50-€75/day to visit Seville comfortably as a budget traveler.
If you want to upgrade your accommodations, add another €60-€80/night depending on your level of accommodation. These prices also don't include big nights out at the bar/pub, club entry fees, souvenir/clothing shopping, tours, random purchases, nicer food, etc.
I've broken down the prices of Standard, Budget, and Frugal travel below:
DAILY COST OF STANDARD TRAVEL IN SEVILLE: €150 (APPROX. $160)
I consider Standard Travel to be middle-of-the-road travel where you'll mainly eat in typical restaurants, enjoy a few drinks, snacks, and desserts, stay in comfortable yet average hotels/rental apartments, and you'll visit most of the tourist attractions. You won't go crazy with your spending but you also won't feel like you're missing out on experiences.
Attractions: €20 (one paid attraction + any free sights)
Food: €40

Breakfast: €5
Lunch: €10
Dinner: €20
Treat (dessert/beer/wine): €4

Transportation: €0
Accommodation (Budget-Friendly Hotel): €90
DAILY COST OF BUDGET TRAVEL IN SEVILLE: €68 (APPROX. $72)
Budget Travelers can expect to stick to budget-friendly restaurants, seek out cheap drinks, mainly stay in hostels, and limit "touristy" activities to save money.
Attractions: €15 (one paid attraction + any free sights)
Food: €28

Breakfast: €3.5
Lunch: €7
Dinner: €14
Treat (dessert/beer/wine): €2

Transportation: €0
Accommodation (Hostel): €26
DAILY COST OF FRUGAL TRAVEL IN SEVILLE: €47 (APPROX. $50)
Frugal Travel is all about trying to save money where possible and doing things as cheaply as you can. You'll go out of your way to find a deal, you'll eat at cheap restaurants or fix your own meals, and you will stay in the cheapest hostels to save money on accommodation.
Attractions: €7 (free walking tour + visit one of the free sights)
Food: €20

Breakfast: €2
Lunch: €7 (street food or takeaway shop fare)
Dinner: €10 (make your own meal in the hostel or grab something cheap)
Beer: €1.5 (chill out at the park and have a cold one)

Transportation: €0 (walk)
Accommodation (Cheap Hostel): €20
---
Seville Food and Drink Prices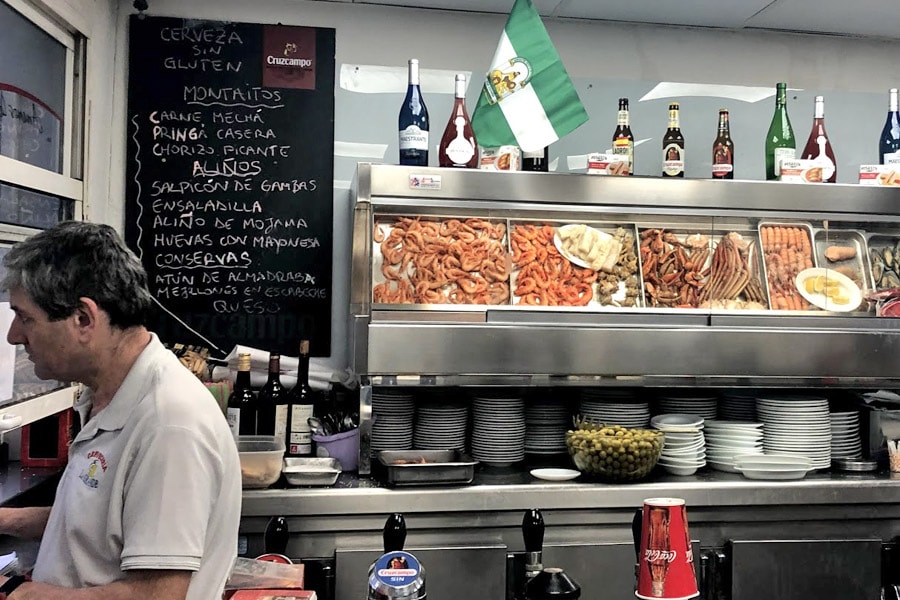 Since this beautiful city is such a tourist hotspot, food prices in Seville are elevated in the city center but prices aren't unreasonable—on average, food prices in Seville are about the same or slightly cheaper than in Barcelona and Madrid. However, the Triana neighborhood (Seville's historically working-class neighborhood) is still filled with many family-run tapas bars, and restaurants that serve quality food at a fair price.
The quickly gentrifying Macarena neighborhood also caters to student budgets so you can also find cheaper restaurants there.
AVERAGE BREAKFAST PRICES IN SEVILLE: €3-€7
A typical breakfast that a local would eat in Seville consists of coffee and/or orange juice that's accompanied by toast topped with butter and jelly. Toast topped with olive oil, tomato and ham is also very popular. A typical toast + topping is around €2.50-€4.50.
It's also common to see yogurt bowls with muesli & fruit, and smoothies for breakfast. Prices range from €3-€7.
If you want to indulge, churros and thick hot chocolate are popular breakfast options. You'll pay around €4-€5 for the combo.
Coffee will cost you around €1.20-€3.5 depending on what you get.
RECOMMENDED Budget-Friendly BREAKFAST PLACES in Seville
Many locals get their simple and quick breakfast at a cafe or at a typical tapas bar. Below are a few local favorites:
AVERAGE LUNCH PRICES IN SEVILLE: €7-€13
A typical fast food combo meal costs around €7.
A standard tapa will typically cost around €2.50-€4 so a few tapas work for a light lunch.
An average budget main dish in a cafe will be €9-€14.
A typical doner kebab will cost €4-€5.
A pizza for two people costs €6-€10 and you can find single slices for around €2.
You can get a quality traditional meal in a classic restaurant for around €16-€20.
A quality budget-friendly dinner will run you about €12-€18.
A meal of 5-6 different tapas will cost around €15-€24

You can also order larger portions of tapas called Media raciones (half plates) and Raciones (full plates).
RECOMMENDED Budget-Friendly LUNCH & DINNER RESTAURANTS in Seville
Seville has plenty of excellent restaurant options for lunch and dinner. Here is a list of a few local favorites:
ALCOHOL, COFFEE, AND DESSERT PRICES IN SEVILLE
A small beer (called a caña) typically costs about €1-€1.50.
Vermut (vermouth) is a local favorite that's served as an early afternoon drink or a starter to tapas. Expect to pay around €1.40 for a glass.
Coffee prices range from about €1.20 for espresso to €4+ for a more complex coffee drink.
Bar El Comercio: This is the place to get the best churros and hot chocolate in Seville. They also serve an excellent house vermut. If nothing else, it's fun to hang out in a bar that's been open for well over 100 years.
---
Hostel and Hotel Prices in Seville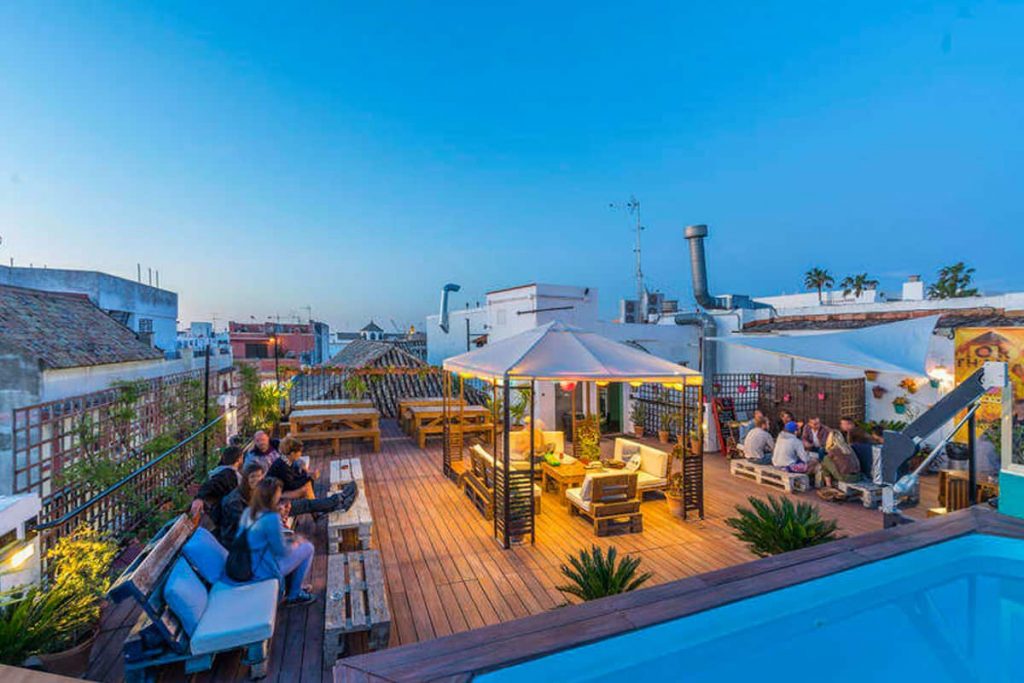 Seville's accommodation prices change greatly depending on the season. Prices are highest in the spring and fall because Seville's summers can get very hot so there are fewer visitors.
Seville also has two popular festivals in the spring which bring in a lot of visitors so avoid these times if you're on a budget since hotel prices can be 2x-4x higher than normal:
Semana Santa (around March 24th to April 2nd)
Feria de Abril de Sevilla (around April 14th – 23rd)
Seville Hotel Prices
Seville has plenty of hotels to choose from at multiple price points. According to Booking.com, here are typical hotel prices:
Quality, budget-friendly hotels cost around €70-€100/night
Nice mid-level hotels are typically around €100-€155/night
Higher-end, but non-super lux, hotels typically cost around €170-€215/night
Seville Hostel Prices
Seville has a surprisingly large amount of very well-rated hostels that are reasonably priced. In the summer, hostel beds range from €20-€30 per night (prices via Hostelworld).
Here's a list of the best-rated hostels in Seville:
Check out The Savvy Backpacker's guide to The Best Hostels in Seville to get a more in-depth look at the city's various hostel options.
---
SEVILLE ATTRACTION AND MUSEUM PRICES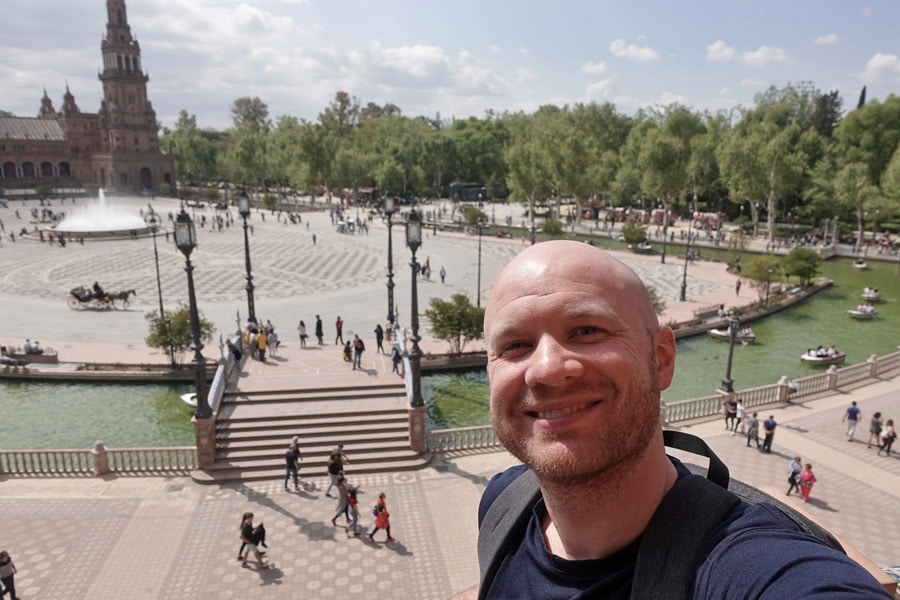 Sightseeing in Seville is relatively cheap so the base price for most sights is around €10.
Check out my Seville Travel Guide for more travel advice and money-saving tips.
---
Seville Transportation Prices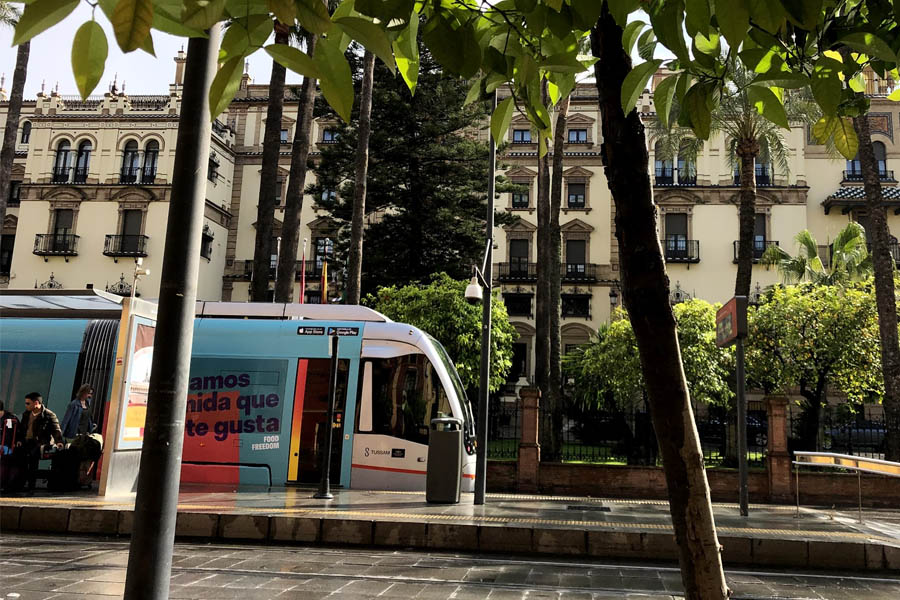 Seville is compact so the best way to get around is on foot — Seville's old town center is compact so you'll rarely walk more than 25 minutes to get somewhere. However, there is a city bus and tram that cost €1.40 per trip—here's a good overview of Seville's tram and bus.
You absolutely don't want a car in Seville—the streets are tiny and there is essentially no parking.
There is also a city-wide bike-sharing service called Sevici if you want to explore on two wheels (but you'll still have to dodge taxis and people).
---
Learn More About Europe Travel Prices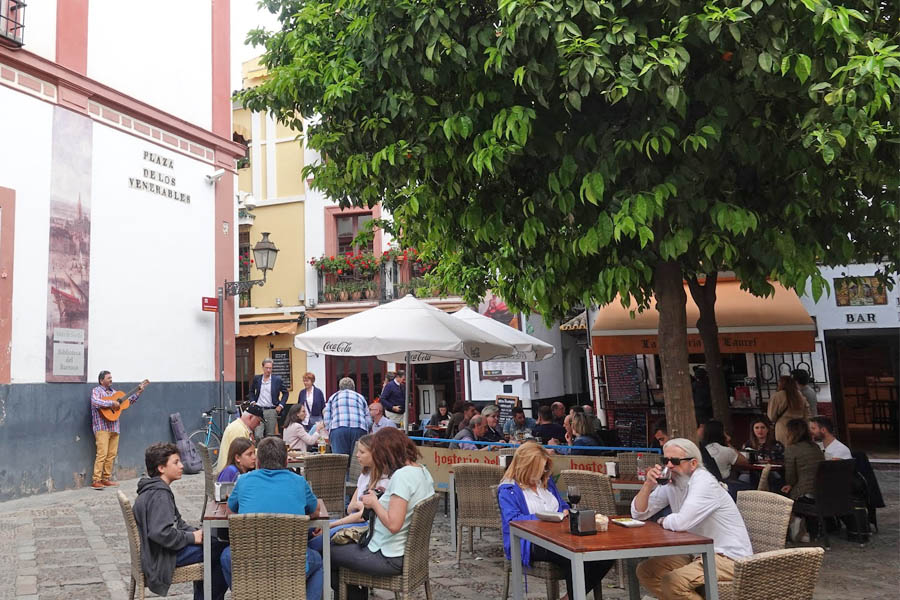 Traveling to more than Seville? Here are a few more articles I've written about budgeting your trip to Europe.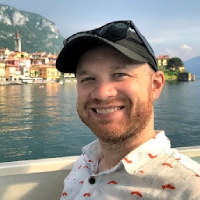 Latest posts by James Feess
(see all)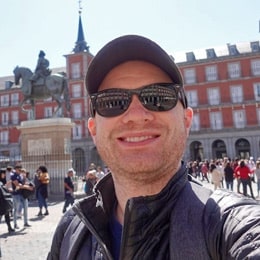 No Funny Business
The Savvy Backpacker is reader-supported. That means when you buy product/services through links on the site, I may earn an affiliate commission — it doesn't cost you anything extra and it helps support the site.
Thanks For Reading! — James
Questions? Learn more about our Strict Advertising Policy and How To Support Us.